Editor Profiles
Alison's scientif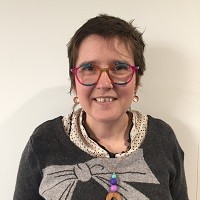 ic background is in biomedical sciences and bioinformatics. She read for a degree in Biomedical Sciences at the University of Durham, UK. Having become interested in the then new field of bioinformatics, she then decided to do a Masters in Information Technology at Teesside University, UK. She went on to study at the University of Reading, UK completing a bioinformatics-based PhD on investigating the effects of mutations on the structure of p53, before working for a time in academia, including 8 years as the curator of the CATH protein classification database. After eventually deciding to pursue a career in scientific publishing, she joined BioMed Central in 2014, initially as a Database Editor for the ISRCTN clinical trial registry. Alison joined the BMC series in 2016 and became the Editor for BMC Systems Biology in 2017. Alison also writes on the BioMed Central blog network and is an Editor for the On Medicine blog.
Methods, software and technology
Nitin Baliga serves as Professor at the Institute for Systems Biology, where he was one of the founding members, and currently serves as the Director and Senior Vice President. Dr. Baliga completed his Ph.D. in Microbiology in 2000 at the University of Massachusetts at Amherst and then moved to Seattle for postdoctoral training with Dr. Leroy Hood at the Institute for Systems Biology.
He leads a cross-disciplinary team of scientists to address complex problems relevant to global health, personalized medicine, energy, and environment. His team uses a systems approach to construct predictive models of cellular and molecular networks within pathogens, cancer cells, and environmental microbes to enable biotechnologies to overcome drug resistance, find new drugs, predict consequence of climate change, and manufacture biorenewables.
Dr. Baliga's work has been published in top international journals including Cell, Science and Nature. He has been invited to the Google SciFoo Camp, and has been profiled by The Scientist, Genome Web, Wired Magazine, Genetic Engineering News, Ars Technica, Xconomy, and Nature Methods, among many others. He serves on scientific advisory boards of numerous academic and industrial organizations, and has been instrumental in research program planning for the NSF and DOE.
Systems physiology, pharmacology and medicine
Christina Chan is the George Bissell Professor of Chemical Engineering at Michigan State University (MSU), with joint appointments in Biochemistry and Molecular Biology and Computer Science and Engineering Departments. She is a member of the Institute for Quantitative Health Science and Engineering at MSU. Dr. Chan earned her B.S. in Chemical Engineering from Columbia University and her Ph.D. in Chemical and Biochemical Engineering from the University of Pennsylvania. She worked for DuPont prior to returning to academia, and taking a post-doctoral position at the Center for Engineering in Medicine at the Harvard Medical School. Since joining the faculty of MSU in 2002, her laboratory is focused on integrating network and systems modeling, and metabolic flux analysis with experiments to improve the understanding of the disease mechanism. Dr. Chan is a fellow of the American Institute for Medical and Biological Engineering. She joined the BMC Systems Biology editorial board in 2007.
Networks and information flow
Luonan Chen received the M.E. and Ph.D. degrees in the electrical engineering, from Tohoku University, Sendai, Japan, in 1988 and 1991, respectively. From 1997, he was an associate professor of the Osaka Sangyo University, Osaka, Japan, and then a full Professor. Since 2010, he has been professor and executive director at the Key Laboratory of Systems Biology, Shanghai Institutes for Biological Sciences, Chinese Academy of Sciences. He was the founding director of the Institute of Systems Biology, Shanghai University, and currently is the founding president of the Computational Systems Biology Society of ORS China. From 2009, he also holds the affiliate professorship in the University of Tokyo. He serves as Chair of Technical Committee of Systems Biology at the IEEE SMC Society, and serves as editor or editorial board member for major systems biology related journals. His fields of interest are systems biology, computational biology, and nonlinear dynamics. In recent years, he published over 250 journal papers and two monographs (books) in the area of systems biology.
Synthetic biology
Dr. Sang Yup Lee is Distinguished Professor at the Department of Chemical and Biomolecular Engineering, Korea Advanced Institute of Science and Technology (KAIST). He is currently Dean of KAIST Institutes. He has published more than 550 journal papers, 72 books/book chapters, and more than 610 patents, many of which licensed. He received numerous awards, including the National Order of Merit, National Science Medal, Ho-Am Prize, POSCO TJ Park Prize, James Bailey Award, International Metabolic Engineering Award, and Marvin Johnson Award. He is currently fellow of NAE USA, NAEK, KAST, AAM, AIChE, AIMBE, SIMB, and TWAS, and is Co-Chair of Global Future Council on Biotechnology at the World Economic Forum. He founded the World Council on Industrial Biotechnology and served as a Founding Chair. He is a member of the Presidential Advisory Council on Science and Technology of Korea. Research interests are metabolic engineering, systems and synthetic biology, and industrial biotechnology.
Methods, software and technology
Pedro Mendes is Professor of Cell Biology at the Center for Quantitative Medicine of the University of Connecticut School of Medicine, where he is also affiliated with the Center for Cell Analysis and Modeling. He is also an Honorary Professor of Software Systems at the School of Computer Science of The University of Manchester. He graduated as a Biochemistry Major from the University of Lisbon, Portugal, and obtained a PhD in 1994 from the University of Wales Aberystwyth, UK. Throughout his scientific career Mendes has dedicated much effort to develop software for modeling and simulation of biochemical networks, including the simulators Gepasi and COPASI. His research interests are broad, intersecting computer science and biochemistry, including algorithms for systems biology, and specific biochemical systems, such as central metabolism, mammalian iron physiology, oxidative stress, and the eukaryotic protein translation machinery.
Empirical systems biology
Matteo Pellegrini is a biophysicist who has served on the UCLA Life Sciences Division faculty since he joined the Department of Molecular, Cell and Developmental Biology in 2005. Dr. Pellegrini earned his B.A. in Physics at Columbia University and his Ph.D. in Physics at Stanford. He was a postdoctoral fellow at UCLA, where he worked on computational biology. Following his postdoctoral studies, Dr. Pellegrini co-founded a start-up company and later worked for the pharmaceutical company, Merck, before returning to UCLA. His laboratory research focuses on the development of novel computational approaches to analyze large-scale genomic data. His present focus is on data produced using the latest generation of high-throughput sequencers for which he is developing suites of tools for the analysis of methC-seq, RNA-seq, ChIP-seq and Chromatin Conformation Capture seq. He joined the BMC Systems Biology editorial board in 2012.
Follow
2017 Journal Metrics
Citation Impact
2.05 - 2-year Impact Factor
2.505 - 5-year Impact Factor
0.689 - Source Normalized Impact per Paper (SNIP)
1.109 - SCImago Journal Rank (SJR)



Usage
852,052 downloads





Social Media Impact
523 mentions