Research article

Open Access
A predictive computational model of the kinetic mechanism of stimulus-induced transducer methylation and feedback regulation through CheY in archaeal phototaxis and chemotaxis
BMC Systems Biology
2010
4:27
Received: 15 October 2009
Accepted: 18 March 2010
Published: 18 March 2010
Abstract
Background
Photo- and chemotaxis of the archaeon Halobacterium salinarum is based on the control of flagellar motor switching through stimulus-specific methyl-accepting transducer proteins that relay the sensory input signal to a two-component system. Certain members of the transducer family function as receptor proteins by directly sensing specific chemical or physical stimuli. Others interact with specific receptor proteins like the phototaxis photoreceptors sensory rhodopsin I and II, or require specific binding proteins as for example some chemotaxis transducers. Receptor activation by light or a change in receptor occupancy by chemical stimuli results in reversible methylation of glutamate residues of the transducer proteins. Both, methylation and demethylation reactions are involved in sensory adaptation and are modulated by the response regulator CheY.
Results
By mathematical modeling we infer the kinetic mechanisms of stimulus-induced transducer methylation and adaptation. The model (deterministic and in the form of ordinary differential equations) correctly predicts experimentally observed transducer demethylation (as detected by released methanol) in response to attractant and repellent stimuli of wildtype cells, a cheY deletion mutant, and a mutant in which the stimulated transducer species is methylation-deficient.
Conclusions
We provide a kinetic model for signal processing in photo- and chemotaxis in the archaeon H. salinarum suggesting an essential role of receptor cooperativity, antagonistic reversible methylation, and a CheY-dependent feedback on transducer demethylation.
Keywords
Methylation SiteSensory AdaptationConformational CouplingWildtype CellTransducer Type
Background
The archaeon Halobacterium salinarum swims by rotation of a semi-rigid right-handed flagellar bundle [1]. Each flagellar filament of the bundle extends the axis of a rotary motor to passively transduce the mechanical energy generated by the motor to the medium. Motors are anchored in the cell membrane and driven by ATP [2]. Cells swim back and forth by switching the sense of flagellar rotation from clockwise to counterclockwise and vice versa[1, 3]. In adapted or unstimulated cells, switching occurs spontaneously. Active swimming and motor switching is superimposed with passive Brownian motion of cell body and flagellar bundle [4]. By the resulting random swimming paths, the cells explore their environment until they encounter a stimulus. Sensory stimulation of the photo- or chemoreceptors transiently modulates the probability of motor switching, resulting in a movement of the cell towards more favorable regions in the environment [5, 6]. Rather than sensing absolute stimulus strengths, cells respond to relative changes by adapting to any stimulus of constant intensity [7, 8].
Several lines of evidence suggest that in bacteria as well as in archaea this adaptation is at least partially caused by reversible methylation of methyl-accepting taxis proteins [7, 9, 10]. Proteins of this family, also called transducers, may act as sensory receptors for a specific stimulus, or they may bind to a specific, but different receptor protein to transduce the activation state of this respective receptor and relay it to the autophosphorylating histidine kinase CheA [11–13]. CheA phosphorylates the CheY protein, which is required for flagellar motor switching [14], and the phosphorylation rate is thought to be stimulus-dependent.
The genome of
H. salinarum
encodes 18 orthologous methyl-accepting taxis proteins (also called Htr's for
H
alobacterial
tr
ansducers) [
15
]. While sensing and transmembrane regions of these orthologs are quite diverse, the cytoplasmic domains share a high degree of similarity. The diversity allows monitoring different types of cellular and environmental parameters: light, oxygen, proton motive force, amino acids, temperature, and presumably others. The similarity of the cytoplasmic domains of the transducers guarantees sensory integration by CheA of all of these stimuli [
16
,
17
]. The transducers physically interact with CheA and the scaffolding proteins CheW1 and CheW2 [
18
] to form R-TWA complexes (see Figure
1
), and the transducers localize in clusters at the cell poles [
19
] where the photosensory sensitivity is restricted to [
20
].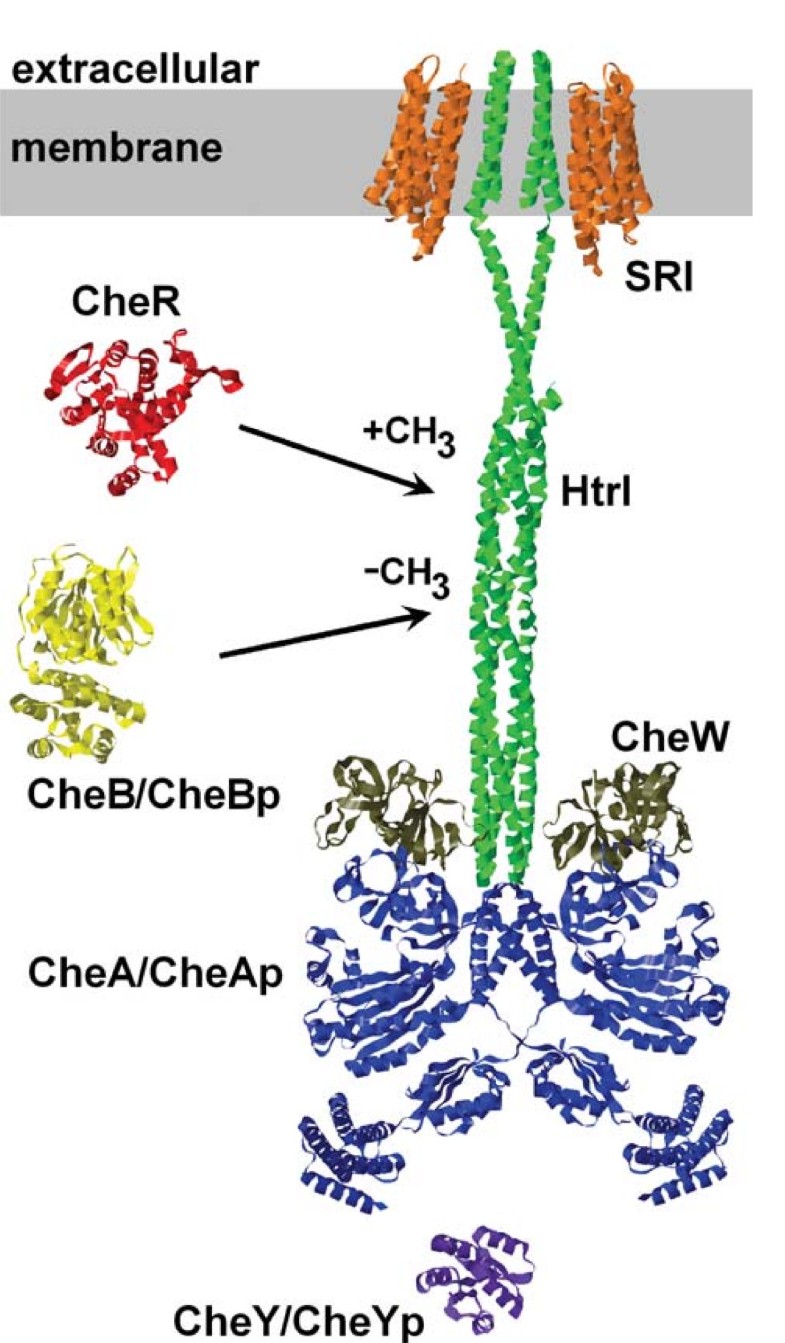 With the help of two sensory rhodopsins, SRI and SRII, H. salinarum senses orange, uv and blue light (see [7] and references therein). The sensory rhodopsins directly act as photoreceptors through physical association with their cognate methyl-accepting proteins (HtrI and HtrII) [21–24]. The transducers form stable complexes with the sensory rhodopsins [22, 24–26] and the cytoplasmic domain of the transducer is essential for the functional interaction of the two molecules [21]. After photoexcitation, which causes photoisomerization of the covalently bound retinal chromophor (all-trans to 13-cis), a sensory rhodopsin molecule proceeds through a sequence of metastable intermediates and finally returns to the initial state through re-isomerization of the chromophor [27, 28]. This so-called photocycle is thermodynamically driven by part of the energy of the absorbed photon. The conformational changes of the sensory rhodopsin molecule caused by photocycling are transduced to the complexed Htr molecule and regulate CheA activity [29, 30]. The enzymatic signaling mechanism does not involve changes in the membrane potential [20]. Differential regulation of motor switching is thought to be caused by differential regulation of the CheA kinase activity. Orange and uv light are sensed by SRI, suppressing or inducing motor switching respectively, and blue light is sensed by SRII, inducing motor switching [7].
Most halobacterial transducer proteins carry 1 to 3 potential methylation sites (glutamyl-residues) per molecule [31]. As in bacteria [9], the methyl-transferase CheR transfers the methyl-group of S-adenosyl-methionine to a glutamate residue of the transducer signaling domain [31–33]. After incubating cells with 3H-labeled methionine, transducer methylation is detected by fluorography [34–38].
Demethylation is catalyzed by the (C-terminal) methyl-esterase domain of CheB [31–33]. In E. coli, phosphorylation (by CheA) of the N-terminal, CheY-like domain of CheB increases methyl-esterase activity [39]. In H. salinarum, the CheY-like domain of CheB is also present [33], but it is not known whether it becomes phosphorylated in a stimulus-dependent manner or whether CheB-phosphorylation modulates methyl-esterase activity in vitro or in vivo.
Transducer demethylation results in formation of methanol [
35
] which can be quantitatively measured in a time-resolved manner with a so-called flow-assay (see Figure
2
; [
35
,
40
]). Exposure of
H. salinarum
to any step-like stimulus that causes taxis results in a transient release of methanol, no matter whether the stimulus induces or represses motor switching [
34
–
38
,
41
,
42
].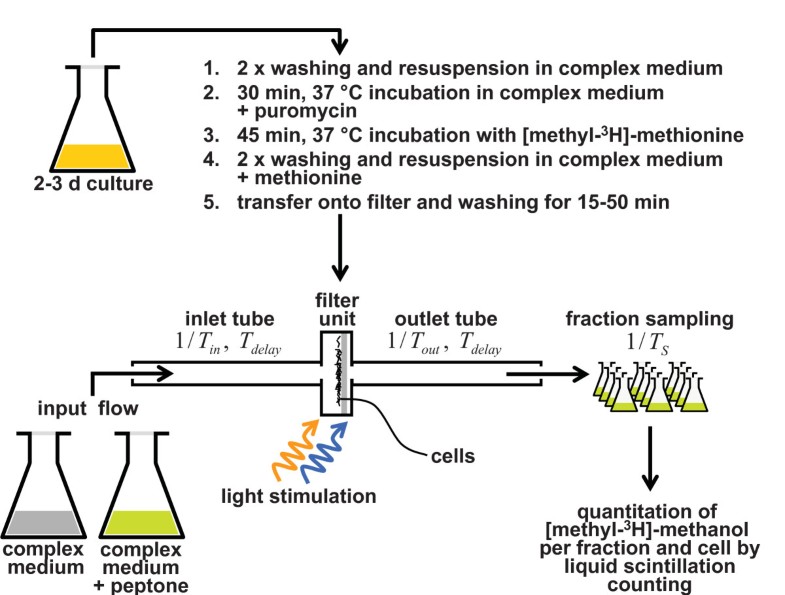 The methanol release patterns observed in H. salinarum are similar in Bacillus subtilis where the phenomenon is explained by the fact that transducers contain methylation sites that were shown to be functionally different [43, 44]: one site is demethylated upon stimulation with attractant, another site is demethylated upon stimulation with repellent. Selective methylation has been shown to be regulated by CheY [45] and to depend on transducer/receptor conformation [46].
In B. subtilis, the transducer deamidase CheD regulates activity of the CheY-phosphatase CheC [47] and the interplay of CheC and CheD is thought to provide an additional and methylation-independent adaptation system [10, 47]. Deletion mutant studies also suggest that CheC and CheD are possibly involved in a coordination of selective methylation in B. subtilis (see [10] and references therein). cheC and cheD orthologs are also found in H. salinarum[15, 48, 49], but their function is not clear.
In B. subtilis and in H. salinarum the demethylation reaction as measured in a flow assay cause adaptation to stimuli of constant strength, no matter whether a respective stimulus is attractive or repulsive [35, 43]. Presumably, differential methylation resets the signaling activity of the transducers to the pre-stimulus level, resulting in sensory adaptation of the cell, although this has not been directly shown. Two mechanisms of stimulus-controlled transducer methylation seem possible: the stimulus-activated transducer molecule may be methylated/demethylated to reset its signaling activity to the pre-stimulus level, or other, i. e. non-stimulated transducers may be methylated/demethylated through a coupling mechanism or feedback loop to attenuate their constant signaling output. Because specific photoactivation of a HtrI mutant in which the methylation sites have been deleted, nevertheless causes both, sensory adaptation and methanol release, coupling between stimulated and unstimulated transducers in terms of reversible methylation seems obvious [38].
A model of the halobacterial motor switch cycle quantitatively reproduces measurements on spontaneous and light stimulus-induced motor switching [50]. In this model, the input to the motor switch is generated by a simple model of the sensory excitation and adaptation processes. Coupling of both models is sufficient to reproduce quantitative data on motor switching, but the simple model of excitation and adaptation does not explain reversible transducer methylation. Here we provide a predictive computational model of sensory adaptation and excitation based on experimental findings on reversible transducer methylation in wildtype and mutant cells.
Discussion
We presented the first quantitative, predictive model of excitation and adaptation in halobacterial phototaxis and chemotaxis which explains the methanol release patterns in response to attractant and to repellent stimulation in the wildtype, in a cheY deletion mutant, and in a mutant in which the stimulated transducer species is methylation-deficient. Essential elements of our model are two antagonistically active methylation sites, demethylation rates that depend on feedback by CheY, and conformationally coupled heterologous receptors/transducers assembled in cooperative signaling units.
The model integrates proposed mechanistic features both from E. coli and B. subtilis, the combination of which allows to quantitatively reproduce the experimental data on stimulus-induced methanol release in Halobacterium, once the appropriate parameter values are chosen. Features from E. coli are cross-talk of heterologous transducer species by direct conformational coupling within a (signaling) unit (modeled by a Monod-Wyman-Changeux-type model of cooperativity) [51–53, 57, 58]. Features from B. subtilis are two methylation sites on the transducers that behave antagonistically in response to attractant and to repellent stimulation, and a feedback of CheY/CheYp on reversible receptor methylation [43, 44, 46, 59].
Feedback of CheY on transducer demethylation is based on direct experimental evidence by [38] who showed that the normal Halobacterium-type methanol release pattern (a positive peak in response to both attractant and repellent stimulation) is converted into an E. coli-like pattern (a negative peak in response to attractant stimulation and positive in response to repellent). However, feedback by CheY was not sufficient to explain the experimental finding that release of methanol is caused by stimulation of a mutant transducer in which all putative methylation sites have been experimentally deleted [38]. Within the cooperative unit of heterologous receptors/transducers, methylation deficiencies as well as different equipment with methylation sites (some transducers have 1, others have 3 methylation sites [31, 38]) are compensated allowing the mutant to adapt.
An alternative potential mechanism for feedback might perhaps occur by reversible phosphorylation of the response regulator domain on CheB [33]. In E. coli, methyl-esterase activity of CheB is increased by phosphorylation of the response regulator domain [39], which presumably forms a feedback loop in vivo that controls the basal activity and the speed of motor response [60]. Phosphorylation of CheB in E. coli is also considered to increase robustness of adaptation [61] in chemotaxis, while it seems not to be required for precise adaptation [62] for which receptor conformation dependent demethylation is sufficient [63]. In B. subtilis, CheB also has a phosphorylation domain but the role of CheB-phosphorylation is not known in detail. A mutant strain with deleted CheB response regulator domain still produces the identical methanol release patterns, albeit at a generally higher turn-over/basal-level [46]. Thus, the methanol release in response to attractant and to repellent stimulation is independent of CheB phosphorylation in B. subtilis[46].
As we have no experimental evidence for stimulus-dependent CheB phosphorylation in Halobacterium, we have computationally analyzed the effect of CheB phosphorylation by assuming that methyl-esterase activity of CheB is increased by phosphorylation. CheB phosphorylation could not reproduce the wildtype methanol-release pattern for linear demethylation rates (Model 2 Bp), nor could CheB phosphorylation mimic the effects mediated by cooperative transducer interaction in terms of methanol release caused by stimulation through a non-methylatable mutant transducer (Model 4 Bp). Furthermore, in a extension of the final Model 6 by CheB-phosphorylation, Halobacterium-type methanol release patterns were still obtained, which suggests that CheB phosphorylation does not interfere with the proposed kinetic mechanisms of our model.
We have also analyzed the possibility that the Halobacterium-type methanol release patterns are generated by a CheB/CheBp-based feedback mechanism (Model 3B fbm4 and Model 3B fbm5). We found parameters in Model 3B fbm4 that predict the patterns of the wildtype and of the cheY deletion. In any case, it is not possible by an analysis of the mathematical models to exclude or disprove a direct or indirect role of CheB phosphorylation in methylation-dependent adaptation. To discriminate experimentally between a CheY-based and a CheB/CheBp-based feedback mechanism, we propose to measure the methanol release patterns of a mutant in which the CheY-like domain of CheB has been deleted. If Halobacterium-type patterns are still obtain in such a mutant, then this would suggest that CheB-phosphorylation is not part of the feedback-mechanism which generates the Halobacterium-type patterns. Since the Halobacterium-type patterns are still observed in a corresponding B. subtilis mutant [46], we did not favor the CheB/CheBp-based feedback mechanisms.
Additional feedback-loops of methylation independent adaptation processes such as in B. subtilis via the interplay of CheD, CheC and CheYp [10, 47, 59] may further contribute to adaptation in Halobacterium, but we have no experimental evidence for this. We included enzymatic hydrolysis of CheYp by a CheC phosphatase in a variation of Model 6 to analyze the potential effect of a phosphatase on methanol release and CheYp levels. Again, for a wide range of parameters the additional mechanism of CheC-phosphatase did not interfere with or destroyed the Halobacterium-type patterns qualitatively or quantitatively. As expected due to the proposed phosphatase activity of CheC, the level of CheYp in the adapted state was significantly lower as predicted by the model lacking CheC. For repellents, the CheYp level was severalfold higher compared to the adapted level.
Experimental results regarding stimulus-induced changes in transducer methylation in Halobacterium measured by gel fluorography as published by different authors are contradictory [35, 36, 38] and have therefore not been taken into account for our model. Instead, we focused on reliable, reproducible, and temporally resolved quantitative data on the demethylation rates as measured with the flow assay. However, for the simplest case of constant methylation rates (Model 6), our model suggests that the transducer methylation level initially drops in response to all kind of stimuli and subsequently slowly returns to the pre-stimulus level, as it was experimentally observed in B. subtilis[45].
Parameters in the final model were fitted to experimental data from different groups. Parameters from E. coli and B. subtilis ([59, 64] and references therein) served as starting values and a parameter set was found that quantitatively reproduced the experimental data. Further parameter optimizations or accounting for yet unmodeled mechanistic details (e. g., aberrant number of methylation sites, tactically non-active methylation sites, different enzymatic activity of CheB and CheR at different methylation sites, and coordination of antagonistic methylation by CheC and CheD) might improve fitting results further, but additional model extensions are not sufficiently supported by currently available experimental data in H. salinarum.
Conclusions
We provided a kinetic model for signal processing in photo- and chemotaxis in the archaeon H. salinarum suggesting an essential role of receptor cooperativity, antagonistic reversible methylation, and a CheY-dependent feedback on transducer demethylation.
Further iterative cycles of experiments and mathematical modeling are required to reduce the number of undetermined parameters and to incorporate more mechanistic details.
Nevertheless, the predictive computational model and the parameter set obtained now allows to infer CheYp concentration changes upon excitation and adaptation and to correlate these changes to the measurable response of the flagellar motor switch. This will lead to a data-based coherent model of excitation, adaptation, and motor response in halobacterial phototaxis.
Abbreviations
SRI:

sensory rhodopsin I (subscripts indicate the absorption maximum of the corresponding photointermediate, e. g. SRI587)
SRII:

sensory rhodopsin II (subscripts indicate the absorption maximum of the corresponding photointermediate, e. g. SRII487)
Htr:

halobacterial transducer protein (subscripts indicate the methylation state)
CheA/CheAp:

unphosphorylated/phosphorylated autohistidine kinase
CheB/CheBp:

unphosphorylated/phosphorylated methyl-esterase
CheR:

methyl-transferase
CheC:

phosphatase of CheY, used interchangeably for the three CheC's (CheC1, CheC2, CheC3)
CheW:

scaffolding protein of the R-TWA complex, used interchangeable for the two CheWs (CheW1, CheW2)
CheY/CheYp:

unphosphorylated/phosphorylated diffusible response regulator
ec:

extra cellular
ic:

intra cellular
MetOH:

methanol
dm:

demethylation rate
m:

methylation rate
R-TWA complex:

receptor-transducer-CheW-CheA oligomer
R-TWA (signaling) unit:

several R-TWA complexes constituting a cooperative (signaling) unit in which all complexes are either all active or all inactive
fbm:

feedback mechanism
uv:

(near-)ultraviolet.
Declarations
Acknowledgements
We thank Wilfried Franz Staudinger and Markus Rehberg for valuable discussions and for critical reading of the manuscript, Matthias Schlesner for providing experimental data on chemotaxis protein copy numbers, and Patrik Johansson and Martin Grininger for technical help with protein homology modeling.
Authors' Affiliations
(1)
Max Planck Institute for Dynamics of Complex Technical Systems, Molecular Network Analysis Group, Magdeburg, Germany
(2)
Department of Membrane Biochemistry, Max Planck Institute of Biochemistry, Martinsried, Germany
Copyright
© Streif et al; licensee BioMed Central Ltd. 2010
This article is published under license to BioMed Central Ltd. This is an Open Access article distributed under the terms of the Creative Commons Attribution License (http://creativecommons.org/licenses/by/2.0), which permits unrestricted use, distribution, and reproduction in any medium, provided the original work is properly cited.