Research article

Open Access
Genotype networks in metabolic reaction spaces
BMC Systems Biology
2010
4:30
Received: 30 November 2009
Accepted: 19 March 2010
Published: 19 March 2010
Abstract
Background
A metabolic genotype comprises all chemical reactions an organism can catalyze via enzymes encoded in its genome. A genotype is viable in a given environment if it is capable of producing all biomass components the organism needs to survive and reproduce. Previous work has focused on the properties of individual genotypes while little is known about how genome-scale metabolic networks with a given function can vary in their reaction content.
Results
We here characterize spaces of such genotypes. Specifically, we study metabolic genotypes whose phenotype is viability in minimal chemical environments that differ in their sole carbon sources. We show that regardless of the number of reactions in a metabolic genotype, the genotypes of a given phenotype typically form vast, connected, and unstructured sets -- genotype networks -- that nearly span the whole of genotype space. The robustness of metabolic phenotypes to random reaction removal in such spaces has a narrow distribution with a high mean. Different carbon sources differ in the number of metabolic genotypes in their genotype network; this number decreases as a genotype is required to be viable on increasing numbers of carbon sources, but much less than if metabolic reactions were used independently across different chemical environments.
Conclusions
Our work shows that phenotype-preserving genotype networks have generic organizational properties and that these properties are insensitive to the number of reactions in metabolic genotypes.
Keywords
Markov Chain Monte CarloMetabolic NetworkFlux Balance AnalysisMarkov Chain Monte Carlo MethodMarkov Chain Monte Carlo Sampling
Background
The genotypes of biological systems form high dimensional spaces. A prominent example is that of proteins, where genotypes are strings of amino acids [1, 2]. For a protein string of length N and 20 proteinaceous amino acids, the genotype space consists of 20 N possible genotypes, an astronomically large number even for proteins of moderate length. The genotype spaces of RNA molecules and regulatory networks are similarly large [3–5]. If one imposes functional constraints on genotypes, the set of genotypes fulfilling these constraints is typically tiny compared to the entire space. In this work, we focus on a space of metabolic genotypes and on the question of how functional constraints structure this space.
Genotypes form phenotypes, observable traits of biological systems. Examples include the three-dimensional structure of proteins [6, 7], secondary structure of RNA [5, 8–10] and the gene activity patterns of regulatory circuits [4, 11–14]. For some classes of biological systems, a mix of computational approaches and comparative data analysis has allowed systematic characterization of how individual genotypes map onto phenotypes [5, 15]. The genotype-to-phenotype maps arising in such works have several typical properties. First, any one phenotype is adopted by a vast number of genotypes. Second, these genotypes form large connected sets in genotype space. Specifically, it is possible to reach any genotype in such a connected set from any other genotype by a series of small genotypic changes, such as changes in individual amino acid sequences. Importantly, these changes leave the phenotype unchanged. Such a set of connected genotypes with the same phenotype is also referred to as a neutral network [5] or genotype network [16]. (We will be using the term "network" in two different senses here: on the one hand, we speak of a genotype network as a specific subset of genotype space. On the other hand, we refer to a metabolic network as a genotype belonging to a metabolic genotype space, as discussed below. We hope that this distinction will not confuse the reader.) Importantly, the term neutrality is not used here in the sense of fitness-neutrality as in the field of molecular evolution, but it just refers to invariance of a specific (and restricted) phenotype. Third, any one genotype network typically extends far through genotype space. Fourth, individual genotypes on any one genotype network typically have multiple neighbors with the same phenotype. Put differently, phenotypes are to some extent robust to small changes in genotypes (such as mutations). Finally, different neighborhoods of the same genotype network contain very different novel phenotypes.
Genome-scale metabolic networks are a class of biological systems that have received increasing attention in recent years [
17
,
18
]. They can be thought of as large assemblages of enzyme-catalyzed chemical reactions whose function is to produce all the small-molecule chemical compounds an organism needs to survive and reproduce in its environment. The major compounds include multiple amino acids, nucleotides, lipids, carbohydrates, and enzyme cofactors. Their relative proportions in an organism's biomass constitute the organism's biomass composition. The greater the rate at which an organism produces these compounds (in the right proportions), the faster the organism can grow and multiply. The metabolic network of any one organism can be thought of as existing in a vast genotype space of possible metabolic networks. Any one organism's genome encodes enzymes that catalyze some of these reactions. A simple representation of a metabolic network genotype
G
uses a binary string of length
N
, e.g.,
G
= (
b
1
, ...,
b
N
), where
N
is the number of all enzyme-catalyzed chemical reactions that occur in the biosphere; this is illustrated in Figure
1a
. Each position in the string representation of
G
corresponds to one enzymatic reaction, and the necessary enzyme can be either present (
b
i
= 1) or absent (
b
i
= 0). In this framework, a metabolic genotype
G
is a point in an
N
dimensional hypercube (the genotype space) comprising 2
N
metabolic genotypes.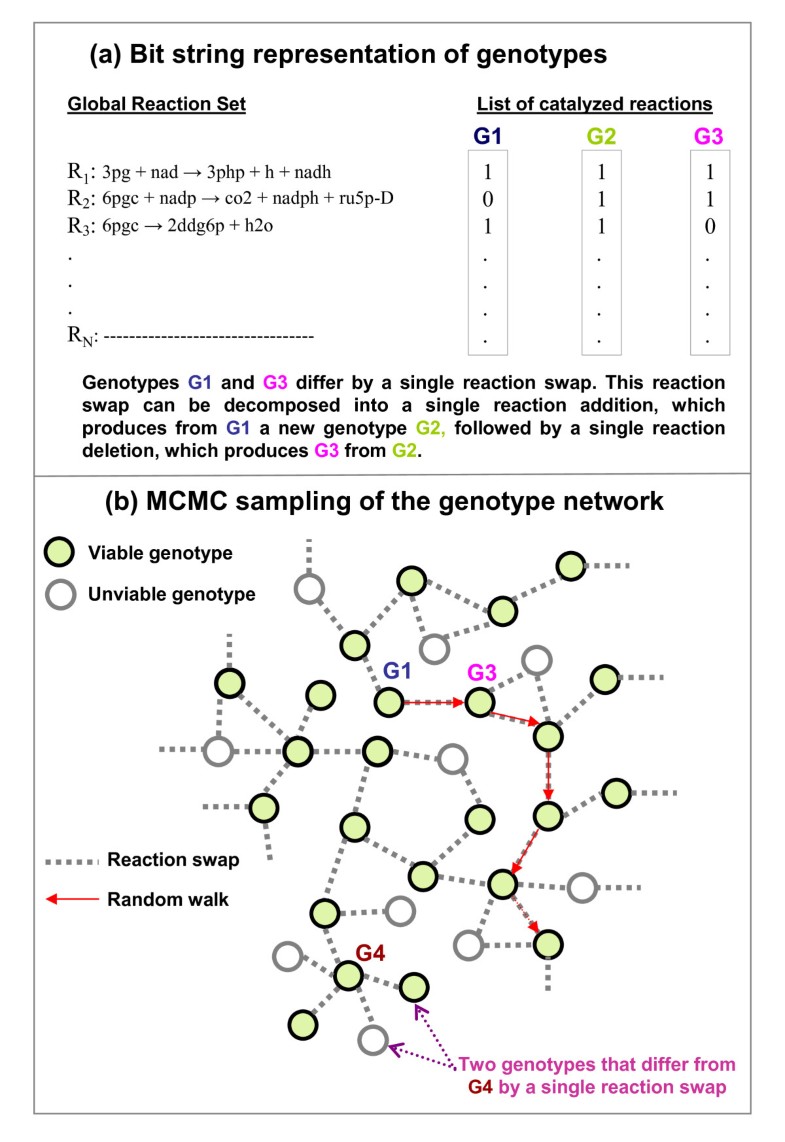 For any one metabolic genotype, the computational approach of flux balance analysis (FBA) [17–19] can help determine whether the corresponding metabolic network can synthesize all major biomass components in a given chemical environment or medium. Flux balance analysis primarily uses information about the stoichiometry of enzymatic reactions in cellular metabolism to obtain a prediction for the steady-state fluxes of all reactions and the maximum possible biomass synthesis rate of a metabolic network. The key underlying assumptions used in FBA are: (i) cellular metabolism operates at a steady state for a given environmental condition, wherein the concentrations of all internal metabolites and rates of all reactions are constant; (ii) the organism can adjust its metabolic fluxes -- rates at which individual reactions convert substrates into products -- to maximize its biomass growth flux. Flux balance analysis neglects regulatory properties of metabolic systems, and is thus concerned with the more fundamental constraints of biomass synthesis caused by the presence and absence of enzymes. In practice, regulatory constraints can often be overcome quickly in laboratory evolution experiments [20, 21] and are thus temporary rather than fundamental obstacles to cell growth. The predictions of FBA and related approaches are often in good agreement with experimental results [22, 23].
We here refer to the ability of a metabolic network genotype to synthesize a given biomass in a given environment as its metabolic phenotype. Except where noted otherwise, we will use the published biomass composition (i.e., its components and their proportions) of the bacterium E. coli[24], but our approach is not restricted to this organism. We call a genotype viable in a given chemical environment if, according to FBA, it can synthesize biomass at some strictly positive rate in this environment.
Compared to other systems discussed above, little is known about the organization of metabolic phenotypes in metabolic genotype space [25, 26]. In an earlier contribution [26] we demonstrated the existence of extended genotype networks for metabolic phenotypes that involved a large number of environments with many variable carbon sources. We also demonstrated that such genotype networks may facilitate evolutionary innovation in metabolism, that is, viability on novel carbon sources. A limitation of that earlier work is that we considered only metabolic networks within a narrow size range. Thus, we did not analyze the dependency of genotype space organization on network size systematically; nor did we estimate fractions of viable genotypes, and their dependency on network size. Here, we introduce an improved computational strategy to systematically address these issues. Our strategy, schematically illustrated in Figure 1b and explained below, is based on Markov Chain Monte Carlo sampling of the subspace of viable genotypes [27]. It allows us to study in detail the dependency of genotype network properties on the number n of reactions catalyzed by a genotype. In particular, it reveals how the constraint of viability becomes more and more severe as n decreases. The properties we examine include the typical and maximal distance of metabolic networks in a genotype network, their robustness to the removal of chemical reactions, and the dependency of these and other features on different chemical environments. With our approach and a suitable database of reactions, one can explore the space of genotypes having any desired phenotype.
Discussion and Conclusion
In sum, our analysis has revealed several characteristic features of the genotype space of metabolic networks. First, the probability that a random metabolic network in genotype space is viable (produces a strictly positive biomass growth flux) decreases dramatically as its number of reactions n decreases from the number N of reactions in a reaction "universe". Most of this decrease is caused by the fact that smaller metabolic networks are less likely to contain all super-essential reactions, reactions that any network must contain to be viable in a given environment. Second, the robustness of random viable metabolic networks to the removal of random reactions shows a very narrow distribution. This observation is a simple consequence of a law of large numbers, because many individual reactions contribute to the viability of a reaction network. In all environments we studied, the E. coli metabolic network is significantly more robust than random viable networks. Third, we showed that random viable networks typically contain very different sets of reactions. Specifically, their genotype distance is not much below that of metabolic networks chosen at random from genotype space, regardless of their viability. Viable genotypes having few reactions are exceptions to this rule, because they are appreciably more similar to each other than random genotypes.
Fourth, the maximum genotype distance between viable metabolic networks is almost as large as the diameter of genotype space itself, that is, to the maximum distance among all genotypes, regardless of their viability. Because of the method we used to identify the typical and maximum genotype distance, we know that genotypes at these distances can be connected through individual reaction changes that do not affect viability. In other words, viable genotypes form genotype networks that extend far through genotype space.
Fifth, there is remarkably little structure within a given genotype network. A principal component analysis and hierarchical clustering of our samples of random viable genotypes detects no clustering of genotypes that might indicate different types of viable metabolic networks. Importantly, none of these observations depends strongly on the specific carbon source we used in our minimal chemical environments. However, there are differences between the number of genotypes viable on different carbon sources. For example, the space of viable genotypes is smaller for acetate than for glucose. Also, fewer genotypes are viable simultaneously on two or three of our carbon sources than on just one carbon source. Our Markov Chain Monte Carlo sampling approach allows us to estimate the relative sizes of these viable spaces.
We next discuss two potential caveats to our analysis. First, in order to preserve reaction numbers, we used the decidedly non-biological choice of swapping reactions to carry out random walks in our MCMC exploration of genotype space. In contrast, during the evolution of genome-scale metabolic networks, individual reactions are eliminated from metabolic networks through loss-of-function mutations in their enzyme-coding genes; reactions are added through horizontal gene transfer [34, 35] or, more rarely, via the evolution of a protein with new catalytic function within an organism. In this regard, we note that every reaction swap can be viewed as an addition of a reaction (which always maintains viability) followed by a reaction deletion that preserves viability. In other words, a reaction swap can be decomposed into a succession of biologically meaningful genotypic changes; the connectivity of genotype networks found in our swap approach thus holds also for single additions and deletions of reactions.
Our knowledge of the biochemical reaction universe will undoubtedly grow in the future, which raises the question of how sensitive our observations are to the addition of reactions to this universe. In this regard, it is worth highlighting that the added reactions are unlikely to affect viability in the common carbon sources we studied. For such carbon sources, the super-essential reactions are known, and our current knowledge of the reaction universe already allows for an astronomical number of viable genotypes. We suspect that key quantities, such as the large diameter of genotype networks or their typically high robustness to mutations will thus increase rather than decrease as more and more "accessory" reactions become known. These arguments do not necessarily apply to more complex or exotic chemical environments. We leave the exploration of such environments to future work.
The work we reported here suggests that viability in the E. coli metabolic network is significantly more robust to random reaction removal than in random viable genotypes for the three environments we studied. This high robustness persists if we require that a viable genotype does not just have positive biomass growth flux, but also a high biomass growth flux, and also if we change the stoichiometry of the biomass composition randomly by up to 20 percent. We note that because of the very narrow distribution of robustness among random viable genotypes, this significant difference translates into a modest decrease in the absolute number of essential reactions in E. coli. For example, in a glucose minimal environment, random viable genotypes in our sample have a mean number of 237 essential reactions, whereas E. coli has 212 essential reactions, i.e., 25 fewer than the mean. We cannot exclude that future improvements of the E. coli network annotation might reduce this significant difference to random viable metabolic networks, and thus our observation of significantly high E. coli robustness should be interpreted with caution. Earlier work by some of us [26] had suggested that the robustness of the E. coli network was not significantly different from random viable networks. However, in that work we had allowed the number of network reactions in an MCMC exploration of metabolic network space to fluctuate by a modest amount. Because of the modest number of differences in essential reactions between E. coli and random viable metabolic networks, these fluctuations were sufficient to obscure significant differences in robustness. Our improved MCMC approach leaves reaction numbers strictly constant and allows us to reveal these differences.
In conclusion, our work shows that phenotype-preserving genotype networks that extend far through metabolic genotype space are not just peculiarities of metabolic networks with a given size. They are generic organizational properties of metabolic genotype space, and share important features of genotype networks in other classes of systems, such as proteins, RNA, and regulatory circuitry [5, 9, 36].
Methods
Flux Balance Analysis (FBA)
Flux balance analysis (FBA) is a constraint-based modeling approach that primarily uses the information about the stoichiometry of all enzymatic reactions in cellular metabolism to obtain a prediction for the steady state fluxes of all reactions and maximum biomass yield of the organism [
18
,
19
]. The information about the stoichiometry of metabolic reactions is encapsulated in the stoichiometric matrix
S
of dimensions
m
×
n
, where
m
denotes the number of metabolites and
n
denotes the number of reactions. In any metabolic steady state, different metabolites achieve a mass balance where the vector
v
of reaction fluxes satisfies the equation
representing the stoichiometric constraints and the requirement of mass conservation in the steady state. For genome-scale metabolic models, the above equation typically leads to an under-determined system of linear equations, and a large solution space of allowable fluxes. The size of this space can be reduced by incorporating thermodynamic constraints associated with irreversible reactions, as well as flux capacity constraints, which limit the maximum flux through some or all reactions. Linear programming (LP) can then be used to find a set of flux values -- a point in the space of allowable solutions -- that maximize a certain biologically relevant linear objective function Z, which is usually chosen to be the biomass growth flux. The LP formulation of the FBA problem can be written as:
where the vector c corresponds to the objective function, and vectors a and b contain the lower and upper limits of different metabolic fluxes contained in v.
Global reaction set
In this work, we have used a set of 5870 reactions compiled earlier by two of us (J.R. and A.W.) through merging of the Kyoto Encyclopedia of Genes and Genomes (KEGG) LIGAND reaction database [28] with the E. coli metabolic model iJR904 [24], followed by appropriate pruning to exclude generalized polymerization reactions [26]. Of the 5870 reactions in this hybrid database, 3369 are irreversible and 2501 are reversible reactions. We took the set of 143 external metabolites contained in the E. coli iJR904 model to be the set of possible uptake and secreted metabolites in the metabolic network. We have used an objective function Z (Eq. 2) that requires synthesis of those E. coli biomass compounds defined in the iJR904 model [24]. In this function, we also used the proportions of these compounds defined in [24].
Large-scale metabolic networks typically have certain dead-end reactions; these can only have zero flux for every investigated chemical environment, under any steady-state condition with nonzero biomass growth flux. Such reactions have been referred to as "blocked" in the literature and cannot contribute towards the steady-state flux distribution [31, 32]. We found that 2968 of the 5870 reactions would be blocked under all environmental conditions that we examine in this study. We excluded this set of 2968 blocked reactions from the hybrid database of 5870 reactions, which led to a reduced reaction set of 1597 metabolites and 2902 reactions. We took this reduced set of N = 2902 reactions as the "global reaction set" or "reaction universe" for our study.
The E. coli metabolic model iJR904 contains 931 reactions which occur in the hybrid database of 5870 reactions from which we derived our global reaction set [26]. After having excluded the 2968 blocked reactions, the global reaction set still contains 831 reactions specific to E. coli. We consider this space of reactions to be the E. coli metabolic genotype.
Phenotypes and viability
In general, in silico metabolic studies take a metabolic network's "fitness" in a given chemical environment to be proportional to the maximum biomass growth flux the network can attain. The metabolic phenotypes we consider here are conceptually simpler: they regard only viability. Specifically, we consider a genotype to be "viable" in a given chemical environment if and only if its maximum biomass flux is nonzero. That is, the genotype is viable if it can synthesize all biomass compounds, regardless of the synthesis rate. Otherwise, we consider the genotype to be non-viable. We use FBA and the E. coli biomass composition mentioned above to determine viability. If a genotype with n reactions in the space Ω(n) is viable, we say it belongs to the viable space V(n). Thus, the viable space V(n) is a subspace of Ω(n).
Chemical environments
This work is concerned with viability of metabolic network genotypes in a given, well-defined chemical environment or medium. Specifically, we consider only minimal environments that contain a limited amount of a carbon source, along with unlimited amounts of the following inorganic metabolites: oxygen, water, protons, sulfate, ammonia, pyrophosphate, iron, potassium and sodium. The work presented here focuses on the three carbon sources: glucose, acetate and succinate, but we have also investigated properties using four other carbon sources.
Essential and super-essential reactions
We call a reaction essential for a given viable genotype in a given chemical environment if its elimination ("knock-out") renders the genotype non-viable in that environment. We call a reaction "super-essential" for this environment if it is essential for the genotype containing all reactions in the global reaction set. We note that a reaction that is super-essential in any one environment must be essential for every viable genotype. We have determined the set of super-essential reactions for the different minimal environments we study here. In particular, the glucose and succinate environments have the same 99 super-essential reactions, while acetate's super-essential reactions are those same 99 plus one more. As we describe below, knowledge about these super-essential reactions allows us to increase the efficiency of our sampling of genotype space to estimate the size of the viable space V(n) at much smaller n than would be possible otherwise.
Estimating the fraction of viable genotypes
For most of our analysis, we are interested in the properties of genotypes belonging to the viable space V(n). One of the most basic questions is whether the constraint of being viable is "severe", i.e., whether a random genotype in Ω(n) has a tiny probability of being viable. In principle, one could sample genotypes (bit strings) in Ω(n) at random and determine for each such genotype whether it is a member of the viable space V(n). In a large enough sample of such genotypes, the fraction of viable genotypes provides an estimate of the fraction of viable genotypes. Unfortunately, for our genotype space, these fractions are extremely small and thus not measurable unless the number n of reactions in a genotype is above 2700. To avoid this problem, we have implemented an algorithmic trick where the probability of being viable is represented as a product of two factors that can be computed separately. The first factor is the probability that a genotype of a given size contains all super-essential reactions. This factor is of a simple combinatorial nature (it is a ratio of two binomial coefficients) and thus can be computed analytically. Specifically, for a given number of n reactions and s super-essential reactions, this factor is given by B (N-s, n-s)/B(N, n) where B(p, q) is the binomial coefficient p!/[q! (p-q)!]. The second factor is the probability that a genotype is viable given that it contains all super-essential reactions. To estimate this second factor, we use the following procedure to generate 106 random genotypes for a given value of n. We first include all reactions in the super-essential set and then randomly include non-super essential reactions until the genotype contains exactly n reactions. The fraction of these 106 genotypes that are viable gives us the estimate of the second factor. This procedure reduces the computational complexity of our sampling problem and allows us to provide accurate estimates of the size of V(n) for a broad range of reaction numbers n.
Aspects of the MCMC algorithm and associated analyses
In our direct sampling of V(n) at n>2000, we exploited the presence of super-essential reactions. This trick can also be used for the MCMC sampling. Specifically, since all genotypes in V(n) contain all super-essential reactions, we can force these reactions to always be present. As a result we can impose that a reaction swap does not involve any super-essential reaction. This procedure enhances the efficiency of the MCMC sampling. Most importantly, it increases the acceptance rate.
In general, the genotypes produced by the MCMC method will have some memory of the starting genotype, although this memory fades with the number of steps performed. (Such memory erasure must occur if the asymptotic distribution is uniform in the accessible space.) In the same vein, the successive genotypes in our Markov chains are strongly correlated, since they differ at best by an exchange of one reaction pair. These correlations typically decrease exponentially with the number of steps, and the associated time scale τ -- the auto-correlation time of the chain -- can be estimated empirically [37]. We have done so for three different environments, as illustrated for one value of n in Figure S3. The figure shows that the distance to the initial genotype grows and then quickly saturates, with a characteristic time scale τ of about two thousand swaps (for the value of n illustrated in the figure), regardless of the environment. Note that τ gives both the characteristic time to "forget" the starting genotype and the time to go from one genotype to a nearly independent one. This estimation of τ motivates the following procedure, which we followed for all reaction numbers and environments. Beginning with the initial genotype, we first carried out 105 Markov Chain steps to erase the memory of the starting genotype. After this initial phase, we continued the MCMC procedure to sample the genotype network. During this phase, it is not useful to keep all of the genotypes produced because they are strongly correlated. We thus saved only every 1000th genotype generated, and ran the Markov chain for a total of 106 steps, leading to one thousand saved genotypes. These 1000 genotypes are a random sample of viable genotypes in V(n) for a given chemical environment. We repeated the procedure for multiple values of n (n = 300 to 2800) and for all three minimal environments. We also implemented this procedure for obtaining samples of genotypes that were viable on multiple environments.
The sample produced by the MCMC is unbiased if the memory of the initial genotype is absent (which is why we use a large number of transitions before saving genotypes). But the successive genotypes are to some extent correlated. This does not affect the measurement of averages. However, when estimating statistical errors associated with sampling, it is necessary to take into account that the different genotypes are not independent. The standard procedure to address this problem involves jackknife calculations of the error bars [38]. Briefly, in this approach the ordered data (consisting of the sequence of saved genotypes) is analyzed, the mean of the observable of interest is extracted, and then the jackknife estimate of the statistical error is obtained using variable window sizes. The window size determines how successive data values are regrouped [38]; it must be much smaller than the total sample size, and one can check that the resulting error estimates are insensitive to the choice of this window size. For example, we have used this procedure to estimate errors in the distribution of mutational robustness. For each robustness bin, we determined the number of genotypes of the sample that fall in that bin; and the jackknife estimate gave the error bar on the height of the bin. In practice, mutational robustness has negligible correlations on the time scale of our successively saved genotypes, and thus the jackknife estimates are very similar to those obtained when ignoring correlations.
A rule of thumb for MCMC sampling is that the algorithm is efficient if the autocorrelation time of any observable is not too long. If our sampling disregarded viability, that is if one were sampling Ω(n) rather than V(n), then one would need of the order of n reaction swaps to generate an independent genotype, leading to τ = n. Clearly, when sampling V(n), a proposed swap is refused whenever the modified genotype is not viable. If A is the acceptance rate of swaps, then a simple expectation based on this observation is τ = n/A. In the regime we studied (n>300), A is greater than 0.2, as illustrated in Figure S4 in Additional File 1. In consequence, τ should be of the order of a few thousand steps. This is what we found (cf. Figure S3 in Additional File 1). In sum, the MCMC method is less efficient in V(n) than in Ω(n), but it is more than adequate for our purposes. Only for genotypes with n<300 would the MCMC approach become unacceptably slow, but in this case a much more fundamental problem would be that there may be no genotypes at all in V(n).
Genotype-specific "essential" and "blocked" reactions
For a randomly sampled genotype viable in a given minimal environment, we can determine both the subset of reactions present that are essential for that genotype in this environment and the subset of reactions that are blocked in this environment. A reaction is blocked for a given genotype and environment if no strictly positive flux through it can occur under steady-state conditions [31, 32]. In other words, this genotype can have non-zero biomass growth flux only if the flux through this reaction is zero. Such a reaction can be considered as "afunctional" for this genotype and environment.
Clustering analysis
Our genotypes are bit strings; as such, they can be thought of as vectors in an N dimensional space. Given a list of such vectors, one can use Principal Component Analysis (PCA) to analyze clustering of genotypes. We have also implemented a hierarchical clustering of such strings; to do so, we first construct the list of distances between each genotype, using the Hamming distance. Then we can hierarchically assemble the two nearest clusters into a new (larger) cluster, and repeat this procedure recursively. At each step, it is necessary to have a definition of the distance between two clusters: we take this distance to be the mean distance of members of different clusters. The PCA analysis has been performed using the function princomp in MATLAB 7.7. The hierarchical clustering analysis has been performed using functions pdist, linkage and dendrogram in MATLAB 7.7.
Declarations
Acknowledgements
We thank Monique Bolotin-Fukuhara for discussions. AS thanks the Federation of European Biochemical Societies (FEBS) for a short term fellowship to visit OCM. AW and JR acknowledge support from the Swiss National Science Foundation as well as from the YeastX project of SystemsX.ch, and JJ acknowledges support from the Volkswagen Foundation. OCM acknowledges support from the Agence Nationale de la Recherche, Metacoli grant ANR-08-SYSC-011. We would also thank the anonymous reviewers for their constructive comments on the manuscript.
Authors' Affiliations
(1)
Max Planck Institute for Mathematics in the Sciences, Inselstr 22, Leipzig, Germany
(2)
INRA, UMR 0320/UMR 8120 Génétique Végétale, Univ Paris-Sud, Gif-sur-Yvette, France
(3)
Laboratoire de Physique Théorique et Modèles Statistiques, CNRS, Univ Paris-Sud, UMR 8626, Orsay Cedex, France
(4)
Department of Biochemistry, University of Zurich, Zurich, Switzerland
(5)
Swiss Institute of Bioinformatics, Lausanne, Switzerland
(6)
The Santa Fe Institute, Santa Fe, USA
(7)
Department of Biology, University of New Mexico, Albuquerque, USA
Copyright
© Samal et al; licensee BioMed Central Ltd. 2010
This article is published under license to BioMed Central Ltd. This is an Open Access article distributed under the terms of the Creative Commons Attribution License (http://creativecommons.org/licenses/by/2.0), which permits unrestricted use, distribution, and reproduction in any medium, provided the original work is properly cited.