Methodology article
Open Access
Hybrid modeling of biological networks: mixing temporal and qualitative biological properties
BMC Systems Biology
2010
4:79
Received: 10 September 2009
Accepted: 4 June 2010
Published: 4 June 2010
Abstract
Background
Modeling a dynamical biological system is often a difficult task since the a priori unknown parameters of such models are not always directly given by the experiments. Despite the lack of experimental quantitative knowledge, one can see a dynamical biological system as (i) the combined evolution tendencies (increase or decrease) of the biological compound concentrations, and: (ii) the temporal features, such as delays between two concentration peaks (i.e. the times when one of the components completes an increase (resp. decrease) phase and starts a decrease (resp. increase) phase).
Results
We propose herein a new hybrid modeling framework that follows such biological assumptions. This hybrid approach deals with both a qualitative structure of the system and a quantitative structure. From a theoretical viewpoint, temporal specifications are expressed as equality or inequality constraints between delay parameters, while the qualitative specifications are expressed as an ordered pattern of the concentrations peaks of the components. Using this new hybrid framework, the temporal specifications of a biological system can be obtained from incomplete experimental data. The model may be processed by a hybrid model-checker (e.g. Phaver) which is able to give some new constraints on the delay parameters (e.g. the delay for a given transition is exactly 5 hours after the later peak of a gene product concentration). Furthermore, by using a constraint solver on the previous results, it becomes possible to get the set of parameters settings which are consistent with given specifications. Such a modeling approach is particularly accurate for modeling oscillatory biological behaviors like those observed in the Drosophila circadian cycles. The achieved results concerning the parameters of this oscillatory system formally confirm the several previous studies made by numerical simulations. Moreover, our analysis makes it possible to propose an automatic investigation of the respective impact of per and tim on the circadian cycle.
Conclusions
A new hybrid technique for an automatic formal analysis of biological systems is developed with a special emphasis on their oscillatory behaviors. It allows the use of incomplete and empirical biological data.
Keywords
Hybrid ModelingCircadian ClockGene Regulatory NetworkDelay IntervalTemporal Constraint
Background
Usual experimental approaches studying living systems behaviors focus on various and complementary biological components e.g. a set of genes that encodes a set of proteins. These components interact together within a network. The set of these interactions can be abstracted in a gene regulatory network (GRN), which is the major biological framework for investigating dynamical biological behaviors (see Fig.
1
for illustration). For long, due to the large number of unknown biological parameters (i.e. numerical values of dynamical features related to biochemical reactions), modeling the gene regulatory network behavior was a difficult task. Several approaches try to overcome the lack of parameters values by proposing dedicated qualitative modeling approaches (see [
1
,
2
] for overview and [
3
] for review). They all consider the gene interaction as the cornerstone to represent a biological behavior. It summarizes a protein production that activates or represses the target gene. From a computational viewpoint, these modeling approaches exploit the structure of the network (e.g. interlocked feedback loops) rather than the numerical values of biological compound concentrations. Among the qualitative modeling techniques, approaches based on Piecewise-Affine Differential Equations (PADEs) [
4
] or the René Thomas's formalism [
5
] gave astonishing results when applied on concrete biological systems. As shown in [
6
,
7
], these techniques correspond to a class of hybrid systems [
8
] for which we can apply existing powerful techniques for the verification and the control of these hybrid systems. In particular, they permit an automatic investigation of qualitative properties of the genetic regulatory networks [
9
].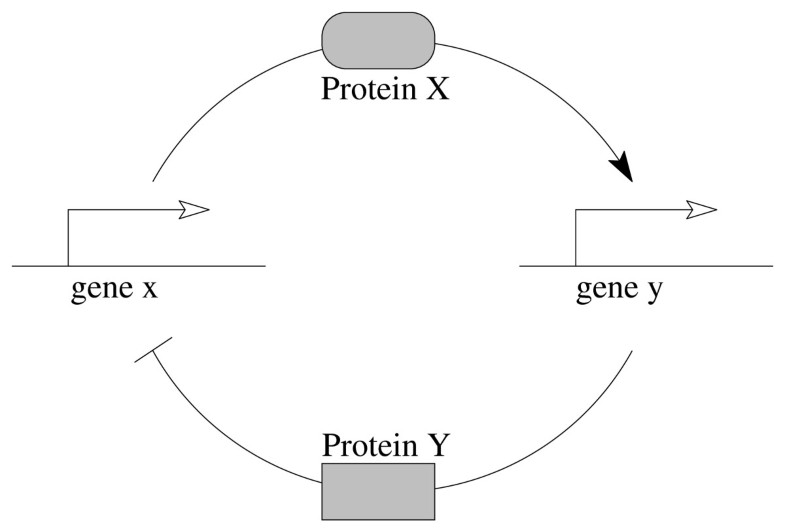 In addition to these modeling features, the last decade saw the emergence of new experimental techniques like micro-arrays [10] that monitor the gene expressions over time. It highlights the recurrent biological interest for biological temporal properties that takes place in all biological scales. Therefore, a new class of hybrid systems, dedicated to biological system modeling, must take into account a new parameter: the time delay. Note that such a parameter was often neglected before, despite documented variations of specific products over time. The time delay represents a unique opportunity to refine existing qualitative models by showing qualitative properties that verify experimental temporal constraints. Conversely, it emphasizes a need for a modeling that includes both qualitative properties, arisen from the biological network structure, and delays associated with the dynamics of genes or gene products. For this purpose, we propose herein a new hybrid modeling technique. We aim at providing a novel tool for the biological community that allows to directly use the qualitative and partial temporal experimental data. Obviously, such modeling does not claim to substitute for existing modelings, but remains a preliminary approach for investigating complex biological system. As a major feature, it abstracts the structure of the network, i.e. positive and negative feedback loops, by focusing on the variation of signs of the gene products following given qualitative behaviors. In this qualitative abstraction, we add some constraints on delays for a natural refinement of the qualitative behavior.
This paper introduces such a hybrid modeling technique. This section highlights connections between our modeling technique and other state-of-the-art modeling approaches, and shows the principle of the modeling. The section methods gives a formal description of the hybrid modeling approach, with a special emphasis on qualitative and temporal constraints. The theoretical framework is illustrated on a simplistic system composed of two genes (Fig. 1). Finally, the section results and discussion proposes an application of the hybrid modeling on a biological system of reference: the circadian cycle of Drosophila melanogaster. This system is particularly well-studied for its temporal properties and hence represents a suitable benchmark for testing our modeling approach and showing reachable biological insights.
Context and Related Works
Several qualitative modeling approaches, like those using PADEs [4] or discrete abstractions (either boolean abstraction [11] or multivalued abstraction [12]), share similar characteristics but come from different theoretical backgrounds. Discrete abstractions exclusively focus on qualitative data (interlocked feedback loops), which easily lead to determinate parameters values. At the opposite, PADEs systems qualitatively summarize quantitative information to overcome the estimation of parameters that are difficult to obtain. Recently, many works [13–15] demonstrate the promising properties of modeling approaches that incorporate temporal features. Their theoretical frameworks basically use a qualitative modeling that is extended into a hybrid (continuous and discrete) modeling. Among them, Siebert and Bockmayr [15] resume the Thomas's modeling approach [12] and add temporal notions when discrete qualitative parameters are known. It is endowed with a delicate refinement of the discrete dynamics based on temporal parameters. They consider the interval of delays to go from a level n to a level n ± 1 for a given variable. Furthermore, they use timed automation in their modeling which do not allow to consider evolution speeds different from 1. On the one hand, this leads to simple and more efficient model-checking algorithms but, on the other hand, the states graph they get is more complex since they have to deal with distinguished variables standing for either positive or negative or even null evolution rate. Another study proposed by Batt et al. [14] adapts a timed automata approach [16] and extends it from boolean to multivalued discrete states. With their formalism, the authors clearly distinguish the genes and their products. Each gene is represented as a boolean function of all the genes products. The genes products are featured by their concentration discretised levels and their constant evolutions (positive or negative but never null) is a function of their gene (active or not). The action of the gene on the concentration level of its product is delayed according to given delays intervals. Ahmad et al. [13] build models that encompass the consecutive and cumulative increasing and decreasing phases in hybrid automata. Starting from the discrete states graph emerging from the René Thomas approach, they replace each state by a "location" featured by the evolution of all the genes. These authors do not use delays intervals, thus their delays produce deterministic trajectories.
Both timed and hybrid modeling approaches use time intervals in their transitions system, but failed at investigating large networks since the achieved models are quickly too complex for a standard analysis. Our present hybrid modeling technique does not arise from an existing modeling framework. Nevertheless, our model analysis keeps close to the qualitative analysis of a continuous system. For example, there exists a methodology proposed by [17] that derives a qualitative description from ODE systems by a study of the derivative signs. There is also the constraints analysis for large gene regulatory networks proposed by Siegel and co-workers [18]. Their mathematical framework allows to test the compatibility between differential data and knowledge on interactions and then to propose a solution when incompatibility is revealed.
Principle of our Hybrid Modeling
As a major assumption, we consider the
biological qualitative behavior
as the cornerstone of our modeling. By qualitative behavior, we mean the chronological sequence of ordered concentration peaks, rather than their actual concentration values. These peaks have timing properties as well. The knowledge of these properties emerges from experiments but remains often partial. We propose to combine them with the qualitative properties for a better understanding of the system behaviors (see Fig.
2
).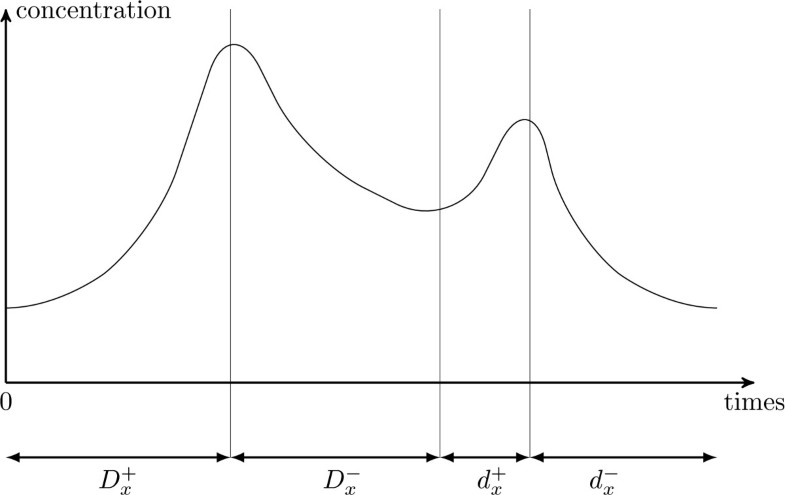 Since we focus on the bioproduct peaks, the discrete states, that stand for the time phases separating two such peaks, can be represented by tuples of boolean variables. Each boolean variable - named derivative sign - depicts the behavior of a given gene by showing the increasing time or decreasing time of its protein production. For illustration, in Fig.
3
, we have (
x
,
y
) = (+, -) which is, among others, a state standing for an increase of the concentration of the product of
x
(i.e. corresponding to protein X) and a decrease of the concentration of the product of
y
(i.e. protein Y).

Since we are taking into account discrete states for which we are not interested in the actual concentration levels, our hybrid modeling approach does not use the notion of threshold. In the absence of strong assumptions about the interactions of the system, we assume that any interaction can potentially change at any time the derivative sign of the evolution of the target. At this step, the model encompasses behaviors that may not actually take place in the actual executions of the system. They will now be trimmed using temporal constraints. Indeed, our hybrid modeling approach takes into account temporal schedulings, which introduce the notion of time between two successive peaks, since such schedulings rely upon the respective durations of the increase or decrease phases. Thus, it gives some results that are estimations of times to increase and to decrease for each biological variables.
The parameters of our hybrid modeling technique stand for some temporal data in the form of delays, that are not functions of the discrete states. Thus, each transition from one discrete state to another one is defined over a range of delays that build an interval of the possible values of the actual delays. Hence, the transitions between the discrete states are not deterministic. For illustration, in Fig. 2, the increasing time t+x is included in a given interval [

,

]. The boundaries of these intervals constitute the set of the temporal parameters values of the hybrid modeling. The number of parameters is therefore a linear function of the number of variables used in the system. Notice that the number of parameters being quite small, it allows to investigate large gene regulatory networks.
Furthermore, by specifying qualitative dynamics, one may obtain parametric results. They correspond to the constraints between the values of the delay parameters of the system. Because the transitions of the hybrid modeling are not deterministic, these parametric results are necessary but not sufficient conditions.
Conclusion
We presented here a subclass of Linear Hybrid Automata, named Temporal Evolution Model (TEM). This approach is an accurate first step for modeling living systems with incomplete knowledges. It takes into account (i) a qualitative description of the signs of derivatives, and (ii) the quantitative temporal properties associated with biological productions. These two particular knowledges are notably essential to describe biological behaviors over time, as observed in recent experimental approaches. Thus, based on our hybrid modeling, a qualitative validation of a model consists in finding a peaks scheduling that is consistent with experiments. In addition, TEM provides the opportunity to reason automatically on the temporal properties that are associated with the peaks scheduling. It thus gives a natural refinement of the qualitative validation by showing necessary constraints on delays to achieve a specific qualitative transition, like those observed in the oscillatory behaviors.
In comparison with the other biological hybrid modelings, TEM needs less parameters. The qualitative behaviors are represented only using an interaction system that focuses on the derivative sign variation. This abstraction implies the lost of precise quantitative description (as provided by qualitative thresholds in PADEs), while it allows as well the modeling of larger systems.
We illustrated the potential of our hybrid modeling by the investigation of the Drosophila circadian model. The modeling results are consistent with previous simulations and the literature [21]. These results did not require the parameter settings in a arbitrary way. The investigation of the Drosophila circadian model illustrates the dual perspective that comes from our approach: (i) helping experimental biologists by showing the consequences of their assumptions and (ii) leading modelers to refine their models by trimming unnecessary parameters.
Declarations
Acknowledgements
The study has been financed by Grant Region Pays de loire for the BIL project (2008-2011). The authors thank Goran Frehse for fruitful discussions about PHAVer.
Authors' Affiliations
(1)
IRCCyN UMR 6597, CNRS & École Centrale de Nantes, Nantes, France
(2)
Computational Biology group, LINA UMR 6241, CNRS & Université de Nantes, Nantes, France
Copyright
© Fromentin et al; licensee BioMed Central Ltd. 2010
This article is published under license to BioMed Central Ltd. This is an Open Access article distributed under the terms of the Creative Commons Attribution License (http://creativecommons.org/licenses/by/2.0), which permits unrestricted use, distribution, and reproduction in any medium, provided the original work is properly cited.