Research article
Open Access
Optimality and evolution of transcriptionally regulated gene expression
BMC Systems Biology
2011
5:128
Received: 2 December 2010
Accepted: 16 August 2011
Published: 16 August 2011
Abstract
Background
How transcriptionally regulated gene expression evolves under natural selection is an open question. The cost and benefit of gene expression are the driving factors. While the former can be determined by gratuitous induction, the latter is difficult to measure directly.
Results
We addressed this problem by decoupling the regulatory and metabolic function of the Escherichia coli lac system, using an inducer that cannot be metabolized and a carbon source that does not induce. Growth rate measurements directly identified the induced expression level that maximizes the metabolism benefits minus the protein production costs, without relying on models. Using these results, we established a controlled mismatch between sensing and metabolism, resulting in sub-optimal transcriptional regulation with the potential to improve by evolution. Next, we tested the evolutionary response by serial transfer. Constant environments showed cells evolving to the predicted expression optimum. Phenotypes with decreased expression emerged several hundred generations later than phenotypes with increased expression, indicating a higher genetic accessibility of the latter. Environments alternating between low and high expression demands resulted in overall rather than differential changes in expression, which is explained by the concave shape of the cross-environmental tradeoff curve that limits the selective advantage of altering the regulatory response.
Conclusions
This work indicates that the decoupling of regulatory and metabolic functions allows one to directly measure the costs and benefits that underlie the natural selection of gene regulation. Regulated gene expression is shown to evolve within several hundreds of generations to optima that are predicted by these costs and benefits. The results provide a step towards a quantitative understanding of the adaptive origins of regulatory systems.
Keywords
IPTGSelection CoefficientLactose ConcentrationIPTG ConcentrationConstant Environment
Background
Evolution is often viewed as an optimization process, in which selection drives the fixation of fitness-increasing mutations until the optimal phenotype that maximizes fitness is reached [1–5]. It is routinely observed that organisms, when challenged with novel environments, can adapt and increase fitness by genetic changes [6–8]. However, adaptation alone does not necessarily imply optimality, as for instance constraint of genetic or physico-chemical origins may prevent access to optimal phenotypes [9, 10]. Investigating optimality requires a mechanistic understanding of the studied phenotype and its relation to fitness, which is seldom available. Consequently, it remains a challenge to assess whether observed phenotypes represent optimal solutions to the demands imposed by the environment.
These limitations can be overcome by focusing on a well-understood phenotype and mapping its relation to fitness, as has been shown by a few recent studies. For instance, Escherichia coli cells evolved by experimental evolution to predicted optimal metabolic fluxes, using a computer model of the metabolic network [3]. In another study [4], a gene involved in metabolism that was completely induced and hence effectively unregulated was shown to evolve to optimal expression levels, which could be predicted using measurements of the costs involved in protein expression [11, 12].
Here we ask a related but different question, namely whether the evolution of transcriptionally regulated gene expression is also predicted by a cost-benefit analysis. In contrast with constitutive gene expression studied previously [4], the level of expression in our case depends strongly on the binding of a transcription factor to the regulatory region, in addition to the more generic parameters such as the strength of the promoter and the ribosome binding site. Understanding how this regulatory control mechanism affects the dynamics of evolution by natural selection is the central motivation of this study.
The
E. coli
lactose operon is well suited for such an investigation, given the wealth of available functional and mutational data [
13
]. Despite these advantages however, some experimental challenges remain. To predict the balance between costs and benefits of expression, both must be measured for a range of
lac
operon expression levels, but at constant lactose concentrations. The latter is not possible with the wild-type
lac
operon, as its expression level explicitly depends on the lactose concentration. Here we achieve a decoupling of the metabolic and inductive properties of the environment, using the compounds phenyl-β-D-galactoside (Pgal), which can be metabolized but does not induce, and isopropyl-β-D-thiogalactopyranoside (IPTG), which cannot be metabolized but does induce (Figure
1a
). This approach allows us to measure both the cost and benefit of
lac
operon expression for independently varying levels of inducer and carbon source, and to directly determine the optimum expression level of the metabolic genes for each carbon source concentration. Moreover, the decoupling allows one to study the evolution of regulated expression in a controlled way; by establishing environments in which the wild-type
lac
regulation is suboptimal (the level of gene expression set by induction does not match the optimum expression level demanded by the amount of carbon source in the environment.) We generated several constant and alternating environments where the optimum regulatory responses differ from wild-type, and used an experimental evolution approach [
7
] to explore the adaptation of
lac
regulation to these new conditions.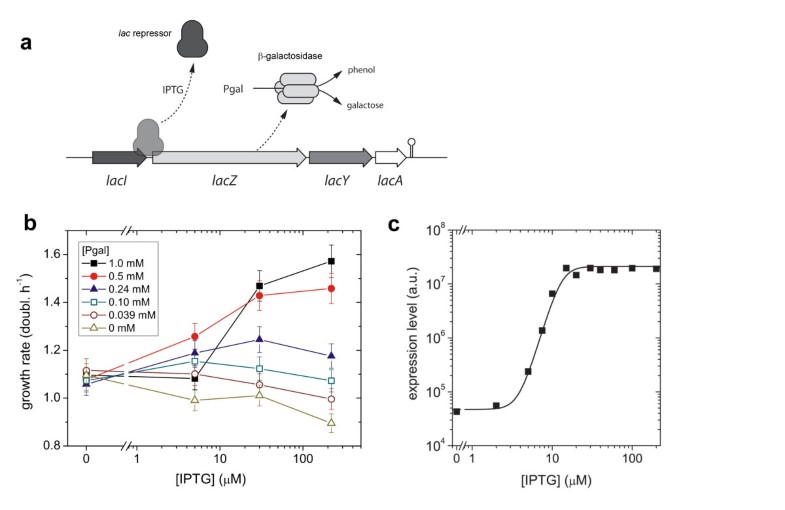 Conclusions
In this study we first quantified how growth rates of Escherichia coli depend on the concentrations of an inducer that is not metabolized and a carbon source that does not induce. This decoupling allowed us to vary expression of the metabolizing enzyme at a chosen fixed carbon source concentration, and measure not only the cost of protein production but also the associated metabolic benefits directly. Without a decoupling between inducer and carbon source, measuring the benefits of incompletely induced expression is a challenge, as adding a carbon source has two effects: it not only leads to its metabolism, but also increases expression. Using this approach, we could directly determine the optimal expression level without relying on models for the dependence of costs or benefits on expression.
In the second part of this study, we tested whether evolution of the regulatory system can be understood in terms of the measured costs and benefits, by performing serial dilution assays in constant environments. We found that cells evolved in agreement with the cost-benefit analysis within the course of a few hundreds of generations. These results are in line with a recent study showing the lac operon expression evolves to the optimal level for a given concentration of lactose in the environment [4]. However, there are also important differences. In this earlier work, the lac operon was not regulated by the lac repressor, as full induction by IPTG resulted in constitutive expression. The underlying genetic changes occurred outside the regulatory region, in unspecified regions that apparently also provided control over lac operon expression. In contrast, here we investigated the adaptation of a lac operon whose expression was regulated by the lac repressors. We found that under these conditions adaptive genetic changes took place within the regulatory protein, specifically a hotspot frame shift deletion. This result is robust for varying degrees of initial suboptimality. These observations suggest that for transcriptionally regulated gene expression, genetic variation in the transcription factor provides a probable adaptive route.
The third part of this study involved the experimental evolution in temporally alternating environments, again using the serial dilution approach. We found adaptation to these conditions through changes in the overall expression level over both environments. We did not observe evolution of the response, i.e. independent expression changes in both environments. The results do provide insight into the causes underlying this evolutionary stasis. First, the experiments in constant environments revealed that while evolutionary expression increases could fix within 300 generations, expression decreases already required several hundred more generations, indicating that the underlying genetic changes are rarer. Altered responses likely involve even longer evolutionary periods, as one may expect that it requires even rarer genetic changes. Second, using the ability to vary the expression independently of the carbon source, we showed that the cross-environmental fitness tradeoff curve is concave. This suggests further increased evolutionary periods, as it indicates a limited selective advantage for phenotypes with altered responses over phenotypes that simply altered their overall expression. These findings thus provide a mechanistic rationale for the observed evolutionary stasis, and indicate which environmental conditions and system properties would be optimal for an experimental demonstration of the adaptive evolution of regulatory responses.
Analysis of the sustained genetic changes indicated a recurring hotspot frameshift mutation [22] (leading to lacI - phenotypes) at a frequency that is an order of magnitude higher than would be expected from the genomic mutation rate and lacI target size (~10-7 [28, 29]), which is interesting in the light of regulatory evolution. In fact, both the deletion and addition of the 4 base pair repeat are observed at high frequency [22], which implies that reversals of hotspot mutations will also be more likely than reversing other lacI deactivations, as e.g. achieved by base pair substitutions. Together with the observation that the lacI coding sequence surrounding the hotspot is highly structured (palindromic), which is known to elevate the mutation frequency due to slippage of a replicating DNA polymerase [30], one may speculate that -in addition to regulation by sensing- the lac system also controls expression by what one could call 'mutational regulation', in which expression is switched stochastically and reversibly by genetic changes, in a manner that resembles the regulatory mechanisms underlying phase variation.
As a final remark, we note the possibility of a superior mutant that would undo the decoupling between inducer and carbon source and become responsive to Pgal, so that
However, none of the evolved populations here was found to be induced by Pgal. Although this is an interesting possibility, we expect that for this type of mutation to occur, a range of environments and an amount of generations need to be surveyed that is not easily accessible in this type of laboratory evolution experiments. Adaptation of inducer specificity may be more effectively studied at a higher level of control over the system, for example using targeted mutagenesis.
Here we presented a method to measure the optimal expression level of a vital operon, and to design environments with a well-defined performance mismatch, which is based on the decoupling between the sensed cue and the metabolized carbon source. This principle is general, and may be applied to study many open issues regarding the evolution in complex environments in a more quantitative manner.
Methods
Strains and media
We used Escherichia coli strain MG1655 [19]. All experiments were performed in M9 minimal medium, consisting of M9 salts (Sigma-Aldrich), supplemented with 0.1 mM CaCl2 (Merck Eurolab), 1 mM MgSO4 (Merck Eurolab), and 5 g/l casamino acids (BD Biosciences). When indicated, media contained isopropyl-β-D-thiogalactopyranoside (IPTG) and phenyl-β-D-galactoside (Pgal), both obtained from Sigma-Aldrich. All cultures were grown at 37°C. As an initial fast adaptation to the medium was observed, evolutionary runs were started after growth for ~30 generations on minimal medium without Pgal or IPTG.
Determination of growth rates
Growth rate determinations were performed after overnight growth in the medium described above, without IPTG or Pgal, followed by at least 3 hours growth in medium with the appropriate concentrations of Pgal and IPTG. Subsequently the cultures were diluted to an optical density of ~5.10-4 and transferred to a pre-warmed flat bottom 96 well microtiter plate (VWR 351172), at 200 μl per well. Optical density at 600 nm was recorded in a Perkin & Elmer Victor3 plate reader every 4 minutes, and every 29 minutes 9 μl sterile water was added to each well to counteract evaporation. When not measuring, the plate reader was shaking the plate at double orbit with a diameter of 2 mm. All presented growth values are averages of three independent measurements. From measurements in which all 96 wells were inoculated with wild-type MG1655, we determined the error margins on our averaged growth data to be 4.3%.
Determination of beta-galactosidase activity
The β-galactosidase activity of mutant pools and clones was determined using the fluorogenic substrate fluorescein-di-β-D-galactopyranoside (FDG, MarkerGene Technologies Inc, Eugene, OR, USA), which allows for an accurate determination of the LacZ activity over at least 4.5 orders of magnitude. Before transfer to a 96 well plate, cultures were grown overnight without IPTG and Pgal, and then diluted to an optical density of ~5.10-4. When expression levels were high so that overnight passage through stationary phase resulted in 'superinduced' LacZ activity levels (see Additional file 1), growth times before fluorescence determination were prolonged. Cells were fixed by addition of formaldehyde to 0.15%. LacZ activity is proportional to the maximum slope of FDG-fluorescence curves. Further details are given in Additional file 1.
Serial dilution experiments
10 ml cultures were grown in 50 ml polypropylene tubes in a 37°C water bath under vigorous shaking (200 rpm). Cultures were diluted 300-500× twice daily in fresh medium. As stationary cultures contain ~109 cells ml-1, this implies bottleneck sizes of ~107 cells (for 10 ml total culture volume). The alternating conditions were either switched twice daily (for the cultures alternating between 2 μM IPTG, 0 μM Pgal and 15/30 μM IPTG, 350 μM Pgal, see Figure 9), or once daily (for the remaining conditions). When switching from a higher concentration of IPTG or Pgal to a lower one, cultures were washed three times in minimal medium. Every four days a sample of the cultures was frozen at -80°C. Re-inoculation occurred after thawing and 3× washing in minimal medium.
Declarations
Acknowledgements
This work was supported by the research program of the Foundation for Fundamental Research on Matter (FOM), which is part of NWO.
Authors' Affiliations
(1)
AMOLF Institute, Amsterdam, The Netherlands
(2)
Green Center for Systems Biology and Department of Pharmacology, University of Texas Southwestern Medical Center, Dallas, USA
Copyright
© Poelwijk et al; licensee BioMed Central Ltd. 2011
This article is published under license to BioMed Central Ltd. This is an Open Access article distributed under the terms of the Creative Commons Attribution License (http://creativecommons.org/licenses/by/2.0), which permits unrestricted use, distribution, and reproduction in any medium, provided the original work is properly cited.