Research article
Open Access
Gene networks associated with conditional fear in mice identified using a systems genetics approach
BMC Systems Biology
2011
5:43
Received: 27 September 2010
Accepted: 16 March 2011
Published: 16 March 2011
Abstract
Background
Our understanding of the genetic basis of learning and memory remains shrouded in mystery. To explore the genetic networks governing the biology of conditional fear, we used a systems genetics approach to analyze a hybrid mouse diversity panel (HMDP) with high mapping resolution.
Results
A total of 27 behavioral quantitative trait loci were mapped with a false discovery rate of 5%. By integrating fear phenotypes, transcript profiling data from hippocampus and striatum and also genotype information, two gene co-expression networks correlated with context-dependent immobility were identified. We prioritized the key markers and genes in these pathways using intramodular connectivity measures and structural equation modeling. Highly connected genes in the context fear modules included Psmd6, Ube2a and Usp33, suggesting an important role for ubiquitination in learning and memory. In addition, we surveyed the architecture of brain transcript regulation and demonstrated preservation of gene co-expression modules in hippocampus and striatum, while also highlighting important differences. Rps15a, Kif3a, Stard7, 6330503K22RIK, and Plvap were among the individual genes whose transcript abundance were strongly associated with fear phenotypes.
Conclusion
Application of our multi-faceted mapping strategy permits an increasingly detailed characterization of the genetic networks underlying behavior.
Keywords
Conditional StimulusFear ConditioningSingle Nucleotide Polymorphism MarkerBehavioral PhenotypeRecombinant Inbred
Background
Advances in both genetic and behavioral techniques are providing unprecedented opportunities for dissecting the gene networks governing behavior. Through a variety of approaches, promising candidate genes have been identified for a wide collection of clinically relevant traits such as anxiety, conditional fear and spatial memory [1–3]. Intercrosses and backcrosses have been widely used to identify behavior quantitative trait loci (QTLs) in mice, but suffer from poor mapping resolution. More recently, the use of outbred mice has allowed fine mapping of a range of biological [3] and expression traits [4, 5]. However, outbred mice are a fleeting resource and must be regenotyped and re-phenotyped for each study.
In spite of many successes, the recent wave of genome-wide association studies paints an increasingly complex picture of genes underlying behavioral traits. The genetic architecture of most behaviors is widely distributed, with collections of independent loci making relatively small contributions to overall trait variability [6, 7]. The largely undefined and likely complex contribution of environmental factors to both the etiology and maintenance of behavior represents another formidable obstacle to reliable QTL mapping.
Recent work has achieved superior resolution using panels of inbred mouse lines [8]. Power can be further improved by incorporating recombinant inbred (RI) strains formed by crossing classical inbred strains followed by repeated sibling mating. One such resource is the hybrid mouse diversity panel (HMDP) which combines inbred and RI lines to create a panel of 100 strains with great resolution and statistical power [9]. The HMDP consists of 29 classical inbred strains supplemented with 71 RI strains derived from C57BL/6J crossed with either DBA/2J, A/J or C3H/HeJ. In addition to enhanced resolution, there are other significant advantages to using the HMDP for genetic mapping. Each strain has been genotyped extensively [10], and multiple individuals can be phenotyped for the same trait, reducing measurement variability. Furthermore, the panel is a renewable resource, since each strain can be propagated indefinitely [11]. Phenotype data can be pooled and shared in an ongoing fashion, while the effects of environmental variables are easily studied.
To leverage these emerging resources, we employed an integrative systems approach to explore the genetics of conditional fear. Figure
1
illustrates the sources of data we collect and how we investigate relationships to identify genetic pathways implicated in the predisposition to fear. Mice were phenotyped on a fear conditioning assay, and the quantitative data combined with single nucleotide polymorphism (SNP) genotypes to map behavioral quantitative trait loci (QTLs). We corrected for the confounding effects of relatedness and population structure between strains using efficient mixed model association (EMMA) [
12
]. By combining genome-wide expression QTL (eQTL) maps for hippocampus and striatum, weighted gene correlation network analysis (WGCNA) [
13
,
14
], and structural equation modeling, we identified single genes and pathways with relationships to fear-driven behavioral phenotypes.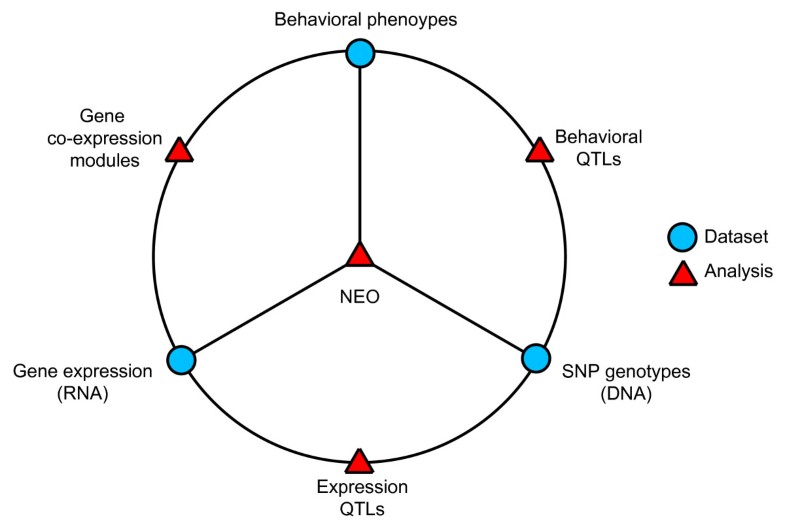 Results
To identify regions of the genome associated with fear-related behavior, mice from the HMDP were subjected to a fear conditioning procedure and characterized on 48 unique behavioral phenotypes drawn from different test phases. Using these phenotypes as quantitative traits, we performed a genome-wide association study (GWAS) to identify loci associated with each of the behavioral traits.
Discussion
Fear conditioning provides an opportunity to survey a range of clinically relevant processes including short and long-term memory, context generalization, and memory extinction, making it an efficient tool with which to probe the genetics of fear dependent behavior. To map fear related QTLs, we subjected a population of inbred mouse strains to a standard fear conditioning procedure and follow-up memory tests. We then combined behavioral phenotype data with SNP genotypes and tissue specific gene expression to search for candidate genes and related networks associated with fear phenotypes. Across 48 behavioral endpoints, we mapped a total of 27 QTLs, highlighting the complexity of behavioral regulation and showcasing the value of HMDP for mapping fear loci.
The inbred strains of the HMDP were not randomly selected, but were, in fact, carefully chosen to avoid, insofar as possible, high correlation of non-linked genome segments. Nevertheless, there are some shared segments across the genome due to bottlenecks in the breeding and the history of the strains. EMMA endeavors to correct for these artifacts in the association analysis. However, some caution should be applied to the interpretation of the mapping results, since bias may remain which cannot be overcome by the analysis of the data.
The strongest behavioral QTL in our investigation was for the phenotype cue immobility and had two peak markers on chromosome 7. These markers were located in the adjacent genes Tyr and Grm5 and had identical P values of 4.4 × 10-9, yet there were recombination breakpoints between them. Many HMDP strains have mutations in Tyr and are albino, resulting in possibly learning and memory deficits due to decreased visual acuity. However, a study that examined this allele specifically showed that it plays only a minor role in cue immobility and that additional loci are likely to influence fear conditioning [16]. Grm5 is an attractive candidate gene for this locus, since it has previously been shown to be involved in hippocampal LTP.
We surveyed the architecture of transcriptional regulation across two brain regions. We found a smaller number of cis and trans eQTLs in the hippocampus than in the striatum. This diminution may be caused by signal dilution due to the heterogeneous cellular nature of the hippocampus. However we found that the cis and trans eQTLs in the two tissues overlapped significantly, indicating that DNA polymorphism has a robust effect in modulating gene expression across tissues.
By simplifying the gene expression data into modules, we identified groups of genes that are related to fear related behavior. Two such modules in the hippocampus (CF1 and CF2) showed strong correlations with context-dependent fear measures, allowing identification of networks of genes whose co-expression co-varied with fear phenotypes across the HMDP. We assigned priorities to genes within each module based on their level of intramodular connectivity and mapped loci responsible for regulating MEs in both hippocampus and striatum. Cued and context immobility were phenotypically similar as they clustered together in the behavioral dendrogram. However, the two identified modules did not show strong correlations with cued fear, confirming suggesting that the two different types of fear are expressed through different neural and/or molecular pathways.
A hub gene in CF1 (Psmd6) and two of the most highly connected genes in CF2 (Ube2a and Usp33) have been shown to play roles in ubiquitination. Interestingly, others have shown that ubiquitin-mediated proteolysis is involved in initiating long-term stable memory, as both specific removal of specific inhibitory proteins and gene induction are likely to be critical players in fear conditioning [45]. Other components in these modules may be implicated by association in these genetic pathways and provide attractive targets for further investigation.
Structural equation modeling allowed us to identify single markers that influenced the expression of single genes which in turn influence fear related phenotypes. We identified five genes with causal relationships for fear-related phenotypes in the hippocampus and striatum including 6330503K22RIK, Rps15a, Kif3a, Stard7, and Plvap.
Conclusion
In summary, looking at expression patterns in genes and groups of genes in various neural tissues has helped to elucidate the complex molecular networks contributing to fear dependent behavior. While the current approach yielded several potential loci and candidate genes, additional inbred strains would provide increased power for more comprehensive mapping. Next generation sequencing technologies and proteomics should afford even deeper views of genetic polymorphism and expression as we continue to refine gene networks of fear neurobiology.
Methods
Mouse population
Male mice from the Mouse Diversity Panel (HMDP) were used for all behavioral analyses. This panel of mice consists of 100 inbred strains comprised of 29 classical inbred strains paired with three sets of RI strains selected for diversity [9]. All mice (n = 700) were obtained through Jackson Laboratory at approximately 55 days old then housed for a 14-day acclimation period prior to testing. Mice were housed in groups (3-4 per cage) under a 12hr/12hr day/night cycle with ad lib access to food and water. All behavioral testing was conducted during the day portion of the cycle, between the hours of 10 AM and 4 PM. Protocols conformed to NIH Care and Use Guidelines and were approved through the UCLA Animal Research Committee. Mice were housed in their covered home cages and placed in an adjacent holding room. Auditory background stimulus in the form of white noise (80db) was delivered through overhead speakers. Previous unpublished observation showed no evidence of orienting response, or any behavioral responses to stimulus presentation while in the holding room [15].
Fear Conditioning
All HMDP strains were exposed to a fear conditioning procedure followed by two independent memory tests. Parameters and procedures were identical to those previously described [15]. On each test day, mice were wheeled to a holding room for a 30 min acclimation period prior to testing. Each mouse was tested individually and then transferred to a holding cage. On day 1, mice were placed in a 25 cm × 20 cm conditioning chamber with grid floors and white plexiglass. Following a 3 minute exploration period, mice received three auditory conditional stimuli (CS; 2000Hz, 15 seconds, 80 dB) co-terminating with footshock unconditional stimulus (US; 0.75 mA, 1 second), delivered with an inter-trial interval (ITI) of 1 minute. Mice were removed 2 minutes following the final US. On day 2, contextual fear was assessed. Mice were then returned to the conditioning chamber under conditions identical to day 1. Neither the CS nor US was presented during an 8 minute test. On day 3, cued fear was assessed following a contextual shift. Mice were placed in a novel, rectangular activity chamber (50 cm × 25 cm), given a 3 minute exploration period followed by a series of ten CS presentations (ITI 1 min), then removed from the chamber 1 minute following the final CS. No US were presented during this test. This apparatus was cleaned with 70% ethanol between tests.
Behavioral Data Analysis
Behavior was recorded digitally from a camera mounted above each test chamber, then digitized at 15 frames per second with the EthoVision Pro tracking system (Noldus Information Technology). For each mouse a total of 48 unique endpoints were quantified automatically with EthoVision software (Additional file 1 Table S1). Varying numbers of biological replicates were obtained for each strain (ranging from n = 3 to n = 16, mean = 7.3). These measures were designed to characterize multiple dimensions of defensive behavior. The methodology and rationale behind these measures has been discussed previously [15].
Mean performance for each endpoint was determined by either collapsing across the entire test session for context fear endpoints or across specific test phases for fear conditioning (pre-US, post-US) and cued fear test (pre-CS, CS) endpoints. The pre-US period consisted of the 3 minutes prior to the initial CS presentation, while the post-US period encompassed the 4.25 minute interval between the first US presentation and removal from the chamber. Likewise, the pre-CS period spanned the 3 minutes prior to CS presentation, and the CS period covered the 12.5 minute period between the first CS presentation and removal from the chamber. Measures reflecting rate changes were quantified by analyzing time course data within individual test phases.
For the context test, endpoint rate changes were calculated as the percent change from the initial 2 minute epoch to the final 2 minute epoch. For multi-phase tests (training, cued fear test), rate changes were calculated as suppression ratios based on mean values from the relevant test phases (pre/(pre+post)). Strain means were calculated and served as the behavioral phenotypes for downstream analysis. Velocity is the mean rate of movement in any given interval (e.g. cm/s), while mobility is the time spent mobile, expressed as a percentage of total time.
Genotype analysis
The classical inbred and RI strains were genotyped previously [9] by the Broad Institute (classical) and the Wellcome Trust Center for Human Genetics (RI). The genotypes of the RI lines at the Broad SNPs were imputed from the Wellcome Trust genotypes. Only SNPs with a minor allele frequency greater than or equal to 10% were used in the analysis to minimize false positives due to small sample size. All genome coordinates are based on NCBI build 35 (mm7) of the mouse genome.
Behavioral QTL mapping
Using the collected behavioral phenotypes, we performed a genome-wide association test using the software package EMMA (Efficient Mixed-Model Association) [12]. This program calculates P values which quantify the degree of association between each probe-marker pair while correcting for confounding effects of population structure and genetic relatedness between strains in the panel. We used a genome-wide Q value threshold of 5% [23] which corresponds to a P value of 4.1 × 10-6 . To count the number of significant QTL, the genome was divided into bins of 2Mb. If significant markers were found in adjacent bins, markers were combined and counted as a single QTL.
Tissue harvesting
Brains were removed from each animal after euthanasia. Hippocampus and striatum were dissected out and flash frozen in liquid nitrogen. RNA was extracted from each sample using the Qiagen RNeasy kit.
Microarray data collection
Gene expression levels were quantified using Illumina Mouse-Ref 8 v2.0 Expression BeadChip microarrays. The data were normalized using the rank invariant option in the software package BeadStudio (Illumina) [46]. The microarray data are available at the Gene Expression Omnibus (GEO) http://www.ncbi.nlm.nih.gov/geo/ under accession number GSE26500.
Expression quantitative trait loci (eQTL) mapping
Using the marker genotype information from the HMDP and RNA expression data from hippocampus and striatum, we performed a genome-wide association test for each of the 25,697 probes (genes) on the microarray compared to each of the 101,629 SNP markers using the software package EMMA. Markers within 2 Mb of the probe position for each gene were considered cis (local), while those greater than 2 Mb from the probe position were considered trans (distant). Genome-wide significance thresholds were determined by calculating the P value corresponding to a Benjamini and Hochberg corrected FDR of 5% [23]. To count the number of significant trans loci, we divided the genome into bins of 2 Mb in width and counted whether or not a marker that surpassed an FDR of 5% was observed in the bin or not. If adjacent bins contained at least one significant marker, the bins were combined together and counted as a single locus.
Gene ontology enrichment analysis
Groups of identified genes were checked for enrichment in gene ontology categories using the package GOEAST [24]. Significance was reported as Q values (P value corrected false discovery rates [36]).
Identification of gene co-expression modules associated with behavioral phenotypes
We used the R package WGCNA [47] to create gene co-expression modules. The input data consisted of gene expression data from the hippocampus (n = 94) and the striatum (n = 94). This program created modules or clusters of highly correlated genes in each tissue separately. For each of the modules, the program produced a module eigengene (ME) which enabled us to find relationships of modules with behavioral phenotypes.
Module preservation
We used the modulePreservation function from the WGCNA library to calculate module preservation statistics [31]. The Zsummary is derived from seven underlying statistics that measure preservation of various aspects of within-module network density and connectivity patterns. The underlying preservation statistics are based on permutation tests and their values represent evidence that a module is significantly better preserved between the reference and test networks than a randomly sampled group of genes of the same size. A Zsummary < 2 indicates no evidence of module preservation, 2 < Zsummary < 10 indicates weak to moderate module preservation, and Zsummary > 10 indicates strong preservation.
Network edge orienting
Markers surpassing a FDR threshold of 10% in the behavioral QTL analysis along with gene expression data for hippocampus and striatum were used as input to the Network Edge Orienting (NEO) software package in R [42]. We selected marker, gene, and phenotype combinations that yielded a LEO, NB.AtoB score > 0.3 and RMSEA.AtoB score < 0.05 for further analysis.
Declarations
Acknowledgements
We acknowledge funding from the National Institutes of Health RO1 MH071779.
Authors' Affiliations
(1)
Department of Molecular and Medical Pharmacology, David Geffen School of Medicine, University of California, Los Angeles, USA
(2)
Department of Medical Genetics and Rudolf Magnus Institute of Neuroscience, UMC Utrecht, Utrecht, The Netherlands
(3)
Department of Medicine - Cardiology, David Geffen School of Medicine, University of California, Los Angeles, USA
(4)
Department of Human Genetics, David Geffen School of Medicine, University of California, Los Angeles, USA
(5)
Department of Computer Science, University of California, Los Angeles, USA
(6)
University of California, Los Angeles, Center for Neurobehavioral Genetics, David Geffen School of Medicine, USA
(7)
Center for Public Health Genomics, School of Medicine, University of Virginia, USA
Copyright
© Park et al; licensee BioMed Central Ltd. 2011
This article is published under license to BioMed Central Ltd. This is an Open Access article distributed under the terms of the Creative Commons Attribution License (http://creativecommons.org/licenses/by/2.0), which permits unrestricted use, distribution, and reproduction in any medium, provided the original work is properly cited.