CellNOptR: a flexible toolkit to train protein signaling networks to data using multiple logic formalisms
BMC Systems Biology
2012
6:133
Received: 29 May 2012
Accepted: 19 September 2012
Published: 18 October 2012
Abstract
Background
Cells process signals using complex and dynamic networks. Studying how this is performed in a context and cell type specific way is essential to understand signaling both in physiological and diseased situations. Context-specific medium/high throughput proteomic data measured upon perturbation is now relatively easy to obtain but formalisms that can take advantage of these features to build models of signaling are still comparatively scarce.
Results
Here we present CellNOptR, an open-source R software package for building predictive logic models of signaling networks by training networks derived from prior knowledge to signaling (typically phosphoproteomic) data. CellNOptR features different logic formalisms, from Boolean models to differential equations, in a common framework. These different logic model representations accommodate state and time values with increasing levels of detail. We provide in addition an interface via Cytoscape (CytoCopteR) to facilitate use and integration with Cytoscape network-based capabilities.
Conclusions
Models generated with this pipeline have two key features. First, they are constrained by prior knowledge about the network but trained to data. They are therefore context and cell line specific, which results in enhanced predictive and mechanistic insights. Second, they can be built using different logic formalisms depending on the richness of the available data. Models built with CellNOptR are useful tools to understand how signals are processed by cells and how this is altered in disease. They can be used to predict the effect of perturbations (individual or in combinations), and potentially to engineer therapies that have differential effects/side effects depending on the cell type or context.
Keywords
Signaling networksSystems biologyPhosphoproteomicsLogic modelingPerturbation data
Background
Cells receive and interpret information through complex signaling networks. The correct processing of signals is essential and frequently altered in diseases[1–3]. Signaling networks arise from the highly dynamic and context specific assembly of a large variety of molecular species[3]. It is increasingly recognised that including these features is essential to take our understanding of the functionality of signaling pathways to the next level[4]. Knowledge about signaling networks has accumulated over the years in databases and literature[5–10]. The vast majority of this information is static and not context-specific, and provides limited insight into the system's response to perturbations such as ligand stimulation or drug treatments[4, 11–13].
Gathering medium to high-throughput signaling data is becoming more feasible as proteomic technologies are getting more mature[14]. Perturbation data (such as chemical inhibitors, stimuli, knock-downs, etc) can be used to generate network models using reverse engineering methods[14–16]. These methods typically consider all possible topologies. Thus, they require large amounts of data and scale-up poorly. Furthermore, the resulting networks are limited to interactions between perturbed and measured nodes. These are typically only a subset of the nodes involved in a pathway. Therefore, such models are not as biologically interpretable as a networks based on prior knowledge from literature and other sources.
We recently introduced a method that integrates literature and perturbation data to overcome the shortcomings of both[11]. By training prior knowledge networks (PKNs) against experimental data, this method produces models shown to achieve significantly better predictive power than untrained models. The model building process is implemented through the use of a logic formalism. Logic models have the ability to capture cause-effect relationships while staying conceptually and computationally simple, thereby allowing for appreciable scalability[17]. In its simplest implementation, Boolean logic[18], species are described as either ON or OFF. Relationships between species are described using logic gates that specify the state of each node given the state of its parents[19]. This captures dependencies between components in a system without the requirement of detailed mechanistic knowledge[17]. Logic models have been shown to be useful tools to study signaling and regulatory networks[17, 19–23]. A number of tools exist to manipulate, create and simulate such models[24–32], and the approach described in[11] complements them by automatically generating models trained to data. This allows researchers to generate models of signaling that can answer biological questions in their specific system of interest. However, the method in[11] was limited to Boolean logic steady state representation of the system under investigation, and was only available in a closed-source package for the MATLAB environment.
We present here a tool that implements the methods in[11] in an open source R/Bioconductor package (CellNOptR). CellNOptR extends the methods presented in[11] to various published and unpublished logic formalisms through a suite of additional R packages that are integrated with the CellNOptR package. These logic formalisms include Boolean steady-state, Boolean multiple steady-state, Boolean discrete time, steady-state fuzzy logic and logic-derived ordinary differential equation (ODE) representations of the system. This set of packages forms an integrated, open source, robust and easily extendable platform for training logic models of signaling networks. CellNOptR can also be used via a graphical user interface through the Cytoscape plugin CytoCopteR. We illustrate the application of CellNOptR to a simulated example showing the advantages of having multiple logic formalisms available. We then show how the package can be used to study early and late response of a human hepatocellular carcinoma cell line to several cytokines.
Implementation
The CellNOptR approach
CellNOptR
(for Cellular Network OptimizeR) implements the method introduced in[
11
] in the R language, as a Bioconductor[
33
] package. This method derives a Boolean logic model from a "prior knowledge network" (PKN, i.e. a network obtained from literature or expert knowledge) and trains it against perturbation data. A
CellNOptR
analysis comprises the following steps (see Figure
1
): (i) import of the network and data, (ii) processing of the network, (iii) training, and (iv) reporting the results of the analysis.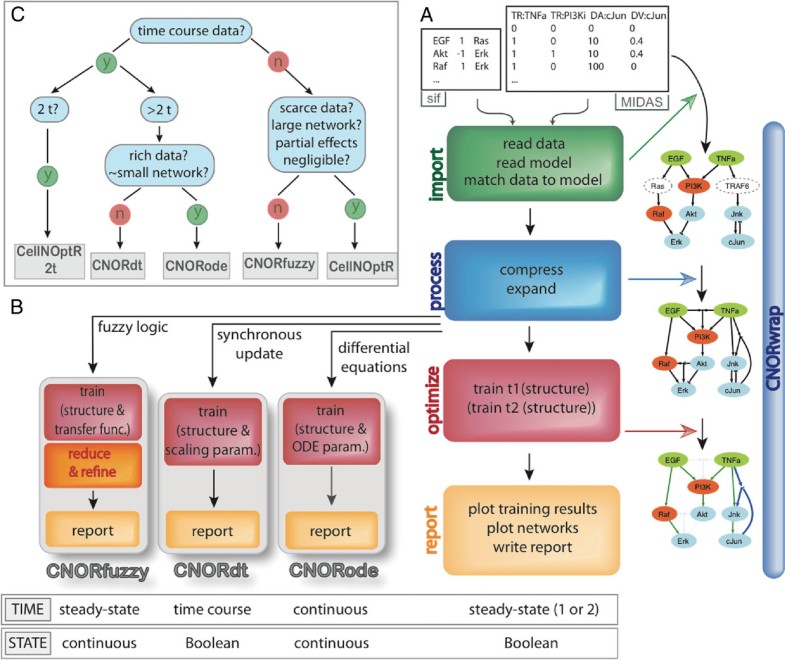 Import of network and data
CellNOptR takes as input two flat text files. The first one is a prior knowledge network (PKN) describing signed and directed interactions between proteins as a graph (currently Simple Interaction File (SIF) format, which can be opened in Cytoscape). The second file contains biochemical data relating to the changes in the modification state (typically phosphorylation) of proteins following stimulation under various conditions. By "conditions" we refer to combinations of stimuli and inhibitors targeting nodes in the network. This data is represented in the simple tabular MIDAS (Minimum Information for Data Analysis in Systems biology) format introduced in[34] (see Figure1).
The package then performs normalisation of the data for logic modeling, a feature described in[11] and previously implemented in a separate MATLAB package, DataRail[34]. Briefly, the data is normalised between 0 and 1 by computing a fold change relative to a control. This fold change is transformed through a Hill function and multiplied by a penalty for signals close to background. The penalty is the ratio of each value to the maximum measurement for the readout considered, transformed through a saturation function. It is important to note that the data is not discretized but just normalised between 0 and 1.
Processing of the network
The network is converted into logic models for training with two pre-processing steps : (1) compression and (2) expansion. In the compression step, species that are neither measured nor perturbed are removed if the logical consistency of the network is not impaired, resulting in a simplified network for training. This step is performed because such nodes are not necessary for the correct training of the model. However, starting from a PKN facilitates: i) identifying and preserving nodes whose presence is necessary to maintain the logical consistency of the network, ii) mapping the trained model back onto the starting network (thereby preserving the interpretability) and iii) restricting the search to a set of interactions that are feasible based on prior knowledge. In the expansion step, interactions are converted into all possible logic gates. For example, if there is an edge from node B to A and node C to A, the following gates are created: (i) B AND C → A, (ii) B OR C → A, (iii) B → A, (iv) C → A. The rationale behind this step is that, although databases record a potentially functional interaction between A and B and A and C, it is rarely recorded whether these interactions are independent or not (i.e. B and C are both required to activate A, or only one of them), or even if any of them are active in the specific context under investigation. Therefore, CellNOptR generates all these options in the scaffold model (i.e. the compressed and expanded model that is used as a basis for optimisation) and uses the training to data to discriminate among them.
Training
Next, the model is trained to data by searching for models (i.e. sub-models of the scaffold model, that include a subset of the edges) that minimize a bipartite optimisation function. The optimisation function weights the fit to data (deviation between data and the output of the Boolean logic model at steady state, in matched conditions) and model size, according to equation
1
.
In equation 1, P is a vector of length r (where r is the number of edges in the scaffold) with a 1 when an interaction is included and a 0 if it is not. θ f (equation 2) is the mean squared deviation between model prediction (B M ) and data (B E ) across the m readouts, n time points and s experimental conditions (weighted by the total number of data points n g ). θ s (equation 3) penalises the model size by summing across the number of inputs (v e ) of each edge selected in model P and dividing by the total number of inputs across all edges (). α is a tunable parameter that balances the fit and size terms. The size penalty ensures that redundant or unnecessary edges are not included in the final model, such that simpler models are preferred over more complicated models if they explain the data equally well. Note that the data does not need to be discretized to compute the optimization function. Instead, the data can be normalized between 0 and 1 (see[11]), resulting in a penalty that depends on how close the normalized data is to the Boolean state predicted by the model. Thus, measurements that have intermediate values (and we are therefore less certain if they are 'on' or 'off') have a smaller weight on the penalty associated with a mismatch with the Boolean output of the model. The search through model space is performed using a built-in genetic algorithm. It is possible for the user to choose which edges they want to be included in the search (e.g. if part of the model structure is known with certainty, see the package vignette) but by default all edges are included in the search space. CellNOptR keeps track of all models explored during the search and reports a family of models within a tolerance (given by the user) of a value of the objective function θ. Indeed, multiple models with the same or very similar scores are typically found, which cannot be discriminated given the experimental evidence[35]. The choice of a tolerance level is non-trivial and depends largely on the experimental error. Indeed, as our confidence in the data increases, our tolerance regarding how closely the model have to reproduce the data decreases. Given a chosen tolerance level, CellNOptR reports, for each edge, the frequency of models within the tolerance limits that include the edge. This allows users to investigate the effect of the tolerance on the solution models, given the data at hand.
Report
Finally, the results of the training are mapped to both the prior knowledge and the scaffold network. The information relating to the analysis run is then plotted, written to file and condensed in a HTML report hyperlinked to the various diagnostic plots. Networks are output in Graphviz DOT format as well as SIF files with corresponding attributes representing the status of nodes (compressed, measured, inhibited, etc.) and the frequency with which edges are selected in the family of solution models.
Simulation variants
This general approach is extended through a series of add-on R packages that use parts of the CellNOptR method but differ in their ability to handle time course data with different levels of sophistication. CellNOptR implements the simplest logic framework, where a Boolean steady state approximation is used for simulation. CellNOptR also contains a Boolean 2 steady-states method, applicable when limited time resolved data is available and one wishes to capture mechanisms acting on different time scales. In addition, we offer three packages (see Figure1) that plug into the CellNOptR approach and perform model training based on: (i) single pseudo-steady state data and a continuous representation of the state of nodes using a constrained fuzzy logic approach (CNORfuzzy)[35], (ii) coarse grained time resolved data and a discrete time simulation using a Boolean synchronous update scheme (CNORdt), and (iii) time course data and a continuous state and time simulation using ordinary differential equations derived from a logic model (CNORode)[36]. Functions in the add-on packages implement alternatives for core functions or additional steps whenever the handling of a more elaborate logic formalism requires it (see Figure1).
Languages and dependencies
All of our packages are written in R. In order to improve computational efficiency, the core of CNORode is written in C, using the standard R API as an interface. The simulation engine of CNORode uses the CVODES library. No compilation or code generation is required beyond the building of the package. For the model and parameter space search in CNORode, we give the option to use the R package genalg[37] or an R implementation of Scatter Search[38] (available as part of the package MEIGO,http://www.iim.csic.es/~gingproc/meigo.html). We provide a user-friendly evaluation function that allows users to easily plug in alternative search methods. We also provide Python wrappers so that CellNOpR can be run directly from Python (seehttp://www.cellnopt.org). Finally, we provide a graphical user interface via CytoCopteR, a Cytoscape[39] plugin. CytoCopteR uses the Cyrface (http://sourceforge.net/projects/cyrface/) Cytoscape plugin to interface with R and call our methods from Cytoscape.
Conclusions
Understanding signal processing in cells is an essential goal of biological research, not only for fundamental reasons but also for its implications and potential applications in disease contexts. Modeling approaches are particularly suited to this task because (i) signaling networks are complex systems assembled from the dynamic and context-dependent interactions of many components, and (ii) obtaining predictive as well as mechanistic insights is extremely valuable in this context. CellNOptR makes use of the complementarity between rich context specific biochemical data and imperfect/incomplete accumulated knowledge to build and train logic models.
CellNOptR models are constrained by previous knowledge but trained to data, making them both context and cell line specific, thereby providing enhanced predictive and mechanistic insights. A key strength of the toolkit formed by CellNOptR, CNORdt, CNORode and CNORfuzzy is that it covers multiple logic modeling formalisms (Boolean steady-state, Boolean multiple steady-state, Boolean time courses through synchronous update, steady-state constrained fuzzy logic and continuous logic-based ODEs). This allows users to choose between those formalisms to best match the richness of their data and their modeling goals. We believe that this choice is greatly simplified by the availability of these methods in a common framework. One can also combine formalisms: for example, train a large network to data using the efficient multiple pseudo steady state method, and then convert the resulting sparser model into an ODE model and train it to time course data using CNORode.
Our toolkit is implemented in the free and open source R language and Cytoscape platform which benefit from a large user community and already come with a wide range of packages for biological data processing and analysis. Users should therefore be able to use CellNOptR as part of their own data processing pipeline, taking advantage of existing R/Bioconductor packages (e.g. for data normalization, visualization etc.) and developing their own custom-made functions as required. Finally, in order to make our methods more accessible to non-programmers, we provide a Cytoscape interface to the R implementation as a plugin, CytoCopteR.
Availability and requirements
The main CellNOptR package is available on Bioconductor (http://www.bioconductor.org/packages/release/bioc/html/CellNOptR.html) as well as the CNORdt, CNORode and CNORfuzzy add-on packages. The CytoCopteR Cytoscape plugin is available onhttp://www.cellnopt.org and from the Cytoscape plugin manager. The simplest CellNOptR method (Boolean steady state) and the fuzzy logic methods are available in a MATLAB version of the toolbox, also available athttp://www.cellnopt.org.
More details:
Software name: CellNOptR (CellNetOptimizeR), with plug in packages CNORdt (CellNetOptimizeR discrete time), CNORode (ordinary differential equations) and CNORfuzzy (fuzzy logic), and Cytoscape plug in interface CytoCopteR.

Project home page: http://www.cellnopt.org

Operating system(s): platform independent

Programming languages: R

Other requirements: R (tested on 2.13 and above), Cytoscape 2.x

License: GNU-GPL, version 3 except CNORfuzzy which is GNU-GPL version 2.
Declarations
Acknowledgements
The authors thank J. Banga, J. Egea, E. Balsa for help with optimisation routines, B. Penalver, I. Pertsovskaya and F. Eduati for testing and feedback, R.F. Schwarz for reading and commenting the manuscript, and funding of the Institute for Collaborative Biotechnologies (contract no. W911NF-09-D-0001 from the U.S. Army Research Office), EU-7FP-BioPreDyn and the EMBL EIPOD program.
Authors' Affiliations
(1)
European Bioinformatics Institute (EMBL-EBI), Wellcome Trust Genome Campus, Cambridge, UK
(2)
Biological Engineering Department, Massachusetts Institute of Technology, Cambridge, USA
Copyright
© Terfve et al; licensee BioMed Central Ltd. 2012
This article is published under license to BioMed Central Ltd. This is an Open Access article distributed under the terms of the Creative Commons Attribution License (http://creativecommons.org/licenses/by/2.0), which permits unrestricted use, distribution, and reproduction in any medium, provided the original work is properly cited.