Research article
Open Access
Transcription factors and genetic circuits orchestrating the complex, multilayered response of Clostridium acetobutylicum to butanol and butyrate stress
BMC Systems Biology
2013
7:120
Received: 28 August 2013
Accepted: 30 October 2013
Published: 6 November 2013
Abstract
Background
Organisms of the genus Clostridium are Gram-positive endospore formers of great importance to the carbon cycle, human normo- and pathophysiology, but also in biofuel and biorefinery applications. Exposure of Clostridium organisms to chemical and in particular toxic metabolite stress is ubiquitous in both natural (such as in the human microbiome) and engineered environments, engaging both the general stress response as well as specialized programs. Yet, despite its fundamental and applied significance, it remains largely unexplored at the systems level.
Results
We generated a total of 96 individual sets of microarray data examining the transcriptional changes in C. acetobutylicum, a model Clostridium organism, in response to three levels of chemical stress from the native metabolites, butanol and butyrate. We identified 164 significantly differentially expressed transcriptional regulators and detailed the cellular programs associated with general and stressor-specific responses, many previously unexplored. Pattern-based, comparative genomic analyses enabled us, for the first time, to construct a detailed picture of the genetic circuitry underlying the stress response. Notably, a list of the regulons and DNA binding motifs of the stress-related transcription factors were identified: two heat-shock response regulators, HrcA and CtsR; the SOS response regulator LexA; the redox sensor Rex; and the peroxide sensor PerR. Moreover, several transcriptional regulators controlling stress-responsive amino acid and purine metabolism and their regulons were also identified, including ArgR (arginine biosynthesis and catabolism regulator), HisR (histidine biosynthesis regulator), CymR (cysteine metabolism repressor) and PurR (purine metabolism repressor).
Conclusions
Using an exceptionally large set of temporal transcriptional data and regulon analyses, we successfully built a STRING-based stress response network model integrating important players for the general and specialized metabolite stress response in C. acetobutylicum. Since the majority of the transcription factors and their target genes are highly conserved in other organisms of the Clostridium genus, this network would be largely applicable to other Clostridium organisms. The network informs the molecular basis of Clostridium responses to toxic metabolites in natural ecosystems and the microbiome, and will facilitate the construction of genome-scale models with added regulatory-network dimensions to guide the development of tolerant strains.
Keywords
Gene expressionProtein-protein interactionTranscriptional regulatory network (TRN)Transcription factor (TF)TF binding site (TFBS)Transcriptional regulator (TR)
Background
Clostridium organisms are endospore-forming anaerobic firmicutes important in pathogenesis, human physiology (with their notable role in the human gut microbiome [1]), the carbon cycle and biotechnological applications [2, 3]. C. acetobutylicum is the first sequenced Clostridium and has evolved into a model organism for the genus. It can utilize a wide variety of substrates to produce metabolites useful as industrial chemicals and biofuels [4]. Most of these metabolites, and notably butyrate and butanol, are toxic to the cells greatly impacting their metabolism and survival [5]. Several studies have been published in the last few years aiming to understand the transcriptional and translational basis of metabolite stress response, yet the regulatory network beneath these responses remains incompletely understood at the systems level [6–14]. What transpires from the data of these studies is that the metabolite stress response includes virtually all annotated genes of the core stress program (the so-called heat-shock protein (HSP) response) but also many other large programs, including amino-acid and nucleic-acid biosynthetic pathways. Such programs are apparently underlying the adaptive response of the cells to these toxic metabolites. This adaptive response includes changes in membrane composition, such as increasing the fatty acid tail length and percentage of saturated fatty acids, which is known as homeoviscous adaptation in response to the fluidizing effects of organic solvents and acids [15–17].
Many bacterial genome sequences have been completed and successfully annotated, but most lack information on the regulatory front of gene expression [18]. Understanding the complex regulatory circuitry comprised of transcription factors (TFs) and their corresponding DNA targets, including the motifs or transcription factor binding sites (TFBSs), is a fundamental requirement for understanding the complexity of responses in natural habitats and microbiomes, but also for building systems-level molecular models. Integrated use of detailed experimental data and in silico analyses is necessary for reconstructing transcriptional regulatory networks (TRNs) [19], which improve our understanding of complex phenotypes and facilitate the development of novel strains using synthetic biology.
In this study, we applied a comparative-genomics, pattern-based approach to analyze a deep set of temporal transcriptional data to infer the transcriptional regulatory interactions underlying the metabolite stress response in
C. acetobutylicum
(Figure
1
). Using Regulatory Sequence Analysis Tools (RSAT) [
20
], footprint-discovery [
21
] analysis (i.e., phylogenetic footprinting) was carried out, where the comparative analysis of the genomic context of
C. acetobutylicum
genes was successfully accomplished. Overrepresented oligonucleotides (words) or spaced pairs thereof (dyads) were detected and assembled into Position Weight Matrices (PWMs) [
20
,
21
]. These matrices were compared against the PWMs of known TF binding DNA motifs from three public resources: RegPrecise [
22
], RegTransbase [
23
] and PRODORIC databases [
24
] with the tool Tomtom [
25
]. The results, together with OMA (
O
rthologous
MA
trix) orthology inference in
C. acetobutylicum
for the genes available from RegPrecise [
22
,
26
], enabled the prediction of many TF binding sites (TFBSs) and functional assignment of select TFs and their target genes (TGs) in
C. acetobutylicum
(Figure
1
). Together, results from these analyses enabled the construction of the stress response network involving the regulatory connections of key TFs and TGs engaged during stress.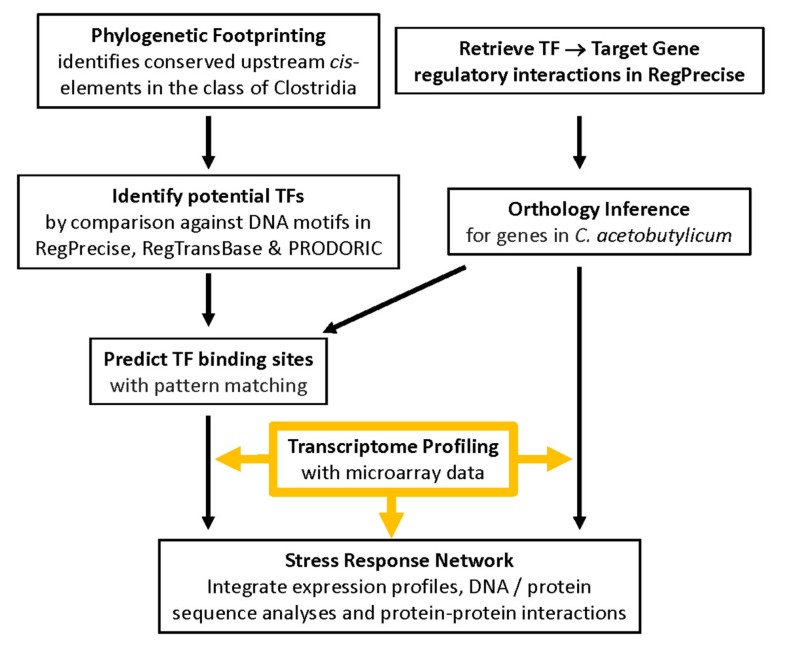 First, we identify the common and distinct cellular responses to butanol and butyrate stress based on our comprehensive set of temporal transcriptional data. For the common stress responses, facilitated by target-gene predictions for the core HSP TFs, HrcA and CtsR, we expand the list of Class I, III & IV stress genes. For the specialized stress responses, we identify the genes and biological processes that display distinct expression patterns for each metabolite. This, coupled by a genome-scale analysis of transcriptional regulators (TRs) differentially expressed under the two stressors, led us to focus on core TFs that apparently orchestrate these stress responses. We analyzed the TFBSs and regulons of these TFs and examined the interconnectivity of their regulons thus arriving at a comprehensive picture of the transcriptional network that underlies the responses to two metabolite stresses.
Conclusions
Gene regulatory networks play essential roles in living organisms to respond to both external environmental and internal metabolism changes. Understanding the connections and the activity levels of regulators is indispensible for the gene regulatory network research. This study produced a large set of high-resolution temporal transcriptional data. Using phylogenetic footprinting analysis and orthology inference, combined with pattern-based TFBS detection, the regulatory interactions proposed from our study provide important connections between transcription factors and their target genes that are important for butanol and butyrate stress response in C. acetobutylicum. Utilizing predicted transcription factor activities in combination with transcriptome data [75] can be a future direction for reconstructing gene regulatory network of C. acetobutylicum. It is known that the analysis of transcriptome data does not always permit identifying the primary cause of a phenomenon observed. There are various levels of regulations apart from transcriptional ones, e.g., epigenetic regulation, translational regulations, mRNA stabilities, post-translational modifications. It remains a grand challenge to integrate all these regulation layers together to reconstruct a holistic stress response network. But promising systems biology methods are in development to provide solutions to the problem.
Methods
Microarray experiments and data analyses
Strain and growth conditions
C. acetobutylicum ATCC 824 was grown in a defined clostridial growth medium (40 g/L glucose) in BioFlo®310 Fermentors (New Brunswick Scientific, Edison, NJ) equipped with controllers for pH, temperature, and agitation [12] to an OD600 of 1.0 and stressed with appropriate concentrations of butanol (low - 30 mM, med - 60 mM, high - 90 mM), or butyrate (low - 30 mM, med - 40 mM, high - 48 mM). Samples were taken at 6 time points post-stress (0 min, 15 min, 30 min, 45 min, 60 min and 75 min) for RNA isolation. Samples from non-stressed cultures (i.e., 0 mM butanol) were also collected at the same 6 time points, for control. Experiments were carried out in triplicates (2 replicates for preparing labeled-cDNA for microarray hybridization and the third replicate for q-RT-PCR using unlabeled cDNA, for validating the microarray results). All experiments were run in replicates of 4 and the most similar 3 were selected for RNA isolation. The growth curve and product formation patterns are summarized in Additional file 2: Figure S9.
RNA isolation and labeled cDNA generation
Samples for RNA isolation were collected by centrifuging 15 mL of cultures at 5,000 rpm for 10 min and the cell pellets were frozen at -80°C. Before extracting RNA, the pellets were thawn and RNA was extracted using Qiagen's RNeasy Mini Kit as described earlier [5]. cDNA generation and its subsequent amino allyl labeling were performed as described [47].
Microarray analysis
Microarray analysis was performed using Agilent custom arrays (4x44K arrays, GEO accession number GPL10908) by hybridizing 250 ng of Cy3/Cy5 labeled cDNA hybridized against 250 ng oppositely labeled (Cy5/Cy3) common reference pool (containing equal amount of 2.5 μg labeled cDNA from each of the 48 samples) at 65°C for 16–18 hours. Separate reference pools were created for butanol and butyrate stress, respectively. Following hybridization, the slides were washed and scanned in an Agilent scanner; image analysis was carried out using Agilent's Feature Extraction Software (v9.5.1). Normalization was carried out using the LOESS method in R (Limma package from Bioconductor [76]) using a custom script/algorithm developed in Papoutsakis lab based on SNN-LERN (Segmental Nearest Neighbor normalization method) [77]. Normalized outputs contained averaged, normalized values of replicates and dye-swaps with respect to the common reference pool. The microarray data can be accessed at GEO through the access numbers GSE48031 and GSE48039, respectively.
The data were analyzed by pairwise and point-by-point comparison to the non-stress control using significant analysis of microarrays (SAM) [27] in TIGR MeV suite 4.8.1 [78]. For a gene to be identified as being differentially expressed for a metabolite stress, it had to be significant (5% FDR for SAM analysis) and have at least five time points out of the 18 with expression changes (6 time points for each stress level of Low, Medium and High) over 1.5 fold (up or down) for that metabolite stress. To be considered as bimodally expressed, the gene had to have at least five time points for 1.5 fold up and five time points for 1.5 fold down individually for that metabolite stress. Normalized ratios were grouped by K-means clustering (TIGR MeV, version 4.8.1 [78]) and visualized with heat (or Eisen) plots [79] using TIGR MeV [78]. The K-means clustering was carried out with Euclidean distance metric. We chose K-Means clustering because the number of clusters produced can be directly controlled by the user-defined parameter K without having to somewhat arbitrarily cut a clustering tree like for the case of hierarchical clustering. The microarray data was validated using q-RT-PCR for 6 genes, which were validated for upregulation (CAP0102, CAC1391, CAC1405 & CAC3190), downregulation (CAP0102, CAC0766 & CAC1806), butanol stress (CAP0102, CAC1405, CAC1806 & CAC3190) and butyrate stress (CAP0102, CAC1391 & CAC0766). CAC3571 was used as the house keeping gene. The comparison between Q-RT-PCR and microarrays are summarized in Additional file 2: Figure S10.
Transcription factor binding site analysis
DNA sequences up to 300 nt upstream from the start codon of genes in C. acetobutylicum were obtained using RSAT Sequence tools. Given a user-provided query gene, RSAT footprint-discovery analysis provides PWMs for over-represented oligonucleotides (words) or spaced pairs thereof (dyads) for the query gene's orthologs in a user-defined taxon [20]. The obtained PWMs were compared against the PWMs of known TF binding DNA motifs from three resources: RegPrecise [22], RegTransbase [23] and PRODORIC databases [24], with the tool Tomtom in suite MEME [25]. The results, together with OMA ortholog search in C. acetobutylicum genome for the predicted TFs and target genes (TGs) defined in RegPrecise [22, 26], allowed the inference of TFs and their target genes in C. acetobutylicum. RSAT Matrix Scan is used to scan the C. acetobutylicum upstream sequences with PWMs to identify instances of the corresponding motifs (putative TFBSs).
Identification of genes associated with stress responses from the literature and databases
We collected 318 B. subtilis stress related proteins through data mining and text mining. With BLAST search between B. subtilis and C. acetobutylicum, 515 C. acetobutylicum proteins matching to 209 out of those 318 B. subtilis stress proteins are obtained. We also obtained PPIs from STRING database, a pre-computed database for the exploration of protein-protein interactions (PPIs). The 9.05 version of STRING, which was the newest version at the time of the study used here, covers approximately 5 million proteins from 1133 different organisms [73]. We integrated "Actions" data [which include actions such as inhibition, activation, reaction, catalysis, post-translational modification, binding] with the "evidence" data [which include scores for neighborhood, gene fusion, co-occurrence, co-expression, experiments, databases and text mining respectively, and a combined score] of all C. acetobutylicum genes for cytoscape analysis [80].
Authors' information
Qinghua Wang and Keerthi Prasad Venkataramanan: co-first author.
Abbreviations
TRNs:

Transcriptional regulatory networks
TF:

Transcription factor
TFBSs:

TF binding sites
TR:

Transcriptional regulator
DEGs:

Differentially expressed genes
RSAT:

Regulatory sequence analysis tools
OMA:

Orthology MAtrix
TGs:

Target genes
PPI:

Protein-protein interaction
qRT-PCR:

quantitative real time polymerase chain reaction
SAM:

Significance analysis of microarrays
MeV:

Multiple experiment viewer.
Declarations
Acknowledgements
The work was supported by the genomic science grant from Department of Energy, USA (grant # DE-SC0007092). We thank Dr. Shawn Jones for training KPV in fermentation and microarray experiments. We acknowledge members of Papoutsakis laboratory for their assistance during sampling of the cultures for RNA isolation. We thank Chuming Chen, Manabu Torii and Jia Ren at the CBCB for helpful discussions regarding data analyses. And we are grateful to Evert-Jan Blom at University of Groningen, Netherlands for his kind assistance in implementing the software MOTIFATOR.
Authors' Affiliations
(1)
Delaware Biotechnology Institute, University of Delaware, Newark, USA
(2)
Center for Bioinformatics and Computational Biology, University of Delaware, Newark, USA
(3)
Department of Computer and Information Sciences, University of Delaware, Newark, USA
(4)
Department of Chemical and Biomolecular Engineering, University of Delaware, Newark, USA
Copyright
© Wang et al.; licensee BioMed Central Ltd. 2013
This article is published under license to BioMed Central Ltd. This is an open access article distributed under the terms of the Creative Commons Attribution License (http://creativecommons.org/licenses/by/2.0), which permits unrestricted use, distribution, and reproduction in any medium, provided the original work is properly cited.