Research article

Open Access
Model composition through model reduction: a combined model of CD95 and NF-κB signaling pathways
BMC Systems Biology
2013
7:13
Received: 21 September 2012
Accepted: 5 February 2013
Published: 15 February 2013
Abstract
Background
Many mathematical models characterizing mechanisms of cell fate decisions have been constructed recently. Their further study may be impossible without development of methods of model composition, which is complicated by the fact that several models describing the same processes could use different reaction chains or incomparable sets of parameters. Detailed models not supported by sufficient volume of experimental data suffer from non-unique choice of parameter values, non-reproducible results, and difficulty of analysis. Thus, it is necessary to reduce existing models to identify key elements determining their dynamics, and it is also required to design the methods allowing us to combine them.
Results
Here we propose a new approach to model composition, based on reducing several models to the same level of complexity and subsequent combining them together. Firstly, we suggest a set of model reduction tools that can be systematically applied to a given model. Secondly, we suggest a notion of a minimal complexity model. This model is the simplest one that can be obtained from the original model using these tools and still able to approximate experimental data. Thirdly, we propose a strategy for composing the reduced models together. Connection with the detailed model is preserved, which can be advantageous in some applications. A toolbox for model reduction and composition has been implemented as part of the BioUML software and tested on the example of integrating two previously published models of the CD95 (APO-1/Fas) signaling pathways. We show that the reduced models lead to the same dynamical behavior of observable species and the same predictions as in the precursor models. The composite model is able to recapitulate several experimental datasets which were used by the authors of the original models to calibrate them separately, but also has new dynamical properties.
Conclusion
Model complexity should be comparable to the complexity of the data used to train the model. Systematic application of model reduction methods allows implementing this modeling principle and finding models of minimal complexity compatible with the data. Combining such models is much easier than of precursor models and leads to new model properties and predictions.
Keywords
Model Reduction
Composite Model
Ordinary Differential Equation
Model Composition
BioModels Database
Background
Systems biology aims to study complex interactions in living systems and focuses on analysis and modeling their properties. Mathematical modeling provides several ways to describe biological processes based on experimental information of different kind. However, creation of detailed models not supported by enough experimental data often makes their analysis and interpretation difficult [1]. Several aspects of the same process can be modeled using different levels of abstraction involving different reaction chains, chemical kinetics, and incomparable sets of parameters. Such models are difficult to merge. Meanwhile, merging is an important approach for creation of complex models. Thus, development of efficient methods and software, allowing us to combine models, is the object of intense study in systems biology. In our work, we focused on the fact that, generally, complexity of models is not comparable to the volume of experimental data used to adjust their parameters. Due to this fact, we turn to the methods of model reduction allowing us to minimize model's complexity without affecting the model simulation dynamics.
Model reduction is a well-established technique in many fields of biochemical research and engineering. It has been used for many years in chemical kinetics (for reviews, see [2–4]) and has already found multiple applications in systems biology, including discrete modeling [5] and modeling of metabolic pathways [6, 7]. The principles of this technique have been applied in computational biology [8] and implemented as a part of widely used pathway simulators such as BioUML [9], BIOCHAM [10], COPASI [11], and GINsim [12]. Model reduction led to new insights in mechanisms of translation regulation by microRNAs [13, 14] and was applied for analysis of such signaling pathways as JAK-STAT [15], NF-κB [16], and EGFR [17].
In our investigation, we used the principles of model reduction to construct reasonably accurate minimal size approximations of two different models describing the CD95 signaling pathways [18, 19]. The first model explores pro-apoptotic properties of CD95 after stimulation by its natural ligand CD95L or by agonistic antibodies anti-CD95 implying formation of the death-inducing signaling complex (DISC) [18, 20]. DISC consists of oligomerized CD95, death domain-containing adaptor FAS-associated molecule (FADD), procaspases-8 and −10, and two isoforms of cellular FLIP (CFLAR) protein (cFLIP long and cFLIP short). Caspase-8 leads to activation of effector caspase-3 directly (type I cells) or via stimulation of cytochrome C release from the mitochondria (type II cells) [21]. The latter step requires formation of the apoptosome complex and activation of caspase-9. Once activated, caspase-3 cleaves poly(ADP-ribose) polymerase (PARP), thereby making the apoptotic process irreversible. The second model describes the state when CD95 not only activates the pro-apoptotic pathway, but also induces transcription factor NF-κB that is an important regulator of cell survival functioning [19]. This is possible due to cFLIPL cleavage in the DISC complex. The cleaved p43-FLIP directly interacts with the IKK complex and activates it. The activated IKK performs phosphorylation of the IκB protein and thereby frees NF-κB.
The authors of the models have evaluated concentration changes of major apoptotic molecules by Western blot analysis and represented them as relative values at given time points. Using the systematic methodology [2] implemented in the BioUML software, we reduced the models so that they still satisfy these data. This allowed us to simplify the overlapping components of the models and find a way for their composition.
Methods
Model reduction
Mathematical modeling of biological processes based on the classical theory of chemical kinetics assumes that a model consists of a set of species
S
= (
S
1,…,
S
m
) associated with a set of variables
C
(
t
) = (
C
1
(
t
), …, 
C
m
(
t
)) depending on time
t
∈
 [0, 
T
], 
T
∈
R
+
and representing their concentrations, and a set of biochemical reactions with rates
v
(
t
) = (
v
1
(
t
), …, 
v
n
(
t
)) depending on a set of kinetic constants
K
. Reaction rates are modeled by mass-action or Michaelis-Menten kinetics. A system of ordinary differential equations (ODE) representing a linear combination of reaction rates is used to describe the model behavior over time:
Here
N
is a stoichiometric matrix of
n
by
m
. We say that
C
SS
is a steady state of the system (1) if
Model reduction implies transformation of the ODE system to another one with smaller number of equations without affecting dynamics of variables
C
1
(
t
), …, 
C
s
(
t
), which is fixed by a set of experimental points
C
i
exp
(
t
ij
) at given times
t
ij
, 
j
 = 1, …, 
r
i
, where
r
i
is number of such points for the concentration
C
i
(
t
), 
i
 = 1, …,
s
. To check dynamics preservation in the course of model reduction, we consider the function of deviations defined as a normalized sum of squared differences [
11
]:
where weights are calculated as mean squared values of experimental concentrations for each variable and the normalizing factor ω min /ω i is used to make all concentration trajectories to have similar importance.
Reducing kinetic model is possible when some quantities are much smaller than other quantities and can be neglected. Usually, this implies some qualitative relations (much bigger, much smaller) between model parameters. When these relations satisfy certain rules, we can approximate the detailed model by a simpler one. If the parameters are (approximately) determined, as in our case, we find an approximation specific for a region of the parameter space. However, if we want to investigate the model behavior for the entire space, we need to decompose it into regions characterized by asymptotically different behaviors of the dynamical systems. Afterwards, a specific reduction should be performed for each region (Figure 
1
).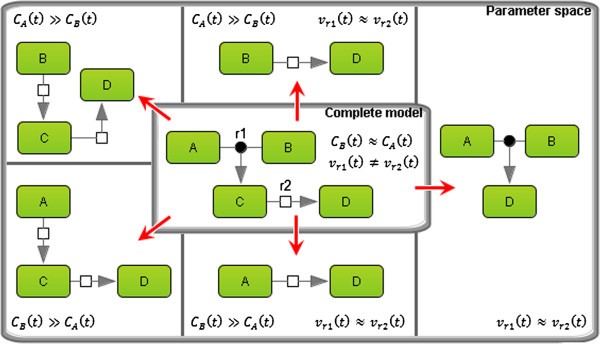 We define the minimal complexity model as a reduced model with the minimal number of elements (species and reactions) so that the deviation function value (3) calculated for the reduced model is different from the original model no more than 20%. Such threshold is explained by the fact that in this work we considered experimental data obtained by Bentele et al.[18] and Neumann et al.[18] using Western blot technology with the standard deviation 15-20%.
Reduction of mathematical model complexity is achievable by different methods [2]. Description of the methods directly used in our work is provided below.
(MR1) Removal of slow reactions. We say that reaction r1 is much slower than reaction if , where k=10-2. When such reactions do not affect experimental dynamics of species, we neglect them. Note, that in some cases, it is sufficient to consider k = 10−1 or even k = 1.
(MR2)
Quasi-steady-state approximation
[
22
] assumes that all variables
C
(
t
) of the model are split in two groups: basic variables
C
s
(
t
) and quasi-stationary variables
C
f
(
t
) for which we could write:
where ɛ is small parameter. We consider the approximation ɛ → 0 resulting in the equation N f  · v f (C, K, t) = 0. Thus, the chain of reactions S → I → P with a quasi-stationary species I can be reduced to the form S → P.
(MR3)
Lumping analysis
refers to reducing the number of model variables by grouping some species. In particular, this can be illustrated by reactions
with kinetic rates and . If
k
1
 = 
k
2
and , then the system (4) can be replaced by a single reaction
where , and k = k1 = k2. Note, that in this example lumped variables , and , are linearly dependent: however, this is not required in general case. For conditions on lumpability in monomolecular reaction networks, see [23].
(MR4)
Removal of approximately linearly dependent variables
. If variables
A
(
t
) and
B
(
t
) (species concentrations or reaction rates of the model) are approximately linearly dependent:
then we can replace one of them with another in all kinetic laws of the model.
(MR5)
Simplification of the Michaelis-Menten kinetics
. Consider a reaction
r
of the form
S –E
→
P
, where an enzyme
E
converts a substrate
S
into product
P
. Reaction rate of such reaction is frequently defined by the Michaelis-Menten formula
where the enzyme concentration is a dynamic variable allowing to use the same kinetics in different regions of the phase space. If Km ≫ C S (t), then we can reduce this formula to the form: . On the other hand, if C S (t) ≫ Km, then (5) can be replaced by the equation v r (t) = k · C E (t).
(MR6)
Simplification of equations based on the law of mass action when one reactant dominates others
. Consider a reaction
r
of the form
S
1
 + 
S
2
 → 
P
with the kinetic law
When for t ∈  [0, T], the formula (6) can be replaced by the linear equation . The time T of validity of such pseudo-lineary approximation is defined as a period during which the relative change of does not exceed some ε, i.e. .
One way to perform the model reduction is to apply the foregoing methods in the numerical order (Figure 
2
). Note that the methods MR5 and MR6 are of the same type, so it does not matter which one to use first. This way assumes that we calculate the value of the distance function (3) at each reduction step to test whether approximation of the experimental data is still within allowable limit or not.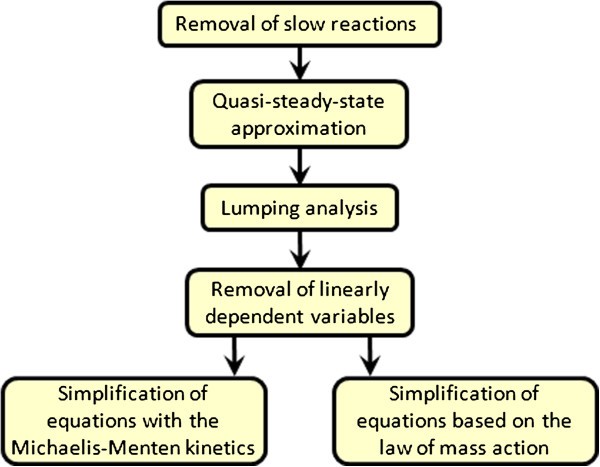 Model analysis and comparison
Model comparison using Akaike information criterion (AIC)
. This criterion [
24
] defines the relative complexity of a model based on the goodness of experimental data fit and the number of model parameters |
K
| (initial concentrations of species are not considered):
The function χ
2
is defined by the formula (3) with weights 1/
σ
ij
2
(instead of
ω
min
/
ω
i
) [
15
], where mean deviations σ
ij
of experimental values
C
i
exp
(
t
ij
) are calculated using smoothing spline [
25
]:
For j + k < 0 and j + k > r i we assumed C i (ti,j+k) = C i exp (ti,j+k) = 0.
Models can be compared using the Akaike criterion, if they approximate the same experimental data. When the AIC value of one model is less than of others, we say that this model is simpler in terms of this criterion.
Model comparison with the mean AIC
. When we want to compare models approximating different sets of experimental data, we could calculate the mean
AIC
coefficients by the formula
where n exp determines the number of experimental points.
Steady-state analysis finds values of species concentrations according to the rules (2). It is desirable to reduce a model so that steady-state concentrations of all experimentally measured chemical species have not changed significantly.
Sensitivity analysis
reveals steady-state concentrations response to parameter perturbations. The local sensitivities
C
i
ss
,
i
 = 1, …, 
m
, for all parameters
p
j
,
j
 = 1, …, |
K
|, are calculated via finite difference approximations:
It is useful to compute the mean log sensitivity for all fitted species:
where n p is the number of all parameters |K| or the number of parameters retained after the model reduction.
Modular modeling
Considering the mathematical models of CD95 signaling pathways [18, 19], we decomposed them into functional modules. This step allowed us to identify overlapping components of the models and simplify their analysis. We defined a module as a submodel (including several species, reactions and parameters of the model) with input, output and contact ports. The first two types of ports characterized variables calculated in one module and passed to another through a directed connection. The contact ports declared common variables of modules via undirected connections (for more details of modular modeling, see [26]).
Discussion
In this paper, we considered two approaches to development of mathematical models of cell fate decisions. The first concerns the methodology of model reduction and involves approximation of one model by another one of lower dimension without affecting dynamics of experimentally measured species. The second implies composition of the models and aims at reproducing experimental dynamics of all precursor models.
There are many advantages of working with low-dimensional models [8]. In particular, the researcher has a clear vision of the most important biochemical reactions taking place in the modeled system as well as better understanding of them. Low-dimensional models are easier to analyze and faster to simulate. This helps to save time and enhances productivity. The main limitation of model reduction consists in loss of biological information. However, it should be noted that even if some information (for example, about very slow biochemical reactions) may be lost, it can result in a more clear understanding of the most important interactions and allows focusing on the decisive processes in the model, predictive ability of which is reasonably preserved. Hence, this limitation can be transformed into an advantage.
Model composition aiming at getting a single model from several ones is useful because in such a case a computational biologist is able to investigate the composite model behavior under different conditions that cannot be performed in the precursor models separately. For example, our model allows studying the role of p43-FLIP or IAP in the type I SKW 6.4 or type II HeLa cells, respectively, that might become a task for the future work. In other words, we constructed the model that describes pro- and anti-apoptotic signal transduction in different cell types with reasonable accuracy instead of a couple of different models. Whenever necessary, some reaction chains and parameters can be switched off giving opportunity to simulate a certain type of cells. In addition, the composite model covers experimental data obtained from all precursor models, each of which separately satisfies its own data only.
Model composition sometimes causes modification of some properties of the initial models, resulting in new testable predictions. In our case, such predictions were related to SKW 6.4 cells, and some simulation results were different from the corresponding results of the original Bentele's model. Nonetheless, the composite model behavior remained in good agreement with experimental data used in modeling by Bentele et al. Thus, the question of what model (original or composite) is more realistic requires further experimental investigation.
One of the questions that can be asked concerns the need of reducing models in order to combine them. An attempt to construct the composite modular model of apoptosis was made in [
26
]. This attempt revealed multiple conceptual and methodological difficulties. The main obvious obstacles included:
choice of elements in the overlapping parts of different models;

incomparable sets of parameters;

the lack of experimental data, as well as inability to use the data obtained for different cell lines or in different ways (e.g. single-cell or cell culture measurements);

inability to make accurate predictions.
Model reduction allows solving some of these problems. In particular, reducing the number of model elements, we reduce the overlapping parts as well. This may be essential for direct combining of models. In addition, the complexity of the reduced model become comparable with the complexity of available experimental data. Therefore, the risk of model overfitting is decreased.
In the case when two models are directly related (for example, one model was emerged from the other), their composition may be significantly easier in comparison to composition of quite different models. In our work, the models by Bentele et al. and Neumann et al. are not directly related, as it could be expected as these models were constructed in the same research group. For example, they use different reaction chains of caspase-8 activation and different values of kinetic parameters in the overlapping reactions.
Another quite useful principle that we used in modeling was modular structure of the developed model. This principle provides flexibility for future extensions. Thus, we are planning to extend the composite model and supply it with modules and data from studies of TRAIL [31–33] and TNF-α [34, 35] signaling, apoptosome-dependent caspase activation [36] and p53 oscillation system [37]. It is noteworthy that the model by Laussmann et al.[33], describing TRAIL-induced activation of caspase-8, emerged from the original study by Bentele et al.[18]. This fact may help us in our future work.
Characterising the models used in our work, we can say that we saved our time working with the model by Neumann et al.[19] derived from the BioModels database [27], and spent a lot of time to reproduce the model by Bentele et al.[18] that had not existed in a ready-to-use format. Thus, we would like to emphasize that for the common benefit, the systematic application of biological standards in modeling (e.g. SBML [38] and SBGN [39]) and depositing the working models in public databases (e.g. BioModels [27]) would significantly facilitate analysis of existing biomathematical models and using them as the base for development of new composite systems.
Finally, we believe that the composite model itself may be useful for further investigation of apoptosis.
Conclusions
Mathematical modeling provides a powerful tool for studying the properties of biological processes. Methods of model reduction allowed us to take a first step towards validation of the modular model of apoptosis [26]. Using these methods, we composed two models describing pathways of CD95- and NF-κB-signaling in one without affecting the fit to the experimentally measured dynamics and model predictions. For the model reduction and composition, we used the BioUML software that was extended by the required methods of analysis.
The models by Bentele et al. and Neumann et al. reconstructed in BioUML and represented using SBML format and SBGN notation, as well as their reduced and decomposed versions are available at http://ie.biouml.org/bioumlweb/#de=databases/The%20composite%20model%20of%20CD95%20and%20NF-kB%20signaling.
Declarations
Acknowledgements
This work was supported by FP6 grant 037590 "Net2Drug", FP7 grant 090107 "LipidomicNet", EU FP7 (project APO-SYS) and Agence Nationale de la Recherche (project ANR-08-SYSC-003 CALAMAR). AZ is a member of the team "Systems Biology of Cancer," Equipe labellisée par la Ligue Nationale Contre le Cancer.
Authors' Affiliations
(1)
Institute of Systems Biology, Ltd, Novosibirsk, Russia
(2)
Design Technological Institute of Digital Techniques, The Siberian Branch of The Russian Academy of Sciences, Novosibirsk, Russia
(3)
Institut Curie, Paris, France
(4)
INSERM U900, Paris, France
(5)
Mines ParisTech, Fontainebleau, France
(6)
Institute of Cytology and Genetics, The Siberian Branch of The Russian Academy of Sciences, Novosibirsk, Russia
Copyright
© Kutumova et al.; licensee BioMed Central Ltd. 2013
This article is published under license to BioMed Central Ltd. This is an Open Access article distributed under the terms of the Creative Commons Attribution License (http://creativecommons.org/licenses/by/2.0), which permits unrestricted use, distribution, and reproduction in any medium, provided the original work is properly cited.