Methodology article
Open Access
Modeling miRNA-mRNA interactions: fitting chemical kinetics equations to microarray data
BMC Systems Biology
2014
8:19
Received: 10 March 2013
Accepted: 12 February 2014
Published: 18 February 2014
Abstract
Background
The miRNAs are small non-coding RNAs of roughly 22 nucleotides in length, which can bind with and inhibit protein coding mRNAs through complementary base pairing. By degrading mRNAs and repressing proteins, miRNAs regulate the cell signaling and cell functions. This paper focuses on innovative mathematical techniques to model gene interactions by algorithmic analysis of microarray data. Our goal was to elucidate which mRNAs were actually degraded or had their translation inhibited by miRNAs belonging to a very large pool of potential miRNAs.
Results
We proposed two chemical kinetics equations (CKEs) to model the interactions between miRNAs, mRNAs and the associated proteins. In order to reduce computational cost, we used a non linear profile clustering method named minimal net clustering and efficiently condensed the large set of expression profiles observed in our microarray data sets. We determined unknown parameters of the CKE models by minimizing the discrepancy between model prediction and data, using our own fast non linear optimization algorithm. We then retained only the CKE models for which the optimized fit to microarray data is of high quality and validated multiple miRNA-mRNA pairs.
Conclusion
The implementation of CKE modeling and minimal net clustering reduces drastically the potential set of miRNA-mRNA pairs, with a high gain for further experimental validations. The minimal net clustering also provides good miRNA candidates that have similar regulatory roles.
Keywords
miRNAChemical kinetics modelingMinimal net clustering
Background
Transcriptional and translational processes are fundamental cell mechanisms, involving three main molecular species: messenger RNA (mRNA) and their associated proteins, as well as microRNAs (miRNAs).
The miRNAs are small non-coding RNAs of roughly 22 nucleotides in length, which can bind with and inhibit protein coding mRNAs through complementary base pairing. A given miRNA can potentially bind and silence hundreds of mRNAs across a number of signaling pathways. These repressive miRNA-mRNA interactions occur in multiple cellular processes [1–3], and involve two distinct modalities: they may directly degrade their target mRNAs, or more often inhibit their translation [4–9].
The best characterized features determining the targets of a specific miRNA are the conserved Watson-Crick pairing to the 5' region (positions 2–7) of the miRNA, which are the so-called "seed pairing rules" [3, 10–13]. Since seed pairing rules are neither sufficient nor necessary for miRNA-target functions [4, 14], they have usually been combined with microarray or proteomic analysis to find potential miRNA-target pairs[15–17]. Classical microarray data analysis relies mostly on massive application of correlation analysis and linear statistical techniques to simultaneously acquired gene expression profiles. Combined with profile thresholding and heat map displays, these techniques provide commonly used clues for qualitative inference.
In [18], Principal Component Analysis and linear correlation had been linked with comparative sequence analysis to study microarray data recorded during mouse stem cells differentiation, and to broadly predict potential miRNA-mRNA interactions.
To go beyond the results of the linear microarray analysis applied on time-course microarray data in [18], we have formalized two basic architectures for repressive miRNA-mRNA interactions: "Transcription Degradation" (TD) and "Translation Inhibition" (TI).
Traditional chemical kinetics equations had been proposed to model the transcriptional and translational processes without involving the interaction of miRNAs [19, 20].
We have derived Chemical Kinetics Equations (CKEs) to model the dynamics of TD and TI motifs, in the spirit of [20–30]. The equations are algebraically invariant under affine transformation and allow data condensation to reduce computational cost. We have implemented "minimal net" clustering method, which can control the maximum diameter of the clusters, to condense large data sets of gene expression.
Modeling by nonlinear CKEs involves complicated parameter estimation problems to fit the very large set of expression profiles recorded by microarrays. We have developed innovative fast algorithms dedicated to CKE parameter estimation, by optimization of the quality of fit between model and data.
We validate only the parameterized motifs having a high quality of fit to data. To reach robust conclusions we apply a "parameter parsimony" principle, favoring the models having the smallest number of parameters. And we have also evaluated the robustness of our parameter estimation algorithm by algorithm by direct testing on simulated data. These tests did validate our parameter estimation method is quite robust. This nonlinear approach goes further than well-established analysis based on correlation techniques combined with heat map displays.
Results and discussion
Examples of application
We implemented our model of TI on microarray data of mouse stem cells undergoing RA-induced differentiation, as provided by LC Science Inc, and previously analyzed by classical techniques in [18]. We took the recorded expression profiles for proteins/mRNAs GCNF, Oct4, Nanog and Sox2 at time points (0, 1.5, 3, 6)/(0, 3, 6) and expression levels for 266 miRNAs on days 0, 1, 3, 6 from [38] during ES cell differentiation. These profile data were interpolated at 19 intermediary time points, by Piecewise Cubic Hermite Interpolation (PCHIP) and the number of parameters were limited to be 4, i.e. only 1 upstream miRNA was selected for the model, to satisfy the parameter parsimony requirement.
where , t=0,1/3,…,6. Since , is positive for t=0,1/3,…,6. Taking ε=0.15, we applied Minimal Net clustering (the MATLAB code can be downloaded through Additional file 1) to the transformed data of miRNAs, , and obtained 107 clusters, in which the maximum cluster contains 14 miRNAs. We consider that the miRNAs belonging to the same cluster share the same normalized expression level within a negligibly small error. For each cluster C L j , j=1,…,107, we determine the miRNA M C j which is the representative of the cluster C L j for the distance D, and we let m c j (t) be the expression level of M C j at time t. We call m c j (t) is the expression level of cluster C L j .
Discussion
In [38], we pre-selected the potential miRNAs for each gene/protein by TargetScan 5.0 and miRanda before applying the two models. The pre-selection of miRNA candidates were not necessary though it greatly reduced the computational cost. However, the application of the CKE modeling was dependant on the target prediction algorithm, such as TargetScan or miRanda. Therefore, we introduced Minimal Net Clustering in this paper so that the data was condensed and the computational cost could be reduced by a purely numerical method without biological bias.
Since the results of TD model depend on information of transcription factors, the modeling validates not only miRNAs acting as mRNA degraders but also upstream transcription factors simultaneously. In [38] we numerically validated proteins GCNF, Oct4 and Nanog as transcription factors for mRNAs Oct4 and Nanog, while Marson et al. and Boyer et al. [40, 41] claimed that Oct4 and Sox2 are bounded and act together with Nanog as transcription factors. Considering the impact of the transcription factors, the TD modeling may be less convincing unless the transcription factors are fixed as experimentally validated. In this paper we presented more details on the implementation and validation results of the TI model in order to focus on the validation of miRNAs and avoid the influence of assumptions of transcription factors.
TarBase shows that, for protein GCNF the experimentally validated miRNAs are mmu-let-7b and mmu-miR-181a; for protein Oct4 the experimentally validated miRNA is mmu-miR-470; for protein Nanog the experimentally validated miRNAs are mmu-miR-134, mmu-miR-470, and mmu-miR-296; for protein Sox2 the experimentally validated miRNA is mmu-miR-134. In this paper, we have validated by TI modeling and minimal net clustering all the experimentally tested miRNA repressors of GCNF and Oct4. In our previous work [38], actually none of these miRNA repressors had yet been studied for modeling for the four proteins because of the restriction of pre-selection. And only the pair (mmu-miR-181a, GCNF) was validated by the classical correlation analysis done in Gu et al. [18] for the 4 proteins GCNF, Oct4, Nanog, Sox2. Therefore, the TI modeling combined with data condensation not only reduced computational cost but also clearly extended the set of miRNA inhibitors validated by model fitting to microarray data.
Since each numerically validated miRNA cluster may contain two or more miRNAs, the miRNAs in the same cluster could also be considered as potential candidate inhibitors for further experiments to validate. For instance, as Figure 2 shows, mmu-miR-203, 330, 342, 10a and 99b are potential candidates for protein Oct4 for they are in the same cluster as mmu-miR-470, which is validated by both the numerical modeling and experiments.
After the pair (mmu-miR-181a, GCNF) was well validated by our CKE model, we found that the cluster (see Figure 5, top left) containing mmu-miR-181a also includes mmu-miR-103 and mmu-miR-107, which are two known miRNAs that have the same roles in regulating insulin sensitivity and promoting metastasis of colorectal cancer [42, 43]. We also checked that miR-103 and miR-107 have almost the same mature sequences:
mmu-miR-103: AGCAGCAUUGUACAGGGCUAUGA

mmu-miR-107: AGCAGCAUUGUACAGGGCUAUCA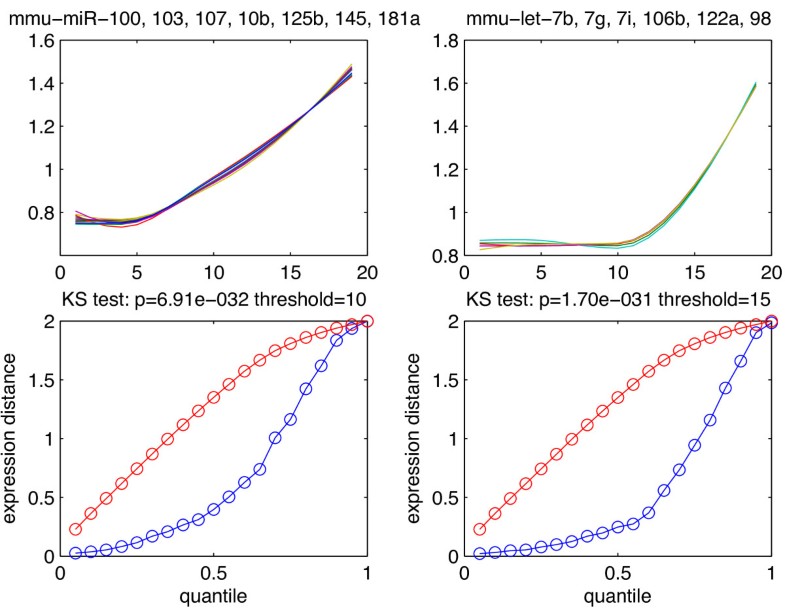 After the pair (mmu-let-7b, GCNF) was well validated by our CKE model, we observed mmu-let-7g, and mmu-let-7i are in the same cluster as mmu-let-7b (see Figure 5, top right). It was claimed that let-7b and 7g reduce tumor growth in mouse models of lung cancer [44]. We then checked that indeed these three miRNAs have very similar mature sequences, namely
mmu-let-7b: UGAGGUAGUAGGUUGUGUGGUU

mmu-let-7g: UGAGGUAGUAGUUUGUACAGU

mmu-let-7i: UGAGGUAGUAGUUUGUGCUGU
To evaluate the correlation between mature sequence and expression profile of our set of 266 miRNAs, we systematically explored all the 266×265/2=35,245 pairs (m i r i ,m i r j ) of distinct miRNAs in this set, i≠j,i,j=1,…,35245. For each such pair we then computed the Euclidean distance between the expression level profiles (expression distance in short) and the Needleman-Wunsch alignment score (NWA) between the mature sequences of each miRNA pair. We then divided the 35,245 miRNA pairs into two groups: GroupHigh includes the pairs with high alignment score (N W A>10), i.e. GroupHigh includes miRNA pairs with similar mature sequences, and GroupLow includes the pairs with low alignment score (N W A≤10). We then compared the distribution of expression distances for all miRNA pairs in GroupHigh with the distribution of these distances for miRNA pairs in GroupLow. As seen in Figure 5 (bottom left), the quantiles of these distances in GroupLow are consistently larger than the corresponding quantiles in GroupHigh. This is fully confirmed by Kolmogorov-Smirnov test which yielded the very significant p-value 7×10-32. The result still holds when we change the alignment score threshold N W A=10 used to define GroupHigh and GroupLow (see Figure 5, bottom right, where the NWA threshold is now N W A=15). We conclude that miRNAs having similar mature sequences tend, with high probability, to have similar expression levels. The above analysis and examples indicate that miRNAs belonging to the same cluster are good candidates to have similar mature sequence. Since the match between miRNA mature sequence and target sites is the main determinant for miRNA targets, miRNAs belonging to same cluster may hence also have similar regulatory roles.
Robustness of parameter estimation
Estimation algorithms for nonlinear models may yield parameter estimates that are dependent on the particular set of data or on initial estimates of parameters. Since our parameter estimation algorithm is independent from initial estimates of parameters, we now focus on on the measurements errors affecting microarray data and on their impact for parameter estimation. Considering that the noises of the microarray data are not negligible, we have analyzed the robustness of our parameters estimators when one perturbs randomly the observed expression levels of miRNAs. We have selected an arbitrary validated model
MD
, where the corresponding downstream factor is denoted as
D
, and has expression levels
d
(
t
). Denote miRNAs
M
1
,…,
M
j
pertaining to model
MD
and call their expression levels
m
1
(
t
),…,
m
j
(
t
). Then we have perturbed the expression levels of the miRNAs by independent random noises having the recorded standard deviation
σ
1
(
t
),…,
σ
j
(
t
) and obtained simulated expression levels
s
m
1
(
t
),…,
s
m
j
(
t
). After injecting the perturbed expression levels
s
m
1
(
t
),…,
s
m
j
(
t
) into the model
MD
and get the predicted expression level
p
d
(
t
) of
D
. With
p
d
(
t
),
m
1
(
t
),…,
m
j
(
t
) and expression levels of other upstream factors, we then applied our parameter estimation algorithm to re-estimate the model parameters. This procedure was repeated 100 times. Then for each model parameter, we plotted the histograms of those 100 re-estimated parameter values and compared them with the parameter values estimated from unperturbed data of model
MD
. This analysis showed that our parameter estimation algorithm is quite robust. Here we present the histograms of perturbed estimates of model parameters for one TD motif (Figure
6
) and one TI motif (Figure
7
).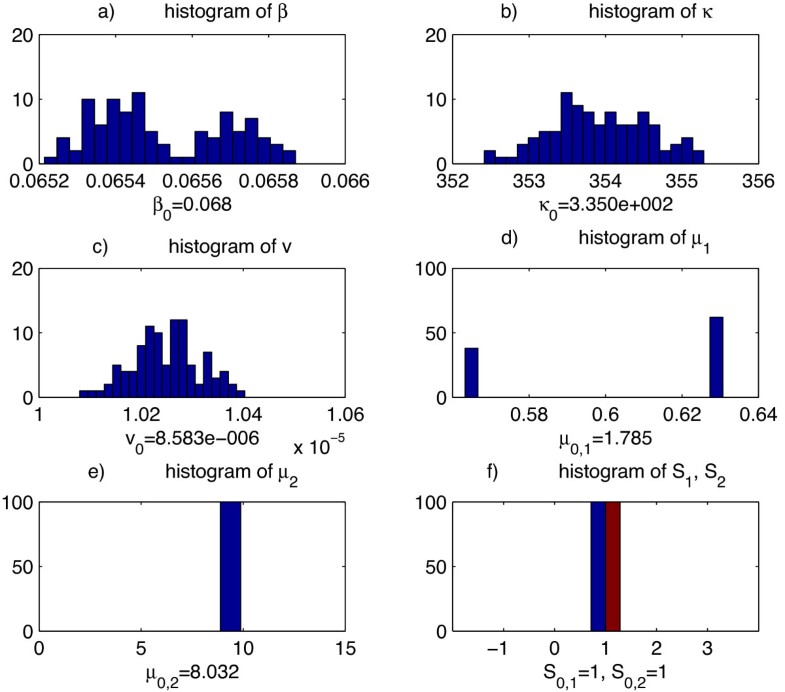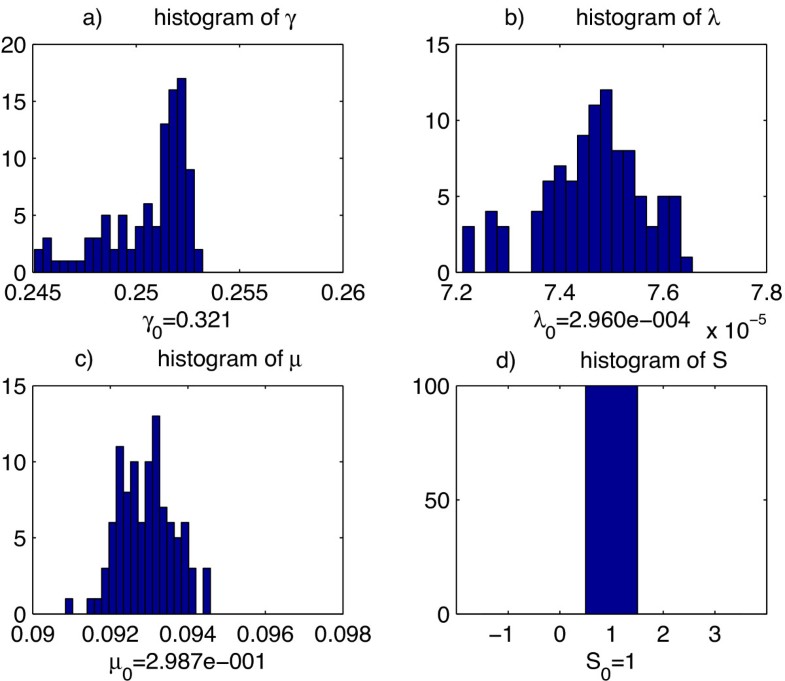 Conclusion
We have separately modeled by chemical kinetics equations the 2 distinct modalities of the repressive actions of miRNAs on post-transcriptional processes of mRNA genes and the associated proteins. This was achieved by first defining the formal structure of two types of interaction architectures (Transcription Degradation motifs and Translation Inhibition motifs) linking miRNAs to subgroups of mRNA genes. The plausibility of each one of these potential TD motifs or TI-motifs was then evaluated by computerized parametric modeling, based on microarray data, of adequate formal chemical kinetics equations (CKEs).
We have sketched the formal derivation of 2 specific CKEs modeling by dynamic ODEs the interactions between concentrations of different species of molecules involved in each architecture. This led to a motif validation strategy based on the quantified quality of fit between our optimally parametrized models and the corresponding microarray data.
Our computerized parameter estimation is implemented by an innovative fast algorithm that does not require knowledge of range of molecular reaction rates. On a current standard laptop PC, our implementation of parameter estimation for a typical 9-parameters CKE model requires about 5 minutes of computing time.
Our parameter estimation algorithm also provides relatively high-quality optimization for the fit between model and microarray data, by integrating both global and local cost minimization techniques, in contexts where plausible ranges of values for most of the unknown parameters are not available in the literature. By perturbing the expression levels of miRNAs and re-estimating the parameters, we showed that our parameter algorithm has a satisfactory level of robustness. We believe that our parameter estimation technique with associated evaluation of quality of fit would be quite applicable as a generic algorithm to similar problems in chemical kinetics modeling of molecular interactions.
Modeling very large microarray data is computationally quite expensive. We have hence sketched clustering methods to condense large microarray data. This approach has of course been attempted before our work, but the main point is that we have carefully studied the mathematical compatibility of our CKE models with condensation of the profiles data. Since we have proved that the abstract form of our CKE models is invariant by arbitrary multiple affine transformations of profiles data, we have made sure to constrain the distance of two expression levels profiles to be invariant by these types of affine transformations.
We have implemented a Minimal Net Clustering algorithm based on this distance, which allows us to control the radius of the clusters. The number of CKEs to parameterize can be strongly reduced after condensation of the large data sets, and the affine invariance of our CKEs show that the condensed genes network can then still be modeled by similar CKEs.
By applying our TI modeling to multiple proteins such as GCNF, Oct4, Nanog, Sox2, we showed that 3 miRNA-target pairs experimentally validated can be also validated by the TI model.
Declarations
Acknowledgements
We would like to thank Drs P. Gunaratne, A. J. Cooney, D. Lonard, X. Xu for multiple discussions concerning their experimental data and results on miRNA-mRNA interactions. These discussions led us to a joint publication.
Authors' Affiliations
(1)
Department of Mathematics, University of Houston, Houston, USA
(2)
School of Natural Sciences and Humanities, Harbin Institute of Technology, Shenzhen Graduate School, Shenzhen, China
Copyright
© Luo et al.; licensee BioMed Central Ltd. 2014
This article is published under license to BioMed Central Ltd. This is an Open Access article distributed under the terms of the Creative Commons Attribution License (http://creativecommons.org/licenses/by/2.0), which permits unrestricted use, distribution, and reproduction in any medium, provided the original work is properly cited.