Methodology article
Open Access
Optimal experiment design for model selection in biochemical networks
BMC Systems Biology
2014
8:20
Received: 11 April 2013
Accepted: 13 February 2014
Published: 20 February 2014
Abstract
Background
Mathematical modeling is often used to formalize hypotheses on how a biochemical network operates by discriminating between competing models. Bayesian model selection offers a way to determine the amount of evidence that data provides to support one model over the other while favoring simple models. In practice, the amount of experimental data is often insufficient to make a clear distinction between competing models. Often one would like to perform a new experiment which would discriminate between competing hypotheses.
Results
We developed a novel method to perform Optimal Experiment Design to predict which experiments would most effectively allow model selection. A Bayesian approach is applied to infer model parameter distributions. These distributions are sampled and used to simulate from multivariate predictive densities. The method is based on a k-Nearest Neighbor estimate of the Jensen Shannon divergence between the multivariate predictive densities of competing models.
Conclusions
We show that the method successfully uses predictive differences to enable model selection by applying it to several test cases. Because the design criterion is based on predictive distributions, which can be computed for a wide range of model quantities, the approach is very flexible. The method reveals specific combinations of experiments which improve discriminability even in cases where data is scarce. The proposed approach can be used in conjunction with existing Bayesian methodologies where (approximate) posteriors have been determined, making use of relations that exist within the inferred posteriors.
Keywords
Model selectionInferenceBayes factorUncertainty
Background
Developing computational models of biochemical networks is complicated by the complexity of their interaction mechanisms [
1
–
8
]. Typically, hypotheses on how the system operates are formalized in the form of computational models [
9
–
12
]. These models are subsequently calibrated to experimental data using inferential techniques [
13
–
19
]. Despite the steady increase in data availability originating from new quantitative experimental techniques, the modeler is often faced with the problem that several different model topologies can describe the measured data to an acceptable degree [
20
–
22
]. The uncertainty associated with the predictions hinders the investigator when trying to make a clear distinction between competing models. In such cases, additional data is required. Optimal Experiment Design (OED) methods can be used to determine which experiments would be most useful [
23
]. These methods typically involve specifying an optimality criterion or design aim and finding the experiment that most effectively attains this goal while considering the current parameter uncertainty. Existing methods of OED for model selection are usually based on assuming an uncertainty distribution around best parameter estimates [
24
,
25
] or model linearization [
26
]. Due to the non-linearity of the model and the non-Gaussian shape of the parameter distribution, these methods are rarely appropriate for Systems Biology models [
27
] (See Figure
1
for an example of the effect of model linearization, and how it can skew predictive distributions in cases of large parameter uncertainty). In this work, we employ a Bayesian approach using the Posterior Predictive Distribution (PPD) which directly reflects the prediction uncertainty and accounts for both model non-linearity and non-Gaussianity of the parameter distribution. PPDs are defined as distributions of new observations conditioned on the observed data. Samples from the PPD can be obtained by drawing from the posterior parameter probability distribution and simulating predictions for each parameter set. By simulating a sample from the PPDs for all experimentally accessible moieties and fluxes, differences between models can be explored [
28
].

Previously, predictive distributions have been used to perform experiment design targeted at reducing the uncertainty of specific predictions [29–31]. In the field of machine learning, optimal experiment design based on information-theoretic considerations is typically referred to as active learning [32]. In the neurosciences, the Bayesian inversion and selection of nonlinear states space models is known as dynamic causal modelling (DCM). Although DCM is dominated by variational (approximate) Bayesian model inversion - the basic problems and ensuing model selection issues are identical to the issues considered in this work. In DCM, the issue of optimising experimental design focuses on the Laplace-Chernoff risk for model selection and its relationship with classical design optimality criteria. Daunizeau et al. (2011) consider the problem of detecting feedback connections in neuronal networks and how this depends upon the duration of design stimulation [33]. We will consider a similar problem in biochemical networks - in terms of identifying molecular interactions and when to sample data. We present a method to use samples from simulated predictive distributions for selecting experiments useful for model selection. Considering the increased use of Bayesian inference in the field [14, 34–39], this approach is particularly timely since it enables investigators to extract additional information from their inferences.
In a Bayesian setting, model selection is typically based on the Bayes factor, which measures the amount of evidence the data provides for one model over another [
40
,
41
]. For every pair of models, a Bayes factor can be computed, defined as the ratio of their integrated likelihoods. One advantage of the Bayes factor is that it automatically penalizes unnecessary model complexity in light of the experimental data. It therefore reduces the risk of unwarranted model rejections. This penalization occurs because more parameters or unnecessarily wide priors lead to a lower weighting of the high likelihood region. This is illustrated in Figure
2
.

What the Bayesian selection methodology does not provide, however, is a means to determine which experiment would optimally increase the separation between models. Determining which measurements to perform in order to optimally increase the Bayes factor in favor of the correct model is a difficult task. We propose a method which allows ranking combinations of new experiments according to their efficacy at increasing the Bayes factors which point to the correct model. Predictions whose distributions do not overlap between competing models are good measurement candidates [
42
,
43
]. Often distributions for a single prediction show a large degree of overlap, hampering a decisive outcome. Fortunately, PPDs also contain information on how model predictions are related to each other. The relations between the different prediction uncertainties depend on both the data and the model. Differences in these inter-prediction relations between competing models can be probed and used (see Figure
3
). We quantify these differences in predictive distributions by means of the Jensen Shannon divergence (JSD) [
44
].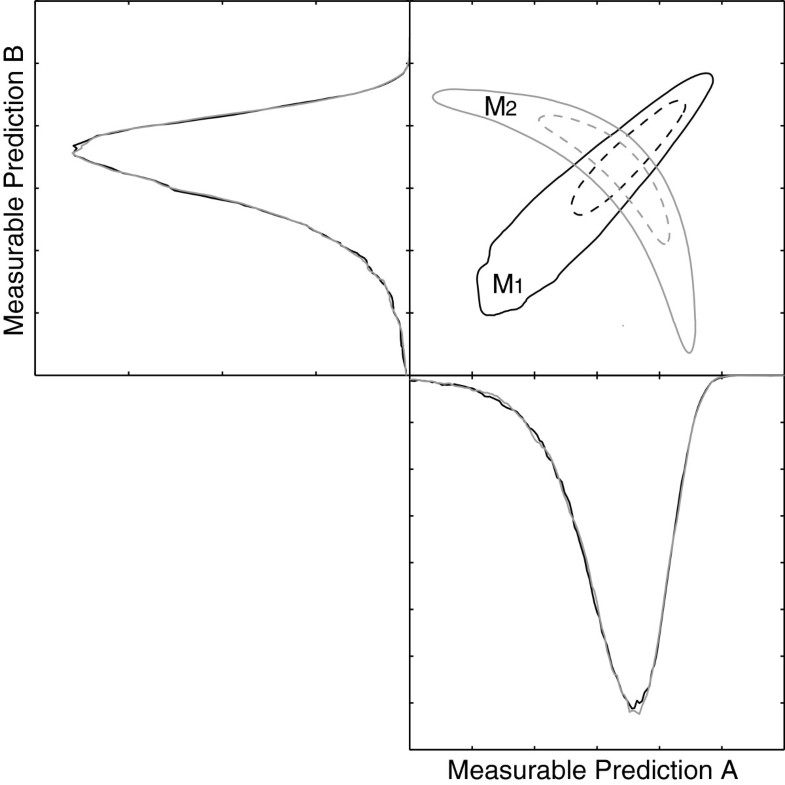 There are many design parameters that one could optimize. In this paper, we focus on a simple example: namely, which system variable should be measured and at which time point. We argue that by measuring those time points at which the models show the largest difference in their predictive distributions, large improvements in the Bayes factors can be obtained. By applying the methodology on an analytically tractable model, we show that the JSD is nearly monotonically related to the predicted change in Bayes factor. Subsequently, the Jensen Shannon divergence is computed between predictions of a non-linear biochemical network. Since each model implies different relations between the predictive distributions, certain combinations of predictions lead to more discriminability than others. The method serves as a good predictor for effective experiments when compared to the obtained Bayes factors after the measurements have been performed. The approach can be used to design multiple experiments simultaneously, revealing benefits that arise from combinations of experiments.
Methods
Consider biochemical networks that can be modeled using a system of ordinary differential equations. These models comprise of equations which contain parameters (constant in time), inputs and state variables . Given a set of parameters, inputs, and initial conditions , these equations can be simulated. Measurements are performed on a subset and/or a combination of the total number of state variables in the model. Measurements are hampered by measurement noise , while many techniques used in biology necessitate the use of scaling and offset parameters [45]. The vector , defined as , lists all the required quantities to simulate the model. The parameters determine the experimental design and could include differences in when various responses are measured or the mapping from hidden model states to observed responses . We will refer to these as 'design parameters' that are, crucially, distinguished from model parameters . Design parameters are under experimental control and determine the experimental design. In what follows, we try to optimise the discriminability of models in terms of Bayesian model comparison by optimizing an objective function with respect to . In the examples, we will consider as the timing of extra observations.
To perform inference and experiment design, an error model is required. Considering
R
time series of length
N
1
,
N
2
…
N
R
, hampered by independent noise, one obtains the equation:
where M i indicates a model and y D the observed data. The parameters are given by , while indicates the value of a data point of state variable k at time j, respectively.
Results and discussion
Nonlinear models
In Figure
8
, we show the different predictions after performing model inference. Two sets of PPDs were simulated for two experimental conditions. These sets mimic two different concentrations of a signaling molecule, and have been implemented by setting the stimulus
u
to either 1 or 2. To test the effect of measuring multiple predictions, divergence estimates were computed for a large number of different combinations of two measurements. These results are shown in Figure
9
. Each subplot corresponds to a different model comparison. The axis of each subplot is divided into ten sections corresponding to different predictions. Within each section, the axis represents time. The color value indicates the JSD, where a large value indicates a lot of separation and therefore a good measurement. Note the bright squares corresponding to the concentration of
BpCp
in each of the models. These high efficacies are not surprising considering that the PPDs show large differences between the models for these concentrations (See Figure
8
). Also noticeable is that many of the experiments on the same predictions reveal dark diagonals within each tile. Measuring the same concentration twice typically adds fewer predictive constraints than measuring at two different time points, unless the second measurement is performed using a different concentration of signaling molecule (note how the diagonal lights up on the combination of measuring
BpCp
in condition 1 and 2 when selecting between model 3 and 4). Interestingly, measuring certain states during the overshoot is highly effective (
Bp
and
Dp
for any comparison), while the overshoot is less informative for others (
Bp
under stimulus 1 and 2 for discriminating between
M
1
and
M
2
). All in all, the information contained in such a matrix is very valuable when it comes to selecting from a small list of experiments. For example, we can also see that considering the current predictive distributions, model 2 and 4 can barely be distinguished. This implies that in order to actually distinguish between these two, a different experiment is required. Such a new experiment could, again, be evaluated by generating a new competing set of PPDs.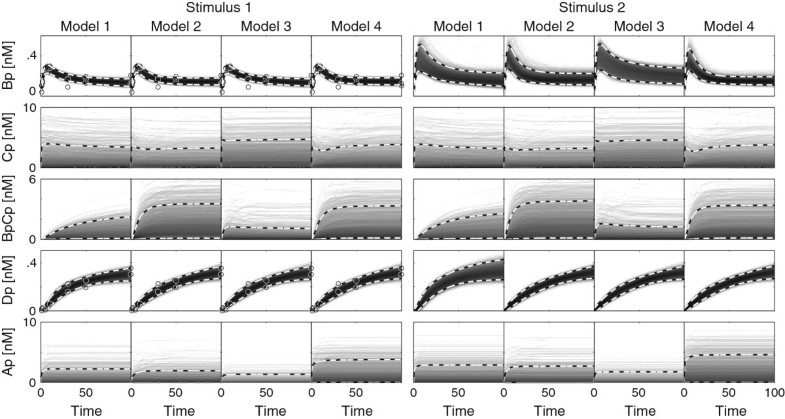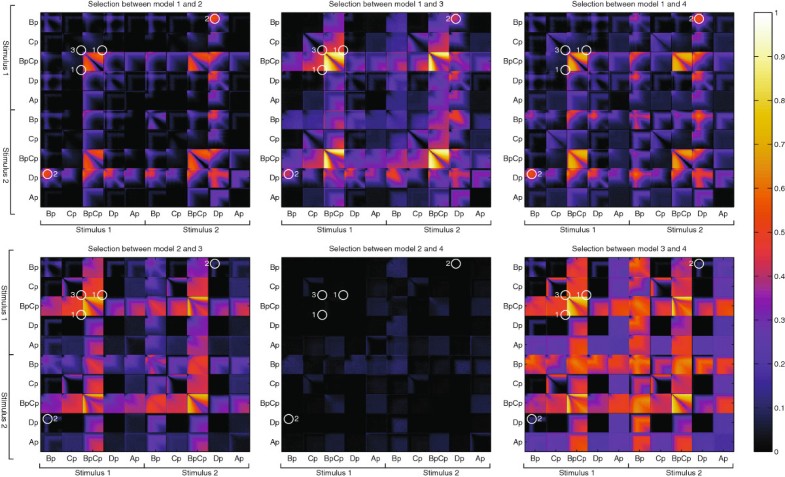 To test the results,
in silico
experiments have been performed by simulating new data from the true model and determining the Bayes factor change upon including this data. Bayes factors were estimated using thermodynamic integration (see Additional file
1
: section S2). The calculation of each set of four marginal likelihoods took about 6 days of wall-clock time on an Intel i7 CPU (2.93 GHz) with MATLAB R2010a. To validate the method, experiments are selected where differences between models are expected. The following experiments were performed:
1. Steady state Cp and BpCp concentration

2. Bp and Dp during the peak in the second condition (u=2)

3. Steady state Cp
Experiment 1 should differentiate between
M
1
and
M
3
(
D
13
≈0.49), but not between
M
1
and
M
2
or
M
1
and
M
4
. Experiment 2 should give discriminatory power for all models (
D
12
≈0.48,
D
13
≈0.54,
D
14
≈0.61). Experiment 3 should not provide any additional discriminatory power at all. The results of these analyses are shown in Table
1
. As predicted, experiment 1 leads only to an increase in discriminatory power between model
M
1
and
M
3
. Experiment 2 improves the discriminatory power between all the models, while experiment 3 even reveals a decrease in discriminatory power for model 1 and 2. Noteworthy is also the large variance observed for experiment 3, which is likely related to the large variance in the steady state predictions of
Cp
. Again, the predictions based on the JSD are well in line with the Bayes factors obtained.
Table 1
Sample table title
| D 12 | Δ B 12 | D 13 | Δ B 13 | D 14 | Δ B 14 |
| --- | --- | --- | --- | --- | --- |
| 0.03 | 0.06±0.19 | 0.49 | 0.32±0.39 | 0.05 | −0.07±0.36 |
| 0.48 | 0.26±0.14 | 0.54 | 0.72±0.36 | 0.61 | 0.43±0.38 |
| −0.06 | −0.49±0.73 | −0.01 | −0.35±0.68 | −0.04 | 0.32±0.54 |
Conclusions
This paper describes a method applicable to performing experiment design with the aim of differentiating between various hypotheses. We show by means of a simulation study on analytically tractable models that the JSD is approximately monotonically related to the expected change in Bayes factor in favor of the model that generated the data (considering the current uncertainty in its parameters). This monotonic relation is useful, because it implies that the JSD can be used as a predictor of the change in Bayes factor. The applicability to non-linear models of biochemical reaction networks was demonstrated by applying it to models based on motifs previously observed in signaling networks [58, 59]. Experiments were designed for distinguishing between different feedback mechanisms.
Though forecasting a predictive distribution of Bayes factors has been suggested [61], the implicit penalization of model complexity could have adverse consequences. The experiment design could suggest a measurement where the probability densities of two models overlap. When this happens, both models can describe the data equally well, which leads to an implicit penalization of the more complex model (since it allows for more varied predictions due to its added freedom). This penalization can then be followed by subsequent selection (of the simpler model). Though a decisive selection occurs, such an experiment would not provide additional insight however. In [61], this is mitigated by determining the evidence in favor of a more complex model. Moreover, computing the predictive distributions of Bayes factors required for this approach is computationally intractable for non-linear models that are not nested. By focusing on differences in predictive distributions, both these problems are mitigated, making it is possible to pinpoint where the different models predict different behavior. Aside from their usefulness in model selection, such predictive differences could also be attributed to the different mechanisms present in the different models. This allows for follow-up studies to investigate whether these are either artificial or true system behavior.
A complicating factor in this method is the computational burden. The largest challenge to overcome is to obtain a sample from the posterior parameter distribution. Running MCMC on high dimensional problems can be difficult. Fortunately, recent advances in both MCMC [19, 62] as well as approximate sampling techniques [39, 48, 63, 64] allow sampling parameter distributions of increasingly complex models [14, 34–38]. The bottleneck in computing the JSD resides in searching for the k th nearest neighbor. A subproblem which occurs in many different problems and for which computationally faster solutions exist [65, 66]. An attractive aspect of this methodology is that it is possible to design multiple experiments at once. However, the density estimates typically become less accurate as the number of designed experiments increases (see Additional file 1: section S8). Therefore, we recommend starting with a low number of experiments (two or three) and gradually adding experiments while the JSD is low. Density estimation can also be problematic when the predictions vary greatly in their dispersion. When considering non-negative quantities such as concentrations, log-transforming the predictions may alleviate problems. Finally, the number of potential combinations of experiments increases exponentially with the number of experiments designed. It is clear that this rapidly becomes infeasible for large numbers of experiments. However, it is not necessary to fill the entire experimental matrix and techniques such as Sequential Monte Carlo sampling could be considered as an alternative to more effectively probe this space. We revert the reader to Additional file 1: section S7 for a proof of principle implementation of such a sampler.
One additional point of debate is the weighting of each of the models in the mixture distribution used to compute the JSD. It could be argued that it would be more sensible to weight models according to their model probabilities by determining the integrated likelihoods of the data that is already available. The reason for not doing this is two-fold. Firstly, the computational burden this adds to the experimental design procedure is significant. More importantly however, the implicit weighting in favor of parsimony could strongly affect the design by removing models which are considered unnecessarily complex at this stage of the analysis. When designing new experiments, the aim is to obtain measurements that allow for optimal discrimination between the predictive distributions under the different hypotheses. Optimal discrimination makes it sensible to consider the models equally probable a priori.
The method has several advantages that are particularly useful for modeling biochemical networks. Because the method is based on sampling from the posterior parameter probability distribution, it is particularly suitable when insufficient data is available to consider Gaussian parameter probability distributions or model linearisations. Additionally, it allows incorporation of prior knowledge in the form of prior parameter probability distributions. This is useful when the available data contains insufficient constraints to result in a well defined posterior parameter distribution. Because the design criterion is based on predictive distributions and such distributions can be computed for a wide range of model quantities, the approach is very flexible. In biochemical research, in vivo measurements are often difficult to perform and practical limitations of the various measurement technologies play an important role. In many cases measurements on separate components cannot be performed and measurements result in indirect derived quantities. Fortunately, in the current framework such measurements can be used directly since distributions of such experiments can be predicted.
Moreover, the impact of specific combinations of experiments can be assessed by including them in the design simultaneously which reveals specific combination of measurements that are particularly useful. This way, informative experiments can be distinguished from non-informative ones and the experimental efforts can be targeted to discriminate between competing hypotheses.
Declarations
Acknowledgements
Funding
This work was funded by the Netherlands Consortium for Systems Biology (NCSB). The authors would like to thank H. W. H. van Roekel, R. M. Foster and C. Çölmekçi Öncü for helpful discussions.
Authors' Affiliations
(1)
Department of Biomedical Engineering, Eindhoven University of Technology, Eindhoven, The Netherlands
(2)
Netherlands Consortium for Systems Biology, University of Amsterdam, Amsterdam, The Netherlands
Copyright
© Vanlier et al.; licensee BioMed Central Ltd. 2014
This article is published under license to BioMed Central Ltd. This is an Open Access article distributed under the terms of the Creative Commons Attribution License (http://creativecommons.org/licenses/by/2.0), which permits unrestricted use, distribution, and reproduction in any medium, provided the original work is properly cited.