Methodology article
Open Access
Understanding disease mechanisms with models of signaling pathway activities
BMC Systems Biology
2014
8:121
Received: 2 January 2014
Accepted: 13 October 2014
Published: 25 October 2014
Abstract
Background
Understanding the aspects of the cell functionality that account for disease or drug action mechanisms is one of the main challenges in the analysis of genomic data and is on the basis of the future implementation of precision medicine.
Results
Here we propose a simple probabilistic model in which signaling pathways are separated into elementary sub-pathways or signal transmission circuits (which ultimately trigger cell functions) and then transforms gene expression measurements into probabilities of activation of such signal transmission circuits. Using this model, differential activation of such circuits between biological conditions can be estimated. Thus, circuit activation statuses can be interpreted as biomarkers that discriminate among the compared conditions. This type of mechanism-based biomarkers accounts for cell functional activities and can easily be associated to disease or drug action mechanisms. The accuracy of the proposed model is demonstrated with simulations and real datasets.
Conclusions
The proposed model provides detailed information that enables the interpretation disease mechanisms as a consequence of the complex combinations of altered gene expression values. Moreover, it offers a framework for suggesting possible ways of therapeutic intervention in a pathologically perturbed system.
Keywords
Signaling pathwaysProbabilistic modelDisease mechanismPrecision medicineDisease mechanismCancerFanconi anemiaObesityStem cells
Background
Precision medicine requires of better ways of defining diseases by introducing state-of-the-art genomic technologies into the diagnostic procedures. A more precise diagnostic of diseases, based on the description of their molecular mechanisms, is critical for creating innovative diagnostic, prognostic, and therapeutic strategies properly tailored to each patient's necessities [1]. Consequently, a deeper understanding of the consequences that the combined effect of gene activities has over the functionality of the cell has become a major concern in the analysis of genomic data. Moreover, this knowledge is essential to understand how gene activity perturbations account for disease. The analysis of genome-wide expression profiles has produced an unprecedented amount of data on gene activity under a plethora of experimental conditions. Nowadays more than one million of microarray experiments are available, stored in public databases. However, the conversion of such data into a better understanding of the underlying biological processes that explain molecular mechanisms of diseases still remains an open issue. Early attempts to deal with the problem of understanding the collective contribution of gene activities to the definition of phenotypes (e.g. disease) produced a family of algorithms commonly known as single enrichment methods (SEA) [2]. Such methods study over-representations of functional annotations in groups of differentially expressed genes [3]-[8]. Typical functional annotations used for this purpose are gene ontology (GO) [9], KEGG pathways [10], etc. Later, the gene set enrichment analysis (GSEA) method [11] pioneered another family of more sensitive algorithms based on testing the distribution of functional annotations along a list of genes ranked by differential expression [12]-[16]. Both approaches consider functional modules as discrete, unstructured entities composed of elements (proteins) of identical importance with respect to the trait analyzed. This is a quite unrealistic assumption that drastically reduces the statistical power in any testing framework [17].
Nevertheless, functional modules with detailed information on their internal structures are available in several repositories such as KEGG [10], Reactome [18], etc. In fact, there is a recent interest in exploiting the information contained in different biological pathways to understand cellular function and disease mechanisms [19]. Recently, a few pathway topology PT-based algorithms have been published [20] that use the internal structure of the pathway to elucidate global activation status for the pathway from gene expression data. Some PT-based algorithms use the pathway structure to compute measurements of coordinated activity (such as correlation, covariance, etc.) among pairs of genes [21]. Other, as the signaling pathway impact analysis (SPIA) [22],[23] or the NetGSA [24], infer scores that account for the global activation status of pathways taking into account the relationships among their constituent gene products. Conceptually similar methods, implementing more sophisticated ways of scoring pathway global activity based in the relationships among the corresponding gene products, have also been proposed [25]-[35].
In most of the methods described above individual values accounting for gene expression are combined, as defined by the internal structure of the pathway, into a global score for the entire pathway. That is, pathways are used as whole functional units in the interpretation of gene expression experiments. However, the biological consequence of the activity of a pathway is not a trivial concept. Stating that a pathway is activated (or deactivated) is not very informative by itself. In fact, partial activation (or deactivation) within the same pathway can have very different (and sometimes opposite) biological implications. For example, the apoptosis signaling pathway can lead to two opposite cell behaviors: apoptosis and degradation (cell death) or antiapoptosis (cell survival) depending on the final protein that receives the signal (see hsa04210 pathway in the KEGG repository). Therefore, depending on their relative location within the pathway, changes in the activation state of one or several proteins can change (and even reverse) the cell behavior. Some of the PT-based methods use values of differential gene expression within the context of the pathways to calculate scores for pathway sub-structures [28]-[31],[36]. However, such scores have a difficult interpretation for both significant and non-significant parts of the pathway because the differential expression of a gene does not necessarily imply a transition from an active to an inactive state (or vice versa). However, the most serious problem occurs when one or several inhibitors within a pathway present a non-significant differential expression. In this case, its activation state is unknown and, consequently, its effect (normally drastic) on the sub-pathway.
From a completely different angle, other approaches have attempted to model protein signaling networks in detail [37]-[40]. Such approaches offer a detailed description of the network modeled and have been used to check for inconsistences in the network or for finding new interdependences between their constituent elements. These models were used to study properties of the pathways analyzed [41], to optimize network models using experimental data (protein activations, measured as phosphorylation or other biochemical properties) [37], or to study pathway responses [42], but none of these approaches consider the use of gene expression measurements derived from transcriptomic experiments (probably the most frequently used genomic data in biomedical research during the last decade).
The approach proposed here offers a conceptually new way of understanding the functional consequences of changes in gene activity associated to any comparison of conditions by taking into account the internal structure of the pathways. This structure is used to split up the pathway into stimulus-response sub-pathways, or circuits, which trigger particular cell functionalities. In other words, the method enables the estimation of the probabilities of activation of these cell functionalities. This approach allows overtaking the simplistic view of a pathway as an entity that is either active or inactive as a whole. Here we show how the analysis of these signaling circuits results in a more detailed and realistic description of the functional consequences of gene up-and down-regulations within the context of each pathway. In many cases, the resulting activation/deactivation of individual functionalities within the pathway helps to suggest a causal explanation for disease mechanisms. We illustrate the application of the methodology with gene expression data obtained from various microarray experiments with different conditions and diseases.
Results and discussion
Performance of the methodology
As previously commented pathways are multifunctional entities that can trigger a range of different cell functions and it is often meaningless to talk about the activation of a pathway as a whole or relating its global activity to a disease. Opposite to this view, we propose a different method which accounts for the change in the probabilities of signal transmission along the different signaling circuits defined within pathways. Briefly, we first use the values of gene expression to infer probabilities of gene product presence/absence (and, consequently, their potential for transmitting a signal). Then, we use such probabilities to calculate the probability of signal transmission along the circuit, from the receptor protein (that receives the stimulus) to the effector protein (that triggers the response). We take into account that interactions between proteins can be either activations or inhibitions (see Methods for details). If the probability of having the circuit activated for signal transmission is significantly higher in one of the conditions of the comparison then a change in a specific pathway activity is reported as a result. Since some circuits of the modeled pathways might be declared significant simply as a consequence of type I errors (false positives), we carried out a simulation and we also studied a real case in which no differences were expected.
We first simulate probe datasets with identical probability of being activated, to which normally distributed noise is added (mean zero, and standard deviation 0.05). All the samples would represent pathways whose genes will have a similar activity state and, consequently, should have their signaling circuits in the same activity state. For this reason, no differences should be observed in any comparison. We produced 1000 datasets, of n = 10, 20, 50 and 100 samples with probabilities 0.1, 0.3, 0.5, 0.7 and 0.9 of being activated. Figure
1
A shows the results of the simulation. At the conventional p-value of 0.05 chosen for the test the ratios of false positives are negligible (and far below the expected 5%).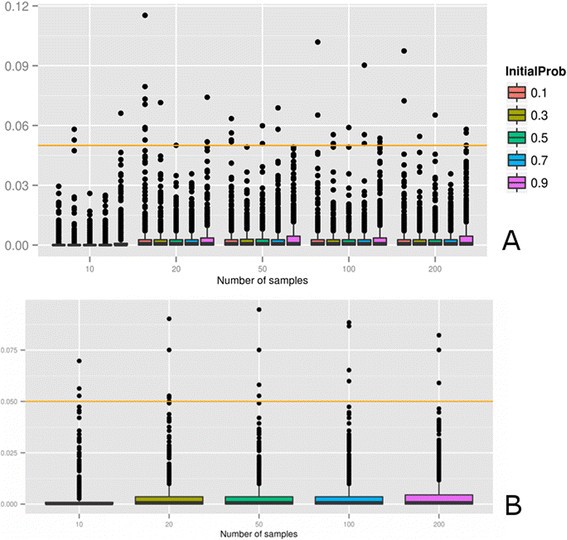 We have also used a large dataset of pediatric acute myeloid leukemia (AML) which contains gene expression microarray data of 237 children [43]. In principle all samples should have a similar profile of gene expression, and consequently similar activation states in the signaling circuit. We produce 1000 datasets, of n = 10, 20, 50 and 100 samples, by randomly subsampling the 237 samples. Any of the datasets was divided into two equal parts and compared to each other with the proposed methodology. Figure 1B shows that for any data size (given the p-value of 0.05 used in the test as threshold) the number of false positives is almost inexistent. In fact, some real biological variation that could result in slight circuit activity differences cannot be ruled out. Consequently, some of these very few false positives might, in reality, be true positives as well.
Additionally, two microarray datasets containing cases and controls in a study of breast cancer (GSE27562) [44] and another study of genes with increased expression in AML (GSE9476) [45] were used to check the predictive performance of features consisting of circuit activation values estimated using the proposed method. This predictive performance can be considered representative of a low number of failures in detecting real activations (false negatives) [26],[35] and allows us to check for the extent of type II error. We used Support Vector Machine (SVM) [46] for the classification of the samples. The accuracy of the classification obtained was evaluated by ten-fold cross validation [47], using the following parameters: proportion of correct classification (PCC) and the area under the curve (AUC). The results obtained were in: for the breast cancer dataset, PCC was 0.99 and the AUC 0.99, while in the AML dataset [45] PCC was 0.96 and the AUC 0.96. These results allow discarding a significant amount of type II error in the method.
Dissecting pathway functionalities
Comparison with other approaches
It is difficult to provide a reasonable comparison of the procedure proposed with other procedures because they test different aspects of the functionality of the pathway. A recent revision on pathway-based methods describe the evolution of the different algorithms proposed from those that only consider membership relationships between the genes of a pathway (SEA or Functional Class Scoring -FSC-) to those, more sophisticated, that use the topology of the pathway (PT-Based) [20]. However, the ultimate property to be tested here is the behavior of the whole pathway, while our approach checks for significant differences in the probability of activation of the individual stimulus-response signaling circuits. Only very recently, a few methods that consider sub-pathways have been proposed [28]-[31]. The clipper approach [28] applies first a Gaussian graphical model that deconstructs the whole graph that defines the pathway into smaller sub-graphs (cliques), that are further individually tested. The cliques are genes connected through the pathway structure but not necessarily related with the actual stimulus-response biologically relevant circuits used here. For example, a clique within a stimulus-response sub-pathway can have their genes significantly up-regulated but the signal might not be transmitted if the sub-pathway is interrupted upstream or downstream. Another approach, the DEgraph [31], uses multivariate analysis to identify differential expression patterns that are coherent with a given sub-graph structure. Again, this method uses the same approach of searching for any sub-graph within the pathway, irrespective of its biological meaning. Moreover, both approaches splits nodes composed of several proteins into multiple nodes regardless of the nature of these multi-protein nodes. The dissociation of a node which is a protein complex, where all the proteins must be present to produce an active complex, into individual nodes leads to erroneous results. We used the CRC dataset [48] to compare the signaling circuit activity method proposed here to the clipper method [28], as recently implemented in the Graphite Web application [67], and the DEgraph [31] method. Additional file 4: Table S1 shows the 85 significant pathways found. A large number of pathways, such as Cocaine addiction, African trypanosomiasis, Long-term depression, Salivary secretion, and many others completely unrelated to cancer are obvious false positives. Focusing only on cancer related pathways we consider VEGF, Jak-STAT, ERBB and WNT. In VEGF, clipper only detect a portion of the sub-pathway leading to the production of COX2 via PTGS2 (prostaglandin G/H synthase and cyclooxygenase), which is detected by our approach and is known to be activated in CRC [55],[68]. Clipper and DEgraph declare so many pathways as significantly activated because they detect sub-graphs, which are portions of signaling circuits of dubious biological meaning. As previously commented for some up-and down-regulations of individual genes, some sub-graphs have not impact on biological functions triggered by signaling pathways as well. And again, in many cases the use of differential expression instead of individual gene activation or deactivations might introduce errors in the role of inhibitors in the pathways.
Additionally, two almost identical approaches that define sub-pathways in a similar manner to our signaling circuits but score them in a similar manner to SPIA [22] have recently been published [29],[30]. However, the use of differential expression values in the nodes instead of actual presence/absence estimations lead to incorrect assumptions on the activities of sub-pathways, as mentioned above. Moreover, they do not provide any software for carrying out the test, which critically compromises the potential usefulness of both approaches.
In an apparent conceptual downgrade, the way in which new sub-pathway based methods check its validity implies checking whether the pathways in which they found significant sup-pathways are also significant in conventional FSC or PT-based methods or not. Although probably of limited value, we produced a similar comparison. We have used the CRC example [
48
] for the comparison. We have analyzed the pathways to detect significant changes in signal transmission activities in the signaling circuits between the two conditions compared. Table
1
represents the number of circuits significantly activated and deactivated in cases with respect to the controls. We compare this approach to: a) a conventional ORA test [
3
], which require a pre-selection of genes based on individual tests for each gene [
13
]; b) to a FSC test (in particular a representative of the family of GSEA tests [
15
]) which do not require of the previously mentioned step of pre-selection of genes; c) to a PT-based approach, the SPIA [
22
], which takes into account the internal structure of the pathway for the calculation of a global activity index for the whole pathway.
Table 1
Analysis of the activity of the pathways by means of different approaches in the case-control comparison of early onset colorectal cancer
Circuits

SEA

PATHWAY

Total

Case

Control

UP vs DOWN

UP vs ALL

DOWN vs ALL

GSEA

SPIA

PPAR SIGNALING PATHWAY

106

3

19

DOWN

ALL

ALL

DOWN*

INH*

ERBB SIGNALING PATHWAY

139

11

2

UP

UP

DOWN

DOWN*

INH

CALCIUM SIGNALING PATHWAY

20

2

2

DOWN

UP

DOWN

UP*

ACT

NEUROACTIVE LIGAND-RECEPTOR INTERACTION

7

0

0

UP

UP

ALL

UP*

ACT

APOPTOSIS

28

0

0

DOWN

ALL

DOWN

DOWN*

INH

WNT SIGNALING PATHWAY

37

6

6

UP

UP

DOWN

DOWN*

INH

NOTCH SIGNALING PATHWAY

14

0

0

DOWN

ALL

ALL

DOWN

INH

VEGF SIGNALING PATHWAY

10

2

0

DOWN

ALL

ALL

DOWN

INH

CELL ADHESION MOLECULES

43

6

3

UP

UP

ALL

UP*

- 1

GAP JUNCTION

17

4

0

UP

UP

ALL

UP*

ACT

ANTIGEN PROCESSING AND PRESENTATION

6

0

0

DOWN

ALL

DOWN

UP

ACT

TOLL-LIKE RECEPTOR SIGNALING PATHWAY

103

0

0

UP

UP

DOWN

UP*

INH

JAK-STAT SIGNALING PATHWAY

7

7

0

DOWN

ALL

DOWN

UP*

INH

B CELL RECEPTOR SIGNALING PATHWAY

10

0

0

UP

UP

ALL

UP*

INH

Fc EPSILON RI SIGNALING PATHWAY

7

0

0

UP

ALL

ALL

DOWN*

INH

INSULIN SIGNALING PATHWAY

54

1

0

DOWN

UP

ALL

DOWN*

INH

GnRH SIGNALING PATHWAY

9

0

0

UP

UP

ALL

DOWN*

ACT

MELANOGENESIS

8

1

0

UP

ALL

ALL

UP

ACT

ADIPOCYTOKINE SIGNALING PATHWAY

31

0

2

DOWN

ALL

ALL

UP

INH
No main discrepancies were observed among the significant values reported by the SPIA method and the proposed method. In some cases, the behavior of SPIA is closer to the GSEA, probably because both methods return a global pathway score (despite the fact that SPIA weights take into account the pathway structure, thus providing a more accurate description of the whole behavior of the pathway.) However, our method is testing a different aspect of the activity of a pathway than SPIA and GSEA do. For example, a pathway known to be active in cancer is the VEGF signaling pathway, whose inhibition has been suggested as an anticancer therapy [69]. Several circuits in this pathway were detected as activated by the proposed approach but not by the other approaches (see Table 1). Likewise, the relationship of JAK-STAT signaling pathway to colorectal cancer is known, given that its disruption reduces tumor cell invasion in this cancer [49]. Again, circuits within the JAK-STAT pathway were found activated by the approach proposed here and by GSEA but not by SPIA. The apparent superior sensitivity of GSEA methodologies in this case is probably due to its lower specificity [70]. The general conclusion derived from the comparison is that the method proposed here finds circuits activated in pathways which are detected as significant by whole-pathway FSC or PT-based methods. As expected, our more sensitive method also detects activations of specific signaling circuits in pathways which were non-significant in FSC tests.
Conclusions
Because of the complexity of the cell, functional traits cannot be understood as the result of the action of only one or a few genes [71],[72]. The multigenic (and non-necessarily additive) nature of many common phenotypes (including common diseases) is one of the causes of the low statistical power rendered by conventional marker- or gene-based testing strategies when applied to genomic data (e.g. genotyping or transcriptomic) [73],[74]. Specific strategies for pathway analysis (such as SEA, FSC and PT-based methods that test the collective activity of sets of functionally related genes as defined in GO, KEGG, etc.), despite more sensitive than gene-based approaches, still provide a very poor detail on the actual functionalities affected in the cell.
Therefore, in a realistic scenario, the conventional paradigm that link disease to the failure of a particular gene needs to be changed for a systems-biology-oriented view [75]-[77], in which the causative factor of the disease is not the gene itself but perturbations of the combined activity of several genes, functionally related through pathways (the signaling circuit here). Thus, the anomalous activity of one or several circuits, responsible for specific cell functionalities, could be the ultimate cause of the disease. Probabilistic models have been used some time ago in theoretical approaches to understand regulatory networks [78]-[80] and, more recently, for different types of studies that involved the characterization of regulatory or signaling circuits [37]-[40],[81]. Increasing the knowledge on the way in which signaling circuits operate is crucial: changes in the activity of the biological functions triggered by signaling pathways (via the circuits that compose them) are behind the mechanisms of several diseases. Here, we extend the idea of probabilistic model to the study of the functional consequences of gene expression in the context of signaling pathways. Simple but efficient probabilistic models of pathway activity have been developed here for a collection of signaling pathways from KEGG [10].
Unlike other conventional approaches, where either the activity of individual genes or the activity of the complete pathway was tested, this approach dissects the structure of the pathway and tests the activity of the stimulus-response signaling circuits. Actually, the notion of pathway is somehow an arbitrary concept based, in some cases, on historical or theoretical concepts that may include many different actual functional roles. The aim of the method proposed here is focusing on the actual elementary functionalities triggered by these circuits within the context of the pathway, whose failure (wrong activation state, tested by the method) can be associated to the disease. There are only a few recently published methods that consider sub-pathways, however they present some problems that seriously limit its applicability and compromises the accuracy of the results provided [28]-[31]. Firstly, some of them do not consider biologically meaningful sub-pathways, such as the signaling circuits considered here, but rather any sequence of connected proteins (sub-graphs), no mater of their relevance in the signaling transmission process [28],[31]. This produces false positives because pathways are declared as significantly activated when some of such topologically-defined sub-graphs are active, regardless of their contribution to effective signal transmission. Even if the circuits are reasonably well defined [29],[30], many nodes, often composed by several proteins, are not well resolved, which results in erroneous estimations of the states of the circuits. Moreover, all these methods use differential expression values in the nodes instead of actual probabilities of node activity, which lead to incorrect assumptions on the activities of sub-pathways in general and signaling circuits in particular. In addition some of the methods do not provide any software, which critically compromises their potential use [29],[30].
The analysis of type I and type II errors demonstrated the accuracy of the methodology proposed. The examples presented in this paper illustrate the use of the concept of the probability of stimulus-response circuit integrity for signal transmission in different scenarios including cross-talk between pathways.
We have focused on gene expression data obtained from microarrays purely by practical reasons of availability: it is the most abundant genomic data publicly available. Obviously, gene expression values can be obtained by other methodologies, providing the data compared are in the same scale (this is the objective of the normalization process). In particular, it is likely that in a near future most of the gene expression measurements will be obtained from RNA-seq experiments [82]. Different measurements for differential gene expression have been proposed, that can accurately account for the estimation of the differential gene expression [83] that could be easily adapted to measure the differential activation of a signaling circuit.
Detailed pathway models helps to understand the disease mechanism [72] as well as throw light on possible mechanisms of drug action [84]. Such models facilitate the advent of a real systems medicine where interventions over particular molecules can be understood within a systems context [76],[77]. Actually, the method proposed fosters the conceptual transition from gene-based biomarkers to mechanism-based biomarkers (the signaling circuits). These can be derived from the gene expression values combined in a way that have a biological meaning and potentially account for the disease mechanism. Moreover, pathway models will likely play an important role in the interpretation of different types of genomic data apart from gene expression. Thus, models of pathways can also be used to study the possible impact of mutations found in exome or whole genome resequencing experiments in the context of pathway functionality. The study of the combined effect of these mutations on the different signaling circuits and consequently the resulting cellular functionality damaged will help to understand the mechanism of the disease and to propose ways of intervention. Similarly, it will also be possible to understand the functional implications at pathway level of genome-wide regulatory constraints found in methyl-seq [85] experiments and its corresponding impact in diseases. Steps toward model the functionality of the cell will render more detailed insights into the knowledge of the living systems and will provide more powerful statistical tools to study the behavior of the cell in a diseased condition. Models developed here for the relatively simple scenario of signaling pathways really capture the network of relationships among proteins that account for particular aspects of the functionality of the cell.
Methods for functional enrichment
In order to compare the proposed approach to other pathway-based methods we have used different algorithms for functional analysis, namely singular enrichment analysis (SEA), gene set enrichment analysis (GSEA), and impact analysis [23]. The FatiGO [3] is a widely used SEA implementation, which is included in the Babelomics web-based package [89]. For the GSEA we have used another implementation developed by us [15], also included in the Babelomics package [89]. For the SPIA we have used the program provided by the authors [23].
Sample classification using circuit activation statuses as features for sensitivity assessment
In order to test the sensitivity of the method for the estimation of the probabilities of circuit activation, we have used them as features to predict disease class. A low misclassification rate can be considered an appropriate proxy for a low type II error rate [26],[35]. We have used Support Vector Machine (SVM) [46] for the classification of the samples. The accuracy of the classification obtained was evaluated by ten-fold cross validation [47], using the following parameters: proportion of correct classification (PCC) and the area under the curve (AUC).
Representation of the results
A web interface that implements the test described above has been developed [98] and is available at: http://pathiways.babelomics.org. The results are displayed in a table that contains each circuit and its corresponding p-value, its FDR corrected p-value and its estimation of the location parameter. A graphical representation of the results in the pathway context of a KEGG-like map is also provided. This representation is obtained using the R package igraph[99]. Nodes belonging to circuits significantly more activated in the first condition appear in blue while nodes significantly more activated in the second condition appear in red. Nodes belonging to several circuits with different activation statuses appear in yellow. Activations are represented by solid arrows and inhibitions by dashed arrows.
Abbreviations
ATM:

Adipose tissue macrophages
CRC:

Colorectal cancer
FA:

Fanconi anemia
FDR:

False discovery rate
FSC:

Functional class scoring
GEO:

Gene expression omnibus
GO:

Gene ontology
GSEA:

Gene set enrichment analysis
HSC:

Hematopoietic stem cell
KEGG:

Kioto encyclopedia of genes and genomes
SEA:

Single enrichment analysis
SPIA:

Signaling pathway impact analysis
WT:

Wild type
Declarations
Acknowledgements
This work is supported by grant BIO2011-27069 from the Spanish Ministry of Economy and Competitiveness (MINECO) and PROMETEOII/2014/025 from the GVA-FEDER. We also thank the support of the National Institute of Bioinformatics (http://www.inab.org) and the CIBER de Enfermedades Raras, both initiatives of the ISCIII, MINECO. AVP is funded by MRC CORD, MRC programme grant, and BHF.
Authors' Affiliations
(1)
Department of Computational Genomics, Centro de Investigación Príncipe Felipe (CIPF), Valencia, Spain
(2)
BIER, CIBER de Enfermedades Raras (CIBERER), Valencia, Spain
(3)
Cancer Epigenetics and Biology Program (PEBC), Bellvitge Biomedical Research Institute (IDIBELL), L'Hospitalet de Llobregat, Barcelona, Spain
(4)
Structural and Computational Biology, European Molecular Biology Laboratory, Heidelberg, Germany
(5)
Department of Statistics and Operations Research, University of Valencia, Valencia, Spain
(6)
Institute of Metabolic Science - Metabolic Research Laboratories and Department of Clinical Biochemistry, University of Cambridge, Addenbrooke's Hospital, Cambridge, UK
(7)
Functional Genomics Node (INB) at CIPF, Valencia, Spain
Copyright
© Sebastian-Leon et al.; licensee BioMed Central Ltd. 2014
This article is published under license to BioMed Central Ltd. This is an Open Access article distributed under the terms of the Creative Commons Attribution License (http://creativecommons.org/licenses/by/2.0), which permits unrestricted use, distribution, and reproduction in any medium, provided the original work is properly credited. The Creative Commons Public Domain Dedication waiver (http://creativecommons.org/publicdomain/zero/1.0/) applies to the data made available in this article, unless otherwise stated.