Methodology article
Open Access
A method for efficient Bayesian optimization of self-assembly systems from scattering data
BMC Systems Biology
2018
12:65
Received: 9 February 2018
Accepted: 24 May 2018
Published: 8 June 2018
Abstract
Background
The ability of collections of molecules to spontaneously assemble into large functional complexes is central to all cellular processes. Using the viral capsid as a model system for complicated macro-molecular assembly, we develop methods for probing fine details of the process by learning kinetic rate parameters consistent with experimental measures of assembly. We have previously shown that local rule based stochastic simulation methods in conjunction with bulk indirect experimental data can meaningfully constrain the space of possible assembly trajectories and allow inference of experimentally unobservable features of the real system.
Results
In the present work, we introduce a new Bayesian optimization framework using multi-Gaussian process model regression. We also extend our prior work to encompass small-angle X-ray/neutron scattering (SAXS/SANS) as a possibly richer experimental data source than the previously used static light scattering (SLS). Method validation is based on synthetic experiments generated using protein data bank (PDB) structures of cowpea chlorotic mottle virus. We also apply the same approach to computationally cheaper differential equation based simulation models.
Conclusions
We present a flexible approach for the global optimization of computationally costly objective functions associated with dynamic, multidimensional models. When applied to the stochastic viral capsid system, our method outperforms a current state of the art black box solver tailored for use with noisy objectives. Our approach also has wide applicability to general stochastic optimization problems.
Keywords
Gaussian process regressionKernel learningBayesian optimizationSmall-angle scatteringMolecular self-assemblyStochastic simulationRule-based modeling
Background
As efforts to build predictive quantitative models of complex systems in biology have grown increasingly complex and comprehensive (e.g., [1, 2]), they have inevitably had to deal with the challenge of capturing molecular self-assembly chemistry. Self-assembly chemistry is an essential part of nearly every important function of a living cell, yet has long proven exceptionally challenging due to their large sizes, long time scales, and explosive pathways spaces. Simulations can provide a way to examine details of assembly unavailable to direct experimental observation, but are computationally demanding for complex assemblies, leading to a body of specialized simulation methods specifically for simulating molecular self-assembly chemistry [3–12]. Furthermore, learning parameters needed by these simulations is itself a very difficult problem for assembly systems, likewise requiring specialized methods [13, 14]. See [15] for a recent review.
We previously showed that it is possible to simulate realistic scales and parameter ranges of complex self-assembly reactions, with specific focus on virus capsid assembly as a model system, by using coarse-grained, rule-based models [4]. These rule-based models were originally implemented via Brownian particle models [4, 5, 8, 11] and later via fast stochastic sampling algorithms [7, 9, 10], approaches that have since seen widespread use in modeling capsids and other complex reaction systems. Accurately parameterizing such models from experimental data, though, remains challenging. Standard methods for model fitting in biochemistry, particularly the Bayesian model-inference methods that have become the favored approach in the field [16], are unusable for non-trivial self-assembly systems due to their exceptionally high computational cost, large pathway space, and inherent stochasticity [15]. In past work, we showed that it was possible to learn detailed quantitative parameters of these models via simulation-based model fitting to static light scattering (SLS) measurements of bulk assembly in vitro [13, 17], primarily by bringing to bear specialized optimization techniques from the field of Derivative-Free Optimization (DFO) [18]. Together, these contributions made it possible to infer the subunit-level pathway space of real capsids assembling in vitro, which in turn can be applied to explore how pathway usage might differ under more realistic models of the intracellular environment [19, 20]. The reliability of such inferences is uncertain, however, due to limits of the data in precisely and uniquely identifying a specific model and the difficulty of accounting for model uncertainty with these classes of methods. The present work focuses on improving parameter fitting methods in terms of potential experimental techniques to which one can fit models and parameter inference algorithms that can be applied for the fitting.
Computationally, we seek to bring to self-assembly the advantages of Bayesian model inference in exploring the space of possible solutions. We approach the problem of quantifying uncertainty in parameter estimation by constructing a probabilistic model of the objective function using Gaussian process (GP) models [21]. This GP method is a variant of a technique called kriging [22] that has previously proven valuable in other contexts for solving computationally demanding model inference problems under uncertainty. GP models are defined by mean and covariance (kernel) functions, and specify a prior on the space of possible functions. As simulations at successive parameter values are completed, the prior is updated, forming the posterior which is used in prediction. New data points for sampling are selected based on the current properties of the process and user-defined trade-offs between exploration and exploitation of the parameter space. This iterative non-parametric Bayesian approach is better able to handle uncertainty in parameter assignments than our previously used optimization techniques, which were based on local surrogate functions. The GP formalism also allows for predictions at test points using global information about the smoothness and self-similarity of the objective.
We simultaneously seek to expand the repertoire of data sources to which these methods can be applied, with specific focus on moving from the static light scattering (SLS) of prior work to small angle X-ray/neutron scattering (SAXS/SANS). SAXS has already proven valuable for reconstructing kinetics of capsid assembly systems (e.g. SV40 VP1 pentamers encapsidating short RNA molecules [23], and distinguishing closed shells from incomplete intermediates during P22 assembly [24]) while SANS has been applied to similar reconstruction problems of other protein assemblies, such as the Huntington amyloid [25]. Time-resolved SAXS has also been used to study the dynamics of conformational change in viruses [26–28].
Here, we develop and implement our GP optimization framework and demonstrate it using synthetic SAXS data of known ground truth. We implement both stochastic (SSA [29]) and deterministic (ordinary differential equation (ODE) [3]) models of virus-like assembly systems of known parameters. We then demonstrate that we can accurately reconstruct the original models from simulated SAXS data derived from these systems. While our stochastic and deterministic models are applicable to virus like assembly systems, the parameter inference framework is quite general and can be expected to be appropriate to any system for which model predictions are costly to evaluate and noisy.
Results
Gaussian process model specification and hyper-parameter optimization was performed using code released by Rasmussen, Nickisch, Williams and Duvenaud [51, 52].
Stochastic simulation model results
We begin the model fitting by sampling a selection of points in parameter space uniformly at random from a hypersphere, a contrast to our earlier methods that begin with a regular grid search [14] that is motivated by prior work showing random sampling to be more efficient when the objective surface has low effective dimensionality compared to the parameter space [53]. For the present experiments, the hypersphere is centered on the ground truth point. For each sampled point, we run a set of simulation trajectories, project SAXS outputs, and compute the associated RMSDs relative to the input data. The resulting data points are then used in initial GP kernel hyperparameter training, updating the prior over objective functions to a posterior. In subsequent rounds of search, the posterior density estimated by the GP from the previous round becomes the new prior density from which we select further parameter points for evaluation to produce an updated posterior.
To provide a comparison with a more traditional solver, we used SNOBFIT (Stable Noisy Optimization by Branch and FIT) [49] a Matlab-based solver that combines a branching strategy with localized quadratic response surface fitting for fast, continuous optimization of black box functions satisfying a number of technical and design criteria. We favor SNOBFIT based on prior work showing it to be effective on capsid assembly simulation [17]. Its major advantage over competitor methods, including early stochastic process based methods such as DACE and SPACE [54, 55] as well as more traditional iterative modeling methods such as DIRECT and UOBYQA [56, 57], is its ability to handle all of the following cases: function values are expensive to evaluate; function values may be available only at approximately the requested points; the function values are noisy; the objective is non-convex; no gradients are available; there are hidden constraints; there are soft constraints; parallel function evaluation is desired; function values may be obtained extremely infrequently; and, the objective function or the search region may change during optimization. In the present work, the comparison is in terms of the number of function evaluations necessary to recover the ground truth parameter vector. Each time SNOBFIT is called, it uses function evaluations from previous rounds as well as newly evaluated points to return a user-specified number of function minimizers to be evaluated evaluated in the next round. These minimizers belong to one of 5 classes: 1-3 being local estimates, and 4-5 global estimates. Plots indicate the local/global classification of each returned point.
ODE model results
We next examined the utility of the solver for deterministic optimization using an ODE model of capsid assembly represented as a dodecamer, as in [43]. Here, we follow the assumption that each step in the oligomerization reaction may have an independent rate, but equating all oligomers of a given size. That is, we assume there is a single oligomer of size N that has a defined rate of transition to size N+1, but allow that the transition from N to N+1 may have a different rate than that from N′ to N′+1 for N≠N′. We here examine two cases: a 6 parameter model (grouping [1,2],...[11,12]) and the full 12 parameter model in which each oligomer has its own on-rate. We arbitrarily define the ground truth for the differential equation model to be a parameter vector in which each element (reaction rate) has the value 100 (in real space as opposed to the log space used in the stochastic simulations) and we conduct the parameter search in a hypersphere of radius 100 around this ground truth value.
Figures
10
and
11
show the results of the six and twelve parameter models. Each subfigure shows RMSD as a function of the number of search rounds for each kernel. We note that the ground truth in each case has an RMSD of exactly zero, yet moving a small distance away necessitates a minimal RMSD in the realm of 10
7
due to the way SAXS experiments are evaluated. The objective surface is roughly constant in a neighborhood surrounding ground truth, with a very steep descent in its immediate vicinity. Thus, we should expect the accuracy of the approximate global minimizer to depend on the size of this surrounding neighborhood. In each assembly model (6 or 12 parameters), different kernel functions are able to identify this neighborhood with varying amounts of training data.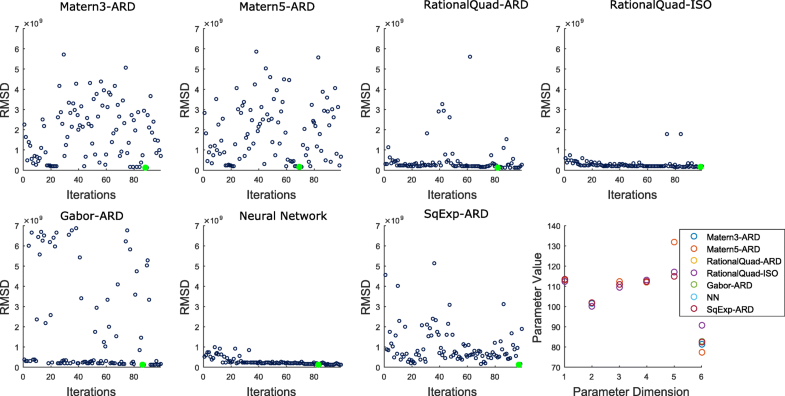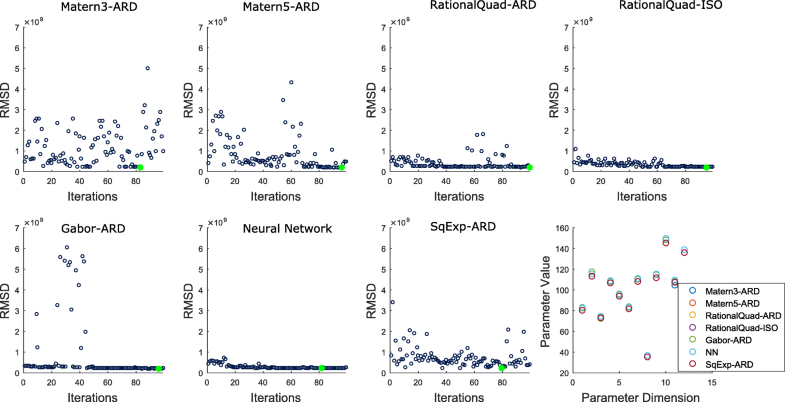 To provide comparison to a competitive existing black box global minimizer, we use Multilevel Coordinate Search (MCS) [
50
], a more appropriate choice than SNOBFIT when solving for a deterministic objective. MCS is based on the DIRECT method and can be classified as
branch without bound
in the sense that it sequentially partitions the search space. As an improvement on DIRECT, the balance between global and local search is handled through a multilevel approach (partitioning the space along a single coordinate only). The method is guaranteed to converge if the objective is continuous in the neighborhood of a global minimizer. Because MCS is designed as a MATLAB caller, taking the black box function as an input, we were not able to easily asses its performance in terms of the number of function evaluations. Rather, it runs until convergence (or a stopping criteria is met) and outputs the minimizer, objective value, number of function evaluations, number of function evaluations used in local search, and other algorithm parameters. Figure
12
shows the results of MCS searches of increasing search space size. The ground truth is again a 12D vector with each element 100. The plot shows that MCS performs well when we have relatively tight bounds on the global minimum, in fact far better than our GP method, but poorly when those bounds are relaxed. A good strategy for solving deterministic systems of similar dimension may therefore be to narrow down the search region using the GP approach, and then apply MCS for a more accurate solution.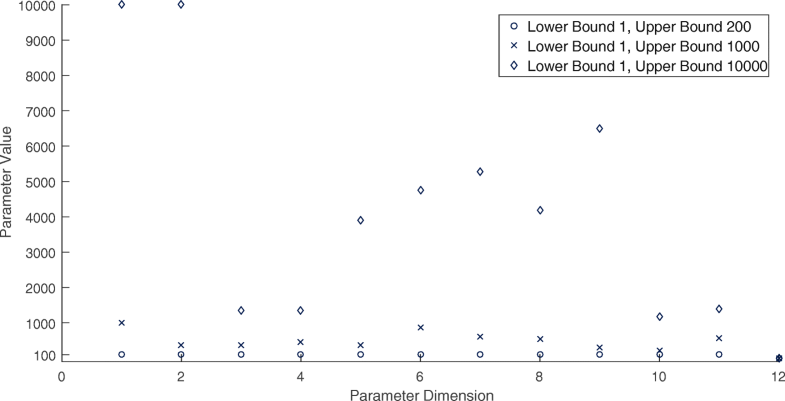 Discussion
While our work provides a proof-of-concept demonstration of the multi-GP strategy, it offers many avenues for improvement. For example, our current goal is efficient global optimization with respect to the number of function evaluations, yet when considering the vast variation in resources required for a given evaluation (in terms of simulation time as well as memory), it may make sense to define efficiency with respect to total search time instead. To give some idea of the time required for stochastic assembly, evaluation of the ground truth point with 300 trajectories takes on the order of 30 min, while distant points in parameter space can span the range of hours to a week. One way to accomplish this may be to separately model the expected evaluation time, and take this into account during AF minimization. Another avenue for improvement concerns the empirical noise variance in RMSD at evaluated points; information to which we have access but do not directly utilize in GP regression. Modeling this variance itself as a GP may improve the ability of the LCB, which is constructed with the standard deviation at test points, to explore the space.
Furthermore, like all black box search methodologies, ours requires many design choices which balance competing factors including run time, cluster architecture, available memory, and the details of simulating molecular assembly. We attempted to bias the search as little as possible, defining the search bounds as a hypersphere surrounding the known ground truth and selecting initial training points randomly within the region, and refraining from enforcing hyper-priors on the kernel hyperparameters. In acquisition function minimization our sampling methods were simple, again based around randomly selecting points from hyperspheres, and more sophisticated sampling strategies might lead to more efficient optimization.
Finally, it also important to note that this method is limited to learning models of a system under experimental conditions, typically in vitro, which may be quite far from conditions of the functional system in vivo. Many extrinsic factors might perturb system behavior in vivo, such as the presence of other molecules interacting with the system or generic effects, such as molecular crowding. Prior work has explored the question of how to "correct" a rule-based system learned in vitro for some effects one would expect in vivo (e.g., crowding [19]). Such approaches cannot account for all possible differences, though, and addressing that issue is a hard problem that would need to be solved on a system-specific basis.
Conclusions
We develop a novel method for efficient Bayesian parameter inference from rule-based models of molecular self-assembly and demonstrated it for fitting stochastic and deterministic models of viral self-assembly to simulated SAXS or SANS data. Our results show that for stochastic systems of low to moderate dimension, treating the objective function as being separately generated by multiple Gaussian processes can be an effective way to discover its structure. When placed within a Bayesian optimization framework, this translates to efficiently discovering locally optimal regions of the parameter space.
Abbreviations
AF:

acquisition function
CCMV:

cowpea chlorotic mottle virus
DFO:

derivative-free optimization
EI:

expected improvement
GP:

Gaussian process
LCB:

lower confidence bound
MCS:

Multilevel coordinate search
ODE:

ordinary differential equation
PDB:

protein data bank
PI:

probability of improvement
RMSD:

root mean square deviation
SAXS/SANS:

small-angle x-ray/neutron scattering
SLS:

static light scattering
SNOBFIT:

Stable noisy optimization by Branch and FIT
SSA:

stochastic simulation algorithm
Declarations
Funding
M.T. was supported in part by US National Institutes of Health award T32EB009403. R.S. was supported in part by U.S. National Institutes of Health award 1R21CA216452 and by Pennsylvania Dept. of Health Grant GBMF4554 #4100070287. The Pennsylvania Department of Health specifically disclaims responsibility for any analyses, interpretations or conclusions.
Availability of data and materials
The code used to perform the simulations of assembly, in silico experiments and parameter inference can be found at [58].
Authors' contributions
MT and RS conceived of and designed the approach. MT carried out the experiments. MT and RS wrote the manuscript. Both authors read and approved the final manuscript.
Ethics approval and consent to participate
Not applicable.
Competing interests
The authors declare that they have no competing interests.
Publisher's Note
Springer Nature remains neutral with regard to jurisdictional claims in published maps and institutional affiliations.
Open Access This article is distributed under the terms of the Creative Commons Attribution 4.0 International License (http://creativecommons.org/licenses/by/4.0/), which permits unrestricted use, distribution, and reproduction in any medium, provided you give appropriate credit to the original author(s) and the source, provide a link to the Creative Commons license, and indicate if changes were made. The Creative Commons Public Domain Dedication waiver (http://creativecommons.org/publicdomain/zero/1.0/) applies to the data made available in this article, unless otherwise stated.
Authors' Affiliations
(1)
Computational Biology Department, Carnegie Mellon University, Pittsburgh, USA
(2)
Department of Biological Sciences, Carnegie Mellon University, Pittsburgh, USA