Volume 9 Supplement 3
Proceedings of the Italian Society of Bioinformatics (BITS): Annual Meeting 2014: Systems Biology
Proceedings
Edited by Angelo Facchiano
Publication of this supplement has not been supported by sponsorship. Information aout the source of funding for publication charges can be found in the individual articles. Articles have been through the journal's standard peer review process for supplements. The Supplement Editor declares that he has no competing interests.
Eleventh Annual Meeting of the Bioinformatics Italian Society Meeting. Go to conference site.
Rome, Italy26-28 February 2014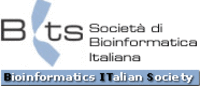 Related articles have been published in supplements to BMC Bioinformatics and BMC Genomics.
Follow
2017 Journal Metrics
Citation Impact
2.05 - 2-year Impact Factor
2.505 - 5-year Impact Factor
0.689 - Source Normalized Impact per Paper (SNIP)
1.109 - SCImago Journal Rank (SJR)



Usage
852,052 downloads





Social Media Impact
523 mentions