Research article

Open Access
Hybrid optimization for 13C metabolic flux analysis using systems parametrized by compactification
BMC Systems Biology
2008
2:29
Received: 08 October 2007
Accepted: 26 March 2008
Published: 26 March 2008
Abstract
Background
The importance and power of isotope-based metabolic flux analysis and its contribution to understanding the metabolic network is increasingly recognized. Its application is, however, still limited partly due to computational inefficiency. 13C metabolic flux analysis aims to compute in vivo metabolic fluxes in terms of metabolite balancing extended by carbon isotopomer balances and involves a nonlinear least-squares problem. To solve the problem more efficiently, improved numerical optimization techniques are necessary.
Results
For flux computation, we developed a gradient-based hybrid optimization algorithm. Here, independent flux variables were compactified into [0, 1)-ranged variables using a single transformation rule. The compactified parameters could be discriminated between non-identifiable and identifiable variables after model linearization. The developed hybrid algorithm was applied to the central metabolism of Bacillus subtilis with only succinate and glutamate as carbon sources. This creates difficulties caused by symmetry of succinate leading to limited introduction of 13C labeling information into the system. The algorithm was found to be superior to its parent algorithms and to global optimization methods both in accuracy and speed. The hybrid optimization with tolerance adjustment quickly converged to the minimum with close to zero deviation and exactly re-estimated flux variables. In the metabolic network studied, some fluxes were found to be either non-identifiable or nonlinearly correlated. The non-identifiable fluxes could correctly be predicted a priori using the model identification method applied, whereas the nonlinear flux correlation was revealed only by identification runs using different starting values a posteriori.
Conclusion
This fast, robust and accurate optimization method is useful for high-throughput metabolic flux analysis, a posteriori identification of possible parameter correlations, and also for Monte Carlo simulations to obtain statistical qualities for flux estimates. In this way, it contributes to future quantitative studies of central metabolic networks in the framework of systems biology.
Keywords
Metabolic Network
Sequential Quadratic Programming
Global Optimization Method
Intracellular Flux
Hybrid Optimization Algorithm
Background
In recent years, metabolic flux analysis (MFA) has become an important tool for quantifying metabolic pathways which is essential for in-depth understanding of biological systems. Among the developed tools, 13C flux analysis utilizing 13C labeling patterns of metabolic products that result from feeding 13C-labeled substrates provides detailed information about intracellular pathway fluxes in vivo [1–3]
13C-based MFA requires carbon flux modeling through the metabolic network, which describes the mathematical relationship between unknown fluxes and the available measurement data set. It requires modeling two connected equation systems, which describe reaction stoichiometry between metabolites and between carbon isotopomers, respectively. Using the model, fluxes can be computed from the measurements by solving a nonlinear least-squares problem (NLSP). The stoichiometric network is a linear equation system of material balances given for the reactions between metabolites, i.e., S·ν = 0 with S denoting the stoichiometric matrix and ν the fluxes. The fluxes consist of non-measured intracellular fluxes νu and measured effluxes νm, i.e., ν = (νu, νm) T . Typically, realistic models are underdetermined, that is, the rank of S is smaller than the number of entries in νu [1]. This difference between rank(S) and the number of entries of νu equals the number of fluxes that have to be chosen as the design parameters Θ (independent flux variables) and are required when parametrizing the network such that ν = Fflux(Θ).
Typically, modeling carbon isotopomer networks involves an equation system containing a few to several hundred variables to balance reactions between isotopomers [
1
,
3
,
4
]. The equation system of carbon isotopomer reactions is an implicit function
F
carbon
(
x
,
ν
) =
0
, bilinear but square with respect to carbon isotopomer fractions (
x
) and nonlinear with respect to fluxes, where
x
consists of non-measured
x
u
and measured
x
m
. Among the available tools, the cumomer concept developed by Wiechert
et al
. (1999) provides explicit solutions for carbon isotopomer fractions (
x
) by transforming the bilinear system into a cascade of linear systems [
5
]. In addition to this, the explicit partial derivatives of the cumomer network with respect to fluxes are obtainable, which is useful for gradient-based optimization algorithms. When
13
C labeling information is applied, intracellular fluxes are determined by means of numerical optimization that seeks a constrained minimum of independent flux variables (
Θ
) to an objective function, e.g.,
Here f(Θ) denotes the objective function to be minimized with respect to Θ and (Θ) signifies the model function corresponding to the measured data set η = (η1, η2,..., η n ) T consisting of measured 13C labeling data (xm). Such data are typically received as mass isotopomer distributions measured by mass spectrometry (MS) and/or fractional carbon labeling measured by nuclear magnetic resonance (NMR) techniques, and effluxes (νm). The measurement error ε is typically assumed to have a normal distribution such that ε ∈ N(0, Σ η ), where Σ η is the covariance matrix of measurements.
For 13C-based MFA, the applied algorithms for numerical flux estimation are mainly gradient-based local optimization [6, 7] or gradient-free global optimization [8–11] such as simulated annealing (SA) or genetic algorithms (GAs). Also, a hybrid technique of global-local optimization has been applied [12]. Such algorithms are described in detail elsewhere [13–15]. The stochastic global optimization methods can be inefficient due to the time required to obtain the so-called asymptotic convergence or reachability in high dimensional parameter spaces [11, 16–21]. Moreover, such algorithms of random nature may fail to find the global solution unless the number of samplings tends to infinity, which is practically impossible [21, 22]. In comparison, the gradient-based local optimizations have a much higher convergence speed, but the solution quality depends heavily on starting points [14, 19]. Further to this, reaching the global optimum is ensured only for convex problems, whereas it is nontrivial to determine the convexity of general nonlinear problems with nonlinear constraints [23]. Thus, one may obtain solutions that are not necessarily global [14] and that might vary depending on starting points.
In this regard, a robust method is highly desirable which guarantees a convergence with speed and accuracy for the nonlinear flux estimation problem. In the present work, we developed a method for efficient parametrization of metabolic network by compactification. Additionally, a mathematical method is suggested for model identification that solves a priori flux identifiability problems regarding 13C labeling experiments in terms of model linearization. On this basis, an optimization algorithm was developed that hybridizes two gradient-based optimization tools. The developed approaches were evaluated using the central metabolism of Bacillus subtilis with succinate and glutamate feeding as the only carbon sources. We examined whether global flux solutions are obtainable using the gradient-based deterministic algorithm.
Results
In this section, we describe the mathematical and computational procedures developed and their application to the nonlinear problem of metabolic flux estimation in a realistic metabolic network of Bacillus subtilis. The model represents an inherent difficulty arising from only succinate and glutamate feeding as carbon sources. Succinate is a symmetric molecule having only two distinguishable carbon atoms. On the other hand, glutamate is also converted into succinate. Due to this, the information that is introduced by the 13C-labels of the substrates is severely limited.
Discussion
The tradeoff between robustness and convergence speed is a central issue in numerical optimization [14]. The developed method fulfills both criteria and enables exact metabolic flux estimation. This was accomplished on the basis of parametrizing the metabolic flux network by compactification and hybridizing the merits of two different gradient-based algorithms. Interestingly, HATA, which hybridizes the worst local method with SQP ∇user and utilizes the tolerance adjustment strategy, has proven to be superior to other approaches. This may be by virtue of providing STRiN with a more appropriate starting point advanced by SQP. Thus, because STRiN is computationally inexpensive and rapid in the vicinity of solution, it achieves a fast convergence. Furthermore, the interactive switching between the algorithms prevents STRiN from accepting an unfavorable search direction without significant objective improvement.
Further to this, we observed that the parametrization by the compactification of independent [0, ∞)-fluxes into [0, 1)-variables is advantageous compared to the non-compactified case. When the optimization was performed by selecting the [0, ∞)-fluxes (ν2r, ν3r, ν4r, ν5r, ν6r, ν7r, ν8r, ν14, ν14r, ν15r, ν16, ν17rwith upper bounds of 200) directly as design parameters, the convergence took drastically longer (27 ± 45 min) than the cases using the compactified fluxes. Moreover, optimization runs often failed to converge or terminated at suboptimal points. In comparison to this, introducing [0, 1)-fluxes improved both the robustness and speed of convergence as demonstrated above. The same advantage is probably achieved when using the [0, 1)-compactifications such as exchange fluxes or flux partitioning ratios applied elsewhere [9, 24, 35]. Our compactification approach allows a straight parametrization because independent fluxes can easily be recognized from the stoichiometric matrix and compactified using a single rule of (2). Moreover, it is straightforwardly differentiable when considering that compactified [0, 1)-fluxes are continuous and smooth in the [0, ∞)-flux space and vice versa.
The parameter scaling constant α introduced during the compactification provides a way to implement numerical flux estimation with efficiency. In particular, the parameter scaling constant α is updated during optimization to render the model's Jacobian matrix into better condition. This is advantageous for the gradient-based methods for computing the search direction because it typically involves the inverse of the Jacobian matrix as given by (6). We examined whether different α values affect the efficiency of optimization. The α value was observed to affect the convergence speed but not the accuracy of the optimization. When starting from the same initial guess applied to the optimization trial in Figure 4, the fastest convergence speed was obtained when α is fixed at 10 (about 200 s for f(Θ) < 10-14). The speed efficiency decreased if α is smaller or larger than 10. A trial with α adjustment initiated at α = 1 automatically updated α to 10 after a few sub-optimization trials and took about 300 s to achieve f(Θ) < 10-14. Although it was slower than when α was fixed at 10, the proposed strategy with α adjustment recognized the optimal value. Among the 200 HATA optimization runs with α adjusting between 1 and 10 initialized with α = 1, 112 cases updated α to 10 after a few to several sub-optimization trials while α remained 1 in 78 cases. Moreover, the time taken for the optimization runs using different starting points was not necessarily shorter when α was updated to 10. This indicates that the most adequate α value for the optimization may depend on starting conditions.
We could find unique flux solutions except the fluxes recognized
a priori
as non-identifiable or those that were
a posteriori
found to have a significant nonlinear correlation. Such nonlinear parameter correlation can be identified only by the tedious process of executing flux estimation using different sets of starting values
a posteriori
[
36
]. The non-correlated [0, 1)-fluxes of which true values could be re-estimated, e.g.,
ϕ
5r
and
ϕ
6r
, give a unique minimum of
f
(
Θ
), which is obviously achieved disregarding starting points (Figure
6-A
). In comparison to this, the nonlinearly correlated [0, 1)-fluxes
ϕ
3r
and
ϕ
4r
result in an infinite number of minima that meet the correlation shown in Figure
5-B
depending on starting points (Figure
6-B
). Because the objective function value is nearly zero at each minimum (
f
() < 1 × 10
-10
with a weighting factor of 10
8
), the system can be considered to have an infinite number of global minima when parameters are nonlinearly correlated. In this case, a global optimization method can be extremely expensive for identifying such unknown parameter correlations due to its time-inefficiency. As a consequence, a fast and reliable numerical method of flux estimation is highly desirable to repeat optimization runs at different starting points.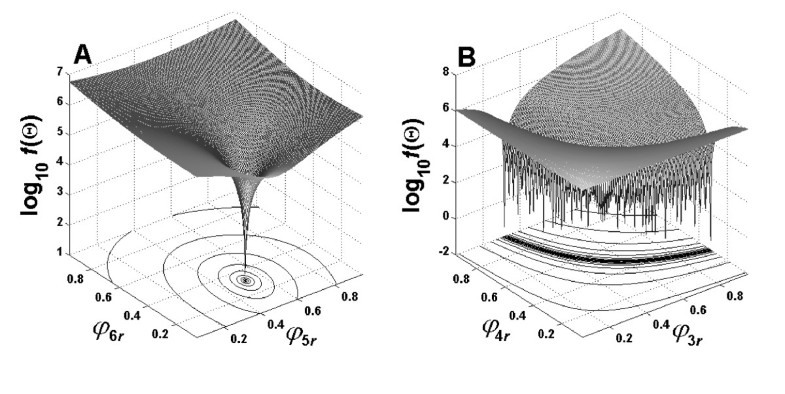 One interest of numerical optimization is whether the global solution can be obtained by the algorithm applied. We observed that the local minimizers from 200 random simulations agreed with each other and also with the true flux values, the global solution. Depending on experimental noise or metabolic state, the problem may contain a few to several local saddle points. In this case, one can consider a further hybridization with a global optimization approach. Global optimization algorithms are inefficient in terms of convergence speed. On the other hand, gradient-based algorithms can converge rapidly but lack a global perspective for non-convex problems. Also in other cases, the combination of global and local search procedures has proven to offer the advantages of both methods while offsetting their disadvantages [17, 37–39]. Such hybridization with a global optimization algorithm is useful for non-convex problems containing several local minima and can be done in many ways [17, 39, 40]. For instance, the local minima obtained from a gradient-based method can be used to update the individuals in the population to prepare the next generation when combining with the GA [17, 40, 39, 41]. Because we could prove the speed and accuracy of the developed optimization method, we consider it very useful for investigating metabolic fluxes and for developing efficient algorithms combined with a global optimization method.
In practice, the quality of the flux fitting can be judged by the χ2-test [42, 43] when using noisy measurement data. In our case, the upper critical χ2 limit is 206 at 95 % confidence level at the given degree of freedom of 174 (188 13C labeling data + 5 effluxes - 19 design parameters). Hence, if the weighted objective value (1) is smaller than the critical value of 103 (this is due to the factor 1/2 in the objective function), the fit can be regarded as acceptable. This value can also be used as a termination criterion for the optimization control in Figure 1-E. As shown in Figure 4-A, the value was achieved at 150 s by HATA, at 170 s by SQP with ∇user, and at 750 s of optimization time by SQP with ∇finite. In comparison to this, GA or SA was expected to achieve the acceptable f(Θ) after 7-8 hours or more (by extrapolation of log10 f(Θ)with respect to optimization time). Hence, an efficient Monte Carlo simulation cannot be carried out by the global optimization approaches.
Further, we compared HATA with SQP with ∇user by conducting 100 stochastic simulations under identical conditions. At each simulation run, normal random numbers were generated for the experimental data set (13C mass isotopomer fractions and extracellular fluxes) by assuming a unit standard deviation of 1 × 10-3 and uniform random numbers for the starting points of design parameters. Subsequently, parameter re-estimation was performed in terms of HATA and SQP with ∇user, respectively. Each optimization run was stopped if f(Θ) becomes smaller than the critical χ2 limit of 103 or does not give any further improvement. On average, f(Θ) at termination was 102 ± 26 for HATA and 167 ± 567 for SQP with ∇user, and the time taken for the optimization was 353 ± 216 s for HATA and 1234 ± 1356 s for SQP with ∇ user. The results support that the developed hybrid algorithm using tolerance adjustment will be more efficient and robust when computing metabolic fluxes from noisy experimental data in a real-case application. In contrast, the efficiency of the SQP algorithm seems to be affected by initial conditions (starting points and experimental data set) when considering the large variation in f(Θ) as well as in the computation time. In this regard, HATA will also achieve the most efficient optimization in the practical sense whenever repeated optimization runs are necessary. A further reduction in computation time can be obtained by utilizing a minimal set of isotopomer balances described by Antoniewicz et al. (2007) [3].
Conclusion
We developed and examined a developed hybrid algorithm for numerical 13C flux estimation using a metabolic network model parametrized using a single compactification rule. We could prove its practical usefulness using the central metabolic network of Bacillus subtilis, which is a prokaryotic model organism and an industrially relevant strain. Based on the parametrization by compactification and model identification, the hybrid algorithm with tolerance adjustment allowed a fast and robust flux computation from the 13C labeling data created from 13C-labeled succinate and glutamate feeding. Such fast optimization was also found to be essential for the a posteriori identification of possible parameter correlations and also for the Monte Carlo approach to obtain statistical qualities for metabolic flux estimates. Therefore, this work represents an important contribution to the quantitative study of metabolic networks in the framework of systems biology.
Methods
For the flux re-estimation simulations of the central metabolic network of B. subtilis, the following inputs and outputs were applied.
13C Input Substrates
The choice of input tracer substrates was made by means of the D-optimality criterion [44]. Since parallel experiments using different 13C input labels yield more information as theoretically shown for the respirometric flux analysis utilizing CO2 labeling measurement [4]. Therefore, experimental designs for two parallel cultivations were also considered here. Among the investigated experimental designs (630 possible designs from commercially available 13C glutamate and 13C succinate species; refer to Additional file 1!), a design combining data from a 13C labeling experiment using non-labeled glutamate and [2,3-13C2] succinate with those from an experiment using [1,2-13C2] glutamate and [1,4-13C2] succinate was expected to provide the richest information at a reasonable expense. This design was selected to study flux identifiability and to examine the developed hybrid optimization.
13C Output Metabolites
For simulation studies, we assumed that the mass isotopomers of proteinogenic amino acids such as alanine, valine, serine, threonine, glycine, aspartate, isoleucine, leucine, phenylalanine, tyrosine, arginine, histidine, and glutamate are measurable. In addition, the mass isotopomers of ribose 5-phosphate from RNA hydrolysate and hexose from carbohydrate hydrolysate are also assumed to be measurable. This totally gives a mass isotopomer data size of 188 for the parallel experiment. The measurements of mass isotopomer distributions were assumed to have a unit standard deviation of 1 × 10-4.
Software implementation
All simulations were carried out on a PC equipped with a CPU of 2.4 GHz. The hybrid optimization algorithm depicted in Figure 1 was implemented in MATLAB (The Mathworks Inc., Natick, MA). Numerical optimization was carried out using the Optimization Toolbox (Version 3.0.4) and the Genetic Algorithm and Direct Search Toolbox (Version 2.1) of MATLAB. The symbolic operations required for parametrization and for computing partial derivatives were conducted using the Symbolic Math Toolbox (Version 3.1.4) of MATLAB. During simulations, random numbers were generated using the Statistics Toolbox (Version 5.2) of MATLAB. The random numbers for [0, 1)-fluxes (ϕ i ) were bounded such that the relative values of the corresponding dependent fluxes (νdepend) lie between 0 and 20.
An example of the hybrid optimization for the problem described in the current work was coded using MATLAB (Hybridoptimizer.m) and supplemented (see Additional file 2). The method can be incorporated with any isotopomeric models [2, 3, 5, 8] that are analytically differentiable.
Appendix
Gradient and Hessian
At each
k
th
iteration of (1), the model function is evaluated at the
k
th
iterate
Θ
k
to get the values corresponding to
η
= (
ν
m
,
x
m
)
T
. This is done by generating a certain flux state by
ν
k
=
F
flux
(
Θ
k
) and, subsequently, solving
F
carbon
(
x
k
,
ν
k
) =
0
for
x
k
at the
k
th
flux state
ν
k
. Since is differentiable with respect to
Θ
k
, the gradient
∇
f
can be computed analytically by:
Further to this, the Hessian matrix
H
that specifies the curvature of the search surface can be obtained by linearization [
14
,
15
], i.e.,
In practice, the constrained problem (1) is formulated as the Lagrangian function, a linear combination of the objective function and the constraints [14].
Adjustment of tolerance and parameter scaling constant
The tolerance adjustment by the restart in Figure 1-E requires a series of sub-optimization trials. The first optimization trial starts with "sufficiently relaxed" tolerances both placed on parameters and objective function, e.g., of 100. When the kth trial is acceptable (e.g., first order optimality conditions are satisfied to the specified tolerance or changes in parameters or function are smaller than the specified tolerance), the (k + 1)th trial restarts with a 10-fold decreased tolerance, where the kth local minimizer Θ* k is used for the new starting point. The previous trial provides a more adequate starting point for the next, and it can be advantageous for local search methods. This is because the efficiency of local methods depends heavily on the quality of starting points [14, 19]. In case the current trial fails (e.g., by exceeding the maximum number of iterations allowed in the estimation process), the tolerance is increased and the next trial starts from the iterate Θ° recorded for the smallest function value up to the current trial in the feasible region (Figure 1-E). The tolerance at which an optimization trial fails is registered. In case optimization trials successively fail, which is rarely the case, the step of tolerance increase is set smaller such as 5-, 10-, 50-, or 100-fold, etc., of the registered value. Correspondingly, the tolerance decrease is also made by this reduced step until the current tolerance matches the registered. This allows finding an appropriate tolerance value for NLSP.
At the beginning and at every failed trial,
α
is re-adjusted by referencing the condition number of the model's Jacobian matrix. When the new starting point for the
k
th
trial is
Θ
° that is isolated from the previous (
k
-
n
)
th
trial with
α
k-n
, the [0, 1)-fluxes have to be rescaled in accordance with the new scaling constant
α
k
. Since
ν
=
α
k-n
ϕ
k-n
/(1 -
ϕ
k-n
) from (2), substituting
ν
in
ϕ
k
=
ν
/(
α
k
+
ν
) results in:
Deterministic Method of Feasible Starting Point Generation
When the random generation of starting points (see Figure
1-A
!) is difficult, the feasible starting points can be found deterministically by minimizing a suitable objective. For instance, one can minimize the following objective:
Here, Nneg.flux signifies the number of negative-valued fluxes, bflux the steady-state stoichiometric flux balances set up for metabolites (see the next section!) evaluated at the current iterate Θ k , and n the number of the balances. By the first term in the objective and the first constraint, the minimization is directed such that all fluxes become non-negative. The second term is to prevent flux values calculated that may not obey stoichiometry due to the limited floating-point accuracy (round-off error). This approach is useful for preparing initial values while preserving random nature for Monte Carlo simulations. In practice, the upper bound of ϕ i can be set to a value smaller than 1 that gives sufficiently large flux values so that ϕ i has a closed interval.
Stationary State Stoichiometric Balances are set up around 15 metabolites specified in Figure 2 as follows. The values multiplied with YXS equals the strain specific precursor demand for growth (mmol precursor per gram biomass).
glucose 6-P: ν2 - (ν1 + ν2r+ 0.4217YXS) = 0
fructose 6-P: (ν2r+ ν4 + ν5 + ν6) - (ν2 + ν4r+ ν5r+ ν6r) = 0
glyceraldehyde 3-P: (ν3 + ν4r+ ν5 + 2ν6r+ ν7) - (ν3r+ ν4 + ν5r+ 2ν6 + ν7r+0.4659YXS) = 0
3-phosphoglycerate: (ν7r+ ν8) - (ν7 + ν8r+ 0.2209YXS) = 0
phosphoenolpyruvate: (ν16 + ν8r) - (ν8 + ν9 + 1.7854YXS) = 0
pyruvate: (ν9 + ν15) - (ν10 + ν15r+ 0.9964YXS) = 0
pentose 5-P: (ν1 + 2ν3r+ ν5r) - (2ν3 + ν5 + 1.1622YXS) = 0
erythrose 4-P: (ν4 + ν5r) - (ν4r+ ν5 + 0.4659YXS) = 0
sedoheptulose 7-P: (ν3 + ν4r) - (ν3r+ ν4) = 0
acetyl-CoA: ν10 - (ν11 + acetateex + 3.1585YXS) = 0
isocitrate: ν11 - ν12 = 0
α-ketoglutarate: (ν12 + ν17) - (ν13 + ν17r+ α-ketoglutarateex) = 0
glutamate: (ν17r+ glutamateex) - (ν17 + 1.4769YXS) = 0
succinate: (ν13 + ν14r+ succinateex) - (ν14 + fumarateex) = 0
oxaloacetate: (ν14 + ν15r) - (ν11 + ν14r+ ν15 + ν16 + 1.3131YXS) = 0
List of abbreviations used
BFGS :

Broyden-Fletcher-Goldfarb-Shanno
GA :

genetic algorithm
HATA :

hybrid algorithm with tolerance adjustment
KEGG :

Kyoto Encyclopedia of Genes and Genomes
MDV :

mass isotopomer distribution vector
MFA :

metabolic flux analysis
NLSP :

nonlinear least-squares problem
SA :

simulated annealing
SQP :

sequential quadratic programming SQP∇ user : SQP optimization with analytical gradient
SQP∇ finite :

SQP optimization using the numerical gradient obtained by finite difference
STRiN :

subspace trust-region method based on the interior-reflective Newton method
STRiN∇ user H user :

STRiN using analytical gradient and Hessian
TA :

transaldolase
TK :

transketolase
Declarations
Acknowledgements
O. Frick thanks DFG (Deutsche Forschungsgemeinschaft), project He 3092/6 for the support of his Ph.D. We wish to thank Andrew Marsh at the University of Louisville's James Graham Brown Cancer Center for editing.
Authors' Affiliations
(1)
James Graham Brown Cancer Center & Department of Surgery, University of Louisville, Louisville, USA
(2)
Biochemical Engineering Institute, Saarland University, Saarbrücken, Germany
Copyright
© Yang et al; licensee BioMed Central Ltd. 2008
This article is published under license to BioMed Central Ltd. This is an Open Access article distributed under the terms of the Creative Commons Attribution License (http://creativecommons.org/licenses/by/2.0), which permits unrestricted use, distribution, and reproduction in any medium, provided the original work is properly cited.