Methodology article

Open Access
Extracting expression modules from perturbational gene expression compendia
BMC Systems Biology
2008
2:33
Received: 18 September 2007
Accepted: 10 April 2008
Published: 10 April 2008
Abstract
Background
Compendia of gene expression profiles under chemical and genetic perturbations constitute an invaluable resource from a systems biology perspective. However, the perturbational nature of such data imposes specific challenges on the computational methods used to analyze them. In particular, traditional clustering algorithms have difficulties in handling one of the prominent features of perturbational compendia, namely partial coexpression relationships between genes. Biclustering methods on the other hand are specifically designed to capture such partial coexpression patterns, but they show a variety of other drawbacks. For instance, some biclustering methods are less suited to identify overlapping biclusters, while others generate highly redundant biclusters. Also, none of the existing biclustering tools takes advantage of the staple of perturbational expression data analysis: the identification of differentially expressed genes.
Results
We introduce a novel method, called ENIGMA, that addresses some of these issues. ENIGMA leverages differential expression analysis results to extract expression modules from perturbational gene expression data. The core parameters of the ENIGMA clustering procedure are automatically optimized to reduce the redundancy between modules. In contrast to the biclusters produced by most other methods, ENIGMA modules may show internal substructure, i.e. subsets of genes with distinct but significantly related expression patterns. The grouping of these (often functionally) related patterns in one module greatly aids in the biological interpretation of the data. We show that ENIGMA outperforms other methods on artificial datasets, using a quality criterion that, unlike other criteria, can be used for algorithms that generate overlapping clusters and that can be modified to take redundancy between clusters into account. Finally, we apply ENIGMA to the Rosetta compendium of expression profiles for Saccharomyces cerevisiae and we analyze one pheromone response-related module in more detail, demonstrating the potential of ENIGMA to generate detailed predictions.
Conclusion
It is increasingly recognized that perturbational expression compendia are essential to identify the gene networks underlying cellular function, and efforts to build these for different organisms are currently underway. We show that ENIGMA constitutes a valuable addition to the repertoire of methods to analyze such data.
Keywords
Gene OntologyCoexpression NetworkExpression ModuleArtificial DatasetCell Wall Biogenesis
Background
Over the last decade, the availability of fully sequenced genomes and the development of high-throughput technologies such as DNA microarray-based transcript profiling have fuelled an exponential increase in the volume of functional genomics data. This has led to a renewed interest in the study of molecular biology at the system level [1–3].
The central paradigm in systems theory is that one can learn about a system by perturbing it and measuring the response. This principle also applies to biological systems. Since mRNA levels can nowadays easily be measured on a genome-wide scale, expression profiling has become a first method of choice for assessing the molecular response to experimental perturbation (the molecular phenotype). Considerable efforts are put into creating compendia of expression profiles under genetic, chemical or environmental perturbations [4–6] or in different tissues [5, 7, 8]. Such data compendia basically constitute a series of snapshots of expression states under a variety of conditions, and they contain a wealth of information concerning the underlying transcriptional network structure of an organism. However, devising methods to efficiently and reliably extract that information is still a challenging task.
Clustering of gene expression data allows the inference of functional correlations between genes through what was dubbed the 'guilt-by-association' principle [9]. A classical clustering process consists of two steps [10]. First, a matrix of distances between expression profiles is calculated using a distance or similarity measure, such as Pearson's centered correlation coefficient (PCC). Based on this distance matrix, the actual clustering algorithm, for instance average linkage hierarchical clustering, groups similar profiles together. Traditional clustering methods are well suited for analyzing time-series expression data, but they fall short when applied to perturbational data, because the underlying similarity measures, such as PCC, primarily capture global correlation tendencies. However, in compendia of perturbed expression profiles, genes do not necessarily show similar behavior under all experimental conditions: they may be coexpressed under some conditions and follow different expression regimes under other conditions. One of the consequences is that genes may be coexpressed with multiple expression modules depending on the conditions, or in other words, expression modules may overlap.
These observations stimulated the development of alternative clustering strategies. The process of detecting subsets of genes that exhibit similar expression behavior across a subset of conditions is known as biclustering. Several biclustering strategies exist today, each using its own heuristic approach to tackle this complex problem ([11] and references therein). Some biclustering methods use a greedy iterative search strategy to uncover biclusters, progressively subdividing, or adding and removing rows and columns from the biclusters obtained in a previous iteration in order to maximize a local score function [12–15]. Others use linear algebra [16] or adopt a graph-theoretic approach to biclustering [17, 18]. Yet other methods identify biclusters by proposing a statistical model and estimating the distribution parameters that minimize a certain model fit criterion [19–25]. A feature that most biclustering methods share is that they do not explicitly define similarity measures on the global space of expression profiles, but rely on the emergent properties of groups of genes and conditions in order to identify significant subpatterns in the data.
Evidently, a wide variety of biclustering algorithms exist, each of them having their own strengths and weaknesses. For example, some of these methods are intrinsically less suited to find overlap between biclusters because they mask previously found biclusters with random noise [12, 22], or because they partition the data [16, 21, 24]. Others require extensive parameter tweaking, require the user to specify the desired number of biclusters in advance or generate very small or large (amounts of) biclusters or highly redundant biclusters (see e.g. comparison in [23]). Some have no publicly available implementation or are rather cumbersome to use, and most of them, notable exceptions being SAMBA/EXPANDER [17, 26], Genomica [21] and cMonkey [23], do not integrate or overlay other types of biological data, hampering their use as biological discovery tools.
Also, to our knowledge, none of the existing biclustering methods uses the variational information in replicated expression experiments. This information is routinely and successfully used to detect genes that are differentially expressed under a given perturbation [27]. The main reason why biclustering methods do not use differential expression information is that they do not specifically focus on the analysis of perturbational data. Discretization-based biclustering methods such as SAMBA [17] and BiMax [18] could probably easily be modified to assess up- and downregulation of gene expression based on p-values for differential expression. In their current implementation, however, these methods use rather arbitrary log-ratio or percentage cutoffs for this purpose.
In this study, we present a novel method, called ENIGMA, that addresses some of these issues. Our goal was to build a method that: (i) leverages differential expression analysis results to extract co-differential expression networks and expression modules from perturbational gene expression data, (ii) is able to detect significant partial coexpression relationships between genes and overlap between modules, (iii) depends on parameters that can be automatically optimized or set on reasonably objective grounds. (iv) produces a realistic amount of modules, and (v) visually integrates the expression modules with other data types such as Gene Ontology (GO) information [28], transcription factor (TF) binding data, protein and genetic interactions, in order to facilitate the biological interpretation of the results. Below, we outline the ENIGMA algorithm, test our methodology on artificial expression data and compare its performance to other methods. We also apply ENIGMA to a perturbational microarray compendium for budding yeast [4] in order to assess its potential to generate testable hypotheses on real biological data.
Results
Algorithm
A global overview of the methodology is given in Figure
1
. Briefly, ENIGMA takes as input a set of perturbational expression data, externally calculated
p
-values for differential expression (e.g. using the limma package in Bioconductor [
29
]) and other data types if available. ENIGMA uses a novel combinatorial statistic to assess which pairs of genes are significantly co-differentially expressed (henceforth abbreviated as coexpressed for the purpose of readability). The resulting coexpression
p
-values are corrected for multiple testing and translated to edges in a coexpression network, which is clustered into expression modules (i.e. groups of significantly co-differentially expressed genes) using a graph-based clustering algorithm inspired on the MCODE algorithm [
30
]. The clustering procedure depends on two parameters that control the density of individual modules and the overlap between modules. The main reason why we chose a two-tier clustering approach (data → coexpression network → clustering) is that it allows simulated annealing-based optimization of the clustering parameters to obtain optimal coverage of the coexpression network, in terms of module overlap and redundancy. The graph clustering method we use is very fast, which allows the parameters to be optimized in a reasonable amount of time. In the postprocessing phase, ENIGMA determines relevant condition sets for each module, visualizes their substructure and overlap with other modules, screens the modules for enriched GO categories, suggests potential regulators for the modules based on regulator-module coexpression links and enrichment of TF binding sites, and overlays protein and genetic interaction data.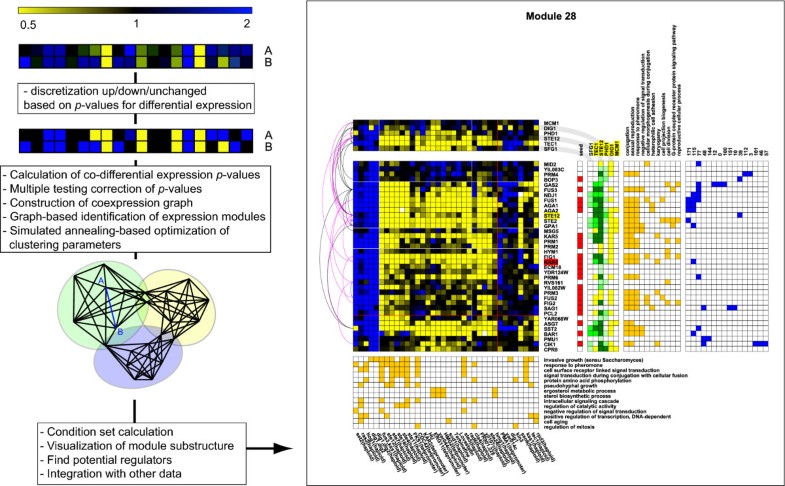 Testing on artificial data
Generating artificial expression data
To assess the performance of our method and compare ENIGMA to other methods, we performed tests on artificial gene expression data. We generated two types of artificial expression data, namely expression data containing overlapping biclusters (modular data) and expression data containing partially coexpressed genes but no biclusters (non-modular data). In both cases, we built 10 expression datasets of 1000 genes by 100 experiments (in log2 ratio format). For each dataset, artificial background expression data were randomly sampled from a normal distribution with mean μ = 0 and variance σ2 = 0.16. For the modular datasets, we implanted 20 biclusters in this background, each encompassing between 1–5% of all genes and 10–50% of all conditions. Bicluster sizes, member genes and conditions are chosen at random, with the restriction that at most 30% of the genes and 50% of the conditions overlap between any 2 biclusters (percentages relative to the smallest of the 2 biclusters). Except for a noise component (see further), all genes in a bicluster share the same expression profile over the bicluster conditions. However, a bicluster can be partially overwritten by other biclusters. The bicluster profiles are sampled from a bimodal distribution consisting of 2 normal modes with means μ1 = -1 (for down-regulated expression) and μ2 = 1 (for up-regulated expression) and variances . The expression profiles of individual genes in a bicluster are noisified by adding normally distributed noise (μ n = 0 and σ n = 0.2|x| with |x| the amplitude of the log ratio expression of the gene in the given condition). The variances, bicluster size and overlap parameters are chosen so that the overall distribution of the simulated log ratio expression values mimicks the distribution of log ratio expression values in the Rosetta compendium [4] up to a scale factor (see Additional file 1 Figure S2). Note that, apart from the distribution of expression ratios, the structure of these toy datasets does not necessarily bear any resemblance to real biological data.
For the non-modular datasets, we implanted 500 pairs of partially coexpressed genes (co-differentially expressed under 10–50% of all conditions) in the background. The expression profiles are constructed as described above. The resulting expression value distribution again mimicks the Rosetta distribution (see Additional file 1 Figure S2).
Unlike for real data (see below), we used log2 ratio thresholds to discretize the expression values of the artificial datasets, because the generation of meaningful artificial differential expression p-values proved to merit further study in its own right. Therefore, the artificial data cannot be used to assess the advantage of including variational information in ENIGMA's discretization step (instead, we performed a qualitative comparison of p-value and log-ratio based discretization on real data, see below). On the other hand, we can still compare the performance of ENIGMA with other methods that do not use variational information. We used a log2 ratio threshold of 1 for upregulation and -1 for downregulation, corresponding to the means of the distributions used to generate the bicluster profiles. In other words, half of the datapoints in the biclusters are presumed not to be significantly over- or underexpressed.
Performance of ENIGMA on artificial data and comparison with other methods
The performance of ENIGMA on these toy datasets was compared with that of two commonly used similarity measures, namely PCC and the χ2-statistic, and two established biclustering methods, SAMBA [17] and ISA [14, 35]. PCC was chosen as a representative of the global similarity measures used in traditional clustering algorithms, while we included the χ2-statistic because of its relation to the combinatorial statistic used by ENIGMA (see Algorithm section). The selection of biclustering methods was based on the following criteria: (i) the methods should be non-partitioning in nature, (ii) they should have the capacity to generate overlapping biclusters, (iii) a suitable implementation should be publicly available, and (iv) they should produce a reasonable amount of biclusters (in the order of 10–100) on the modular toy datasets. We used the version of SAMBA [17] incorporated in the EXPANDER 3.0 package [26], and the implementation of ISA [35] available as part of the biclustering tool BicAT [36], both with default parameter settings. The ISA trajectories from randomly chosen starting points (default 100) converge to a limited number of 'fixed point' biclusters. To prune nearly identical modules, we merged ISA biclusters that overlap for more than 80%.
The clustering performance of all methods is only assessed in the gene dimension. Standard internal criteria for partitional clustering performance, such as the silhouette width or Dunn's index [37, 38], cannot be used to assess the performance of algorithms that generate overlapping clusters. Instead, we use the F-measure and introduce a derivative, the F'-measure (also used in the ENIGMA clustering optimization procedure described above), to compare the performance of different clustering methods on artificial datasets. In both cases, the coexpression network generated by a method (either directly or by translating the clusters to network components) is compared to the artificial input coexpression network in terms of true and false positive edges and false negative edges, from which the different flavors of the F-measure are calculated (see Additional file 1 Figure S1). The difference between the F-measure and the F'-measure is that the F-measure does not take into account the multiplicity of the inferred edges. In other words, the F'-measure penalizes overpredicted (redundant) edges, whereas the F-measure does not. This entails that the F'-measure is more useful to compare methods that generate overlapping clusters, whereas the F-measure can be used more generally to compare methods that generate both overlapping or non-overlapping clusters or pair-wise coexpression networks.
The performance of ENIGMA is tested on two levels by assessing the overlap between the artificial input correlation network and (i) the network of significant correlations obtained in the first step of the ENIGMA algorithm (before clustering, referred to as ENIGMA-N); (ii) the modules inferred by ENIGMA (ENIGMA-M). The output networks for ENIGMA-M and the biclustering methods SAMBA and ISA are obtained by converting the obtained modules/biclusters to fully connected network components. The χ2 network is constructed by translating significant χ2 correlation p-values between the discretized expression profiles to edges in the output network. We used the same discretization threshold (|log2 ratio| = 1) and FDR level (0.05) for the χ2 and ENIGMA methods. The performance of PCC was measured for different thresholds (for each threshold t, gene pairs with PCC > t define an edge in the network).
Using the
F
-measure, ENIGMA outperforms all other methods on the modular artificial data (see Figure
2A
and Additional file
1
Tables S1 and S2). The performance of ENIGMA-M was consistently higher than the
χ
2
performance (Δ
F
= 0.11 on average) and the optimal PCC performance (at a PCC threshold of 0.20–0.30 depending on the dataset; Δ
F
= 0.07 on average). The global similarity measure PCC appears to perform surprisingly well. However, the performance of PCC critically depends on the choice of the PCC threshold, and determining the optimal PCC threshold on real data is problematic. In contrast, ENIGMA has the advantage of having an easily tunable significance threshold: the False Discovery Rate (FDR) level. To illustrate this, we plotted the performance curve of ENIGMA for different non-corrected
p
-value thresholds (ENIGMA-T curve), on Figure
2A
and
2B
. For all artificial datasets, the performance of ENIGMA-N at FDR = 0.05 (medium gray dot) is close to the optimum of this curve, indicating that FDR control at a reasonable level gives near-optimal performance.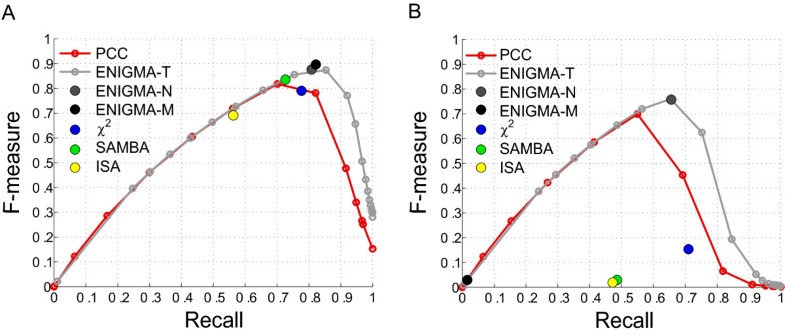 Among the biclustering methods, the rather poor performance of the ISA algorithm (ΔF with ENIGMA-M = 0.34 on average) may seem somewhat surprising. Prelić et al [18], using the same implementation of ISA but other methods to generate artificial data and to assess biclustering performance, previously established that the performance of ISA decreases with increasing overlap between biclusters. Our results seem to confirm that ISA is not the optimal method in case there is substantial overlap between modules. The performance of ISA did not change significantly when using 500 starting points instead of the default 100 (results not shown).
The performance gain of ENIGMA-M over SAMBA is substantially smaller (ΔF = 0.03 on average), and on two out of 10 datasets, the performance of SAMBA was slightly higher than that of ENIGMA-M (see Additional file 1 Tables S1 and S2). A more tangible advantage of ENIGMA over SAMBA (and ISA) is that ENIGMA nearly always recovered the correct number of modules (20 ± 1), whereas SAMBA consistently predicted more modules than there were in the input data (53 ± 6 modules). ISA predicted only one extra module on average, but with a higher variance than ENIGMA (21 ± 4). In other words, SAMBA and to a lesser extent ISA produce more fragmented and/or more redundant modules. Redundancy makes the module output much harder to interpret, but it is not taken into account by the standard F-measure.
To quantify the effect of redundancy on the clustering quality, we compared SAMBA, ISA and ENIGMA-M using the F'-measure. As in the calculation of the F'-measure used in the clustering optimization procedure (see above), edges that are inferred by multiple modules are counted multiple times, but in the present case, multiply defined edges may also occur in the input network if they overlap between multiple artificial input modules (see Additional file 1 Figure S1 B). Specifically, edges that are inferred by x output modules and y input modules are now counted as y tp and x - y fp in case x ≥ y, or x tp and y - x fn in case x <y. Using the F' criterion, the performance of ENIGMA-M (F' = 0.85 ± 0.03) is substantially higher than that of SAMBA (F' = 0.74 ± 0.03) and ISA (F' = 0.51 ± 0.09, see Additional file 1 Tables S3–S5).
On non-modular artificial data, the performance of ENIGMA-M and the biclustering methods SAMBA and ISA is very low (see Figure 2B and Additional file 1 Tables S6 and S7). This is not surprising since there are no modules to be found in these datasets. In this respect, a particularly attractive feature of ENIGMA is that it finds very few modules in the non-modular data (3 ± 1 modules containing on average 5 genes each, precision of clustering result = 0.27), in contrast to ISA and SAMBA, which recover 78 ± 5 modules (containing on average 27 genes) and 127 ± 2 modules (containing on average 16 genes), respectively. Among the pair-wise methods, ENIGMA-N invariably featured the highest performance, indicating that our combinatorial statistic detects partial coexpression relationships more efficiently than PCC and χ2. The fact that ENIGMA efficiently uncovers coexpression relationships in non-modular data opens perspectives for the exploration of the less modular parts of expression datasets. Real datasets typically contain a limited number of perturbation experiments that target a few specific processes. These processes can be expected to be rather well resolved in terms of their coexpression relationships, whereas other processes will probably give rise to more fragmented (less modular) regions in the network. Moreover, despite the success of the modularity concept in the analysis of expression data and systems biology in general, it is not inconceivable that transcriptional networks might also contain genuinely non-modular regions.
Testing on real data: the Rosetta gene expression compendium
Implementation
ENIGMA is implemented as a command-line Java application that is open-source and freely available (under the GNU General Public License) from [52]. ENIGMA can be used for any organism for which there is sufficient gene expression data available. The only organism-specific part of the ENIGMA algorithm is the functional annotation module, which is based on the BiNGO tool [34]. ENIGMA can be used out-of-the-box for 24 organisms, including yeasts, invertebrates, plants and mammals (see Manual section of [52]). Furthermore, ENIGMA allows the use of custom GO annotation files and GO Consortium files to accommodate other organisms.
Conclusion
We have developed a novel method, called ENIGMA, to analyze perturbational microarray data. One of the innovations of our methodology is the use of a combinatorial statistic that is capable of detecting significant partial coexpression relationships between genes. In this respect, our method can be considered similar in purpose to biclustering methods, although ENIGMA assesses coexpression links between individual genes rather than expression coherence in a group of genes under a group of conditions. Our method produces both a detailed network of significant pair-wise coexpression links and a high-level representation of the modularity in the expression network.
Tests on artificial data have shown that ENIGMA outperforms other methods, although ENIGMA wins from SAMBA on points rather than by knockout. Similar near-draws with SAMBA were reported earlier for cMonkey [23] and BiMax [18]. This indicates that the (bi)clustering field has matured to a point at which it becomes increasingly difficult to easily improve on the performance of existing methods. However, ENIGMA does have some specific advantages. First, in contrast to other discretization-based methods such as SAMBA, ENIGMA discretizes the expression data based on differential expression p-values. Second, ENIGMA efficiently retrieved the correct number of modules from artificial datasets and actively avoids generating redundant modules, which greatly improves the interpretability of the results. Third, ENIGMA's clustering parameters are automatically optimized or can be set on relatively objective grounds. A fourth advantage that is more obvious on real data is the use of ENIGMA's expression module concept for biological discovery. In contrast to the coherent biclusters generated by most methods, an ENIGMA expression module may contain distinctive subpatterns. From our analysis of the Rosetta data, it became apparent that these subpatterns frequently represent more tightly coregulated gene clusters involved in biological processes related to a common functional theme. In our view, the grouping of such different but statistically and functionally connected patterns in one module aids greatly in the biological interpretation of the data and in the assessment of crosstalk between biological processes. The interpretation of a module's substructure is further facilitated by the integration of other data types. This is illustrated in our analysis of module 77, a pheromone response module which shows links to the cell cycle, cell wall biosynthesis and Ty1 LTR-associated genes.
Although numerous approaches have already been used to mine the Rosetta compendium [4, 49, 60, 62, 64], ENIGMA offers yet another perspective on the data. This mainly illustrates that the ideal clustering method does not exist [23, 65], and that no single approach can extract all the information hidden in large compendium datasets. The elucidation of the regulatory networks governing the many different aspects of cellular function will therefore not only require the integration of different types of data, but also the integrated use of several complementary methods to analyze these data. We believe that ENIGMA constitutes a valuable addition to the existing repertoire of analysis methods.
Methods
Mating experiments
Yeast strains were grown overnight in YPD [yeast extract (1%), peptone (2%) and glucose (2%)] and diluted to an OD600 = 0.5 in fresh YPD. 500 μ l of each strain (MAT a) was mixed with 500 μ l of the wild type strain (MAT α). The cells were shaken with 180 rpm at 30°C. At time points 0 h, 4 h and 24 h, 100 μ l samples were serially diluted and plated on medium lacking either methionine (MAT α), lysine (MAT a) or methionine and lysine (diploids).
Halo assay
A halo assay to measure response to and recovery from pheromone-induced growth arrest was performed as follows. Yeast cells (MAT a) were grown overnight and diluted to OD600 = 1. 500 μ l was plated on YPD plates (1.5% agar in YPD). When the plates were dry, 2 μ l of the α mating factor (= 1000 pmol) was spotted. The cells were allowed to grow for 48 hrs before the plates were scanned.
Growth assay
Yeast strains (MAT a) were incubated with the wild type strain (MAT α) for 4 hours as described above and diluted to OD600 = 0.1. The length of the lag phase and the maximum growth rate of yeast strains in SDglu without lysine and methionine were monitored automatically by OD600 measurements with a BioscreenC apparatus (Labsystems). The parameters were as follows: 300 μ l of culture in each well, 30 s of shaking each 3 min (medium intensity), and OD600 measurement every hour. Readings are saturated at OD600s above 1.5.
Declarations
Acknowledgements
We thank Yvan Saeys, Thomas Abeel, Yves Van de Peer, Johan Thevelein, Dirk Aeyels and two anonymous reviewers for helpful comments on the manuscript. Cindy Colombo is acknowledged for her technical assistance and Martine De Cock for help in preparing the manuscript. SM is a Postdoctoral Fellow of the Research Foundation Flanders (Belgium).
Authors' Affiliations
(1)
Department of Plant Systems Biology, VIB, Ghent, Belgium
(2)
Department of Molecular Genetics, Ghent University, Ghent, Belgium
(3)
Department of Molecular Microbiology, VIB, Leuven, Belgium
(4)
Laboratory of Molecular Cell Biology, Katholieke Universiteit Leuven, Leuven, Belgium
Copyright
© Maere et al; licensee BioMed Central Ltd. 2008
This article is published under license to BioMed Central Ltd. This is an Open Access article distributed under the terms of the Creative Commons Attribution License (http://creativecommons.org/licenses/by/2.0), which permits unrestricted use, distribution, and reproduction in any medium, provided the original work is properly cited.