Research article

Open Access
Time-resolved metabolomics reveals metabolic modulation in rice foliage
BMC Systems Biology
2008
2:51
Received: 12 February 2008
Accepted: 18 June 2008
Published: 18 June 2008
Abstract
Background
To elucidate the interaction of dynamics among modules that constitute biological systems, comprehensive datasets obtained from "omics" technologies have been used. In recent plant metabolomics approaches, the reconstruction of metabolic correlation networks has been attempted using statistical techniques. However, the results were unsatisfactory and effective data-mining techniques that apply appropriate comprehensive datasets are needed.
Results
Using capillary electrophoresis mass spectrometry (CE-MS) and capillary electrophoresis diode-array detection (CE-DAD), we analyzed the dynamic changes in the level of 56 basic metabolites in plant foliage (Oryza sativa L. ssp. japonica) at hourly intervals over a 24-hr period. Unsupervised clustering of comprehensive metabolic profiles using Kohonen's self-organizing map (SOM) allowed classification of the biochemical pathways activated by the light and dark cycle. The carbon and nitrogen (C/N) metabolism in both periods was also visualized as a phenotypic linkage map that connects network modules on the basis of traditional metabolic pathways rather than pairwise correlations among metabolites. The regulatory networks of C/N assimilation/dissimilation at each time point were consistent with previous works on plant metabolism. In response to environmental stress, glutathione and spermidine fluctuated synchronously with their regulatory targets. Adenine nucleosides and nicotinamide coenzymes were regulated by phosphorylation and dephosphorylation. We also demonstrated that SOM analysis was applicable to the estimation of unidentifiable metabolites in metabolome analysis. Hierarchical clustering of a correlation coefficient matrix could help identify the bottleneck enzymes that regulate metabolic networks.
Conclusion
Our results showed that our SOM analysis with appropriate metabolic time-courses effectively revealed the synchronous dynamics among metabolic modules and elucidated the underlying biochemical functions. The application of discrimination of unidentified metabolites and the identification of bottleneck enzymatic steps even to non-targeted comprehensive analysis promise to facilitate an understanding of large-scale interactions among components in biological systems.
Keywords
Light PeriodMetabolic ModuleTarget MetaboliteMajor Amino AcidUnidentified Metabolite
Background
In the post-genome era, comprehensive data from "omics" technologies (genomics, transcriptomics, proteomics, and metabolomics) have been extensively analyzed to elucidate the underlying biochemical networks that elaborately regulate cellular mechanisms. Recent contributions from metabolomics are particularly noteworthy; they offer insights into metabolism that complement information obtained from proteomics and transcriptomics [1]. Correlation analysis of metabolic profiles has been used effectively to distinguish silent phenotypes or genetic alterations that are not noticeable superficially [2–4]. The systematic integration of metabolomic-, proteomic-, and transcriptomic profiles facilitates the unbiased, information-based reconstruction of underlying biochemical networks [5, 6]. Kohonen's self-organizing map (SOM) analysis [7] was also an effective method to classify and monitor metabolic alteration patterns with time-series profiles [8, 9].
However, with the current technology, unbiased reconstruction from comprehensive and high-throughput data is challenging; statistical tools are immature and inherent measurement errors and biological noise continue to present problems [10]. Moreover, two issues are relevant to the exploitation of metabolomics data. First, it is crucial to interpret metabolic profiles by focusing on a specific rhythm in an appropriate time range and interval, since plants have adapted their metabolism to different environmental fluctuations such as the slow and steady diurnal rhythm, whereas metabolic levels change dynamically. Second, currently available metabolomics data are insufficient for the detection of new metabolic networks. Even if non-target profiling were able to quantify thousands of metabolites, at present there is no method for estimating their reliability. As statistical inference requires large amounts of data measured under similar conditions in transcriptomics [11], the verification of network dynamics for known pathways must precede attempts to identify unknown network structures. It appears that each metabolic profile is measured under method-specific, presumably biased conditions.
Time-resolved target analysis is an effective way to observe biochemical dynamics. We systematically measured the level of 56 basic metabolites in rice leaves (Oryza sativa L. ssp. japonica) at hourly intervals over a 24-hr period. Our target and experimental conditions were strategically determined: 1) we focused on primary metabolic pathways consisting of carbon fixation/respiration- and nitrogen assimilation/dissimilation pathways, and comprehensively quantified related metabolites, 2) the photocycle was the sole environmental factor, and 3) measurements were made at 1-hr intervals to allow the observation of dynamic profiles.
High-throughput analysis was conducted with the capillary electrophoresis – mass spectrometry (CE-MS) technology we developed earlier [12–14], and has been applied to metabolic profiling in Bacillus subtilis extracts [15] and monitoring of genetic and environmental perturbations in Escherichia coli cells [16]. Each employed CE-MS method was able to detect charged low molecular metabolites in less than 30 min without requiring derivatization. Combined with diode array detection (CE-DAD), our technology is also applicable to quantifying small sugar compounds. We previously developed a sample preparation protocol that could extract metabolites with possibly minimal metabolic turnover [17]. By using the CE-MS and CE-DAD, we also succeeded in analyzing over eighty major metabolites (sugars, organic acids, amino acids, and nucleotides) in rice foliage. The current work is our first systematic time-course measurements of rice foliage throughout a day.
We applied four information-based methods to analyze the diurnal fluctuation of metabolites: 1) metabolic pathways were classified with SOM to monitor the metabolic dynamics in each time-step, 2) a phenotypic linkage map was constructed from the classified pathways by Sammon's 2D-network layout [18], 3) unidentified metabolites were predicted based on SOM analysis and chemical structures, and 4) rate-limiting enzymes were identified by hierarchical clustering on a correlation matrix. Here we show that combining metabolome analysis and information-based methods is an effective way to elucidate phenotypical metabolic network structures and underlying biological functions under diurnal rhythm fluctuations.
Results
Time-course data acquisition
Sedoheptulose 1,7-bisphosphate (S17P) in the pentose phosphate pathway was not identified because the standard reagent was unavailable. Xylulose 5-phosphate (X5P) is a stereoisomer of Ribulose 5-phosphate (Ru5P) and their peak overlap in CE-MS analysis makes the identification even more difficult. Glyceraldehyde 3-phosphate (G3P) and oxaloacetate (OAA) were not accurately determined too, because they were readily reacted or decomposed.
Plant seedlings were grown under a 13-hr light – 11-hr dark photocycle for 20 to 21 days. The level of the 56 metabolites was successfully quantified at hourly intervals over the course of 24 hr. We could identify the peak and determine the peak area for S7P but could not quantify its level, since the reagent was not available at the time of our CE-MS measurement; we later qualitatively identified its peak with the migration time ratio (MT/MTIS) of S7P to PIPES (internal standard). The other 13 metabolites were under the detection limit (signal-to-noise ratio (S/N) < 3); their names were colored gray in Figure 1.
Self-organizing map and phenotypic linkage of metabolic modules
To visualize the functioning networks throughout a 24-hr period, we classified the metabolites according to similarities in their time-dependent behavior by using Kohonen's self-organizing map (SOM) and Sammon's 2D-network layout (Sammon map). The time-dependent levels of each metabolite were represented as a 24-dimensional vector. On the SOM, the 57 metabolites were classified into a 24 × 24 lattice on the basis of vector similarity. The map was roughly divided into two major groups (see the dark gray line in Figure 3A). Metabolites with high levels in the light period are in the left area; those with high levels in the dark period are on the right in the map. On the SOM, each group was further classified and assigned to subgroups consisting of nitrogen- and carbon-assimilating compounds. Certain amino acids were arranged near their precursor organic acids, e.g., Glu/2OG. Gly, Ser, and Ala were grouped with synthetic pathway intermediates such as Pyr and Gce. The degree of similarity among metabolites was quantitatively visualized on the Sammon map; it shows approximate distances between metabolites on the SOM according to the Euclidean distance of the input vectors (Figure 3B). When we merged neighboring metabolites on the Sammon map we obtained 12 subsets of metabolites. Each subset is composed of metabolites that exhibit synchronous, time-dependent fluctuations, a "metabolic module". Metabolites in the same module were often neighbors in a traditional metabolic pathway network. Products that accumulated during the light period were arranged in subsets M1 – M8. They included the module for the reductive pentose phosphate pathway (M3), the photorespiratory pathway (M2), the latter half of the glycolytic pathway (M4), the latter half of the TCA cycle (M5), sugars (M7), and major amino acids (M1). Also included in this group were NADPH and NADH (M6), glutathione and spermidine (M8). Subsets M9 – M12 included the first half of the glycolytic pathway (M9), the first half of the TCA cycle (M10), and minor amino acids (M11); also included were the nucleoside tri- and diphosphates (M12). Thus, our SOM analysis correctly reflected the phenotypic metabolic variations that indicate functioning biochemical pathways, and therefore represents a phenotypic linkage map (PLM).
The advantages of this analysis became even more apparent upon time-resolved analysis of metabolite levels (Figure
3C
), which allowed visualization of the dynamic activity of these metabolic modules (see Discussion).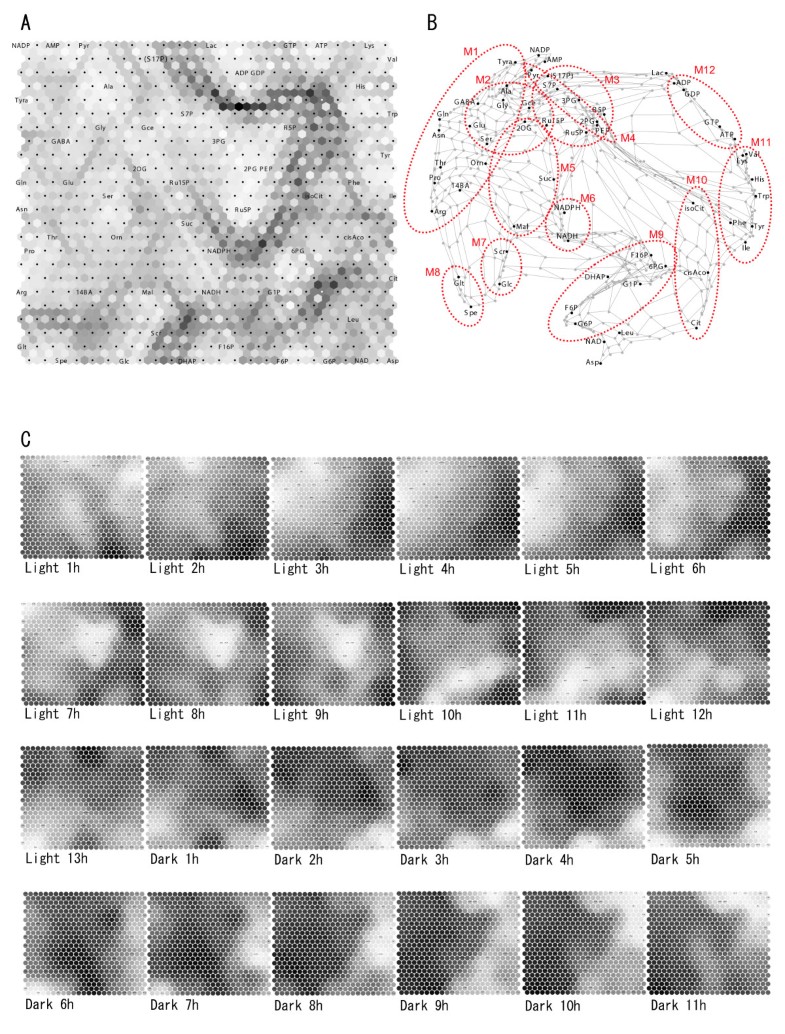 Conclusion
We intended to analyze the rice plant metabolism and to reconstruct its phenotypic networks in an effort to explain underlying biological functions. Our CE-MS technology provided a comprehensive high-throughput system with easy sample preparation and facilitated the generation of high-resolution metabolic time-courses. Data mining with statistical techniques and SOM analysis revealed synchronous dynamics in metabolic modules downstream of C and N assimilation and dissimilation processes and stress responses. Our system was able to discriminate unidentified metabolites and identify bottleneck enzymatic steps. In a comprehensive approach such heuristics become increasingly important because with current technology, the determination of all network components is virtually impossible. For a more precise investigation of biochemical networks, expansion of target metabolites and determination of metabolite levels in each cellular compartment may be suggested. There are technical hurdles, however, in separating organelles without disturbing a wide range of metabolites inside them. Without much technical advancement, therefore, it seems difficult to repeat our time-course measurement for any single cellular compartment although there are reports for such a challenge [46]. Finally, for the analysis part, it is necessary to couple biological information with computer simulations based on large-scale time-resolved measurements of metabolites, proteins, and mRNAs.
Methods
Plant materials
Young seedlings of rice plants, Oryza sativa L. ssp. japonica Haenuki, at the third-leaf stage were cultured as follows. Rice seeds were germinated on filter paper soaked with Milli-Q water and kept at 30°C in a dark room for 2 days. After germination, the plantlets were placed on rock fiber (35 × 35 × 40 mm; Nittobo, Tokyo, Japan), and grown in a growth chamber (FLI-301N, Tokyo Rika Kikai, Tokyo, Japan) for 18 days. The temperature and light conditions were 25°C and 365 μE·m-2s-1 for 9 hr (light), 20°C and 0 μE·m-2s-1 for 11 hr (dark), and 150 μE·m-2s-1 for 2 hr between light and dark. The plants were watered with Kasugai water culture solution (18.9 mg/L (NH4)2SO4, 10.1 mg/L Na2HPO4·12H2O, 4.7 mg/L KCl, 0.79 mg/L CaCl2, 3.0 mg/L MgCl2, 0.17 mg/L·FeCl3·6H2O, and HCl to adjust the pH to 5.0 – 5.5) [47].
Reagents
Piperazine-1,4-bis(2-ethanesulfonic acid) (PIPES) was purchased from Dojindo (Kumamoto, Japan), methionine sulphone from Avocado Research (Heysham, Lancashire, UK). All other reagents were obtained from conventional commercial sources. Individual stock solutions, at a concentration of 10 or 100 mM, were prepared in Milli-Q water, 0.1 N HCl, or 0.1 N NaOH. The working standard mixture was prepared by diluting these stock solutions with Milli-Q water just before injection. All chemicals used were of analytical or reagent grade. Water was purified with a Milli-Q purification system (Millipore, Bedford, MA, USA).
Sample preparation
Leaves were harvested (fresh weight approximately 100 mg (6 seedlings)) and frozen in liquid nitrogen to stop enzymatic activity. They were mashed in a Multi-Beads Shocker (Yasuikikai, Osaka, Japan) at 2000 rpm for 10 sec and 0.5 mL of ice-cooled methanol, including 400 μM PIPES and methionine sulphone as an internal standard, was added to dissolve phospholipid membranes and inactive enzymes. Then 0.5 mL ice-cold Milli-Q water was added and the sample was ultrafiltered through a 5-kDa cut-off filter at 9058 g for 10 min to remove proteins, phospholipids, chlorophyll, and other high-molecular-weight impurities. The filtrate was analyzed by CE-MS and CE-DAD methods. To obtain sufficient sensitivity for the analysis of nucleotides, coenzymes, and sugars, the filtrate was concentrated 5-fold by lyophilization [17].
Instruments
All CE-MS experiments were performed by Agilent CE capillary electrophoresis. We used a 1100 series MSD mass spectrometer, a 1100 series isocratic HPLC pump, a G1603A CE-MS adapter kit, and a G1607A CE-ESI-MS sprayer kit (Agilent Technologies). CE-DAD experiments were performed by Agilent CE capillary electrophoresis with a built-in diode-array detector. G2201AA Agilent ChemStation software for CE was used for system control, data acquisition and analysis, and MSD data evaluation.
Analytical conditions
The compounds were analyzed in four groups using three CE-MS methods and one CE-DAD method.
a) Cationic metabolites (amino acids and amines) were analyzed with a fused-silica capillary (50 μm i.d. × 100 cm total length), with 1 M formic acid as the electrolyte. The sample was injected at an injection pressure of 5.0 kPa for 3 sec (approximately 3 nL). The applied voltage was set at 30 kV. The capillary temperature was set to 20°C, and the sample tray was cooled to below 5°C. The sheath liquid (5 mM ammonium acetate in 50% [v/v] methanol-water) was delivered at 10 μL/min. ESI-MS was conducted in positive ion mode; the capillary voltage was set at 4000 V. A flow rate of heated dry nitrogen gas (heater temperature 300°C) was maintained at 10 L/min [12].
b) Anionic metabolites (organic acids and sugar phosphates) were analyzed with a cationic polymer-coated SMILE(+) capillary (Nakalai Tesque, Kyoto, Japan). The electrolyte for CE separation was a 50 mM ammonium acetate solution (pH 8.5). The sample was injected at an injection pressure of 5.0 kPa for 30 sec (approximately 30 nL). The applied voltage was set at -30 kV, and the capillary temperature was set to 30°C. ESI-MS was conducted in negative ion mode; the capillary voltage was set at 3500 V. Other conditions were as in the cationic metabolite analysis [13].
c) Nucleotides and coenzymes were analyzed with an uncharged polymer-coated gas chromatograph capillary, polydimethylsiloxane (DB-1) (Agilent Technologies). The electrolyte for CE separation was 50 mM ammonium acetate solution (pH 7.5). The applied voltage was set at -30 kV and a pressure of 5.0 kPa was added to the inlet capillary during the run. Other conditions were as in the anion analysis [14].
d) Sugars were analyzed with a fused-silica capillary (50 μm i.d. × 112.5 cm total length, 104 cm effective length). Basic anion buffer for CE (Agilent Technologies) was the electrolyte. The sample was injected at a pressure of 5.0 kPa for 10 sec (approximately 10 nL). The applied voltage was set at -25 kV; the capillary temperature, regulated with a thermostat, was 25°C. Sugars were detected by indirect UV detection using a diode-array detector. The signal wavelength was set at 350 nm with a reference at 230 nm [48].
Self-organizing map (SOM) analysis
A free software package, SOM -PAK [49], was used to compute both the SOM and the Sammon map. Before SOM analysis, the observed time-course data for 58 metabolites (including an estimate of S17P) were smoothed by averaging the adjacent data points using a sliding window of width 3, to reduce high-frequency noise presumably originating from individual differences in plant seedlings, rapid oscillations in metabolism, or measurement errors. The missing data points were extrapolated by linear approximation between prior and subsequent data values. Among the 57 metabolites evaluated at 26 time points, only 30 data points could be extrapolated due to the detection limit or contamination of other unidentifiable peaks. The SOM is a map from the input n-dimensional data space (input layer) to a two-dimensional array of nodes (output layer). The vectors in the output layer are the parametric reference vector m i , which has n elements. An input data vector, x, is compared with m i , and the best-match vector, which is the smallest Euclidean distance |x - m i |, is mapped onto this location. During learning, nodes that are topographically close in the array up to a certain distance activate each other to learn from the same input vector, and the reference vectors are corrected so that they become close to the input vector. Thus,
m i (t + 1) = m i (t) + h ci (t) [x(t) - m i (t)],
where t is an integer, the discrete-time coordinate, and
h
ci
(t) is the neighborhood kernel, a function defined over the lattice points. The neighborhood size,
N
c
, around node
c
is a function of time, and
h
ci
is defined as
where α(t) is a monotonic decreasing function of time (0 <α(t) < 1) called the "learning rate". The learning rate function was defined as
α(t) = α(0)(1.0 - t/T),
where α(0) is the initial learning rate and T the running length (number of steps) in training. In this study, 58 metabolic time-courses were formatted and classified in a 24 × 24 hexagonal lattice. The applied SOM parameters were: initial radius of the training area = 12, initial learning rate = 0.025, running length = 65 000.
Metabolic pair-wise correlation
Significance levels for Pearson correlation coefficient r were computed depending on the number of metabolite pairs n found throughout the light and dark period, respectively, by calculating t-scores given by t = r (n - 2)0.5/(1 - r)0.5. The critical t-score was set to correspond to the commonly used p-value of 0.05 in two-sided tests.
Hierarchical clustering
Among several algorithms for clustering analysis, we chose Ward's method [
29
] in JMP software (ver. 6.0.0; SAS Institute Inc. Cary, NC). Starting from trivial clusters each containing one object only, Ward's method iteratively merges two clusters that will result in the smallest increase in the sum of the square of their differences (i.e., variance). At each step, all possible mergers of two clusters are tried and their variance is computed. The difference between clusters is calculated by the equation:
Declarations
Acknowledgements
This work was supported by a grant for the Development of Rice Genome Simulators from MAFF, Japan, and by the Ministry of Education, Culture, Sports, Science and Technology, and a Grant-in-Aid for the 21st Century Center of Excellence (COE) Program entitled "Understanding and Control of Life's Function via Systems Biology (Keio University)". This work was also supported, in part, by Grant-in-Aid for Scientific Research on Priority Areas "Systems Genomics" from the Ministry of Education, Culture, Sports, Science and Technology of Japan.
Authors' Affiliations
(1)
Institute for Advanced Biosciences, Keio University, Tsuruoka, Japan
(2)
Department of Computational Biology, Graduate School of Frontier Sciences, The University of Tokyo and PRESTO-JST, Kashiwa, Japan
(3)
Plant Science Center, Riken, Yokohama, Japan
(4)
Human Metabolome Technologies, Inc., Tsuruoka, Japan
(5)
Graduate School of Agriculture, Kyoto University, Kyoto
Copyright
© Sato et al; licensee BioMed Central Ltd. 2008
This article is published under license to BioMed Central Ltd. This is an Open Access article distributed under the terms of the Creative Commons Attribution License (http://creativecommons.org/licenses/by/2.0), which permits unrestricted use, distribution, and reproduction in any medium, provided the original work is properly cited.