Research article

Open Access
In silico approaches to study mass and energy flows in microbial consortia: a syntrophic case study
BMC Systems Biology
2009
3:114
Received: 6 June 2009
Accepted: 10 December 2009
Published: 10 December 2009
Abstract
Background
Three methods were developed for the application of stoichiometry-based network analysis approaches including elementary mode analysis to the study of mass and energy flows in microbial communities. Each has distinct advantages and disadvantages suitable for analyzing systems with different degrees of complexity and a priori knowledge. These approaches were tested and compared using data from the thermophilic, phototrophic mat communities from Octopus and Mushroom Springs in Yellowstone National Park (USA). The models were based on three distinct microbial guilds: oxygenic phototrophs, filamentous anoxygenic phototrophs, and sulfate-reducing bacteria. Two phases, day and night, were modeled to account for differences in the sources of mass and energy and the routes available for their exchange.
Results
The in silico models were used to explore fundamental questions in ecology including the prediction of and explanation for measured relative abundances of primary producers in the mat, theoretical tradeoffs between overall productivity and the generation of toxic by-products, and the relative robustness of various guild interactions.
Conclusion
The three modeling approaches represent a flexible toolbox for creating cellular metabolic networks to study microbial communities on scales ranging from cells to ecosystems. A comparison of the three methods highlights considerations for selecting the one most appropriate for a given microbial system. For instance, communities represented only by metagenomic data can be modeled using the pooled method which analyzes a community's total metabolic potential without attempting to partition enzymes to different organisms. Systems with extensive a priori information on microbial guilds can be represented using the compartmentalized technique, employing distinct control volumes to separate guild-appropriate enzymes and metabolites. If the complexity of a compartmentalized network creates an unacceptable computational burden, the nested analysis approach permits greater scalability at the cost of more user intervention through multiple rounds of pathway analysis.
Keywords
Metabolic Network
Elementary Mode
Flux Balance Analysis
Oxygenic Photosynthesis
Yellowstone National Park
Background
Complex microbial communities drive the Earth's biogeochemical cycles [1]. In spite of their importance, the biochemical interactions within these communities are not yet well understood, nor have in silico methodologies for studying them matured. An improved understanding of how natural microbial communities mediate biogeochemical cycles will augment predictions of how these processes respond to disturbances from climate change to anthropogenic chemical deposition. Improved understanding may also provide a rational basis for using microbial consortia to produce biofuels and biomaterials from renewable resources [2].
Microbial communities described in terms of their environmental chemistry, ecophysiology, and phylogenetic diversity can be used as a foundation to develop, test, and compare in silico tools for analyzing community interactions. The phototrophic microbial mats of Octopus and Mushroom Springs of Yellowstone National Park (Wyoming, USA) represent an ideal test case due to the extensive available data [e.g. [3–9], and numerous other references found throughout this study]. These alkaline siliceous hot spring mats (50-74°C) are inhabited predominantly by unicellular cyanobacteria related to Synechococcus spp. and filamentous anoxygenic phototrophs (FAP) related to Chloroflexus and Roseiflexus spp. The community also contains sulfate-reducing bacteria (SRB) and other prokaryotes sustained by the primary productivity of the photosynthetic bacteria [3].
Previous studies of the mat have revealed diel (day-night) metabolic variation in various community members, driving shifts in the concentration and fate of dissolved metabolites [
5
,
6
,
10
–
12
]. Organic metabolites including glycolate and other acids, along with hydrogen, form the basis for mass and energy exchanges between community members (Figure
1A
). For example, during the day, the photosynthetic cyanobacteria consume CO
2
and produce O
2
as a by-product of photosynthesis. High levels of O
2
relative to CO
2
promote oxygen competition at the ribulose-1,5-bisphosphate carboxylase/oxygenase (rubisco) active site, leading to the production of glycolate [
9
,
13
,
14
]. Other community members, including the photoheterotrophic FAP, can use glycolate as a carbon and energy source [
15
]. The cyanobacteria can also store excess photosynthate as polyglucose [
16
]. This carbon and energy storage material is fermented at night to organic acids (Figure
1B
) [
10
]. FAP can incorporate fermentation products photoheterotrophically [
12
,
15
,
17
], while SRB appear to oxidize some of these products under anaerobic conditions [
6
,
15
,
18
].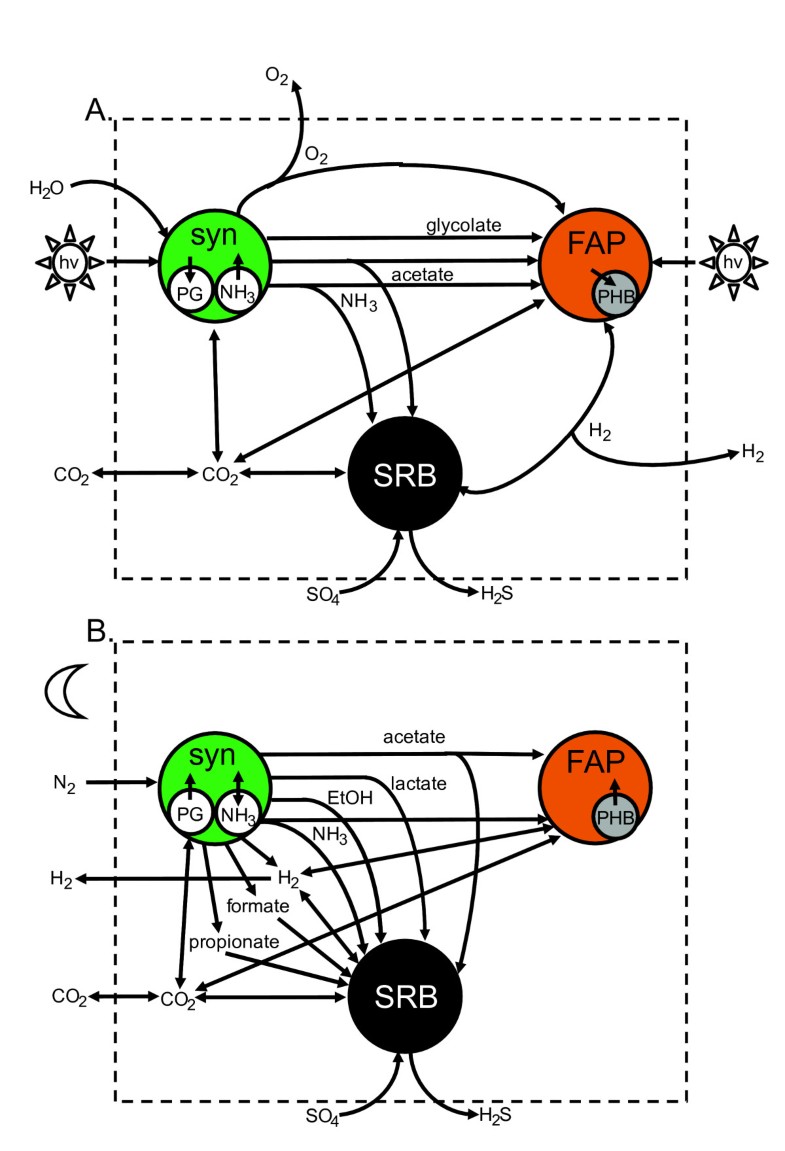 Molecular level metabolic models were constructed to represent the central metabolism of three functional guilds thought to be important to material and energy flows through this community [12]. A guild is a group of species that exploit the same class of environmental resources in a similar manner [19]. Oxygenic photoautotrophs related to Synechococcus spp. were selected to represent the mat's primary source of fixed carbon and nitrogen. FAP from the family Chloroflexaceae, an important structural component of the mat community, were incorporated as metabolically versatile (photo)heterotrophs, capable of capturing light energy as phosphodiester bonds (cyclic photophosphorylation), but requiring externally supplied reducing equivalents. An SRB guild was included as a consumer of the metabolites produced by photosynthetic guilds. Other sub-dominant organisms (e.g. aerobic heterotrophic bacteria and methanogenic archaea) present in the mat [3] were not included in this first in silico representation of the system (see methods).
Metabolic networks were studied using the stoichiometry-based network analysis approach known as elementary mode analysis (EMA) [20–22]. EMA evaluates a metabolic network by decomposing the system into a complete set of the simplest biochemical pathways satisfying steady state conservation constraints with enzymatic fluxes occurring in physiologically reasonable directions (i.e. unidirectional enzyme-catalyzed reactions are not permitted to run backwards). These explicitly defined pathways are known as elementary modes and are frequently represented as vectors containing relative rates for every reaction in the metabolic network. The approach permits the description of any sustainable physiological behavior as a linear combination of the simplest biologically meaningful metabolic pathways [23, 24].
Metabolic network modeling methodologies have been used extensively to analyze single organisms and monoculture systems [e.g. [25, 26]]. An alternative stoichiometry-based technique, flux balance analysis, has been applied to a two-species laboratory microbial system [27]. That study used a compartmentalized approach analogous to strategies for modeling metabolic fluxes between organelles in eukaryotic organisms [28, 29]. Topological approaches to metabolic network analysis have also been used at tree of life scales to analyze evolution of metabolism and the interactions of metabolic networks among species and with the environment [30–34]. However, these solely topological studies implicitly assume all genome encoded genes are simultaneously active with no consideration of critical reaction quantitative aspects like carbon and electron conservation relationships.
In the present study, novel methods for handling multispecies EMA are developed and applied to a microbial consortium representing a well-studied thermophilic community from Yellowstone National Park (YNP). To the best knowledge of the authors, this is the first time a stoichiometry-based network analysis approach has been applied to a natural, in situ microbial community and the first time these approaches have been used to analyze microbial biofilms/mats. Mass and energy fluxes were investigated using three different approaches each representing different levels of detail and computational complexity. The three approaches provide a general set of tools for studying microbial communities that can be selected based on the levels of available knowledge and community complexity. Each approach has advantages and disadvantages which are discussed along with examples illustrating how these methods can be used to gain insight into basic community metabolic processes. In particular, our work demonstrates a trade-off between knowledge of the distribution of metabolic capabilities between guilds in a consortium and the ability to conservatively predict and interpret limits for that community's behavior.
Discussion
Three in silico consortium analysis methods were developed and applied to a thermophilic phototrophic mat community from Yellowstone National Park as a test case. The results of this systems ecology study demonstrate the applicability of consortium EMA, explicitly mapping the genes-to-function emergent properties associated with the connectivity of metabolic reactions via the exchange of mass and energy. Since the presented techniques are culture-independent, they are compatible with metagenomic approaches and other studies in which culturing or isolation has proven difficult. This study provides a foundation for further work to refine and test the models using co-culture studies; potential inquiries include the measurement of substrate uptake and growth rates, biomass compositions, mRNA and protein expression, and quantification of internal fluxes. Toxicity profiles of the various fermentation products to representative microbes would also be of interest. Representative organisms or enrichment cultures are available for each guild, and the results of such experimentation will be quite useful for model validation and improvement. That work, however, is beyond the scope of the current study, which seeks only to provide methods for the extension of EMA to microbial consortia.
An alternative approach to the mass-balance-based analysis of large networks, flux balance analysis[48, 49], has been applied to genome-scale metabolic networks[50], which is currently not possible with EMA [37]. Flux balance analysis has been used to investigate central carbon and energy metabolism of a two species consortium [27]. Flux balance analysis could likely be applied to the presented model system and could be used to ask similar questions. The output, however, would be a single flux distribution denoting an optimal use of the network as defined by an objective function, rather than a generating set for all flux distributions allowed by the network (although methods have been established to examine the effects of variations in external constraints on the value of the objective function[51]). As the choice of an appropriate objective function is not always clear prior to extensive experimentation [52, 53], a generating set is useful for exploratory modeling. The utility of a generating set for explanatory modeling has also been recently demonstrated [24]. These benefits justify the development of methods for the application of EMA to multispecies systems alongside large-scale network methods. It is worth considering how the methods developed here will be affected by larger network sizes. This is important because potential applications include more diversified communities and more complex cellular metabolisms. Systems cast as compartmentalized models which prove to be too computationally heavy for current EMA algorithms can be analyzed using the nested approach.
The compartmentalized community analysis method has the advantage of intuitive tractability and separates activity and function by guild, but requires substantially more knowledge of the community than the pooled reactions approach. Tables 1 and 2 illustrate how the energy added to electrons during oxygenic photosynthesis is dissipated with the movement of mass and energy through the consortium. The cyanobacteria exhibit a predicted maximum biomass yield of 0.117 Cmoles for each mole of photons absorbed by the mat. This value is 0.078 for the FAP guild, with the difference providing a rough measure of the cost of transferring reducing equivalents between guilds. The SRB also rely on the by-products of the primary producer guilds for electrons, but are further constrained by an inability to derive energy from light or respiration on O2. The highest SRB biomass yield predicted by the daytime compartmentalized model is 0.016 Cmoles per absorbed mole of photons, slightly more than one tenth of the cyanobacterial yield. The ratio between theoretical optima for photosynthetic and SRB biomass yields is similar to observed ratios between primary producers and the secondary productivity of consumers in macroscale ecological systems [19, 54].
The compartmentalized method also lends itself uniquely to investigation of the robustness of specific consortium interaction types (see Figure 5). Investigating interactions in the model showed that the FAP are central to the metabolic capabilities of the consortium as a whole; FAP involvement was required for the vast majority (99.9%) of elementary modes. Finally, the highest-yielding biomass-producing modes from the compartmentalized approach were combined to show that experimental data supports strategies optimizing productivity by individual guilds more strongly than strategies optimizing productivity for the entire consortium [[9, 16]; Klatt et al., in preparation].
The pooled reactions consortium analysis method modeled community metabolic potential by treating all enzymatic activities and metabolites as residents of the same physical space, without membrane boundaries. The pooled reactions approach represents the coarsest-scale methodology, requires the least a priori information, and is easier to implement than alternative approaches. The pooled approach can often be used when other approaches cannot (due to complexity) or should not (due to lack of detailed data). These advantages are balanced against a tendency to overestimate the metabolic potential. This is unsurprising, as real communities are not super-organisms; individuals are membrane-separated and must contend with the logistics associated with matter and energy transport. The pooled technique is best for initial work on 'poorly' characterized systems. The vast majority of ecosystems are not characterized to a level permitting a compartmentalized analysis, suggesting the pooled approach will be relevant for a long time to come.
Finally, the nested community analysis has properties very similar to the compartmentalized approach, but with the important advantage of easy scalability, achieved by concatenating multiple rounds of EMA analysis. The approach also provides additional ecological insight into the competitive strategies underlying each guild's function. This information is contained within the criteria used to select first-round building blocks. The nested method also easily captures interactions between different guilds as well as between members of the same guild expressing different physiologies. For instance, different cyanobacterial elementary modes can combine, representing exchange of metabolites between cyanobacteria expressing different metabolic activity due to differing positions across spatial gradients of light, temperature, and concentration. This type of exchange appears to be very relevant to actual mat function, as other work suggests the presence of functionally distinct Synechococcus populations that are adapted to particular microenvironments [55]. As with the compartmentalized approach, the daylight case study found that optimal guild strategies were more strongly supported by experimental data than optimal consortium strategies.
Combinations of the pooled and compartmentalized methods can be used to provide information not easily obtainable with any single approach. As an ecologically relevant example, a cost-benefit relationship was quantified for a complete citric acid cycle in the cyanobacterial guild, as opposed to the incomplete cycle indicated by the genomic sequence of relevant isolates. Synechococcus spp. OS-A and OS-B' genomes do not contain the oxaloacetate-producing malate dehydrogenase. The pooled reactions modeling approach identified a cluster of optimal elementary modes using a primarily cyanobacterial metabolism along with the missing citric acid cycle enzyme, which is FAP-derived. The biomass yields in this cluster are a 9.4% improvement relative to purely cyanobacterial metabolic potential, given by the compartmentalized methodology. This is a large difference in yields and laboratory evolution experiments have shown that much smaller differences (0.5% difference in growth rate) are selectable under competitive conditions [56]. These hot spring mat communities are thought to be modern derivatives of ancient prokaryotic communities, and the long history of cyanobacterial and FAP cohabitation suggests the potential for horizontal gene transfer. Evidence for actual horizontal gene transfer events between cyanobacteria and FAP has been published elsewhere [57]. The cyanobacteria in our study have not acquired and passed on the missing Krebs cycle gene, suggesting that the costs of production, maintenance, and regulation for malate dehydrogenase are unlikely to be offset by the benefit of a 9.4% improvement in biomass yield.
Conclusion
Each of the three in silico modeling approaches developed in this study provides a mathematical description of physical constraints on metabolic activity in a consortium. These techniques allow the extension of EMA to ecologically relevant multi-species, biofilm systems. Their contrasting strengths can be combined to arrive at a more holistic description than is possible with any of the methods alone, allowing a broad perspective from which to frame observations and base predictions. These approaches can be adapted to a wide range of microbial communities including both natural and anthropogenic systems. Potential applications include modeling communities involved in wastewater treatment, bioprocess engineering, and environmental remediation, as well as the study of host-pathogen interactions in medicine and symbiotic relationships such as nitrogen-fixing root communities.
Methods
Metabolic models
The metabolic models presented in this study exist in a control volume consisting of the upper 1 mm of the microbial mat. The steady state control volume considers biomass production but does not include an explicit biomass degradation term. To maintain steady state, biomass would leave the control volume at the same rate it is produced. This would correspond with the physical process of new growth burying old growth. Central carbon and energy metabolism network models for each guild considered to be in the control volume were constructed from literature reviews and annotated genomes of representative organisms including Synechococcus spp. OS-A and OS-B' [58] as well as Roseiflexus sp. RS-1 [59]. GenBank accession numbers are CP000686.1, CP000239.1, and CP000240.1 for the RS-1, OS-A, and OS-B' genomes, respectively. These genomes are highly representative (>90% nucleotide identity to metagenomic reads) of native dominant FAP and cyanobacterial populations in these mats (Klatt et al., in preparation). The metabolic potential of the SRB guild was based on several well-studied organisms (Desulfovibrio vulgaris Hildenborough, Desulfotalea psychrophila, Desulfovibrio desulfuricans G20, Desulfobacterium sp., and Archaeoglobus fulgidus), as well as Thermodesulfovibrio yellowstonii, a thermophilic SRB related to isolates from Mushroom Spring [6, 60–63]. GenBank accession numbers for these genomes, in the stated order, are AE017285.1, CR522870.1, CP000112.1, CP001087.1, AE000782.1, and CP001147.1.
The use of guilds to minimize community complexity is useful for the compartmentalized approach. For the current study, guilds were defined based on four important parameters: energy sources, carbon sources, electron donors and electron acceptors. Each guild utilized a different combination of metabolites to satisfy these parameters. Subdominant guilds were not included in the model (e.g. methanogenic archaea). Here it is assumed that the methanogens would be responsible for degrading phototroph biomass buried within the mat. Since the control volume only considers the active phototrophic region, the decaying biomass would occur outside this control volume removing any possible role played by this subdominant guild.
The metabolic model input consists of the carbon and electron balanced substrates and products for each considered reaction. It should be noted that these organisms are not characterized at a level which would justify genome-scale reproductions. While such models are admirable for well documented organisms, problems with inaccurate, automated genome annotations call into question the benefit of such attempts with any but the best studied microbes [64]. The biomass compositions of these functional guilds have not been experimentally determined due to tight physical coupling of the cells within the microbial mats. The functional guilds reside within a distance of 100 μm. Biomass reactions were written to represent bacterial biosynthetic requirements for a composition of 78% proteins, 16% nucleic acids, and 10% other macromolecules. While the biomass compositions of actual mat constituents were not measured, previous published accounts [e.g. [48]] as well as unpublished observations from the authors suggest that overall yields are relatively insensitive to the biomass equation as long as the biomass has a biologically relevant degree of reduction (e.g. approximately 4.8 on an N2 basis). The supplemental material contains a degree of reduction analysis of the utilized biomass expression. Its degree of reduction is 4.7. The methods developed here could be applied with alternative biomass synthesis reactions based on future experimental knowledge. Carbon storage consisting of polyglucose or polyhydroxybutyrate was considered separately from biomass production. The metabolic models used in this study are included in additional file 1: Supplement.
Separate models were constructed to represent two distinct phases of a diel cycle, day and night. Differences between the modeled phases were based on the extensive geo- and biochemical data at these sites [5, 11, 12, 55, 65] and included sources and shuttles for carbon and energy as well as oxygen and light availability (see Figure 1 for graphical summary). The day and night metabolisms are connected through the fluxes of reduced carbon and fixed nitrogen. The amount of CO2 fixed during the day determines the mat's overall dark phase reduced carbon budget while the nitrogen fixed during the night using energy stored as polyglucose sets the consortium's fixed nitrogen budget.
Briefly, during the day, the Synechococcus spp. convert solar energy, CO2, and water into oxygen, ATP, and reduced carbon. Concurrently, the anoxygenic FAP derive energy from sunlight and exploit the reduced carbon (glycolate and acetate) produced by the Synechococcus guild. By-products of cyanobacterial activity also serve as carbon and energy sources for SRB. These interactions were used to guide selection of relevant organismal modes for the day nested approach.
At night, the mat was treated as anoxic due to the lack of oxygenic photosynthesis and low oxygen solubility at 60°C. This is a simplification: low levels of oxygen are actually available at the mat surface while most of the mat is anaerobic. The model Synechococcus guild ferments stored polyglucose into a variety of organic compounds including lactate, propionate, acetate, and formate as well as ethanol. In addition to being the primary producer of reduced carbon, Synechococcus is also thought to be the primary producer of fixed nitrogen for the mat [11]. These were the interactions used to guide first-round selection of modes for the night nested method. The nitrogen fixation reactions are considered solely in the night model because of the sensitivity of nitrogenase to oxygen. This could be a simplification of actual mat behavior: mRNA expression evidence and in situ activity assays suggest that a large fraction of nitrogenase synthesis occurs in the morning, when light-derived reducing equivalents are available but before the mat becomes oxic [5].
The Mushroom and Octopus Spring phototrophic mat communities are found within flowing geothermal springs. Consequently, it was assumed that the mass of each metabolite lost from the control volume due to convective transport was exactly equal to that gained by the control volume through convective transport from upstream microbes. The gases CO2, O2 and H2 were not constrained by this treatment and could vent to the atmosphere.
The nested models require the defining of 'transfer metabolites', which are permitted to serve as metabolic sinks and sources for the individual guild simulations, but not for the community simulation. They were chosen based on knowledge of the springs and compounds commonly transported across bacterial membranes and are shown in Figure 1, associated with arrows between guilds. Individual guild networks were then evaluated for elementary modes with 'transfer metabolites' allowed to accumulate (or deplete). This was accomplished by defining them as external metabolites in CellNetAnalyzer. The resulting modes were sorted in Excel based on product synthesis yields considered relevant to the system. These criteria are listed in additional file 1: Supplement. The modes with high yields, which represent overall guild stoichiometries, were then used as inputs for the second round of EMA (with 'transfer metabolites' now treated as internal metabolites in CellNetAnalyzer). The first round of EMA used enzyme substrate and product stoichiometries to determine how the numerous enzymes can work together as a system, while the second round of EMA used guild stoichiometries to determine how the guilds could work together as a system.
Elementary mode analysis
Algorithms for calculating elementary modes from metabolic network topology are described elsewhere [46]. These algorithms are based on a field of mathematics known as convex analysis. Calculation of elementary modes in this work was performed using the software CellNetAnalyzer 9.0 and MATLAB v 7.6 [66]. CellNetAnalyzer is freely available to academics at http://www.mpi-magdeburg.mpg.de/projects/cna/cna.html, but requires MATLAB version 6.1 or higher. Due to computational burden, the models had to be constructed to avoid missing essential enzymatic activity while still permitting a computationally tractable network. Necessary simplifications included rounding, neglecting the accumulation of fermentation products at night, combining macromolecular syntheses into 'lumped' reactions based on draws from the central metabolism, using a proxy for cellular maintenance energy requirements, and streamlining treatment of nitrogen storage. The models presented in additional file 1: Supplement were used to produce all discussed results. A new algorithm for EMA has been recently described that permits the use of a 64 bit Linux based system [37]; this will likely permit analysis of larger networks than was previously possible. Algorithms for parallel processing have been proposed and will likely reduce the need for simplification, but are not yet publically available [67].
Declarations
Acknowledgements
This study was funded by the NSF IGERT program in Geobiological Systems (DGE 0654336) at Montana State University.
Authors' Affiliations
(1)
Thermal Biology Institute, Montana State University, Bozeman, USA
(2)
Center for Biofilm Engineering, Montana State University, Bozeman, USA
Copyright
© Taffs et al; licensee BioMed Central Ltd. 2009
This article is published under license to BioMed Central Ltd. This is an Open Access article distributed under the terms of the Creative Commons Attribution License (http://creativecommons.org/licenses/by/2.0), which permits unrestricted use, distribution, and reproduction in any medium, provided the original work is properly cited.