LeishCyc: a biochemical pathways database for Leishmania major
BMC Systems Biology
2009
3:57
Received: 09 January 2009
Accepted: 05 June 2009
Published: 05 June 2009
Abstract
Background
Leishmania spp. are sandfly transmitted protozoan parasites that cause a spectrum of diseases in more than 12 million people worldwide. Much research is now focusing on how these parasites adapt to the distinct nutrient environments they encounter in the digestive tract of the sandfly vector and the phagolysosome compartment of mammalian macrophages. While data mining and annotation of the genomes of three Leishmania species has provided an initial inventory of predicted metabolic components and associated pathways, resources for integrating this information into metabolic networks and incorporating data from transcript, protein, and metabolite profiling studies is currently lacking. The development of a reliable, expertly curated, and widely available model of Leishmania metabolic networks is required to facilitate systems analysis, as well as discovery and prioritization of new drug targets for this important human pathogen.
Description
The LeishCyc database was initially built from the genome sequence of Leishmania major (v5.2), based on the annotation published by the Wellcome Trust Sanger Institute. LeishCyc was manually curated to remove errors, correct automated predictions, and add information from the literature. The ongoing curation is based on public sources, literature searches, and our own experimental and bioinformatics studies. In a number of instances we have improved on the original genome annotation, and, in some ambiguous cases, collected relevant information from the literature in order to help clarify gene or protein annotation in the future. All genes in LeishCyc are linked to the corresponding entry in GeneDB (Wellcome Trust Sanger Institute).
Conclusion
The LeishCyc database describes Leishmania major genes, gene products, metabolites, their relationships and biochemical organization into metabolic pathways. LeishCyc provides a systematic approach to organizing the evolving information about Leishmania biochemical networks and is a tool for analysis, interpretation, and visualization of Leishmania Omics data (transcriptomics, proteomics, metabolomics) in the context of metabolic pathways. LeishCyc is the first such database for the Trypanosomatidae family, which includes a number of other important human parasites. Flexible query/visualization capabilities are provided by the Pathway Tools software and its Web interface. The LeishCyc database is made freely available over the Internet http://www.leishcyc.org.
Keywords
Metabolic Network
Leishmaniasis
Leishmania Species
Wellcome Trust Sanger Institute
Evidence Code
Background
Protozoan parasites comprise a highly divergent group of eukaryotes that cause a range of debilitating diseases in humans, including malaria, leishmaniasis, African sleeping sickness, and Chagas' disease. Leishmania spp. are sandfly transmitted protozoan parasites (family Trypanosomatidae) and are the etiological agent of leishmaniasis. Leishmaniasis refers to a spectrum of diseases ranging from self-healing cutaneous lesions to debilitating mucocutaneous and lethal visceral infections. It is estimated that more than 12 million people have active leishmaniasis, and 350 million people are at risk, making Leishmania the most important parasitic disease after malaria (World Health Organization). No vaccines against leishmaniasis exist; high toxicity and cost of current treatments and the emergence of drug resistant parasite strains point to the urgent need for novel drug targets.
A detailed understanding of Leishmania metabolism would open new avenues for the development of new drugs, and also lead to a greater understanding of how these parasites adapt to nutrient environments in the sandfly and mammalian hosts. For example, the flagellated promastigote stages of the parasite that develop in the digestive tract of the sandfly vector obtain nutrients from the sugar rich blood meal and plant saps upon which the sandfly feeds [1]. In contrast, the mammalian infective amastigote stages develop within the sugar poor environment of the phagolysosome of macrophages and some other phagocytic cells and may exploit a variety of other carbon sources [2, 3]. The recent sequencing of the genomes of three Leishmania species (L. major, L. infantum, L. braziliensis) has provided the first blueprints of the metabolic potential of these parasites [4–6]. Recently, a systems approach was used to generate a metabolic network for the L. major Friedlin strain and make predictions about essential genes and pathway robustness [7]. However, more than 65% of the protein-encoding sequences in the Leishmania genome cannot yet be assigned a function based on homology searches, and therefore it is likely that in silico models will need to be substantially improved as new metabolic pathways are identified.
The major database for Leishmania genomic data is the GeneDB genome resource, established by the Sanger Institute [8–10], and soon to be accessible via the Eukaryotic Pathogens Database Resource (EuPathDB). GeneDB was initially developed to store genomic data for T. brucei, L. major, and S. pombe, and was later expanded to include curated data for a number of other organisms, including bacteria, fungi, and protozoa [9, 10]. GeneDB allows gene finding, protein feature predictions, and searches against customized and protein domain/families databases. It provides a number of useful tools for querying genomic data, including plain text searches, BLAST searches, regular expressions enabled motif searches, and AmiGO browsing of genes [10]. Although GeneDB is an important resource for the Leishmania community, it does not integrate genomic data into biochemical networks [8–10]. Kyoto Encyclopedia of Genes and Genomes (KEGG) integrates genomic, chemical, and functional information for a number of organisms [11, 12]. Release 48.0 of KEGG contains 91,648 reference pathways, and genomic information from 100 eukaryotes, 709 bacteria, and 52 archaea. While this top-down approach facilitates integration of all available information and easy visual inspection of pathways in different organisms, the lack of organism specialization often means that, for more obscure organisms specific information is not easily accessible, and in some cases, not included. A different approach has been taken by the BioCyc project [13], which is built around the ontology developed to describe biological functions on a cellular and molecular level [14]. In contrast to the centralized approach used by the KEGG database, the BioCyc databases are highly distributed. The BioCyc project consists of MetaCyc (a reference database of metabolic pathways [15–18]) and a set of organism-specific databases which describe genes, gene products, metabolites, their relationships and organization into metabolic pathways [13]. MetaCyc contains experimentally elucidated metabolic pathways from a variety of organisms [17, 18]. A number of organism-specific BioCyc databases are under active development and curation [16, 19–24].
In this work, we report on the development and use of LeishCyc, the pathway/genome database for L. major based on the BioCyc ontology. The initial build of LeishCyc was based on the genome sequence of L. major [4] and the Wellcome Trust Sanger Institute genome annotation. Subsequently, LeishCyc was curated based on literature searches and our own experimental and bioinformatics studies. This included: (a) annotation and assignment of additional enzymes; (b) checking, deletion, creation, and modification of existing reactions and pathways; and (c) assignment of evidence codes and literature citations.
Utility
LeishCyc provides a platform for curation, refinement, and dissemination of information about Leishmania metabolic pathways incorporating extensive manual curation and supported by the extensive query and visualization functionality of the Pathway Tools software [25]. The underlying BioCyc ontology provides a detailed, well-developed ontology designed to capture biological function [14, 38], and to maximize accuracy of resulting repositories [13]. Furthermore, the same ontology is used in a number of other organism-specific databases [16, 19–24], which opens the possibility for accurate cross-organism comparisons based on the biochemical components and associated abstract entities, such as reactions and metabolic pathways. LeishCyc enables the overlay of experimental data from genome-wide studies onto the visual representations of the L. major biochemical network. This can be achieved by the Omics Viewer component of the Pathway Tools software, which provides the ability to visualize high-throughput ('omics') data sets within the LeishCyc cellular overview diagram [39]. Three examples of LeishCyc utility in data visualization and analysis are described below.
Visualization of proteomics data
Figure
2
shows alterations in protein expression levels during the differentiation of
L. donovani
promastigotes to
in vitro
differentiated (axenic) amastigotes [
40
], mapped onto the LeishCyc pathways. Enzymes that are decreased in the amastigote stage are shown in yellow while those that are increased are shown in red. Decreases in expression levels of enzymes involved in glycolysis (3 enzymes) and the pentose phosphate pathway (6 enzymes) are apparent, as are increases in enzymes involved in gluconeogenesis (2 enzymes), oxidative phosphorylation (4 enzymes), amino acid catabolism (3 enzymes), and fatty acid β-oxidation (5 enzymes). Additional patterns in the data become apparent in this representation, including decreases in some enzymes involved in nucleotide biosynthesis (8 enzymes), and increases in enzymes of ergosterol biosynthesis (9 enzymes). The use of LeishCyc greatly reduced the time needed to produce representations of these stage-specific metabolic changes. Furthermore, the Omics Viewer can be used to display the time points as a progressive series of images, creating an effect of data animation [see Additional file
4
].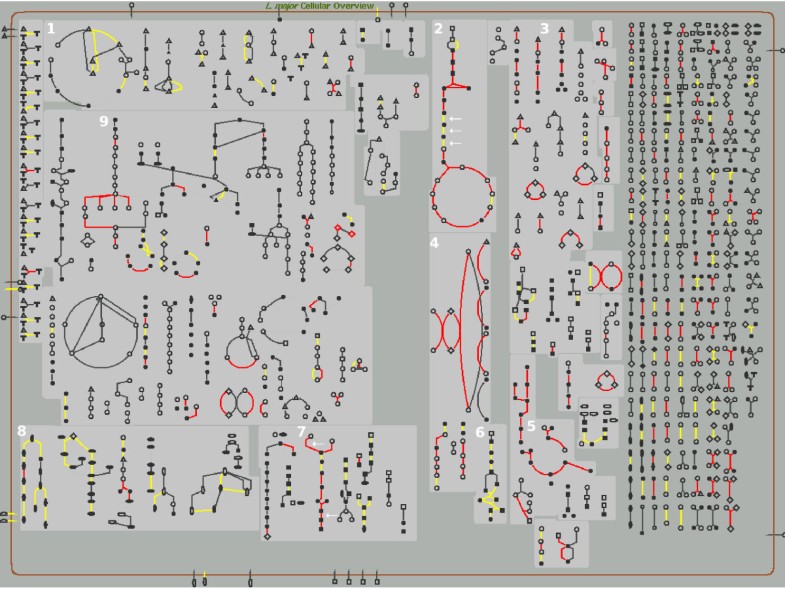 Visualization of metabolomics data
In the second example, LeishCyc was used to visualize data from metabolic profiling experiments performed in our group (Figure
3
).
L. mexicana
MZ 379 promastigotes were cultured in RPMI 1640 medium supplemented with 10% heat-inactivated foetal bovine serum (iFBS) at 27°C. Log phase promastigotes were harvested approximately two days after inoculation of the media. Axenic amastigotes were generated from stationary phase parasites (5–6 days after passage) by adjusting the conditioned media to pH 5.5 with HCl and the addition of iFBS to 20% [
41
,
42
]. The adjusted culture was incubated at 33°C and amastigote-like forms of the parasite were harvested on days 5 and 6. Parasite metabolism was quenched and polar metabolites extracted, derivatized, and analyzed by gas chromatography-mass spectrometry (GC-MS), as described previously [
43
]. Figure
3
shows a colour-coded representation of changes in metabolite steady-state concentrations in axenic amastigotes relative to log-phase promastigotes. Significant changes in the steady state levels of many metabolites were detected. In particular, the levels of hexose phosphates and intermediates in glycolysis were reduced, while levels of many amino acids increased. Such a representation of metabolomic data in the context of the cellular biochemical pathways is highly useful for the observation of patterns in relative changes. In addition, the built-in capabilities of Pathway Tools allow one to interactively interrogate the organism metabolic pathways map overlaid with experimental data (such as those shown in Figures
2
and
3
), in order to investigate observed patterns.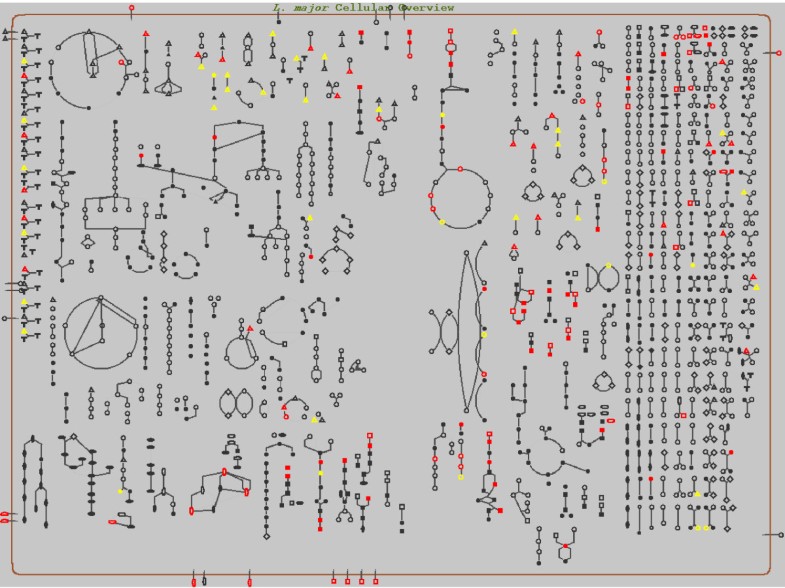 Network chokepoint analysis
Chokepoint analysis has been used to prioritize potential drug targets in the P. falciparum PlasmoCyc database [22]. Chokepoints are defined as reactions that consume unique substrates or produce unique products, potentially important criteria for drug target prioritization [22, 44]. Pathway Tools was used to identify 324 chokepoint reactions in LeishCyc. These reactions have 145 enzymes associated with them, corresponding to 132 genes [see Additional file 5]. This list includes a number of enzymes previously predicted to be essential for normal growth or infectivity. Included in the list is lanosterol 14α-demethylase (LmjF11.1100), the protein target of ketoconazole, the only clinical drug for leishmaniasis with an identified protein target [45]. The TDR Targets database http://www.tdrtargets.org[46] was used to identify 31 genes in this list that do not have human orthologs [see Additional file 5]. Interestingly, a number of the genes identified in the chokepoint analysis of LeishCyc were also identified in a corresponding analysis of P. falciparum [22].
Discussion and conclusion
LeishCyc captures the information about Leishmania metabolic pathways from genome annotations and literature sources, and organizes this information into a structured database supported by a well developed, publicly available ontology [13–15, 47]. LeishCyc provides a systematic approach to organizing the evolving knowledge about Leishmania biochemical networks, as well as tools for analysis, interpretation, and visualization of Leishmania high-throughput ('omics') data in the context of metabolic pathways. We believe that LeishCyc provides an important new resource for analysis and construction of metabolic network models for these parasites, for mapping species- or stage-specific changes in transcript, protein and metabolite levels, and for prioritizing potential drug candidates by metabolic network analysis. LeishCyc advanced search features and Omics Viewer capabilities can be accessed through a standard web browser, and the LeishCyc content is provided based on the Creative Commons license http://creativecommons.org.
It is believed that 24 species of Leishmania infect humans. The genome of L. major was the first to be completely sequenced, and was used as the basis for the initial build of LeishCyc [4]. While different species of Leishmania can exhibit distinct trophism for different sandfly species, and induce a spectrum of disease in humans and other mammalian hosts, recent sequencing projects have highlighted a remarkable degree of synteny and conservation across the genomes of three major pathogenic species [6, 48]. Only a very limited number of genes were shown to be present in one, but not other species of Leishmania. The metabolic networks identified in LeishCyc are therefore likely to be relevant to all species of Leishmania. Interestingly, recent studies have suggested that species specific differences in gene transcription or protein expression may underlie some of the differences in biology and disease phenotypes of different Leishmania species [48–50]. As demonstrated in this study, the LeishCyc tools can be used to visualize global changes in protein expression patterns in different developmental stages, and this type of analysis can be readily extended to identify differences in transcript and protein expression levels in different species.
Another important feature of LeishCyc is the capacity to overlay metabolite profiling data sets on the predicted metabolic networks. Leishmania and other trypanosomatids are unusual in lacking a conventional network of transcriptional factors and most protein encoding genes are constitutively transcribed in all life cycle stages [51]. Consequently, Leishmania metabolism may be largely regulated by post-translational mechanisms. In particular, it is likely that changes in external nutrients and scavenging pathways, and allosteric regulation of intracellular enzymes may play key roles in regulating metabolic processes [3]. As shown in this study, differences in the metabolite profiles of promastigote (insect stage) and axenic amastigotes (mammalian-infective stages) of L. mexicana can be mapped onto the LeishCyc metabolic network, providing an important tool for both identifying stage-specific changes in metabolism and assessing the extent to which these changes correlate with transcript or protein levels.
The LeishCyc database organizes the existing knowledge about Leishmania biochemical reactions, gene products and metabolites into metabolic pathways in a mathematically well defined manner that will serve as the foundation for Leishmania systems studies, including computer-aided reconstructions of metabolic networks. Such a reconstruction of the L. major metabolic network has recently been reported by Papin and colleagues [7]. The L. major iAC560 metabolic network reconstruction included 560 genes (6.7% of the genome) and an additional 103 predicted gene associated reactions that were added for proper functioning of the computational model. The latter remain to be experimentally verified. Interestingly, the iAC560 metabolic network reconstruction was only partially successful in predicting a number of experimentally observed properties of Leishmania metabolism, such as minimal amino acid requirements and the potential lethality of single gene deletions [7], highlighting significant gaps in this model. In this respect, it is notable that the curated LeishCyc database contains more than 1074 genes that encode enzymatic or transport reactions, even after removal of most incomplete pathways. LeishCyc is therefore likely to constitute an important resource for refining metabolic reconstructions in the future. A similar database for a related organism, T. brucei, is currently under development [52]. A collection of such databases will provide an unprecedented platform for detailed comparative studies of organisms from the Trypanosomatidae family that can be accessed and queried programmatically through Application Programming Interfaces (APIs) exposed by Pathway Tools [53].
Availability and requirements
Abbreviations
KEGG:

Kyoto Encyclopedia of Genes and Genomes
GPI:

glycosylphosphatidylinositol
MIT:

myo-inositol transporter
iFBS:

heat-inactivated foetal bovine serum
GC-MS:

gas chromatography-mass spectrometry
TCA:

tricarboxylic acid.
Declarations
Acknowledgements
This project was funded by a NH&MRC Program Grant 406601 and the Australian Research Council Discovery grant DP0878227. MJM is an Australian National Health and Medical (NH&MRC) Principal Research Fellow. Authors thank Peter Karp and the BioCyc team for their support and assistance. DPDS, MJM, and VAL thank Metabolomics Australia for providing a stimulating intellectual environment.
Authors' Affiliations
(1)
Department of Biochemistry and Molecular Biology, University of Melbourne, Parkville, Australia
(2)
Bio21 Molecular Science and Biotechnology Institute, University of Melbourne, Parkville, Australia
Copyright
© Doyle et al; licensee BioMed Central Ltd. 2009
This article is published under license to BioMed Central Ltd. This is an Open Access article distributed under the terms of the Creative Commons Attribution License (http://creativecommons.org/licenses/by/2.0), which permits unrestricted use, distribution, and reproduction in any medium, provided the original work is properly cited.