Research article

Open Access
Clustered microRNAs' coordination in regulating protein-protein interaction network
BMC Systems Biology
2009
3:65
Received: 12 November 2008
Accepted: 26 June 2009
Published: 26 June 2009
Abstract
Background
MicroRNAs (miRNAs), a growing class of small RNAs with crucial regulatory roles at the post-transcriptional level, are usually found to be clustered on chromosomes. However, with the exception of a few individual cases, so far little is known about the functional consequence of this conserved clustering of miRNA loci. In animal genomes such clusters often contain non-homologous miRNA genes. One hypothesis to explain this heterogeneity suggests that clustered miRNAs are functionally related by virtue of co-targeting downstream pathways.
Results
Integrating of miRNA cluster information with protein protein interaction (PPI) network data, our research supports the hypothesis of the functional coordination of clustered miRNAs and links it to the topological features of miRNAs' targets in PPI network. Specifically, our results demonstrate that clustered miRNAs jointly regulate proteins in close proximity of the PPI network. The possibility that two proteins yield to this coordinated regulation is negatively correlated with their distance in PPI network. Guided by the knowledge of this preference, we found several network communities enriched with target genes of miRNA clusters. In addition, our results demonstrate that the variance of this propensity can also partly be explained by protein's connectivity and miRNA's conservation.
Conclusion
In summary, this work supports the hypothesis of intra-cluster coordination and investigates the extent of this coordination.
Keywords
miRNA Family
miRNA Gene
Protein Protein Interaction Network
Protein Pair
miRNA Cluster
Background
MicroRNAs (miRNAs) are small (22 nt) single-stranded non-coding RNA (ncRNA) molecules. They are processed from hairpin precursors of approximately 70 nt (pre-miRNAs), which in turn are extracted from primary transcripts (pri-miRNA) [1, 2]. miRNAs can repress gene expression post-transcriptionally by binding to the 3' untranslated regions (3' UTRs) of their target mRNAs [3–5]. In animal genomes, miRNAs are found in various genomic locations; while most are located in intergenic regions, some are found to be hosted within the introns of pre-mRNAs or within longer ncRNA genes [6, 7]. Interestingly, known miRNA genes, both hosted and non-hosted, are often observed to be clustered [8]. A cluster usually includes two or three miRNA genes, but larger clusters have also been identified, including a human mir-17 cluster comprising 6 miRNA genes and a human mir-302 cluster comprising 8 miRNA genes. Baskerville and Bartel found that miRNAs within 50 Kb are highly correlated in expression across 24 different human organs, indicating that 50 Kb might be used as preliminary definition for miRNA cluster [9].
Although miRNAs in a given cluster are usually phylogenetically related in sequence, many human clusters containing miRNAs without apparent sequence homology are also found [10]. A plausible but yet-to-be validated possibility is that the clustered miRNAs are functionally related by virtue of targeting the same gene or different genes in the same pathway [8, 10–12]. Studies of individual cases have to some extent supported this hypothesis. For instance, mir-15a-16 cluster act as tumor suppressor genes in prostate cancer by controlling cell survival, proliferation and invasion [13]. In gastric cancer, mir-106b cluster and mir-222 cluster are upregulated and modulate cell cycle by targeting the Cip/Kip family proteins [14]. The frequently studied mir-17-92 cluster acts not only in tumor formation but also in development of heart, lungs, and immune system [15–18]. Three individual miRNAs of the mir-379-410 cluster are required for activity-dependent development of hippocampal neurons [19]. mir-48 and mir-241 of a let-7 family cluster function together to regulate developmental timing in Caenorhabditis elegans [20]. However, apart from these individual cases, the hypothesis has not yet been systematically investigated.
Here, we conduct a comprehensive analysis of the conservation and functional consequence of miRNA clustering. We show that clustered miRNAs have functional relatedness through co-targeting proteins in close proximity of PPI network.
Discussion
Recently, global analysis of miRNA targets in the context of sets of genes or PPI network has drawn great interests [34, 38, 44–47]. It could also provide important insights into how miRNAs in a cluster cooperate with each other. In this work, we adopted a protein-centered perspective to start our analysis. We fixed a protein set and analyzed the relationship of miRNAs that target them. This perspective has advantages in avoiding the incompleteness of protein-protein interaction data, and allowing us to analyze miRNAs' functionality according to the features of their targets.
By using the protein-centered perspective, we observed that directly interacting proteins incline to be regulated by miRNAs in the same cluster. The closer these proteins are in the PPI network, the more likely the targeting miRNAs are located in the same cluster. Proteins usually fulfill certain functions by means of interaction. If their functions are temporarily not needed, then their expressions should be reduced simultaneously. miRNAs in a cluster transcribed as polycistron would provide a competent and efficient mechanism to achieve this goal. Our further analysis reveals that connectivity is another factor that matters only when proteins interact or are at least close in PPI network. Interacting proteins, both with great connectivity, usually connect two functional protein groups. They would be under stronger selective pressure to consent to a miRNA cluster's regulation. If one of them was not regulated in time, the module it involved would likely be still in function, and the coordination of the whole system would be greatly impaired.
The finding that distance is more important than connectivity suggests that sc-miRNAs preferentially co-regulate proteins in close proximity of a PPI network. However, this may also be due to the fact that PPI network are mainly gathered from high-throughput experiments which focus on physical interactions, such as yeast two hybrid system and tandem affinity purification. Therefore, for two proteins with long distance in PPI network, even their concurrence in time and space could not be guaranteed. To overcome this limitation, other information, such as signaling network or transcriptional regulatory network, would be needed [46, 47].
Conclusion
This study supports the putative hypothesis of internal coordination among sc-miRNAs to regulate downstream biological networks. The linkage of sc-miRNAs' functional coordination and their targets' topological features we found highlights the potential to further investigate their subtle relationship.
Methods
Data sources
Datasets of PPI
Gold standard positive dataset: all the information in the Human Protein Reference Database (HPRD) has been manually extracted from the literature by expert biologists who read, interpret and analyze the published data. It contains 38,167 distinct interactions among 9,465 proteins [48]. Our analysis focused exclusively on the giant connected component of 9,134 proteins and 31,909 interactions. The remaining proteins were tiny clusters with sizes between two and eight. According to TargetScan's prediction, 8,264 of the 9,134 proteins are targeted by miRNAs. 6,737 of them are targeted by clustered miRNAs, and 4,835 are targeted by miRNAs that appear in hetero-clusters.
Gold standard negative dataset: it was generated by Rhodes et al. [35], which includes all possible pair-wise combinations between two sets of proteins that are assigned a subcellular localization of the plasma membrane (1,397 proteins) and the nucleus (2,224 proteins), respectively, by the Gene Ontology (GO) Consortium. There are 2633 overlapping proteins between GSP and GSN.
miRNA target prediction
TargetScan's release 4.2 was downloaded from TargetScan site http://www.targetscan.org/. miRanda's prediction for 418 human miRNAs in microRNA registry release 10.0 were downloaded from microRNA.org Jan 2008 release with align score higher than 155. PicTar prediction was downloaded from UCSC genome browser PicTar miRNA track.
Computational framework
Determination of miRNA clusters
We download all pre-miRNA sequences of Homo sapiens (hsa, 533 miRNAs), Mus musculus (mmu, 442 miRNAs) and Rattus norvegicus (rno, 285 miRNAs) from the miRNA registry release 10.0 http://www.sanger.ac.uk/software/Rfam/mirna/, and blast them against the whole genome of human, mouse and rat. Only the hits with 90% coverage and 90% identity were selected. All miRNA genes whose Blast distance is smaller than 100 bp were treated as one locus. According to Baskerville and Bartel [9], we considered loci within 50 kb of each other as belonging to the same cluster. miRNAs in a cluster were further screened using following filters:RNA polymerase II filter: Clusters were classified as intronic or intergenic according to their hostages. miRNA genes located at the introns or UTRs of protein-coding genes are transcribed together with their host genes, whereas miRNA genes dispersed in an intergenic region are generally believed to be transcribed by RNA polymerase II [49]. Therefore, we screened the regions surrounding intergenic miRNA clusters using the following RNA polymerase II promoter analysis software: Promoter Scan http://thr.cit.nih.gov/molbio/proscan for predicting promoter regions based on scoring homologies with putative eukaryotic Pol II promoter sequences, Promoter Prediction 2.0 http://www.cbs.dtu.dk/services/Promoter/ for predicting transcription start sites of vertebrate Pol II promoters in DNA sequences, and NNPP (neural network promoter prediction) http://www.fruitfly.org/seq_tools/promoter.html for predicting eukaryotic Pol II promoter sequences. Intronic miRNA clusters were directly reserved for transcription along with their host genes.
Quantification of the functional coordination
There are four possible ways two miRNAs in a cluster could target a protein pair (Figure
4
). Situation b, concerning the propensity of two interacting proteins to be regulated by the same miRNA, regardless of miRNA clustering, has already be studied by Liang and Li [
34
]. In our analysis, we therefore excluded this situation. Situation c and d could be caused by the sequence homology of these two miRNAs, whose target sets hence greatly overlap, rather than true coordination. To eliminate the influence of sequence homology, we specifically measured the coordination among different miRNA families, where sequence homology is limited. We constructed a family-represented version of hetero-clusters by mapping miRNAs in a cluster to their families, and having redundancies removed. We separately performed the computation with family-represented hetero-clusters, and employed randomization as control.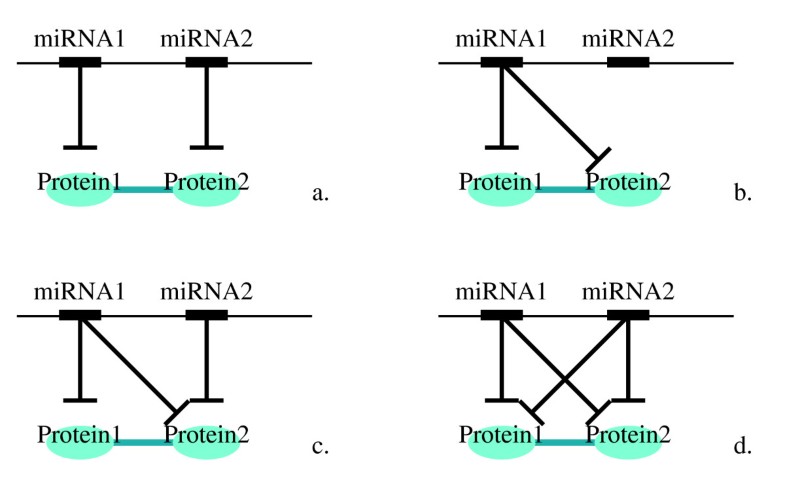 Randomized Control
In our research, we have performed two types of randomization to construct control set: one is randomization of miRNA clusters. To obtain random controls for testing the propensity of interacting proteins to be regulated by sc-miRNAs, we generated a cluster set by randomly shuffling miRNAs among clusters, while keeping the size of each cluster unchanged. The other is randomization of miRNA-target protein associations. To obtain random controls for testing the proximity of sc-miRNAs' targets, we generated targets for each miRNA by randomly shuffling the miRNA-target protein associations, while keeping unchanged the number of proteins that a miRNA targets. The empirical P-value for target interactions was calculated against 10,000 independent randomized samples. The negative logarithm of P-value (-lgP) was then used to assess the coordination. The greater -lgP is, the stronger the coordination is.
Others
All the statistical tests and kernel density estimation were done in R. Connectivity and the shortest paths between each protein were calculated using iGraph package http://cneurocvs.rmki.kfki.hu/igraph/.
Declarations
Acknowledgements
This work was supported by the National Sciences Foundation of China, under Grant Nos. 30570393 and 30600729. The authors express special thanks to Dr. Dongbo Bu and Dr. Geir Skogerbo for editing and proofreading of this manuscript. The authors also thank anonymous reviewers for their valuable discussions and comments on this manuscript.
Authors' Affiliations
(1)
Bioinformatics Group, Center for Advanced Computing Research, Institute of Computing Technology, Chinese Academy of Sciences, Beijing, PR China
(2)
Graduate School of Chinese Academy of Sciences, Beijing, PR China
(3)
Department of Parasitology, Zhongshan School of Medicine, Sun Yat-sen University, Guangzhou, PR China
Copyright
© Yuan et al; licensee BioMed Central Ltd. 2009
This article is published under license to BioMed Central Ltd. This is an Open Access article distributed under the terms of the Creative Commons Attribution License (http://creativecommons.org/licenses/by/2.0), which permits unrestricted use, distribution, and reproduction in any medium, provided the original work is properly cited.