Research article

Open Access
Information theoretical quantification of cooperativity in signalling complexes
BMC Systems Biology
2009
3:9
Received: 21 May 2008
Accepted: 16 January 2009
Published: 16 January 2009
Abstract
Background
Intra-cellular information exchange, propelled by cascades of interacting signalling proteins, is essential for the proper functioning and survival of cells. Now that the interactome of several organisms is being mapped and several structural mechanisms of cooperativity at the molecular level in proteins have been elucidated, the formalization of this fundamental quantity, i.e. information, in these very diverse biological contexts becomes feasible.
Results
We show here that Shannon's mutual information quantifies information in biological system and more specifically the cooperativity inherent to the assembly of macromolecular complexes. We show how protein complexes can be considered as particular instances of noisy communication channels. Further we show, using a portion of the p27 regulatory pathway, how classical equilibrium thermodynamic quantities such as binding affinities and chemical potentials can be used to quantify information exchange but also to determine engineering properties such as channel noise and channel capacity. As such, this information measure identifies and quantifies those protein concentrations that render the biochemical system most effective in switching between the active and inactive state of the intracellular process.
Conclusion
The proposed framework provides a new and original approach to analyse the effects of cooperativity in the assembly of macromolecular complexes. It shows the conditions, provided by the protein concentrations, for which a particular system acts most effectively, i.e. exchanges the most information. As such this framework opens the possibility of grasping biological qualities such as system sensitivity, robustness or plasticity directly in terms of their effect on information exchange. Although these parameters might also be derived using classical thermodynamic parameters, a recasting of biological signalling in terms of information exchange offers an alternative framework for visualising network cooperativity that might in some cases be more intuitive.
Keywords
Mutual Information
Information Exchange
Noisy Channel
Output Alphabet
Thermodynamic Cycle
Background
A cellular pathway, whether enzymatic or signal transducing, can in a simplistic manner be described as a causal relationship between an environmental signal (such as nutrients, osmolytes or hormones) and a cellular response (generally through gene regulation). Cellular signals are mediated through a series of successive protein-protein interactions that bridge spatial and topological boundaries (between the plasma membrane and cell nucleus for example) and that allow for crosstalk between different pathways [1, 2]. This protein-based modular strategy achieves integrated cellular responses that are both specific and at the same time tuned to global environmental and cellular requirements. This specificity is organized through the cooperativity between the members of the complex and the introduction of temporal and spatial constraints on the expression levels of the different members of the signalling pathways. Over- or under-expression, for instance, of the signalling components may have disastrous effects on the cellular phenotype, e.g. the development of cancer.
Cooperativity is a thermodynamic concept that is used in different biochemical contexts [
3
–
6
]. Here this notion refers to the formation of multi-protein complexes with non-additive free-energies of assembly, i.e. complexes for which the stability of the final assembly is higher than the sum of all individual binary association [
6
]. A classic way to study cooperativity is by the analysis of a thermodynamic cycle [
7
]. Consider an assembly process that involves three proteins
A
,
B
and
C
that together form a ternary complex
ABC
, where
B
acts as an adaptor protein providing a separate binding surface for each of the two other molecules (see left panel Figure
1
). Two alternative routes can then create the complex
ABC
: Either the binary complex
AB
is formed first and
C
binds afterwards or first the proteins
B
and
C
are joined before
A
is added. Every pair-wise reaction between the proteins in isolation and between individual proteins and partially formed complexes is annotated by a rate of dissociation (
Kd
), specifying the likelihood of that particular assembly/disassembly step. Here there are four dissociation constants:
Kd
A-B
,
Kd
B-C
,
Kd
AB-C
and
Kd
A-BC
, where the latter dissociation constants refer to the dissociation of
C
from
ABC
and
A
from
ABC
respectively. Since it is known that the overall thermodynamics and free energies for both routes to construct
ABC
is the same around the cycle (
Kd
A-B
Kd
AB-C
=
Kd
B-C
Kd
A-BC
), one can simply determine the cooperativity of the system by comparing the energy changes when one of the proteins is already bound or not [
6
]. For instance, when the likelihood of binding of
C
is enhanced when
A
is already bound to
B
, then there is positive cooperativity, resulting in bigger gain in energy when comparing it with the same reaction without the presence of
A
. When the binding of
C
to
B
is inhibited by the presence of
A
, then there is negative or anticooperativity, producing in turn a decrease in the free energy when comparing it to the process without
A
. When the presence of
A
in the complex does not influence the binding affinity of
C
, then there is no cooperativity or independent binding.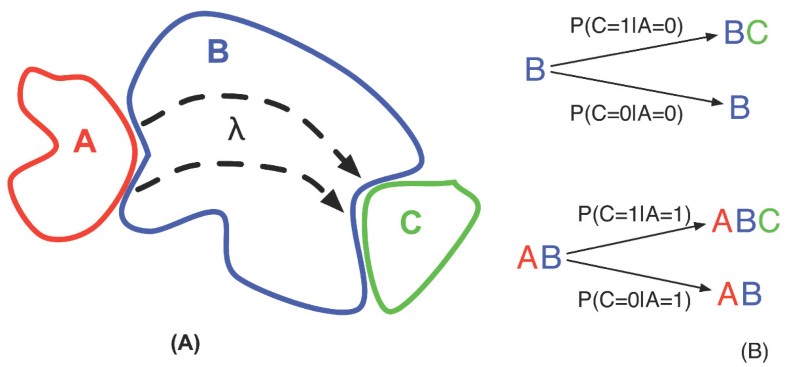 Even though this scheme identifies the presence and type of cooperation in the assembly process, it does not shed light on the molecular concentrations, possibly reflecting the intracellular conditions, required for efficient regulation or coordination between a pathway's active (ABC) and inactive (B) state. Here we provide an information theoretical method that, in the same spirit as the Hill and Scatchard plots [8], identifies and quantifies cooperativity in macromolecular assemblies and visualizes for a spectrum of concentrations when optimal coordination is obtained for the given experimental data. Different from those established methods, our approach goes beyond multiple bindings of the same ligand to a homogeneous oligomer (as in the binding of oxygen to haemoglobin [9]): We consider here the construction of heterogeneous protein assemblies mediated by multiple binding surfaces on adaptor proteins. As such, and as far as we are aware, this method provides an original and novel approach for the analysis of the cooperativity in macromolecular complexes that are part of some signalling cascade.
Conclusion
All these results show that, given the binding affinities at equilibrium and the overall concentrations of the different components, mutual information quantifies for which protein concentrations the systems' cooperativity, or more specific its coordination, is optimal. Our analysis clearly shows (see Figure 2) that both Skp2 and Cks1 concentrations are crucial parameters to obtain proper regulatory behaviour in the p27 degradation system. If binding is independent then no information exchange would be observed. Moreover, this narrow range for Skp2 remains operational for a wide range of p27 concentrations, making the SCFSkp2 ubiquitination system robust to variations in p27 abundance. When moving outside the boundaries defined for Skp2 the coordination between the complex members is lost, leading possibly to continuous activation without proper regulation. This observation seems to corroborate experimental studies on the over expression of Skp2 (and Cks1) in relation to the development cancer [23–26]. Even though, the current analysis is performed on the steady-state information of this biochemical system, the underlying idea is that all the proteins of the macromolecular complex become expressed so that their mutual concentrations fall into the highly cooperative area (see Figure 2). Further analysis is off course required to verify this hypothesis. To conclude, the present result show that Shannon's information theory quantifies the cooperativity of biochemical systems, making it an important tool for the current attempts to understand cooperativity in a systems perspective.
Declarations
Acknowledgements
Discussions with Dr. Sebastian Maurer-Stroh are gratefully acknowledged. We also acknowledge valuable input from Prof. James R. Williamson and Dr. Mark Isalan to improve the clarity of the manuscript.
Authors' Affiliations
(1)
SWITCH, VIB, Brussels, Belgium
(2)
Vrije Universiteit Brussel, Brussels, Belgium
(3)
Ørsted.DTU, Technical Uiversity of Denmark, Kgs, Lyngby, Denmark
Copyright
© Lenaerts et al; licensee BioMed Central Ltd. 2009
This article is published under license to BioMed Central Ltd. This is an Open Access article distributed under the terms of the Creative Commons Attribution License (http://creativecommons.org/licenses/by/2.0), which permits unrestricted use, distribution, and reproduction in any medium, provided the original work is properly cited.