Snazer: the simulations and networks analyzer
BMC Systems Biology
2010
4:1
Received: 24 April 2009
Accepted: 07 January 2010
Published: 07 January 2010
Abstract
Background
Networks are widely recognized as key determinants of structure and function in systems that span the biological, physical, and social sciences. They are static pictures of the interactions among the components of complex systems. Often, much effort is required to identify networks as part of particular patterns as well as to visualize and interpret them.
From a pure dynamical perspective, simulation represents a relevant way-out. Many simulator tools capitalized on the "noisy" behavior of some systems and used formal models to represent cellular activities as temporal trajectories. Statistical methods have been applied to a fairly large number of replicated trajectories in order to infer knowledge.
A tool which both graphically manipulates reactive models and deals with sets of simulation time-course data by aggregation, interpretation and statistical analysis is missing and could add value to simulators.
Results
We designed and implemented Snazer, the simulations and networks analyzer. Its goal is to aid the processes of visualizing and manipulating reactive models, as well as to share and interpret time-course data produced by stochastic simulators or by any other means.
Conclusions
Snazer is a solid prototype that integrates biological network and simulation time-course data analysis techniques.
Keywords
Biological NetworkInternal Data FormatLayout AlgorithmReaction GraphPropensity Function
Background
Proteins and genes play fundamental roles in most organic functions. They cooperate to keep the entire organism's machinery working and prevent breakdowns. Globally, their social relationships give rise to minutely organized networks, currently the target of meticulous studies [1]. Genetic Regulatory Networks (GRNs) [2, 3] and Protein-to-Protein Interaction networks (PPIs) are the most representative classes of biological networks.
GRNs represent collections of DNA segments which functionally interact with each other as well as with the chemicals that govern the transcription of genes into RNA sequences. From another perspective, GRNs can be seen as input-output machineries which produce an output (i.e. the expression level of a gene) by a combined application of basic functions to input stimuli. PPIs are comprised of proteins that form chains in which each protein reacts to a stimulus of its predecessor to produce a signal directed to its successor. Reactions in such chains are usually seen as directionally oriented because often they are not reversible. A reaction chain acts as a connector of a triggering event to a final physiological response and then sets up a complex (and often cyclic) collaborative network.
Both kinds of networks have been collected into several data banks spread throughout the WWW [4] and modeled in a computerized fashion by means of some unambiguous and artificial formalisms. The most common one makes use of coupled Ordinary Differential Equations (ODEs) [5]. Alternatively, several other promising modeling techniques have been employed: (including) Boolean networks [6], Petri nets [7], Bayesian networks [8], graphical Gaussian models [9], Process Calculi [10, 11] and Automata Theory [12]. Standard languages, xml- (SBML [13], CellML [14]) or graphical- (SBGN [15], BlenX4Bio [16]) based, have been further proposed to allow knowledge sharing. All of them are (roughly) connected to graph theory, since a common simple principle holds: interacting agents (e.g. genes, proteins, enzymes, etc.) are represented as the graph vertices whereas interactions (e.g dimerization, phosphorylation, collision, etc.) constitute the graph edges. Moreover, strength of connections (if any) is usually modeled by weighing the edges (e.g. to quantitatively represent fluxes in metabolic networks). Protein-to-protein interaction networks, chemical structures, gene co-expression and contact graphs for protein structures are all examples of undirected graphs, whereas experimental protocols and taxonomies of species and traditional regulatory networks are examples of directed graphs. Other examples include: DNA, RNA or protein sequences (linear graphs), sequence fragment overlap graphs (interval graphs) for shotgun sequence assembly, genetic maps and multiple sequence alignments (partial orders). On top of them, a myriad of graphical- and textual- based tools has been developed with the aim to simultaneously make the process of networks design increasingly more intuitive and to speed up their functional description. In Sec. 2, we itemize the most representative tools and give some concise explanations of them.
Once a network is defined by its constituents and interactions, it is common practice to simulate the network by means of deterministic/stochastic solvers. The deterministic solvers cope with interlocking sets of differential or difference equations and require the specification of some initial conditions. Its response (y) is fixed, given the values of its input variables (x i ), and implies that var(y|x i ) = 0. This property distinguishes deterministic models from real-life experiments [17]. Stochastic solvers use pseudorandom numbers (treated as if they were random numbers distributed uniformly and indpendently) to produce different y values, starting from the same initial parameters. Hence, the response y is a random variable with var(y|x i ) = g(x i ), usually estimated through replication and fed with different random numbers. A user-defined accuracy level determines how many simulation runs are needed [18]. A stochastic trajectory or trace (corresponding to the output of a simulation run) is a sequence of temporal observations of the copy-number of the species in the state space.
Traces are curves generally made by double precision (64-bit) floating-point numbers sampled over time. They sketch the trend of some system variables that are changing because of a predefined set of mathematical rules. Based on the continuous or discrete nature of such rules, the traces format changes accordingly. Continuous traces exhibit smooth trends of variables regularly observed at continuous time-scales. The solution of an ODE-based biological system gives the trend of the concentration of their variables within a desired time interval. Therefore, variables change continuously according to a mathematical function which solves the ODE's set. Discrete traces only differ because of their non-homogeneous temporal sampling. They are evaluated at uneven time instants that are calculated at run-time. Usually, biological discrete systems deal with chemicals populations (in place of chemicals concentrations) and, consequently, Markovian trajectories are made of streams of integer numbers. Sharing both kinds of simulation results is, to a great extent, hindered by the use of a variety of data formats by the existing simulation software packages. In fact, most of them output traces decorated by proprietary meta-information that contains private, not human-readable simulator settings. Few standard formats exist, but although some of them seem to be very well-suited and complete, their general-purpose nature makes them little versatile for our needs. That is why Snazer has been equipped with an ad-hoc and lightweight internal data format.
The rest of the paper is organized as follows: Sec. 2 describes all the features of our tool compared to those of similar existing tools. Particularly, in Sec. 2.2 the graph layout algorithms and the analysis features of Snazer are presented, whereas in Sec. 2.3 we describe the implemented statistics routines. In Sec. 2.4, we present the internal data format together with the compression policy employed to enhance the storing of data. In Sec. 3 we test Snazer on a real case-study with the aim of highlighting features and strength points. Then, we perform some benchmark tests on its compression capability and show the results. In Sec. 4 we conclude the paper and present future works.
Implementation
Snazer is a software prototype whose aim is threefold: (i) manipulating biological networks, (ii) providing advanced statistical analysis routines for simulated traces and (iii) improving the traces sharing and storing processes. Snazer can also be considered as a viewer package of Beta Workbench (BWB) [19]. By parsing its output files, Snazer imports two relevant pieces of information inherently bound to the modeled systems: the graphs of the simulated reactions and the simulated traces. It encloses them in a compact XML data structure, designed to work as an interchange data source/sink. Through this, networks and simulation data look tightly coupled.
The overall architectural skeleton draws inspiration from the Model-View-Controller software architectural design pattern and is made up of two parts: the
reaction graph
(Sec. 2.2) and the
statistics
(Sec. 2.3) modules, that deal with visualization of the system interactions and with calculation of statistics outcomes of simulated traces, respectively (see fig.
1
). Both modules share the optimized floating object compliant with the
Snazer
XML-schema previously mentioned and discussed in Sec. 2.4 (cf. Additional Files
1
).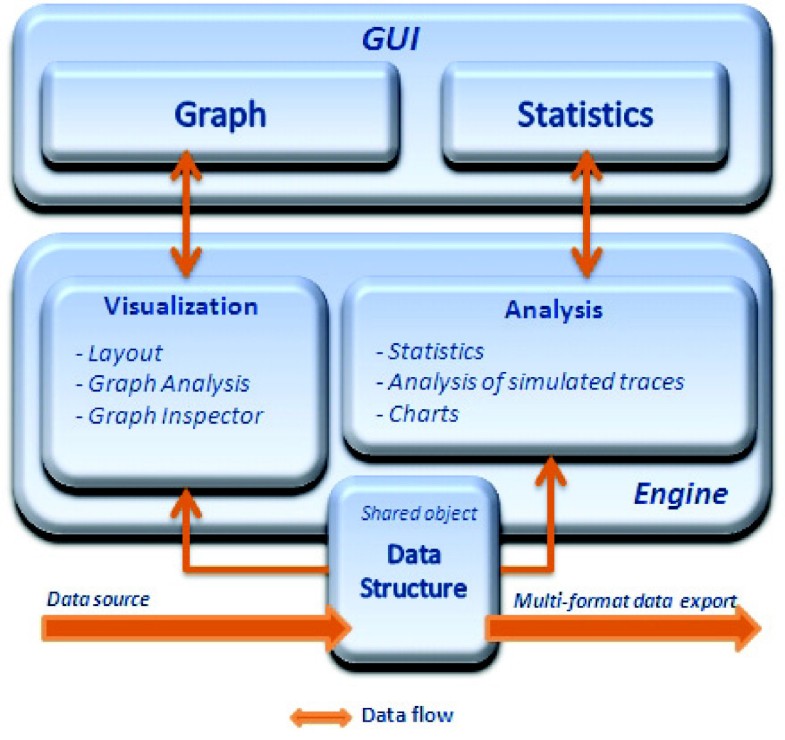 Results
We successfully used Snazer to analyze many real case-studies (some of them are enclosed in the Additional File 2). Here we make use of a couple of them to show some of its functionalities. They are the cell cycle [58] and the circadian clock [59] mammalian models. The former is a complex network of biochemical phenomena that controls the duplication of cells. Such process is macroscopically subdivided into four phases which cyclically alternate because of some cyclin-dependent protein kinases (CDKs). When bound to specific cyclin partners, CDKs promote cellular progression along the cellular life-cycle. The latter model reproduces periodic critical triggering signals in charge to control the cellular size during the cell cycle. Merged together, they give raise to a very interesting model [60].
By applying the
Kamada-Kawai
layout algorithm (cf. Sec. 2.2 and see fig.
6
), the modular feature of this network looks very evident. A fair chunk of it shows the cell cycle part (on the left side). The other accounts for the circadian clock part. Both are not explicitly linked, but they are dependent because of the influencing activity of the
S_TF
clock component on
S_Wee1
. The used layout algorithm manages to catch this aspect. Once drawn the network, we estimate the
importance
of the nodes by running a
degree ranker
. As a result, it changes the nodes color tonalities as follows: the lower the nodes hue, the lower their importance within the network. Finally, we list all the reactions which
S_CP2
(the rightmost orange component in the figure) is involved in. By just a click on it, its neighbor nodes and their connecting edges get highlighted (i.e. their borders become thicker) and selected. The selected nodes can be further analyzed or passed to the statistics panel.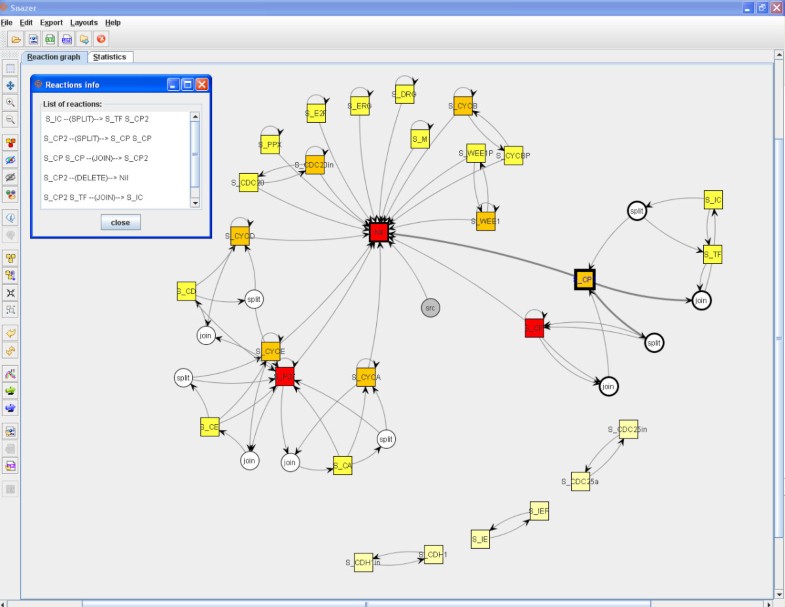 The statistics panel turns on whenever at least one trace (with chemicals labels matching the network nodes labels) is imported. We used three different software packages to perform multiple simulations of the model: BWB [19], Cyto-Sim [61] and COPASI [43].
Initially, we import their traces and adopt the
time
analyzer. This is usually used whenever the user wants to count the number of oscillation periods (of the concentration or population size) of a species, or to estimate the regularity of the cycles, or to measure the duration of the time intervals when a species is over/under a threshold. One can specify an (even complex) condition to be satisfied by one or more species. For each species, one can specify the
front
type (cf. Sec. 2.3) and the x-axis point where to print the results. Since by means of the
raw data
analyzer we have verified in advance that
S_TF
oscillates around the value 600, we are able to quantify the duration of its period by measuring the time intervals between two consecutive values 600 (e.g. ascending fronts). In fig.
7a
, the number of detected periods and their durations are shown in red. Instead, the duration of any interval between two consecutive ascending and descending fronts is shown in blue and green. In this case, we measure the time interval during which
S_WEE1
and
S_CP
are below the specified threshold.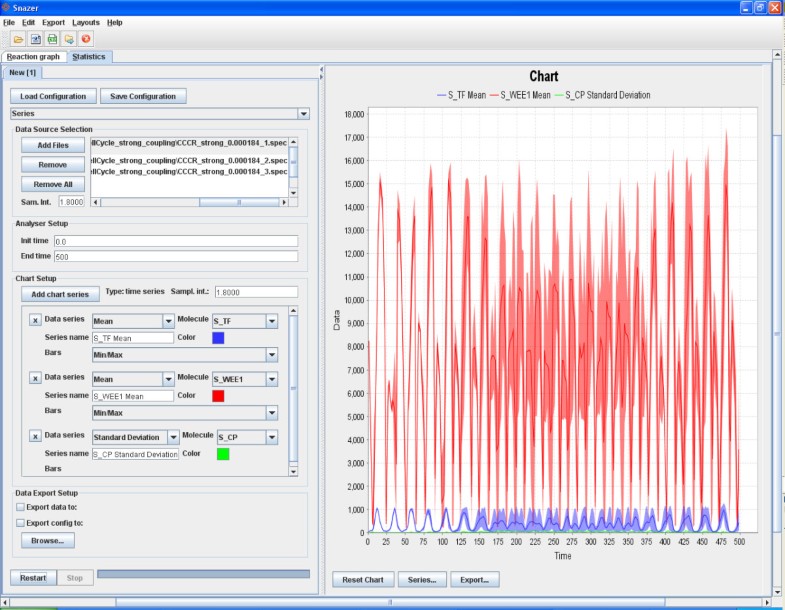 Another example lies in calculating a particular statistics (e.g.
mean
and
standard deviation
) exactly and only when a condition becomes verified (we make use of the
variance bars
to highlight the stochastic difference among all the simulated traces, see fig.
8
). To this aim, we use the
first hitting
analyzer and we define a
two-values condition
that imposes that a molecule quantity (
S_CP
) is less than another (
S_TF
). Hence, by applying the analyzer, one of the mentioned statistics is computed on the selected species whenever the condition becomes verified (fig.
7b
).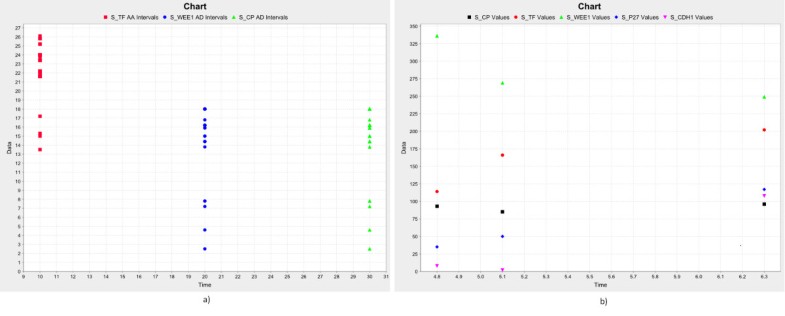 3.1 Benchmark tests
We performed some benchmark tests about the
Snazer
's ability to compress input data. We also tested the memory allocation due to the XML-encapsulation process. Results are shown in Table
1
. We simulated some biological models and saved their traces as
CSV
files. Subsequently, we inflated them using our compression pipeline and saved them in
XML
format.
Xml-incapsulation routine benchmarks

Name

BWB

XML (compression %)

Allocated memory

CC(1)

55.619

7.974 (85.66%)

398.248

UAT(1)

68.276

20.486 (70.00%)

403.136

CC(2)

102.870

19.875 (80.68%)

503.344

UAT(2)

106.271

21.100 (80.15%)

480.448

MAPKc

577.962

50.618 (91.24%)

1.721.616

Bycc(1)

909.064

172.266 (81.05%)

2.038.944

Gpc-RS

8.293.036

190.131 (97.71%)

21.790.768

Bycc(2)

130.821.452

3.735.872 (97.14%)

241.635.920

Bycc(3)

136.219.582

3.913.680 (97.13%)

191.823.072

Bycc(4)

148.322.373

4.318.744 (97.09%)

192.881.840
The compression routine results to be more effective the larger the model and the data set. In particular, it works fine on stochastic and integer traces, essentially because any sequential and stochastic framework schedules always only one reaction to occur at a time, while all the others stay unchanged. Thus, since reactions occur because of their own propensity functions, some will fire more frequently than others and, hence, models with many reactions will generate some frequently changing traces and some rarely changing traces. Moreover, the probability for a reaction to stay unchanged generally increases with the number of the reactions, irrespective of its propensity function.
The semantic compressor defined in Sec. 2.4 works fine when reactions do not change frequently, since all the consecutive stationary values are embodied by just one persistence value. Moreover, the best case occurs when traces are made of integer numbers. In that case, the increment part of the tuple will be always made up of a few figures (stochastic frameworks based on SSA deal with molecular reactions which involve few species) and the resulting compressed string will be the shortest. Contrarily, traces of decimal numbers would see the increment value always made of as many figures as the numbers precision.
Therefore, the resulting compressed string will be longer than one of the same length, but made of integers. Generally, we detected a slight increase in terms of memory usage due to the fixed overhead introduced by the
XML
structure. However, the larger the data set, the more negligible its overhead. This is shown in fig.
9b
, where we depicted the ratio between the (fixed) memory allocated to perform the boxing process and the physical input file sizes. The curve goes significantly down with the increasing of the input file sizes.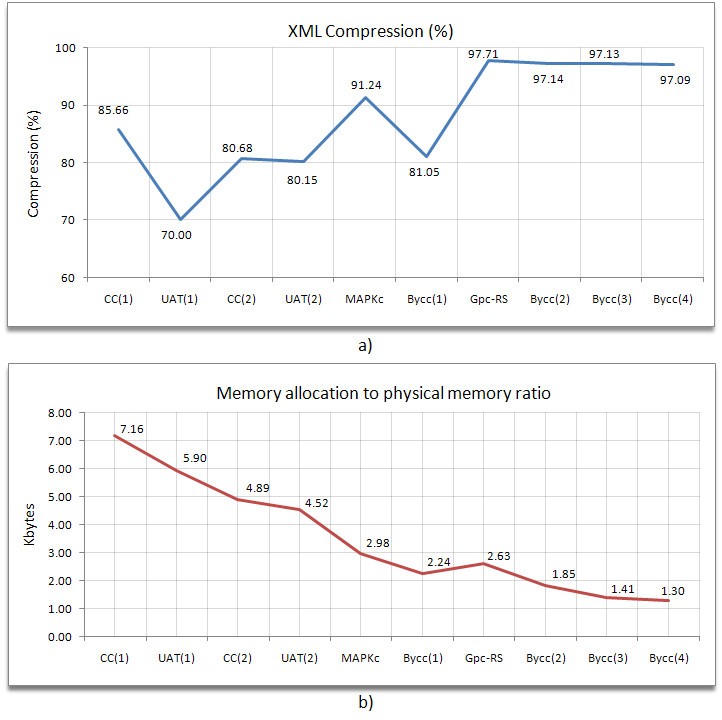 Conclusions
We implemented Snazer to help visualize biological networks and to handle and store their simulation traces. In particular, Snazer has been equipped with two main categories of tools. The visualization tools are in charge of drawing graphs according to some well-known as well as new layout algorithms. The new Circuit layout has been presented in this context. Furthermore, some quantitative analyses routines have been implemented to allow the user to investigate some common traits of the biological graphs as (e.g.) node centrality and node importance. On the other hand, Snazer has been supplied with a set of statistics routines with the aim to analyze the time course files obtained by simulation. Finally, Snazer relies on a very efficient compression routine that allows for comfortable storing and sharing of the simulation results. We plan to extend Snazer with further capabilities, such as remote database interfacing for data collection, more sophisticated graph centrality calculations and analysis routines (e.g. Fast Fourier Transform). We finally aim at increasing compatibility with other standard languages (e.g. CellML) and I/O data formats.
Availability and requirements
Project name: Snazer; Project home page: https://www.cosbi.eu/index.php/research/prototypes/snazer; Operating system(s): Platform independent; Programming language: Java; Other requirements: Java 1.6 or higher, libSBML 3.3.1 or higher; Upon acceptance of the CoSBi-SSLA license, Snazer is freely available for non commercial purposes.
Declarations
Acknowledgements
The authors thank Alida Palmisano and Alessandro Romanel for their precious suggestions and the CoSBi team.
Authors' Affiliations
(1)
The Microsoft Research University of Trento, Trento, Italy
(2)
DISI - University of Trento, Trento, Italy
Copyright
© Mazza et al; licensee BioMed Central Ltd. 2010
This article is published under license to BioMed Central Ltd. This is an Open Access article distributed under the terms of the Creative Commons Attribution License (http://creativecommons.org/licenses/by/2.0), which permits unrestricted use, distribution, and reproduction in any medium, provided the original work is properly cited.