Research article
Open Access
Further developments towards a genome-scale metabolic model of yeast
BMC Systems Biology
2010
4:145
Received: 2 June 2010
Accepted: 28 October 2010
Published: 28 October 2010
Abstract
Background
To date, several genome-scale network reconstructions have been used to describe the metabolism of the yeast Saccharomyces cerevisiae, each differing in scope and content. The recent community-driven reconstruction, while rigorously evidenced and well annotated, under-represented metabolite transport, lipid metabolism and other pathways, and was not amenable to constraint-based analyses because of lack of pathway connectivity.
Results
We have expanded the yeast network reconstruction to incorporate many new reactions from the literature and represented these in a well-annotated and standards-compliant manner. The new reconstruction comprises 1102 unique metabolic reactions involving 924 unique metabolites - significantly larger in scope than any previous reconstruction. The representation of lipid metabolism in particular has improved, with 234 out of 268 enzymes linked to lipid metabolism now present in at least one reaction. Connectivity is emphatically improved, with more than 90% of metabolites now reachable from the growth medium constituents. The present updates allow constraint-based analyses to be performed; viability predictions of single knockouts are comparable to results from in vivo experiments and to those of previous reconstructions.
Conclusions
We report the development of the most complete reconstruction of yeast metabolism to date that is based upon reliable literature evidence and richly annotated according to MIRIAM standards. The reconstruction is available in the Systems Biology Markup Language (SBML) and via a publicly accessible database http://www.comp-sys-bio.org/yeastnet/.
Keywords
Resource Description FrameworkFlux Balance AnalysisSystem Biology Markup LanguageMetabolic ReconstructionPhosphoglycerate Mutase
Background
A central goal of integrative systems biology is the accurate representation of molecular interaction networks. Ultimately, such networks can be used to underpin mathematical models, consisting of stochastic or ordinary differential equations that permit the simulation of biological behaviour. The first step in generating such models is constructing a network of biochemical reactions and interactions between molecular components of the system to form a qualitative (unparameterised) model. Several groups have reconstructed the metabolic network of baker's yeast from genomic and literature data [1–3]. Variation in the approaches used, and contradictory interpretations of the available literature, mean that most reconstructions differ considerably. To resolve these problems, a cohort of the yeast systems biology community collaborated to create a consensus reconstruction. In April 2007, a large focused meeting brought together experts from various groups and disciplines in order to resolve discrepancies between the various reactions and metabolites described by other available reconstructions and form a consensus. The resultant reconstruction [4], subsequently referred to as "Yeast 1.0", removed the ambiguities inherent in its predecessors through the use of principled and computer-readable annotations. Whilst previous reconstructions had defined entities using subjective names, which lacked precision and resulted in ambiguities, Yeast 1.0 directly referenced chemical and protein descriptions to persistent databases or used standardised, database-independent, computer-readable representations. This removed the ambiguities and allowed the new reconstruction to be used effectively as the basis for automated analyses.
A limitation of Yeast 1.0 came about through the very generation of the consensus; the network became considerably fragmented as reactions that could not be readily annotated (due to the presence of structural ambiguities) were removed. This led to underrepresentation of a number of pathways, particularly those involved in lipid biosynthesis. Since Yeast 1.0, many improvements have been made to the reconstruction. The latest release, described here, is considerably larger (in terms of numbers of metabolites and reactions), of higher quality (by reference to literature evidence), exhibits greater coverage of known metabolic enzymes, and is better connected than all previous efforts.
The reconstruction is described and made available in Systems Biology Markup Language (SBML) [
5
], an established community XML format for the mark-up of biochemical models. With the introduction of SBML Level 2, specific model entities, such as species or reactions, can be annotated using ontological terms. These annotations, encoded using the resource description framework (RDF) [
6
], provide the facility to assign definitive terms to individual components, allowing the software to identify such components unambiguously and thus link model components to existing data resources [
7
]. Minimum Information Requested in the Annotation of Models (MIRIAM) [
8
] -compliant annotations have been used to identify components unambiguously by associating them with one or more terms from publicly available databases registered in MIRIAM Resources [
9
]. An example of such an annotation is presented in Figure
1
, where an enzyme is identified by MIRIAM-compliant references to the UniProt [
10
], SGD [
11
], and PubMed [
12
] databases. Metabolites are annotated with reference to the ChEBI (Chemical Entities of Biological Interest) database [
13
]. Whilst SBML is the primary format for dissemination of the reconstruction, we also make the reconstruction available in an online database [
14
], B-Net, that enables easy searching of the content. B-Net [
15
] is able to represent all of the SBML features utilised in the current reconstruction. Searches can be performed using synonyms and the user is also able to navigate through the network from any point (e.g. a metabolite, reaction or enzyme) to its connected neighbours. Query results can also be exported in SBML and this is an effective mechanism to extract subsets of the entire model in this exchange format.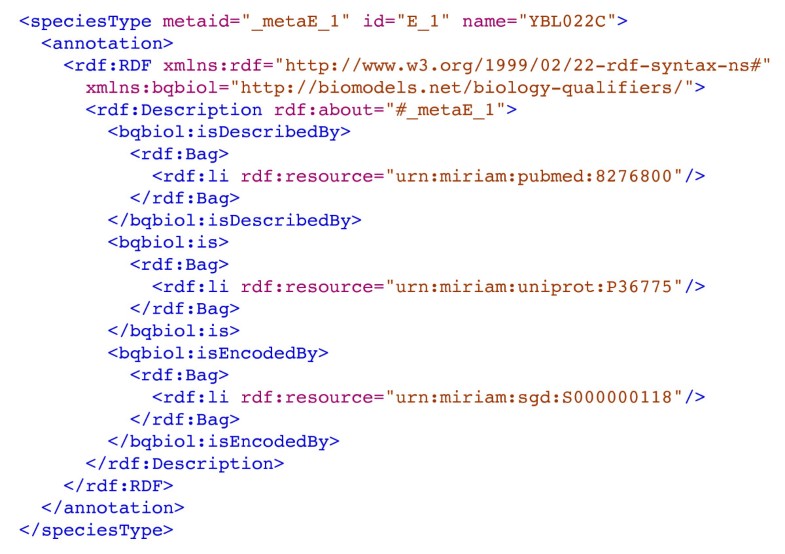 Results and Discussion
Improvements in the representation of yeast metabolism in this release as compared to Yeast 1.0 primarily consist of its enhanced representation of lipid metabolism and greater connectivity, thereby permitting constraint-based flux analyses. Many of the extensions to Yeast 1.0 are reactions garnered from the literature, which are entirely novel to any genome-wide yeast metabolic reconstruction. Data were also incorporated, when backed up by traceable evidence, from two other reconstructions: iMM904 [
16
] and iIN800 [
17
]. The resulting consensus network (reported in Additional File
1
) consists, in decompartmentalised form, of 1102 metabolic reactions involving 924 metabolites and 924 proteins (Table
1
) and is therewith larger in scope than any previous reconstruction.
Table 1
Reconstruction scope
| | iMM904 | iIN800 | Yeast 1.0 | Yeast 4.0 | change (%) |
| --- | --- | --- | --- | --- | --- |
| reactions | 1050 | 907 | 962 | 1102 | 14.6 |
| metabolites | 872 | 812 | 813 | 924 | 13.7 |
| proteins | 904 | 707 | 832 | 924 | 11.0 |
| compartments | 8 | 4 | 15 | 16 | 6.7 |
Careful curation does not simply involve increasing the scope of the reconstruction. Indeed, 32 enzymes from Yeast 1.0 were considered insufficiently evidenced and have been removed, whilst a number of metabolites were relocalised to a different compartment. A typical example of an enzyme removed from the reconstruction is Gpm2p; whilst a homologue of Gpm1p, its phosphoglycerate mutase activity could not be evidenced and may be non-functional [
18
]. Four reconstructions are compared in Figure
2
in terms of enzymes present. In addition to the 32 enzymes removed, the reactions of a further 37 enzymes from iMM904 and iIN800 have not been added for lack of supporting evidence. In total, the new reconstruction considers 124 more enzymes than its predecessor, with half of these (61) being retrieved manually from the literature and therefore new to all reconstructions.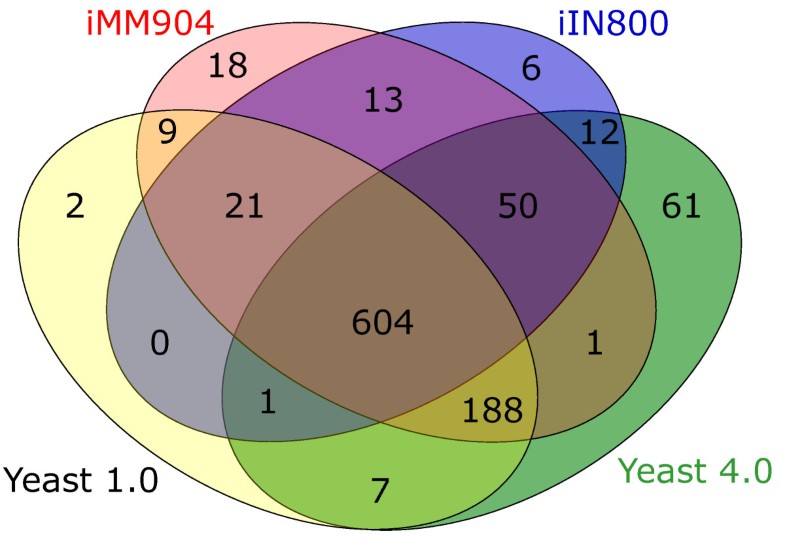 Conclusions
The development of high quality, well annotated, genome-scale, metabolic networks is an ambitious, challenging, but necessary step towards the realisation of integrative systems biology. While networks predicted through bioinformatics approaches are useful, particularly for the extension of systems biology approaches to less well-studied organisms, reconstructions built upon solid biochemical evidence provide a gold standard upon which predictions can be reliably based. For metabolic reconstructions, where the goal is to capture maximally our current understanding of metabolism, these problems are primarily of data integration and quality. It has proven essential to involve the extended systems biology and yeast communities in this process, both to establish the mechanisms and structures for acquiring and representing information, and also to tap into expert knowledge from the various sub-disciplines of biology and biochemistry. In the recent very large-scale reconstruction of the yeast molecular interaction network by Aho et al. [36], genomic, transcriptomic, proteomic and metabolomic data were integrated. These authors note that incorporating the higher quality data of Yeast 1.0 (and therefore even more of this contribution) would considerably improve their reconstruction over the metabolic information extracted from KEGG, and also that standards compliance is essential to this integration task.
Yeast 1.0 set standards and amalgamated existing networks, enhancing annotation and removing less reliable data. In this latest reconstruction, we have made significant headway on the process of filling gaps in the network. There is still some way to go before realising the goal of at least one reaction for each putative metabolic enzyme and, if one also considers enzyme promiscuity [37, 38], even this will represent an incomplete picture of metabolism. This latest reconstruction is a considerable improvement on previous releases, particularly in describing lipid metabolism and addressing gaps in the original reconstruction that hindered modelling efforts. Information from other reconstructions since Yeast 1.0 has been incorporated, although not indiscriminately, and very many reactions not found in other reconstructions have been garnered from the literature. It is considerably larger than all previous efforts, while maintaining compliance with community-defined standards.
While Yeast 1.0 represented a major advance, particularly through the definition of standards and by the involvement of the wider yeast community, a major flaw was that it was not amenable to constraint-based analysis. The current reconstruction rectifies this, mostly by filling in gaps but also by inclusion of an appropriately annotated "biomass" reaction, without compromising the strict evidence requirements of its predecessor. When compared to experimental knockout data, this reconstruction did not identify certain lethal knockouts that other yeast reconstructions correctly predicted, but proves better than them in recognising viable deletions. This is a direct result of the richness of the model; as with the example of the acetyl-coA synthetases (above), addition of isoenzymes of specific reactions that do not exist in earlier reconstructions can reduce the predictive power of the model. Nonetheless, such enzymes are included due to literature support. This reconstruction continues the shifting focus, started with the consensus model Yeast 1.0, toward realistic representation and proof-based selection of reactions, rather than creating a reconstruction with simulation in mind. Reactions with a lower level of confidence (e.g. biomass definition) are characterised with specialised evidence codes and SBO terms, allowing the easy extraction of subsets of the network from the SBML code for specific purposes.
To facilitate further improvements, we encourage the community to provide information and/or corrections to the current release. We have set up a dedicated point-of-contact to this end network.reconstruction@manchester.ac.uk. We also highlight gaps in the network that cannot be resolved from current literature, as well as the little-studied enzymes for which we have not yet identified any function (see Additional File 2). These represent potentially important research opportunities for the community and we welcome efforts towards an improved understanding of their functions.
Declarations
Acknowledgements
The Manchester groups thank the UK Biotechnology and Biological Sciences Research Council (BBSRC) and the Engineering and Physical Sciences Research Council (EPSRC) for financial support (grants BB/C008219/1 and BB/F006012/1). The Cambridge group acknowledges BBSRC grant BB/C505140/2. The Manchester, Aberystwyth and Cambridge groups all acknowledge support from the European Union FP7 project UNICELLSYS (Grant agreement no.: 201142) and from SysMO (MOSES). We thank Mike Hucka for advice on formatting SBML annotations, Rasmus Ågren for providing the iIN800 reconstruction and Steve Turner for help with ChEBI submissions. This is a contribution from the Manchester Centre for Integrative Systems Biology and the Cambridge Systems Biology Centre.
Authors' Affiliations
(1)
School of Chemistry, The University of Manchester, Manchester, UK
(2)
Manchester Centre for Integrative Systems Biology, The University of Manchester, Manchester, UK
(3)
School of Mathematics, The University of Manchester, Manchester, UK
(4)
School of Computer Science, Kilburn Building, The University of Manchester, Manchester, UK
(5)
School of Chemical Engineering and Analytical Science, The University of Manchester, Manchester, UK
(6)
Cambridge Systems Biology Centre & Department of Biochemistry, University of Cambridge, Cambridge, UK
(7)
Department of Computer Science, Aberystwyth University, UK
(8)
Doctoral Training Centre for Integrative Systems Biology, The University of Manchester, UK
(9)
Virginia Bioinformatics Institute, Virginia Tech, USA
Copyright
© Dobson et al; licensee BioMed Central Ltd. 2010
This article is published under license to BioMed Central Ltd. This is an Open Access article distributed under the terms of the Creative Commons Attribution License (http://creativecommons.org/licenses/by/2.0), which permits unrestricted use, distribution, and reproduction in any medium, provided the original work is properly cited.