Research article
Open Access
On the spontaneous stochastic dynamics of a single gene: complexity of the molecular interplay at the promoter
BMC Systems Biology
2010
4:2
Received: 2 August 2009
Accepted: 8 January 2010
Published: 8 January 2010
Abstract
Background
Gene promoters can be in various epigenetic states and undergo interactions with many molecules in a highly transient, probabilistic and combinatorial way, resulting in a complex global dynamics as observed experimentally. However, models of stochastic gene expression commonly consider promoter activity as a two-state on/off system. We consider here a model of single-gene stochastic expression that can represent arbitrary prokaryotic or eukaryotic promoters, based on the combinatorial interplay between molecules and epigenetic factors, including energy-dependent remodeling and enzymatic activities.
Results
We show that, considering the mere molecular interplay at the promoter, a single-gene can demonstrate an elaborate spontaneous stochastic activity (eg. multi-periodic multi-relaxation dynamics), similar to what is known to occur at the gene-network level. Characterizing this generic model with indicators of dynamic and steady-state properties (including power spectra and distributions), we reveal the potential activity of any promoter and its influence on gene expression. In particular, we can reproduce, based on biologically relevant mechanisms, the strongly periodic patterns of promoter occupancy by transcription factors (TF) and chromatin remodeling as observed experimentally on eukaryotic promoters. Moreover, we link several of its characteristics to properties of the underlying biochemical system. The model can also be used to identify behaviors of interest (eg. stochasticity induced by high TF concentration) on minimal systems and to test their relevance in larger and more realistic systems. We finally show that TF concentrations can regulate many aspects of the stochastic activity with a considerable flexibility and complexity.
Conclusions
This tight promoter-mediated control of stochasticity may constitute a powerful asset for the cell. Remarkably, a strongly periodic activity that demonstrates a complex TF concentration-dependent control is obtained when molecular interactions have typical characteristics observed on eukaryotic promoters (high mobility, functional redundancy, many alternate states/pathways). We also show that this regime results in a direct and indirect energetic cost. Finally, this model can constitute a framework for unifying various experimental approaches. Collectively, our results show that a gene - the basic building block of complex regulatory networks - can itself demonstrate a significantly complex behavior.
Keywords
Power SpectrumShot NoiseDirected CycleEnergy Consumption RateChemical Master Equation
Background
Considered for a long time to be insignificant variations around a significant mean, stochasticity in gene expression is now clearly demonstrated to be important in many situations and in many organisms [1–16] and to participate in various biological processes [15–20], as formerly proposed [21]. The molecular bases of this stochasticity are multiple and constitute now a major subject of investigation. They are frequently distinguished between intrinsic and extrinsic stochasticity [1, 22]. Although this distinction requires a clear statement of the considered system [23], this system is often (eg. as in [1]) implicit and corresponds to what we would call a "node" in a regulatory network. Then, extrinsic and intrinsic stochasticity are respectively the propagation through this node of global fluctuations of the concentration of transcription factors (TFs), RNA polymerase ..., and the generation of randomness due to the molecular events, discrete and probabilistic in nature, that take place within the system (TFs binding to the promoter, transcription initiation, RNA degradation ...).
A major challenge in this field is to isolate and characterize the various sources of stochasticity in different organisms (from prokaryotes to higher eukaryotes) by theoretical [22–44] and/or experimental means [1–12]. Stochasticity gets significant when some discrete molecular events become rare. Typically, when RNA or proteins are in low copy number, synthesis and degradation events are rare and represent important variations relatively to the total amount of these molecular species. This generates a so-called Poisson noise at both RNA and protein levels [23]. Also, because at low copy number TFs cannot be considered to be uniformly distributed, spatial proximity of the few TFs to the promoter becomes important and contributes to enhance stochasticity [33]. Finally, and independently of molecule concentrations, the transition of the promoter between different states (chromatin state, presence/absence of a TF ...) provokes heterogeneity in transcription (eg. bursts [3, 4, 6, 14, 15]) and appears to be a major source of stochasticity [5].
The vast literature describing the molecular machinery involved at the promoter reports very elaborate properties. The various classes of molecules involved in transcriptional regulation show quite wide-ranging but surprisingly short residence time (typically few seconds) within complexes [45–48]. Moreover, despite this rapid turnover of most (if not all) molecules, eukaryotic regulatory complexes also demonstrate a clear slow-timescale activity: They proceed through a periodic pattern of occupancy level by molecules, conformal changes and epigenetic modifications with a precise timing and a period in the order of few tens of minutes [48–52]. This phenomenon referred to as the cyclical recruitment, occupancy pattern or loading profile of molecules on the promoter, or even as chromatin breathing. This provides a new vision of regulatory complexes as highly dynamic structures in constant assembly and disassembly, with alternative functionally redundant pathways of formation and with phenomena occurring concomitantly at different timescales [48, 52–55]. An important point is that, in both prokaryotes [56, 57] and eukaryotes [58–61], the association/dissociation of most molecules involves cooperation and competition with the other molecules bound to the promoter. Also, alternative conformations (DNA looping, chromatin open/closed state, nucleosome position along DNA ...), post-translational covalent modifications of histone tails residues (acetylation, methylation, phosphorylation ... defining the "histone code" [62]) and DNA methylation are other factors that influence and are influenced by the molecules present on the promoter in a dynamic, highly combinatorial and possibly energy-dependent manner [53, 60–66]. These combinatorial aspects also take place in RNA polymerase recruitment [49, 50, 66] and provides the promoter with a variety of levels of transcriptional competency [48, 56, 61, 65], far from the binary vision of all-or-nothing active/inactive genes. All this elaborate molecular interplay provides the regulatory structure with a complex dynamics and certainly have major outcomes on stochasticity of gene expression. Two-state on/off promoters with exponential switching times [3, 4, 14, 23–27, 30, 32, 34–37, 40] (or slightly more detailed models [2, 33, 44]) have been used for a long time and gave many valuable insights into the importance of promoter dynamics. Beyond this simple description, few authors recently focused on more precise descriptions of promoters from the viewpoint of stochastic gene expression [41–43, 67, 68]. These studies revealed interesting results but remained focused on specific features (eg. non-exponential waiting times, shape of regulatory input function) or on restricted systems (eg. prokaryotic energetically-closed systems) so that general principles on the capacity of regulatory molecular interplay remain mostly unexplored. Recently, the stochastic dynamics of a eukaryotic promoter has been modeled considering the interplay between TFs and chromatin modifications and in relation with experimental data [52]. This work provided several important insights into the relation between single-cell and population dynamics and showed that the approach is very promising. However, being essentially based on simulations, the understanding of the structure of the dynamics and all its potentiality as well as parameter explorations remain more limited than when using an analytical approach. Moreover, the very synthetic metrics commonly used in studies of stochastic gene expression (eg. variance normalized by square mean) miss most of both steady-state and dynamic aspects of the system's activity. Here, we employ more comprehensive measures such as power spectra or autocorrelations [7, 8, 12, 29, 30, 33, 34, 69, 70] and full distributions [2, 6, 9, 27, 28, 35–37, 40] that are known to reveal many more relevant features. A power spectrum is a measure that describes the temporal fluctuations of a signal (eg. a protein level) by revealing its frequency content. For instance, a peak in a power spectrum at a given frequency tells that the considered signal tends to repeat itself periodically (the sharper the peak, the more precisely the signal is repeated). On the opposite, a plateau up to a given frequency followed by a decrease tells that the signal fluctuates aperiodically with a typical correlation time as short as the plateau spans over high frequencies.
We first present a generic promoter-centered model of the stochastic expression of a single gene - that can represent arbitrary regulatory systems from prokaryotes to eukaryotes - and describe its spontaneous activity in terms of power spectra, normalized variance and full distribution. It reveals that a single gene can demonstrate the same type of complex dynamics as those that were previously identified at the network-level (eg. multi-periodic multi-relaxation dynamics). In particular, it can reproduce with realistic parameters the periodic occupancy patterns observed experimentally on eukaryotic promoters and highlight the central role of energy-dependence in this context. Then we show that instantiation into minimalist systems can help to identify novel properties (eg. stochasticity induced at high TF concentration) and verify their applicability to larger and more biologically plausible systems. Finally, we show how TF concentration can modulate many aspects of the promoter activity in a highly complex and flexible manner, suggesting the transcriptional regulation as a central piece for the cell to control and take advantage of stochasticity. We discuss our results and their theoretical and experimental implications in different fields.
Methods
Dedicated to the study of the impact of stochastic promoter dynamics on gene expression, this model (figures
1A
and
1C
) describes the molecular events of various sorts occurring at the promoter. Mechanisms subsequent to transcription initiation are kept simple (as in most models) but explicit so that we can assess how promoter stochasticity propagates up to RNA and protein levels and confronts to other sources of gene-intrinsic stochasticity. The reader can refer to the Additional file
1
for an extensive description of the model. For simplicity, we only give here a brief description of a simplified version. However, all derivation and conclusions of this paper stand for both versions. The following model shares some similarities with previous models [
42
,
52
,
67
,
68
,
71
–
73
] and can be solved as an instance of generic techniques [
23
,
34
,
69
,
70
,
74
,
75
] or simulated using generic frameworks [
76
–
78
]. We highlight here the key difference in its definition, interpretation and resolution.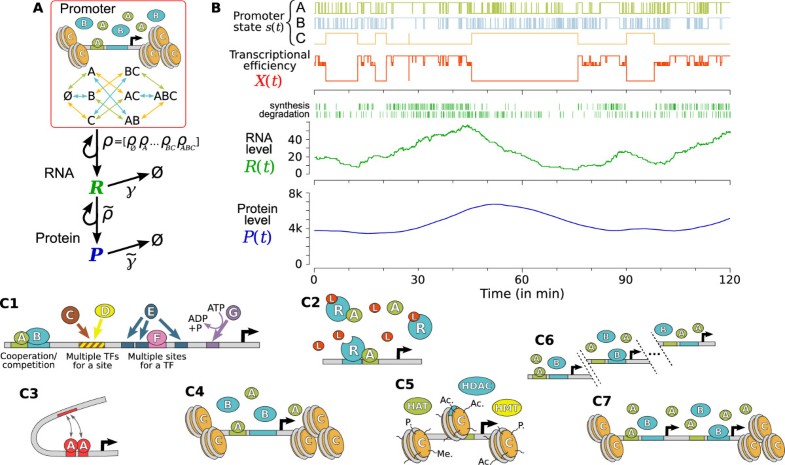 Results
With this model that can represent arbitrarily complex regulatory system from prokaryotes to eukaryotes, we show that the molecular interplay can cause a single gene with constant concentrations of TFs to demonstrate various forms of complex activity (eg. multiple periodicities, relaxation times) that are usually found at the network-level. We describe these activities in relation with experimental observations from the literature and highlight underlying mechanisms that might cause them and properties that they might provide.
Conclusion
In the light of the various capabilities of gene promoters we have demonstrated in this study, it seems that the importance of the single-gene level has to be reconsidered. Indeed, systems biology has set gene networks to the front of the stage, expecting complexity to arise from the interaction of many genes, often considered simple and deterministic. It appears now that single nodes of these networks should be given more attention since their spontaneous stochastic dynamics can be a considerable source of complexity.
Declarations
Acknowledgements
The authors want to thank Raphaël Métivier for helpful discussions and comments on this work, David Parsons for critical reading of the manuscript, as well as Daniel Kahn, Jean-Jacques Kupiec and the members of the Biologie des Systèmes et Modélisation Cellulaire (BSMC) group for discussions. This work was funded by the Rhône-Alpes region (ISLE cluster), the Rhône-Alpes complex systems institute (IXXI) and the french national network of complex systems (RNSC).
Authors' Affiliations
(1)
Université de Lyon, Université Lyon 1, Centre de Génétique Moléculaire et Cellulaire (CGMC), Lyon, France
(2)
Université de Lyon, INSA-Lyon, Laboratoire d'InfoRmatique en Image et Systemes d'information (LIRIS), CNRS UMR5205, Lyon, France
(3)
Rhône-Alpes Complex Systems Institute (IXXI), Lyon, France
Copyright
© Coulon et al; licensee BioMed Central Ltd. 2010
This article is published under license to BioMed Central Ltd. This is an Open Access article distributed under the terms of the Creative Commons Attribution License (http://creativecommons.org/licenses/by/2.0), which permits unrestricted use, distribution, and reproduction in any medium, provided the original work is properly cited.