Archaic chaos: intrinsically disordered proteins in Archaea
BMC Systems Biology
2010
4(Suppl 1):S1
Abstract
Background
Many proteins or their regions known as intrinsically disordered proteins (IDPs) and intrinsically disordered regions (IDRs) lack unique 3D structure in their native states under physiological conditions yet fulfill key biological functions. Earlier bioinformatics studies showed that IDPs and IDRs are highly abundant in different proteomes and carry out mostly regulatory functions related to molecular recognition and signal transduction. Archaea belong to an intriguing domain of life whose members, being microbes, are characterized by a unique mosaic-like combination of bacterial and eukaryotic properties and include inhabitants of some of the most extreme environments on the planet. With the expansion of the archaea genome data (more than fifty archaea species from five different phyla are known now), and with recent improvements in the accuracy of intrinsic disorder prediction, it is time to re-examine the abundance of IDPs and IDRs in the archaea domain.
Results
The abundance of IDPs and IDRs in 53 archaea species is analyzed. The amino acid composition profiles of these species are generally quite different from each other. The disordered content is highly species-dependent. Thermoproteales proteomes have 14% of disordered residues, while in Halobacteria, this value increases to 34%. In proteomes of these two phyla, proteins containing long disordered regions account for 12% and 46%, whereas 4% and 26% their proteins are wholly disordered. These three measures of disorder content are linearly correlated with each other at the genome level. There is a weak correlation between the environmental factors (such as salinity, pH and temperature of the habitats) and the abundance of intrinsic disorder in Archaea, with various environmental factors possessing different disorder-promoting strengths. Harsh environmental conditions, especially those combining several hostile factors, clearly favor increased disorder content. Intrinsic disorder is highly abundant in functional Pfam domains of the archaea origin. The analysis based on the disordered content and phylogenetic tree indicated diverse evolution of intrinsic disorder among various classes and species of Archaea.
Conclusions
Archaea proteins are rich in intrinsic disorder. Some of these IDPs and IDRs likely evolve to help archaea to accommodate to their hostile habitats. Other archaean IDPs and IDRs possess crucial biological functions similar to those of the bacterial and eukaryotic IDPs/IDRs.
Keywords
Cumulative Distribution FunctionHigh Hydrostatic PressurePfam DomainIntrinsic DisorderDisorder Prediction
Introduction
Introducing Archaea
It is known that all the living systems on the Earth can be divided into three large domains, the Bacteria, the Archaea, and the Eucarya, each containing at least two kingdoms [1–3]. The Bacteria and the Archaea domains include single-celled microorganisms, prokaryotes. Although archaea are similar to bacteria phenotypically (both have no cell nucleus or any other cellular organelles inside their cells and are very often similar in size and shape), and despite a bacterial organization of archeae chromosome (messenger RNA with Shine-Dalgarno sequences, genes assembled in operons, a single origin of bidirectional replication), these two domains of life are clearly different at the molecular level, and some of the archaea genes, metabolic pathways and proteins (especially ribosomal proteins and proteins involved in transcriptions and translation) are more closely related to those of eukaryotes [4–11]. For example, all eubacteria exhibit very similar subunit pattern in their RNA polymerases (in terms of numbers and sizes), whereas this pattern is not related to that seen in the archaea or the eukaryotes [4], and several archaea and eukaryotic ribosomal protein homologues have no apparent counterpart among the bacteria [5, 6]. On the other hand, archaea and eukaryotes are sufficiently dissimilar and diverged early, and, therefore, they could not be placed in a single domain of life either [1]. Generally speaking, according to the detailed molecular analysis and comparative genomics, archaea are characterized by a combination of unique properties, such as left-handed isoprenoids containing glycerolipids, and mosaic bacterial and eukaryotic features [12].
Based on sequences of ribosomal RNAs, archaea were first classified as a separate group of prokaryotes in 1977 [13]. Before that time prokaryotes were considered as a single group. The term "archaea" was introduced in 1987 to denote apparent primitive nature of corresponding organisms especially in comparison with the eukaryotes [2]. It is estimated that the total number of phyla in the archaea domain range from 18 to 23, of which only 8 phyla have representatives that have been grown in culture and studied directly [14]. In fact, most of the culturable and well-investigated species of archaea belong to the two main phyla, Crenarchaeota, and Euryarchaeota. Three new phyla, Thaumarchaeota, Nanoarchaeota, and Korarchaeota, were discovered very recently. Nanoarchaeota contains a nanosized symbiotic hyperthermophilic archaeon Nanoarchaeum equitans from a submarine hot vent, which grows attached to the surface of a specific archaeal host, a new member of the genus Ignicoccus[15]. Based on the small subunit rRNA phylogeny it has been concluded that Korarchaeota comprises a group of microorganisms that may have diverged early from the major archaeal phyla Crenarchaeota and Euryarchaeota, share many features of both of these main phyla, but are most closely related to the Crenarchaeota[16]. Members of the Thaumarchaeota phylum are mesophilic archaea which are different from hyperthermophilic Crenarchaeota to which they were originally ascribed [17].
It is recognized now that archaea are an important component of the biosphere [11], play important roles in the carbon and nitrogen cycle, and may contribute up to 20% of the total biomass on Earth [18]. The unique feature of some archaea is their ability to produce methane gas in anaerobic environments; i.e., methanogenesis. Another uniqueness of the archaea is their ability to utilize a great variety of energy sources ranging from sugars, to using ammonia, sulfur, metal ions and even hydrogen gas as nutrients; some salt-tolerant archaea (the Halobacteria) use sunlight as a source of energy; other archaea use CO2 in the atmosphere as a source of carbon via the carbon-fixation process, which is powered by inorganic sources of energy, rather than by capturing sunlight [19–21]. Many archaea are able to grow at temperatures above 100oC and are found in geysers, black smokers, and oil wells. The archaeon Methanopyrus kandleri (Strain 116) can effectively grow at 122°C and high hydrostatic pressure (20 MPa), which is the highest recorded temperature at which an organism will grow [22]. Others are found in very cold habitats and still others can survive in highly saline, acidic (at pHs as low as 0, which is equivalent to 1.2 M sulfuric acid), or alkaline water [23]. In addition to these extremophiles (halophiles, hyperthermophiles, thermophiles, psychrophiles, alkaliphiles, and acidophiles), many archaea are mesophiles that grow in much milder conditions, such as marshland, sewage, the oceans, and soils [24]. Although for a long time Archaea, in particular Crenarchaeota, were considered ecologically insignificant, presuming to occupy mainly extreme and unusual environments, it is becoming increasingly evident that previously unrecognized members of the Archaea are abundant, globally distributed, and well-adapted to more pedestrian lifestyles and niches, including symbiotic partnership with eukaryotic hosts [25]. Archaea are particularly numerous in the oceans, and the archaea in plankton (as part of the picoplankton) may be one of the most abundant groups of organisms on the planet, accounting for up to 40% of the bacterioplankton in deep ocean waters [26]. Therefore, it has been pointed out that the study of archaea is essential to understand the history of molecular mechanisms and metabolism diversity and to unravel the mechanisms by which life can sustain in extreme environments [12].
Introducing intrinsically disordered proteins
As verified by an increasing number of experimental observations, more and more proteins or their regions have been found to lack unique 3D structure in their native states under physiological conditions. These regions and proteins, known as I ntrinsically D isordered R egions (IDR) or I ntrinsically D isordered P roteins (IDP) among different other names [27–30], present in solution as conformational ensembles containing large number of widely different conformations that are in rapid interconversion on different time scales. The protein intrinsic disorder phenomenon is rapidly becoming well-accepted in modern protein science. Unlike structured proteins, IDPs stay as an ensemble of flexible conformations [27, 31–33]. Although without stable 3D structures and in contradiction to the traditional sequence-structure-function paradigm, IDPs play a number of crucial functional roles in living organisms, especially in vital biological processes, such as signaling, recognition, and regulation [27, 31, 32]. According to a statistical study on SwissProt database, 238 out of 710 SwissProt functional keywords are strongly positively correlated with intrinsic disorder, while another 302 functional keywords mostly characterizing various catalytic activities are strongly negatively correlated with IDR [34].
Due to their crucial functional roles, IDPs are highly abundant in all species. According to computational predictions by PONDR®-VLXT, typically 7-30% prokaryotic proteins contain long disordered regions of more than 30 consecutive residues, whereas in eukaryotes the amount of such proteins reaches 45-50% [28, 35–38]. Another estimation based on DISOPRED2 achieved similar results: around 2.0%, 4.2%, and 33.0% of proteins in archaea, bacteria, and eukaryota have long disordered segments with 30 or more residues [39]. Higher contents of long IDR were reported in a study using another computational tool, DisEMBL [40]. In that study, 23~56%, 15~40%, and 25~78% of proteins in archaea, bacteria, and eukaryota were predicted to have IDR longer than 40 residues. In spite of the disagreement between the reported values, the general trend among the three domains of life is quite consistent: at the proteome level, eukaryotes have much more disordered proteins than bacteria and archaea. This is a reflection of the vital roles of IDPs and IDRs in signaling and regulation. Furthermore, not only at proteome level, but even in PDB, which is biased to structured proteins, intrinsic disorder is also very abundant, and almost 70% of proteins in PDB have IDRs which are indicated by missing electron density [41].
Despite of the solid proofs of the relative abundance of IDPs in nature, their origin is still a mystery. Where are they coming from? How do they evolve? Although all of the three domains of life have a considerable amount of intrinsic disorder, modern species have evolved so effectively that ancient information is no longer easy to retrieve. In this meaning, archaea could be an excellent candidate to tell the story of what happened thousands of millions years ago. Since archaea are prokaryotes (they have no cell nucleus or any other organelles within the cell), they seem to have appeared early in the evolution. Furthermore, many archaea live and grow at extreme conditions, such as high temperature, which are believed to be very similar to the conditions at the early time of planet formation. Finally, archaea have genes and several metabolic pathways which are more similar to eukaryotes than bacteria. Hence, by taking into account the facts that eukaryotes need more signaling and regulation due to their biological complexity, and that eukaryotes are highly enriched in IDRs and IDPs, archaea may provide interesting information about the evolution of intrinsic disorder.
Previous studies discussed above provided very enlightening information on the abundance of intrinsic disorder in archaea. However, at that time the number of species available for the bioinformatics analysis was rather limited. Studies utilizing PONDR®-VLXT, DISOPRED2, and DisEMBL had only 7, 6, and 20 archaea species, respectively [39, 40, 42]. This limited number of species restricted the study on the phylogenetic relations among the archaea species. Hence, with the expansion of archaea genome data (more than fifty archaea species from five different phyla are known now), it is necessary to re-examine the previous results and to explore new information. Here, we systematically studied the abundance of intrinsic disorder in archaea and explored the functional and evolutionary roles of intrinsic disorder in this domain of life.
Methods
Datasets
All protein sequences from the completed 53 archaea genome were downloaded from the ExPASy proteomics server as of Jan. 2009 [43]. The taxonomy of these archaea is listed in Table S1 (see additional file 1). Note: In the following discussion, names of phyla are in bold; names of classes and orders are in bold italic; whereas names of species are in italic. All five known phyla of archaea are included in this study: Crenarchaeota and Euryarchaeota have 15 and 32 species, respectively, each of the Thaumarchaeota and Nanoarchaeota phyla has two species; and finally there is only one species in the Korarchaeota phyla. All the species in Korarchaeota, Thaumarchaeota, and Nanoarchaeota can be grouped into one class corresponding to that phylum. Although Crenarchaeota has 15 species, all of these species also belong to a single class, Thermoprotei. Hence, these species could be combined together and be analyzed as a single one. Euryarchaeota is the most complicated phylum of archaea. It has 7 classes with one to twelve species in each of them. In order to take this complexity into consideration, following analysis will be conducted at three different levels: 5 phyla, 11 classes, and 53 species.
Disorder predictions
In this study, two types of intrinsic disorder predictors were utilized, per-residue predictors and binary classifiers. Per-residue predictors provide the distribution of the propensity for intrinsic disorder over the amino acid sequence, whereas binary classifiers identify entire protein as wholly ordered or wholly disordered. The per-residue predictors were used to generate two means for the evaluation of abundance of intrinsic disorder in a given protein, the total amount of disordered residues and the number of long disordered regions containing >30 consecutive amino acid residues predicted to be disordered. The binary classifiers were used to evaluate the number of wholly disordered proteins in a given proteome.
Per-residue disorder predictions
In this study, per-residue disorder predictors PONDR
®
-VLXT [
36
] and PONDR
®
-VSL2 [
44
] were utilized. PONDR
®
-VLXT is the first disorder predictor which was designed by using neural networks. It is very sensitive to the changes of local compositional profile. One of its prominent properties is the frequently occurring dips on the plot of disorder score (see Figure
1
). These dips correspond to hydrophobic segments with the increased propensity to order that are flanked by disordered regions. many of these segments are found to be very important in molecular recognition, signaling and regulation. They are now recognized as a
Mo
lecular
R
ecognition
F
eature (MoRF) [
38
,
45
]. PONDR
®
-VSL2 is composed of a set of support vector machines and was trained on datasets containing disordered regions of various lengths. It is one of the most accurate predictors developed so far. Both PONDR
®
-VLXT and VSL2 have been applied in genome-wide studies on protein intrinsic disorder. The results of these analyses clearly indicated the existence of noticeable differences between these two predictors. However, the sources of these differences and their underlying biological significance have not been clearly uncovered as of yet. Figure
1
represents the illustrative example of the disorder evaluation by PONDR
®
-VLXT and PONDR
®
-VSL2 predictors in two unrelated proteins. This figure illustrates the typical feature of the PONDR
®
-VLXT plot which contains many sharp dips. As a result, long disordered regions are divided into a series of short disordered regions by these dips. Consequently, PONDR
®
-VLXT may under-estimate the ratio of long disordered regions as shown in Figure
1(a)
. On the other hand, although PONDR
®
-VSL2 is more accurate than PONDR
®
-VLXT on short disordered/structured regions, it was also trained using a set of short protein segments. As a result, for proteins that tend to have intersected disordered/structured segments, PONDR
®
-VSL2 may also have lower ratio for long disordered regions as indicated by Figure
1(b)
. Hence, it would be beneficial to combine the results of several different predictors. However, in this study, due to reasons discussed above, we will focus on the results from the PONDR
®
-VSL2.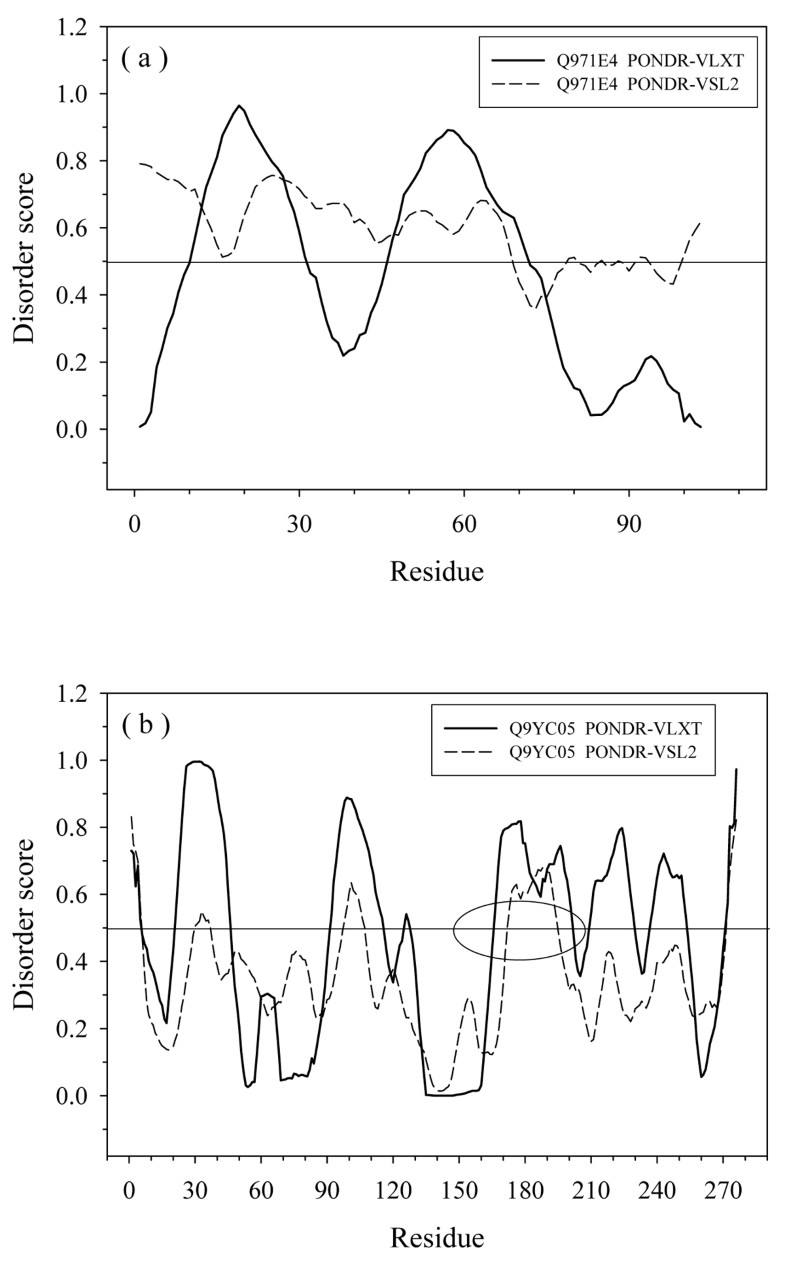 Binary disorder classification
Based on the per-residue disorder prediction, a Cumulative Distribution Function (CDF) can be obtained to describe the disorder status of the entire protein [37, 42, 46]. Basically, CDF is based on a cumulated histogram of disordered residues at various disorder scores. By definition, structured proteins will have more structured residues and less disordered residues. Therefore, the CDF curve of a structured protein will increase very quickly on the side of low disorder score, and then go flat on the side of high disorder score. On the other hand, for disordered proteins, the CDF curve will move upward slightly in regions of low disorder score, then rapidly increase in the regions with high disorder scores. Hence, on the 2D CDF plot, structured proteins tend to be located in the upper left half, whereas disordered proteins are predominantly located at the lower right half of the plot. By comparing the locations of CDF curves for a group of fully disordered and fully structured proteins, a boundary line between these two groups of proteins can be identified. Then, this boundary can be used to classify any given protein as wholly ordered or wholly disordered. Proteins whose CDF curves are above the boundary line are mostly structured, whereas proteins with CDF curves located below the boundary are mostly disordered [37, 42, 46]. The distance of a curve from the CDF boundary can also be used as a kind of measure of the disordered (structured) status of a protein. This distance is further referred as CDF-distance. Originally, CDF analysis was developed based on the results of the PONDR®-VLXT [28]. Recently, other five CDF predictors were built using the outputs of the PONDR®-VSL2 [44], PONDR®-VL3 [47], IUPred [48], FoldIndex [49], and TopIDP [50]. Among these various CDFs, PONDR®-VSL2-CDF achieved the highest accuracy, 5-10% higher than the accuracy of the second best predictor [46].
Another method of measuring the disordered status of the entire protein is a C harge-H ydropathy (CH) plot [29]. CH-plot takes the averaged Kyte-Doolittle hydrophobicity [51] and an absolute mean net charge of a protein chain as the coordinates of the X- and Y-axis, respectively. This plot represents each protein as a single point in such a 2D graph. Since extended disordered proteins typically contain fewer hydrophobic residues and more charged residues than ordered proteins, these two types occupy different areas in the CH-phase diagram and can even be separated by a linear boundary [29]. According to this analysis, all of the proteins located above this boundary line are highly likely to be disordered, whereas proteins below this line are structured. On the CH-plot, the vertical distance from the location of a protein to the boundary line is then taken as a scale of disorder (or structure) tendency of a protein. This distance is further referred as CH-distance.
CDF- and CH-plots have different underlying principles. The CDF-plot, being based on the disorder predictors of the PONDR® family, is strongly related to the method of machine learning. Essentially, it is a statistical analysis based on known structures in PDB. The CH measurement has a very intuitive physicochemical background. Charged residues intend to interact with solvent molecules, while hydrophobic residues prefer to avoid contacts with solvent, therefore aggregating together. Hence, the CH-distance provides very important information about the general compactness and conformation of a polypeptide chain. By combining CDF- and CH-distances in one graph, we have another method called the CH-CDF-plot [37, 52]. On this plot, each point corresponds to a single protein and represents its CDF-distance at the X-axis and the CH-distance at the Y-axis. CH>0 and CH<0 denote proteins predicted to be disordered and ordered by the CH-plot, respectively. On the other hand, values of CDF>0 represent structured proteins, and CDF<0 correspond to disordered proteins. Hence, the entire field can be divided into four quadrants by cutting lines CH=0 and CDF=0. Lower right quadrant corresponds to proteins predicted to be structured by both CH and CDF, whereas upper left quadrant contains proteins predicted to be is disordered by both methods.
Composition profiling
To gain insight into the relationships between sequence and disorder, the amino acid compositions of Archaea proteomes were compared using an approach developed for the analysis of intrinsically disordered proteins [28, 53]. To this end, the fractional difference in composition between a given protein set (an Archaean proteome), and proteins from the F ully D isordered D ataset (FDD) [46, 54] was calculated for each amino acid residues as described in [28, 53]. The fractional difference was calculated as (CX-CFDD)/CFDD, where CX is the content of a given amino acid in a given proteome, and CFDD is the corresponding content in FDD proteins. These fractional differences for each proteome are then plotted for each amino acid. This analysis was performed using a Composition Profiler, a computational tool that automates this task and graphically summarizes the results [53]. Composition Profiler is available at http://profiler.cs.ucr.edu.
Conclusions
In this paper, we systematically analyzed the abundance of intrinsically disordered proteins and the intrinsically disordered regions in 53 Archaea species, which are grouped into 5 phyla and 11 classes. The size of proteomes of these species extends from 536 proteins to 4,234 proteins with the majority of Archaea having around 2,000 proteins. The abundance of intrinsic disorder was species-dependent. The averaged ratio of predicted disordered residues varied from ~14% in Thermoproteales to ~34% in Halobacteria. Further analysis based on amino acid composition profiles confirmed large differences between various species. However, even between closely related species, the content of disordered residues changed greatly. Staphylothermus marinus and Ignicoccus hospitalis are two species in the same order Desulfurococcales of the Thermoprotei class in the Crenarchaeota phylum, but Ignicoccus hospitalis had 7% more disordered residues than Staphylothermus marinus. In Thermoproteales of the same phylum and class, Thermofilum pendens had around 6% more disordered residues than Caldivirga maquilingensis.
The relation between various measures of disordered content; i.e., the relative content of disordered residues, the content of proteins containing long disordered regions, and the number of fully disordered proteins was also analyzed. All of these measures of intrinsic disorder content are shown to be linearly correlated with each other at the genome level. This relationship provided important information for the general understanding of disordered proteins. However, more computational experiments are needed to verify this conclusion since this result comes from the predictions on 53 species.
Next we analyzed the correlation between the abundance of intrinsic disorder in a given Archaeaon and peculiarities of its habitat. Since many of the Archaea are know to survive at extremely harsh environmental conditions, this exercise was interesting and important. Analysis revealed that various environmental factors possessed different strength in promoting intrinsic disorder. The most prominent enhancers of intrinsic disorder were habitats with very high salinity, alkaline pH or characterized by the combination of extremely high temperature and high hydrostatic pressure. Symbiotic archaeaon, Cenarchaeum symbiosum, was also shown to contain high level of intrinsically disordered proteins. This clearly suggested that Archaea generally utilized intrinsic disorder for adjustment to their living conditions.
Many functional Pfam seed domains of the Archaea origin were shown to possess various levels of intrinsic disorder. Only about 15% of these functional domains were completely devoid of disorder. Disordered Pfam domains were involved in various crucial functions, such as signaling, regulation and interaction with nucleic acids and proteins, suggesting that similar to proteins from other domains of life, intrinsic disorder is heavily used by the Archaean proteins in their functions.
We also designed a new protocol by combining disorder predictions and phylogenetic tree to show the correlation between evolutionary development and disorder. A gradual increase in the amount of intrinsic disorder with the evolution of species was observed. More interestingly, the ratios of disordered residues can also be reduced in the process of evolution. Based on the hypothesis that disordered proteins are crucial for signaling and regulation, it is not difficult to understand the need for an increased level of intrinsic disorder in newly evolved species. However, data for Methanocorpusculum labreanum raised the question on whether the decreased amount of intrinsic disorder found in this organism can be considered as an atavism. In fact, one of the Methanocorpusculum labreanum paralogues, Methanosaete thermophila, has a smaller proteome but higher content of disordered residues, whereas two other paralogues, Methanoculleus marisnigri and Methanospirillum hungatai, have a higher content of disordered residues and larger proteomes.
Declarations
Acknowledgement
This work was supported in part by the grants R01 LM007688-01A1 (to A.K.D and V.N.U.) and GM071714-01A2 (to A.K.D and V.N.U.) from the National Institute of Health, the grant EF 0849803 (to A.K.D and V.N.U.) from the National Science Foundation, and the Program of the Russian Academy of Sciences for the "Molecular and Cellular Biology" (to V.N.U.). We gratefully acknowledge the support of the IUPUI Signature Centers Initiative.
This article has been published as part of BMC Systems Biology Volume 4 Supplement 1, 2010: Proceedings of the ISIBM International Joint Conferences on Bioinformatics, Systems Biology and Intelligent Computing (IJCBS). The full contents of the supplement are available online at http://www.biomedcentral.com/1752-0509/4?issue=S1.
Authors' Affiliations
(1)
Center for Computational Biology and Bioinformatics, Indiana University School of Medicine, Indianapolis, USA
(2)
Institute for Intrinsically Disordered Protein Research, Indiana University School of Medicine, Indianapolis, USA
(3)
Department of Biomedical Informatics, Uniformed Services University, Bethesda, USA
(4)
Center for Computational Biology and Bioinformatics, Indiana University School of Informatics, Indianapolis, USA
(5)
Institute for Biological Instrumentation, Russian Academy of Sciences, Pushchino, Russia
Copyright
© Uversky et al; licensee BioMed Central Ltd. 2010
This article is published under license to BioMed Central Ltd. This is an open access article distributed under the terms of the Creative Commons Attribution License (http://creativecommons.org/licenses/by/2.0), which permits unrestricted use, distribution, and reproduction in any medium, provided the original work is properly cited.