Research article

Open Access
Negative auto-regulation increases the input dynamic-range of the arabinose system of Escherichia coli
BMC Systems Biology
2011
5:111
Received: 28 April 2011
Accepted: 12 July 2011
Published: 12 July 2011
Abstract
Background
Gene regulation networks are made of recurring regulatory patterns, called network motifs. One of the most common network motifs is negative auto-regulation, in which a transcription factor represses its own production. Negative auto-regulation has several potential functions: it can shorten the response time (time to reach halfway to steady-state), stabilize expression against noise, and linearize the gene's input-output response curve. This latter function of negative auto-regulation, which increases the range of input signals over which downstream genes respond, has been studied by theory and synthetic gene circuits. Here we ask whether negative auto-regulation preserves this function also in the context of a natural system, where it is embedded within many additional interactions. To address this, we studied the negative auto-regulation motif in the arabinose utilization system of Escherichia coli, in which negative auto-regulation is part of a complex regulatory network.
Results
We find that when negative auto-regulation is disrupted by placing the regulator araC under constitutive expression, the input dynamic range of the arabinose system is reduced by 10-fold. The apparent Hill coefficient of the induction curve changes from about n = 1 with negative auto-regulation, to about n = 2 when it is disrupted. We present a mathematical model that describes how negative auto-regulation can increase input dynamic-range, by coupling the transcription factor protein level to the input signal.
Conclusions
Here we demonstrate that the negative auto-regulation motif in the native arabinose system of Escherichia coli increases the range of arabinose signals over which the system can respond. In this way, negative auto-regulation may help to increase the input dynamic-range while maintaining the specificity of cooperative regulatory systems. This function may contribute to explaining the common occurrence of negative auto-regulation in biological systems.
Keywords
Arabinose
araC
Input Function
Network Motif
Reporter Strain
Background
Transcription regulation networks are largely made up of recurring regulatory patterns called network motifs [
1
–
4
]. These network motifs have been demonstrated to carry out specific information-processing functions (e.g. [
1
,
3
,
5
]). One of the simplest and most abundant network motifs is negative auto-regulation (NAR). In this motif, a transcription factor (TF) negatively regulates the promoter of its own gene or operon [
1
,
3
,
6
] (Figure
1a
). Approximately 40% of the known transcription factors in
Escherichia coli
show negative auto-regulation [
7
], as do many transcription factors in yeast and higher organisms [
3
,
8
–
11
].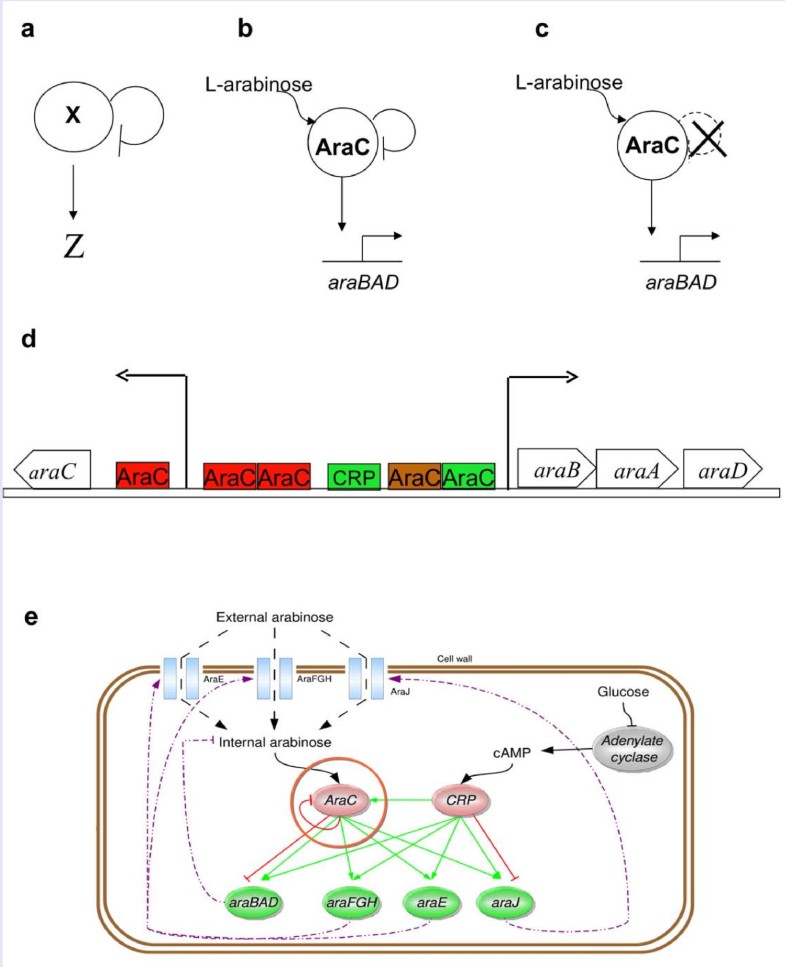 NAR has been suggested experimentally and theoretically to have several functions. The first is increased homeostasis or buffering of the auto-regulated gene product concentration against stochastic noise [12–14]. Because protein levels can vary from cell to cell by tens of percents [15–17], such a noise buffering mechanism is useful in cases where precision in TF levels is needed [18]. Low frequency noise in TF production rates tends to be buffered by NAR because negative feedback reduces TF levels if they are too high, and increases them if they are too low, making TF levels more uniform across cells.
A second feature of NAR is its ability to speed the response time of gene circuits [6, 19, 20]. Response time is defined as the time it takes to reach half of the total change in a dynamic process. Theoretical comparison between NAR and a simply regulated promoter with no NAR, with parameters in which both reach the same steady-state level expression, shows that the response time is shorter when the TF is negatively auto-regulated. This speed up is achieved by the use of a strong promoter allowing a rapid initial rise in TF levels, up to its auto-repression threshold, followed by reduction in production rate due to NAR [19]. This speedup feature was observed in a synthetic NAR circuit [19] as well as in the native SOS DNA repair system of E. coli[20]. Speedup offered by NAR may be advantageous in dynamic environments where rapid responses improve fitness.
Recently, it was shown by Nevozhay et al. that NAR can also linearize dose responses [21]. In this study the response of synthetic, TetR-based transcriptional circuits with and without NAR was studied in S. cerevisiae as a function of inducer (anhydrotetracycline, aTc) levels. NAR was found to transform a sigmoid induction curve into a more linear curve (see also [18]). This feature was also suggested in theoretical studies [6, 22–25]. This role of NAR can be interpreted as an increase in the input dynamic range - the range of input signals over which the system can respond.
Such theoretical and synthetic-circuit studies are a powerful approach because one can study the function of circuits such as NAR without of interfering effects. In natural systems, however, this motif is embedded inside a large regulatory network with many other interactions. These additional interactions might in principle modify its function. Therefore, to fully test the function of a motif requires, in addition to theory and synthetic circuits, experiments on the motif in its natural context, wired into the full interaction networks of the cell.
Here, we study the function of the NAR motif in a natural system. We chose one of the best-studied gene regulation systems, the arabinose utilization system of E. coli. This system has been characterized over the past decades by Schleif and colleagues ([26–29] for reviews). The arabinose-responsive TF, called AraC, is negatively autoregulated (Figure 1b). We asked whether NAR increases the input dynamic range in this system.
The arabinose system is composed of 9 genes arranged in 5 operons: araC- the system-specific TF; araE, araFGH, araJ- the arabinose transporters [30–32]; and araBAD- arabinose catabolic enzymes. Two operons, araC and araBAD, are divergent and share the same regulatory region (Figure 1d). The system is regulated by cAMP Receptor Protein (CRP) and AraC (Figure 1e), which are activated by cAMP and L-Arabinose respectively [26–29]. AraC represses its own promoter, creating a NAR motif. It both activates and represses the arabinose utilization operon araBAD by means of a DNA looping mechanism [33, 34]. AraC undergoes a conformational change when it binds L-Arabinose, leading to expression of the ara genes. The system includes several interactions and feedback loops, in which metabolic enzymes and transporters downstream of araC affect the level of intracellular arabinose, the inducer that activates AraC (Figure 1e). In a study of the input functions of E. coli sugar systems, it was recently found that promoters from the arabinose system respond to their inducer with a wider input dynamic range compared to other sugar systems (eg. the maltose system) in which the TF is not negatively auto-regulated [35].
To test the role of NAR, we compared the wild type ara system (Figure 1b) to a variant in which NAR is disrupted by placing the regulator AraC under a constitutive promoter (Figure 1c). We find, using high-temporal resolution measurement of promoter activity, that disrupting NAR in the arabinose system increases the steepness of the sigmoidal response curve. It reduces the input dynamic range by about an order of magnitude. Thus, NAR increases input dynamic range in the context of the natural ara system. We also analyze this mathematically, suggesting that the increase in input dynamic range is due to the increase of AraC protein level with increasing arabinose due to the NAR.
Discussion
This study supports a role for negative auto-regulation in increasing the input dynamic range of downstream genes. Previous studies suggested this role theoretically [6, 22–24] and demonstrated it using synthetic circuits [18, 21]. Here we tested NAR in the context of a natural system, the arabinose system of E. coli, in which NAR is embedded within multiple feedback loops and regulatory interactions. Disruption of the NAR in the arabinose system reduced the input dynamic range by an order of magnitude.
What is the intuitive explanation for the enhancement of the input dynamic range provided by negative auto-regulation? Negative auto-regulation in the arabinose system allows the transcription factor concentration to be modulated by its own input signal. As the concentration of input signal increases, the concentration of transcription factor also increases. This extends the response range of downstream promoters, which would otherwise reach maximal activity when the transcription factor becomes saturated with input signal.
A related but distinct feature was studied by M. Savageau [6, 42], in which proper coupling of inducer levels and transcription factor levels can increase the output (as opposed to input) dynamic range of genes: the ratio of their maximal to minimal expression level.
Use of NAR to increase input dynamic range might be especially useful for regulators that bind the promoter cooperatively. Such cooperative binding is thought to increase specificity [43]. However, a well-known feature of cooperative binding (high Hill coefficient) is a narrow input dynamic range [43]. NAR is a simple way to provide wide input dynamic range, while maintaining cooperativity at the level of regulator binding. The combination of cooperativity and negative auto-regulation might thus provide a response across several decades of input strength and at the same time remains specific.
Conclusions
The present study adds to our understanding of the functions of negative auto-regulation network motif, showing that it can increase the input dynamic range of the response, even when embedded in a relatively complicated native gene circuit. Integration of negative auto-regulation within a system with high cooperativity (high specificity and steep activation curve), enables the system to respond to a wide range of input signal (making the activation curve wide) while maintaining the system's specificity to the signal. This function can be experimentally tested in the numerous additional gene systems which bear this network motif across organisms. Because the negative auto-regulation motif is not limited to transcription networks this feature might also apply to other biological systems including protein-level interactions.
Abbreviations
ampR:

ampicillin resistance
cAMP:

cyclic adenosine mono phosphate
CRP:

cAMP receptor protein
aTc:

anhydrotetracycline
GFP:

green fluorescent protein
kanR:

kanamycin resistance
NAR:

negative auto-regulation
OD:

optical density
PA:

promoter activity
s.e.:

standard error
specR:

spectinomycin resistance
TF:

transcription factor.
Declarations
Acknowledgements
We thank all of our group members for fruitful comments and discussions. DM thanks R. Milo for his help. This work was supported by the European Research Council, and the Israel Science Foundation.
Authors' Affiliations
(1)
Department of Molecular Cell Biology, The Weizmann Institute of Science, Rehovot, Israel
Copyright
© Madar et al; licensee BioMed Central Ltd. 2011
This article is published under license to BioMed Central Ltd. This is an Open Access article distributed under the terms of the Creative Commons Attribution License (http://creativecommons.org/licenses/by/2.0), which permits unrestricted use, distribution, and reproduction in any medium, provided the original work is properly cited.