Research article

Open Access
Systems biology of bacterial nitrogen fixation: High-throughput technology and its integrative description with constraint-based modeling
BMC Systems Biology
2011
5:120
Received: 10 March 2011
Accepted: 29 July 2011
Published: 29 July 2011
Abstract
Background
Bacterial nitrogen fixation is the biological process by which atmospheric nitrogen is uptaken by bacteroids located in plant root nodules and converted into ammonium through the enzymatic activity of nitrogenase. In practice, this biological process serves as a natural form of fertilization and its optimization has significant implications in sustainable agricultural programs. Currently, the advent of high-throughput technology supplies with valuable data that contribute to understanding the metabolic activity during bacterial nitrogen fixation. This undertaking is not trivial, and the development of computational methods useful in accomplishing an integrative, descriptive and predictive framework is a crucial issue to decoding the principles that regulated the metabolic activity of this biological process.
Results
In this work we present a systems biology description of the metabolic activity in bacterial nitrogen fixation. This was accomplished by an integrative analysis involving high-throughput data and constraint-based modeling to characterize the metabolic activity in Rhizobium etli bacteroids located at the root nodules of Phaseolus vulgaris ( bean plant). Proteome and transcriptome technologies led us to identify 415 proteins and 689 up-regulated genes that orchestrate this biological process. Taking into account these data, we: 1) extended the metabolic reconstruction reported for R. etli; 2) simulated the metabolic activity during symbiotic nitrogen fixation; and 3) evaluated the in silico results in terms of bacteria phenotype. Notably, constraint-based modeling simulated nitrogen fixation activity in such a way that 76.83% of the enzymes and 69.48% of the genes were experimentally justified. Finally, to further assess the predictive scope of the computational model, gene deletion analysis was carried out on nine metabolic enzymes. Our model concluded that an altered metabolic activity on these enzymes induced different effects in nitrogen fixation, all of these in qualitative agreement with observations made in R. etli and other Rhizobiaceas.
Conclusions
In this work we present a genome scale study of the metabolic activity in bacterial nitrogen fixation. This approach leads us to construct a computational model that serves as a guide for 1) integrating high-throughput data, 2) describing and predicting metabolic activity, and 3) designing experiments to explore the genotype-phenotype relationship in bacterial nitrogen fixation.
Keywords
Nitrogen Fixation
Flux Balance Analysis
Consistency Coefficient
Symbiotic Nitrogen Fixation
Infection Thread
Background
Biological nitrogen fixation carried out by Rhizobiaceas represents nearly 70 percent of the entire nitrogen transformation required for maintaining life in our biosphere. Simultaneously, nitrogen fixation driven by these bacteria constitutes an appealing and natural strategy for developing sustainable agricultural programs due to its cost-effectiveness in crop improvement and its more environmentally friendly effects in comparison to those produced by chemical fertilizers [1]. Based on these fundamental and practical issues, the study of bacterial nitrogen fixation is one active line of research that in the post-genomic era demands new paradigms capable of surveying in a systematic fashion the metabolic organization by which this process occurs in nature.
At a molecular level, symbiotic nitrogen fixation arises as a consequence of the coordinated action of a variety of genes, proteins and metabolites that in turn activate signal transduction cascades and transcriptional factors inside bacteroids. At the end of the day, the consequences are the activation and repression of certain metabolic pathways whose end products are required for counteracting the microenvironmental conditions prevailing inside nodules [2–4]. The advent of high-throughput technologies has fostered the genome scale analysis for bacterial nitrogen fixation, and the output data constitute valuable material in deciphering their metabolic organization at different biological layers [5, 6]. Although some significant results have been achieved in interpreting the high-throughput data, their overwhelming numbers and heterogeneous composition represent a challenge for inferring biological knowledge in a coherent and systematic fashion. This challenge is, indeed, a central issue in systems biology, and its solution demands integrative efforts among genome scale data, physiological knowledge and computational modeling [7–11].
With the purpose of contributing to this integrative challenge, in this paper we present a systems biology description in bacterial nitrogen fixation. In particular, it integrates high-throughput technology and flux balance analysis in order to explore the metabolic activity of Rhizobium etli bacteroids while they fix nitrogen in symbiotic association with Phaseolus vulgaris (common bean plant) [11]. To survey the bacterial phenotype and sketch the genetic and metabolic profile during nitrogen fixation, transcriptome and proteome technologies were carried out for R. etli bacteroids selected at 18 days after inoculation with root plants of P. vulgaris (see details in experimental procedure and methods). We selected this interval of time based on experimental knowledge that has indicated it as an average for maximum enzymatic activity of nitrogenase in R etli bacteroids. To identify those genes with a significant role in nitrogen fixation, we accomplished a comparative analysis between the gene expression profile at the nitrogen fixation stage and under free-living conditions in R etli, this last condition mainly defined by succinate and ammonia as carbon and nitrogen sources, respectively (see methods). Simultaneously, the protein profile inside bacteroids was obtained, also at 18 days after plant inoculation. A set of genes with significant participation in bacterial nitrogen fixation was defined by combining those genes differentially expressed in the two physiological conditions--free life and nitrogen fixation-- and those codifying for the proteins detected inside bacteroids. This same set of genes served as our benchmark for extending the metabolic reconstruction for R. etli metabolism (iOR 363) and evaluating the consistency of the metabolic capacities inferred by the in silico analysis [8]. To assess the predictive scope of the model, we qualitatively compared the metabolic activity predicted by constraint-based modeling against that which was deduced from the high-throughput data obtained for R etli. Overall, our study represents a significant effort toward the reconstruction of a systems biology platform for studying metabolic activity in bacterial nitrogen fixation. It is characterized by its capacity to integrate and describe high-throughput data and predict the metabolic mechanism underlying bacterial nitrogen fixation.
Discussion
A coherent description between
in silico
modeling and high-throughput data is a primary goal for exploring the fundamental principles governing metabolism in
Rhizobiaceas
and predicting their phenotype behavior during nitrogen fixation. In this work we present a systems biology framework capable of exploring the metabolic activity of
R. etli
during nitrogen fixation in symbiosis with
P. vulgaris
. In particular, we present a genome scale model that integrates high-throughput data for describing, simulating and guiding experiments dealing with metabolic activity in bacterial nitrogen fixation. An important issue in constraint-based optimization analysis is the presence of alternate optimal fluxes, in other words the presence of a set of reactions--or flux distributions--that produce the same quantitative objective function. As a consequence of these alternate fluxes, the metabolic output of one pathway can be substituted by others such that macroscopic phenotype remains constant. Therefore, the distinction of the reactions with and without a range of variability is essential to guess the metabolic activity supporting biological phenotype. Hence, in order to characterize the core metabolic activity and compare our
in silico
metabolic interpretations with those emerged from high-throughput data, we carried out flux variability analysis (FVA) [
24
]. With the purpose to identify those reactions that represent the central core of metabolic activity along the set of alternate solutions, we limited our analysis to those reactions with a range of variability equivalent to zero. This set was such that the minimum and maximum flux variability for each reaction were equivalent and constituted our cornerstone for guiding the metabolic activity during the biological process. As depicted in Figure
2
, the output of this analysis led us to identify some key reactions participating in some metabolic pathways required for sustaining bacterial nitrogen fixation. FVA was carried out with COBRA Toolbox [
25
]. As a consequence of this study, some concluding remarks immediately follow.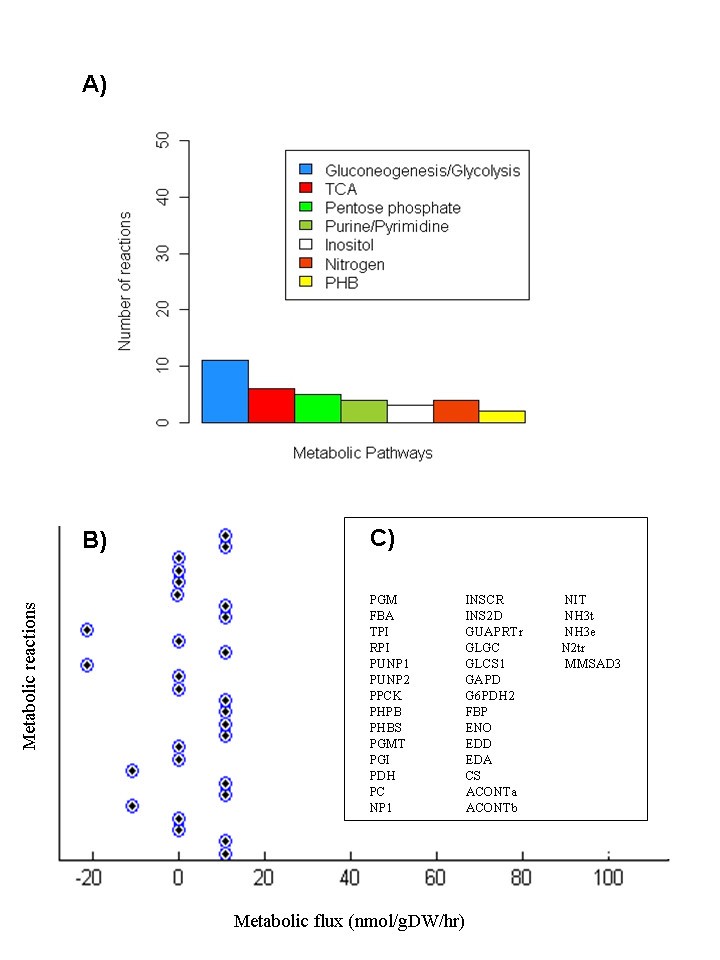 Conclusions
In this study we present a systemic metabolic description of bacterial nitrogen fixation carried out by R. etli in symbiosis with P. vulgaris, at present the most complete study made in Rhizobiaceas. Collectively, high-throughput data suggest the following significant clues: 1) R. etli bacteroids are capable of synthesizing several amino acids through integrated carbon and nitrogen metabolisms. In addition, we observe the participation of some minor metabolic pathways such as myo-inositol catabolic pathway, degradation and synthesis of poly-b-hydroxybutyrate and glycogen. 2) Gene expression in bacteroids suggests the presence of a specialized transport system for sugars, proteins and ions. 3) An antioxidant defense mechanism based on peroxiredoxine, regulated by nifA, prevails during nitrogen fixation, as opposed to in free-living condition, where the mechanism is rooted in catalases [44]. 4) R. etli over-expresses genes and enzymes required in fatty acid and nucleic acid metabolism, contrary to other studies in bacteroids. Finally, 5) this study contributes a computational model that serves as a useful framework for integrating data, designing experiments and predicting the phenotype during bacterial nitrogen fixation, see Figure 3.
This systemic and integrative approach constitutes a valuable effort toward a systems biology description of the metabolism in bacterial nitrogen fixation; however, to increase our understanding and predictive accuracy some issues should be addressed in the future. Thus, particular attention should be directed toward those enzymes that were predicted metabolically active in silico but were not detected experimentally, and conversely, those enzymes that were detected experimentally but not in silico, see Figure 1(E). We expect that the study of these differences will be fundamental in postulating, verifying and uncovering mechanisms of regulation, while simultaneously confirming or improving hypotheses derived through in silico predictions.
Notably, even though the simulations have been carried out without a detailed numerical description of the coefficients c i in the objective function--see methods section--we have shown that the in silico model is capable of qualitatively predicting the activity of classic metabolic pathways and successfully describing some phenotype behavior in bacterial nitrogen fixation. Even though this represents a significant advance toward a systems biology description of bacterial nitrogen fixation, some improvements should be addressed in future. For instance, additional metabolites with a biological role in nitrogen fixation should be considered in order to obtain a more proper objective function that contributes to uncovering the role that less known metabolic pathways, such as nucleotides and fatty acid metabolisms, have on this biological process. As described here, these improvements will be guided by high-throughput data and the cyclic crosstalk between model and theory, a needed step in integrating, interpreting and generating biological hypotheses in a more accurate fashion.
Overall our study contributes to establishing the bases toward a systems biology platform capable of integrating high-throughput technology and computational simulation of bacterial nitrogen fixation. In particular, we envision that this metabolic reconstruction for R. etli (iOR450) will contribute to the rational design of optimal experiments that help us understand biological principles and identify those molecular mechanisms in order to improve this biological process, all this from a systems biology perspective.
Methods
Bacterial strains, growth conditions
The bacterial strain used was R. etli CFN42 wild type [11]. Culture media and growth conditions for R. etli, and plant experiments were accomplished as previously described in reference [45].
Plant experiments
Three-day-old Phaseolus vulgaris cv. Negro Jamapa seedlings were inoculated with R. etli CFN42 strains as previously described by Peralta et al. [46]. After 18 days post-inoculation (dpi), nodules were picked out from the roots, immediately frozen in liquid nitrogen and stored at -70°C until further use. Bacteria were isolated from nodules and their identities verified by their antibiotic resistances.
RNA isolation and microarray hybridization
Microarray experiments were carried out using three independently isolated RNA preparations from independent cultures and set of plants. Approximately 3 g of nodules were immersed in liquid nitrogen and macerated. Total RNA was isolated by acid hot-phenol extraction as described previously by de Vries et al[47]. For microaerobic free-living conditions, 50 ml of bacterial cell cultures were collected and total RNA isolated using a RNeasy Mini Kit (QIAGEN, Hilden, Germany). RNA concentration was determined by measuring the absorbance at 260 nm. The integrity of RNA was determined by running samples on a 1.3% agarose gel. 10 μg of RNA was differentially labeled with Cy3-dCTP and Cy5-dCTP using a CyScribe First-Strand cDNA labeling kit (Amersham Biosciences). Pairs of Cy3- and Cy5-labeled cDNA samples were mixed and hybridized to a Rhizobium_etli_CFN42_6051_v1.0 DNA microarray as described by Hegde et al. [48, 49]. After washing, the arrays were scanned using a pixel size of 10 μm with a Scan Array Lite microarray scanner (Perkin-Elmer, Boston, MA). Three biological replicates with one dye swap were performed. We used real-time quantitative PCR to provide an independent analysis of gene expression for selected genes. Primer sequences and additional experimental protocols are reported in the supplementary material section.
DNA microarray analysis
Spot detection, mean signals, mean local background intensities, image segmentation, and signal quantification were determined for the microarray images using the Array-Pro Analyzer 4.0 software (Media Cybernetics, L.P). Statistical treatment of microarray data was accomplished with bioconductors software (http://www.bioconductor.org/). Specifically, microarray normalization was carried out by applying the maNormMain function in the marray library. MA-plots before and after normalization are depicted in Additional File 5. Having normalized the gene expressions in the three experimental replicates, differentially expressed genes were identified by the following procedure. First, we calculate the average log-ration for each gene obtained from the three experimental replicates. Then, we obtained the standardized z-score of the log-ratio associated to each gene. The set of genes differentially expressed during nitrogen fixation was selected as those genes with a z-score higher than 1.65, see Additional File 5. The complete dataset used in the transcriptome analysis can be downloaded from GEO (http://www.ncbi.nlm.nih.gov/geo) with accession numbers: GPL10081 for Rhizobium etli platform and GSE21638 for free-life and symbiosis data.
Verification by RT-PCR
We used real-time quantitative PCR to provide an independent assessment of gene expression for selected genes. The cDNA used for microarrays or freshly prepared cDNA was used as a template for Real-time PCR. Primer sequences used were as follows: fabI2-RECH000938f (5'-GTA TTG CCA AGG CCA TTC AT-3'), fabI2-RECH000938r (5'-CCC ACA GTT TTT CGA CGT TT-3') for the fabI2 gene. idhA-RECH003170f (5'-TTT CTT CAT GAC CCG CTA CA-3'), idhA-RECH003170r (5'-TTG ATC AGC TTG CCT TCC TT-3') for the idhA gene. ppK-RECH001491f (5'-TCC TGG CAC TGA ACA CTC TG-3'), ppK-RECH001491r (5'-GAG AAG GAA CTG GAC CAC CA- 3') for the ppK gene. hisD-RECH000581f 5'GAT CTG AAG CAA GCC ATT CC 3', hisD-RECH000581r (5'-ACA TAA TCG CCG ATG ACC TC-3') for the hisD gene. nifH-REPD00202f (5'-CCT CGG GCA GAA GAT CCT GA-3'), nifH-REPD00202r (5'-CAT CGC CGA GCA CGT CAT AG-3') for the nifH gene. fixA-REPD00224f (5'-ACA TCA ATG GGC GCG AGA TT-3'), fixA-REPD00224r (5'-TGT CGA TCT GCT CCG CCT TT-3') for the fixA gene. cpxP2-REPD00252f (5'-TCC GTG CCA TTT CAA AGA CC-3'), cpxP2-REPD00252f (5'-CCG CCA AAT GAG AAG ATT GC-3') for the cpxP2 gene. hisC-RE1SP0000233f (5'- CGA TGG CGA GAC AGC TAA AT-3'), hisC-RE1SP0000233r (5'-ATC ATC GCA ACG CTA TCT CC-3') for the hisCd gene. Each reaction contained 12.5 μl SYBR green PCR mastermix (Applied Biosystems), 3.5 μl H2O, forward and reverse primers in a volume of 5 μl, and template in a volume of 4 μl. PCR reactions were run with the ABI Prism 7700 sequence detection system (Applied Biosystems) using the following steps: 50°C for 2 min, 95°C for 10 min, followed by 40 cycles of 95°C for 15 s and 60°C for 1 min. The dissociation protocol was 95°C for 15 s, 60°C for 20 s, followed by ramp from 60°C to 95°C for 20 min. The transcript of the histidinol phosphate aminotransferase protein (hisCd) was used as an internal (unregulated) reference for relative quantification. This gene was selected as a reference because its expression is constitutive in all tested conditions (free live and symbiosis). Results of RT-PCR in real time were analyzed using the ΔΔCT method [49] and the data was presented like relative expression. All reactions were done by triplicate.
Proteomics experiments
Bacteroids purification, protein extraction and two dimensional gel electrophoresis were done as previously described in [44]. Briefly, bacteroids were purified from root nodules by centrifugation through self-generated Percoll gradients. Bacteroid proteins were obtained by sonication at 24 kHz 1 min ON/1 min OFF for 5 cycles at 4°C in a Vibra Cell (Sonics, USA) in the presence of a protease inhibitor (Complete tablets, Roche Diagnostics GmbH, Mannheim, Germany). To further limit proteolysis, protein isolation was performed using phenol extraction. Two dimensional gel electrophoresis (2D-PAGE), was performed like previously described. Gels were stained with Coomasie Blue G-250, scanned with PDI image analysis system, and analyzed with PD-Quest software (Bio-Rad Laboratories, Inc, Hercules, CA.). Selected spots from preparative 2-D gels were excised, digested and the proteins were identified by PMF MALDI-TOF using a Bruker Daltonics Autoflex, following the same methodology mentioned in [44]. The experiments were performed three times. Selected spots from Coomassie stained preparative 2-D gels were excised and processing automatically using the Proteineer SP spot picker and DP digestion robots (Bruker Daltonics, Billerica MA). Mass spectra were obtained using a Bruker Daltonics Autoflex (Bruker Daltonics Bellerica, Mass. USA) operated in the delayed extraction and reflectron mode. Spectra was externally calibrated using a peptide calibration standard (Bruker Daltonics 206095). Peak lists of the tryptic peptide masses were generated using FlexAnalysis1.2vSD1Patch2 (Bruker Daltonics). The search engine MASCOT server 2.0 was used to compare fingerprints against Rhizobium etli CFN42, NC_007761.1, pA, NC_007762.1, pB, NC_007763.1, pC, NC_007764.1, pD, NC_004041.2, pE, NC_007765.1, pF, NC_007766.1 with the following parameters: one missed cleavage allowed, carbamidomethyl cysteine as the fixed modification and oxidation of methionine as the variable modification. We accepted those proteins with scores greater than 50 and a p < 0.05. Proteome data associated with this manuscript can be downloaded from http://ProteomeCommons.org Tranche using the following hash:
BY/eCcVjwTWN1+m+2ArvJ0QVnesGx5Ekgd4wUOASACfm/ueNl7YI3iLf4xz0lnGsepV5LkpMWOQOrZtjYExlNpQkIBcAAAAAAAABjA = =
High-throughput technology and its use for extending metabolic reconstruction and simulating nitrogen fixation
With the purpose of establishing an integrative description between modeling and experimental data, we extended the metabolic reconstruction for R. etli by including those reactions whose enzyme activity were supported by high-throughput data. Thus, the fatty acids metabolism was included in the metabolic reconstruction, and some metabolic improvements were made along the network. Additional File 6 enlist the main abbreviations used along this paper. Additional File 7 in supplementary material contains a detailed description of the reactions included in this new metabolic version (iOR450). Overall, the updated metabolic reconstruction for R.etli consists of 377 metabolites and 450 genes codifying for enzymes participating in 405 metabolic reactions. The gene-protein reaction association for the entire metabolic reconstruction, lower and upper bounds and reversibility information associated to each reaction are shown in Additional File 7.
Constraint-based modeling
Metabolic flux distribution supporting nitrogen fixation in
Rhizobium etli
was predicted
in silico
by constraint-based modeling [
8
]. Briefly, simulations were carried out assuming a steady-state condition for metabolic fluxes and by constructing a mathematical function that mimics nitrogen fixation. This objective function,
Z
Fix
, consists of certain key compounds required for sustaining nitrogen fixation and others required for mimicking the physiological conditions prevailing in the boundaries of the nodules. Thus, objective function was mathematically written as a linear combination of these metabolites (
X
i
) and their contribution to nitrogen fixation was weighted by coefficients (
c
i
), which for simplicity's sake were all selected as a unit. With the purpose of obtaining a computational profile of metabolic fluxes, we assumed that the metabolic state of the bacteroid during nitrogen fixation is one that optimizes the objective function,
Z
Fix
. This latter issue was solved by taking into account linear programming and considering that the fluxes are constrained by their enzymatic and thermodynamic capacities,
where S i,j represents the entries of the stoichiometric matrix, v j is the metabolic flux of the j-th reaction and α j and β j account for thermodynamic and enzymatic constraints, see Additional File 7. Linear programming was carried out using the Tomlab optimization package called from COBRA toolbox in Matlab[25].
External metabolites considered for flux balance analysis
In order to explore the phenotype capacities of the bacteria metabolism, we included in the reconstruction certain exchange and sink reactions for limiting our metabolic modeling and representing the microenvironmental conditions in the plant nodules. In general, these can be classified as one of two categories. Class I includes those metabolites that can be exchanged between the bacteroid membrane and the plant environment. Among them, we included carbon dioxide (CO2), water (H2O), oxygen (O2), malate (mal-L) and glutamate (glu-L). In addition, exchange reactions for nitrogen (n2), alanine (ala-L), aspartate (asp-L), succinate and ammonium (NH4) were included in the reconstruction for representing their possible bidirectional exchange from plant to bacteroids. On the other hand, metabolites in class II include those that contribute to the defining of internal frontiers in the bacteroids. Importantly, these sink reactions were included as a representation of metabolites originating from metabolic processes currently absent in the metabolic reconstruction. Thus, phosphate (pi), myo-inositol (inost), L-histidinol phosphate (hisp), palmitoyl-CoA (pmtcoa), dodecanoyl-CoA (dodecoa), decanoyl-CoA (decoa), octanoyl-CoA (otcoa) and hydrogen (h) fall in this classification.
Definition of consistency coefficient
To assess the agreement between in silico predictions and interpretations suggested by high-throughput data, we defined a consistency coefficient, η Genes , that quantifies the fraction of genes that were predicted upregulated in silico and simultaneously detected or induced by proteome or transcriptome technologies. Simultaneously, we defined a consistency coefficient that quantifies the fraction of proteins enzymatically active that were predicted by constraint-base modeling and confirmed by high-throughput technology, η Enzymes . To proceed with this evaluation, we denoted E j kegg( G j kegg ) as the set of enzymes (genes) that form the j-th metabolic pathways in KEGG database, with j-th ranging from 1 to 22. Similarly, the set of enzymes (genes) that integrates the i-th metabolic pathway in the reconstruction and the set of enzymes detected by high-throughput data are denoted by E j Rec ( G j Rec ) and E j HT ( G j HT ), respectively. Finally, the sets of enzymes and genes obtained from constraint-based modeling were denoted by E j iModel and G j iModel . More specifically, E j iModel and G j iModel sets were defined as those enzymes and genes participating in the active fluxes obtained from flux balance analysis. In order to evaluate and create a proper framework for comparison between in silico predictions and high-throughput data, we defined the consistency coefficient as the fraction of enzymes (genes) that were actively predicted in silico and were identified by high-throughput technology. This can be summed up in the following equations:
Both ratios range from zero to one and constitute our central parameter to assess and quantify the degree of coherence between constraint-based modeling and experimental data.
In silico gene deletion analysis
Computational gene deletion analysis was used to quantify the effects that gene silencing has in supporting bacterial nitrogen fixation. Thus, once the gene to be switched off was selected, we identified its gene-protein reaction association and selected as zero its upper and lower bound in flux activity. Having made this adjustment, we applied flux balance analysis and obtained the new resulting objective function. In order to quantify the participation of this metabolic reaction in bacterial nitrogen fixation, we calculated the percentage of reduced activity of the mutated strain in comparison to the wild type, see Figure 3.
Declarations
Acknowledgements
The authors thank Prof Jaime Mora Head of the Program of Functional Genomics of Prokaryotes at the Center of Genomic Sciences-UNAM for his support and comments. OR-A also thanks to Prof. B.Ø. Palsson for his guiding and encouraging support during the progress of this study. We thank Oliver Castillo, J. L. Zitlalpopoca, and Hadau Sánchez for plant experiments and greenhouse support, and María del Carmen Vargas for technical assistance. Finally, the authors appreciate the valuable comments and suggestions from two anonymous referees during the review process. This work was supported by combined grants from National Council of Science and Technology CONACyT-Mexico, grants 83461 (OR-A) and 60641 (SE), and from PAPIIT-DGAPA-UNAM through grants IN222707 (SE) and IN203809-3 (OR-A).
Authors' Affiliations
(1)
Programa de Genomica Funcional de Procariotes. Centro de Ciencias Genómicas-UNAM, Cuernavaca Morelos, Mexico
Copyright
© Resendis-Antonio et al; licensee BioMed Central Ltd. 2011
This article is published under license to BioMed Central Ltd. This is an Open Access article distributed under the terms of the Creative Commons Attribution License (http://creativecommons.org/licenses/by/2.0), which permits unrestricted use, distribution, and reproduction in any medium, provided the original work is properly cited.