Research article
Open Access
Noise filtering tradeoffs in spatial gradient sensing and cell polarization response
BMC Systems Biology
2011
5:196
Received: 30 August 2011
Accepted: 13 December 2011
Published: 13 December 2011
Abstract
Background
Cells sense chemical spatial gradients and respond by polarizing internal components. This process can be disrupted by gradient noise caused by fluctuations in chemical concentration.
Results
We investigated how external gradient noise affects spatial sensing and response focusing on noise-filtering and the resultant tradeoffs. First, using a coarse-grained mathematical model of gradient-sensing and cell polarity, we characterized three negative consequences of noise: Inhibition of the extent of polarization, degradation of directional accuracy, and production of a noisy output polarization. Next, we explored filtering strategies and discovered that a combination of positive feedback, multiple signaling stages, and time-averaging produced good results. There was an important tradeoff, however, because filtering resulted in slower polarization. Simulations demonstrated that a two-stage filter-amplifier resulted in a balanced outcome. Then, we analyzed the effect of noise on a mechanistic model of yeast cell polarization in response to gradients of mating pheromone. This analysis showed that yeast cells likely also combine the above three filtering mechanisms into a filter-amplifier structure to achieve impressive spatial-noise tolerance, but with the consequence of a slow response time. Further investigation of the amplifier architecture revealed two positive feedback loops, a fast inner and a slow outer, both of which contributed to noise-tolerant polarization. This model also made specific predictions about how orientation performance depended upon the ratio between the gradient slope (signal) and the noise variance. To test these predictions, we performed microfluidics experiments measuring the ability of yeast cells to orient to shallow gradients of mating pheromone. The results of these experiments agreed well with the modeling predictions, demonstrating that yeast cells can sense gradients shallower than 0.1% μm-1, approximately a single receptor-ligand molecule difference between front and back, on par with motile eukaryotic cells.
Conclusions
Spatial noise impedes the extent, accuracy, and smoothness of cell polarization. A combined filtering strategy implemented by a filter-amplifier architecture with slow dynamics was effective. Modeling and experimental data suggest that yeast cells employ these elaborate mechanisms to filter gradient noise resulting in a slow but relatively accurate polarization response.
Keywords
Noise/gradient-sensing/G-protein/cellpolarity/yeast mating
Background
Cells sense and respond to external cues in a noisy environment [1]. These stimuli include light, nutrients, repellents, etc. Cells must filter the signal from noise, process the relevant information, and then mount the appropriate response (e.g. moving, making a projection). For chemical signals such as an attractant, a cell measures not only the absolute concentration but also the changes in concentration with respect to time or space [2, 3]. Noise fluctuations impede the accurate assessment of these signal changes [4].
In bacterial chemotaxis, motile bacteria cells choose the appropriate direction to move by sampling the concentration of attractant at different time points, calculating the temporal difference, and deciding to run in a straight path or to change direction. Berg and Purcell [5] identified diffusive noise (i.e. the fluctuating numbers of ligand molecules diffusing into the vicinity of the cell) as a critical challenge for this system. Several authors [5–7] have determined the properties of an optimal filter for separating signal from noise in temporal sensing.
A different challenge is faced by larger cells that use spatial rather than temporal information to orient to chemical gradients. Examples of such cells include hungry ameoba, patrolling neutrophils, swimming sperm, growing neurons, metastasizing tumor cells, and mating yeast. Spatial sensing entails measuring a difference in the concentration of an external cue between the front and back of the cell. Based on this information, the sensing cell decides whether or not to polarize in the direction of the gradient. Noise in the gradient, caused by Brownian motion, and convection, etc., can provide a substantial challenge to spatial sensing and response (Figure
1A
).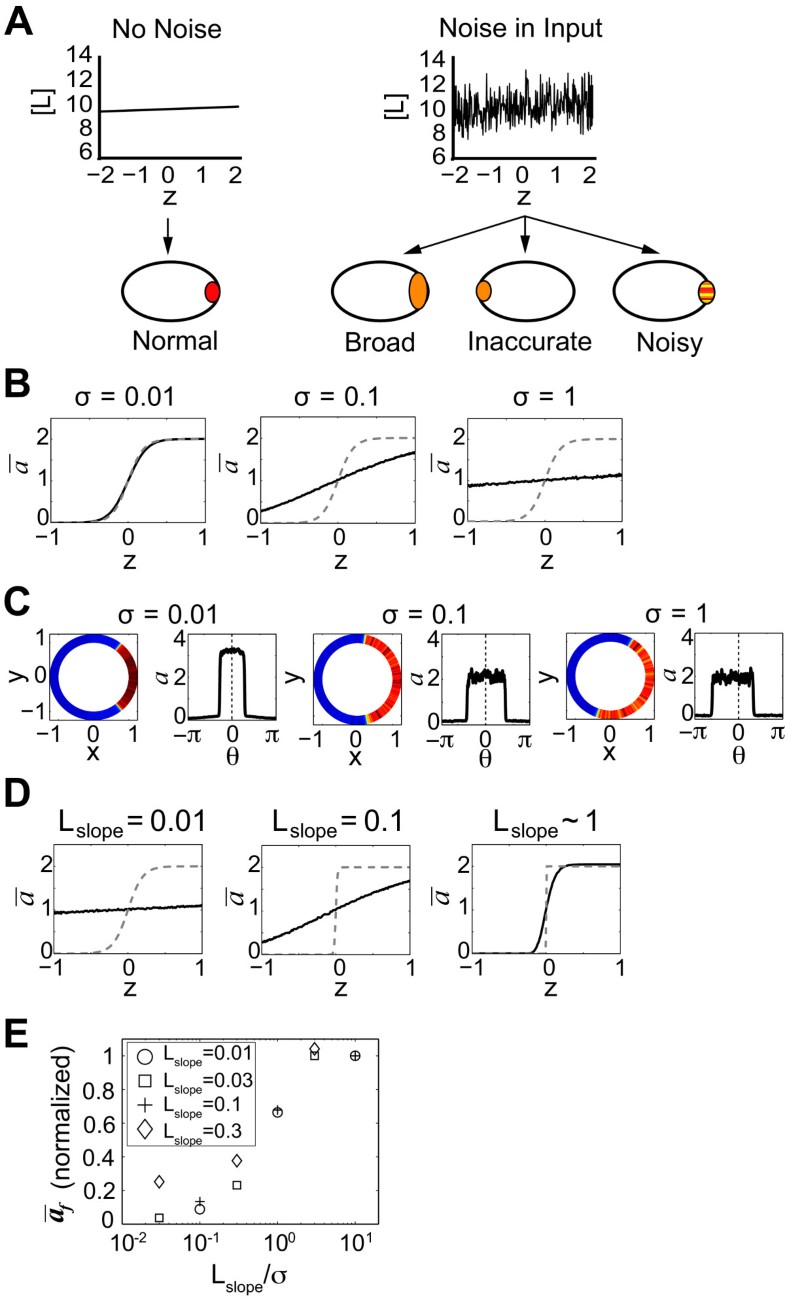 Cell polarization refers to the behavior in which a cell responds to an internal or external cue [8, 9] by localizing components that were previously uniformly distributed. One key aspect of polarization is the amplification needed to convert a shallow external gradient into a steeper internal gradient [10–12]; this allows the cell to respond decisively even to weak or shallow gradients. The danger is that the system may amplify noise instead of signal [13]. Three important properties of effective oriented polarization are tight localization (amplification), directional accuracy (tracking the gradient source), and noise-free output (smoothness) (Figure 1A).
Chemotaxis (moving towards or away from a gradient) involves gradient-sensing, polarization, and further mechanical events, such as the formation of lamellipodia at the leading edge. However, not all cells that sense gradients and respond by polarization are chemotactic. For example, haploid cells of the yeast S. cerevisiae, which are non-motile, can sense an external gradient of mating pheromone and grow a mating projection toward the source; this phenomenon is known as chemotropism. Thus, yeast cells represent pure spatial sensors: they do not move. As with chemotaxing cells, the initial response of yeast cells to a pheromone gradient is polarization, as evidenced by the large number of proteins that localize to the site of the incipient mating projection [14, 15]. Much of the machinery that regulates this process is well-conserved in eukaryotes from yeast to humans, and includes both a heterotrimeric G-protein and the small G-protein Cdc42 [9, 16].
Recently, Endres and Wingren [17] have extended the previous theoretical framework [5, 6] to encompass spatial sensing. They calculated the ability of an immobile sphere to measure a chemical gradient. They showed good agreement between their theory and recent measurements of the gradient-sensing of Dictyostelium cells [2], which are motile. In the study of Dictyostelium, van Haastert and Postma [2] derived an expression for the signal-to-noise ratio (SNR) of sensing a chemical gradient in terms of the slope of the gradient, receptor affinity, integration time, and intracellular noise. In addition, Rappel and Levine [18] used Monte Carlo simulations to estimate receptor-ligand binding noise, a second important noise source, and then applied this noise input to two chemotaxis models. They demonstrated that this noise limited chemotactic efficiency. In a second paper, Fuller et al. [19] further developed an information theoretic measure of chemotactic performance [20] and compared experimental data using Dictyostelium cells to their theoretical bounds showing that at higher concentrations and gradient slopes chemotaxis performance was suboptimal. It is important to note that the above studies focused on chemotactic cells and measured performance by the chemotactic index.
There have been a number of recent results on budding, a yeast polarization behavior that is directed toward an internal cue, the bud scar. One focus has been on the positive feedback loops necessary for budding. Lew and colleagues have demonstrated the importance of the scaffold protein Bem1 [21, 22] which participates in what has been termed the inner positive feedback loop [23]. Li, Altschuler and colleagues have investigated the role of actin-mediated endo/exocytosis directed by Cdc42 on polarized behavior [24, 25], which represents a second outer positive feedback loop. In this paper, the emphasis is on the mating response and the polarization response to an external cue.
Another important branch of the mating pathway is the MAPK (mitogen-activated protein kinase) signaling system [26, 27]. After G-protein activation, free Gβγ recruits the scaffold protein Ste5, which tethers the members of the MAPK cascade to the membrane. As a result, the MAPKs Fus3 and Kss1 become activated. They phosphorylate the trancription factor Ste12 triggering the mating transcriptional program inducing the production of morphology proteins such Fus1 [28], and the directed transport of mating proteins to the projection.
Here, we investigated how gradient noise affects spatial sensing and response; we used a generic model as a basis for numerical analysis, and then a yeast mechanistic model along with experiments to support our points. We focused on cell polarity and the challenge of amplifying a shallow, noisy input gradient to produce a tightly localized, directionally accurate, and relatively noise-free output polarization. We explored various noise filtering strategies and their tradeoffs in both gradient-sensing and the polarization response. We performed detailed simulations that characterized in a more quantitative fashion the balancing of the tradeoffs, and carried out microfluidics experiments that produced data consistent with the simulations. We concluded that yeast cells combine different noise filtering approaches resulting in a slow but accurate polarization response.
Discussion
In this work, we performed mathematical modeling to investigate the effects of input spatial noise on cell polarization. Using a generic model of cell polarity, we demonstrated that input noise impeded the extent, accuracy, and smoothness of polarization. A key determinant was the ratio of the gradient slope (signal) to the noise magnitude. Different modes of amplification (ultrasensitive NPF versus positive feedback) exhibited different sensitivities to noise. For example, in the NPF models, it was possible to obtain accurate sensing but poor polarization amplification, whereas models possessing strong positive feedback produced potent polarization but inaccurate directional sensing under high noise conditions.
We explored noise-filtering strategies including time-averaging, multiple stages, and positive feedback, and described the tradeoff between filtering and response time. In the presence of noise, spatial amplification by positive feedback produced better polarization than amplification by an ultrasensitive mechanism. A good strategy was having a filter stage followed by a positive feedback stage, both possessing slow spatial dynamics. Our model of yeast cell polarity possessed this structure with the heterotrimeric G-protein cycle acting as the filter and the Cdc42 system acting as the amplifier resulting in a slow two-module filter-amplifier architecture [38]. In the future, it will be important to explore more input conditions, parameter values, and model structures by simulation, as well as develop the theory explaining the nature of the tradeoffs, and define hard constraints.
This work extends previous research on noise affecting cellular chemotaxis [2, 5, 6, 17], but in the context of a pure spatial sensor that does not move. Cell polarization and the amplification of a shallow external gradient to a steeper internal gradient apply to both motile and immotile cells. As we note (Additional file 1), there is a close relationship between the chemotactic index and the cos(θ) measure of polarity. In the future, we would like to combine the different aspects of cell polarity - extent, direction, and smoothness - into a single measure.
We examined the minimum gradient slope that could be sensed by a spatial sensor in the presence of noise and produce a directional polarization response. We demonstrated that ligand noise places a severe limitation on the accuracy of the cell projection. Importantly, the key statistic was the ratio between the gradient slope (signal) and the noise variance. Thus, the noise places a limit on how shallow of a gradient a cell can sense and respond to accurately. Indeed, we found that wild-type yeast cells could project, albeit with imperfect accuracy, in a 0.1% μm-1 gradient, which is close to the limit determined from the modeling. This value compares favorably to the chemical gradients that other chemotactic systems such as Dictyostelium [2] and neurons [33] can sense, and corresponds roughly to sensing a single receptor-ligand molecule difference front versus back.
The ability to sense the direction of gradients as shallow as 0.1% μm-1 represents a challenging behavior. An important physiological requirement, which is not explicitly modeled in this paper, is that the magnitude of internal noise is small relative to external ligand noise, so that internal stochasticity does not interfere with gradient-sensing. One expectation is that there are large numbers of proteins in the system to minimize random reaction fluctuations. Indeed that is the case for the heterotrimeric G-protein cycle; there are approximately 10,000 receptors/cell as well as 10,000 G-protein subunits per cell [44].
From an evolutionary perspective, this extremely sensitive gradient-sensing may be useful when mating partners are separated by long distances. For example, assuming a point source emitting a 1 μM concentration of α-factor at a rate of 1 × 10-8 ml/s (from a micropipette or clump of cells), the concentration at 1 mm would be ~10 nM with a slope of ~0.1% μm-1 [32]. Although an individual cell could not project this distance to a mating partner, the cell could undergo pheromone-gradient directed filamentous growth [53] so that eventually one of its offspring could reach the source.
The work of Brandman et al. [23] highlighted the role of interlocked positive feedback loops on noise attenuation. Here we examined the implications in a spatial model, and the simulations showed that both feedback loops were necessary for proper polarization with the inner loop acting as the primary amplifier and the outer loop acting to maintain the polarization in a single location on a slower time-scale. Thus, the basic message in the spatial setting with interlocked positive feedback loops is that they reinforce each other to achieve a noise-tolerant polarization response.
Our results suggest the yeast cells have been optimized for cell polarity in spatial gradients. From the modeling we expect that a pure spatial sensor like yeast should polarize slowly in order to filter external noise, and we predict mutants that polarize faster should be less accurate. Conversely, one expects that at slower time scales the accuracy would be improved, and indeed, projection accuracy improves over time [52].
In this research we did not include internal noise in the simulations. The goal was to focus on the constraints placed by the external gradient noise. In the future, we plan to explore the impact on cell polarity of receptor-ligand binding noise, as well as internal signaling noise. For the yeast model, we estimated that the combination of external ligand noise and receptor-ligand binding noise, which is expected to increase the total noise on receptor-ligand (RL) levels, was still within the magnitude of noise values studied here. It would be interesting to compare the magnitude of the internal noise versus the external noise, and the problems as well as benefits created by this internal stochasticity on cell polarity.
Finally, we would like to add improvements to the yeast model for future research. In particular, it is important to include missing dynamics such as MAPK signaling [51, 54, 55]. It will be interesting to explore integrating a spatial model of the MAPK pathway [56] with the spatial dynamics of G-protein and Cdc42 signaling in the current model.
Conclusions
Below we outline the main conclusions of this paper:
Noise in the input spatial gradient inhibits three aspects of cell polarization: Extent, directional accuracy, and smoothness. The signal-to-noise ratio can be represented as the slope of the gradient to the magnitude of the noise. This research represents the first attempt to use simulations in a generic fashion to dissect these effects more quantitatively.
There are three basic noise-filtering strategies: Positive feedback, multiple stages, and time-averaging. We explored the magnitude of their benefits individually and in combination. A systematic analysis of noise-filtering strategies has not previously been applied to the cell polarity problem.
There was a fundamental tradeoff between noise-filtering and the speed of the polarization response. A filter-amplifier structure in which an NPF stage is followed by a PF stage did the best job of balancing this tradeoff. In the context of cell polarity, we used simulations to explore this tradeoff with respect to different architectures, which was novel.
Our mechanistic model of yeast pheromone-induced cell polarity revealed this filter-amplifier structure with the heterotrimeric G-protein cycle system representing the filter stage and the Cdc42 cycle representing the amplifier stage.
The yeast system contains two positive feedback loops and both are essential for robust polarization in the presence of noise. Through simulations and experiments we demonstrated that the inner loop (Cdc24-Cdc42-Bem1) represents the principal amplifier stage. The slow outer loop helps to maintain the polarization in a single location by slow amplification of the first stage. Thus, the two interlocking positive feedback loops create a special dynamic that was not explored in previous work investigating non-spatial models of the system.
Finally, we showed how noise places limits on the directional accuracy of polarization. Microfluidics experiments demonstrated that yeast cells are able to sense the direction of very shallow gradients albeit imperfectly. The observed limits are close to those predicted from simulations of our model. The single receptor-ligand molecule spatial sensitivity is comparable to that of other eukaryotic gradient-sensing systems.
Methods
PDE simulations and noise model
The external noise is assumed to be spatially uncorrelated, and so noise at each spatial point was generated by selecting independent and identically distributed stationary random variables at a given time step. We used either a normal or log-normal distribution with mean 0 and standard deviation σ. The log-normal distribution was used when σ was large compared to L mid to prevent negative input values. The two distributions produced approximately the same effect on polarization on control simulations of the NPF model.
Because of computational discretization, noise was added at each grid point on the cell surface at a specified time interval. We explored a range of spatial resolutions (k x = 40 to 200 grid points) and temporal resolutions (noise time step k t = 0.001 to 1 s) and found only minor differences in control simulations. We chose as the default values k x = 200 and k t = 0.01 s.
The solutions were typically observed at a time long enough ("steady-state") for all the variables at each spatial point to reach an approximately invariant distribution. To estimate the stationary distribution from one simulation, 10000 samples were taken over a time interval of 100 s at each spatial point, and the mean and standard deviation were calculated.
Mathematical models
The generic models and yeast mechanistic models were derived from Chou et al. [12]. More details are provided in Additional file 1.
Monte Carlo estimation of directional accuracy
To estimate statistically how the system behaves under noise with respect to directional accuracy, we performed Monte Carlo simulations, which is a repeated computation of the stochastic models. In this paper, the number of the samplings in the Monte Carlo simulations ranged from 20 to 40. Each sampling simulation was run until the system reached an invariant distribution, and the mean and variance were calculated over the solutions. The polarization direction was calculated from the center of mass of the polarized species (active Cdc42).
Strains
Standard methods for yeast genetic and molecular biology techniques were performed [57]. The strain genotypes are listed in Table S1. Yeast cells were cultured in rich YPD media supplemented with adenine (YPAD).
Time-lapse imaging
To observe single cells, exponentially growing cells were treated with 20 nM α-factor for 1 hour and then imaged live every minute on concanavalin A treated slides for 10 min. The prepared slides were observed using a Nikon ECLIPSE TE300 inverted microscope.
Microfluidics
As previously described, we used a standard Y-chamber microfluidics device to generate the α-factor spatial gradients [52]. The device was 800 μm in width, which was divided into 8 regions. The cells were subjected to α-factor gradients for 5 h, and for the projection directional accuracy measurements, cells located in the middle regions 4 and 5 were assessed (L mid = 0.5·(Lmax + Lmin), L slp = 0.0025·(Lmax - Lmin) μm-1).
Declarations
Acknowledgements
We thank our colleagues in the Yi and Nie labs for their comments and suggestions. This work was partially supported by NIH grants R01GM75309, R01GM67247, P50GM76516 and NSF grant DMS-0917492. CSC is supported by NSF DMS-1020625.
Authors' Affiliations
(1)
Department of Mathematics, The Ohio State University, Columbus, USA
(2)
Center for Mathematical and Computational Biology Center for Complex Biological Systems Department of Mathematics University of California, Irvine Irvine, USA
(3)
Center for Complex Biological Systems Department of Developmental and Cell Biology University of California, Irvine Irvine, USA
(4)
Tau-Mu Yi Assistant Professor of Developmental and Cell Biology 2011 Biological Sciences III University of California, Irvine Irvine, USA
Copyright
© Chou et al; licensee BioMed Central Ltd. 2011
This article is published under license to BioMed Central Ltd. This is an Open Access article distributed under the terms of the Creative Commons Attribution License (http://creativecommons.org/licenses/by/2.0), which permits unrestricted use, distribution, and reproduction in any medium, provided the original work is properly cited.