Knowledge management for systems biology a general and visually driven framework applied to translational medicine
BMC Systems Biology
2011
5:38
Received: 14 June 2010
Accepted: 5 March 2011
Published: 5 March 2011
Abstract
Background
To enhance our understanding of complex biological systems like diseases we need to put all of the available data into context and use this to detect relations, pattern and rules which allow predictive hypotheses to be defined. Life science has become a data rich science with information about the behaviour of millions of entities like genes, chemical compounds, diseases, cell types and organs, which are organised in many different databases and/or spread throughout the literature. Existing knowledge such as genotype - phenotype relations or signal transduction pathways must be semantically integrated and dynamically organised into structured networks that are connected with clinical and experimental data. Different approaches to this challenge exist but so far none has proven entirely satisfactory.
Results
To address this challenge we previously developed a generic knowledge management framework, BioXM™, which allows the dynamic, graphic generation of domain specific knowledge representation models based on specific objects and their relations supporting annotations and ontologies. Here we demonstrate the utility of BioXM for knowledge management in systems biology as part of the EU FP6 BioBridge project on translational approaches to chronic diseases. From clinical and experimental data, text-mining results and public databases we generate a chronic obstructive pulmonary disease (COPD) knowledge base and demonstrate its use by mining specific molecular networks together with integrated clinical and experimental data.
Conclusions
We generate the first semantically integrated COPD specific public knowledge base and find that for the integration of clinical and experimental data with pre-existing knowledge the configuration based set-up enabled by BioXM reduced implementation time and effort for the knowledge base compared to similar systems implemented as classical software development projects. The knowledgebase enables the retrieval of sub-networks including protein-protein interaction, pathway, gene - disease and gene - compound data which are used for subsequent data analysis, modelling and simulation. Pre-structured queries and reports enhance usability; establishing their use in everyday clinical settings requires further simplification with a browser based interface which is currently under development.
Keywords
Chronic Obstructive Pulmonary DiseaseKnowledge ManagementSynthetic BiologySemantic NetworkSemantic Concept
Background
In biological or clinical research the creation of knowledge, here defined as "the realisation and understanding of patterns and their implications existing in information" relies on data mining. This in turn requires the collection and integration of a diverse set of up-to-date data and the associated context i.e. information. These sets include unstructured information from the literature, specifically extracted information from the multitude of available databases, experimental data from "-omics" platforms as well as phenotype information and clinical data. Although a large amount of information is stored in numerous different databases (the 2010 NAR database issue listing more than 1200 [1]) even more is still embedded in unstructured free text. Over the last 15 years a large number of methods and software tools have been developed to integrate aspects of biological knowledge such as signalling pathways or functional annotation with experimental data. However, it has proven extremely difficult to couple true semantic integration (i.e. the mapping of equivalent meaning and objects) across all information types relevant in a life science project with a flexible and extendible data model, robustness against structural changes in services and data, transparent usage, and low set-up and maintenance requirements (see [2] for an excellent recent review). In principle this difficulty arises from the high complexity of life science data, which is partly an artefact of the fragmented landscape of data sources but also stems from reasons integral to the life sciences. The ever extending "parts-list of life" itself already offers an astounding number of object classes, from the molecular to the organism, even if common naming/identifier and definitions could be agreed upon. In addition experimental data can only be interpreted in the context of the exact identity of the experimental sample, the samples environment, the samples processing and the processing and quality of the generated data. Even more than the occasional extension of the "parts-list" from our growing knowledge, technical development continually generates new data types, processing methods and experimental conditions. While life science projects in general will (hopefully) share some concepts, almost each one will require some individual adjustment to integrate and view the relevant information. Therefore an optimal data integration approach will ensure that the data model can be based on existing concepts (ideally ontological i.e. controlled, structured vocabulary) yet remains flexible and extendible by the advanced user. In this respect today's most successful (i.e. widely used) data integration approaches such as SRS [3] or Entrez [4] show only weak, cross-reference based data integration without semantic mapping to a common concept (categorised as link/index integration by Köhler [5] and Stein [6]). They depend on pairwise mappings between individual database entries provided by the data source e.g. from a protein sequence entry to the corresponding transcript, the mappings lack semantic meaning i.e. the notion that a protein is expressed from a gene can not be stated or queried. Additional processing and data mapping is required to answer even simple questions such as "which molecular mechanisms are known to be involved in the pathology of chronic obstructive pulmonary disease ?". Currently custom-developed data warehouses such as Atlas [7], BIOZON [8] or BioGateway [9], are the most common technical concept to achieve full semantic integration (in public and industry projects). While these are ideally suited to answer complex queries their inflexible and pre-determined data model and the necessary, often difficult, data synchronisation result in high set-up and maintenance costs. Further, adaptation of such data warehouses structure to an ever changing environment or requirements are difficult at best [6]. Fortunately, as more data sources start to adopt semantic web representations such as OWL [10] and RDF [11] maintenance for semantic mappings becomes less of an issue as concomitantly to adopting a common language to transport semantics many data sources also standardise the semantics they provide such as using common entity references and ontologies.
An optimisation, at least regarding data synchronisation, has been to present a semantically fully integrated view of the data while the underlying data is assembled on-the-fly from distributed sources using a coherent data model and semantic mappings [12, 13] (categorised as federation/view integration by Köhler and Stein [5, 6]). Details of this approach vary widely. The ad-hoc data assembly process can be provided by home made scripts or, more recently, using workflow engines such as Taverna [14]. The data model can be programmed with a specific language as in Kleisli [15] or may make use of standard ontologies as with TAMBIS [16]. Semantic mapping to the common concept can be produced by a view providing environment, such as BioMediator [17] and the Bio2RDF project [18], or can come from individual integrated data sources. In the latter case the data sources either provide such mappings voluntarily, working for the common good of the "semantic web" [19] or are forced to do so by a closed application environment such as caBIG [20], Gen2Phen/PaGE-OM [12, 21] or GMOD [22]. While conceptually elegant, these approaches have some disadvantages: the start-up costs are quite high (e.g. [13, 23]), the performance is determined by the slowest, least stable of the integrated resources, complex queries result in large joins which are hard to optimise, and data models are often hard to extend. Ad-hoc desktop data integration and visualisation tools such as Cytoscape [24], Osprey [25] or ONDEX [26] on the other hand combine excellent flexibility with good performance due to local data storage, however they do not allow large scale knowledge bases to be collaboratively generated, managed and shared.
Another issue, which is only partially addressed by current data integration solutions, is the need to organise not only public information but project-specific knowledge and data, keep it private or partially private for some time, store and connect experimental results and corresponding metainformation about materials and methods and, if eventually verified, merge it into the pool of common knowledge. This may for example take the form of an existing signal transduction pathway which is privately extended with new members or connections. The extension is then published and discussed within a specific project until it is accepted as common knowledge. While data resources such as GEO provide the option to keep submitted data private for some time, they generally do not allow existing knowledge to be extended as described above or allow existing data to be annotated with private or public comments.
Our challenge was to develop a knowledge management environment that achieves several goals: focus on the management of project-specific knowledge; ease data model generation and extension; provide completely flexible data integration and reporting methods combined with intuitive visual navigation and query generation; and address the issues of set-up and maintenance cost.
To do so we chose to apply different aspects of the approaches described above. In the next sections we describe the creation of a knowledge base for chronic diseases based on the BioXM software platform that efficiently models complex research environments with a flexible management, query and reporting interface which automatically adapts to the conceptualisation of the modelled information.
Implementation
The BioXM rationale
BioXM has been developed around the concept of object-oriented semantic integration. In this concept semantically identical objects, which represent information about the same real world object, and the meanings of associations between these objects are identified and mapped based on data and descriptive metainformation [27]. In the life sciences this mostly concerns the mapping of biological entities and descriptive data from literature and databases to common instances of objects like genes, phenotypes or patients., Associations between the entities are mapped as relations (e.g. compound X inhibits protein A) and object - relation information is contextually structured (e.g. gene B expressed in tissue Z at time T after application of compound X). Based on objects as nodes (in BioXM called "elements") and relations as edges a "semantic network" which provides semantic information about the connection between participating object instances can be generated.
To enable the extraction of knowledge from integrated information the definition of a protein complex through a series of associations (i.e. "Protein A
participates_in_complex
Complex B") should be supplemented by evidence
why, when
and
where
Protein A participates in Complex B and how we know about it. In BioXM any associated information not represented directly as object or relation can be stored as "annotation" or as a special, performance optimised type "experiment" for high-throughput data. Such evidence may constrain the association to certain conditions e.g. "ProteinA
interacts with
ProteinB during cell cycle phase M". Sub-sections of the semantic network which are true only in specific conditions are modelled as "context". These elementary concepts, "elements", "relations", "annotations" and "contexts" can be defined freely or use existing structured, controlled vocabularies (ontologies). Due to this flexibility when configuring the data model, it becomes possible to formalise huge networks of knowledge (see Figure
1
and Data model configuration) even when concepts as diverse as molecular processes, disease phenotypes or clinical information about patients are concerned. These
complex semantic networks of relationships
allow one to detect connections, extract patterns and answer complex questions like: "Which drugs are known to interact with the over-expressed genes of patient A and have been shown to influence the patients cancer type in a clinical trial?" or "retrieve all inflammation related human genes which interact (physically or functionally) with the metabolic enzymes in skeletal muscle which are affected by COPD".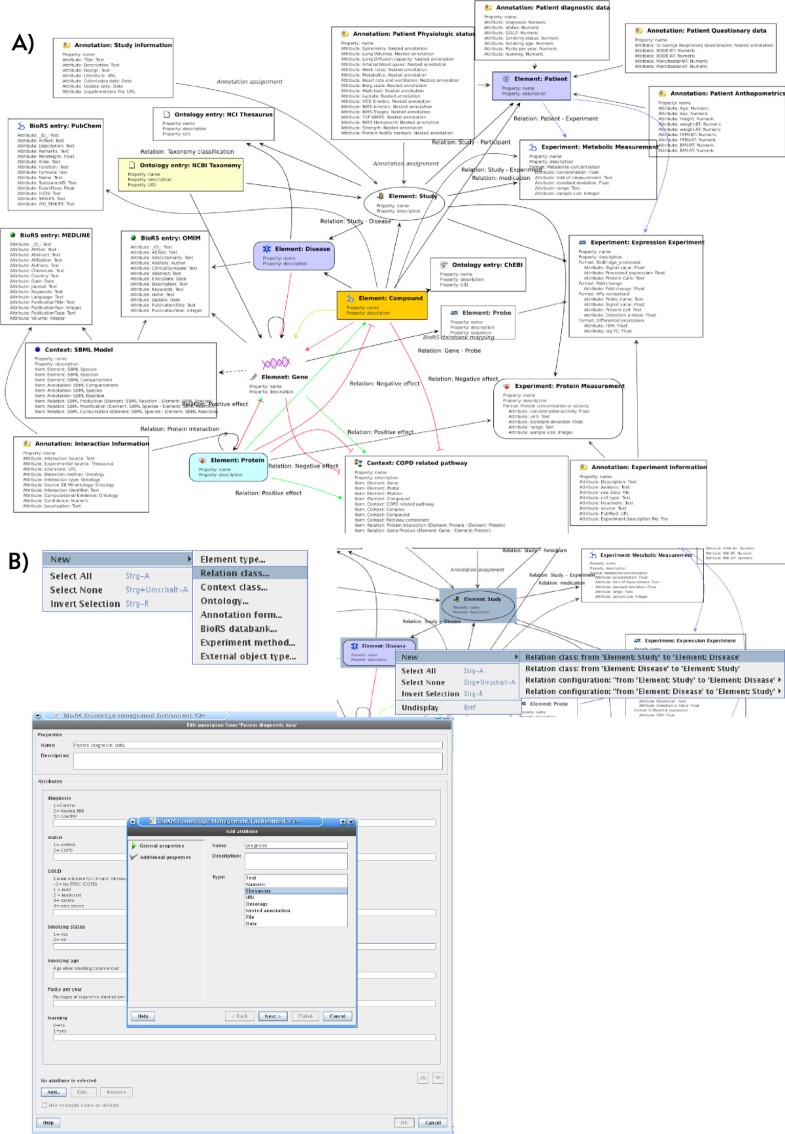 Strong usability is a pre-requisite for user acceptance of any knowledge management system and is approached in several ways in BioXM. The data model itself can be generated graphically and, based on project requirements and processes, may start as a simple sketch converted into a concept map. Parts of the concept map may develop into complex ontologies as discussion and collaboration with the user community extend quick ad-hoc sketched concepts iteratively into precisely defined and structured vocabularies. While not providing an environment for formal ontology development and evaluation such as Protege [
28
], BioXM allows ontologies to be used for knowledge representation and supports importing, integrating, editing and exporting ontologies. To optimise performance, storage and maintenance resources, data can be managed alternatively within an underlying relational database or be seamlessly integrated from external data sources (i.e. from a users point of view no difference is made between internal and external data). This combines the advantages of a data-warehouse-based deep integration with the low maintenance costs of a federated environment. External information can be incorporated by using the embedded BioRS™Integration and Retrieval System [
29
] or by directly accessing external objects from e.g. a relational database, a web service or a software application. Integration of the external resource is achieved by XML based registration of the application interface into BioXM. The registration must contain information about the actual programmatic access to the application and the attributes made available. Registered objects become directly available within the graphical data model viewer where they can be mapped in the same way as internal objects (see Data model configuration). External information can serve either as "virtual" semantic objects, or as "read-only" annotation of semantic objects. Read-only annotations add information to any object, relation or other annotation; the information remains within the external data source and is read by the BioXM system on-the-fly but not modified. "Virtual semantic objects" can be organized in the project tree, can become part of a network, and can be annotated by the user like any other object. However, in contrast to BioXM internal objects they can not be changed e.g. renamed and the available search functions and performance depend on the implemented interface and features of the external source. Any change in content in the original data source will become visible in BioXM immediately while full control of the business logic of publishing the objects and associated information remains with the external source. To access the data BioXM provides visual browsing of the knowledge network (Figure
2
) as well as "natural language like" data mapping and query wizards (Figure
3
) which automatically adapt to the changes of a given data model. The system thus enables scientists to create knowledge networks with flexible workflows for handling data and information types, including annotation and ontologies. In this way research projects can be modelled and extended dynamically to ultimately gain an adequate understanding of whole biological systems. As we are aware of the many issues associated with metainformation based identification of semantically identical objects we do not aim to provide an overall algorithmic solution to these but rather a framework which supports different mapping methods (see Populating the data model) and solves the organisation and use of the resulting semantic network.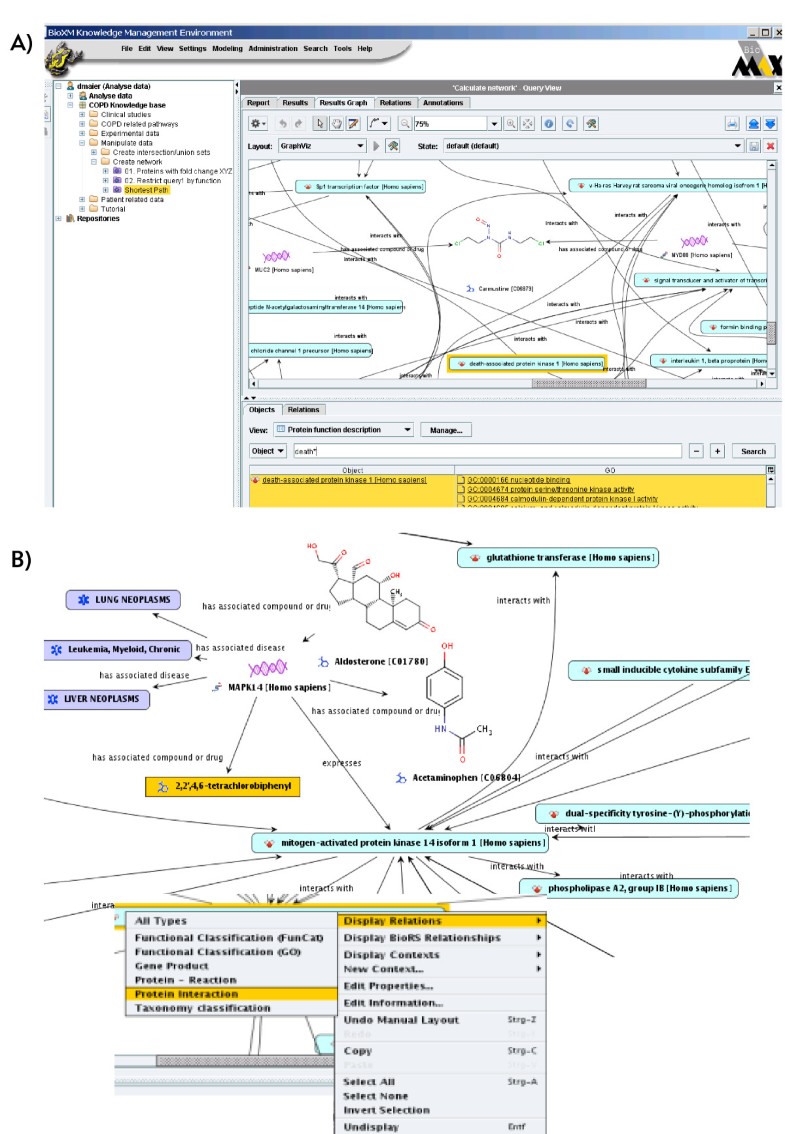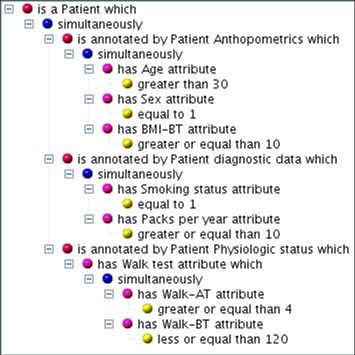 Software Implementation
Details about the technical implementation of the BioXM software have been published elsewhere [30] and are only briefly summarised here.
BioXM is implemented as a platform-independent Java client-server application. The client Java application downloads as a Webstart package and can be started from any Browser (requires pre-installed Java 6.0.4 or newer). The server application has a modular architecture (see Figure
4
). The resource and user management module allows control and restriction of user rights to view or modify certain data or parts of the data model. A complete audit trail for all entities and their relations is logged and supports secure data management. The application uses a relational database management system as backend (currently supports MySQL and Oracle). A Hibernate layer is employed for object-relation modelling. Therefore the database scheme is generic, containing the information about the object oriented data model as content. The command line and the SOAP web service application-programming interfaces (API) allow to integrate BioXM into larger bioinformatic infrastructures. Based on these APIs external applications such as BLAST [
31
] or network search algorithms are integrated. A plugin for the R statistics language
http://www.r-project.org/
allows to access BioXM data directly from within the R interface and also to integrate any R method transparently as native BioXM views or analyses.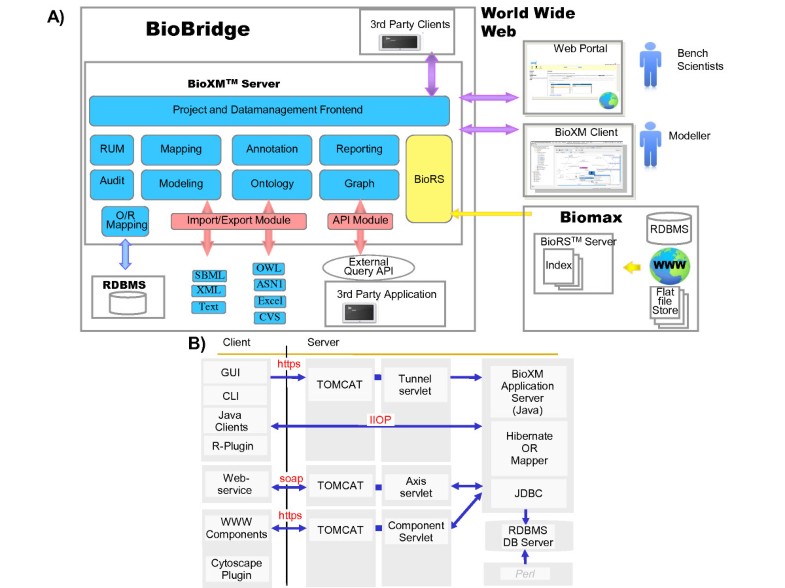 Results
The EU FP6 BioBridge Systems Medicine project http://www.biobridge.eu focused on the integration of genomics and chronic disease phenotype data with modelling and simulation tools for clinicians to support understanding, diagnosis and therapy of chronic diseases. We have configured and extended the generic BioXM knowledge management environment to create the knowledge base for this translational system biology approach, focusing on chronic obstructive pulmonary disease (COPD) as an initial use case.
Conclusions
While the promises of the Semantic Web continue to creep slowly into existence [46] individual projects need immediate, adaptable solutions which allow project specific knowledge conceptualisations to be set-up with low start-up cost and the flexibility to extend, standardise and exchange their data and knowledge. Using a generic knowledge management framework we were able to configure and populate a productively used, project specific systems biology knowledge base within 6 month with similar, software development based integration projects being reported to take between 2-5 years [13, 23]. The COPD knowledge base, set-up as the central knowledge management resource of the BioBridge project, provides a free, comprehensive, easy to use resource for all COPD related clinical research and will be continuously extended aiming to generate the definitive resource on clinical research in COPD. More broadly our configuration based approach to semantic integration is generally applicable to close the knowledge management gap between public and project specific data affecting a large number of current systems biology and high-throughput data dependent clinical research projects. To bridge the gap between the current user interface, tuned to suit experienced, frequent users, and everyday clinical application the BioBridge project developed a simplified web portal interface for a number of use-cases. Based on the feedback from clinical users we recently developed a Foswiki [47] plug in for BioXM which unifies the simple set-up of a Wiki with the knowledge management functions. From this we will develop a browser based portal as the primary access to the COPD knowledge base. Future directions include: support of additional structured languages for import and export such as BioPAX [48]and CellML [49]; development of a workflow framework for data analysis and integration of algorithmic methods for semantic mapping.
Availability and requirements
The BioBridge COPD knowledge base as a data resource is freely available to academic users (requires pre-installed Java 6.0.4 or newer). Upon request to DM the BioXM software application itself can be made available for academic PhD research projects within the Biomax BioXM PhD collaboration programme.
Declarations
Acknowledgements
We thank all the members of the BioBridge team for valuable discussions on the data model and their evaluation of BioXM. This work was supported by the European Commission (FP6) BioBridge LSHG-CT-2006-037939. We thank the unknown reviewers for their very valuable suggestions and criticism which helped to clarify and structure the manuscript.
Authors' Affiliations
(1)
Biomax Informatics AG, Planegg, Germany
(2)
Hospital Clinic-IDIBAPS-CIBERES, Universitat de Barcelona, Barcelona, Spain
(3)
School of Biosciences and Institute of Biomedical Research (IBR), University of Birmingham, Birmingham, UK
(4)
Departament de Bioquimica i Biologia Molecular, Institut de Biomedicina at Universitat de Barcelona IBUB and IDIBAPS-Hospital Clinic, Barcelona, Spain
(5)
Computational Biochemistry and Biophysics lab, Research Unit on Biomedical Informatics (GRIB) of IMIM/UPF, Parc de Recerca Biomdica de Barcelona (PRBB), Barcelona, Spain
Copyright
© Maier et al; licensee BioMed Central Ltd. 2011
This article is published under license to BioMed Central Ltd. This is an Open Access article distributed under the terms of the Creative Commons Attribution License (http://creativecommons.org/licenses/by/2.0), which permits unrestricted use, distribution, and reproduction in any medium, provided the original work is properly cited.