Research article
Open Access
Integration of breast cancer gene signatures based on graph centrality
BMC Systems Biology
2011
5(Suppl 3):S10
Published: 23 December 2011
Abstract
Background
Various gene-expression signatures for breast cancer are available for the prediction of clinical outcome. However due to small overlap between different signatures, it is challenging to integrate existing disjoint signatures to provide a unified insight on the association between gene expression and clinical outcome.
Results
In this paper, we propose a method to integrate different breast cancer gene signatures by using graph centrality in a context-constrained protein interaction network (PIN). The context-constrained PIN for breast cancer is built by integrating complete PIN and various gene signatures reported in literatures. Then, we use graph centralities to quantify the importance of genes to breast cancer. Finally, we get reliable gene signatures that are consisted by the genes with high graph centrality. The genes which are well-known breast cancer genes, such as TP53 and BRCA1, are ranked extremely high in our results. Compared with previous results by functional enrichment analysis, graph centralities, especially the eigenvector centrality and subgraph centrality, based gene signatures are more tightly related to breast cancer. We validate these signatures on genome-wide microarray dataset and found strong association between the expression of these signature genes and pathologic parameters.
Conclusions
In summary, graph centralities provide a novel way to connect different cancer signatures and to understand the mechanism of relationship between gene expression and clinical outcome of breast cancer. Moreover, this method is not only can be used on breast cancer, but also can be used on other gene expression related diseases and drug studies.
Keywords
Breast CancerGene OntologyGene SignatureBetweenness CentralityProtein Interaction Network
Background
A gene signature is a group of genes whose expression pattern represents the status of a gene expression disease [1]. By using the microarray technology, which has developed rapidly in last ten years, various gene signatures are developed for various complex diseases, especially the cancer. Since researchers found that gene-expression signatures are able to predict clinical outcome of breast cancer in 2002 [2, 3], it have become a hot topic and attracted the attention of both biologists and oncologists. Signatures for various phenotypes, such as poor prognosis [3], invasiveness [4], recurrence [5], and metastasis [6, 7], have been experimentally derived from patient groups and biological hypotheses. However, distinct signatures share very few genes, even though they paradoxically occupy a common prognosis space. For both cancer biologists and oncologists, a critical problem is whether these disjoint genetic signatures can provide a unified insight on the relationship between gene expression and clinical outcome.
Obviously, complex heterogeneity of signatures caused by different probe design, different platforms, or inadequate patient samples, becomes an obstacle when trying to integrate various signatures of breast cancer. Gene Ontology enrichment, pathway analysis, and some genome-scale methods are proposed to explain the lack of overlap [
8
–
10
]. In literature [
8
], the authors list five possible explanations for the small overlap between signatures:
1.

Heterogeneity in expression due to different platform technologies and references;

2.

Differences in supervised protocols with which signatures are extracted;

3.

Although the genes are not exactly the same, they represent the same set of pathways;

4.

Differences in clinical composition between datasets (i.e. sample heterogeneity);

5.

Small sample size problems that cause inaccurate signatures.
Through a large-scale analysis that performed on 947 breast cancer samples from Affymetrix platform, the authors of literature [8] conclude that the small signature overlap is most likely due to small sample size problem (explanation 5). However, the conclusion might be specific to the datasets and the specific techniques used in their work. By comparison of three prognostic gene expression signatures for breast cancer, literature [9] suggested that the small overlap between the different prognostic gene signatures is because these different signatures represented largely overlapping biological processes (explanation 3). By taking into account the biological knowledge that exists among different signatures, the authors of [10] found that different signatures are similar at biological level, rather than gene level (explanation 3). Much work has been done in an effort to understand the small overlap between gene signatures, but so far there is no widely accepted explanation.
Meanwhile, computational biologists have developed Protein Interaction Networks(PIN) that effectively have been used to analyze protein interactions underpinning share sub-phenotypes among otherwise seemingly disparate disease, such as retinitis pigmentosa, epithelial ovarian cancer, inflammatory bowel disease, amyotrophic lateral sclerosis, Alzheimer disease, type 2 diabetes, coronary heart disease [11] and head and neck tumor metastasis [12]. For an individual expression signature in breast cancer, protein interaction networks are successfully used to predict prognosis [13] and detect subnetwork signatures of metastatic disease [4]. More recently, in [14], on genome-wide coexpression networks for different disease states, the authors used univariate Cox model and Relief algorithm to select the genes that are the most predictive of clinical outcome to construct gene signature for lung cancer. A 13-gene lung cancer prognosis signature with significant prognostic stratifications is identified by this method. By Single Protein Analysis of Net-works(SPAN [12]) and conservative permutation re-sampling, a small, but more biological significant breast cancer signature consisted by 54 genes is identified from a protein interaction network include 250 cancer-related genes curated from literatures [15, 16]. In reference [10], by integrating biological knowledge and different signatures, the authors derived a unified signature that is more robust than original signatures.
However, to integrate different breast cancer signatures, most existing methods need cancer domain knowledge, such as cancer-related literature used in [10, 15, 16]. This limited the application of these methods. In this paper, we describe a method to integrate different breast cancer signatures by using graph centrality in a context-constrained PIN for human breast cancer which is constructed by integrating disjoint gene signatures reported in previous literatures. Unlike most existing methods, the method proposed in this paper is able to integrate distinct gene signatures without cancer domain knowledge. By Gene Ontology (GO) enrichment analysis, Kyoto Encyclopedia of Genes and Genomes (KEGG) enrichment analysis and relating our results to previous biological studies, we show that the genes in centrality-based signatures are tightly related to breast cancer and are able to predict clinical outcome.
Methods
To identify reliable gene signature of breast cancer by integrating various gene signatures, we propose a graph centrality based method to identify disease genes from a constrained PIN and the overview of this method is provided in Figure
1
. Briefly, as shown in Figure
1
, the method proposed here has three steps: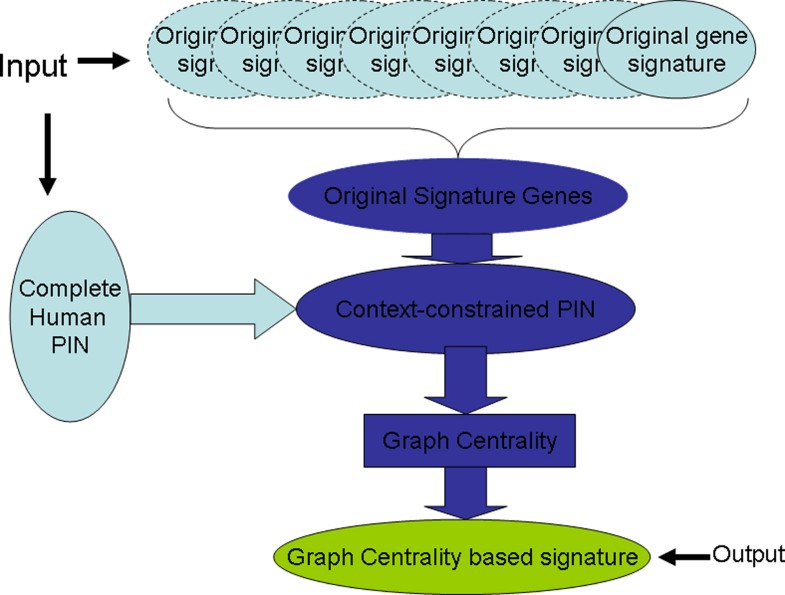 1.

Collect genes from different breast cancer gene signatures, and discard the genes that exist in only one signature.

2.

Project the genes collected in Step 1. to human PIN to construct a context-constrained PIN that consisted. Therefore, to some extent, all genes in this context-constrained network are related to breast cancer. However, we don't know which genes are the most important ones to the breast cancer and can be used to predict clinical outcome.

3.

To determine the relationship between genes and breast cancer, we calculated graph centrality of each gene in this constrained PIN. Since the constrained PIN is built based on breast cancer gene signatures, graph centrality of genes in this network indicates their relationship to breast cancer. Output given number of genes with highest graph centrality as the new unified breast cancer signature.
Details of the three steps are described in following three subsections and then validation methods are presented.
Collecting genes from different signatures
GeneSignDB (http://compbio.dfci.harvard.edu/genesigdb/) [17] is a curated gene signatures database that collected gene signatures for various species and diseases. Keywords "breast cancer" for disease and "human" for species are used to search gene signatures for human breast cancer in GeneSignDB. 94 distinct human breast cancer signatures are obtained, which are reported in 58 different literatures. Since the genes which are included in only one gene signature may be generated by chance, we discard these unreliable genes.
Construction of context-constrained PIN
A complete human PIN is constructed by integrating protein interaction data from Human Protein Reference Database (HPRD) and BioGRID interaction database [18, 19]. After removal of duplicate edges and self-interactions, we got a PIN that is consisted by 51057 distinct interactions among 11465 proteins.
Then, the genes we collected in the first step are projected to the complete human PIN and a constrained PIN for human breast cancer is obtained. This constrained PIN contains 2924 proteins and 4698 interactions.
Use graph centrality to quantify the relationship between genes and breast cancer
Various definitions of graph centrality have been proposed from different perspectives to evaluate the importance of nodes in a graph. The concept has been widely used in bioinformatics, such as discovery of essential proteins in protein networks [20]. Because it is difficult to infer which definition is best for identifying disease genes in the context-constrained network, we evaluated six different definitions in our work.
For a protein interaction network G(V,E), the six measurements of centrality used in this study are defined as following:
where Deg(i) is the degree of vertexes i.
where σ st denotes the total number of shortest paths between s and t and σ st (i) denotes the number of shortest paths from s to t that pass through the node i.
CC is a global metric which describes how the given node i connects to other nodes.
where μ l (i) denotes the number of closed walks of length l which starts and ends at node i.
• Eigenvector centrality(EC): The eigenvector centrality EC(i) of node i is defined as the i th component of the principal eigenvector of A, where A is an adjacent matrix. Let λ be an eigenvalue and e be the eigenvector. Then for an equation λe = Ae, we can obtain EC(i) = e1(i), where e1 corresponds to the largest eigenvalue of A[25].
where n is the number of nodes in graph G and I ij = (r ii + r jj - r ij ) - 1, where r ij is the element of matrix R. Let D be a diagonal matrix of the weighted degree of each node and J be a matrix with all its elements equal to one. Then, we get R = (r ij ) = [D - A+ J] - 1. For computational purposes, I ii is defined as infinite. Thus, .
High centrality of a gene indicates that it is important to the constrained PIN and probably plays an important role in mechanism of breast cancer development. Therefore, according to the graph centrality of genes, we get a gene list that is ordered by the genes' importance to human breast cancer. Depending on specific purpose, a given number of top genes can be selected to construct a reliable gene signature of breast cancer. The reliable gene signature is the integration of the disjoint original signatures.
KEGG pathway and Gene Ontology enrichment analysis
p
-value based on the hypergenometirc distribution is widely used as a measurement of the extent to which the clusters are annotated by a specific GO term [
27
–
30
]. Basically, the
p
-value is defined as following:
where C is the size of the gene set containing k gene with a given GO term; G is the size of the universal set of known genes and contains n genes with the annotation.
Low P in Formula 6 indicates that the module closely corresponds to the GO annotation because the network has a rare chance to produce the module. To simplify our analysis, we define p-score as the negative of log(P) with the annotation [31].
Gene set enrichment analysis for KEGG pathways is very similar to the one for GO annotations. In Equation 6, C is the size of the gene set containing k genes that exist in a given KEGG pathway; G is the size of the universal set of known genes and contains n genes that exist in the pathway. Similarly, p-score can be used to measure the relationship between the gene set and a specific KEGG pathway.
In this study, both KEGG and GO enrichment analysis are performed on DAVID [32].
Validate on microarray dataset
To evaluate the signature's ability to predict clincal outcome, we used expression intensity of the genes in the signature to cluster microarray datasets of breast cancer patients with different pathologic parameters. Patients with similar pathologic parameters should be clustered togather. For a given pathologic parameter, the p-value of the clustering result indicates the signature's ability to predict the pathologic parameter.
In this study, euclidean distance between samples are calculated by using the expression intensity of genes in gene signature. Then hierarchical clustering is used to cluster the microarry datasets of breast cancer patients.
Discussion and conclusion
Identification of genes which play important roles in the development of cancer is a critical problem needed to solve in current research of various cancers. Gene expression signatures provide a way to find significant cancer genes in given groups of patients. Due to the low overlap between heterogeneous signatures, how to integrate them is becoming a serious problem. Fortunately, as shown in this paper, graph centralities, especially EC and SC, are useful tools to integrate existing different cancer gene signatures.
As well-known, weighted protein interaction network can be constructed by integrating functional annotations, and centrality is also can be extended to weighted network easily [20]. More promising results should be found in the weighted protein interaction network. Besides this, other topological parameters from graph theory may improve this method as well.
Declarations
Acknowledgements
This work is supported in part by the National Natural Science Foundation of China under Grant No.61003124 and No.61073036, the Ph.D. Programs Foundation of Ministry of Education of China No.20090162120073, the Freedom Explore Program of Central South University No.201012200124, and the U.S. National Science Foundation under Grants CCF-0514750, CCF-0646102, and CNS-0831634.
This article has been published as part of BMC Systems Biology Volume 5 Supplement 3, 2011: BIOCOMP 2010 - The 2010 International Conference on Bioinformatics & Computational Biology: Systems Biology. The full contents of the supplement are available online at http://www.biomedcentral.com/1752-0509/5?issue=S3.
Authors' Affiliations
(1)
School of Information Science and Engineering, Central South University, Changsha, China
(2)
Department of Computer Science, Georgia State University, Atlanta, USA
Copyright
© Wang et al. 2011
This article is published under license to BioMed Central Ltd. This is an open access article distributed under the terms of the Creative Commons Attribution License (http://creativecommons.org/licenses/by/2.0), which permits unrestricted use, distribution, and reproduction in any medium, provided the original work is properly cited.