Research article
Open Access
Balancing speed and accuracy of polyclonal T cell activation: a role for extracellular feedback
BMC Systems Biology
2012
6:111
Received: 7 February 2012
Accepted: 2 August 2012
Published: 27 August 2012
Abstract
Background
Extracellular feedback is an abundant module of intercellular communication networks, yet a detailed understanding of its role is still lacking. Here, we study interactions between polyclonal activated T cells that are mediated by IL-2 extracellular feedback as a model system.
Results
Using mathematical modeling we show that extracellular feedback can give rise to opposite outcomes: competition or cooperation between interacting T cells, depending on their relative levels of activation. Furthermore, the outcome of the interaction also depends on the relative timing of activation of the cells. A critical time window exists after which a cell that has been more strongly activated nevertheless cannot exclude an inferior competitor.
Conclusions
In a number of experimental studies of polyclonal T-cell systems, outcomes ranging from cooperation to competition as well as time dependent competition were observed. Our model suggests that extracellular feedback can contribute to these observed behaviors as it translates quantitative differences in T cells' activation strength and in their relative activation time into qualitatively different outcomes. We propose extracellular feedback as a general mechanism that can balance speed and accuracy – choosing the most suitable responders out of a polyclonal population under the clock of an escalating threat.
Keywords
Systems immunologyPositive feedbackSpeed vs. accuracyIL-2CD25
Background
Positive feedback is common in biological and ecological systems [
1
,
2
], and has been shown to generate various behaviors including bistability [
3
] and hysteresis [
4
].
Intracellular
positive feedback, which serves as a common module of gene regulatory networks, has been extensively studied both theoretically and experimentally [
5
–
8
]. However, in multicellular systems, positive feedback can be mediated by a secreted molecule which acts either in an autocrine fashion (on the secreting cell) or paracrinally (on nearby cells) [
9
]. This leads to a collective cellular response, during which cells communicate their state to nearby cells using the extracellular signaling molecule. Although
extracellular
positive feedback serves as a basic building block of intercellular communication networks (Figure
1
A), a detailed understanding of its function is still missing.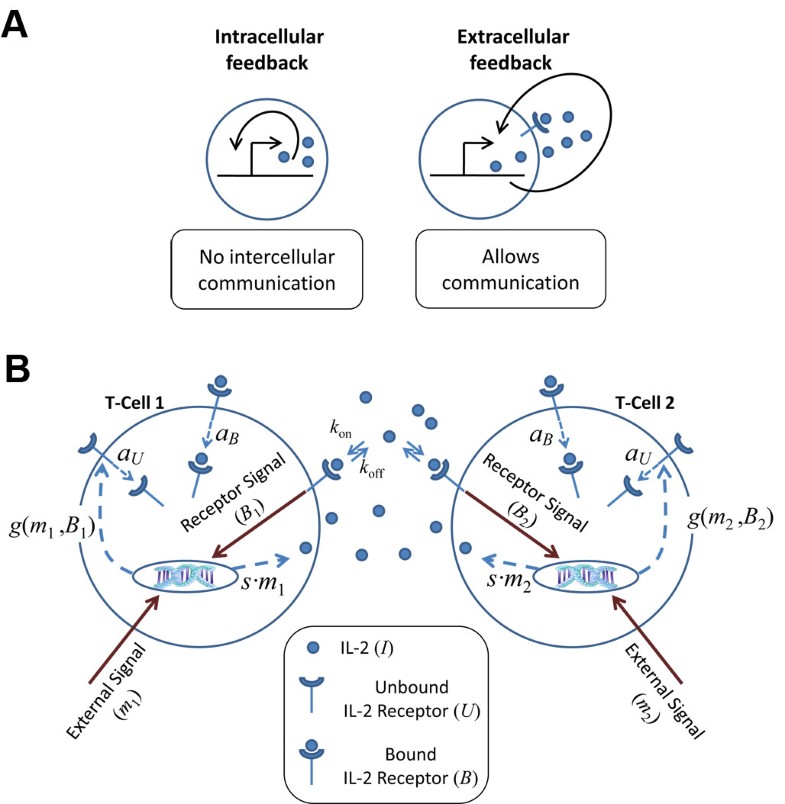 The immune system offers numerous examples of extracellular positive feedback mediated by cytokines (small secreted proteins). A specific example is provided by the cytokine Interlukin-2 (IL-2) through its roles in the process of T cell activation. T cells are activated in response to binding of an antigen to their T cell receptor (TCR). Upon TCR engagement and receipt of appropriate co-stimulatory signals T cells secrete IL-2, which serves as a major T cell growth factor that promotes their commitment to proliferation [10, 11]. Binding of IL-2 to its receptor (IL-2R) leads to a positive feedback by increasing IL-2R expression levels [12]. Additionally, the IL-2:IL-2R complex undergoes rapid internalization and degradation [13] leading to consumption of IL-2 from the intercellular space (Figure 1B). Since this system has been extensively studied and many of its kinetic parameters are known, it can be readily modeled mathematically [14–17]. Recently, IL-2 mediated interactions between T regulatory cells (Tregs) and T effector cells has been studied, showing how depletion of the shared cytokine by Tregs contributes to suppression of effector cells [16, 17]. Extracellular feedback driven by IL-2 can also affect polyclonal interactions between effector T cells of different antigen specificities, which interact during their priming within lymphoid organs. These interactions between T cells, together with other factors such as availability of co-stimulatory signals, can shape the repertoire of responding T cells through inter-clonal cooperation and competition [18].
Experimentally, competition between cells was observed as a possible outcome of polyclonal interactions, where activation of cells with one antigen specificity inhibits the response of cells with a different specificity in their vicinity [18]. However, cooperation between polyclonal cells, in which activation of cells is stronger in the presence of neighboring cells with a different specificity, has also been observed in similar experimental models [19]. In a recent report, both cooperation and competition were observed in the same experimental model, which evaluated interactions between groups of endogenous T cells responding to different mixtures of peptides [20]. Furthermore, time dependency of the outcome has also been observed – a limited window of opportunity of a few hours exists for the inhibition of competing cells, both by regulatory T cells [21] and by competing effector T cells [22]. The mechanism underlying this time dependency remains obscure.
Here, we present a mathematical model which suggests that extracellular feedback can account for opposite outcomes: competition or cooperation between interacting polyclonal T cells. The outcome in any specific case depends on quantitative parameters of the activation of the interacting cells, such as their relative TCR stimulation strength. Furthermore, time dependency of the interaction outcome emerges from our model. Thus, if interacting cells are activated at different times, their fate will depend on their relative times of activation. We show that these rich behaviors of the system require non-linearity of the feedback. A linear feedback results in competition and exclusion, where the stronger cell wins regardless of activation time. We propose that this time dependency can serve to balance speed and accuracy of the polyclonal T cell response.
Methods
We model the behavior of a system comprising two CD4+ T cells that have been activated by their cognate antigens, but before proliferation takes place (within ~30 hours after activation) (Figure 1B). As we aim to understand general design principles, we study a simplified model of the system, which still capture its core features. In the following, we describe the main model we use while various modifications are further discussed later and in the Additional file 1.
Figure 1B schematically presents the components of the model. We assume that IL-2Rs are initially expressed at a low constitutive rate, g c , and are degraded at a rate a U , resulting in a low initial number of IL-2R molecules on the T-cell surface (g c /a U  ~ 150, see Additional file 1: Table S1). This provides the cells with an initial responsiveness to IL-2. Upon TCR binding, the T-cells start to secrete IL-2 at a rate s that is proportional to the strength of the TCR signal, which is denoted by the parameter 0 ≤ m ≤ 1. The dependence of IL-2 secretion rate on TCR signal strength can be relaxed: assuming that cells secrete IL-2 in a constant rate, regardless of their TCR strength, does not change the general behavior of the model (Additional file 1: Figure S2A). Signaling induced by binding of IL-2 to its receptor results in increased expression of IL-2Rs on the cell surface, thus closing the positive feedback loop. We assume that the induced expression rate of IL-2R is also proportional to the strength of the TCR signal (see below). Additionally, the IL-2R:IL-2 complex is internalized and degraded at a rate a B .
We describe the state of each cell by the number of unbound and bound IL-2R molecules on its surface,
U
i
and
B
i
, respectively (
i
 = 1,2 for the two cells). The free IL-2 in the volume surrounding the cells is denoted by
I
. Following the above assumptions, the dynamics of the free IL-2 is described by the following equation:
and the dynamics of each cell's state is described by:
The TCR signaling strength, m, is parameterized to be between zero and one. This value reflects the effect of TCR signaling on the production rate of IL-2R and IL-2. TCR signaling strength mainly depends on the affinity of the antigen to the TCR, and on the number of bound TCRs on the T cell surface. The mapping of these factors into the value of m may differ between different systems (mode of stimulation, type of antigen) and can be evaluated experimentally for each system, as we discuss below. However, this mapping does not affect the behavior of the model (Eq. 1-4) describing dynamics of the IL-2-IL-2R system. Co-stimulation is modeled effectively within the TCR signaling strength parameter m. Other rate constants that determine the system's behavior are: k on , k off - binding and unbinding rates, respectively, of IL-2 to its receptor; and d I , IL-2 degradation rate (or its effective removal from the interaction volume due to transport). As noted before (16,17) IL-2 removal is dominated by its endosomal degradation following binding to its receptor and internalization of the complex, which is modeled by the term in Eq. 2.
IL-2R production rate following TCR induction is given by the positive feedback term in Eq. 4, m·g f ·(B2/(B2 + K f 2), with a maximal synthesis rate of m·g f and half saturation at B = K f . We model dependence of IL-2R production rate on both m (TCR signal) and B (IL-2 signal), as both signals are required for efficient activation of the IL-2Rα gene [11]. IL-2 mediated feedback on receptor production is assumed to be in the form of a Hill function, with a Hill coefficient of 2. Cooperation is assumed as the main signaling molecule downstream of IL-2R, STAT5, forms dimers after its phosphorylation, which serve as a transcription factor driving expression of the IL-2Rα gene [23]. The values used for these constants in the following simulations are given in Additional file 1: Table S1. We model interaction between cells that are in a close proximity to each other – intercellular distance of the order of 100 microns (e.g. within the same cluster on a dendritic cell [24]). We assume a well-mixed microenvironment, hence a volume of 100 microns3 is used in the numerical simulations. Our results are not sensitive to this value (See sensitivity analysis in the Additional file 1).
Discussion
Recent work [16, 17] described IL-2 mediated suppression of effector T cells (Teff) by T regulatory cells (Treg), showing the conditions under which competition for IL-2 serves as an efficient suppression mechanism. Our model examines the effect of IL-2 mediated extracellular feedback on the interaction between effector T cells during their activation. While competition is the prominent case in Teff-Treg interactions, it is only one of the scenarios that Teff-Teff interactions can give rise to. In this polyclonal interactions scenario, both cells secrete IL-2, and thus both cells can also benefit from the IL-2 that their neighbors secrete. While the equations regarding kinetics of IL-2 and its receptor are naturally similar, there are a number of significant differences. In particular, a Treg-Teff interaction is non-symmetric, as Tregs express an initial high level of CD25, and do not secrete IL-2. We study the symmetric case of interaction between two effector cells, where both cells are governed by the same equations and the only difference is in the strength of TCR signal. This situation models the abundant case of polyclonal interactions that occur in vivo between T cells with different TCR specificities. These interactions play an important part in shaping T cell responses through inter-clonal interactions. Our model presents a first mathematical/computational attempt to study the role of IL-2 extracellular feedback in this context.
The significance of examining such a scenario is clear from a biological vantage point, as this type of interaction naturally occurs during T cell activation, when cells with different TCR specificities are activated within the same microenvironment, e.g. surrounding the same antigen presenting cell [24]. In effect, many T cell interactions are polyclonal Teff-Teff interactions – most T cell mediated immune responses start with polyclonal T cell activation. Thus, it is important to understand T cell interactions within this context, as it shapes the repertoire of the immune response.
Conclusions
We suggest a role for extracellular feedback by studying interactions between activated polyclonal T cells as a model system. Using mathematical modeling we find that extracellular feedback can give rise to opposite outcomes of the interaction – either competition or cooperation between the interacting cells, and that this outcome depends on the parameters of the activation. In addition, the interaction outcome depends also on the timing of activation of the cells. As a result, a critical time window exists after which a stronger cell cannot exclude an inferior competitor, as was experimentally observed. We suggest that extracellular feedback can balance a speed vs. accuracy tradeoff in T cell activation – choosing the most suitable responder under the clock of a proliferating threat. These findings can serve to better understand the way the repertoire of an immune response is shaped, in response to pathogens, vaccines and tumor detection.
Authors' information
Co-first authors: Yonatan Savir and Nir Waysbort.
Declarations
Acknowledgements
We thank Uri Alon, Benjamin Chain, Ofer Feinerman, Ron Milo, Wilfred Ndifon and Jacob Rimer for helpful comments on the manuscript. This research was supported by The International Human Frontier Science Program Organization and by the Abisch-Frenkel Foundation. TT thanks the Simons Foundation, and Helen and Martin Chooljian for their generous support. TT is the Helen and Martin Chooljian Founders' Circle Member in the Simons Center for Systems Biology at the Institute for Advanced Studies, Princeton. NF is incumbent of the Pauline Recanati Career Development Chair of Immunology.
Authors' Affiliations
(1)
The Simons Center for Systems Biology, Institute for Advanced Studies, Princeton, USA
(2)
Department of Immunology, Weizmann Institute of Science, Rehovot, Israel
(3)
Department of Systems Biology, Harvard Medical School Harvard Medical School, Boston, USA
(4)
Division of Biology, Caltech, Pasadena, USA
Copyright
© Savir et al.; licensee BioMed Central Ltd. 2012
This article is published under license to BioMed Central Ltd. This is an Open Access article distributed under the terms of the Creative Commons Attribution License (http://creativecommons.org/licenses/by/2.0), which permits unrestricted use, distribution, and reproduction in any medium, provided the original work is properly cited.