Research article

Open Access
Structural analysis of eyespots: dynamics of morphogenic signals that govern elemental positions in butterfly wings
BMC Systems Biology
2012
6:17
Received: 20 December 2011
Accepted: 13 March 2012
Published: 13 March 2012
Abstract
Background
To explain eyespot colour-pattern determination in butterfly wings, the induction model has been discussed based on colour-pattern analyses of various butterfly eyespots. However, a detailed structural analysis of eyespots that can serve as a foundation for future studies is still lacking. In this study, fundamental structural rules related to butterfly eyespots are proposed, and the induction model is elaborated in terms of the possible dynamics of morphogenic signals involved in the development of eyespots and parafocal elements (PFEs) based on colour-pattern analysis of the nymphalid butterfly Junonia almana.
Results
In a well-developed eyespot, the inner black core ring is much wider than the outer black ring; this is termed the inside-wide rule. It appears that signals are wider near the focus of the eyespot and become narrower as they expand. Although fundamental signal dynamics are likely to be based on a reaction-diffusion mechanism, they were described well mathematically as a type of simple uniformly decelerated motion in which signals associated with the outer and inner black rings of eyespots and PFEs are released at different time points, durations, intervals, and initial velocities into a two-dimensional field of fundamentally uniform or graded resistance; this produces eyespots and PFEs that are diverse in size and structure. The inside-wide rule, eyespot distortion, structural differences between small and large eyespots, and structural changes in eyespots and PFEs in response to physiological treatments were explained well using mathematical simulations. Natural colour patterns and previous experimental findings that are not easily explained by the conventional gradient model were also explained reasonably well by the formal mathematical simulations performed in this study.
Conclusions
In a mode free from speculative molecular interactions, the present study clarifies fundamental structural rules related to butterfly eyespots, delineates a theoretical basis for the induction model, and proposes a mathematically simple mode of long-range signalling that may reflect developmental mechanisms associated with butterfly eyespots.
Keywords
Butterfly wing
Colour-pattern determination
Eyespot
Parafocal element
Induction model
Morphogenic signal
Background
Although butterfly wing patterns are highly complex, it is believed that they are produced by simple rules that determine the fate of immature scale cells fixed in a two-dimensional plane. Among the colour-pattern elements that constitute the overall wing pattern, eyespots are conspicuous symmetric elements. Partly for this reason, characterisation of eyespots via physical damage and transplantation methods has been intensively performed, with the focus on the forewing eyespots of the nymphalid butterflies Junonia coenia [1, 2] and Bicyclus anynana [3–5]. Two other nymphalid butterflies, Junonia orithya and Ypthima argus, were employed in a similar study [6].
The experimental results obtained in these studies have been explained by the concentration gradient model for positional information, the theoretical basis of which was proposed by Wolpert [7]. Such explanations necessarily exclude alternative models, such as the cascade model, which addresses serial inductive signals, and the wave model, in which signals have an autonomous wave-like character [8, 9]. The main reason for this exclusion is the relatively long period of focus dependence in eyespot formation; this phenomenon was revealed when it was observed that focal damage in the early pupal stage resulted in smaller eyespots [1–6]. Following this line of discussion, the putative morphogenic molecules Wingless and TGF-β have been shown to be expressed in at least some eyespots [10]. These molecules are believed to be secreted from prospective eyespot foci and to determine eyespot rings [10–13], although there is currently no functional evidence that the expression of these molecules affects butterfly colour-pattern determination.
Although rarely discussed in the literature, there are several experimental findings and natural colour-pattern variations that have not been explained by the conventional gradient model [14]. Therefore, based on colour-pattern analyses of various nymphalid butterflies, the induction model was proposed as a more realistic alternative [14, 15]. In this model, autonomous wave-like signals for dark rings are released from the focus. They are self-enhancing at a short range and induce inhibitory signals at a long range during their expansion and after their settlement, as originally proposed by Gierer and Meinhardt [16–18]. These dark-ring and inhibitory signals may be mutually stabilised and then translated into colour-pattern expression. These processes were simulated computationally using reaction-diffusion equations [15]. The induction model was also shown to be consistent with the results of experimental disruption of eyespots [19].
Nevertheless, there is one important point that has not yet been sufficiently explained by the induction model: how a released wave-like signal "finds" a proper position in which to settle. Because the released wave can progress indefinitely unless it is equipped with a settlement mechanism, this point is directly related to how to organise colour-pattern elements on a wing surface and how to rearrange the nymphalid groundplan in a species-specific fashion.
It is certainly highly likely that the butterfly eyespot system is constructed based on the reaction-diffusion system, and it appears that this settlement problem could be solved by further exploration of the reaction-diffusion model, which could suggest possible molecular interactions. In hydra, the Wnt signal responsible for head development is explained by a reaction-diffusion model [20–23]. The shell colour patterns of molluscs are also simulated by this type of model [24, 25]. In both cases, moving signals can be slowed down and become stable under specific conditions. However, these conditions are unlikely to be directly applicable to the butterfly system, considering that in comparison to the hydra system, the butterfly system is much larger, and that in contrast to molluscan systems, it is stable and predictable in a given species, with small individual variations.
It is important to recognise that in any modelling study, the object to be modelled must be understood. That is, structural features of actual butterfly eyespots must be studied first and then the related reaction-diffusion simulations can be explored. Therefore, before approaching to a final solution for the settlement problem, in the present study, I turned my attention to actual colour patterns and did not consider the hypothetical physicochemical nature of signalling molecules included in the gradient and reaction-diffusion models. I do not intend to reject the previously proposed reaction-diffusion mechanism, but I found that more descriptive mechanics are helpful to understand butterfly wings, at least at this point, because of the lack of studies that describe butterfly wing colour patterns in detail. The present study is an attempt to faithfully describe and simulate the observed behaviour of natural and experimentally induced colour patterns using simple equations, without stringently focusing on their hypothetical physicochemical or molecular bases.
Throughout this paper, I focus on the eyespots and parafocal elements (PFEs) of the peacock pansy butterfly,
Junonia almana
(Figure
1
). The eyespots of this nymphalid butterfly have several notable features that are not found in the eyespots of other butterflies. Specifically, unlike some satyrine butterflies, including
Bicyclus
and
Ypthima
, that exhibit "typical" symmetric eyespots,
J. almana
shows remarkable intra-individual variation in eyespot size and morphology [
26
,
27
]. This variation makes morphological comparison between eyespots both possible and fruitful. Based on a colour-pattern analysis of
J. almana
, I present a simple descriptive mathematical model to explain the possible behaviour of morphogenic signals in light of the induction model that is consistent with both observational and experimental results.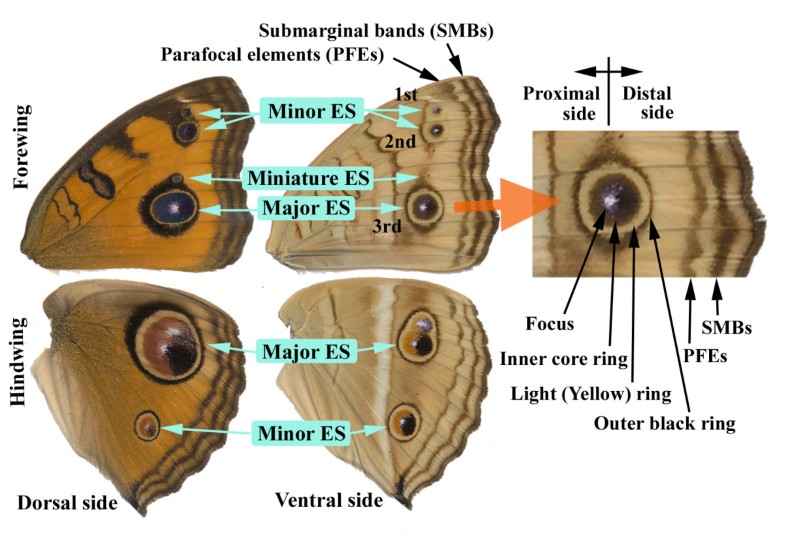 Results
Colour-pattern analysis of eyespots and PFEs in J. almana
Natural and experimentally induced colour patterns that are not explained by the gradient model
Variations in natural colour patterns
The previously proposed induction model [14, 15, 19] is strengthened by the settlement mechanisms discussed above. For this model to be valid, it should be able to explain most experimental findings and the wide variety of natural colour patterns, which the conventional gradient model is unable to explain, despite its popularity.
Otaki [14] discussed several findings that cannot be explained by the conventional gradient model. First, miniature and minor eyespots usually exhibit different ring widths compared to major eyespots on the same wing surface. This difference is not consistent with what is predicted by the gradient model. As discussed in this report, the induction model explains this difference based on variations in the initial velocity and signalling duration.
Second, ring-dependent distortion is observed in many eyespots. This distortion is perplexing from the viewpoint of the gradient model [14]. In the induction model, ring-dependent distortion is at least partially solved by the fundamental assumption that the signal is related only to dark (usually black) rings and not to light rings. For example, when the proximal side of two dark rings of an identical eyespot is distorted toward the wing base, it is logical that the light ring between the dark rings will appear to be distorted toward the opposite direction because the light ring is a blank space between the dark rings.
Third, several types of "atypical eyespots" that cannot be logically explained by the gradient model, such as an eyespot without an inner core-ring area (blank-core eyespot), a focus-only "eyespot," an eyespot with multiple or scattered foci, and a multi-ring eyespot, can be explained via activity changes in organising centres. A blank-core eyespot readily arises when the inner black signal is not released after the release of the outer black signal. Similarly, the lack of an eyespot with a PFE in a given wing compartment can be understood as the cessation of organising activity after the release of the PFE signal. Focus-only eyespots likely occur because of the very low initial velocity of a signal that was nevertheless able to delimit the focal area. An eyespot with multiple or scattered foci can be produced if the small signals from multiple foci are additively integrated to signify the outer rings. Multiple rings (three or more dark rings) in an eyespot are readily explained based on the oscillatory activity of focal cells that release signals three times or more (n ≥ 3).
Width of light rings in graft-induced eyespots
French and Brakefield [4] experimentally determined that graft-induced eyespots were always smaller than normal eyespots and contained significantly wider yellow rings. The general size reduction observed for graft-induced eyespots may be explained by the shorter time period that is available for releasing the signal from the grafted organising centres. However, there was no logical explanation given for the wider yellow ring.
The smaller graft-induced eyespots with a wider yellow ring are quite reminiscent of naturally occurring minor eyespots and small tungstate-induced eyespots. Using this morphological analogy, it is likely that the grafting process weakened the organising centre. More specifically, the grafting process reduced the initial velocity of the signal, shortened the signal duration, and lengthened the signal interval due to the general decline in the activity of the grafted organising centre.
The hindwing paradox
Nijhout [8] demonstrated that hindwing eyespots could not be reduced in size by focal damage in J. coenia. Nevertheless, considering that damage to the non-eyespot area of hindwings at the pupal stage produces ectopic eyespots and that temperature shock at the pupal stage can alter the size and shape of hindwing eyespots, it appears that scale cell fate is not yet determined at the time of damage [8]. These results are quite different from what is observed for the forewings and, thus, cannot readily support the gradient model. I refer to these seemingly perplexing results the "hindwing paradox."
Nijhout [8] explained the hindwing paradox by introducing the morphogen sink hypothesis, which states that eyespots on the dorsal forewings are produced around a morphogen "source," whereas eyespots on the dorsal hindwings are produced around a morphogen "sink." Thus, non-focal damage to hindwings creates an artificial sink that then produces an ectopic eyespot. A similar model was proposed for B. anynana in which non-focal damage to dorsal forewings creates a morphogen sink and, consequently, an ectopic eyespot [3–5]. Furthermore, a similar model was proposed for black spot formation in the cabbage white butterfly Pieris rapae [35, 36].
However, it is difficult to believe that morphologically homologous structures on the fore- and hindwings of an individual are determined by opposite mechanisms (i.e., sources vs. sinks). Why damage at the sink (i.e., at the hindwing eyespot focus) cannot halt the focal sink-producing activity on hindwings is not entirely clear. Furthermore, it is difficult to believe that non-focal damage to forewings produces a morphogen source, whereas non-focal damage to hindwings produces a morphogen sink in J. coenia (and not necessarily so in other species). In addition, there is no qualitative difference between the fore- and hindwings observed in response to pharmacological and temperature treatments [26, 27, 30–32], although the opposite effects of these treatments might be expected in light of the morphogen sink hypothesis. Finally, at least in J. almana, focal damage to the hindwing can successfully reduce eyespot size (Otaki, unpublished data).
The induction model can readily explain the hindwing paradox. Hindwing eyespot signals have already been released and are running during the early pupal stage according to Eq. (1), which makes them insensitive to focal damage. However, the signalling step continues at this stage, so ectopic signals can be accommodated. In contrast, focal damage to the forewing reduces the number of functional cells before or during the release of the signal. Therefore, the hindwing paradox can be explained by the difference in the timing of signal release between the fore- and hindwings. This explanation is consistent with the results of physiological treatments in which the colour patterns of the dorsal forewings are likely determined last among the four wing surfaces [29].
I have previously discussed the inconsistent behaviours of PFEs in response to experimental damage and physiological treatments from the viewpoint of the conventional gradient model, which has been referred to as the "PFE paradox" [28]. Because the dark rings of eyespots are developmentally equivalent to PFEs [28, 29], the hindwing paradox is essentially equivalent to the PFE paradox.
Discussion
Status of the induction model
Even if the induction model can explain most cases of butterfly wing colour patterns, one big question remains: is the induction model actually at work in real wings? This question arises because long-range signalling for developmental determination that travels according to a simple, uniformly decelerated type of motion is currently unknown in developmental biology.
I admit that uniformly decelerated motion may merely be an approximate behaviour. One could further argue that the success of mathematical simulations may be a pure coincidence. Classical mechanical equations are, after all, descriptive empirical equations formulated without consideration of the fundamental interactions between macroscopic objects. Eventually, the butterfly system may be described entirely by reaction-diffusion models that are more precise than those proposed previously [15]. Nevertheless, the fact that the formal model presented in this paper can explain diverse natural and experimentally induced eyespot patterns indicates that uniformly decelerated motion represents a reasonable approximation at this point, despite the fact that no molecular mechanism can be suggested by this model.
Currently, the induction model does not consider any molecular interaction imposed by the physicochemical nature of biological molecules. Rather, the induction model is fundamentally based on colour-pattern analysis of diverse butterfly wings. This approach contrasts with the conventional gradient model, which was proposed based on speculative molecular properties of a putative morphogen and its receptor but paid virtually no attention to actual butterfly colour-pattern diversity. Therefore, a molecular model based on the reaction-diffusion system that does not conflict with this formal model is to be proposed in the future. In addition, the results of a recent report on artificially induced colour patterns in J. almana [19] may have to be incorporated within the framework of these mathematical simulations.
Possible molecular and cellular mechanisms of signal propagation
The mathematical model described in this paper is analogous to a ball rolling on a plane. In the biochemical dimension, "rolling a ball (i.e., a molecule)" in a system appears to be rather difficult, if not impossible, due to the thermal motion of the "ball" and other surrounding molecules as well as the viscosity imposed by cellular environment (i.e., under the conditions of low Reynolds number). The ball (i.e., the signal itself) would not be a moving physical object but, rather, would be the moving pattern of a "medium" (i.e., a wave).
A somewhat similar system is observed in the propagation of action potentials in neurons, in which a short refractory period prevents backward signal propagation. However, in the case of butterfly wings, there would be no excitatory membrane potential based on voltage-gated channels in immature scale cells; even if this potential exists, the positive feedback mechanism involved in action potential propagation is inconsistent with the attenuating nature of the signal required in the induction model. The propagation of receptor potentials in sensory neurons may be more analogous to a rolling ball. Similarly, a calcium wave [37], a gene expression wave [38], or other types of cell-to-cell interactions may be consistent with a rolling ball model. The time scale of signal propagation, which is on the order of hours in butterfly development, is more consistent with a gene expression wave, although it would be possible for rapid repetitive electrical or calcium waves to induce a slow expression wave. Unfortunately, it is currently difficult to evaluate the functionality of candidate signalling molecules expressed during eyespot development. However, the putative involvement of the Wingless/TGF-β signalling system in butterfly eyespot development [10] indicates an analogy to the reaction-diffusion mechanism found in hydra [20–23].
Decelerated motion means that kinetic energy is provided at the beginning of motion and is not supplied as a signal moves linearly. That is, only the initial velocity contributes to the kinetic energy of a rolling ball, and the kinetic energy is gradually converted to thermal energy. Creating such directional motion in a sea of random thermal motion at the molecular level without an outside energy supply would appear to be a violation of the second law of thermodynamics because work (or order) is created from an isothermal state. A more realistic alternative is that there is a gradual decline in the rate of energy supplied to the moving signal.
It has been argued that Maxwell's demon, which can "watch" random molecular motion and "select" particular molecules, could achieve similar results without violating the second law of thermodynamics. The experimental existence of Maxwell's demon (i.e., the feasibility of such a system without violation of the second law) has been recently demonstrated [39]. Therefore, it is at least theoretically possible that order is created by extracting information from thermal motion. It would be highly interesting if the butterfly colour-pattern system were to be found to take advantage of Maxwell's demon. Notably, similar mechanisms may be involved in some protein dynamics [40].
Colour patterns not explained by the induction model
Although the induction model is widely applicable to various types of eyespots, it is far from perfect. There is one notable phenomenon that the induction model cannot explain: the existence of a core ring containing two colours, as observed in the hindwing eyespots of J. almana. In the case of J. almana, the proximal side of the core ring is reddish, whereas the distal side is not (Figure 1).
The reddish coloration is probably produced in the interpretation and expression steps similarly to a light-ring modification process [15]. The developmental mechanism underlying the dual coloration of core rings is therefore beyond the scope of the induction model. In the future, its relationship to the induction model needs to be clarified.
Conclusions
In this paper, I described the possible dynamics of morphogenic signals that determine butterfly wing colour patterns based on the inside-wide rule and other structural features of J. almana eyespots. Overall, the induction model, which is conceptually developed based on colour-pattern comparisons and includes descriptive mathematical equations, can explain not only the diverse morphology of eyespots and PFEs but also experimental findings that have previously been enigmatic. Although its physicochemical and molecular basis is entirely unknown, this type of long-range molecular signalling mechanism employed in butterfly wings may be generally applicable to other biological systems.
Declarations
Acknowledgements
The author would like to thank members of the BCPH Unit of Molecular Physiology for helpful discussions. This work was partly supported by Research Foundation for Opto-Science and Technology, Hamamatsu, Japan.
Authors' Affiliations
(1)
The BCPH Unit of Molecular Physiology, Department of Chemistry, Biology and Marine Science, Faculty of Science, University of the Ryukyus, Nishihara, Japan
Copyright
© Otaki; licensee BioMed Central Ltd. 2012
This article is published under license to BioMed Central Ltd. This is an Open Access article distributed under the terms of the Creative Commons Attribution License (http://creativecommons.org/licenses/by/2.0), which permits unrestricted use, distribution, and reproduction in any medium, provided the original work is properly cited.