Research article

Open Access
A model of HIV drug resistance driven by heterogeneities in host immunity and adherence patterns
BMC Systems Biology
2013
7:11
Received: 5 June 2012
Accepted: 16 January 2013
Published: 4 February 2013
Abstract
Background
Population transmission models of antiretroviral therapy (ART) and pre-exposure prophylaxis (PrEP) use simplistic assumptions – typically constant, homogeneous rates – to represent the short-term risk and long-term effects of drug resistance. In contrast, within-host models of drug resistance allow for more detailed dynamics of host immunity, latent reservoirs of virus, and drug PK/PD. Bridging these two levels of modeling detail requires an understanding of the "levers" – model parameters or combinations thereof – that change only one independent observable at a time. Using the example of accidental tenofovir-based pre-exposure prophyaxis (PrEP) use during HIV infection, we will explore methods of implementing host heterogeneities and their long-term effects on drug resistance.
Results
We combined and extended existing models of virus dynamics by incorporating pharmacokinetics, pharmacodynamics, and adherence behavior. We identified two "levers" associated with the host immune pressure against the virus, which can be used to independently modify the setpoint viral load and the shape of the acute phase viral load peak. We propose parameter relationships that can explain differences in acute and setpoint viral load among hosts, and demonstrate their influence on the rates of emergence and reversion of drug resistance. The importance of these dynamics is illustrated by modeling long-lived latent reservoirs of virus, through which past intervals of drug resistance can lead to failure of suppressive drug regimens. Finally, we analyze assumptions about temporal patterns of drug adherence and their impact on resistance dynamics, finding that with the same overall level of adherence, the dwell times in drug-adherent versus not-adherent states can alter the levels of drug-resistant virus incorporated into latent reservoirs.
Conclusions
We have shown how a diverse range of observable viral load trajectories can be produced from a basic model of virus dynamics using immunity-related "levers". Immune pressure, in turn, influences the dynamics of drug resistance, with increased immune activity delaying drug resistance and driving more rapid return to dominance of drug-susceptible virus after drug cessation. Both immune pressure and patterns of drug adherence influence the long-term risk of drug resistance. In the case of accidental PrEP use during infection, rapid transitions between adherence states and/or weak immunity fortifies the "memory" of previous PrEP exposure, increasing the risk of future drug resistance. This model framework provides a means for analyzing individual-level risks of drug resistance and implementing heterogeneities among hosts, thereby achieving a crucial prerequisite for improving population-level models of drug resistance.
Keywords
Tenofovir Disoproxil FumarateSuppressive TherapyFree VirusDrug AdherenceK65R Mutant
Background
Quantitative analysis of the risk of HIV drug resistance is important on both an individual and a population level, especially when the "real-world" use of drugs may differ significantly from the more ideal setting of randomized controlled trials. Examples of non-ideal "real-world" situations include poor adherence, late entry into therapy, drug stockouts, unauthorized re-distribution of antiretrovirals, and interruption of multi-drug regimens in which one drug has a longer half-life, which creates an interval of "effective monotherapy" when only this drug is present at high levels [1].
Interest in models of drug resistance has increased recently due to the addition of pre-exposure prophylaxis (PrEP) to the world's HIV prevention toolkit [2]. Clinical trials have demonstrated that PrEP with tenofovir disoproxil fumarate (TDF), combined TDF and emtricitabine (FTC), and tenofovir vaginal gel can reduce the risk of HIV acquisition [3–6]. No PrEP regimen prevented transmission entirely, though increased adherence correlated with increased protection against HIV. This creates a risk of accidental PrEP use during "breakthough" infections, until the individual is diagnosed with HIV and PrEP is discontinued. Additionally, there is risk of accidental initiation of PrEP by infected individuals due to faulty testing or early "window period" testing. In addition to their use in PrEP, TDF and FTC are also found in two popular single-pill, once-daily fixed-dose combination therapies (Atripla and Complera) as well as the fixed-dose "quad" pill recently approved by the FDA. Thus, there is concern as to whether resistance caused by PrEP could threaten the ability to use two of the safest available drugs available in a convenient, single-dose, once-daily regimen.
Mathematical models of ART and PrEP have been used to assess the risk of drug resistance on the individual and population level [7]. However, state-of-the-art population models have failed to capture heterogeneities in the risk of drug resistance among individuals, due to the disparity in model detail between population-level and within-host models.
Population-level models of PrEP and resistance tend to focus on specific conditions of HIV transmission, with a majority of recent oral PrEP models focusing on heterosexual generalized epidemics [8–10], and others on concentrated epidemics among men who have sex with men [11]. Of the small number of population PrEP models that include drug resistance, only one has considered reversion of resistance by assuming that resistance and reversion occur at fixed rates for the treated and post-treated subpopulations, respectively [10, 11]. Recent models of combination ART that account for resistance and reversion treat these similarly [12, 13]; though one model used stochastic numerical methods as a proxy for variability in acquisition and transmission of resistance, these are still assumed to occur at a fixed rate [13] with no consideration for heterogeneous host biology and behavior.
Within-host models have provided some mechanistic insights into HIV progression, drug efficacy, and the risk of resistance. Nowak and Bangham formulated a model of virus dynamics that includes mutation [14], and has inspired dozens of variations, such as mechanisms of viral escape arising from competition among quasispecies-specific cytotoxic T lymphocyte (CTL) [15] and antibody [16] responses. A common application of these models is predicting the relationship between dosage and acquisition of resistance: a quantity not well-characterized in clinical studies [17]. Very recently, a detailed within-host model similar to the one presented here was used to propose a mechanism for drug resistance during HAART that includes a protease inhibitor, proposing a relationship between adherence level and risk of treatment failure [18]. This and other models [19] have assumed that adherence is primarily characterized by the percentage, not the pattern, of doses taken. Other models have incorporated time-correlated field data [20] and to explore the impact of "clustering" dropped doses on the drug resistance outcome [21]. Measuring the true patterns of drug adherence can be challenging [22–25], but models can represent a range of possible behaviors in silico to understand the effects of different possible patterns.
The host immune response is another source of heterogeneity that, as we will show, contributes substantially to the dynamics of resistance and reversion. Though a wealth of biological studies have revealed the complex relationship between immunity and virologic control, few models have explored the effect of viral replication and immunity on drug efficacy [26, 27].
Ultimately, population models must capture the important outcomes of within-host heterogeneities and react appropriately to a range of assumptions about viral fitness, host immune response, drug pharmacology, and adherence. Here, we use the example of tenofovir-based PrEP to explore the insights that can be gained from considering such heterogeneities in a combined model of within-host virus dynamics, drug pharmacokinetics/pharmacodynamics (PK/PD), and patterns of drug adherence.
Methods
We constructed a model that combines the pharmacokinetic/pharmacodynamic outcome of time-varying drug adherence with the dynamics of competition between drug-resistant mutants. Hypotheses or data about drug adherence patterns are provided as input for the simulation, and the model predicts the time-varying populations of CD4+ T cells and virus (WT and drug-resistant) in the form of plasma RNA and integrated DNA. The model is deterministic, but can be driven stochastically through the choice of adherence pattern.
Figure
1
illustrates the components of the model and the way in which they are linked. First, an adherence pattern is created based on a hypothesis about the timescales of adherent and non-adherent time intervals. For example, adherence could be assumed to be random in time, periodic with a given duration of adherence and non-adherence, or stochastic based on a Markov model described in detail below.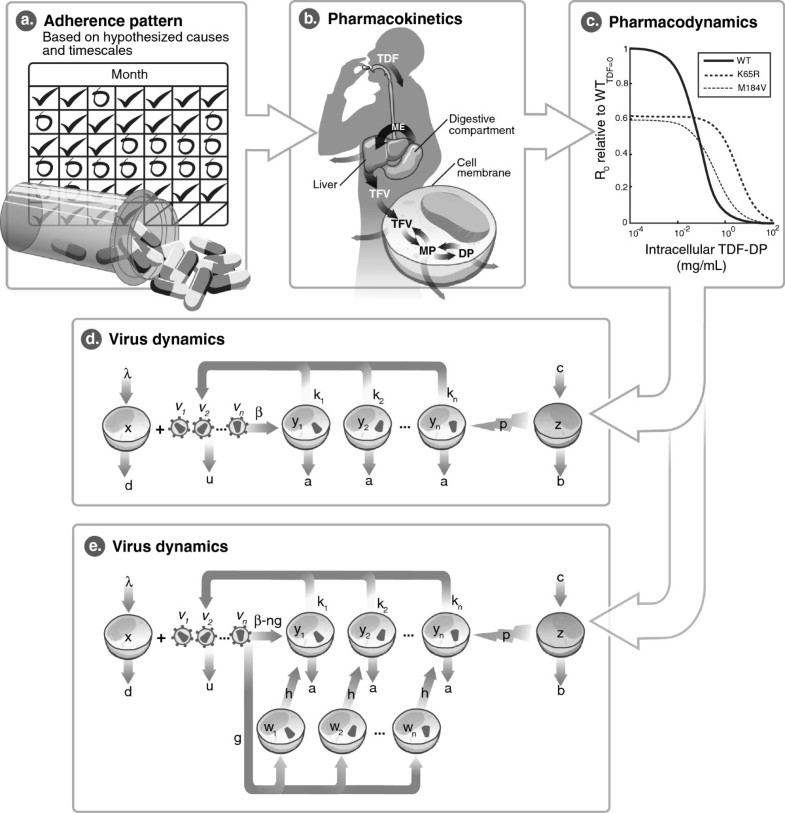 Next, a detailed pharmacokinetics model is used to calculate the time-varying concentration of the active form of the drug in the relevant compartment, given the sequence of doses that were taken over time. For oral TDF, the model includes bioavailability, partitioning across the cell membrane, and the two phosphorylation steps required to create the active diphosphate form of the drug.
A pharmacodynamics model is used to translate the drug concentration into an effect on the replicative capacity of the WT and mutant viral quasispecies.
Finally, a dynamic model of viral replication responds to the changes in replicative capacity caused by fluctuating drug concentrations. Here, uninfected CD4+ target cells (denoted x) are infected by a given viral quasispecies (v i for quasispecies i, e.g., v WT and v mutant ) to form a productively infected cell (y i ). Infected cells can be eliminated by virus-specific CTLs (z). In an alternative version of this model (Figure 1b), infection can yield long-lived latently infected cells (w i ) with probability g, or productively infected cells (y i ) with probability 1-g. Latently infected cells produce no virus and are not susceptible to CTLs until they become activated into productively infected cells at a slow rate, h.
Discussion
Modern population models of HIV transmission are limited in their ability to predict the impact of drug resistance on individuals and the epidemic, because their representation of the development of drug resistance, if any, is simplistic. This simplification is chosen in part for lack of a way to model within-host dynamics in a manner that is consistent with observables such as viral load, which is heterogeneous across individuals, populations, and time periods [70]. We have shown how observable quantities such as setpoint and acute peak viral load can be independently tuned in such a model over the range of values observed in patients [53, 63]. Modulation of the parameters p and f in our model can recapitulate common patterns of early viremia: rapid decline to setpoint, a slow "shoulder" with gradual decline to setpoint, or an initial interval of viral suppression followed by a rebound of viremia, which approaches setpoint after 90 days or more [53].
The kinetics of tenofovir resistance due to K65R mutation are not fully characterized in humans [67–69]. By accounting for adherence patterns, pharmacokinetics, and the competition between quasispecies at time-varying drug concentrations, we were able to model the dependence of resistance and reversion rates on heterogeneities in host immunity and patterns of drug adherence. At constant overall levels of adherence, we showed the relationship between the duration of dose-taking and dose-skipping intervals and the resulting proportion of time that K65R dominated the infection. We also examined the extremes of periodic versus exponentially distributed transitions between drug-taking and drug-missing states. Reality is likely somewhere in-between: for example, lack of a prescription refill may cause monthly transitions into a drug-missing state, yet the transition back to a drug-taking state may be more variable, depending on the accessibility of the pharmacy, availability of drugs, transportation resources, and other factors.
Without a long-lived latent compartment, our model predicted rapid reversion of resistance with no longer-term impact on the host. With fully suppressive therapy, the populations of both WT and mutant virus drop toward extinction, as back-mutation of one quasispecies can no longer contribute to sustaining the others. In this state, re-activation of long-since-incorporated latent virus becomes a significant contributor to the viral pool. By including a latent compartment as has been described [32, 33], we were able to observe increasing proportions of K65R mutant in both the latent reservoir and the free virus population as the duration of TDF exposure increased, and as immune pressure p decreased.
This model feature provides a potential link between past monotherapy exposure (e.g., misuse of PrEP or single-dose nevirapine administration for prevention of mother-to-child-transmission) and future susceptibility to treatment failure. It explains why past exposure to monotherapy may increase the risk of treatment failure many years later. Further, it allows for host heterogeneities in immune response to be considered in evaluating the risk of this outcome.
Our analysis has thus far been limited to single-position mutations. In part, this is driven by the availability of detailed in vitro dose–response data for single-position mutants [46]. Additionally, the mutation rate of HIV is high enough that any given single-point mutant is likely to exist within a patient by the end of the acute phase. In contrast, fewer than one-third of double mutants are present during a WT-dominated infection, and a given triple-mutant is unlikely to already exist somewhere in the body [71]. In such situations, a stochastic simulation with discrete viral counts would be required to account for small populations such as rare mutants.
In the present analysis, we deliberately chose scenarios in which our continuous deterministic model would agree with the outcome of a stochastic model. We confirmed this through stochastic simulation of a subset of the experiment points. Although we found that simulations of a single milliliter did exhibit species fade-out, simulations of approximately 1% of the total system volume fully approached deterministic model results. Application of stochastic modeling to new areas in which the results could deviate from deterministic models, such as multi-position mutants, is an area of ongoing work.
Conclusions
To date, no model has linked the population-level dynamics of HIV transmission with a representation of within-host interactions of HIV virus dynamics, host immune response, and drug PK/PD [7]. We have shown that host immunity and patterns of drug adherence are important drivers of individual-level risks and dynamics of drug adherence. Understanding how within-host models can capture among-host heterogeneities is an important step toward the milestone of bridging within-host and population-level models of HIV drug resistance.
Declarations
Acknowledgements
We gratefully acknowledge Dr. C. Scott Wylie, Dr. Joshua L. Proctor, Dr. Daniel J. Klein, Dr. Erez Leiberman Aiden, and Dr. Aviva Presser Aiden for helpful discussions during the development of this model. The authors thank Bill and Melinda Gates for their active support of this work and their sponsorship through the Global Good Fund.
Authors' Affiliations
(1)
Epidemiological Modeling Group, Intellectual Ventures Laboratory, Washington, USA
Copyright
© Bershteyn and Eckhoff; licensee BioMed Central Ltd. 2013
This article is published under license to BioMed Central Ltd. This is an Open Access article distributed under the terms of the Creative Commons Attribution License (http://creativecommons.org/licenses/by/2.0), which permits unrestricted use, distribution, and reproduction in any medium, provided the original work is properly cited.