A comprehensive map of the influenza A virus replication cycle
BMC Systems Biology
2013
7:97
Received: 1 July 2013
Accepted: 24 September 2013
Published: 2 October 2013
Abstract
Background
Influenza is a common infectious disease caused by influenza viruses. Annual epidemics cause severe illnesses, deaths, and economic loss around the world. To better defend against influenza viral infection, it is essential to understand its mechanisms and associated host responses. Many studies have been conducted to elucidate these mechanisms, however, the overall picture remains incompletely understood. A systematic understanding of influenza viral infection in host cells is needed to facilitate the identification of influential host response mechanisms and potential drug targets.
Description
We constructed a comprehensive map of the influenza A virus ('IAV') life cycle ('FluMap') by undertaking a literature-based, manual curation approach. Based on information obtained from publicly available pathway databases, updated with literature-based information and input from expert virologists and immunologists, FluMap is currently composed of 960 factors (i.e., proteins, mRNAs etc.) and 456 reactions, and is annotated with ~500 papers and curation comments. In addition to detailing the type of molecular interactions, isolate/strain specific data are also available. The FluMap was built with the pathway editor CellDesigner in standard SBML (Systems Biology Markup Language) format and visualized as an SBGN (Systems Biology Graphical Notation) diagram. It is also available as a web service (online map) based on the iPathways+ system to enable community discussion by influenza researchers. We also demonstrate computational network analyses to identify targets using the FluMap.
Conclusion
The FluMap is a comprehensive pathway map that can serve as a graphically presented knowledge-base and as a platform to analyze functional interactions between IAV and host factors. Publicly available webtools will allow continuous updating to ensure the most reliable representation of the host-virus interaction network. The FluMap is available at http://www.influenza-x.org/flumap/.
Keywords
Drug targets
FluMap
Host factors
Influenza virus
Pathways
Background
Rapid adaption to new hosts and frequent antigenic alterations make the prevention and treatment of influenza A virus (IAV) infections challenging. To develop better intervention methods, a deeper understanding of the viral infection process and the host response to infection are critical. IAV possesses an RNA genome of ~12 kilobases (kb) that encodes 10–12 proteins. As a consequence of this small coding capacity, IAVs usurp and modify the host cell machinery to replicate. Several studies have now provided extensive datasets on cellular factors that may directly or indirectly affect the viral life cycle [1–6] (works are reviewed in [7, 8]). However, it has been challenging to integrate and compare this information with other published data, and to develop a complete picture of the viral life cycle. To this end, a comprehensive illustration and annotation of the current knowledge of the IAV infection process with underlying textual descriptions would greatly assist in elucidating the mechanisms by which influenza viruses utilize host cell machinery and evade host defence mechanisms.
Interaction networks, such as protein-protein interaction (PPI) networks, are often used to visualize interactions among entities (for example, proteins), but such networks do not capture the directionality of interactions (for example, "who stimulates whom"). In addition, interaction networks typically do not capture interactions between different types of molecules (for example, protein–RNA interactions). For these purposes, pathway visualization approaches, that is, 'pathway maps' – such as those described for Epidermal Growth Factor Receptor (EGFR) [9], Toll-like receptor (TLR) [10, 11], retinoblastoma protein/E2F (Rb/E2F) [12], yeast [13], or mammalian target of rapamycin (mTOR) [14] – are better suited. Furthermore, while a graphical representation provides the best overview of biological phenomena, it is also important to represent the model in a machine-readable format that can be rigorously analysed using in silico methods.
Several projects have generated open-source, open-access databases of viral genome sequences, structural and interaction data for viral proteins, and host response data (e.g., the Influenza Research Database [15], the Influenza Virus Resource [16], and VirusMINT [17]); or pathway maps of IAV infections (e.g., Reactome [18, 19] and KEGG [20]). Among the available pathway maps, the 'Influenza A' KEGG map contains only a limited number of entities and reactions. A greater amount of detail is available in the Reactome 'Influenza Life Cycle' and 'Host Interactions with Influenza Virus Factors' maps; however, these maps have not been updated since their creation in 2006, and the lack of integration between them makes it difficult to obtain insights into how they are interrelated. Both the KEGG and Reactome maps also lack significant additional information about pathway entities (e.g., PubMed IDs, supportive references) and neither is readily amenable to computational analysis approaches unless their pathways are converted to standard file formats that can be imported to analytic tools such as Cytoscape. Therefore, the usefulness of both the KEGG and the Reactome pathways as information- and hypothesis-generating platforms is limited.
To address these shortcomings and improve our understanding of influenza virus infections, we created an integrated, comprehensive and interactive map that includes both viral life cycle and host response processes (i.e., the "FluMap") (Figure
1
). Here, we describe the FluMap construction strategy, highlight some of the map's major characteristics, and demonstrate how it can be used as a bioinformatics tool. FluMap will be made available at a website (
http://www.influenza-x.org/flumap
) and can be used in conjunction with the online curation platform Payao [
21
] and a pathway browsing platform iPathways+ [
22
]. Together, these tools enable the scientific community to freely and simultaneously browse, add, and update FluMap information, thus providing the foundation for a powerful, community-curated knowledge base to further influenza virus research.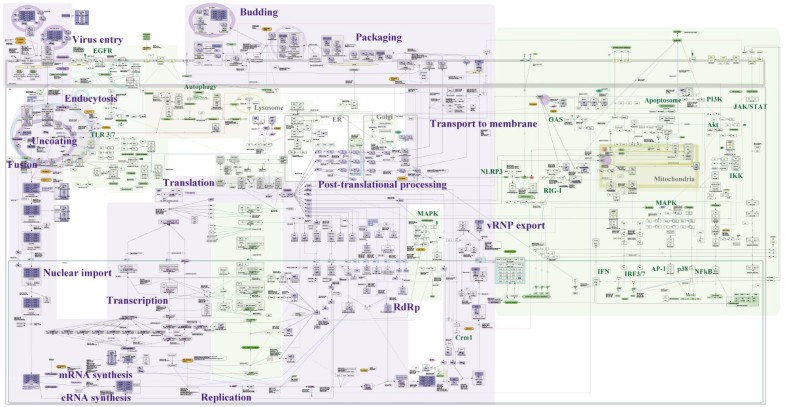 Construction and contents
Utility and discussion
Here, we present FluMap, a comprehensive pathway map for IAV infections. This map is the most recent version of the IAV host-virus interaction map and includes a significantly higher number of factors than previous versions. It is intended to provide a platform for data sharing, community curation, and in silico analysis, such as network controllability analysis. We have made FluMap accessible online to allow for pathway and annotation browsing. We have also provided interactive features that will allow the research community to actively participate in improving and updating FluMap.
FluMap as a data analytic platform
We applied a network controllability analysis to demonstrate that maps like FluMap can be used for in silico analysis. Although the controllability analysis we applied here does not take into consideration the nature of the interaction (for example, activating or inhibitory), our analysis identified several events known to be critical for the IAV life cycle, suggesting that the algorithm [327] can be effectively applied to process-descriptive pathway networks such as FluMap to identify and prioritize factors that could be targeted to affect the IAV life cycle. In addition to known targets, our analysis also identified factors that are not currently recognized as critical, such as YB-1; further experimental testing could address the significance of these events in IAV infections.
A comprehensive map such as FluMap can also be used to analyze large-scale data sets (obtained from 'omics' or siRNA inhibition studies) by using the data mapping function of CellDesigner or other visualization tools.
For a deeper insight into IAV virus-host interactions, the next step in pathway modeling is the integration of additional datasets of host responses to IAV infections. FluMap includes critical host response factors such as RIG-I, PKR, and the NLRP3-inflammasome. However, the pathways regulated by these factors are complex and a significant amount of 'cross-talk' occurs between the pathways, making it extremely challenging to comprehensively map host responses. Here, the integration of additional experimental data as they become available will improve our understanding of host responses to IAV infections. Moreover, future versions of FluMap could integrate intercellular reactions, such as events stimulated by interferons and cytokines/chemokines.
Lastly, a key distinction of FluMap compared with previous influenza replication cycles is the inclusions of strain-specific information. There are strong differences between the pathogenic potential of individual virus strains, and highly pathogenic strains may exploit different host machinery to ensure rapid replication and immune suppression [330–333]. Within FluMap, users can exploit the various annotations tools to analyse isolate-specific pathway interactions and attempt to identify critical molecular events associated with highly pathogenic infections. As future studies with H5N1, H7N9, or reconstructed Spanish influenza viruses reveal more information regarding virus-host interactions, the FluMap presented here will provide a basis for rapid consolidation and in silico exploration.
Conclusions
We constructed a publicly available knowledge base called "FluMap" that contains 960 factors and 456 reactions. All reactions are annotated with PubMed IDs in the Notes section and isolate-specific information is available from many interactions; the entire map is annotated with 476 papers. FluMap is a comprehensive Influenza A virus replication life cycle and host response map, and is expected to be a valuable guidance map for those who study influenza infection.
Availability and requirements
Abbreviations
IAV:

Influenza A virus
SBML:

Systems biology markup language
SBGN:

Systems biology graphical notation.
Declarations
Acknowledgements
We thank the following participants of several 'mapathons' (map-building meetings): Members of the Division of Virology, Department of Microbiology and Immunology, The Institute of Medical Science, The University of Tokyo (Takeo Gorai, Ai Kakumoto, Hirotaka Imai, Ryo Takano, Eiji Takeda, and Ryuta Uraki); members of the Department of Pathobiological Sciences, School of Veterinary Medicine, University of Wisconsin-Madison (Masato Hatta, Chenjun Li, and Makoto Ozawa); a member of the Systems Biology Institute, Tokyo (Natalia Polouliakh); and members of the JST ERATO Kawaoka infection-induced host response network project (Hiroko Fujii, Ken Fujii, Eiryo Kawakami, Yukiko Muramoto, Tadasuke Iizumi, Saori Sakabe, Yuko Shoya-Imai, and Yuriko Tomita). We also thank the software/platform development teams of CellDesigner, Payao, and iPathways+ at the Systems Biology Institute, Keio University, and Okinawa Institute of Science and Technology Graduate University. The authors would like to particularly thank to the anonymous reviewers for their valuable comments and suggestions to improve the quality of the paper. This research was funded by the Exploratory Research for Advanced Technology (ERATO) program (Japan Science and Technology Agency).
Authors' Affiliations
(1)
JST ERATO Kawaoka infection-induced host responses project, Tokyo, Japan
(2)
The Systems Biology Institute, Tokyo, Japan
(3)
Department of Bioinformatics, Medical Research Institute, Tokyo Medical and Dental University, Tokyo, Japan
(4)
Department of Pathological Science, School of Veterinary Medicine, University of Wisconsin-Madison, Madison, USA
(5)
Laboratory of Veterinary Microbiology, Department of Veterinary Sciences, University of Miyazaki, Miyazaki, Japan
(6)
Sony Computer Science Laboratories, Inc, Tokyo, Japan
(7)
Okinawa Institute of Science and Technology Graduate University, Okinawa, Japan
(8)
Division of Virology, Department of Microbiology and Immunology, The Institute of Medical Science, The University of Tokyo, Tokyo, Japan
(9)
Department of Special Pathogens, International Research Center for Infectious Diseases, Institute of Medical Science, University of Tokyo, Tokyo, Japan
(10)
Laboratory of Bioresponses Regulation, Department of Biological Responses, Institute for Virus Research, Kyoto University, Kyoto, Japan
Copyright
© Matsuoka et al.; licensee BioMed Central Ltd. 2013
This article is published under license to BioMed Central Ltd. This is an Open Access article distributed under the terms of the Creative Commons Attribution License (http://creativecommons.org/licenses/by/2.0), which permits unrestricted use, distribution, and reproduction in any medium, provided the original work is properly cited.