ANDSystem: an Associative Network Discovery System for automated literature mining in the field of biology
BMC Systems Biology
2015
9(Suppl 2):S2
Abstract
Background
Sufficient knowledge of molecular and genetic interactions, which comprise the entire basis of the functioning of living systems, is one of the necessary requirements for successfully answering almost any research question in the field of biology and medicine. To date, more than 24 million scientific papers can be found in PubMed, with many of them containing descriptions of a wide range of biological processes. The analysis of such tremendous amounts of data requires the use of automated text-mining approaches. Although a handful of tools have recently been developed to meet this need, none of them provide error-free extraction of highly detailed information.
Results
The ANDSystem package was developed for the reconstruction and analysis of molecular genetic networks based on an automated text-mining technique. It provides a detailed description of the various types of interactions between genes, proteins, microRNA's, metabolites, cellular components, pathways and diseases, taking into account the specificity of cell lines and organisms. Although the accuracy of ANDSystem is comparable to other well known text-mining tools, such as Pathway Studio and STRING, it outperforms them in having the ability to identify an increased number of interaction types.
Conclusion
The use of ANDSystem, in combination with Pathway Studio and STRING, can improve the quality of the automated reconstruction of molecular and genetic networks. ANDSystem should provide a useful tool for researchers working in a number of different fields, including biology, biotechnology, pharmacology and medicine.
Keywords
ANDSystemANDCellANDVisiotext mininginformation extractionnatural language processing (NLP)associative networksgene networksdisease and disorders
Background
There is no doubt that one of the most important sources of reliable biological data is the scientific literature. The well-known PubMed database contains more than 24 million abstracts, which makes it extremely difficult for researchers to manually analyze such huge amounts of data. Text- and data-mining approaches can be used for the automated extraction of information from scientific literature. However, another problem is obtaining information in a compact and convenient format that is suitable for further analysis. One of the approaches to this challenge is to present the extracted data in the form of associative molecular genetic networks that describe various interactions between genes, proteins, metabolites, biological processes and diseases.
Pathway Studio [1], STRING [2], Biblio-MetReS [3], Meshop [4] and Coremine [5] are well-known examples of text-mining systems dedicated to the reconstruction of molecular-genetic networks. It should be noted that most of the programs based on automated text-analysis approaches mainly focus on findings of the interactions between the molecular and genetic objects themselves, without further classification of the interaction type, or the limitation of the classification to only a few basic types. At the same time, a detailed description of the molecular mechanisms of biological processes, which requires the consideration of a wide variety of relationships between molecular and genetic objects, is a necessary prerequisite for the majority of research studies. One of the possible solutions to this problem is the combined use of several programs that provide information about different types of molecular and genetic interactions, which can result in the reduction of the error rate related to the false extraction of information from text that can occur if each program is used separately. In this regard, the development of automated tools based on original text-mining methods allowing retrieval of an extended description of interactions compared with existing programs is a current topic of interest in the data-mining field.
Here, we describe for the first time the ANDSystem package, which is dedicated to the reconstruction of associative networks based on an automated analysis of scientific publications, while providing a wide range of types of interactions between molecular and genetic objects, diseases and pathways. Recently, ANDSystem was used for the reconstruction of the associative molecular genetic networks associated with various human diseases, including myopia and glaucoma [6], dilated cardiomyopathy [7], and bronchial asthma and tuberculosis [8]. In the case of asthma and tuberculosis, it was shown that the structure of molecular genetic networks describing molecular interactions between inversely comorbid diseases is significantly different from the same networks constructed for random pairs of diseases [8]. With the use of ANDSystem, a network analysis of proteomic data was performed. For example, molecular genetic networks were reconstructed describing the interactions between proteins identified in the urine of healthy humans in a 520-day isolation experiment [9] and for proteins differentially expressed in various Helicobacter pylori strains isolated from patients with chronic gastritis and gastric tumors [10].
Results and Discussion
To estimate the quality of data involving the interactions identified in the ANDCell knowledge base of ANDSystem, precision and recall values were calculated. Precision was estimated as the ratio of the number of correctly identified interactions to the total number of interactions in the testing set. The testing set was prepared as a number of interactions randomly selected from ANDCell. We estimated precision values for the 6 main types of ANDSystem interactions, including "interaction," "catalysis," "activity regulation," "conversion," "expression regulation" and "association," covering about 90% of all molecular-genetic interactions described in ANDCell (Figure
6
). We did not consider "involvement" and "expression" in the accuracy estimation, because all the data describing these interaction types was extracted from the UniProt-GOA and NCBI Gene databases, respectively. For each type of interaction a testing set consisted of 100 unique interactions.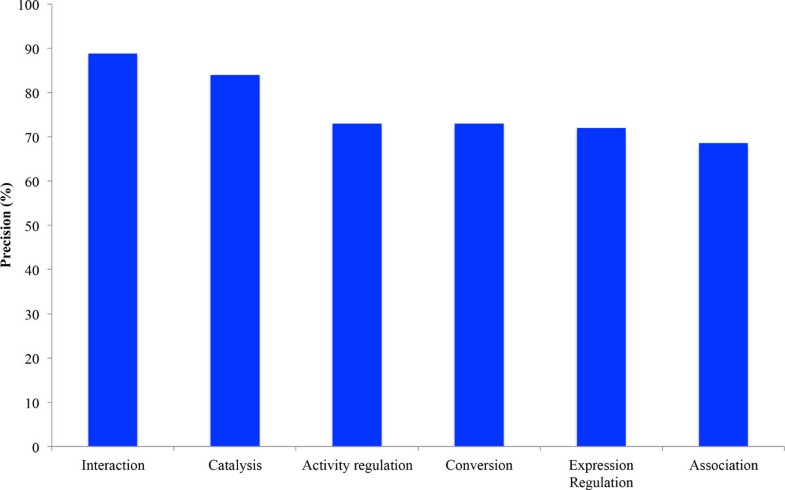 True and false interactions were classified manually by experts. The error was defined as a wrongly recognized name of at least one of the participants of the interaction or as an incorrectly established interaction between them. The maximum and minimum precision for "interaction" and "association" types were found to be 88.8% and 68.6%, respectively. The average precision was calculated to be 76.5%. It should be noted that the "association" is used in ANDSystem to determine the relationship between a pair of objects in a case when a more specified type of interaction was not identified. In this regard, a low precision value for the "association" is caused by failing to use strict templates for this type of interaction.
For the assessment of recall values, a Gold Standard containing expertly verified information about different types of molecular-genetic interactions extracted from the GeneNet database [23–25] was created. We used a GeneNet database as a source of information for our Gold Standard due to the fact that it was manually created by experts on the basis of scientific publications without the use of any automated text-mining tools. The Gold Standard was formed on the basis of 17 randomly taken GeneNet networks containing a total of 2,286 interactions between genes, proteins and metabolites. To establish one-to-one correspondence between GeneNet and ANDSystem, only interactions with the following identifiers were considered: SWISS-Prot for proteins, ENTREZ_GENE for genes and the CAS number for metabolites. Using these criteria, 741 interactions remained in the Gold Standard, including 730 participants (349 proteins, 23 genes and 358 metabolites). ANDCell contained 398 interactions from this Gold Standard. Thus, the recall value for ANDSystem was about 54%. In order to compare ANDSystem with existing programs, we applied our Gold Standard to well-known text-mining based systems, such as Pathway Studio [1] and STRING [2]. Surprisingly, the recall for Pathway Studio did not exceed 22%. It was found that some proteins from the SWISS-Prot database were not identified in the Pathway Studio. Out of 349 proteins involved in 741 interactions of our Gold Standard, only 96 proteins involved in 167 interactions were identified in Pathway Studio. The recall value for Pathway Studio calculated from these 167 interactions was 94%. It was also found that recall for ANDSystem calculated with the same sample appeared to be 84% (146 interactions were found out of 167), which is slightly inferior to this well-known program. To apply our Gold Standard to STRING, we left interactions involving proteins only and identified 31 out of 97 interactions (32% recall). It should be mentioned that the threshold of significance in STRING (the parameter for searching interactions) was set as "high," because unlike Pathway Studio and ANDSystem, this program is based on the co-occurrence approach.
It can be expected that the combined use of programs based on different text-mining methods can increase the completeness of the description of the molecular interactions in the studied biological processes. We compared the completeness of the ANDSystem, Pathway Studio and STRING networks by applying these programs to the automated reconstruction of networks describing interactions between 14 randomly selected genes from the Gene Ontology biological process, 蠐regulation of heart rate by cardiac conduction
≫
(GO: 0086091), which plays an important role in the functioning of the cardiovascular system (see Figure
7
). The ANDSystem network includes 112 interactions for 39 pairs of objects. The network contains the following interaction types: 14 蠐expression
≫
, 5
≪
expression regulation
≫
, 7
≪
coexpression
≫
, 8
≪
interaction
≫
, and 78
≪
association
≫
(Figure
7A
). The Pathway Studio network contains 26 interactions for 22 pairs of objects, including the following interaction types: 9
≪
Binding
≫
, 9
≪
DirectRegulation
≫
, 2
≪
Expression
≫
, 4
≪
MolTransport
≫
and 2
≪
Regulation
≫
(Figure
7B
). The STRING network contains 18
≪
Binding
≫
interactions for 18 pairs of objects (confidence (score) = 0.900) (Figure
7C
). In the ANDSystem network, genes and proteins are presented as separate objects, while in STRING and Pathway Studio networks these types of objects are united. To compare ANDSystem with Pathway Studio and STRING, we converted the ANDSystem network into a network in which genes and proteins were also presented as one object. After such a procedure, the number of interactions in the ANDSystem network appeared to be 88 interactions for 21 pairs of objects. Fourteen
≪
expression
≫
interactions between genes and proteins (products of their expression) were deleted. Also, 10
≪
association
≫
interactions were removed because both participants (genes and proteins) had the same interactions.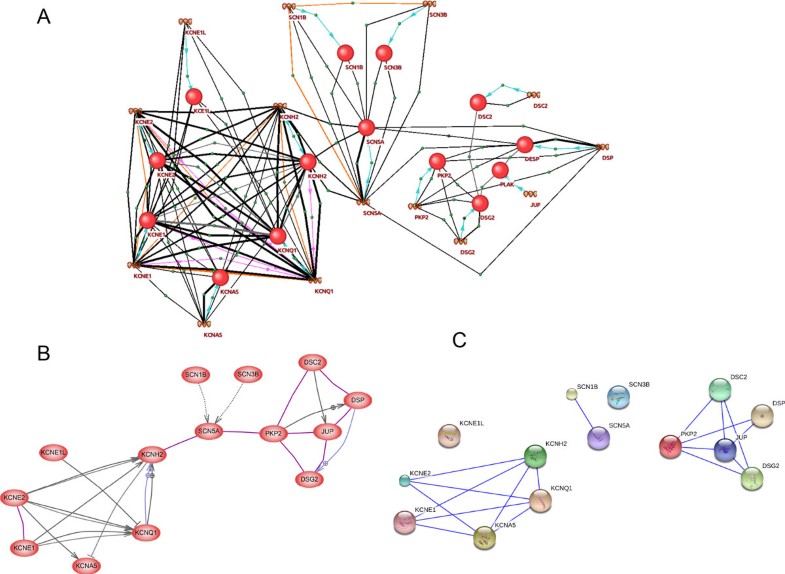 Thus, the combined ANDSystem/Pathway Studio/STRING network contains 28 pairs of interacting objects (with 12 pairs among them being the same for each system), while, the combined Pathway Studio/ANDSystem, STRING/ANDSystem and Pathway Studio/STRING networks contain 16, 14 and 15 shared pairs of interacting objects, respectively. The 3 pairs of interacting objects were found only in the ANDSystem network, including the following interaction types: 6 ≪association≫ and 1 ≪coexpression≫. The Pathway Studio network contained 3 unique pairs of interacting objects including 2 ≪Binding≫ and 1 ≪Expression≫. The STRING network contained only 1 unique pair of interacting objects. Thus, the combined use of different text-mining based systems can help to obtain the most detailed information about molecular genetic interactions.
Conclusion
ANDSystem, which has the automated capability of reconstructing networks, was developed for the purpose of scanning literature to extract relationships between diseases, pathways, cell components, proteins, genes, microRNAs and metabolites. ANDSystem incorporates utilities for automated knowledge extraction from PubMed and analysis of factographic databases. ANDSystem accuracy is comparable to the accuracy of well-known text-mining systems, such as Pathway Studio and STRING, but in contrast to these systems, it provides a more detailed description of interactions between molecular and genetic objects. It is obvious that existing text-mining systems cannot extract full information about molecular-genetic interactions contained in scientific publications. In this study, we demonstrated that the combined use of ANDSystem with Pathway Studio and STRING reduced the information loss that results from using each system individually.
Availability and requirements
Declarations
Acknowledgements
We thank Cambridge Proofreading LLC for carefully proofreading the manuscript.
Declarations
Publication of this article has been funded by Russian Science Foundation grant No 14-24-00123
This article has been published as part of BMC Systems Biology Volume 9 Supplement 2, 2015: Selected articles from the IX International Conference on the Bioinformatics of Genome Regulation and Structure\Systems Biology (BGRS\SB-2014): Systems Biology. The full contents of the supplement are available online at http://www.biomedcentral.com/bmcsystbiol/supplements/9/S2.
Authors' Affiliations
(1)
The Institute of Cytology and Genetics, The Siberian Branch of the Russian Academy of Sciences, Novosibirsk, Russia
(2)
PB-soft, Llc, Novosibirsk, Russia
(3)
Novosibirsk State University, Novosibirsk, Russia
Copyright
© Ivanisenko et al.; licensee BioMed Central Ltd. 2015
This article is published under license to BioMed Central Ltd. This is an Open Access article distributed under the terms of the Creative Commons Attribution License (http://creativecommons.org/licenses/by/4.0), which permits unrestricted use, distribution, and reproduction in any medium, provided the original work is properly cited. The Creative Commons Public Domain Dedication waiver (http://creativecommons.org/publicdomain/zero/1.0/) applies to the data made available in this article, unless otherwise stated.