Research article
Open Access
Autoimmunity and tumor immunology: two facets of a probabilistic immune system
BMC Systems Biology
2014
8:120
Received: 11 August 2014
Accepted: 13 October 2014
Published: 11 November 2014
Abstract
Background
The immune system of vertebrates has evolved the ability to mount highly elaborate responses to a broad range of pathogen-driven threats. Accordingly, it is quite a challenge to understand how a primitive adaptive immune system that probably lacked much of its present complexity could provide its bearers with significant evolutionary advantage, and therefore, continue to be selected for.
Results
We have developed a very simple model of the immune system that captures the probabilistic communication between its innate and adaptive components. Probabilistic communication arises specifically from the fact that antigen presenting cells collect and present a range of antigens from which the adaptive immune system must (probabilistically) identify its target. Our results show that although some degree of self-reactivity in the immune repertoire is unavoidable, the system is generally able to correctly target pathogens rather than self-antigens. Particular circumstances that impair correct targeting and that may lead to infection-induced autoimmunity can be predicted within this framework. Notably, the probabilistic immune system exhibits the remarkable ability to detect sudden increases in the abundance of rare self-antigens, which represents a first step towards developing anti-tumoral responses.
Conclusion
A simple probabilistic model of the communication between the innate and adaptive immune system provides a robust immune response, including targeting tumors, but at the price of being at risk of developing autoimmunity.
Keywords
Comparative immunology/evolutionAutoimmunityTumor immunityAntigen presentation/processingMathematical modeling
Background
For more than a century, the immune system (IS) of vertebrates has been admired by biologists for its versatility and stunning complexity, which continues to impress as new findings are made in the field. The plethora of cell types, molecular interactions and soluble factors that are involved in the immune response is not only responsible for an organisms defense against infections but also, they play an important role in self-maintenance and antitumor responses [1]. The complexity that is currently observed in the IS of vertebrates is the consequence of an evolutionary process that started more than 500 million years ago [2]-[4]. Therefore, primitive stages of the IS probably lacked many of the current cell types, lymphoid organs and regulatory mechanisms [5], although they still had to cope with the risk of potential autoimmunity. Understanding how this simpler IS was sufficiently functional to persist and continue evolving under the pressure of natural selection constitutes a challenge for immunologists and evolutionary biologists alike [6]. In a discipline mainly driven by experimental work, simple theoretical models can be used to provide an intuitive understanding of how the IS works, as well as the conceptual frameworks necessary to organize and integrate experimental findings into a coherent system [7]. Moreover, as new forms of IS are being discovered in organisms other than vertebrates, theoretical studies on the very general properties of the vertebrate IS may help us to formulate hypotheses on what we might expect for other such IS's [8].
One of the first conceptual models of the IS was proposed more than fifty years ago and based the immune response firmly on the foundations of self vs. non-self discrimination [9]. According to a two-signal model developed subsequently [10], discrimination between self and non-self could be achieved if two concurrent triggers were required in order to induce a response. While these models emphasized the importance of correct Antigen (Ag) targeting, they could neither explain tolerance towards certain non-self Ags, nor the responses against self Ags. The danger model introduced in the nineties [11], integrated those phenomena by establishing that the IS must be activated by danger signals in order to initiate a response. Conversely, Ags (self or non-self) that are presented in a non-danger context become tolerated. While focusing on the context required for IS activation, the danger model does not directly address the question of specific Ag targeting (i.e. how the IS decides, in a context of danger, which particular Ag should be targeted). A different perspective was adopted in the tunable activation threshold model [12] in which it was argued that the IS actively tracks Ag abundance and responds against Ags whose abundance changes abruptly [13],[14]. Situating the detection of sudden changes in Ag as a central element in the immune response has recently been reformulated as the discontinuity theory of immunity [7]. From a more abstract point of view, the ability of the IS to detect and manage changes in the self was the basis of the cognitive IS theory adopted in the late nineties [15].
Since the discovery of autoimmune diseases and anti-tumor immunity [16],[17], self-reactivity has become a central issue that all theoretical models of the IS must deal with. One particularly interesting question is whether such phenomena are exceptional (e.g. due to the malfunction of the IS) or if they are simply natural outcomes displayed by any conceivable IS [18]. We have developed a simple, conceptual model that aims to integrate the basic features of the IS into a unified framework. Inspired by evolutionary considerations, we hypothesize that a simplified model of the IS, even if it neglects some degree of its actual complexity, can shed some light on the intrinsic properties of the immune response. Likewise, such a model might provide hints as to the minimal elements required for an IS to be functional.
In order to construct our model, we focused on the communication between the innate and adaptive components of the IS. On the one hand, the innate immune system (IIS) has evolved to recognize conserved molecular patterns [
19
] that are usually associated to infections or tissue damage – the so-called danger signals. Once such signals are detected, the IIS is activated and it sets in motion an innate response [
20
]. Conversely, the adaptive immune system (AIS) can recognize virtually everything, although it must be activated by Ag-presenting cells (APCs) that pertain to the IIS. Communication between the IIS and AIS, materialized in the process of Ag presentation, aims to ensure that the adaptive immune response is targeted to the correct Ag (Figure
1
). Accordingly, the key property of IIS-AIS communication must be highlighted. In a context of danger, the target Ag is presented by APCs together with a set of non-target Ags from the environment. Because danger signals need not be physically linked to the target Ag (e.g., they may be endogenous factors produced by damaged tissue) there is no way to identify such Ag in a deterministic way. In other words, the IS must choose its target based on incomplete context information, a decision-making process under uncertainty. Control mechanisms, such as central and peripheral tolerance, are necessary to enhance the probability of targeting the correct Ag and it is this probabilistic nature of IIS-AIS communication that we aim to capture with our model.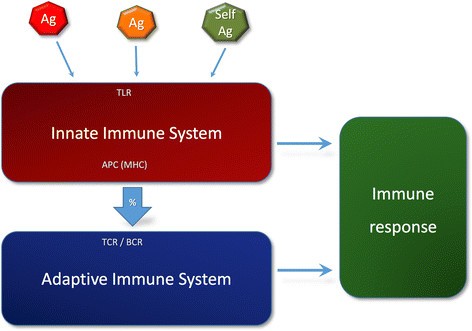 Classical explanations of how infectious agents may provoke autoimmunity [21] fit into the aforementioned conceptual framework at three levels: first, through the incorrect activation of the IIS – bystander activation; second, through a failure in IIS-AIS communication – epitope spreading; and third, through a non-specific adaptive response – molecular mimicry and superantigens. To account for the first two situations, our model allows the role that central and peripheral tolerance play in minimizing the risk of autoimmunity to be evaluated qualitatively. In addition, it shows that some classes of autoimmunity and antitumor responses are related outcomes that arise from the probabilistic nature of IIS-AIS communication.
The rest of the article is structured as follows: we begin Results section by describing the main ingredients of the model, which include an antigenic microenvironment, central tolerance through negative selection, and a simple form of peripheral tolerance. Then we present the results of the mathematical analysis of the model in what concerns self-reactivity, pathogen targeting and tumor detection. When possible, order of magnitude estimations are given to illustrate the performance of the IS in different scenarios. The Discussion highlights the relevance of our results in the context of autoimmunity and tumor immunology, and explores the possibility that the probabilistic model can be extended to non-vertebrate IS's. A comprehensive exposition of the model and its analysis is provided in Methods.
Discussion
The strength of an adaptive immune system lies in its ability to recognize a virtually infinite number of antigens in a highly specific manner. However, such specific recognition becomes useless, or even dangerous, if the targeted Ag is not related to the cause of IS activation. Consequently, targeting the correct Ag in a universe of self and non-self Ags, damaging and non-damaging Ags, is a fundamental task for the IS. In order to gain an intuitive understanding as to how an active IS accomplishes this task, we have explored a simple model that focuses on how the innate and adaptive components of the IS communicate with each other. The main feature of this model is that communication occurs in a probabilistic way, based on the fact that the IIS does not exactly tell the AIS which the target Ag is but rather, it presents it along with other, non-target Ags. In order to provide the AIS with the ability to discriminate Ags, our model only considers two control mechanisms: first, central tolerance, where induction is modeled as probabilistic self-Ag presentation leading to inactivation; and second, the need of a minimum number of MHC-peptide-TCR complexes to be formed in order to induce lymphocyte activation (the effective presentation threshold). Provided that the IIS only becomes activated when signals of danger are present, these simple control mechanisms are sufficient to ensure reliable targeting of the pathogen Ag by the AIS. Such a finding is striking and involves evolutionary implications that are not trivial, particularly as it shows that a very simplified IS can still be functional. It is conceivable that the addition of further complexity during evolution (e.g. regulatory feedback loops, memory, specific peripheral tolerance) will have optimized the dynamics of immune responses and enlarged their functional spectrum.
Conceptual models of the IS usually assume that every Ag present will be detected by the AIS. In the probabilistic model, we explicitly consider the possibility that rare Ags remain undetected and that if any of such Ag experiences a sudden increase in abundance it will then become visible to the IS. In the presence of activation -danger- signals, such events may lead to autoimmune or antitumor responses, the latter if a tumor Ag is involved [31],[33]. Experimental evidence supporting this prediction includes detection of autoantibodies and self-reactive T-cells specific to certain types of cancer, which has been related to the overexpression of their cognate tumor-associated Ags [30],[32],[34],[35]. It should be noted that in this model, detecting changes in Ag abundance is not based on any kind of active tracking but rather on probabilistic issues. Thus, autoimmunity and responses to tumors are two sides of the same coin: revolving around the probabilistic nature of the IIS-AIS communication. This intrinsic relation that links autoimmunity and antitumor immunity manifests itself, for instance, in similarities between the Ag involved in both kinds of responses [36],[37]. In the context of immunosenescence, the model predicts that depletion of the self-reactive immune repertoire with aging would impair the IS from detecting tumors.
An order of magnitude estimation of the sensitivity of the IS to changes in self-Ag suggests that a tumor Ag's effective abundance should increase approximately in a factor 100 in order to become detectable. While such a large change may not always be experienced by serum markers typically used for monitoring cancer [38],[39], instances of cell markers whose expression in tumors raises several orders of magnitude have been reported [40]. From a systems optimization perspective, the 100-fold increase in effective abundance required for detection seems surprisingly conservative, since almost certain discrimination is compatible with detecting changes of as a small magnitude as 10-fold. A possible explanation is that ordinary fluctuations in Ag effective abundances often raise over a factor of 10, e.g. due to local changes in concentration or episodes during which they become more accessible to APCs. Therefore, the high MDI observed would contribute to filtering significant changes. Testing this idea would require a better characterization of the MHC-bound peptide profiles and their fluctuations, an information that is just starting to become available [41],[42].
According to our results, the very existence of self-reactive lymphocytes can be at least partially explained by the probabilistic nature of Ag presentation during lymphocyte maturation. Complete tolerance cannot be achieved since the period of maturation is limited. This constraint on central tolerance would still hold even if all self-Ags were expressed in the thymus and therefore, incomplete tolerance and residual self-reactivity are not faults but intrinsic properties of the vertebrate IS. In our model the mechanism of peripheral tolerance is very basic, static and unspecific, and could be considered a sort of `peripheral ignorance'. However, it is easy to envisage what would happen with a more sophisticated mechanism able to induce tolerance to those Ags that are efficiently presented in the absence of activation signals. In such circumstances, increases in the abundance of rare Ags would switch them from untolerated to tolerated, and such specific peripheral tolerance would have dramatic consequences in terms of tumor detection. Indeed, the lack of activating signals may allow tumors to escape the IS and induce tolerance to the over-expressed tumor Ags [43]. This represents an instance of how a mechanism evolved to reduce the risk of autoimmunity entails a cost at the level of tumor detection.
A connection between genes involved in Ag presentation and susceptibility to autoimmune diseases has already been suggested on the basis of the results of genome wide association studies [44],[45]. The probabilistic model of the IS in turn captures some of the mechanisms through which infections can trigger autoimmune responses [21], identifying two risk factors of interest. First, the risk of an autoimmune response increases in the presence of pathogens that activate the IIS while remaining at concentrations too low to be effectively presented to the AIS. The second risk factor is the massive release of otherwise rare self-Ags as a result of infection. In both cases, autoimmunity would follow from incorrect Ag targeting and its onset might possibly require additional failings of other regulatory mechanisms not included in our model [46]. An experimental setting that simulates the aforementioned scenario is the induction of experimental autoimmune encephalomyelitis, an animal model of multiple sclerosis, after priming with central nervous system-restricted Ags plus an adjuvant [47]. Alternatively, autoimmunity can follow massive Ag release after traumatic lesions provided that they lead to immune activation. This may be the case of sympathetic ophthalmia, a rare autoimmune pathology that affects both eyes after accidental or surgical trauma in one of the eyes [48].
From the point of view of comparative immunology, the results we have obtained with this simple model provide hints as to what might be expected when studying different immune systems. Incomplete tolerance, some risk of autoimmunity and the ability to detect tumors are intrinsic properties of immune systems whose innate and adaptive components communicate probabilistically. Nevertheless, it is worth noting that there are alternatives to probabilistic communication. For instance, the intracellular RNA interference system of plants detects and processes viral double-stranded RNA to produce target-specific effector molecules (siRNA) [49]. From a conceptual perspective, the RNA interference system involves innate -dsRNA recognition- and adaptive -effector siRNA- components that communicate deterministically through RNA processing. Alternatively, immune systems with no clear distinction between innate and adaptive components may also behave as a probabilistic IS if: (1) their highly diversified receptors are potentially capable of binding self-molecules; and (2) they respond to activation (danger) signals that are not physically linked to their "target Ags". As research on the immunology of jawless vertebrates, protochordates and invertebrates progresses [2],[8],[50],[51], it will be of great interest to see whether their highly diversified immune systems are based on, and share, the characteristics of those with probabilistic communication strategies [18]. If that is the case, we expect that the general conclusions obtained in this work will also hold for them.
Conclusion
A simple probabilistic model of the communication between the innate and adaptive immune system provides a robust immune response, including targeting tumors, but at the price of being at risk of developing autoimmunity.
Abbreviations
Ag:

Antigen
AIS:

Adaptive immune system
APC:

Antigen presenting cell
dsRNA:

double-stranded RNA
IIS:

Innate immune system
IS:

Immune system
MDI:

Minimum detectable increment
MHC:

Major histocompatibility complex
siRNA:

Small interference RNA
TCR:

T cell receptor
Declarations
Acknowledgements
We thank Prof. Polly Matzinger from NIH, Ricard Sole and Jordi Garcia-Ojalvo from Universitat Pompeu Fabra, Barcelona, Spain, for their helpful advice and comments on the manuscript. This work was supported by the Instituto de Salud Carlos III, Spain (RETICS program RD12/0032/0001) and the European Union Seventh Framework Programme (FP7/2007-2013) under grant agreement No 305397. J. I. was funded by Spanish MINECO (project FIS2011-27569) and Comunidad de Madrid (through a research grant and project MODELICO S2009/ESP-1691). The funders had no role in study design, data collection and analysis, decision to publish, or preparation of the manuscript.
Authors' Affiliations
(1)
Centro de Astrobiología, INTA − CSIC, Madrid, Spain
(2)
Institute of Biomedical Research August Pi Sunyer (IDIBAPS), Hospital Clinic of Barcelona, Barcelona, Spain
(3)
National Center for Biotechnology Information, National Library of Medicine, National Institutes of Health, Bethesda, USA
Copyright
© Iranzo and Villoslada; licensee BioMed Central Ltd. 2014
This article is published under license to BioMed Central Ltd. This is an Open Access article distributed under the terms of the Creative Commons Attribution License (http://creativecommons.org/licenses/by/4.0), which permits unrestricted use, distribution, and reproduction in any medium, provided the original work is properly credited. The Creative Commons Public Domain Dedication waiver (http://creativecommons.org/publicdomain/zero/1.0/) applies to the data made available in this article, unless otherwise stated.