Methodology Article
Open Access
Uncovering distinct protein-network topologies in heterogeneous cell populations
BMC Systems Biology
2015
9:24
Received: 15 November 2014
Accepted: 18 May 2015
Published: 4 June 2015
Abstract
Background
Cell biology research is fundamentally limited by the number of intracellular components, particularly proteins, that can be co-measured in the same cell. Therefore, cell-to-cell heterogeneity in unmeasured proteins can lead to completely different observed relations between the same measured proteins. Attempts to infer such relations in a heterogeneous cell population can yield uninformative average relations if only one underlying biochemical network is assumed. To address this, we developed a method that recursively couples an iterative unmixing process with a Bayesian analysis of each unmixed subpopulation.
Results
Our approach enables to identify the number of distinct cell subpopulations, unmix their corresponding observations and resolve the network structure of each subpopulation. Using simulations of the MAPK pathway upon EGF and NGF stimulations we assess the performance of the method. We demonstrate that the presented method can identify better than clustering approaches the number of subpopulations within a mixture of observations, thus resolving correctly the statistical relations between the proteins.
Conclusions
Coupling the unmixing of multiplexed observations with the inference of statistical relations between the measured parameters is essential for the success of both of these processes. Here we present a conceptual and algorithmic solution to achieve such coupling and hence to analyze data obtained from a natural mixture of cell populations. As the technologies and necessity for multiplexed measurements are rising in the systems biology era, this work addresses an important current challenge in the analysis of the derived data.
Keywords
Bayesian analysisCluster analysisIntercellular variabilityNetwork analysisProtein networksReverse engineeringUnmixing
Background
In order to understand how a protein network gives rise to a cellular function it is essential to quantify the states of the involved proteins and their causal relations. However, it is actually not possible to strictly define out of the proteome the subset of all proteins which are involved in a certain cellular process since these will always have interactions with proteins not included in this subset. In spite of major advances in proteomic [
1
,
2
] and cytometric [
3
–
7
] methods, quantification of the levels and post-translational modifications of all proteins of the proteome in the same cell is still beyond reach. Therefore, we fundamentally cannot observe the whole system at once (i.e in the same cell) but only a small part of it (Fig.
1
a) [
8
]. This limit, by itself, could have been overcome by looking at different parts of the system in different cells and building a model of the whole system step by step. However, such a strategy is fundamentally hampered by natural cell-to-cell variability which makes the integration of information highly challenging. Several studies have addressed the challenge of network reconstruction in the presence of intrinsic and extrinsic noise [
9
] around one prototypic network structure [
10
–
12
]. However, in many physiological cases the cell-to-cell variance is not only due to noise around one cellular state but also due to subpopulations which are in qualitatively distinct types of states. Such qualitative variabilities within the same cell population are generated by epigenetic commitment of cells to different fates (e.g., proliferation versus differentiation) as well as by genetic alterations (Fig.
1
b) as in cancer [
13
,
14
]. In many cases the distinct cell subpopulations are spatially intermixed and therefore are harvested together and co-measured within the same sample (e.g., by flow-cytometry). In such cases, causal relations and correlations between measured proteins can be qualitatively different in different cells if they are mediated by non-measured proteins which have different states at each subpopulation. Therefore, integration of observations over the cell population toward one model would be invalid and will yield uninformative average relations (Fig.
1
c, middle). Ultimately, in order to solve this fundamental problem one should identify the number of qualitatively different subpopulations in the data, thus unmix the cells in-silico and resolve separately for each subpopulation the relations between the measured proteins. A recent work suggested to use a mixture model to unravel subpopulations in biochemical systems based on ordinary differential equations and prior knowledge about the number of subpopulations as well as about kinetic constants underlying the differences between them [
15
]. In this work we developed a Bayesian method for achieving this goal without such prior knowledge.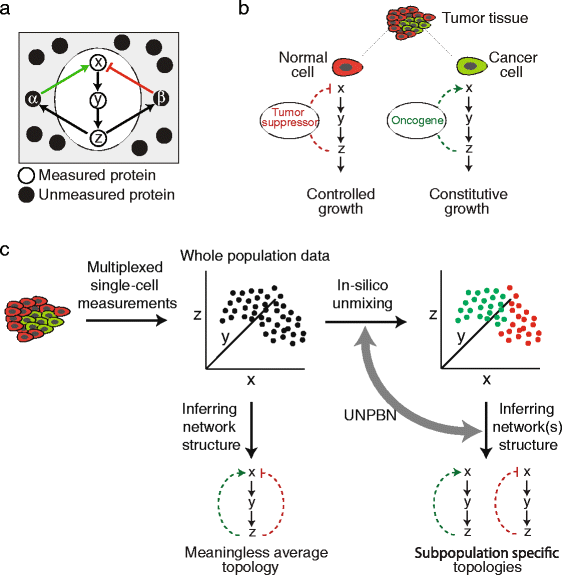 To unmix observations of cells from different subpopulations, we are taking advantage of the high-dimensionality of the observations, as typically obtained from cell-based high-content measurements such as flow-cytometry [3, 13, 16, 17], mass-cytometry [4, 5] and toponome imaging [6, 7]. Within each subpopulation, stochastic cell-to-cell variability in protein expression levels gives rise to high-dimensional probability distributions with the same dimensionality as the number of biochemical species (e.g., proteins) measured in each cell. To this extent, network inference approaches, like Gaussian Bayesian networks (GBN) [18–20], to resolve a single statistical model that fits best the data, have been already developed [21–23]. In this work we use as a basis our previously described nonparametric Bayesian network analysis (NPBN, [21]) and expand it to allow for different network structures in a mixture of different cell subpopulations (Fig. 1c, right). In this method, termed hereafter unmixing-via-NPBN (UNPBN), a flexible number of Gaussian Bayesian networks is being fitted to the data and thereby iteratively identifying the number of distinct subpopulations, unmixing the observations and resolving the statistical model for each subpopulation. As a model system to assess and demonstrate our method we simulated the canonical MAPK Raf-Mek-Erk kinases cascade in the context of PC12 cells stimulated by either epidermal growth factor (EGF) or nerve growth factor (NGF) [24]. We show that our method identifies better than common clustering approaches the presence of two subpopulations within a mixture of EGF and NGF stimulated PC12 cells based on the levels of active Raf, Mek and Erk in each cell. This enabled to resolve correctly the statistical relations between Raf, Mek and Erk in each subpopulation.
Discussion
In the era of systems biology, single-cell measurement techniques are rapidly expanding with respect to the number of cells that can be analyzed and the number of biochemical species that can be co-measured per cell. The approaches to explore these data have focused so far either on identifying different subpopulations of cells based on multiparametric proximities or on inferring the topology of statistical relations between the parameters for the population as a whole. However, the aim to reach each of these two goals in separate has fundamental problems. In one direction, ignoring the heterogeneity between cell subpopulations will lead to inferring a meaningless average topology of statistical relations of the population as a whole. In the other direction, since statistical relations are inferred from the correlation between the measured parameters, the identification of cell subpopulations based on multiparametric proximities inherently conflicts with the capability to resolve the topology of relations within each subpopulation. Furthermore, protein networks with distinct topologies can be at the same state (i.e., to have high multiparametric proximity) and protein networks with the same topology can be at different states (e.g., at different phases along an oscillatory response). Therefore, attempts to identify cell subpopulations based on multiparametric proximities may actually identify different cellular states but not different types of cells. The method presented here pioneers a comprehensive solution to these fundamental problems by performing the identification of cell subpopulations (i.e. unmixing) and the inference of statistical relations between the measured parameters in one joint analysis.
Intentionally, we used snapshot data of a dynamic process (the response of cells to EGF or NGF stimulations) and, respectively, the method we developed does not rely on temporal information nor intends to give a model description of the dynamic itself. Due to that, this method can be applied on the type of single-cell multiparametric measurements currently available such as multicolor flow-cytometry [3, 16], multiplexed mass cytometry [4, 5] and toponome imaging [6, 7]. The classification of the distinct subpopulations in cell populations sampled at different time points along an experiment can hint toward the dynamic behavior of each subpopulation. However, such traceability of subpopulations along the time points depends on how different is their relative abundance within the whole population and on the sampling rate in comparison to the timescale of the biological process. Advances in multicolor live cell imaging in combination with high-throughput automated microscopy gradually facilitate monitoring increasing numbers of parameters in individual live cells over many cells. The data obtained from such measurements will enable not only tracking the dynamics of the measured parameters in each cell subpopulation but also tracking them in individual cells. This kind of temporal information will help to further improve the identification of the distinct cell subpopulations and the inference of statistical relations between measured parameters in each subpoulation. As indicated by this work, it would be important also for the analysis of such live cell measurement data that unmixing and inference of protein-protein relations will be performed as one process.
The importance to recover single-cell phenotypes out of an uninformative average cell population behavior has been established and exemplified in many systems. Notably, in these examples there was only one measured parameter per cell, often the output of the system, and, therefore, the unmixing was straightforward. However, in order to obtain mechanistic insight into how a biochemical system works it is required to examine the protein network itself, and not only its output. For this, multiple parameters should be co-measured per cell to overcome uncorrelated cell-to-cell variability between these parameters (e.g., due to stochastic noise in expression levels as simulated in this work). We demonstrated here that in such a case unmixing cannot be achieved anymore using the proximity between the values of these parameters, while it can be successfully achieved using the high-order relations between them as captured by UNPBN. Importantly, UNPBN can be straightforwardly extended to incorporate prior knowledge about parts of the network in the individual subpopulations.
Conclusions
Our results show that the coupling between unmixing of observations and inference of statistical relations is essential and effective. With respect to the unmixing, our method was capable to identify the number of qualitatively distinct subpopulations considerably better than multiparametric proximity based approaches (hierarchical clustering and k-means clustering). Consequently, the statistical relations in each unmixed subpopulation were also correctly recovered, while, without unmixing, uninformative average relations were inferred. As systems biology and personalized medicine are aiming toward reverse-engineering and re-engineering signaling networks, they are increasingly challenged by the inter-cellular variability and the large size of the relevant biochemical system. The work presented here offers a conceptual solution as well as an applicable statistical method to address this challenge.
Abbreviations
ASW:

Average silhouette width
DAG:

Directed acyclic graph
EGF:

Epidermal growth factor
Erk:

Extracellular signal regulated kinase
GBN:

Gaussian Bayesian network
MAPK:

Mitogen-activated protein kinase
MCMC:

Markov Chain Monte Carlo
Mek:

MAPK/Erk kinase
NGF:

Nerve growth factor
NPBN:

Nonparametric Bayesian network analysis
PKC:

Protein kinase C
UNPBN:

Unmixing via NPBN
Declarations
Acknowledgments
This work was supported by BMBF grant no. 0315507. YF was supported by a German academic exchange service (DAAD) fellowship.
Authors' Affiliations
(1)
Faculty of Statistics, TU Dortmund University, Dortmund, Germany
(2)
Department of Systemic Cell Biology, Max-Planck Institute of Molecular Physiology, Dortmund, Germany
(3)
Present address: European Molecular Biology Laboratory, European Bioinformatics Institute (EMBL-EBI), Cambridge, UK
(4)
Present address: MRC Clinical Sciences Centre, Imperial College London, London, UK
(5)
Present address: Department of Physics, FCEN, University of Buenos Aires and IFIBA, Buenos Aires, Argentina
Copyright
© Wieczorek et al. 2015
This is an Open Access article distributed under the terms of the Creative Commons Attribution License (http://creativecommons.org/licenses/by/4.0), which permits unrestricted use, distribution, and reproduction in any medium, provided the original work is properly credited. The Creative Commons Public Domain Dedication waiver (http://creativecommons.org/publicdomain/zero/1.0/) applies to the data made available in this article, unless otherwise stated.