Research Article

Open Access
Resource constrained flux balance analysis predicts selective pressure on the global structure of metabolic networks
BMC Systems Biology
2015
9:88
Received: 4 June 2015
Accepted: 10 November 2015
Published: 23 November 2015
Abstract
Background
A universal feature of metabolic networks is their hourglass or bow-tie structure on cellular level. This architecture reflects the conversion of multiple input nutrients into multiple biomass components via a small set of precursor metabolites. However, it is yet unclear to what extent this structural feature is the result of natural selection.
Results
We extend flux balance analysis to account for limited cellular resources. Using this model, optimal structure of metabolic networks can be calculated for different environmental conditions. We observe a significant structural reshaping of metabolic networks for a toy-network and E. coli core metabolism if we increase the share of invested resources for switching between different nutrient conditions. Here, hub nodes emerge and the optimal network structure becomes bow-tie-like as a consequence of limited cellular resource constraint. We confirm this theoretical finding by comparing the reconstructed metabolic networks of bacterial species with respect to their lifestyle.
Conclusions
We show that bow-tie structure can give a system-level fitness advantage to organisms that live in highly competitive and fluctuating environments. Here, limitation of cellular resources can lead to an efficiency-flexibility tradeoff where it pays off for the organism to shorten catabolic pathways if they are frequently activated and deactivated. As a consequence, generalists that shuttle between diverse environmental conditions should have a more predominant bow-tie structure than specialists that visit just a few isomorphic habitats during their life cycle.
Keywords
Metabolic networks
Evolution
Bacterial metabolism
Mathematical modeling
Background
Most engineered multi-task systems show a tradeoff between efficient and flexible design. A common example is the Swiss army knife, which is a flexible tool that can realize many functions but the performance of each tool function cannot reach the efficiency of specialized tools. Here the tradeoff arises from the constraint that a hand tool should not be too big to be useful, resulting in components that are shared between different tool functions. To give a more quantitative example for an efficiency-flexibility tradeoff, imagine two workers that drive between home and their common working place (Fig.
1
, left panel). They both benefit from short traveling times and – as tax payers – suffer from road maintenance costs. Traveling times are minimized by direct routes from homes to working place ('efficient' road network). However, the road maintenance cost can be reduced if both workers share a part of the road network ('flexible' road network). If we assume that both benefit and cost scale linearly with road distances, the performance of the two road networks can be easily compared. The result shows that the 'efficient' road network has shorter driving time but higher maintenance costs than the 'flexible' road network (Fig.
1
, right panel). By weighting traveling time and maintenance cost by a factor that reflects their relative importance, the road network with highest benefit-to-cost ratio is realized by either a more flexible or a more efficient design, depending on the weighting factor. Such a situation where one objective can only be optimized to the expense of another objective is known as Pareto optimal solution [
1
–
3
].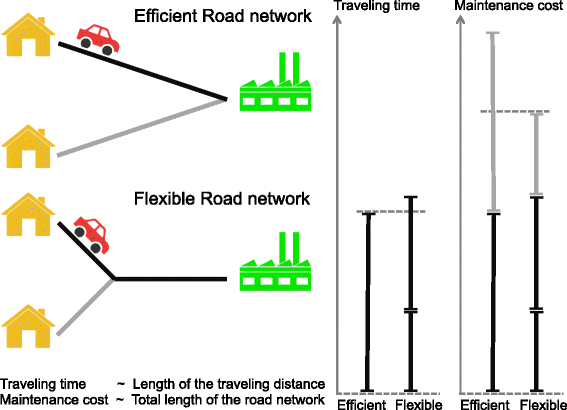 Due to the generality of the efficiency-flexibility tradeoff we ask whether metabolic networks show similar signatures of such a tradeoff. We define a highly flexible metabolic network by its ability to minimize the cost of up and down regulating enzymes when switching between different growth conditions. In turn, a highly efficient network is defined as one that minimizes the overall enzymatic cost under constant environmental conditions. Similar to our road network example, we expect that the catabolic pathways of a highly flexible network are shorter and converge faster to common metabolic routes. In contrast, we expect efficient metabolic networks to be more streamlined as a consequence of minimizing the overall enzymatic cost. Focusing on bacterial, our hypothesis is that species that shuttle between diverse environments show a stronger bow-tie structure than bacteria that live under more constant conditions.
For metabolic networks, a tradeoff between flexibility and efficiency can arise from limitations of cellular resources. There is currently accumulating evidence that the distribution of cellular resources is under high selective pressure, especially in fast growing prokaryotes. For example, increasing the expression of an unnecessary protein in E. coli leads to a linear reduction in growth rate [4, 5]. This linear relation is best explained by assuming a fixed upper bound for the protein synthesis capacity per unit biomass of a bacterial species [5].
Many attempts have been made to describe the structural features of metabolic networks [6] by considering degree distributions, small word properties [7], bow-tie-like structures [8, 9] and minimal paths between precursor metabolites [10]. Yet, it remains unclear if there exists a selective advantage that corresponds to these features. A possible evolutionary scenario is that the large-scale structure of metabolic networks is a consequence of preferential attachment, where newly acquired enzymes functionally extend the existing metabolic network structure as this can lead to an immediate fitness benefit [11, 12]. Although this principle can affect the structure of metabolic networks to significant extent, new data about the E. coli pan-genome showed an extreme flexibility of the gene content among closely related species by rapid acquisition of genetic material even from distantly related species due to horizontal gene transfer [13]. This observation indicates that the universe of possible metabolic networks [14, 15] can be scanned on rather short time scales and thus evolutionary innovation is not necessarily the limiting factor for structural variability. It is therefore more likely that a combination of evolutionary principles [16, 17], biochemical constraints [18], and limitations of cellular resources have shaped metabolic network structures on larger scale.
In the following, we give strong evidence that limited cellular resources in combination with fluctuating environments can lead to the observed global structure of metabolic networks. First, we formulate our assumptions within a mathematical model. Second, we illustrate the concept using a toy-model for a metabolic network structure. We show that within this simplified model, hub nodes and bow-tie structure emerge in strongly fluctuating environments. Then, we investigate the core metabolic network of E. coli and show that a significant structural reshaping occurs if we increase the share of investments for switching between different nutrient conditions. Finally, we investigate the large scale structural properties of more than 140 reconstructed bacterial metabolic networks. We find a highly significant correlation between the global structure of bacterial metabolic networks and their lifestyle that confirms the results of our model.
Conclusions
In summary, our results suggest that an efficiency-flexibility tradeoff can shape the structure of the metabolic networks in fluctuating environments under cellular resource constraints. This finding adds a new aspect to the evolution of microbial metabolic networks. From this point of view, the low number of precursor metabolites and thus the emergence of bow-tie structure could be the consequence of maximizing the average biomass production rate and is not necessarily the exclusive consequence of a neutral evolutionary process, as previously suggested [12].
It is currently believed that precursor metabolites are essential metabolites that connect catabolic pathways with anabolic pathways and their small number and their universality is a relict of evolution [38]. However, it can be argued that it is not necessary for the cell to rely on the existing precursors since many of them are not directly used as biomass metabolites and it is possible to bypass some of them by means of shorter alternative pathways. In fact, some of the precursor metabolites (hub nodes) are absent in the metabolic network of parasites like Mycoplasma Pneumoniae [32], which lives in a more stable environmental condition. Given that specialized bacteria are usually derived from generalist bacteria by genome reduction [39], it is possible that a efficiency-flexibility tradeoff is an important driving force for the universality of precursor metabolites among living cells.
Besides precursors, the efficiency-flexibility tradeoff might have narrowed down also other molecular alternatives in living cells. For example, one might ask why ATP is the only energy carrier in the cell while some other similar high-energy content molecules could also be used as energy carriers. The hydrolysis of GTP to GDP and Pi [40] is an example that can provide energy comparable to the hydrolysis of ATP to ADP and Pi. Note that changes of Helmholtz free energy during a reaction can vary considerably with pH, temperature, atmospheric pressure, and concentrations of reactants and products. Therefore, under appropriate conditions, alternative energy carriers could provide a different quantity of energy than ATP hydrolysis. The question arises why the set of possible energy carriers for metabolic reactions are narrowed down to one alternative, which is ATP. Our constrained optimization approach gives a possible answer: energy carriers are involved in different pathways that are upregulated under different conditions. By using a common energy source for all pathways the cell avoids extra investments that would be needed to generate different energy sources under different conditions.
The demand for accurate computational models is increasing due to their predictive power that could be used for designing synthetic organisms. In particular, many efforts have been made to improve FBA for achieving more realistic results [41, 42]. Our approach generalizes FBA to fluctuating environments that can provide a more realistic model for designing robust synthetic organisms living in fluctuating conditions. Considering all known enzymatic reactions (e.g. KEGG and BRENDA [43]) as the universe of reactions, one could design an optimized organism under changing environments. As the growth conditions in batch or fed-batch bioreactors can change significantly over time, our approach can be used to design organisms that can adapt to these changes.
Ethics
Our study does not involve any humans, human data or animals.
Declarations
Acknowledgements
We thank Florian Jarre for useful comments and discussions. MK acknowledges funding by the DFG excellence cluster CEPLAS (EXC 1028) and DFG SPP 1395. NA acknowledges funding by the EMBO Long-Term Fellowship (ALTF 853-2011).
Open Access This article is distributed under the terms of the Creative Commons Attribution 4.0 International License (http://creativecommons.org/licenses/by/4.0/), which permits unrestricted use, distribution, and reproduction in any medium, provided you give appropriate credit to the original author(s) and the source, provide a link to the Creative Commons license, and indicate if changes were made. The Creative Commons Public Domain Dedication waiver(http://creativecommons.org/publicdomain/zero/1.0/) applies to the data made available in this article, unless otherwise stated.
Authors' Affiliations
(1)
Mathematische Modellierung biologischer Systeme, Heinrich-Heine-Universität, Düsseldorf, Germany
Copyright
© Abedpour and Kollmann. 2015