Research Article

Open Access
Signaling cascades transmit information downstream and upstream but unlikely simultaneously
BMC Systems Biology
BMC series – open, inclusive and trusted
2016
10:84
Received: 4 March 2016
Accepted: 30 June 2016
Published: 25 August 2016
Abstract
Background
Signal transduction is the process through which cells communicate with the external environment, interpret stimuli and respond to them. This mechanism is controlled by signaling cascades, which play the role of intracellular transmitter, being able to transmit biochemical information between cell membrane and nucleus. In theory as well as in practice, it has been shown that a perturbation can propagate upstream (and not only downstream) a cascade, by a mechanism known as retroactivity. This study aims to compare the conditions on biochemical parameters which favor one or the other direction of signaling in such a cascade.
Results
From a mathematical point of view, we show that the steady states of a cascade of arbitrary length n are described by an iterative map of second order, meaning that the cascade tiers are actually coupled three-by-three. We study the influence of the biochemical parameters in the control of the direction of transmission – upstream and/or downstream – along a signaling cascade. A numerical and statistical approach, based on the random scan of parameters describing a 3-tier signaling cascade, provides complementary findings to the analytical study. In particular, computing the likelihood of parameters with respect to various signaling regimes, we identify conditions on biochemical parameters which enhance a specific direction of propagation corresponding to forward or retro-signaling regimes. A compact graphical representation is designed to relay the gist of these conditions.
Conclusions
The values of biochemical parameters such as kinetic rates, Michaelis-Menten constants, total concentrations of kinases and of phosphatases, determine the propensity of a cascade to favor or impede downstream or upstream signal transmission. We found that generally there is an opposition between parameter sets favoring forward and retro-signaling regimes. Therefore, on one hand our study supports the idea that in most cases, retroactive effects can be neglected when a cascade which is efficient in forward signaling, is perturbed by an external ligand inhibiting the activation at some tier of the cascade. This result is relevant for therapeutic methodologies based on kinase inhibition. On the other hand, our study highlights a less-known part of the parameter space where, although the forward signaling is inefficient, the cascade can interestingly act as a retro-signaling device.
Keywords
Signaling cascades
Retroactivity
MAPK cascades
Drug design
Kinase inhibitors
Background
Cell signaling is responsible for the development and functioning of both unicellular and multicellular organisms. Abnormal cell signaling leads to diseases which involve at least one breakdown in cell communication [1].
Signaling pathways control and regulate the flow of biochemical information between cells and their external environment, which is essential for cell signaling. Typically, a stimulus (in most cases molecules secreted by another cell, e.g. growth factors, hormones) is detected on the surface of the plasma membrane, activating complex signaling. Covalent modification cycles are one of the major intracellular signaling mechanisms, both in prokaryotic and eukaryotic organisms [2]. Kinase cascades are a sequence of such cycles, in which the activated protein in one tier promotes the activation of the protein in the next one. The advantages of these cascades in signal transduction are multiple and the conservation of their basic structure throughout evolution suggests their usefulness. A reaction cascade may amplify a weak signal, accelerate the speed of signaling, steepen the profile of a graded input as it propagates, filter out noise in signal reception, introduce time delay, and allow alternative entry points for differential regulation [3–5].
Recent theoretical and experimental studies have demonstrated that kinase cascades exhibit bidirectional signal propagation via a phenomenon termed retroactivity [
6
–
11
]. This phenomenon arises because cycles in a cascade are coupled with both the next and the previous cycle (Fig.
1
a
). The cycles can be thought of as modules, where each module's substrate sequesters a key component of the previous one, limiting the component's ability to participate in the previous module and inducing a natural change on it. This change may then propagate upstream through one or more preceding modules.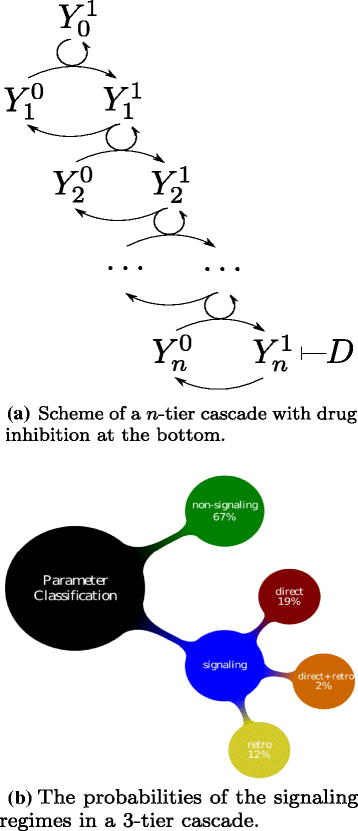 In [6, 11–14] the effect of retroactivity in kinase cascades has been investigated. Applying a perturbation at any level of the cascade (such as sequestration of the active protein or over-expression of a phosphatase) would have implications both downstream and upstream of the disturbance level due to retroactivity. This result, that was experimentally validated ([10, 15–17]), indicates that a kinase cascade is a bidirectional device regarding information transmission. However, how likely is it that a cascade transmits information upstream? If parameter conditions favor this last situation, can this coexist with standard signal propagation down the cascade? Some of the results in [6, 11–14] show evidences that favorable conditions to forward signaling are typically opposite to conditions promoting retroactive signaling.
In [6], an arbitrary long cascade (with every unit in steady-state) has been considered to be locally perturbed and two different regimes have been identified (see Fig. 4 therein). The first regime (perturbation traveling mostly downstream) is achieved when both all kinases and all phosphatases are saturated by their substrates, making the amount of protein increase down the cascade. The opposite regime is attained when only the phosphatases are saturated. These two regimes involved the relaxation of a perturbation, and was actually a first evidence that separated regions in the parameter space of a cascade might characterize the propagatation of a signal downstream or upstream.
In [11] it has been explored how a small perturbation in the concentration of an inhibitor of the active protein at the last level perturbs the steady-state concentrations of a relatively long linear the cascade. It has been recognized that natural cascades can amplify a perturbation (for free active protein) as it propagates upstream, but the probability of attenuation is substantially higher than that of amplification. In addition, the probability of attenuation increases with the number of stages in the cascade. Interestingly, the parameter conditions that produce an attenuation of the upstream response ensure the amplification of downstream signaling.
In [12] the authors have focused on kinase inhibitors, a class of targeted therapies designed to interfere with a specific kinase molecule in a dysregulated signaling pathway. Within physiologically and therapeutically relevant ranges for all parameters, a targeting inhibitor can naturally induce an off-target effect via retroactivity, having the capacity of turning "on" an otherwise "off" parallel cascade when two cascades share an upstream activator. In that study it was mainly considered a network of three covalent modification cycles: an upstream cycle (cycle 1) activating two parallel cycles. A perturbation was applied to one of the downstream cycles (cycle 3) and the effect measured in the other one (cycle 2); this effect reaches the upper cycle via retroactivity and then is transmitted to the parallel pathway. An optimization procedure was performed to identify ranges of the parameter values that ensure a measurable effect in cycle 2. This optimization implied the combination of a good upstream transmission of information (from cycle 3 where the perturbation is applied, to cycle 1) and a good downstream signaling (from cycle 1 to cycle 2) and noticeably, the parameter ranges characterizing these two directions of signaling were not only different but somehow opposite.
Similar conclusions have been experimentally observed on a two-branch MAP-Kinase cascade, allowing to activate responses of JNK and p38MAPK (equivalent to cycles 2 and 3 in the previous description) [17]. Here the authors termed the notion of retroactive signaling by retrograde propagation. They experimentally showed that retrograde propagation from JNK to p38MAPK is significantly higher than from p38MPAK to JNK. A preexisting theoretical study [13], enables to interpret such asymmetry by the fact that in this branched pathway, one side is more effective than the other for forward signaling whereas the second is more effective for retroactive signaling. In particular, for the simplest case of a bicyclic kinase cascade, that study has analyzed the conditions for which the upstream cycle was affected: either by a change of the total amount of protein in the downstream cycle, or by a variation of the phosphatase deactivating the same protein. Notably, it was revealed that when the downstream cycle was mostly deactivated, thus impeding a forward signaling, the retroactive effects on the upstream cycle were larger.
In this paper, we address the question of simultaneous bidirectionality in signaling cascades, and we use both analytical and numerical approaches. Our main goal is to develop a comparative study of parameters affecting forward or retroactive responses in linear signaling cascades (Fig. 1 a). In the first part we develop an analytical study of the dose-response curve, defined as the concentration of the last activated protein in the cascade as a function of the initial stimulus. We also consider that a drug can be added in the cell in order to inhibit the last activated protein in the cascade. Our aim being to examine the features of the dose-response as a function obtained from a discrete iterative map with boundary conditions, and thus optimize the forward signaling. Moreover, we define the drug-response curves, as the concentration of the intermediate activated proteins as a function of the inhibiting drug, which refer to the retroactive (backward) signaling. In the second part, we perform a numerical investigation on a 3-tier cascade in order to test the cascade for uni- and bidirectional propagation (upstream and/or downstream) along it. The cascade parameters are sampled and classified according to the signaling direction they contribute to. Some striking results are already summarized on Fig. 1 b as follows: 67 % of parameters lead to no form of signaling; 19 % of parameters show forward signaling without retroactivity; 12 % of parameters enable retroactive response but no forward signaling; 2 % of parameters show both forward and retroactive signaling properties.
Evidently, any estimate of such probabilities strongly depends on the assumed distribution of biochemical parameters from which the sampling is performed. Presumably, the actual parameter distribution existing in natural signaling pathways is not uniform. On the other hand, this knowledge is currently out of reach, or would be very hard to access. Therefore in this paper we choose as a reference point, a uniform distribution of biochemical parameters lying in some predefinite ranges. However, the fact that numerous efficient signaling cascades, and retroactivity effects, have been measured experimentally, suggests that the estimates reported on Fig. 1 b, are likely to be lower bounds of the corresponding natural probabilities. However, the probability of mixed forward and retro-signaling is likely to remain much less probable than the non-mixed signaling regimes because, as we shall see in the following, this kind of signaling properties reckon with parameter conditions that are somehow antagonist. Indeed, in the following sections we analyze in more details how some particular parameters influence the probabilities of these signaling types. Considerable attention is provided to the interpretation of some conditions on parameters which increase the probabilities of various signaling regimes, in terms of biochemical concepts like enzyme saturation and protein sequestration.
Discussion
Kinase cascades are a key component of the living cell systems biology. Relying on several biochemical parameters, the standard functioning of a cascade is to transmit forward signals between the top and the bottom of the pathway. Nevertheless, the possibility of transmitting information backward in the cascade, due to sequestration effects of the enzymes, has been demonstrated by several studies (see Background). However, the backward – or what we called retroactive – signaling is not considered in the current literature as a standard property that cascades should possess or avoid. Therefore our main question, that was raised at the start of this paper, was to study how cascade parameters match when promoting one or the other mode of signaling. How similar or different were the parameter sets that enabled forward or retroactive signaling? Were they incompatible? Could we characterize these parameter sets in terms of biochemical concepts such as enzymatic cycle activation, enzyme saturation or sequestration?
These questions were theoretically approached with analytical and numerical methods. Both ways showed advantages and limitations. One advantage of the analytical trail was to enable a study of the dose-response function for cascades with arbitrary length n. With this general approach, however, we usually had to limit our analysis to homogeneous cascades (i.e. same parameters at each tier), although some results can be generalized to inhomogeneous parameters. Nevertheless we showed that the dose-response function could be represented as the iteration of an explicit rational function. This iterative structure allowed us to compute analytical properties of the response function, like for example its first and second derivatives at the origin. These computations, together with the determination of a lower bound of the maximal value of the response function, revealed to be invaluable in discussing conditions on the biochemical parameters that optimize forward signaling in homogeneous cascades. These results, summarized on Table 1, were corroborated later by the numerical computations, that explored also cascades with inhomogeneous parameters.
However, contrary to the dose-response curve, the analytical study of the drug-response function was out of reach with our analytical tools. Thus the advantage of the considered numerical approach was to extend our analytical investigation to inhomogeneous cascades, and to study the drug-responses and retroactivity properties. As the number of parameters increases with the length of the cascade, one limitation of this approach, however, was to focus only on the case of a 3-tier cascade. The methodology was based on a random scan of the parameter space of such cascades, and a subsequent classification of parameter ranges according to their ability to produce dose-response or drug-response curves satisfying minimal criteria (e.g. regarding the response amplitudes). A bayesian analysis of a set of dimensionless parameters (ratios of two biochemical parameters) allowed us to infer biochemical conditions favoring a specific signaling regime.
In what concerns the forward signaling regime, although both analytical and numerical approaches are very different, they point towards the same conditions, as reported in Table 1. In this table the second column reports analytical conditions enhancing forward signaling in a homogeneous cascade, whereas the third column describes conditions maximizing the likelihood of inhomogeneous parameters relative to the forward signaling regime. The obtained conditions are found to be compatible in all cases, sometimes with some dependence of the cascade layer. In particular: (i) the affinity of the substrate for the kinase should be larger than its affinity for the phosphatase, creating what we call enzymatic asymmetry, (ii) the phosphatases should be in small amount compared with their total substrate, and (iii) the maximal rate of phosphorylation should be larger than the maximal rate of the dephosphorylation.
In the context of theoretical studies of signaling systems, the use of random scans of biochemical parameters, in order to determine parameter ranges or conditions giving a sought property, has been considered by several authors. Typically these authors uniformly scanned dimensional parameters [21–23], or dimensionless parameters [12, 24, 25]. Often, the use of dimensionless parameters is motivated by a procedure of non-dimensionalization of the kinetic or of the steady state equations. In our study, we chose a random sampling of dimensional parameters. We believe that in general it leads to a better interpretration of the results. The reason is that if we start by scanning the dimensionless parameter space then, because of the change of variables between the dimensionless and dimensional parameters, then a uniform probability distribution of the dimensionless parameters is transformed into a non-uniform density for the dimensional parameters. Then the conclusions drawn from the statistical results must be associated with some non-uniform distribution of dimensional parameters. These non-uniform distributions might be non-trivial to figure out, and overall rather arbitrary, as there exist several ways to design non-dimensionalizing procedures. Therefore, although in our methodology we statistically analyze a set of dimensionless parameters in view of biochemical interpretation, dimensional biochemical parameters were first randomly sampled (in log-uniform distribution), the dimensionless parameter being deduced afterwards from these samplings.
In our study, amongst the 18 sampled biochemical parameters, 12 dimensions corresponded to chemical concentrations and 6 dimensions to reaction rates (with dimension of inverse of time). They were all chosen in the interval [10−2,102], thus considering 4 orders of magnitude [−2,2] in uniform log10 scale. The interpretation of the results depends yet on the choice of the reference unit concentration (the "0" in log scale). For example, if the reference dimensional concentration is chosen as 0.1 μM, this leads to interpreting the scanned intervals as the range [1 nM, 10 μM], which seems reasonable as intracellular concentrations [15]. However this is just an example and the choice of the reference unit concentration remains a degree of freedom in our numerical methodology.
On Fig.
1
b
we reported estimated probabilities of four signaling modes of the cascade,
i.e.
no-signaling, forward signaling, retrosignaling, or simultaneous forward and retro-signaling. Obviously, the absolute value of these numbers depend on the arbitrary thresholds on response amplitudes, that we fixed to assess the occurence of these signaling modes. To give evidence of the effect of changing these thresholds on the probabilities of signaling, Table
2
reports the occurence frequency of the 8 considered signaling regimes, for two different choices of thresholds (distinguishing further amongst the four main signaling modes of the cascades, the cases of retroactivity of first and of second order). Although the actual numbers are different when the thresholds are increased, we observe constancies.
Table 2
Probabilities of the signaling regimes according to criteria stated in Results, with 2 different choices of thresholds for the response amplitudes. Threshold 1: Δ x 1,Δ x 2>5 %, Δ x 3>50 %. Threshold 2: Δ x 1,Δ x 2>10 %, Δ x 3>75 %
Regimes

Probabilities (in %)

Threshold 1

Threshold 2

(000)

66,11 ± 0.05

72,15 ± 0,04

(001)

19,74 ± 0.04

16,78 ± 0,04

(010)

11,35 ± 0.03

9,73 ± 0,03

(011)

1,89 ± 0.01

0,828 ± 0,009

(110)

0,474 ± 0.007

0,228 ± 0,004

(100)

0,383 ± 0.006

0,271 ± 0,005

(111)

0,035 ± 0.002

0,0068 ± 0,0008

(101)

0,027 ± 0.002

0,0087 ± 0,0009
Obviously, the most probable parameters are always the "non-signaling" cases (000), and the most probable non-trivial signaling regime is the pure forward signaling (001). Then the probability of signaling regimes always decreases markedly between the cases of retrosignaling of first and second order. In particular one observes that the probabilities of regimes (1k1), admitting both forward and retro-signaling of order 2, are the smallest ones, and get smaller and smaller with higher thresholds. Therefore as a whole, these numbers confirm the general tendency of our numerical results: system's parameters enabling bidirectional signaling correspond to the most unlikely cases.
This property can also be characterized in a quantitative way by computing the conditional probability that bidirectional signaling occurs, knowing that the system exhibits at least one regime of signaling (so excluding (000)). This conditional probability is found to be 6 % with the thresholds corresponding to column 1 of Table 2, and drops to 3 % with data in the second column. Moreover we checked that it decreases from 6 to 5 % when the uniform ranges of biochemical parameters are extended from [−2,2] to [−2.5,2.5] (data not shown). Therefore we can conclude that requiring both response amplitudes of direct and retrosignaling to be large leads to an antagonism in the parameter sets achieving both requirements. The overall combination of forward and retro-signaling appears to be still more rare. This conclusion answers one of the principal question addressed by this study.
Another question addressed in Background was to characterize, for each signaling regimes, conditions on biochemical parameters that promote the corresponding regimes. We have achieved such characterization by looking, for each signaling regime, at the likelihood of dimensionless parameters associated with the concepts of enzyme saturation, enzyme sequestration, kinase/phosphatase affinity asymmetry, or enzymatic cycle activation. Here also the choice of thresholds on the amplitude responses has a mild importance on the conclusions we point out, since we highlighted parameter conditions that maximized the (normalized) likelihood of parameters, for each signaling regime. By considering higher thresholds, we have checked that we keep same ranges where the likelihood is maximized, even if the actual value of the likelihood is reduced (see Additional file 4).
Therefore the obtained conditions on parameters, as reported in Results, could be useful to distinguish parameter sets optimizing the probability to get the various regimes of signaling. These conditions are graphically represented in Fig. 5, with a motif coding that is suggestive of the corresponding form of signaling. The motif can be drawn following an algorithm, which could be implemented in an automatic way, in order to facilitate the association between a set of parameters and the probable signaling regimes that could be observed with them. On the other hand, level-specific parameter conditions can be related to the probability for a distinct stage to respond or not to upstream or downstream perturbations, as claimed in our criteria (I)–(III).
These graphs embody also a method to restrict parameter space in order to enhance the probability of the main modes of signaling, forward, or retroactive, or both. In order to control how the probability of each signaling regime is optimized by choosing parameter values around the likelihood maxima, we divided the ranges of all the 18 parameters in three intervals: high values, medium values, low values. Each parameter was restricted to one of the three intervals depending on where its likelihood was maximized. As there is one restriction for each parameter, the intersection of those restricted intervals could leave, at the end, no more than 0.1 % of the initial number of simulation sets. The new probabilities of each regime were computed and compared with the former simulation sets in order to see how likely is a given regime if we restrict the ranges of the biochemical parameters. The results are summarized on Fig.
6
(see also Additional file
5
). In a consistent way, these histograms show that the probability to observe a given signaling regime, among one of the 5 motifs of Fig.
5
, is maximized by choosing parameter restrictions associated with the corresponding signaling regime. In particular we see that the optimized probabilities are much higher than in the unrestricted case (top panel). Only the probability of regimes involving both forward signaling and retroactive signaling of order 2 remains relatively small (3,7 %), which evokes once again the scarcity of bidirectional signaling.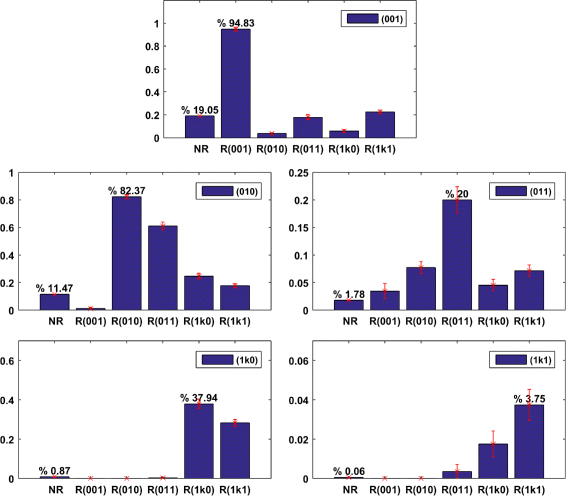 Conclusion
Living organisms rely strongly on biochemistry. Indeed signaling pathways are meant to transduce physical or chemical stimuli of the external world, relevant to living cells, into variations of activated biochemical species. In this paper, in addition to the common dose-response of a signaling cascade, we have also considered the bottom-up drug-response that discloses, when it exists, a retroactive capability of the signaling cascade. Thus signaling cascades can be categorized into 4 modes of responses, according to the existence or not of forward or of retroactive responses. An example of this classification with estimated probabilities was given in Background in Fig. 1 b. This result was further discussed in the previous section. Although the quantitative aspects of our classification depends on some arbitrariness (e.g. thresholds of the amplitude responses for categorization, or the method of random scan, discussed below in Methods), our work confirmed the initial intuition that was exposed in Background: there is an opposition between the parameter sets of the cascade that promote forward (i.e. usual) signaling, and parameters that enable retroactive regimes, i.e. backward signaling.
Thus our main conclusion is that the parameter sets allowing both modes of responses, forward and retroactive, occur rarely. Actually, signaling cascades are generally studied uniquely for their forward signaling ability. For instance in cancer etiology, attention is focused on over-activation of kinases in signaling pathways involved in cell proliferation, such as Mitogen Activated Protein Kinase cascades (MAPK). When these cascade pathways are deregulated in this manner, this means that their forward signaling properties are very effective. Moreover in this case, cancer therapies are based on kinase inhibition, which is described by the drug binding term in our mathematical modeling. Therefore, our main result conforts the point of view that in using these therapies, retroactive properties of signaling cascade can be neglected most of the time, eventhough rare off-target effects should not be excluded [12].
On the other hand, henceforth our work prompts the study of those signaling pathways that are overlooked a priori, because ineffective for forward signaling. Our analysis opens the perspective that such systems possibly hide some usefulness in controlling pathways, due to their qualities of retrosignaling. These properties could prove interesting in the fields of drug design or synthetic biology. Indeed we showed that in signaling cascades, novel functionalities can appear precisely in conditions where the biochemical system seems inoperant for forward signaling.
Abbreviations
LHS:

Latin hypercube sampling
MAPK:

Mitogen-activated protein kinase
ODE:

Ordinary differential equation
Declarations
Acknowledgements
We thank Maria Eugenia Szretter and Elisabeth Pécou-Gambaudo for helpful discussions.
Funding
SC benefits of a PhD grant funded by the French national agency CNRS and by the program "Emploi Jeunes Doctorants" of the Région Provence-Alpes-Côte d'Azur (PACA). ACV is a member of the Carrera del Investigador Cientifico (CONICET). Work was supported by Grant PICT2013-1301 from the Argentinian Agency of Research and Technology (to ACV). The international program of scientific collaboration PICS 05922 between CNRS (France) and CONICET (Argentina) supported this work.
Availability of data and materials
The data corresponding to the random set of parameters can be available from the authors upon request.
Authors' contributions
JAS and ACV conceived the study. SC took care of the analytical part and JPD of the numerical simulations and statistical treatment. All authors analyzed the results. SC and JAS wrote the manuscript (ACV the Background) and all authors edited and approved the manuscript.
Competing interests
The authors declare that they have no competing interests.
Consent for publication
Not applicable.
Ethical approval and consent to participate
Not applicable.
Open Access This article is distributed under the terms of the Creative Commons Attribution 4.0 International License (http://creativecommons.org/licenses/by/4.0/), which permits unrestricted use, distribution, and reproduction in any medium, provided you give appropriate credit to the original author(s) and the source, provide a link to the Creative Commons license, and indicate if changes were made. The Creative Commons Public Domain Dedication waiver(http://creativecommons.org/publicdomain/zero/1.0/) applies to the data made available in this article, unless otherwise stated.
Authors' Affiliations
(1)
Université Côte d'Azur, CNRS, INLN, Valbonne, France
(2)
IFIBYNE-UBA-CONICET and Departamento de Fisiología, Biología Molecular y Celular, Facultad de Ciencias Exactas y Naturales, Universidad de Buenos Aires, Buenos Aires, Argentina