Integrating transcriptional activity in genome-scale models of metabolism
BMC Systems Biology
BMC series – open, inclusive and trusted
2017
11(Suppl 7):134
Published: 21 December 2017
Abstract
Background
Genome-scale metabolic models provide an opportunity for rational approaches to studies of the different reactions taking place inside the cell. The integration of these models with gene regulatory networks is a hot topic in systems biology. The methods developed to date focus mostly on resolving the metabolic elements and use fairly straightforward approaches to assess the impact of genome expression on the metabolic phenotype.
Results
We present here a method for integrating the reverse engineering of gene regulatory networks into these metabolic models. We applied our method to a high-dimensional gene expression data set to infer a background gene regulatory network. We then compared the resulting phenotype simulations with those obtained by other relevant methods.
Conclusions
Our method outperformed the other approaches tested and was more robust to noise. We also illustrate the utility of this method for studies of a complex biological phenomenon, the diauxic shift in yeast.
Keywords
Inference and interrogation of regulatory networkMetabolic modeling Saccharomyces cerevisiae
Background
The modeling of biological systems has come a long way for gene regulation, signaling networks and metabolism, but even the most cutting-edge models still focus on one subsystem at the time. The integration of the many subsystems that function together, with the development of modeling paradigms, is the next step in the process, and promising results have already been obtained [1]. For example, [2], constructed a whole-cell model by connecting 28 individual models, one for each of the relevant cell functions. The resulting model included more than 1200 experimentally observed parameters. Impressive as it is, the development of this model required a huge effort for a single organism. We aimed to develop a general methodology that can be adapted to different organisms very easily through minor modifications. We aimed to retain as much information as possible concerning external and internal effects on genotype-phenotype interactions. For example, computational techniques have recently been used to optimize the yield of substrates produced by microorganisms for industry [3] and to study gene-metabolism interactions in medicine [4].
We focus here on the integration between metabolic models and gene regulatory networks for studies of growth phenotypes. Metabolic models represent the chemical reactions required for growth and sustenance [5], whereas gene regulatory networks comprise the biological programs responsible for regulating cell function [6]. We aimed to use data analysis and mathematical modeling tools to improve both the quantity and quality of biological hypotheses relating to these two subsystems.
Related approaches include: pFBA [7] which involves two-level optimization together with post-processing and the detection of redundant fluxes, E-flux [8] in which the linear constraints on fluxes are derived from gene expression data for control and a specific conditions, GIMME [9], which uses gene expression data and a regulatory metabolic objective to detect inconsistencies in fluxes, and iFBA [10], in which a kinetic model of E. coli catabolite repression has been integrated into a simplified metabolic model. The iFBA approach requires the setting of a number of Ordinary Differential Equations(ODE) with their kinetic parameters, which decreases the generality of the model. Another integrative approach is PROM [11] in which gene expression data sets are used to compute the conditional probability of an enzyme being expressed given that its regulators are perturbed, these probabilities then being used to constrain a flux balance analysis model. Similarly, TRFBA uses gene expression data and a piece-wise linear model to formulate an optimization program accounting for gene expression [12]. One of the main drawbacks of all these previously described methods is the need to determine which TFs regulate each gene. These approaches are therefore dependent on the quality of the curated network.
We used a statistical reverse engineering method, hLICORN [13], to infer the targets of a given set of regulators at the genome scale. We then assessed the effect of a regulator on its inferred targets in a particular data set, using the CoRegNet [14] tool, which has functions for scoring the activating or repressing effects of a regulator. The derived score, or "influence", represents the transcriptional state of the cell and forms the basis for posterior integration with metabolic models. CoRegNet allows prior knowledge from various sources to be integrated into the model, in accordance with the recommendations of the DREAM5 consortium [15]. Despite the many and varied publications on gene regulatory network inference [15], few efforts have been made to integrate these inference methods into other systems biology tools.
We based our metabolic analysis on phenotype simulations. We used a well-documented model of yeast metabolism iTO977 [16]. We assembled the inferred gene regulatory and metabolic model together in a rational manner, to simulate growth phenotype and exchange fluxes in an algorithm that we call CoRegFlux. We tested our solution against other state-of-the art methods in a rigorous experimental setting for model benchmarking and comparison [17].
Methods
The CoRegFlux workflow can be summarized as follows: inference of the gene regulatory network from transcriptomic data, network interrogation to predict enzyme activity in a given context and, finally, adjustment of the metabolic model for phenotype simulation. The complete workflow is presented in Fig.
1
along with a step-by-step description for a case study in
S. cerevisae
in the sections below, data and source code can be downloaded from
http://github.com/i3bionet/CoRegFlux
.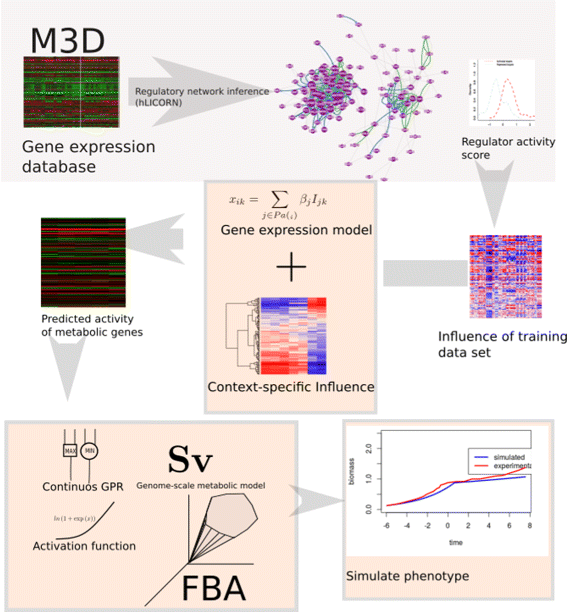 Results
We evaluated the results generated by our method in terms of the accuracy with which they predicted exchange fluxes and to illustrate the use of this approach in a relevant case study. We performed robustness tests to determine whether influence gave a more reliable picture of the regulatory state of the cell. As our case study we choose the diauxic shift, a complex biological process involving major changes in transcriptional and metabolic elements in yeast.
Robustness tests
We evaluated the robustness of our method to random permutations of gene expression, as recommended by [
17
]. We set our
θ
parameter to its optimum value for each condition, and we then tested five different noise levels for each condition. The mean squared error for exchange fluxes was calculated as described by [
17
]; Fig.
4
shows a boxplot for the base 10 logarithm of the error. We also considered the results generated by competing methods: GIMME, E-Flux, pFBA, TRFBA and PROM [
12
]. Our method had a better median performance and a smaller variance than the other methods. As all tests were performed in the wild-type strain, PROM [
11
] displayed no variation, as this method was designed for prediction for knockout strains and does not seem to take regulatory information into account for the wild type.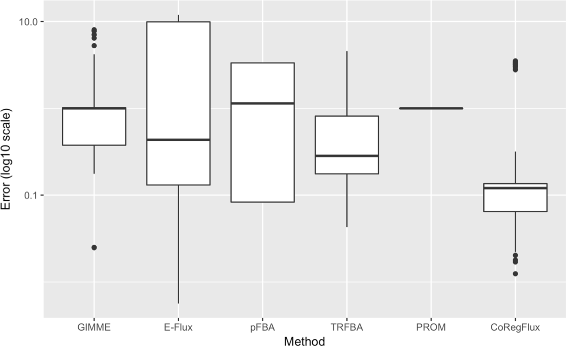 Case study
We used diauxic shift as a case study, with the gene expression measurements of [
32
] corresponding to 12 time points (9 before and 3 after glucose depletion). We compared this data set with that of [
33
], for seven samples during the diauxic shift. We plotted influence score heatmaps for both data sets. We used canonical correlations analysis to compare the correlation between sample points in the two different data sets. We alternated between gene expression and regulatory influence, and the corresponding correlation plot is shown in Fig.
5
. Plots based on regulatory influence separated two distinct clusters of samples, corresponding to the samples taken before and after glucose depletion, except for the sample taken at t =9 h [
32
] appearing closer to a post-depletion state (it should be noted that the authors of the paper reported regulatory changes beginning a few minutes before glucose depletion). Another interesting point is that of t =10 h in [
32
], for which the influence profile seems more similar to those obtained before glucose depletion, which may point to a growth-state. These interesting patterns were not evident in analyses of regulator gene expression, in which the separation between pre- and post-depletion samples was less clear.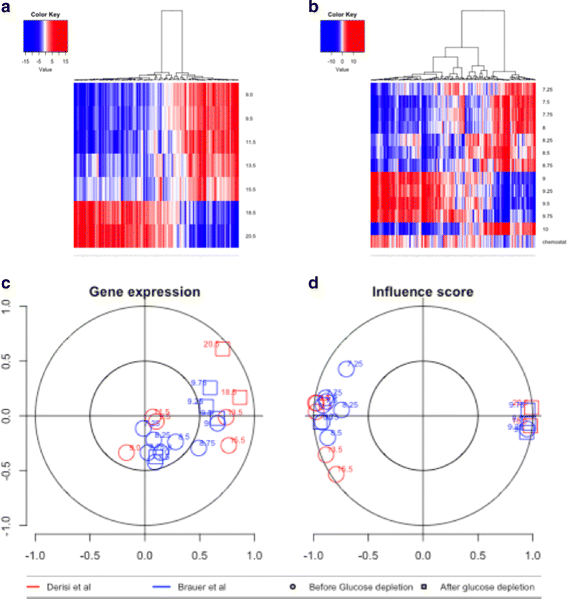 We matched the sample points to the different regulatory phases identified by [
34
], with metabolic states attributed to the phases -2.1 and -0.6 h before glucose depletion and 0.8 and 4 h after glucose depletion. In our case, the last gene expression sample from [
32
] was taken at t =1.25 h after glucose depletion. With these phases in mind, we adjusted the glucose and ethanol exchange bounds to those for the metabolomic data set of [
34
] and parametrized our CoRegFlux models with the growth rates reported for each phase in [
34
]. As shown in Fig.
6
top-left, the pre- and post-glucose depletion models had different optimal values for the parameter
θ
, again reflecting the information about the regulatory state of the cell provided by the influence score. We further investigated the differences between CoRegFlux model output and flux balance solutions. The differences are shown in tables bottom-right and bottom left of Fig.
6
, in which FBA fluxes and CoRegFlux fluxes are compared in fold change for the pre- exhaustion and post exhaustion respectively, we chose to present only those fluxes that experience more than a two-fold change. The tables show increased ethanol excretion (reaction ETHxt0), in fact ethanol excretion is predicted as 0 by FBA, along with increase transport of metabolites to the mitochondria for the pre-glucose exhaustion phase at -0.6 h which matches the observations of [
34
]. In the post-glucose depletion state at 0.8 h, CoRegFlux predicts an increase in fluxes regulated by ACC1 and FAS1 genes, which are important in the production of Acyl CoA, which oxydizes and becomes Acetyl-CoA, primary precursor of ATP production by the TCA cycle post shift [
35
]. Finally we assessed the utility of our model for dynamic growth simulations using a dynamic FBA formulation as in [
36
]. We used the initial biomass, glucose and ethanol concentrations from [
34
] and computed the metabolite consumption and growth rate at each time step. We compared the results of using a normal FBA model constrained only to the initial glucose uptake rate (but allowing ethanol consumption), to the results using CoRegFlux models. We proceed as follows: one of the previously constrained models was assigned to the corresponding time points, then at the switch points between diauxic phases, the current biomass and metabolite concentrations was used as initial conditions for the next model. The derived growth curves are presented in top right of Fig.
6
, where we see that the FBA model both over-estimates growth and does not initiate the second phase of diauxic growth. The CoRegFlux model on the other hand, follows more closely the smoothed growth curve provided by the authors of said study.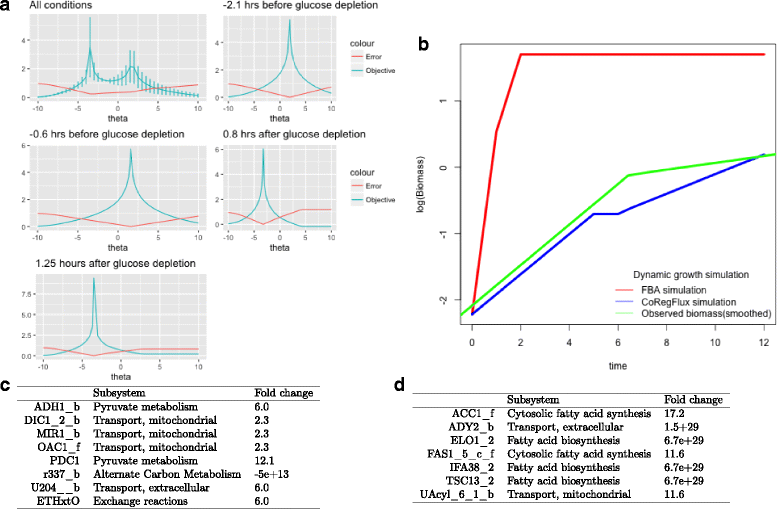 Discussion and conclusions
We propose CoRegFlux, a new algorithm for integrating gene regulatory network inference with constraint-based metabolic models. Our method provided better median predictions with a lower variance prediction than other state-of-the-art methods for predicting exchange fluxes under different levels of perturbation of gene expression data. One of the limitations of this method is that it cannot determine the optimal parameter value for systems in which the normal FBA solution underestimates biomass yield, although it should be pointed out that FBA overestimates the growth rate in most cases [37]. From the robustness tests and the case study, we can conclude that influence score calculation is a reliable way to assess the overall effects of gene regulation. This advantage of the influence score places it among other approaches to dimensionality reduction for gene expression such as network component analysis [38]. The importance of having a clear idea of the transcriptomic state of the cell has been demonstrated in studies of metabolism and responses to particular conditions. For example, recent results have suggested that at least 70% of the total variance in promoter activity across conditions can be accounted for by global transcriptional regulation in E. coli [39].
As mentioned above, this method has potential applications in research, industry and medicine, and its improvement would therefore be worthwhile. For example, it would be interesting to include different models of gene regulation as additional predictors of enzyme activity. Future research studies could also include metabolic network learning, with a view to the development of a data-driven integrated algorithm. Finally, this method is designed to serve as a basis for the in-silico optimization of biological objectives, of potential value for experimental design in systems and synthetic biology.
Declarations
Acknowledgements
We would like to thank the AdaLab consortium and iSSB I3-BioNet team for feedback about the tool and helpful discussions. We also thank J. Sappa from Alex Edelman and Associates for careful reading of the manuscript.
Funding
This work was supported by CHIST-ERA grant (AdaLab, ANR 14-CHR2-0001-01). P.T. was supported by a fellowship from the French National Research Agency (ANR) as part of the "Investissement d'Avenir" program, through the "IDI 2016" project funded by the IDEX-Saclay, ANR-11-IDEX-0003-02. Funding for publication charge: AdaLab, ANR 14-CHR2-0001-01.
Authors' contributions
ME and DT conceived the study. DT and ME designed it and wrote the manuscript. All authors provided valuable advises in developing the proposed method and modifying the manuscript. All authors read and approved the final manuscript.
Ethics approval and consent to participate
Not applicable.
Consent for publication
Not applicable.
Competing interests
The authors declare that they have no competing interests.
Open Access This article is distributed under the terms of the Creative Commons Attribution 4.0 International License(http://creativecommons.org/licenses/by/4.0/), which permits unrestricted use, distribution, and reproduction in any medium, provided you give appropriate credit to the original author(s) and the source, provide a link to the Creative Commons license, and indicate if changes were made. The Creative Commons Public Domain Dedication waiver(http://creativecommons.org/publicdomain/zero/1.0/) applies to the data made available in this article, unless otherwise stated.
Authors' Affiliations
(1)
UMR 8030 Génomique Métabolique / Laboratoire iSSB CEA-CNRS-UEVE, Cedex Évry, France
(2)
Micalis Institute, INRA, AgroParisTech, Université Paris-Saclay, Jouy-en-Josas, France
(3)
Université Lille, CNRS, Centrale Lille, UMR 9189 - CRIStAL - Centre de Recherche en Informatique Signal et Automatique de Lille, Lille, France