Research article

Open Access
Architecture of transcriptional regulatory circuits is knitted over the topology of bio-molecular interaction networks
BMC Systems Biology
2008
2:17
Received: 12 September 2007
Accepted: 08 February 2008
Published: 08 February 2008
Abstract
Background
Uncovering the operating principles underlying cellular processes by using 'omics' data is often a difficult task due to the high-dimensionality of the solution space that spans all interactions among the bio-molecules under consideration. A rational way to overcome this problem is to use the topology of bio-molecular interaction networks in order to constrain the solution space. Such approaches systematically integrate the existing biological knowledge with the 'omics' data.
Results
Here we introduce a hypothesis-driven method that integrates bio-molecular network topology with transcriptome data, thereby allowing the identification of key biological features (Reporter Features) around which transcriptional changes are significantly concentrated. We have combined transcriptome data with different biological networks in order to identify Reporter Gene Ontologies, Reporter Transcription Factors, Reporter Proteins and Reporter Complexes, and use this to decipher the logic of regulatory circuits playing a key role in yeast glucose repression and human diabetes.
Conclusion
Reporter Features offer the opportunity to identify regulatory hot-spots in bio-molecular interaction networks that are significantly affected between or across conditions. Results of the Reporter Feature analysis not only provide a snapshot of the transcriptional regulatory program but also are biologically easy to interpret and provide a powerful way to generate new hypotheses. Our Reporter Features analyses of yeast glucose repression and human diabetes data brings hints towards the understanding of the principles of transcriptional regulation controlling these two important and potentially closely related systems.
Keywords
Reporter ProteinGlucose RepressionGene Ontology AnnotationHexose TransporterSnf2
Background
High-throughput analytical techniques for genome-wide quantification and mapping of cellular components have brought new promises and challenges to modern biology [1–3]. One of the major challenges resides on how to analyze and extract knowledge from the vast amounts of 'omics' data being generated. Many methods have been proposed to help revealing cellular transcriptional regulatory programs by using transcriptome data, which is the most common and, so far, the only truly genome-wide type of quantitative 'omics'. Analysis of transcriptome data typically starts by filtering for genes that change their expression levels significantly, followed by grouping of these genes based on similar behavior under the studied conditions. Moreover, such analysis methods often assume that there may be an all-to-all interaction among the studied genes. Although this assumption may help to reveal new potential biological relationships, it also leads to the identification of several false positives. Such an open-end analysis with very high dimensional search space often shadows the biological logic behind the observed transcriptional changes and thus it limits the understanding of the underlying design principles of the biological system.
The dimensionality of the data analysis problem can be considerably reduced if biological information (e.g., physical and/or functional interactions between bio-molecules) is used in order to constrain the solution space (i.e., the number of possible regulatory hypotheses explaining the observed 'omics' data), hence enhancing the possibility of uncovering the biological dimensions of the data [4, 5]. Therefore, integration of biological network topology with transcriptome data offers an opportunity to effectively perform modular analysis of cellular transcriptional responses. Examples of such genome-scale bio-molecular interaction information that can be readily found for several organisms include protein functional annotation, protein-protein interactions, protein-DNA interactions, protein complexes and reconstructed metabolic networks.
Hypothesis
We report here a hypothesis-driven method, called Reporter Features algorithm, to integrate 'omics' data with the topology of biological interaction networks, and demonstrate that this method can elucidate the basic principles of regulation in these networks. We hypothesize that the topology of biological interactions itself guides (and constrains) the regulatory response of the network following a perturbation in the system. The simplest form of regulatory principle stemming from this hypothesis is that a perturbation (or a response to a perturbation) may trigger a regulatory response beginning at the first neighbors of the affected node(s), as illustrated in our earlier analysis of metabolic networks [5]. Consequently, this hypothesis can be used to understand the modes of action of cellular regulatory mechanisms by identifying key regulatory nodes around which the response is significantly concentrated. Our Reporter Features algorithm identifies groups of neighbor genes (i.e., genes associated with a certain feature) that are significantly and collectively co-regulated compared to the background, and this concept can be easily extended to any n th degree neighbors. Notably, the Reporter Features algorithm does not require a priori decision on what changes are or are not significant at the level of each node (e.g., the transcript of a gene). Here, we present evidence that support our hypothesis and further illustrate the applied power of Reporter Features in identifying responsive biological functional modules, by determining Reporter Gene Ontologies, Reporter Transcription Factors, Reporter Proteins and Reporter Complexes for yeast and human transcriptional datasets. Moreover, we introduce different scoring systems to assign statistical significance to the features under investigation, each yielding different interpretations of what the feature significance is.
Algorithm
The Reporter Features algorithm is a generalization and extension of the Reporter Metabolites algorithm that we have previously reported [
5
]. Figure
1
depicts the principles of the proposed algorithm, which is described in detail in the following.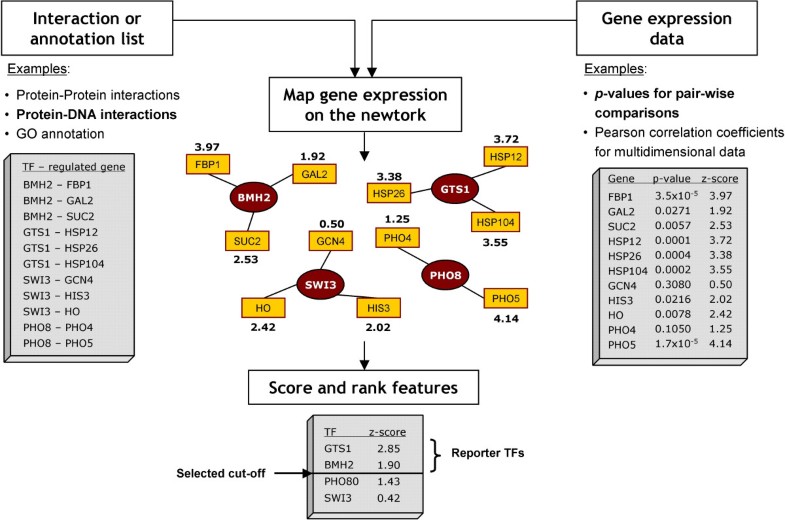 (i) Representation of interaction/annotation lists as bipartite graphs
Graph-theoretical representation of biological information has brought new capabilities to the analysis of 'omics' data [
4
–
6
]. For the present method, it is of particular interest to note that both bio-molecular interaction networks and annotation lists can be represented as bipartite graphs whenever the correspondence "feature
j
- gene
i
" can be established (or, more generally, "feature
j
- molecule
i
"). In bipartite undirected graphs, both features and genes are represented as nodes, and interactions between them are represented as edges. Therefore, a gene will be connected to all features for which the correspondence "feature
j
- gene
i
" exists (Figure
1
). In the case of Reporter Metabolites, this association is "metabolite
j
- gene
i
" [
5
], meaning that all metabolites involved in a reaction catalyzed by a certain gene product were connected to the corresponding gene. To illustrate the generalization of the Reporter Feature algorithm, we use information derived from gene ontology annotation databases ("gene ontology
j
- gene
i
"), transcription factor-DNA interaction networks ("transcription factor
j
- gene
i
"), protein interaction networks ("protein
j
- protein
i
") and protein complexes composition ("complex
j
- gene
i
") to determine the so called "Reporter Gene Ontologies", "Reporter Transcription Factors", "Reporter Proteins" and "Reporter Complexes", respectively (Figure
2A
).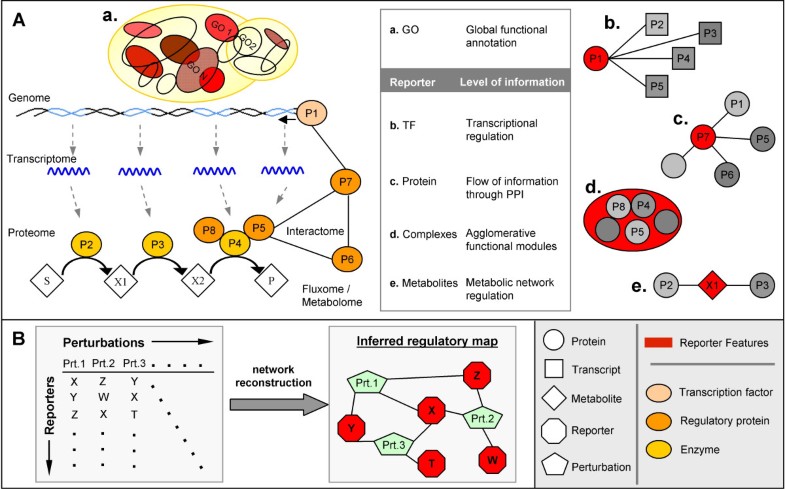 (ii) Mapping and scoring of transcription data
Cellular molecules such as mRNA, proteins and low molecular-weight metabolites can be quantified at 'omics' level, and this information can be mapped onto the corresponding nodes in a bipartite graph representation of the selected bio-molecular interaction network. To illustrate the proposed method, we deal here with transcriptome data.
When analyzing gene expression data comparing two conditions, a pair-wise assessment for the significance of change per transcript can be determined by using, for instances, a Student's t-test, and calculating the corresponding p-value. Each p gene i can then be converted into a z-score by using the inverse normal cumulative distribution function (cdf-1). Thus, in case of uniformly distributed p-values (random data assumption), the resulting z-scores will follow a standard normal distribution.
z gene i = cdf-1 (1 - p gene i )
(iii) Scoring a feature
After scoring each non-feature node, we need to calculate the score of each feature j, zfeature j. We propose two scoring systems, one based on the distribution of means of random groups of the same size, the other based on evaluating how the distribution of the scores of neighbor nodes compares to the distribution for all nodes.
a) Score based on distribution of means
This scoring system has been widely used, e.g. by Ideker et al (2002) and Patil and Nielsen (2005) [
4
,
5
], and in this context it is a test for the null hypothesis "genes adjacent to feature
j
display their normalized average response by chance". In particular, the score of each feature
j
is defined as the average of the scores of its neighbor nodes (genes), i.e.:
To evaluate the significance of each z
feature j
, this value should be corrected for the background distribution of
z
scores in the data, by subtracting the mean (
μ
N
) and dividing by the standard deviation (
σ
N
) of random aggregates of size
N
. We choose the number of random samples sufficiently high (10000), this value being determined by checking the sensitivity of the resulting background scores to the (increasing) number of random samples. We here note that, due to the Central Limit Theorem, the background distribution of the scores quickly approaches a normal distribution with the increasing
N
, where the group mean equals the sample mean (independent of
N
) and
σ
N
equals the sample standard deviation divided by . The transformation of
p
-values to
z
-scores (equation 1) only helps to ensure the better normality of the background scores, even for relatively small
N
(since the distribution of individual gene
z
-scores will be approximately normal). To obtain
σ
N
as a smooth function of
N
, we fitted the results of random sampling to the power function in
N
. This way, the score of each feature is also size-independent (Central Limit Theorem, also see [
4
]).
Reporter Features will then correspond to the features that score higher. Since can be converted back into p-values using the normal cumulative distribution function, the desired level of significance can be set by the user to define what should be considered as 'Reporter'.
b) Score based on distribution for all nodes versus distribution for neighbors
Alternatively, one can perform a statistical comparison test (e.g., a t-test or a non-parametrical test such as u-test) to assess whether the distribution of the adjacent nodes' scores of a certain feature j differs from the distribution of scores for all nodes. In this case, a p-value can be calculated for each feature j based on the probability that the null hypothesis (equal distribution) is true. Reporter Features will therefore correspond to the features with lower p-values.
Evaluation of the two different scoring systems, and a few additional proposed scoring systems, is described under Results and Discussions, as we hereby can put the scoring systems in a biological context.
(iv) Higher-degree Reporters
The above described scoring system leads to what we termed first-degree Reporters (n = 1). Other n th degree scoring systems can also be implemented which accounts for the response affecting farther than the immediately adjacent nodes.
Extending the scoring system previously described, the resulting
z
-score of
n
th
degree
for the feature
j
is defined as:
where M is the total number of neighbors of degree equal to or less that n.
Similarly to the
first-degree
case,
n
z
feature j
should be corrected for background:
(v) Use of information on up/down regulation of non-feature genes
The graphs and scores we have been considering are undirected, i.e., they do not account for directionality of neither the feature-gene interaction nor the change in the non-feature node property (e.g. up/down regulation of a transcript). However, sometimes it may be biologically relevant to consider the direction of change (up/down regulation with respect to reference condition) when determining Reporter Features. In such cases, we preprocessed the initial dataset to filter only for the desired information (i.e., including only genes that are up or down-regulated). The result is a new network that is a sub-graph of the initial graph where only up (/down) regulated genes are included. Corresponding Reporter Features can be used to compare the ranking of desired features with and without incorporation of the up/down regulation information and thereby further enrich the information about the biological role of a perturbation. This simple filtering, however, is not information-preserving. For example, in a given dataset, a TF feature may be connected to U up-regulated and D down-regulated genes. Filtering out U (or D) genes will necessarily lead to loss of information for that TF unless and until either U or D is zero. Hence the scores obtained from these sub-graphs must be analyzed only in complementation with the results from the whole graph and values of U and D.
(vi) Inferred regulatory maps
When Reporter Features are applied to a series of related perturbations, results can be used to construct an inferred regulatory map reconnecting physical or functional interactions between the perturbed elements (Figure 2B). In this network, each perturbed element is linked to the Reporter Features calculated from the corresponding perturbation data. The resulting network is a representation of direct and/or indirect mechanisms of regulation that span the set of (related) perturbations used.
Results and Discussion
As a proof-of-concept, we first analyzed data related to glucose repression in the yeast S. cerevisiae. Glucose repression refers to the capacity of the cell to sense glucose and consequently control the transcriptional response of genes involved in the utilization of alternative carbon sources. Because of its role in nutrient sensing and relevance to metabolic diseases such as diabetes [7], glucose repression serves as a model system for studying signaling and transcriptional regulation [8–10]. We applied the Reporter Feature algorithm to analyze the transcriptional response of different S. cerevisiae mutants with deletions in key components of glucose repression (namely Δgrr1, Δhxk2, Δmig1, Δmig1mig2 and Δrgt1 [9, 11]). By using available physical and functional interactions in yeast – a protein interaction network, the composition of protein complexes, a transcription factor/effectors regulatory network and the Gene Ontology annotation – we determined Reporter Proteins, Reporter Complexes, Reporter Transcription Factors (TFs) and Reporter Gene Ontologies (GOs), respectively (Figure 2A), for the different gene deletion experiments. All results are available in the Additional file 1.
Conclusion
The use of different biological networks to determine Reporter Features brings insights at different levels, ranging from global functional characterization to specific mechanistic aspects of cellular regulation (Figure 2). Although many genes overlap across these networks (Tables S13 and S14 in Additional file 8), the biological information gained is different due to the different connectivities in the different networks. This is due to the fact that the number of connections in a biological network is often far from the number of all possible connections (i.e. all-to-all interactions).
We applied Reporter Features for yeast glucose repression and human diabetes datasets, and this provided valuable information at three different biological dimensions, viz., protein interactions, functional families and transcriptional regulatory circuits. Both human diabetes and glucose repression phenomena were found to be related with global transcriptional responses affecting respiration and other cellular processes involved in energy generation. This regulatory architecture is uncovered by using an integrative and hypothesis-driven bottom-up approach, without a priori assumption regarding involvement of these processes.
Although similar scoring frameworks have been proposed for analyzing certain biological gene groups [30–32, 37, 38], these methods tackle the problem in a more data-driven fashion. Due to the hypothesis-driven nature of our proposed algorithm, based on a strong biological foundation, it is possible to systematically integrate multi-omics data in a multi-hypotheses fashion, thereby allowing us to discover fundamental and general modularity principles underlying the operation of biological systems. In particular, Reporter Features algorithm views the 'data + network' as a set of hypotheses pertaining to the biological information attributed to the edges in the network (e.g. an edge in a protein-DNA interaction network implies transcriptional regulation, while an edge in a protein-protein interaction network may imply signal transduction).
Our results provide evidence that the underlying hypothesis of Reporter Features algorithm (i.e., the cellular response to a perturbation is guided by the topology of bio-molecular interaction networks) is true to a large extent for several biological networks and, consequently, the cellular response to a perturbation can be modularized and characterized by using network topology information. This fundamental design rule for the transcriptional regulation can thus be used to identify hot-spots of regulation and gain information on the biological role of a particular genetic/environmental factor in an automated fashion without much a priori manual input of knowledge in a case-dependent fashion. Consequently, Reporter Features have the potential to be used as bio-markers and may also become a common tool for aiding in automated functional annotation of unknown or poorly characterized gene products.
Methods
Preparation of gene expression datasets
For both yeast and human transcriptome datasets, we used the CEL files supplied by the authors of the corresponding studies. Each dataset was normalized for intensities using dChip 1.3, and index expression calculation was also performed in dChip 1.3 using the PM-only model. In each dataset, only probesets with a Present call for all arrays were considered. All pair-wise statistical tests were performed using a 2-tail, heteroscedastic, Student's t-test.
Selected biological networks
For the yeast S. cerevisiae we used the following sources of biological networks: Gene Ontology annotation from the Saccharomyces Genome Database [39] (SGD, Version: Revision 1.1199, 28/Oct/2005); information on regulators (transcription factors and regulatory proteins that directly or indirectly affect the expression of regulated genes) from the Yeast Proteome Database [14, 40] (YPD, as of Mar/2007) and protein interactions from the Database of Interacting Proteins" [41] (DIP, as of 4/Dec/2005). The Gene Ontology annotation for Homo sapiens was obtained from GO Annotation @ European Bioinformatics Institute [26] (EBI, version 36.0, 21/Nov/2005).
The GO interaction graph was constructed connecting each GO term to all gene products annotated in that term (GO annotation as available from the GO gene-association file). The regulators interaction graph was constructed connecting each regulator to all genes known to be regulated by it. All network files used are available as SIF files in Additional file 9, Additional file 10, Additional file 11, Additional file 12 and Additional file 13.
Inferred regulatory map for yeast Reporter TFs
In order to construct the inferred regulatory map for glucose repression using Reporter TFs information we selected for each mutant all the TFs with a p-value < 0.01 (i.e., threshold to be considered as Reporter TF). The graph was constructed connecting each Reporter TF to the corresponding node, i.e., to the component (gene) that was deleted. In Figure 3 we only represent TFs that were Reporter TFs for at least two of the perturbations.
Availability and requirements
A flexible implementation of the Reporter Features algorithm described in this paper is available online. Project name: Reporter Features; Project home page: http://www.cmb.dtu.dk/reporters; Operating system: Windows; Programming language: C++; Other requirements: none; Licence: free (no fees or software transfer agreements required) for academic, non-profit use. License available for commercial use upon request.
Abbreviations
GO:

– Gene Ontology
TF:

– Transcription Factor
Declarations
Acknowledgements
We thank anonymous reviewers for useful suggestions. APO is funded by Fundação para a Ciência e Tecnologia from the Portuguese Ministry of Science and Technology.
Authors' Affiliations
(1)
Department of Systems Biology, Center for Microbial Biotechnology, Technical University of Denmark, Lyngby, Denmark
(2)
Current address: Department of Chemical and Biological Engineering, Chalmers University of Technology, Gothenburg, Sweden
Copyright
© Oliveira et al; licensee BioMed Central Ltd. 2008
This article is published under license to BioMed Central Ltd. This is an Open Access article distributed under the terms of the Creative Commons Attribution License (http://creativecommons.org/licenses/by/2.0), which permits unrestricted use, distribution, and reproduction in any medium, provided the original work is properly cited.