Research article
Open Access
Ultrasensitive Responses and Specificity in Cell Signaling
BMC Systems Biology
2010
4:119
Received: 11 February 2010
Accepted: 25 August 2010
Published: 25 August 2010
Abstract
Background
Interconnected cell signaling pathways are able to efficiently and accurately transmit a multitude of different signals, despite an inherent potential for undesirable levels of cross-talk. To ensure that an appropriate response is produced, biological systems have evolved network-level mechanisms that insulate pathways from crosstalk and prevent 'leaking' or 'spillover' between pathways. Many signaling pathways have been shown to respond in an ultrasensitive (switch-like) fashion to graded input, and this behavior may influence specificity. The relationship of ultrasensitivity to signaling specificity has not been extensively explored.
Results
We studied the behavior of simple mathematical models of signaling networks composed of two interconnected pathways that share an intermediate component, asking if the two pathways in the network could exhibit both output specificity (preferentially activate their own output) and input fidelity (preferentially respond to their own input). Previous results with weakly-activated pathways indicated that neither mutual specificity nor mutual fidelity were obtainable in the absence of an insulating mechanism, such as cross-pathway inhibition, combinatorial signaling or scaffolding/compartmentalization. Here we found that mutual specificity is obtainable for hyperbolic or ultrasensitive pathways, even in the absence of an insulating mechanism. However, mutual fidelity is impossible at steady-state, even if pathways are hyperbolic or ultrasensitive. Nevertheless, ultrasensitivity does provide advantages in attaining specificity and fidelity to networks that contain an insulating mechanism. For networks featuring cross-pathway inhibition or combinatorial signaling, ultrasensitive activation can increase specificity in a limited way, and can only be utilized by one of the two pathways. In contrast, for networks featuring scaffolding/compartmentalization, ultrasensitive activation of both pathways can dramatically improve network specificity.
Conclusions
There are constraints to obtaining performance objectives associated with signaling specificity; such constraints may have influenced the evolution of signal transduction networks. Notably, input fidelity (preferential response to an authentic input) is a more difficult objective to achieve than output specificity (preferential targeting to an authentic output). Indeed, mutual fidelity is impossible in the absence of an insulating mechanism, even if pathways are ultrasensitive. Ultrasensitivity does, however, significantly enhance the performance of several insulating mechanisms. In particular, the ultrasensitive activation of both pathways can provide substantial improvement to networks containing scaffolding/compartmentalization.
Keywords
Interconnected NetworkMutual SpecificityOutput SpecificityBasic ArchitectureCombinatorial Signaling
Background
To survive, and to function as a part of a whole organism, cells must sense and respond both to their environment and to other cells. Cells sense a variety of chemical and physical signals, that are then transmitted and interpreted in a signal-specific fashion. These signals include hormones such as insulin and adrenaline, growth factors such as EGF (epidermal growth factor) and NGF (nerve growth factor), and physical signals such as mechanical stress, osmotic pressure, light, pH, etc.
For particular signals to elicit appropriate responses (e.g. turn on certain genes), the news that a signal has been detected must be accurately relayed to the intracellular machinery necessary to evoke the response (e.g. transcription factors). Signal transmission (also called signal transduction) is generally initiated by the activation of a cell surface or intracellular receptor. The receptor then typically activates a cascade of intracellular kinases, which then regulate various downstream effectors. It is commonplace, however, for these intracellular kinases to be involved in more than one signaling cascade. The need to respond to a multitude of different signals, combined with a high promiscuity of kinases, creates a complicated and interconnected network of signaling components [1–4]. This interconnectedness leads to the potential for crosstalk and cross regulation, where the signals from one pathway intersect with another. Cross regulation can be beneficial or even necessary when cells must integrate their response to multiple signals simultaneously [5]. On the other hand, many signals necessitate a unique and decisive response, and a densely interconnected network may make such signal-exclusivity a difficult but vital objective to obtain [6–8]. Indeed, mutations that disrupt signaling specificity may play a role in the pathogenesis of cancer and other diseases [9, 10].
Issues of signaling specificity feature prominently in mitogen-activated protein kinase (MAPK) cascade-mediated signaling [10–16]. A textbook example is the mammalian Ras/MAPK cascade, as exemplified using rat PC12 cells as a model system. This cascade is a central component of the response to both EGF and NGF; however, EGF causes the cells to proliferate, whereas NGF causes them to differentiate and sprout neuron-like projections [15, 17–21]. Another textbook example is found in bakers/brewers yeast (Saccharomyces cerevisiae), where a set of overlapping MAPK cascades regulate mating, filamentous invasive growth, and stress-responses. In this case, elements of the same MAPK pathway are involved in transmitting at least three distinct signals: mating pheromone, nutrient limitation, and osmotic stress [13, 21]. Even so, there is specificity from signal to cellular response: application of pheromone elicits mating (but not filamentation or stress response), nutrient limitation elicits filamentation (but not mating or stress response), and osmotic stress elicits only a stress response.
How can the concept of signaling specificity be approached, modeled and quantified? Theoretical studies of signaling specificity have advanced our understanding in important ways. For instance, it was argued in [
22
] that the biological notion of 'signaling specificity' corresponds to two related yet distinct metrics: (1) the ability of pathways to preferentially activate their own output (
output specificity
); (2) the ability of pathways to preferentially respond to their own input (
input fidelity
). Within this framework, using the simplest possible architecture of an interconnected signaling network (denoted the "basic architecture, see Fig.
1A
), and making the assumption that pathways are weakly-activated (which means that they can be modeled as linear systems [
23
,
24
]), it was shown that it is impossible for both pathways in the network to exhibit either input specificity or output fidelity [
22
,
25
].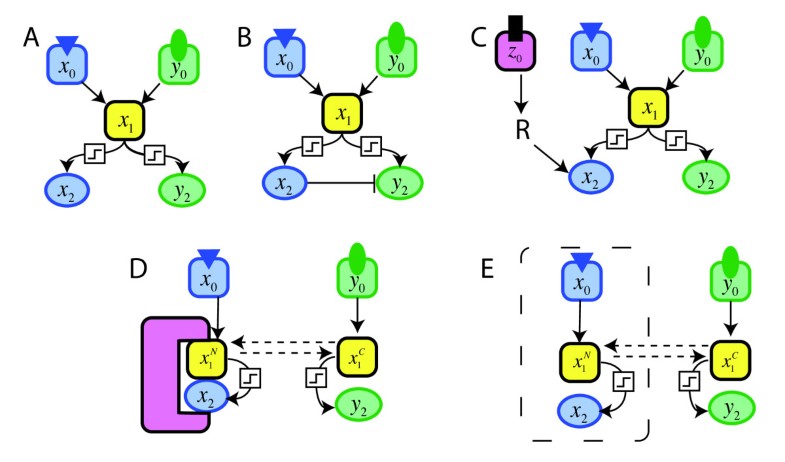 How then do real signaling networks achieve specificity? Biochemical regulatory motifs knows as insulating mechanisms are thought to have evolved to maintain specificity by limiting 'leaking' or 'spillover' or 'bleed-through' between pathways. The fundamental insulating mechanism in cell regulation is specific protein-protein interactions [9, 26, 27], but this cannot account for specificity in networks containing pathways that share components. Insulating mechanisms that can buffer against spillover despite component sharing include combinatorial signaling, cross-pathway inhibition, compartmentalization, scaffolding, and kinetic insulation [22, 25, 28–30]. Some of the best experimental evidence for the existence and importance of these types of insulating mechanisms comes from the yeast MAPK network. In this system, multiple mutations that disrupt insulating mechanism function have been identified, and shown to result in increased levels of inappropriate signal crossover, often with adverse physiological consequences [29, 31–37]. Theoretical and modeling studies have supported the idea that insulating mechanisms can provide varying degrees of output specificity and input fidelity to interconnected signaling networks [22, 25, 38–42].
Another performance objective often attributed to network-level properties of cell signaling pathways is the ability to respond to input in a switch-like manner [
43
–
45
]. This behavior is thought to endow certain pathways with the ability both to filter out input levels that are below some threshold value (such as might be caused by noise) and to respond dramatically to levels of input that have surpassed this threshold (see for example the solid blue line in Fig.
2A
in comparison to the green line in the same figure). The term
ultrasensitive
refers to a situation where it takes a relatively small increase in input to cause a significant change in output [
43
,
44
]. This contrasts to
hyperbolic
or
Michaelian
input/output relationships, which require an 81-fold change in input to increase output from 10% to 90% maximal [
43
,
44
]. Hyperbolic relationships arise naturally from standard enzyme and binding kinetics, but mechanisms such as binding cooperativity and multisite phosphorylation can endow pathways with ultrasensitivity [
45
].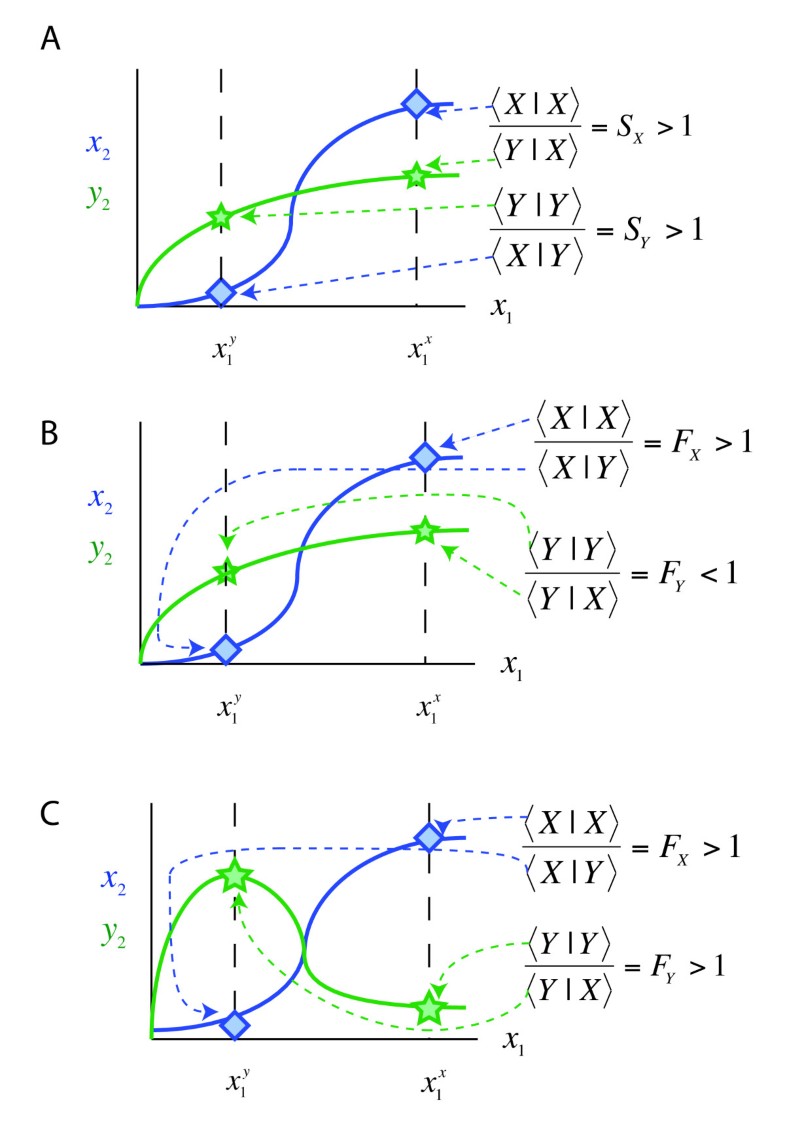 How do ultrasensitive (or hyperbolic) responses affect signaling specificity? Can ultrasensitivity provide signaling specificity to an interconnected network devoid of any insulating mechanisms? If not, does ultrasensitivity influence the performance of certain insulating mechanisms? These questions are challenging to address experimentally, so an approach using theory and modeling would seem a good starting point. Here we focus on simple phenomenological models of overlapping cascades that explicitly display various degrees of ultrasensitivity. The tractability of our approach allows us to derive analytic results that give a general insight into the effects of ultrasensitivity in achieving specificity. We find that ultrasensitivity cannot, by itself, provide specificity to an interconnected network, but that it can significantly enhance the performance of certain insulating mechanisms.
Conclusion
Cell signaling is integral to numerous fundamental biological processes including development, mating, multicellularity, learning and memory, and many others. In addition, defects in cell-cell communication and signal transduction are central to the pathogenesis of many human diseases, such as cancer and diabetes. A quantitative understanding of the properties of cell signaling is of critical importance both for greater basic understanding and for the development of new clinical paradigms. A major obstacle to this goal, however, is the challenge of understanding the design logic underlying the complicated, interconnected networks in which most signaling pathways are embedded.
Here we have focused on mechanisms that provide specificity to interconnected networks containing distinct pathways that share components. We combined a framework for the analysis of specificity in cell signaling with simple mathematical models of interconnected networks. Using this approach, we examined how the stimulus-response properties of signaling pathways may influence their specificity. We compared weakly-activated pathways with hyperbolic or ultrasensitive pathways, asking if they could provide or enhance specificity, either alone or when combined with certain insulating mechanisms. We found that ultrasensitivity could not provide specificity on its own, but could enhance the performance of certain insulating mechanisms.
Ultrasensitivity can confer output specificity but not input fidelity
To measure specificity we focused on two metrics, mutual output specificity (MS), where both pathways preferentially activate their own outputs, and mutual input fidelity (MF), where both pathways preferentially respond to their own inputs. Examining the network denoted the "basic architecture", a generic, idealized network containing two pathways that share a component, we found that mutual fidelity is impossible at steady-state. Previously we showed that weakly-activated pathways can endow this architecture with neither mutual specificity nor mutual fidelity [22, 25]. Here, we significantly extended this finding by showing that, while both hyperbolic and ultrasensitive pathways can provide mutual specificity, neither can provide mutual fidelity. In fact, our analysis applies not only to hyperbolic and ultrasensitive pathways, but also to any monotonic stimulus-response (input-output) relationship, for reasons discussed below.
Why is input fidelity more difficult to obtain than output specificity? Consider the input-output functions for the X and Y pathways. When both input-output functions are straight lines (as they are when both pathways are weakly activated), they cannot cross; that is, they intersect at the origin but nowhere else. Therefore, it is impossible to choose a pair of input levels so that X output is greater than Y at the lower level of input, and Y output is greater than X at the higher level of input (or visa versa). In other words, mutual specificity is impossible. The input-output functions corresponding to hyperbolic and ultrasensitive pathways are curves, not straight lines. Hence, one can pick parameters such that these curves will cross at some point, and thence it will be possible to pick a pair of input levels on either side of the intersection point that will provide mutual specificity. Mutual fidelity, in contrast, can only be obtained if one of the input-output curves reaches a maximum and then bends back down (see Fig. 2); that is, this curve must be non-monotonic. Non-monotonic behavior in stimulus-response curves generally cannot be achieved by cascades of enzymes that exhibit standard kinetics (even if there is cooperativity or multisite phosphorylation); instead, some sort of negative feedback loop or cross-inhibition will be needed [51]. In this sense, then, mutual input fidelity is more difficult to achieve, and also, perhaps, more difficult to evolve.
Another implication of this result is that, for interconnected networks to exhibit input fidelity (wherein pathways respond preferentially to authentic inputs), the basic network architecture must be embellished with an insulating mechanism(s). This insulating mechanism may work, for instance, by transforming one the stimulus-response curves into a non-monotonic function (e.g. cross-pathway inhibition), or it may act by splitting the stimulus (e.g. scaffolding/compartmentalization) or by splitting a single response curve into two (e.g. combinatorial signaling). Regardless, we should expect insulating mechanisms to be found wherever pathways share components yet exhibit specificity from signal to cellular response.
Ultrasensitivity dramatically improves the performance of insulating mechanisms
Although ultrasensitivity cannot provide mutual fidelity to the basic architecture by itself, it can significantly improve the performance of several different insulating mechanisms. To facilitate comparison, we defined a term denoted the Cross Regulatory Term (CRT) for each of the different insulating mechanisms. In every case this was a non-dimensional term that characterized the "strength" of the insulating mechanism. This allowed us to quantify the degree to which mutual specificity and mutual fidelity (MFMS) increased as a result of increases in the CRT. We found that, as the CRT was increased, there was a much sharper increase in MFMS in those networks featuring ultrasensitive activation than in those with linear (i.e. weak) or hyperbolic activation.
All the networks that we examined displayed sharper increases in MFMS with ultrasensitive activation than with linear or hyperbolic activation. However, for the networks that utilized combinatorial signaling or cross-pathway inhibition, it was not possible to utilize ultrasensitivity simultaneously in both pathways to the benefit of specificity. In other words, increasing the ultrasensitivity in one of the pathways was detrimental. In contrast, networks that combined scaffolding/compartmentalization with ultrasensitive activation could achieve very high levels of MFMS even at low levels of cross regulation, and ultrasensitivity in both pathways was beneficial.
To summarize, the hierarchy we have found is as follows: First, in the absence of an insulating mechanism and in the presence of linear activation, neither mutual specificity nor mutual fidelity is possible. Second, the addition of ultrasensitive activation allows for mutual specificity; in fact, with a careful selection of parameters, S X , S Y and F X can become unbounded. However, mutual fidelity still cannot be achieved. Third, the addition of cross-pathway inhibition or combinatorial signaling to an ultrasensitive system can achieve mutual fidelity, but with a linear dependence on the amount of cross-regulation. Finally, ultrasensitive systems utilizing scaffolding/compartmentalization can realize a super-linear increase in mutual specificity and mutual fidelity as the extent of cross-regulation is increased.
Constraints and opportunities
During evolution, as new signaling pathways emerged from the duplication and divergence of pre-exiting parts, the issue of specificity must have been paramount. Why component sharing is a widespread feature of cellular regulatory networks is a mystery. One possibility is that some low level of crosstalk between pathways is beneficial, but too much is bad; this would explain the existence of both crosstalk and insulating mechanisms. Another possibility is that duplication of part of a pathway, followed by the imposition of an insulating mechanism, is an easier evolutionary path to take than duplication of an entire pathway. Regardless, it seems possible that some of the constraints (e.g. input fidelity is hard to achieve) and opportunities (e.g. ultrasensitivity can help the performance of insulating mechanisms) identified here may have influenced the evolution of signal transduction networks.
Declarations
Acknowledgements
This work was supported by a National Institutes of Health/National Science Foundation joint initiative on Mathematical Biology through National Institute of General Medical Sciences grant GM75309 (L.B., Q.N.); by NIGMS Center grant GM76516 (L.B., Q.N.); and by NIGMS research grants GM60366, GM84332 and GM86883 (L.B.); and NSF grant DMS 0917492 (Q.N.). The authors would also like to thank an anonymous reviewer for a comment that lead to the inclusion of the section on normalization.
Authors' Affiliations
(1)
Department of Mathematics, University of California at Irvine, Irvine, USA
(2)
Department of Developmental and Cell Biology, University of California at Irvine, Irvine, USA
(3)
Center for Complex Biological Systems, University of California at Irvine, Irvine, USA
(4)
Center for Mathematical and Computational Biology, University of California at Irvine, Irvine, USA
Copyright
© Haney et al; licensee BioMed Central Ltd. 2010
This article is published under license to BioMed Central Ltd. This is an Open Access article distributed under the terms of the Creative Commons Attribution License (http://creativecommons.org/licenses/by/2.0), which permits unrestricted use, distribution, and reproduction in any medium, provided the original work is properly cited.