Research article

Open Access
Stress-specific response of the p53-Mdm2 feedback loop
BMC Systems Biology
2010
4:94
Received: 20 October 2009
Accepted: 12 July 2010
Published: 12 July 2010
Abstract
Background
The p53 signalling pathway has hundreds of inputs and outputs. It can trigger cellular senescence, cell-cycle arrest and apoptosis in response to diverse stress conditions, including DNA damage, hypoxia and nutrient deprivation. Signals from all these inputs are channeled through a single node, the transcription factor p53. Yet, the pathway is flexible enough to produce different downstream gene expression patterns in response to different stresses.
Results
We construct a mathematical model of the negative feedback loop involving p53 and its inhibitor, Mdm2, at the core of this pathway, and use it to examine the effect of different stresses that trigger p53. In response to DNA damage, hypoxia, etc., the model exhibits a wide variety of specific output behaviour - steady states with low or high levels of p53 and Mdm2, as well as spiky oscillations with low or high average p53 levels.
Conclusions
We show that even a simple negative feedback loop is capable of exhibiting the kind of flexible stress-specific response observed in the p53 system. Further, our model provides a framework for predicting the differences in p53 response to different stresses and single nucleotide polymorphisms.
Keywords
Cell Cycle Arrest
Negative Feedback Loop
Mdm2 SNP309
African American Donor
Reversible Cell Cycle Arrest
Background
The tumor suppressor protein, p53, is a transcription factor that regulates the activity of hundreds of genes involved in cell growth and death [1, 2]. Over 50% of human cancer cells contain mutations in p53, because of which it has become a key target in cancer research [3]. A wide variety of stress conditions result in the accumulation and activation of p53 - among others: DNA damage, hypoxia, heat shock, nutrient deprivation and oncogene activation. Despite the fact that all these inputs are integrated into a single node, p53, the expression pattern of downstream genes (and hence the physiological response) appears to be specific to each stress. For example, hypoxia invariably leads to apoptosis [4], whereas ribonucleotide depletion leads to reversible cell cycle arrest [5], and UV irradiation can result in either cell cycle arrest or apoptosis depending on the intensity of the damage [6].
How does the regulatory network around p53 retain this exibility even though all inputs converge at a single node? We argue in this paper that the particular design of the p53-Mdm2 feedback loop at the core of this network could be the source of this flexibility. p53 is regulated by other proteins at two levels: its stability (e.g., Pirh2, COP1, Mdm2 decrease its half-life [7–9]), and its activity as a transcription factor (e.g., MdmX, Mdm2 retard its activity [10]). We focus on Mdm2 because (a) Mdm2 null mutants are lethal in early development in mice [11], and (b) Mdm2 directly regulates both activity and stability of p53. Mdm2 is an E3 ligase that binds to p53. Mono-ubiquitination of p53 by Mdm2 inhibits its transcriptional activity, while poly-ubiquitination triggers its degradation [12]. In turn, the mdm2 gene is activated by p53, thus forming a negative feedback loop [13]. We use a mathematical model of the p53-Mdm2 feedback loop to demonstrate how multiple inputs can be integrated with sufficient discrimination in such a feedback loop to allow diverse, yet specific, output behaviour. Using the model, we can predict which input stresses will produce the stronger p53 response, as well as the effect of single nucelotide polymorphisms (in particular the SNP309 on mdm2) on the p53 response.
Methods
A model of the p53-Mdm2 negative feedback loop
Our model focuses on the following four concentrations: nuclear-p53, p; Mdm2, m; Mdm2 mRNA, m m ; and the p53-Mdm2 complex, c. The temporal dynamics of these components of the model are specified by four differential equations:
The model is provided in SBML format as additional file 1 and in the Biomodels database: http://www.ebi.ac.uk/biomodels-main, model number 1006280000.
Figure
1
shows the interactions that correspond to each of the mathematical terms in the above equations. Table
1
lists the parameters of the model and their default values. Some parameters correspond to specific processes (e.g. Mdm2-mediated degradation of p53 (
δ
), activation of
mdm2
by p53 (
k
t
)). Others are "effective" parameters which model the combined action of several proteins that all affect p53 or Mdm2. For example,
α
models all Mdm2-independent processes which result in the reduction of the active p53 concentration in the nucleus: spontaneous degradation, export out of the nucleus, physical interaction with other proteins, sequestration in the cytoplasm (e.g. by Pirh2), modifications which prevent activity, etc. We also assume that activation of
mdm2
by p53 has an associated Hill coefficient of 2 (there is a double binding site for p53 at the Mdm2 promotor [
14
]), and that the half-life of Mdm2 is independent of whether it is free or bound to p53 (ref. [
15
] shows the latter is true in the absence of stress). Details on how parameter values were chosen are provided in additional file
2
.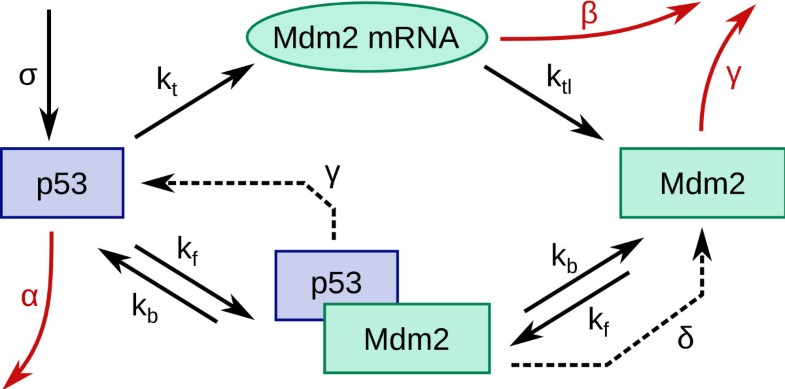 | Parameter | | Default value | Effect of stresses |
| --- | --- | --- | --- |
| σ | p53 production | 1000 nM.hr-1 | Ribonucleotide depletion ↗ |
| α | Mdm2-independent | 0.1 hr-1 | |
| | degradation/deactivation of p53 | | |
| δ | Mdm2-dependent | 11 hr-1 | DNA damage, Hypoxia, |
| | degradation/deactivation of p53 | | Oncogene, Nitric Oxide: all ↘ |
| k t | Mdm2 transcription | 0.03 nM-1hr-1 | Hypoxia ↘ |
| k tl | Mdm2 translation | 1.4 hr-1 | |
| B | Mdm2 mRNA degradation | 0.6 hr-1 | |
| γ | degradation/deactivation of Mdm2 | 0.2 hr-1 | DNA damage ↗ |
| k b | p53-Mdm2 dissociation | 7200 hr-1 | |
| k D = k b /k f | p53-Mdm2 dissociation constant | 1.44 nM | Nutlin ↗, DNA damage ↗ |
Most previous models have used an explicit time delay to model transcription and translation (for example, see [16–18]). In these models, the time delays are essential for producing oscillatory behaviour of p53 concentration. Mathematically, the use of explicit time delays converts the equations into delay differential equations which have effectively infinite dimensions and are well known to often exhibit oscillatory behaviour. In contrast our model has no explicit time delay. Thus, the cause of oscillations in our model is completely different; they occur due to the nonlinearities introduced by complex formation between p53 and Mdm2. Other models [19, 20] have avoided explicit time delays but used multiple feedback loops, whereas our model uses a single negative feedback loop. [21] has explored a range of different models to reproduce the behaviour under gamma irradiation. Of these, one model, IV, is closest to our model in that it uses a nonlinear degradation of p53 instead of explicit time delays to produce oscillations. However, the molecular mechanism behind this nonlinearity was not discussed. Our model shows that the complex formation between p53 and Mdm2 is sufficient for generating nonlinearities that lead to oscillations. Finally, the main purpose of this paper, to investigate response specificity to different stresses has not, to our knowledge, been studied in any previous model.
Conclusions
Predictions from the model
The sensitivity analysis in Figure 3 shows which parameters most affect the p53 level in our model. Combining this information with a knowledge of which parameters are affected by different stresses provides predictions about which stresses will affect the p53 level the most. One specific prediction is that around the onset of oscillations, changes in γ result in large changes in peak p53 levels but hardly any change in average p53 levels.
The analysis also leads to a prediction of reduced p53-dependent apoptosis in populations which have an increased frequency of the G allele of the mdm2 SNP309 - a prediction that is confirmed by observations. In addition, if the increase in k t due to the SNP is sufficient, then although p53 will be upregulated in response to stress, oscillations will not occur (as can be seen from Figure 4). This effect has also been observed experimentally [35]. The same analysis method can be used to predict the effect of other SNPs as soon as one knows which parameters (i.e., which molecular processes) they affect.
Finally, we note that the temporal dynamics of the p53 response to different stresses are also predictions of the model that can be tested experimentally. To our knowledge, single cell experiments examining the p53 dynamics in response to hypoxia or oncogene deregulation have not been done. Our model predicts that oscillations should be observed in both cases, which tend to have longer time periods than in response to DNA damage and with a particularly distinct time delay (and reduction of amplitude) between the first and second peaks.
Extending the model
Our model could eventually be extended to cover other stresses that trigger a p53 response as more data becomes available. Nitric oxide (NO) is a free radical produced in inflamed tissue which can trigger the p53 pathway by phosphorylating p53 and thereby inhibiting its Mdm2-mediated degradation [40]. Another example is ribonucleotide depletion: cells suffering this undergo a reversible p53-dependent cell cycle arrest [5]. How this happens has not been fully worked out, but a hypothesis exists: the depletion could cause a redistribution of p53 from cytoplasm to the nucleus, where it can be transcriptionally active [5]. Finally, heat shock can also trigger p53 but the picture is rather complex and indecisive, involving various chaperones and heat shock proteins [41–43]. Other directions to extend the model are of course to include other feedback loops and essential players in p53 regulation, such as Wip1 [20] and MdmX [10], and to model the connection between p53 levels and physiological behaviour more accurately as has been done for cell cycle arrest in ref. [44].
Overall, we have shown that this kind of negative feedback loop, consisting of a relatively slow transciptional activation on one leg of the loop, and an inhibition based on fast complex formation on the other, can be designed to respond specifically to a number of different input triggers. This kind of negative feedback loop also occurs in another important signalling pathway that is triggered by hundreds of input signals, namely NF-κ B signalling in the immune system [45]. NF-κ B is a transcription factor that controls hundreds of downstream genes. It activates production of Iκ Bα, which binds to and inhibits the action of NF-κ B [46]. The resultant negative feedback loop exhibits spiky oscillations [25, 47] similar to the kind we observe in the model presented here. Thus, our results might also have relevance beyond p53.
Declarations
Acknowledgements
This work was funded by the Danish National Research Foundation.
Authors' Affiliations
(1)
Center for Models of Life, Niels Bohr Institute, Copenhagen, Denmark
(2)
National Centre for Biological Sciences, Bangalore, India
Copyright
© Hunziker et al; licensee BioMed Central Ltd. 2010
This article is published under license to BioMed Central Ltd. This is an Open Access article distributed under the terms of the Creative Commons Attribution License (http://creativecommons.org/licenses/by/2.0), which permits unrestricted use, distribution, and reproduction in any medium, provided the original work is properly cited.