Research article
Open Access
Noise characteristics of the Escherichia colirotary motor
BMC Systems Biology
2011
5:151
Received: 24 March 2011
Accepted: 27 September 2011
Published: 27 September 2011
Abstract
Background
The chemotaxis pathway in the bacterium Escherichia coli allows cells to detect changes in external ligand concentration (e.g. nutrients). The pathway regulates the flagellated rotary motors and hence the cells' swimming behaviour, steering them towards more favourable environments. While the molecular components are well characterised, the motor behaviour measured by tethered cell experiments has been difficult to interpret.
Results
We study the effects of sensing and signalling noise on the motor behaviour. Specifically, we consider fluctuations stemming from ligand concentration, receptor switching between their signalling states, adaptation, modification of proteins by phosphorylation, and motor switching between its two rotational states. We develop a model which includes all signalling steps in the pathway, and discuss a simplified version, which captures the essential features of the full model. We find that the noise characteristics of the motor contain signatures from all these processes, albeit with varying magnitudes.
Conclusions
Our analysis allows us to address how cell-to-cell variation affects motor behaviour and the question of optimal pathway design. A similar comprehensive analysis can be applied to other two-component signalling pathways.
Keywords
Power SpectrumMethylation LevelReceptor ComplexNoise Power SpectrumLinear Response Function
Background
Biological systems sense stimuli from their environment using cell-surface receptors, and process this information to make reliable decisions, e.g. where to move, or whether to divide or to express new enzymes. Typically, intracellular signalling molecules are activated by modification, e.g. phosphorylation or methylation, and interact in complicated biochemical reaction networks. The biochemical reactions in such networks rely on probabilistic collisions of a limited number of molecules. Hence, the number of signalling molecules fluctuates with time, making signal processing noisy. The abundance of noise sources in a cell is in stark contrast to the remarkable accuracy with which cells are known to respond to minute amounts of chemical concentration, including growing axons and immune cells [1, 2].
The high biological relevance of noise has widely been recognised and studied extensively in gene expression [
3
–
7
]. In contrast, noise in signal transduction is less well characterised, despite its importance for accurate sensing and cell-decision making. Examples of eukaryotic systems, in which signalling noise has been considered include the ultrasensitive thresholding cascades [
8
,
9
], pheromone sensing in yeast [
10
,
11
], signal transduction in photoreceptors [
12
], feedback loops for noise suppression [
13
,
14
], and eukaryotic chemotaxis [
15
]. Furthermore, signalling noise has been considered in parts of bacterial pathways [
16
–
19
]. However, such analyses have either been not comprehensive, or signal and noise transmission have not been compared in detail with experimental measurements along the pathway. An important class of signalling pathways are the bacterial two-component systems, including hundreds of pathways responsible for wide ranging functions such as sensing of and responding to nutrients, osmolarity, antibiotics, as well as quorum signals [
20
]. A particularly well characterised example is the chemotaxis pathway in
E. coli
(Figure
1
), allowing cells to swim towards nutrients and away from toxins with high sensitivity over a wide range of ambient concentrations [
21
–
25
]. Specifically, the kinase CheA autophosphorylates when receptors are active and passes on phosphoryl groups to the response regulators CheY and CheB. Phosphorylated CheY (CheY-P) modulates the probability of counterclockwise (CCW) or clockwise (CW) rotation of the motor. The rotational directions of motors correspond to the two swimming modes of the bacterium, namely smooth swimming and tumbling, respectively. Adaptation, i.e. the reversal of the effect of changes in the ligand concentration, is mediated by reversible receptor methylation and demethylation, catalysed by enzymes CheR and phosphorylated CheB (CheB-P), respectively. Using the
E. coli
chemotaxis pathway as an example, we are interested in the behaviour of the rotary motor, i.e. the cell's final output, and how its rotation is affected by signalling and noise.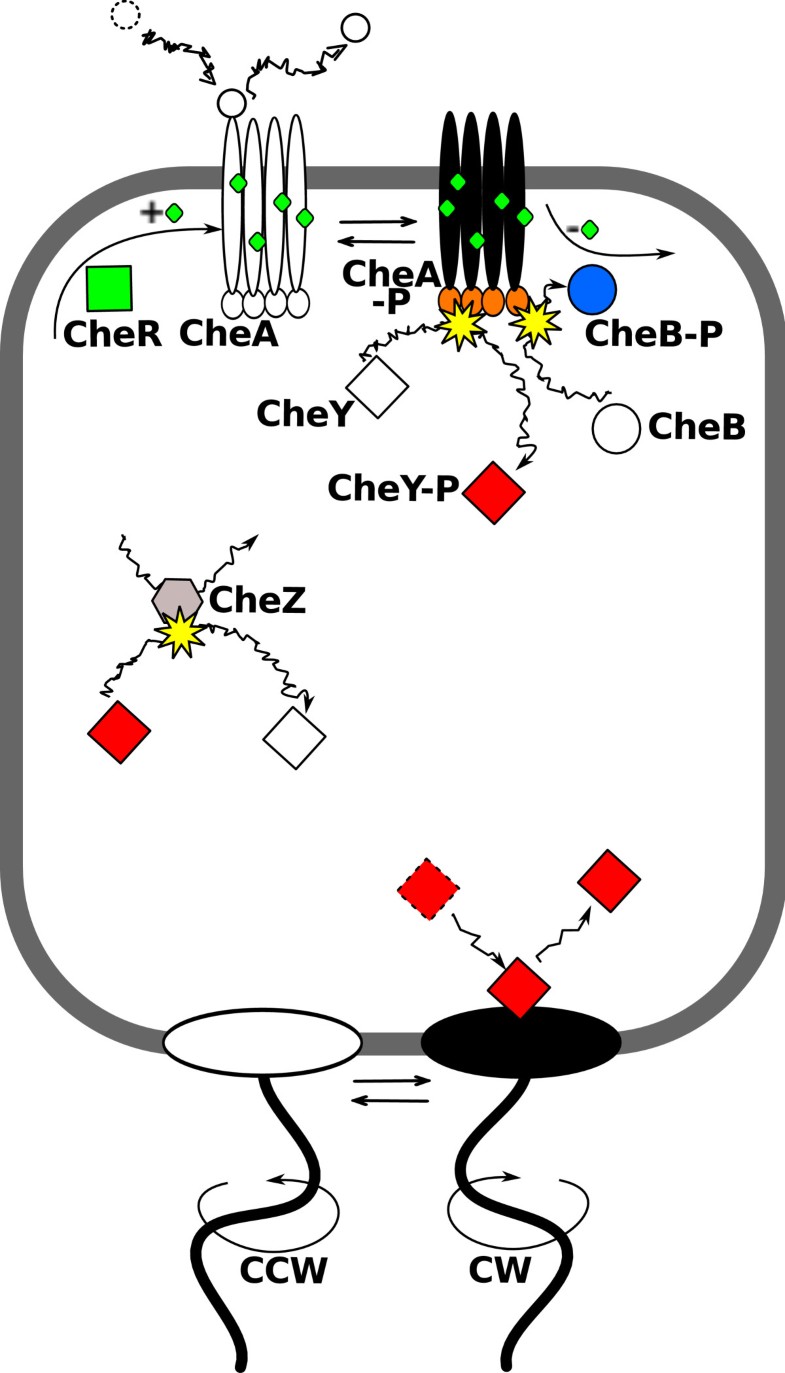 To characterise signal propagation along the pathway, we use the so-called linear response function. This function characterises the response to a small time-varying input signal, such as impulse, sinusoidal and step stimuli. However, knowing the linear response function allows the calculation of system response to
arbitrary
input signals, provided they are sufficiently small (see Figure
2
and
Methods
). Typically, any system is subject to various sources of noise, i.e. random fluctuations in the input, as well as from signal processing. This is true in particular for biological systems, which rely on biochemical reactions and conformational changes of signalling molecules, which are intrinsically probabilistic. Here, we use the noise power spectrum to characterise fluctuations. The power spectrum captures the correlations between fluctuations in motor behaviour at different time points (see Figure
2
and
Methods
). In order to make the analysis easier, we typically consider the Fourier transforms of the dynamical equations of our model. The Fourier transform is an equivalent description of time-dependent data, and represents its decomposition into its frequency components. Using this analysis, there are several fundamental questions we would like to address: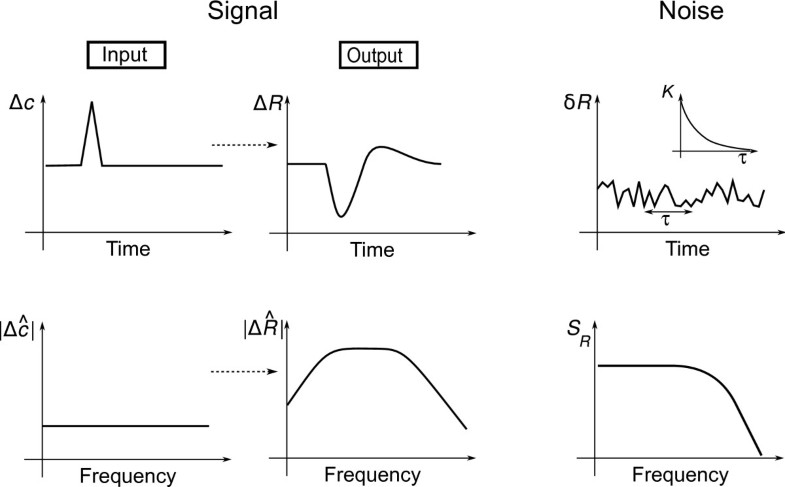 Firstly, what types of signals are transmitted and what types are attenuated by the pathway? Early work showed that the system responds to the time-derivative of the input signal [26]. A number of research groups have measured the averaged response of cells to chemotactic signals [26–28], and found that slowly, as well as rapidly changing input signals are not transmitted by the pathway. The response to slowly changing signals is attenuated by adaptation, which reverses the activation by ligand binding [28–30]. Rapidly changing signals were conjectured to be attenuated by a third-order filter [26, 27]. While the phosphorylation dynamics of CheY-P has been shown to contribute a first-order filter [30], the exact filtering dynamics of the full pathway has not been addressed.
Secondly, how is noise generated, amplified or filtered in the signalling pathway, and how do different sources of noise affect the motor behaviour? The power spectrum of the motor rotation was measured for wild-type cells and mutant cells lacking the chemotaxis signalling pathway [31]. The spectrum was found to have a large low-frequency component in the wild-type cells, indicating that there is a dominant noise source in the signalling pathway with long correlations. In simulations of the signalling pathway, the adaptation dynamics can play an important role in generating long correlations [16, 31]. However, only signalling up to CheY-P was considered. Other studies include stochastic simulations of the noisy biochemical reactions of the pathway [32], and addressed the mechanism of motor rotation [33–37], including the thermodynamics of motor switching [38–40]. However, noise generation, filtering and amplification has not been addressed systematically for the various levels of the signalling pathway from chemoreceptors to motors.
Finally, how reliably are concentration input signals transmitted through the pathway in the presence of noise? An important task for the cell is to generate an appropriate motor response to input signals in the presence of fluctuations in the input, as well as due to noise in the biochemical signalling pathway. Furthermore, cell-to-cell variation in protein expression influences signal transmission and noise filtering. Comparing these two aspects of the pathway dynamics, namely chemotactic signal transmission and noise filtering, in close comparison with experimental data along the pathway is a novel perspective in our present study.
In the following, we present a mathematical model for the chemotaxis signalling pathway. A simplified pathway is discussed in the text to provide intuitive understanding. However, results are shown for an extended model for the full pathway provided in the Methods section. We discuss the average (deterministic) response of the signalling pathway to concentration signals. We analyse the noise sources in the signalling pathway and their effects. Finally, we vary pathway parameters and study how they affect signal and noise transmission. We also discuss briefly how our approach can be applied to other two-component systems and signalling pathways.
Discussion
Biological signalling pathways employ biochemical reaction networks and molecular state transitions to sense and process signals from the environment. Fluctuations inherent in these processes determine the signals which can reliably be transmitted. Here, we studied the signal and noise propagation in the E. coli chemotaxis signalling pathway, which controls the bacterial swimming behaviour in chemical gradients. Specifically, we considered the dynamics of ligand diffusion, receptor methylation and demethylation, receptor complex switching between on and off, phosphorylation and dephosphorylation of the kinase CheA, and response regulators CheY and CheB, as well as from rotary motor switching between CW and CCW direction. We assume cooperative chemoreceptor signalling complexes, whose activities depend on ligand concentrations and receptor methylation level, described by the MWC model [42–47].
We formulated a model which includes all processes in the signalling pathway. Not included is the dynamics of gene expression and enzyme localisation to the chemoreceptor cluster, which is assumed to be much slower than the dynamics of signalling processes (discussed below). To make results intuitive we also presented a simplified version of the model, which only includes the dynamics of the activity of chemoreceptors, ligand concentration and receptor methylation level, as well as the motor dynamics. To calibrate the model, we first collected experimental data sets for the signalling pathway and rotary motor [26–28], and the motor switching behaviour [31, 51]. Using the Fourier transformed linear response function, we subsequently fitted our model parameters. We found a range of parameters fitting different data sets, revealing a striking experimental variation, which may require further characterisation in the future.
Despite the fitting, there is a discrepancy of our response function and the data at large frequencies. Block et al. [26] and Segall et al. [27] conjectured that the pathway is a third-order low-pass filter. In contrast, we find that the only relevant filters in that frequency range are due to CheY-P and motor dynamics, leading to only a second-order filter. One explanation for the missing filter is that experimental concentration pulses were not short enough, leaving a signature from the input signal at large frequencies. Alternatively, additional processes such as a slow release of CheY-P from the chemosensory complexes as discussed in Ref. [52] could lead to an additional filter. However, CheY-P/CheZ complex formation and potential oligomerisation of CheY-P/CheZ complexes [53–55] are not expected to contribute to high-frequency filtering (Additional File 1).
The motor behaviour is the final cell output, which contains characteristic noise signatures of all upstream signalling components, including the receptors. We found that motor switching is the dominant contribution to the spectrum of the fluctuations in motor bias (Figure 5). This may be not surprising as motor switching enables E. coli to tumble and change its swimming direction, and is therefore crucial for its search strategy. However, low-frequency contributions from signalling and adaptation may become more significant for some cells or under certain conditions (Figure 5). Specifically, we predict that due to cell-to-cell variation of protein contents or fast motor switching, these low-frequency components become comparable to motor switching noise. For instance, Korobkova et al. [51] measured power spectra in cells with low motor bias and found that the low-frequency component is increased compared to mutants lacking the signalling pathway, and that increasing the expression level of CheR decreases the low-frequency component. Our model is able to reproduce these spectra, demonstrating the general applicability of our approach. Long correlations in motor bias may enable subpopulations of cells to swim further without tumbling or to tumble more frequently.
To test our predictions, adaptation rates can be varied using cells expressing different amounts of CheR and CheB from an inducible plasmid. Alternatively, the natural variability in protein expression between cells can be exploited. Numerous wild-type cells could be monitored. By extracting the adaptation times for chemotactic stimuli, the adaptation rate constants for individual cells can be inferred. Subsequently, the same cells can be used to measure long time traces of motor switching and noise spectra can be calculated. While we included a number of noise sources in our model, others have not been included. For instance the binding and unbinding of the adaptational enzymes to the C-termini of the receptors [
56
] may introduce low-frequency fluctuations in the motor noise power spectrum. However, as shown for enzyme CheR in Figure
9A
, this contribution is significantly smaller than the methylation and demethylation noise. In the same plot we also show the CheR gene-expression noise, which only contributes at very low frequencies (observation times larger than 10
3
s). Furthermore, the ligand noise may be underestimated in our model since fluctuations of the ligand concentration at individual receptor complexes were treated as uncorrelated. If the fluctuations are treated as strongly correlated (on the scale of the polar chemoreceptor cluster), the ligand noise becomes substantially larger as complexes coherently transmit the ligand noise (see Figure
9B
). Taken together, we believe that we included the main noise sources in our model although due to subtleties, the magnitude of noise contributions are much harder to pinpoint exactly. Our full-pathway model allows us to connect to a large variety of data and literature. For instance, we also investigated how the response to concentration signals is related to fluctuations in the chemotaxis pathway (Figure
8
), similar to ideas presented by Park et al. [
50
]. We do not find one unifying fluctuation-response theorem, but a nonlinear trend for the relationship between adaptation times and variance in CheY-P. For small adaptation times we find an approximate linear relationship in line with experiments [
50
].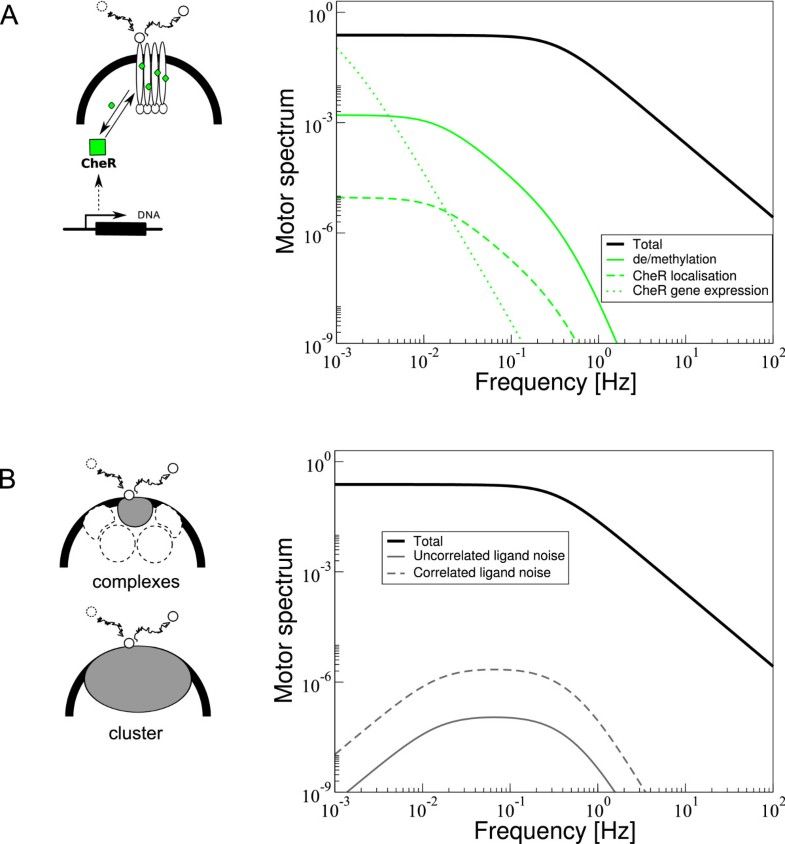 Although chemotaxis is one of many capabilities a cell has and may not be optimised in isolation without the rest of the cell, we speculate the cell aims to maximise the SNR for most efficient signalling and chemotaxis. We found that the SNR is maximised at particular receptor complex sizes similar to values of receptor cooperativity extracted from FRET dose-response curves [46]. In line with the data, the "optimal" complex size increases with external ligand concentration, and hence with receptor methylation level. While our complex sizes appear overestimated, noise from ligand molecules rebinding to the same receptor complex [57] has not been considered here. This may well increase the noise level from external sources and hence decrease the predicted optimal receptor complex size. Using our model, we also analysed the effect of varying the methylation and demethylation rate constants. We found that a large SNR is obtained for small methylation and large demethylation rate constant, corresponding to our fitted model parameters from FRET dose-response curves [47].
To describe the noise, the Langevin approximation is expected to work for the phosphorylation and dephosphorylation of the abundant protein CheY. However, its applicability is less clear for receptor signalling due to both extrinsic ligand noise and intrinsic noise from receptor methylation. Furthermore, the switching of the binary motor may constitute relatively large noise. As shown in Additional File 1 the Master equation and Langevin approximation yield the same results for receptor signalling [58]. As for the motor, the Langevin equation is exact [48]. However, we explicitly tested that the statistical properties of the time series obtained for two-state switching and Langevin equation are the same. For constant rates, as well as for noisy rates due to fluctuations in CheY-P concentration, the power spectra obtained for the two processes are the same (Additional File 1). In Additional File 1 we further show that noise terms are indeed sufficiently small that linearisation of the pathway equations is justified.
Conclusions
We presented a comprehensive analysis of signal and noise propagation in the chemotaxis pathway of E. coli. Our full-pathway model allowed us to successfully explain a large variety of experimental data from the literature. However, our work goes beyond E. coli chemotaxis as similar methods can be applied to many other pathways.
The
E. coli
chemotaxis pathway is a member of the large class of two-component systems, containing hundreds of closely related pathways involved in stress response, virulence and inter-cell communication [
20
,
59
]. In these pathways, activation of a sensor histidine kinase results in its autophosphorylation, and subsequently in phosphorylation of a response regulator, which typically binds to DNA and regulates gene expression. The final output, i.e. activation of gene expression, is again binary and hence similar to the bacterial chemotaxis pathway (Figure
10
). There are particularly well-studied examples of two-component systems: (
i
) the VanS (kinase)/VanR (response regulator) system conferring vancomycin resistance in Gram positive bacteria [
60
], (
ii
) quorum sensing in
Vibrio harveyi
, where the three kinases LuxN, LuxQ and CqsS respond to different autoinducers and first phosphorylate the phosphotransferase LuxO (which has no equivalent in the chemotaxis pathway), which then phosphorylates the response regulator LuxU [
61
], and (
iii
) the phosphorelay controlling sporulation in
Bacillus subtilis
. The relay contains at least four kinases KinA-KinB and the phosphotransferase Spo0F, which phosphorylates the response regulator Spo0A [
62
].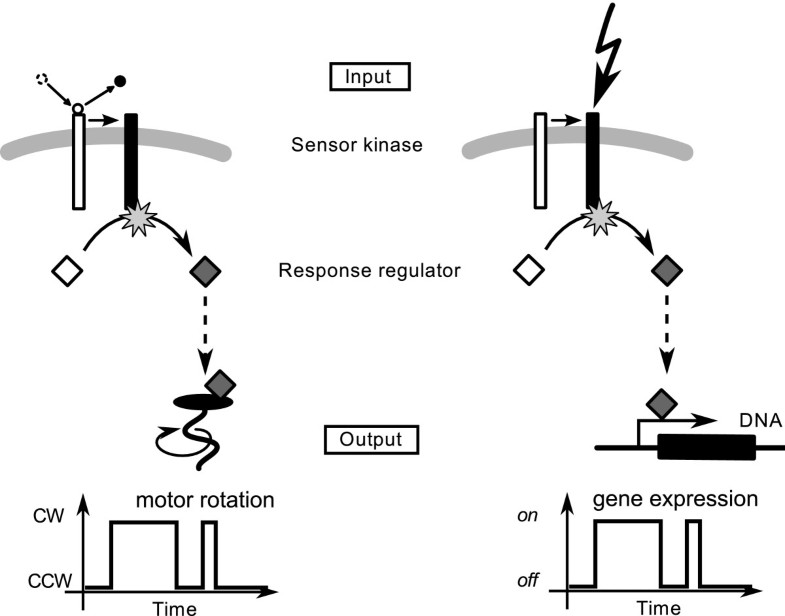 Our work may also be applicable to other bacterial chemotaxis pathways, which are often considerably more complex than E. coli's pathway and still need to be understood in detail. For instance, the photosynthetic bacterium Rhodobacter sphaeroides has several homologues of each of the chemotaxis proteins in E. coli [63]. Interestingly, Rhodobacter has two chemotaxis receptor clusters, one polar cluster similar to E. coli and one cytoplasmic cluster, which is thought to sense the metabolic state of the cell. Both clusters need to be present for chemotaxis [63]. The soil bacterium Bacillus subtilis has three adaptation systems [64]: one based on methylation and demethylation of receptors similar to E. coli and two independent of receptor methylation, the CheC/CheD system and the CheV system. Furthermore, in B. subtilis, sensory adaptation is not determined by the level of receptor methylation but the location of methylation sites on the receptors. Hence, our analysis presented here may also help elucidate the design of these pathways and clarify the computational problems these bacteria try to solve.
Declarations
Acknowledgements
We thank Richard Berry, Martin Buck, Tom Duke and William Ryu for helpful discussions, and Suhail Islam for computational support. RGE was supported by Biotechnological and Biological Sciences Research Council grant BB/G000131/1 and the Centre for Integrative Systems Biology and Bioinformatics (CISBIO) at Imperial College.
Authors' Affiliations
(1)
Division of Molecular Biosciences, Imperial College London, London, UK
(2)
Centre for Integrative Systems Biology and Bioinformatics, Imperial College London, UK
(3)
BioQuant, Universität Heidelberg, Heidelberg, Germany
Copyright
© Clausznitzer and Endres; licensee BioMed Central Ltd. 2011
This article is published under license to BioMed Central Ltd. This is an Open Access article distributed under the terms of the Creative Commons Attribution License (http://creativecommons.org/licenses/by/2.0), which permits unrestricted use, distribution, and reproduction in any medium, provided the original work is properly cited.