Framework for network modularization and Bayesian network analysis to investigate the perturbed metabolic network
BMC Systems Biology
2011
5(Suppl 2):S14
Published: 14 December 2011
Abstract
Background
Genome-scale metabolic network models have contributed to elucidating biological phenomena, and predicting gene targets to engineer for biotechnological applications. With their increasing importance, their precise network characterization has also been crucial for better understanding of the cellular physiology.
Results
We herein introduce a f ramework for network m odularization and B ayesian network analysis (FMB) to investigate organism's metabolism under perturbation. FMB reveals direction of influences among metabolic modules, in which reactions with similar or positively correlated flux variation patterns are clustered, in response to specific perturbation using metabolic flux data. With metabolic flux data calculated by constraints-based flux analysis under both control and perturbation conditions, FMB, in essence, reveals the effects of specific perturbations on the biological system through network modularization and Bayesian network analysis at metabolic modular level. As a demonstration, this framework was applied to the genetically perturbed Escherichia coli metabolism, which is a lpdA gene knockout mutant, using its genome-scale metabolic network model.
Conclusions
After all, it provides alternative scenarios of metabolic flux distributions in response to the perturbation, which are complementary to the data obtained from conventionally available genome-wide high-throughput techniques or metabolic flux analysis.
Keywords
Bayesian NetworkMetabolic FluxCore ReactionMetabolic ModuleMetabolic Flux Distribution
Background
Genome-scale metabolic network models have proved to be useful in aiding biological and biotechnological research by providing large-scale predications, and their scope of applications is still expanding [1]. They predict gene targets to manipulate in metabolic engineering for overproduction of industrially valuable chemicals [2, 3], or predict drug targets for drug discovery [4–7]. These metabolic network models are a coherently organized set of metabolites whose relationships are stoichiometrically defined and mass-balanced through biochemical reactions [8]. They are often simulated with constraints-based flux analysis that employs optimization-based techniques with an objective function, typically maximizing biomass formation rate, and constraints that reflect biophysical conditions affecting the cellular physiology [9, 10]. Due to their importance, the number of currently reported genome-scale metabolic networks is constantly increasing, spanning archaea, bacteria, and eukaryotes [1].
Reconstruction of metabolic network models has been accompanied by systematic characterization of their network properties for appropriate analysis of the prediction outcomes [11]. Some noteworthy constraints-based approaches for elucidating correlations among intracellular reactions include flux coupling analysis [12], assessment of alternative sets of reactions for the optimal solutions [13], uniform random sampling [14], and elucidation of metabolic core reactions [15]. As an extension of these studies, correlations among metabolic modules that behave in a synchronized manner in the solution space allowed under the specific condition attracted attention for further investigations. For this, application of clustering (or modularization) and Bayesian network (BN) analysis to metabolic network models and their flux data was considered in this study in order to reveal other complementary aspects of the cell that are statistically and biologically important under the perturbation condition – modular-level behaviour of metabolism.
Clustering has succeeded in revealing key components and their correlations, contributing to our understanding of biological systems through a systemic concept of module [16, 17]. Modularization of biological network, which is based on clustering algorithms, elucidates topological design of biological system, from which evolutionary and functional clues can be inferred [18, 19]. Metabolic network can also be clustered based on the characteristics of its metabolic fluxes, which are defined as the cellular phenotype derived from interplays of many factors, including transcription, translation, enzyme activity, and metabolite concentration, and revealed as reaction rates at steady state in metabolic pathways [20–22]. Therefore, modularization of metabolic network based on pattern of metabolic flux variation would cluster biochemical reactions, which can then be considered as functional units, and simplify subsequent computational analyses.
BN analysis is increasingly adopted to extract useful information from messy high-throughput biological data [23, 24]. It is a probabilistic graphical model that reveals changes that each variable causes in another variables, so called causal relationship, in the form of a directed acyclic graph, and has successfully been applied to reverse engineering of various biological networks from large datasets, including transcriptome and proteome data [25–27]. BN analysis, in this study, was used to predict causal relationships among reactions and subsequently their metabolic modules based on their metabolic fluxes.
With these tools, we herein conceptualized a f ramework for network m odularization and B ayesian network analysis (FMB) in order to investigate the effects of specific perturbation on metabolism and to explore other complementary features of the perturbed cell in the context of metabolism, which other currently available high-throughput techniques do not provide. This framework analyzes a biological system subjected to the specific perturbation by clustering reactions of similar functions (or metabolic flux variation pattern), and graphically displaying direction of influences among these clusters as a result of the specific perturbation. For this, FMB employs constraints-based flux analysis, hierarchical clustering and BN analysis in sequence. For a demonstration, FMB was applied to the genetically perturbed Escherichia coli metabolism using its genome-scale metabolic network model [28]. The final outcome is a BN that is a causal network that shows influential correlations among reactions and their metabolic modules that are critical to the metabolic adjustment in response to the specific perturbation.
Results and discussion
FMB was utilized in this study to systematically assess the effects of specific perturbation on metabolism at global scale (Figure
1
). The goal is to learn causal relationships among clusters of metabolic fluxes in response to a specific perturbation. Here, considerations are that the BN analysis requires many samples or observations of the system of interest, and the number of events or nodes that can be handled by BN analysis is limited, usually to the order of tens [
25
]. Hence, given a genome-scale metabolic network model (Figure
1A
), many samples of genome-scale metabolic flux data need to be generated under the condition of interest, by introducing random errors to each flux value (Figure
1B-C
). In this framework, metabolic flux data obtained from wild-type (control condition) and its genetic mutant (perturbed condition) were treated together (see step C below for the reason). Then, the number of reactions was gradually reduced to the level suitable for BN analysis; for this, so called
core reactions
were selected, which are most influenced by specific perturbation, and yet almost always active in the observed samples of either control or perturbed condition [
15
] (Figure
1D
). Next, the metabolic network was modularized based on flux variation pattern of core reactions in order to group functionally correlated reactions (Figure
1E-F
). In so doing, reactions clustered in a module were treated as a functional unit. Finally, selecting
representative reaction
from each module, which is the most influential one in the module, leaves adequate number of reactions that can be subjected to BN (Figure
1G-H
). Each of these steps is considered in detail as follows.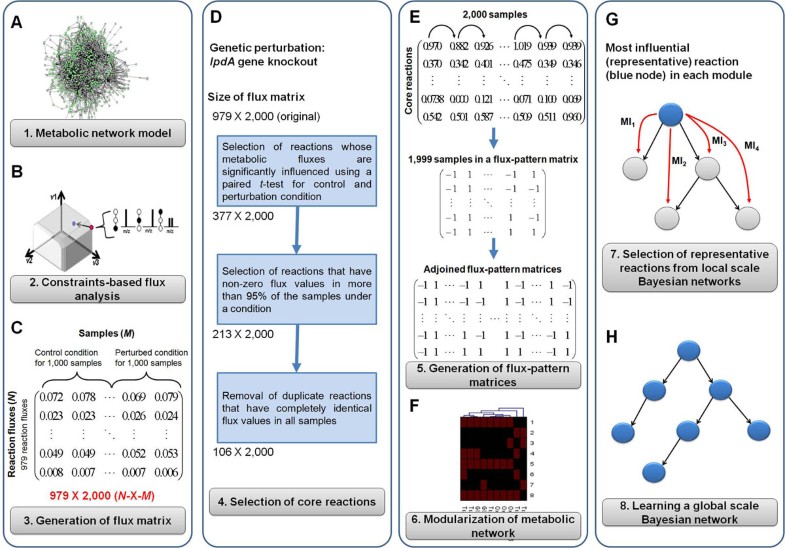 Conclusions
FMB developed in this study groups functionally similar reactions, and subsequently investigates the causal patterns among metabolic clusters in response to specific perturbation. This newly generated knowledge of causal patterns enables us to capture significant changes in metabolism at the level of metabolic modules, which distinguishes itself from conventional MFA. Hence, it could be used as another tool for examining the microbial physiology in addition to currently available genome-wide high-throughput techniques [39]. Furthermore, this FMB could be applied to interpreting different types of specific perturbations, including multiple gene knockouts and environmental stresses.
Methods
Overall scheme and rationale for each step of FMB are elaborated in Results and Discussion (Figure 1) while its critical computations steps that require extensive explanation are mentioned in this section. All the computations were performed using 2.80 GHz Intel i5 processors.
List of abbreviations
BN:

Bayesian network
FMB:

framework for network modularization and Bayesian network analysis
MDL:

minimum description length
MFA:

metabolic flux analysis
MI:

mutual information
PEP:

phosphoenolpyruvate
TMI:

total mutual information.
Declarations
Acknowledgements
We thank Hongseok Yun for his thoughtful advises on clustering. This work was supported by the Advanced Biomass R&D Center of Korea (ABC-2010-0029799) through the Global Frontier Research Program of the Ministry of Education, Science and Technology (MEST). Further support by World Class University program (R32-2008-000-10142-0) of MEST is appreciated.
This article has been published as part of BMC Systems Biology Volume 5 Supplement 2, 2011: 22nd International Conference on Genome Informatics: Systems Biology. The full contents of the supplement are available online at http://www.biomedcentral.com/1752-0509/5?issue=S2.
Authors' Affiliations
(1)
Metabolic and Biomolecular Engineering National Research Laboratory, Department of Chemical and Biomolecular Engineering (BK21 program), Center for Systems and Synthetic Biotechnology, Institute for the BioCentury, Korea Advanced Institute of Science and Technology (KAIST), Daejeon, Republic of Korea
(2)
BioInformatics Research Center, Daejeon, Republic of Korea
(3)
Department of Bio and Brain Engineering and BioProcess Engineering Research Center, Daejeon, Republic of Korea
Copyright
© Kim et al; licensee BioMed Central Ltd. 2011
This article is published under license to BioMed Central Ltd. This is an open access article distributed under the terms of the Creative Commons Attribution License (http://creativecommons.org/licenses/by/2.0), which permits unrestricted use, distribution, and reproduction in any medium, provided the original work is properly cited.