Revealing metabolite biomarkers for acupuncture treatment by linear programming based feature selection
BMC Systems Biology
2012
6(Suppl 1):S15
Abstract
Background
Acupuncture has been practiced in China for thousands of years as part of the Traditional Chinese Medicine (TCM) and has gradually accepted in western countries as an alternative or complementary treatment. However, the underlying mechanism of acupuncture, especially whether there exists any difference between varies acupoints, remains largely unknown, which hinders its widespread use.
Results
In this study, we develop a novel Linear Programming based Feature Selection method (LPFS) to understand the mechanism of acupuncture effect, at molecular level, by revealing the metabolite biomarkers for acupuncture treatment. Specifically, we generate and investigate the high-throughput metabolic profiles of acupuncture treatment at several acupoints in human. To select the subsets of metabolites that best characterize the acupuncture effect for each meridian point, an optimization model is proposed to identify biomarkers from high-dimensional metabolic data from case and control samples. Importantly, we use nearest centroid as the prototype to simultaneously minimize the number of selected features and the leave-one-out cross validation error of classifier. We compared the performance of LPFS to several state-of-the-art methods, such as SVM recursive feature elimination (SVM-RFE) and sparse multinomial logistic regression approach (SMLR). We find that our LPFS method tends to reveal a small set of metabolites with small standard deviation and large shifts, which exactly serves our requirement for good biomarker. Biologically, several metabolite biomarkers for acupuncture treatment are revealed and serve as the candidates for further mechanism investigation. Also biomakers derived from five meridian points, Zusanli (ST36), Liangmen (ST21), Juliao (ST3), Yanglingquan (GB34), and Weizhong (BL40), are compared for their similarity and difference, which provide evidence for the specificity of acupoints.
Conclusions
Our result demonstrates that metabolic profiling might be a promising method to investigate the molecular mechanism of acupuncture. Comparing with other existing methods, LPFS shows better performance to select a small set of key molecules. In addition, LPFS is a general methodology and can be applied to other high-dimensional data analysis, for example cancer genomics.
Keywords
Feature SelectionMixed Integer Linear ProgrammingFeature Selection MethodAcupuncture TreatmentAcupuncture Point
Background
Acupuncture, an important therapeutic method in Traditional Chinese Medicine (TCM), has been used to treat various diseases for thousand years in China. Recently it has been gradually accepted in western countries as an alternative or complementary treatment. However, how the acupuncture works remains an open question though acupuncture exists as one of the oldest continuous systems of medicine dating back 4,000 years. Extensive studies have been conducted on the mechanism of acupuncture to explain the effects of acupuncture on various systems and symptoms [1–3]. Compared to the relatively widespread use of acupuncture, systems biology is a new term to describe the recent trends in biology research. It emphasizes the high-throughput measurement of biological systems and focuses on the complex interactions in biological systems [4, 5]. We highly expect that systems biology, a biology-based inter-disciplinary study field, will provide tremendous opportunities for revealing acupuncture mechanism at the molecular level.
In this paper, we use systems biology method to study the acupuncture treatment effect by identifying a subset of important molecules from high-throughput metabolic data. Specifically, we separate the acupuncture from moxibustion and only study the effect of acupuncture on normal people by investigating the difference between acupuncture at particular acupoint and without acupuncture. Towards this aim, we utilize 1H nuclear magnetic resonance (1H NMR) to investigate the effects of acupuncture at several meridian points on plasma metabolites. Then metabolite profiles (vectors) are generated from a collection of case samples(with acupuncture at meridian point) and control samples (without acupuncture). These high-dimensional profile data is very similar to SNP (sequence data), gene expression (transcriptome), mass spectrum (proteome), and small molecules (metabolome) data in different levels. Then the straightforward task is to identify differentially expressed molecules and further classify and predict the diagonostic category of a sample, based on its metabolite profile [6].
Generally speaking, there are two difficulties in analyzing these high-dimensional profile data. First, a large number of features (metabolites in our case) are available to predict classes for a relatively small number of samples. The presence of a significant number of irrelevant features that are unrelated to the case status makes such analysis prone to the curse of dimensionality. Second, predictive accuracy is not the only goal and further biological validation and mechanism understanding call for explanatory power other than black box predictive results. Thus it is especially important to know which molecules largely contribute towards the classification. Ideally we can improve the generalization performance of classifier by identifying only the molecules that are significantly contribute to the classifier. This effect is attributable to the overcoming of the curse of dimensionality. For example, if it is possible to identify a small set of metabolites that is indeed capable of providing complete discriminatory information, inexpensive diagnostic assays for only a few metabolites might be developed and be widely deployed in clinical settings. Knowledge of a small set of diagnostically relevant metabolites may provide important insights into the mechanisms responsible for acupuncture treatment itself. Those molecules are usually termed as biomarkers. The procedure to reveal them is referred as feature selection, biomarker identification, or feature ranking.
Feature selection is known to be NP-hard [7] and the search becomes quickly computationally intractable. Suppose we treat the feature selection task in a brute force way. Given n features, we need to select m features which can get the best classification accuracy (m <<n) regarding to a predefined cost function. Usually in classification or prediction problem, the cost function is selected as the accuracy of the prediction. The exhaustive search method goes through all the possible combinations, with the computation complexity O(n m ). Thus, this method is not practical for realistic applications.
Existing feature selection strategies can be roughly categorized into three types [8]. Considering the partial ordering properties of the subset space, we can either start with an empty set and successively add features, or start with the set of all features and successively filter them. The former type is referred to as forward selection while the latter is referred to as backward elimination. The third type is the combination of the two approaches. However, all the above methods relies on the greedy strategy. As an example of forward feature selection, we might first look for the single most discriminative feature using any classifier. Then we could search the single additional feature that gives the best class discrimination when considered along with the first feature. Keeping augmenting the feature set iteratively in this greedy fashion, we stop until cross-validation error estimates are minimized. As a result, the global optimal solution usually cannot be guaranteed.
In this paper, we proposed a novel linear programming (LP) model to address this important problem. Feature selection problem is cast into an optimization problem with two objectives, one is to minimize the number of chosen features and the other is to maximize the predictive accuracy based on the centroid classification framework. In other words, our feature selection method simultaneously improves classification accuracy and selects features. Comparing with several state-of-the-art feature selection methods, our Linear Programming based Feature Selection (LPFS) method can select a small set of features by applying strong regularization while keeping high accuracy. We then apply our method to analyze the metabolite profile data generated for acupuncture treatment. We identify important molecules (biomarkers) related to the acupuncture treatment for several meridian points. Further characterization of the biomarkers and the common and difference among several meridian points provide biological insights for acupuncture mechanisms at molecular level. Preliminary results in this paper were presented in our conference paper [9]. In this extended paper, we further provide the detailed derivation of the method and comparison with existing works. In addition, we performed more analysis and descriptions for the biological insights of the acupuncture biomarkers.
Method
Analytic workflow
In this paper, the acupuncture treatment effect is investigated in the framework of systems biology. The basic analytic workflow is shown in Figure
1
. As the first step, metabolite profiles are originally generated by
1
H NMR from control samples and the samples with acupuncture treatment in meridian points. Then we develop a linear programming based feature selection method to compare the two groups of metabolite profiles. Finally, a small set of metabolites are selected as biomarkers for acupuncture treatment effect.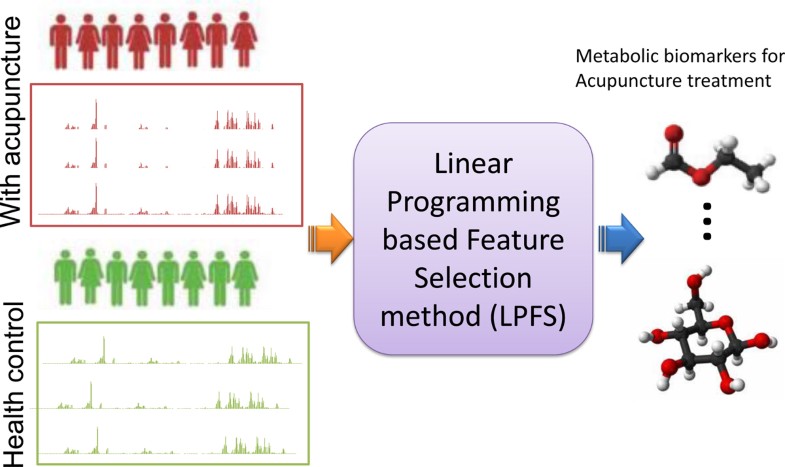 Overview of the linear programming based feature selection
To investigate the high-dimensional data for acupuncture treatment effect, we develop a novel method, LPFS, to select a small set of metabolites to characterize acupuncture treatment effect. The schematic illustration of LPFS is shown in Figure
2
. LPFS performs feature selection based on the nearest centroid classifier. On one hand, we want to attain the best classification accuracy by minimizing the loss function. On the other hand, feature selection algorithms should be robust to noise and outliers in the data by applying strong regularization. Here we use the parsimony principle (also known as Occam's razor) by minimizing the number of selected features. Then the feature selection problem is formulated as a multi-objective programming. The next step is to convert this multi-objective programming into a single-objective linear programming by applying the
ε
method. After solving the linear programming model in an efficient way, the optimal features can be selected.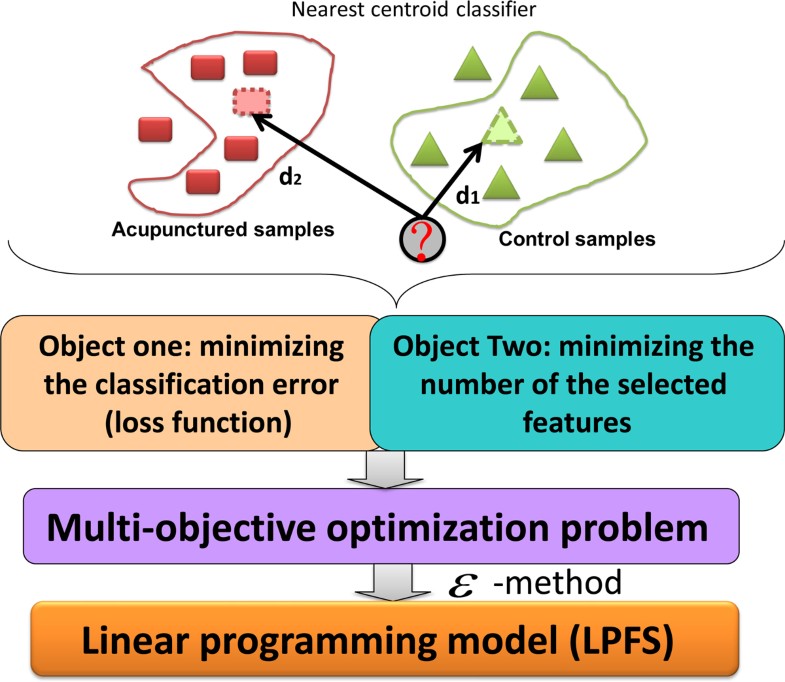 Metabonomics profiling by 1H NMR spectra
Venous blood (3ml) was collected into a heparin sodium tube and the plasma was collected by centrifugation at 1000× g at 4°C for 10 minutes. An aliquot of 300 μ l plasma was mixed with 250 μ l D2O and 50 μ l TSP (3-trimethylsilyl-2H4-propionic acid) in D2O (1 mg/ml) in 5 mm NMR tube. The D2O provided a field-frequency lock solvent for the NMR spectrometer and the TSP served as an internal reference of chemical shift. 1H NMR spectra of the plasma samples were acquired on a Varian INOVA 600 MHz NMR spectrometer at 27°C by using Carr-Purcell-Meiboom-Gill (CPMG) spin-echo pulse sequence. with a total spin-spin relaxation delay (2nτ) of 320 ms. The free induction decays (FIDs) were collected into 32K data points with a spectral width of 8000 Hz and 64 scans. The FIDs were zero-filled to double size and multiplied by an exponential line-broadening factor of 0.5 Hz prior to Fourier transformation (FT). In addition, diffusion-edited experiments were also carried out with BPP-LED (bipolar pulse pair longitudinal eddy current delay) pulse sequence [15, 16]. The gradient amplitude was set at 35.0 G cm-1, with a diffusion delay of 100 ms. A total of 128 transients and 16k data points were collected with a spectral width of 8000 Hz. A line-broadening factor of 1 Hz was applied to FIDs before Fourier transformation.
All plasma 1H NMR spectra were manually phased and baseline corrected using VNMR 6.1C software (Varian, Inc.). For CPMG spectra, each spectrum over the range of 0.4 to 4.4 was data-reduced into integrated regions of equal width (0.01 ppm). For BPP-LED data, each spectrum over the range of 0.1 to 6.0 was segmented into regions of equal width (0.01 ppm). The regions containing the resonance from residual water (4.6-5.1) were excluded. The integral values of each spectrum was normalized to constant sum of all integrals in a spectrum in order to reduce any significant concentration differences between samples [17, 18]. Identification of metabolites in spectra was accomplished based on literatures and the Chenomx NMR Suite 5.0 (Chenomx, Calgary, Canada).
Discussions and conclusions
Biomaker identification or feature selection considers the problem of constructing a prediction rule from only a feature-subset and accurately classifying the context of diagnosis and treatment observations (e.g. with vs. without acupuncture treatment). Such problems have become increasing important and quite general in genomics (identifying differentially expressed genes in microarray data), proteomics (finding promising protein marker from the mass spectrometry data), metabolics (selecting metabolite markers from NMR, GC-MS data), and other areas of computational biology. Due to the number of features is much larger than the number of observations, simple, highly regularized approaches are in pressing need. Here, we proposed a novel linear programming based feature selection (LPFS) model to address this important problem. The feature selection problem is cast into an optimization problem with two objectives, one is to minimize the number of chosen features and the other is to maximize the predictive accuracy. Mathematically the feature selection problem is formulated as a mixed integer linear programming problem. Then the model is further relaxed to linear programming to ensure the efficient identification of a feature-subset. We can solve the in-essence combinatorial optimization problem in a computational reasonable way. In summary, our LPFS method can select feature and learn the classifier in a joint way and we can select a small set of features by applying strong regularization. Our methodology is general and can be easily applied to other scenarios [35].
We extensively compared our LPFS method with existing methods in the real datasets on acupuncture treatment at different acupoints. We find that, 1). Our method can select the fewest features while achieve accurate predictions. 2). Our method is free of arbitrary threshold choice. 3). Close check of the selected feature shows that our method can identify those biological meaningful features. 4). In addition, the cross-validation results show that our method can achieve relatively high accuracy in prediction.
Prior information allows further improvement of our method. Currently the identified biomarkers are independent to each other. We can move further step to interpretation by considering a group of biologically meaningful biomarkers. For example, we can incorporate the network information (interactions among features) into the feature selection procedure. As a result, a pathway or modules in the network will be finally selected instead of single molecule as the biomarker, so called network biomarker. We note that prior information can be easily incorporated into our optimization model either by adding some constraints or penalizing in the objective function.
In this paper, the biomarker identification for each acupuncture point is treated as a single binary classification task. We then compare the revealed biomarkers for their similarity and difference across different acupuncture points. We note that a multi-classifier can be developed to systematically integrate all the profiles from different points together. This topic is in progress as our further direction.
Finally, the metabolic profile is known for its high variance. We note that the main source of variance is from NMR technology instead of acupuncture effect [36]. To maximally reduce the variance from metabolic profile, we carefully design our experiments. Firstly, we used the relatively stable blood samples instead of urine sample. Secondly, we specifically use the Pareto scaling and orthogonal signal correction (OSC) method [37–39] to normalize the raw data, which will reduce the variance of samples inside each group and enhance the differences among groups. Even with all these efforts, the remaining high variance may due to the change of environments and conditions and will eventually prevent the high accuracy for identification of biological meaningful biomarkers. In addition to variance, the limited number of sample in our study may also bring some potential effects on the results. From this viewpoint, these identified biomarkers should be carefully validated for their biological functions. Also, additional control study should be carefully designed to exclude other possible cofactors. Further integration of the data from other levels, such as gene expression and proteomics levels, will improve the robustness of the identified biomarker.
Declarations
Acknowledgements
The authors would like to thank Prof. Luonan Chen, Dr. Ruisheng Wang, and ZHANGroup members for insightful discussions. YW, LYW, and XSZ are supported by NSFC grant 61171007, 11131009, 60970091, and CAS grant kjcx-yw-s7. QFW and FRL are supported by NSFC grant 30901933 and National Basic Research Program of China (no.2012CB518500). YW is also supported by SRF for ROCS, SEM and the Shanghai Key Laboratory of Intelligent Information Processing (No. IIPL-2010- 008).
This article has been published as part of BMC Systems Biology Volume 6 Supplement 1, 2012: Selected articles from The 5th IEEE International Conference on Systems Biology (ISB 2011). The full contents of the supplement are available online at http://www.biomedcentral.com/bmcsystbiol/supplements/6/S1.
Authors' Affiliations
(1)
Academy of Mathematics and Systems Science, Chinese Academy of Sciences, Beijing, China
(2)
Acupuncture and Moxibustion College, Chengdu University of Traditional Chinese Medicine, Chengdu, China
(3)
National Center for Biomedical Analysis, Beijing, China
(4)
National Center for Mathematics and Interdisciplinary Sciences, Chinese Academy of Sciences, Beijing, China
Copyright
© Wang et al.; licensee BioMed Central Ltd. 2012
This article is published under license to BioMed Central Ltd. This is an Open Access article distributed under the terms of the Creative Commons Attribution License (http://creativecommons.org/licenses/by/2.0), which permits unrestricted use, distribution, and reproduction in any medium, provided the original work is properly cited.