Identification of novel microRNA regulatory pathways associated with heterogeneous prostate cancer
BMC Systems Biology
2013
7(Suppl 3):S6
Published: 16 October 2013
Abstract
Background
MicroRNAs (miRNAs) are potential regulators that contribute to the pathogenesis of cancer. Microarray technologies have been widely used to characterize aberrant miRNA expression patterns in cancer. Nevertheless, the miRNAs expression signatures identified for a same cancer differs among laboratories due to the cancer heterogeneity. In addition, how the deregulated miRNAs coordinately contribute to the tumourigenic process of prostate cancer remains elusive.
Results
We evaluated five outlier detection algorithms that take into account the heterogeneity of cancer samples. ORT was selected as the best method and applied to four prostate cancer associated microRNA expression datasets. After microRNA target prediction and pathway enrichment mapping, 38 Gene Ontology terms, 16 KEGG pathways and 99 GeneGO pathways are found putative prostate cancer associated. Comparison with our previous studies, we identified two putative novel pathways important in prostate cancer. The two novel pathways are 1) ligand-independent activation of ESR1 and ESR2 and 2) membrane-bound ESR1: interaction with growth factors signalling.
Conclusions
We proved that expression signatures of at the pathway level well address the cancer heterogeneity and are more consistent than at the miRNA/gene levels. Based on this observation, we identified putative novel microRNA regulatory pathways which will help us to elucidate the cooperative function of different microRNAs in prostate cancer.
Keywords
Prostate CancerCitation CountOutlier Detection AlgorithmAberrant miRNA ExpressionFeature Detection Algorithm
Background
MicroRNAs (miRNAs) are small non-coding RNAs of approximately 22-nucleotides. They play important roles in gene regulation at post-transcriptional level. They are able to repress the activity of complementary mRNAs by targeting the 3'-untranslated regions [1]. Release 19 of the miRBase database contains more than 2200 mature miRNA sequences for human [2]. Aberrant miRNA expression was shown related to the generation of cancer stem cells and the tumour genesis [3–5]. Microarray-based technologies have routinely been used for profiling molecular expression in cancer. Microarray allows simultaneous expression profiling of tens of thousands of genes in normal versus malignant cells. The growing number of microarray expression datasets has necessitated the integrative analysis approaches to identify significant molecular patterns across multiple datasets.
Many efforts have been made in search of common molecular signatures, however without obvious success. This is partly due to the highly heterogeneous nature of cancer. Tumour samples often comprise of subpopulations with different genomic alterations. However, the most popular outlier detection algorithm, t-test or its analogues, simply removes heterogeneity between subtypes, and fail to identify the subgroup-specific gene alterations [6–8]. Recently novel statistical methods were developed to identify patterns only existed in the subgroups of the studied samples [9–13].
In this study, we applied these outlier detection methods to analyze our collection of four miRNA expression microarray datasets to identify differentially expressed miRNAs (DE-miRNAs). The DE-miRNAs were then compared among the four data sets at both gene and gene set (i.e., the functional gene set or pathway) levels for comparison. By considering the cancer heterogeneity, we applied different statistical methods to identify the consistent prostate cancer (PCa) associated pathways that are coordinately targeted by miRNAs.
Discussion
In this study, we collected four prostate cancer miRNA microarray datasets. These datasets were processed with outlier detection statistical methods considering cancer heterogeneity. This is the first work to compare the performance of heterogeneity feature detection statistical methods with real miRNA datasets. The analysis indicates these novel algorithms generally perform better than the t-test. All the methods are important and they may show different performance for different data sets, we could select the best methods based on the consensus analysis.
Figure 3 illustrates the GO terms or pathways (both from KEGG and GeneGO) that are enriched with the overlapped target genes from the PCa DE-miRNAs of the four datasets. The top 5 enriched GO terms are all related to transcription and its regulation, which are in accordance with the observation of the abnormal gene expression in prostate tumours. Most of the identified significant KEGG or GeneGO pathways are important for cancer developing and usually involved in the gene expression or tumour metastasis. Neurotrophins exert their functions by engaging Trk tyrosine kinase receptors or p75 neurotrophin receptor (p75 NTR), a metastasis and tumour suppressor in prostate cancer [21, 22]. ESR1 inhibits cell migration and the repression of ESR1 expression enhances cell migration and accelerates tumour formation and metastasis. All the evidence above corroborates our findings in the present study.
The comparison of the previous study [20] with the present one indicates the high consistency between the integrative analysis of the microRNA and the mRNA microarray expression datasets. We here identified 11 novel PCa associated pathways (see Table 1). Two novel pathways among the top 15 in both studies are identified. These overlapping pathways can be potential key pathways contributing to prostate carcinogenesis. Among the key genes in these two novel pathways, histone deacetylaces (HDACs) was reported abnormally expressed in prostate cancer [23]. Additionally, the IGF family is involved in the regulation of prostate growth and bone metastasis [24]. In prostate cancer cells, the IGF-1 receptor, a tyrosine kinase receptor related to tumour progression and metastasis, is highly expressed with MT1-MMP, a metalloproteinase involved in prostate cancer metastasis [25]. Abnormal HIF expression mediates vital processes such as cell survival, proliferation, and angiogenesis [26, 27]. Activin A inhibits prostatic branching and growth [28] and enhances prostate cancer cell migration [29]. Additionally, IL15 activates neutrophils and dendritic cells and generates cytotoxic T lymphocytes against cancer cells [30], so the blocking of the IL15 signalling pathway weakens the immune system's ability to resist cancers. Additional file 6 shows the PubMed citation counts of corresponding genes of each potential pathway in prostate cancer. More wet-lab experiments are suggested to verify the functions of these pathways in prostate cancer.
Conclusions
In this study, heterogeneity feature detection methods were evaluated and applied to the identification of the novel microRNA regulatory pathways in prostate cancer and 11 novel PCa associated pathways were identified. Comparing the present study on PCa microRNA expression data with our previous work on PCa gene expression data, we identified two important novel pathways among the top 15 of the two studies.
Methods
Data collection
We retrieved four miRNA expression datasets from Gene Expression Omnibus (GEO,
http://www.ncbi.nlm.nih.gov/geo/
), which is a public functional genomics data repository supporting MIAME-compliant data submissions. The datasets were downloaded in single-matrix file format, and named according to the name of the first authors of the references (Table
2
). The miRNA probes of these datasets were designed by using Sanger miRBase release 16.0. Because of the diverse platforms of the datasets, a local Blast search [
31
] was performed by mapping probe sequences to the miRNA precursors of miRBase (release 16.0 [
2
]) to identify the concordant miRNA names. Figure
4
displays the pipeline of the whole procedure used in this study.
Table 2
Prostate tissue datasets used in this study.
Dataset

GEO accession NO.

Platforms

Human miRNA probes

Number of samples

Statistics

Ref.

Prostate normal tissue

Prostate cancer tissue

Ambs

GSE8126

OSU-CCC hsa-miRNA-chip version 3

474

16

60

T-test

[35]

Schaefer

GSE14857

Agilent-016436

407

12

12

T-test

[36]

Taylor

GSE21036

Agilent-019118

373

28

113

Mixture model

[37]

Wach

GSE23022

Affymetrix miRNA Array

847

20

20

ANOVA

[38]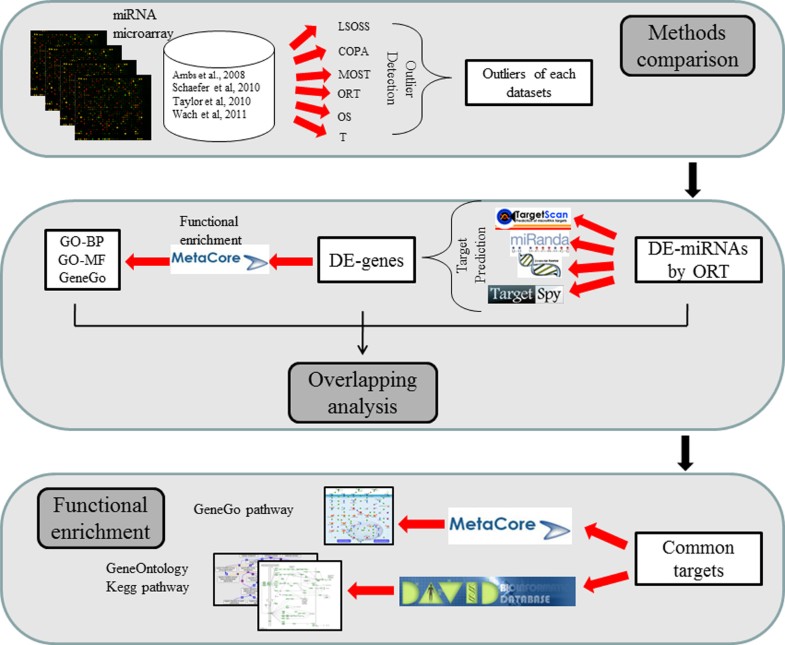 Comparison of detection algorithms and detect the differentially expressed miRNAs
In this study, outliers of microRNA expression in PCa microarray datasets were detected by using six statistical methods: LSOSS, COPA, MOST, ORT, OS and t-test. All these methods were implemented in R packages written by Wang [10] and Lian [11]. The quantile of outlier extraction for all the methods was set to 0.05 (5%) by default.
We compared the performance of the six methods in obtaining the PCa associated DE-miRNAs. We considered the DE-miRNAs detected by at least three methods to be putative outliers. The percentage of these putative outliers in the original result of each method was calculated to measure the method's accuracy. We selected ORT to be the best method for these PCa microRNA expression datasets considering the consensus analysis results.
Reliable prediction of targets for PCa DE-miRNAs
Targets of DE-miRNAs were retrieved from TargetScan database by a series of in-house Perl scripts. For those miRNAs unavailable in the TargetScan database, the putative targets were manually predicted by performing a genome-wide, sequence-based bioinformatics procedure with three of the most popular tools, i.e., miRanda [32], RNAhybrid [33], and TargetSpy [34]. Only the overlapped targets of the prediction were kept as reliable result.
PubMed Search and the citation counts
PubMed citation count was calculated by searching PubMed in the fields of title and abstract, such as for the "ligand-independent activation of ESR1" pathway, we use "ligand-independent activation of ESR1 [tiab] AND prostate cancer [tiab]" as the search term, and the search term "SP1 [tiab] AND prostate cancer [tiab]" was applied to the search of the link between SP1 gene and prostate cancer. This citation counts may change with the update of PubMed.
GO and pathway enrichment analysis
To study the function of the PCa DE-miRNAs, we mapped their target genes to GO, KEGG and GeneGO databases. To decrease the number of the false positives pathways, we first identified target genes shared by at least three PCa DE-miRNAs datasets, which were then mapped to GO, KEGG pathway database by DAVID, and GeneGO pathway database by MetaCore (Gene, Inc.). Both DAVID and MetaCore use hypergeometric distribution to calculate the significance level (i.e. the p value) for each pathway and adjust it using the FDR value as the threshold. In MetaCore databases, p value means the probability of a random intersection of two gene sets, with low p values indicating a high potential of non-randomness of the finding.
Declarations
Acknowledgements
We gratefully acknowledge financial support from the National Natural Science Foundation of China grants (91230117, 31170795), the Specialized Research Fund for the Doctoral Program of Higher Education of China (20113201110015), International S&T Cooperation Program of Suzhou (SH201120) and the National High Technology Research and Development Program of China (863 program, Grant No. 2012AA02A601).
Declarations
Publication of this article was funded by the National Natural Science Foundation of China grants (91230117, 31170795).
This article has been published as part of BMC Systems Biology Volume 7 Supplement 3, 2013: Twelfth International Conference on Bioinformatics (InCoB2013): Systems Biology. The full contents of the supplement are available online at http://www.biomedcentral.com/bmcsystbiol/supplements/7/S3.
Authors' Affiliations
(1)
Center for Systems Biology, Soochow University, Suzhou, China
(2)
Drug Discovery and Design Center, Shanghai Institute of Materia Medica, Chinese Academy of Sciences, Shanghai, China
(3)
Department of Urology, Tampere University Hospital, Tamper, Finland
Copyright
© Tang et al.; licensee BioMed Central Ltd. 2013
This article is published under license to BioMed Central Ltd. This is an open access article distributed under the terms of the Creative Commons Attribution License (http://creativecommons.org/licenses/by/2.0), which permits unrestricted use, distribution, and reproduction in any medium, provided the original work is properly cited.