Research article
Open Access
Age-correlated stress resistance improves fitness of yeast: support from agent-based simulations
BMC Systems Biology
2014
8:18
Received: 22 November 2013
Accepted: 12 February 2014
Published: 15 February 2014
Abstract
Background
Resistance to stress is often heterogeneous among individuals within a population, which helps protect against intermittent stress (bet hedging). This is also the case for heat shock resistance in the budding yeast Saccharomyces cerevisiae. Interestingly, the resistance appears to be continuously distributed (vs. binary, switch-like) and correlated with replicative age (vs. random). Older, slower-growing cells are more resistant than younger, faster-growing ones. Is there a fitness benefit to age-correlated stress resistance?
Results
Here this hypothesis is explored using a simple agent-based model, which simulates a population of individual cells that grow and replicate. Cells age by accumulating damage, which lowers their growth rate. They synthesize trehalose at a metabolic cost, which helps protect against heat shock. Proteins Tsl1 and Tps3 (trehalose synthase complex regulatory subunit TSL1 and TPS3) represent the trehalose synthesis complex and they are expressed using constant, age-dependent and stochastic terms. The model was constrained by calibration and comparison to data from the literature, including individual-based observations obtained using high-throughput microscopy and flow cytometry. A heterogeneity network was developed, which highlights the predominant sources and pathways of resistance heterogeneity. To determine the best trehalose synthesis strategy, model strains with different Tsl1/Tps3 expression parameters were placed in competition in an environment with intermittent heat shocks.
Conclusions
For high severities and low frequencies of heat shock, the winning strain used an age-dependent bet hedging strategy, which shows that there can be a benefit to age-correlated stress resistance. The study also illustrates the utility of combining individual-based observations and modeling to understand mechanisms underlying population heterogeneity, and the effect on fitness.
Keywords
Agent-based modelingBet hedgingStress resistanceYeast
Background
There is increasing appreciation for individuality of microbes [1, 2]. Even populations grown up from a single cell, in a constant environment can exhibit significant phenotypic heterogeneity in gene expression, protein content and physiology. Individual heterogeneity can be important to population fitness by allowing different functions (e.g. C and N fixation in filamentous cyanobacteria) and survival in a fluctuating environment. One prominent example is bacterial persistence, where a typical population contains a small fraction of slow- or non-growing "persister" cells that are not killed by antibiotics [3, 4]. Cells switch between normal and persister states in a random, binary (switch-like) manner. The ability to resist stress comes at a cost (typically reduced rates of growth or reproduction). For intermittent stress, there is an advantage to maintaining heterogeneity among individuals in a population in terms of tradeoffs between performance and survival (i.e. an insurance mechanism referred to as bet hedging [3, 5]).
For eukaryotic microbes, the budding yeast Saccharomyces cerevisiae (S. cervisiae) is a model organism for studying individual heterogeneity and aging and longevity [1, 6]. Various mechanisms, including stochastic variability in regulatory pathways and production/destruction of mRNAs, and deterministic asynchronicity in cell cycle or replicative age, lead to heterogeneity in protein content and stress resistance in clonal populations [1, 7–12]. For example, copper resistance is heterogeneous and related to cell cycle and replicative age [13]. Intrinsic and induced expression of heat shock proteins and resistance is heterogeneous [11, 14]. Expression of Tsl1, used in the synthesis of trehalose (an alpha-linked disaccharide of glucose that enhances thermotolerance, reduces aggregation of denatured proteins and protects against oxidative damage), and heat shock resistance are heterogeneous and correlated with replicative age [15]. Natural yeast (i.e. not S. cervisiae) populations were found to have heterogeneous resistance to copper, lead and sulfur dioxide, and this phenotypic heterogeneity is a beneficial and evolvable trait [16]. Unlike in bacteria, heat shock resistance in yeast is graded, continuous (vs. binary) and correlated with replicative age (vs. random).
The benefit of random heterogeneous expression of a stress-response factor has been demonstrated experimentally and computationally for S. cervisiae[8]. Levy et al. [15] hypothesized that correlating heat shock resistance with age provides an added benefit. The idea is that older, slower-growing cells are better candidates for being stress resistant because they contribute relatively less to the population growth. Is there a fitness benefit to age-correlated (vs. random) stress resistance?
This hypothesis is explored here using modeling, an approach that has been applied previously to explore the role of heterogeneity [5, 17]. The general strategy is to develop a mathematical model that includes the relevant mechanisms, and then perform numerical competition experiments to see if the age-correlated resistance trait is beneficial. Such competition and/or evolutionary optimization simulations have been used previously to determine optimal traits/parameters [18–20]. There are many potential model formulations and associated parameter sets for simulating replication, aging, resistance, etc. (reviewed below). To ensure some degree of realism, we constrain the model by calibration and comparison to relevant observations from the literature. We use agent-based modeling (ABM, aka individual-based modeling, IBM), rather than the more common population-level modeling approach [18–22]. An ABM is appropriate in this case, because it can resolve the continuous/graded distribution of various individual properties (e.g., protein levels, growth rate, resistance), and model outputs can be compared directly to the individual-based observations that are used to constrain the model [15, 23]. The model simulates intracellular mechanisms and the cell behavior emerges (systems biology). Then, it simulates many such cells and the population behavior emerges (systems ecology). This multi-level approach has been referred to as 'systems bioecology' [19–21].
We describe the model and compare it to data from the literature, which shows that it is generally consistent with the observed patterns. A heterogeneity network is developed, which highlights the predominant sources and pathways of resistance heterogeneity. Then we perform competition experiments with strains that have different Tsl1/Tps3 expression strategies in an environment with intermittent heat shocks. For conditions with high severity and low frequency of heat shocks, an age-dependent bet hedging strategy is most beneficial, which supports the hypothesis of a fitness benefit of age-correlated stress resistance.
Results and discussion
Calibration and comparison to data
The model was calibrated to observations from the literature with the help of an automatic calibration routine. The database is comprised of 15 datasets [9, 10, 15, 33, 41, 43–45, 49]. The reader is referred to the original publications for experimental protocols and details. This database characterizes the relevant features of the system, including the distribution of growth rates, damage accumulation with age, Tsl1 and Tps3 expression levels, distribution of Tsl1 expression, age vs. Tsl1 expression, age distribution for all and top 1% of Tsl1 expressing cells, Tsl1 expression vs. growth rate, growth rate distributions for all, top 1% and 0.1% of Tsl1 expressing cells, trehalose content, trehalose in wild type vs. Tsl1 knockout, survival vs. Tsl1 expression, and survival vs. growth rate for wild type and Tsl1 knockout strains. Discussion of all datasets is provided in the SI and a selected subset are discussed here.
Oxidative protein damage (carbonyl levels) was observed to increase with age (bud scars), and the model reproduces this general pattern (Figure 2A). The observations suggest a step-wise increase whereas the model exhibits a more linear shape. The reason for the discrepancy is unclear. The observations are from a single study and it would be useful to obtain additional observations to confirm the shape. Damage mass increases with age due to preferential inheritance by the mother and an increase of damage rate with age. The expression of Tsl1, observed with flow cytometry and green fluorescent protein (GFP) fused to Tsl1, was quite heterogeneous (Figure 2B). The modeled Tsl1 distribution was not as spread out as the observations, for example, the data extended into the negative range (presumably a measurement error at low Tsl1 levels), whereas the model restricted Tsl1 to the positive values. The heterogeneity in Tsl1 is a function of the stochastic component and the amount of Tsl1 expression that is damage correlated (Eq. 4). Applying the bud scar stain WGA-TRITC and passing cells through the flow cytometer showed that Tsl1 expression increased with age (Figure 2C). The model also shows an increase. However, for an unknown reason it over-predicts the age in the 0.03 Tsl1 bin. When Tsl1-sorted sub-populations were heat shocked, survival correlated positively with Tsl1 expression (Figure 2D). Again, the model reproduces the general increase, but it differs in the 0–0.1% Tsl1 bin. This narrow bin includes the fewest cells and is most susceptible to stochastic variability (observations and model). Overall, the model does not capture all features of the data, but it reproduced the main patterns, including an increase of damage with age, heterogeneous Tsl1 expression, and correlation of age and survival with Tsl1 expression.
Source and pathway of heterogeneity
We constructed a heterogeneity network (Figure 2F), which defines how heterogeneity can be produced and propagate through the population. In the present model, all heterogeneity originates at replication. The model does not consider other sources of heterogeneity, like stochastic differentiation at other times (i.e. in between replication events) or heterogeneity in the environment. There are a number of deterministic and stochastic sources of heterogeneity associated with replication (grey nodes in Figure 2F). For example, the scarring process produces heterogeneity in bud scars (n B ) in a deterministic manner, while the expression of Tsl1 is varied randomly (f r,Tsl1 ). Despite the numerous sources of heterogeneity, replication does not completely randomize or "reset" the cells, and the model allows for inter-generation memory. For example, bud scars and damage – and thus also the growth rate – are heritable (Additional file 1: Figures S1A&S3).
Where does the heterogeneity in survival originate? Sequentially removing sources and examining the resulting reduction of heterogeneity in heat shock tolerance showed that the scarring and unequal division of damage processes are the predominant sources (Figure 2E). But there are many ways the heterogeneity can go from these sources to heat shock tolerance. How does it propagate through the network? Systematically eliminating heterogeneity at links and nodes in the network (e.g., use population-average e S in Eq. 3) allowed us to map the heterogeneity onto the network. This showed that heterogeneity travels along multiple pathways, but predominantly from scarring to damage to Tps3 expression to trehalose and heat shock tolerance, a deterministic pathway that leads to age-correlated stress resistance.
Competition experiments
The model did not capture all features of the data, but it reproduced the major patterns observed in the relevant datasets. It was then used as an experimental system to explore the hypothesis outlined in the introduction. To determine the best Tsl1/Tps3 expression strategy we performed tournament-style competition experiments between 1,000 strains with different expression parameters (
e
c,Tsl1
,
e
a,Tsl1
,
f
r,Tsl1,CV
) in continuous culture with intermittent heat shocks. Figure
3
A shows the results from one simulation at intermediate heat shock severity and frequency. One strain clearly outcompeted the others over the course of the experiment.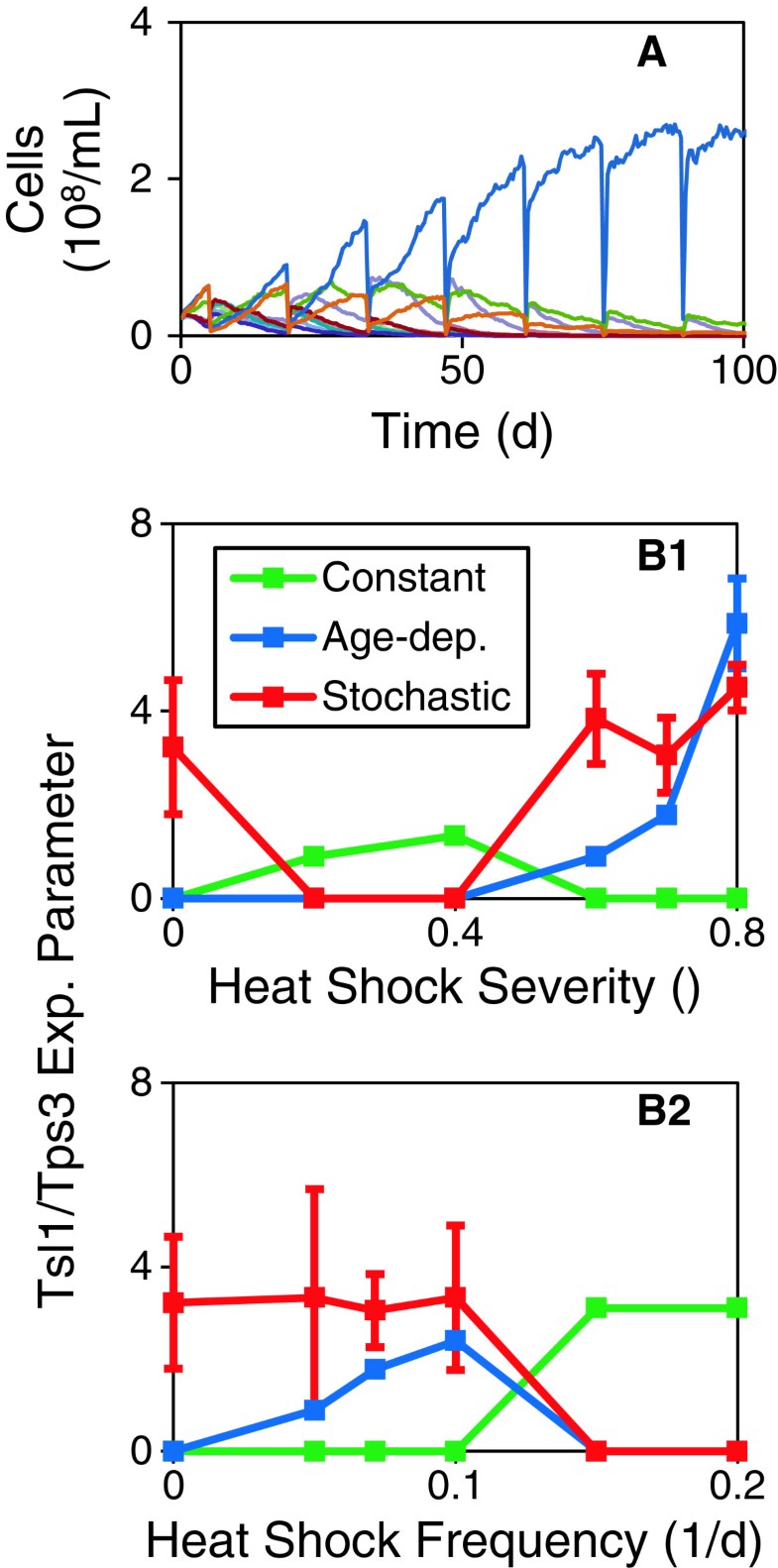 We performed a number of experiments at various heat shock severities (H a ) and frequencies (F h ), ranging from no heat stress (H a  = F h  = 0) to the maximum heat stress the yeast can survive (Figure 3B). When no heat shocks were applied, the winning strain had no constant or age-dependent terms. It did have a stochastic term, but this is simply due to the neutrality of the parameter when constant and age-dependent terms are zero (i.e., then the stochastic parameter does not affect the expression, Eq. 4). At lower heat shock severities, the winning strategy was to express Tsl1/Tps3 in a constant manner without heterogeneity (Figure 3B1). It only takes a small amount of trehalose to survive these heat shocks and it is best to have all cells synthesize this amount. Adding heterogenity would result in some cells being killed by heat shock, which would not be beneficial, a finding consistent with previous studies [8]. Since heterogeneity cannot be avoided with age-dependent expression, constant expression is the better strategy in this case. At higher severities, the amount of trehalose required to survive the heat shocks becomes larger and a bet hedging strategy becomes beneficial. That is, the average amount of trehalose is below what is required to survive the heat shocks, but it is heterogeneous and some cells have sufficient trehalose to survive the heat shocks, and this prevents the population from being wiped out. Under such conditions, the model predicted that age-dependent expression is better. This can be explained, as suggested in the Introduction, by the fact that the older cells contribute less to the population growth, and eliminating them is less detrimental to population growth (Additional file 1: Figure S11). If age-dependent expression is excluded (e a,Tsl1  = 0), the winning strain has constant and stochastic expression terms (Additional file 1: Figure S10). The heterogeneity introduced through the deterministic aging process is sub-optimal and it is beneficial to add more via the stochastic term. At lower heat shock frequencies, the winning strategy was age-dependent bet hedging, whereas at higher frequencies constant expression without heterogeneity was better (Figure 3B2). At lower frequencies, the growth period in between the heat shocks is relatively long and reducing the average trehalose production (as is achieved using a bet hedging strategy) is beneficial. At higher frequencies, a bet hedging strategy is not advantageous, because too many cells are lost through the frequent heat shocks.
These experiments were performed with a model designed with equations based on our current understanding of the underlying mechanisms, a parameter set that is generally consistent with the literature and main patterns consistent with observations. However, we cannot rule out that there is not another model formulation (i.e. different equations) or parameter set that produces an equal-quality calibration but a different result or conclusion about the fitness effect of age-correlated heat shock resistance. This is a common problem in model prediction and has been referred to as "equifinality" [50], and it can be addressed to some extent by varying model formulations [18, 34] and/or parameters [29]. The present model is computationally very demanding. Nonetheless, we used an automated optimization routine that allows for alternate parameter values, and two runs produced essentially the same parameter set, which provides some additional support for the robustness of our conclusions.
Conclusion and outlook
This study explored the ecological role of heterogeneous, age-correlated heat shock resistance in S. cervisiae. A simple model was constructed based on our current understanding of the underlying mechanisms, and comparison to relevant data shows it is consistent with observed patterns. Competition experiments with strains that have different stress protectant synthesis strategies shows that, for high severities and low frequencies of heat shock, an age-dependent bet hedging strategy is best. This supports the hypothesis that age-correlated resistance is more beneficial than random resistance. Although the model is specific to heat shock resistance in S. cervisiae, trehalose is produced by many different organisms and also protects against other forms of stress (e.g., ethanol, [41]), so our results have broader relevance. However, there are also cases where resistance is negatively correlated with age (i.e., younger cells are more resistant), like Sod1p-mediated copper resistance [13], so these results cannot be generalized to all types of stress.
The finding that it is advantageous for older cells to invest in increasing stress tolerance has implication for understanding aging and longevity- two very different things, with different selective forces acting [6]. Longevity is a highly adaptive trait and it is generally considered that genes promoting longer lifespan do so by improving somatic resistance in unfavorable conditions [6]. Our results provide a clear example of how such a mechanism could operate.
Our model was designed specifically for exploring the role of age-correlated heat shock resistance in S. cervisiae. For that purpose it was kept as simple as possible, while still including the relevant mechanisms. This naturally limits the model's applicability to other questions, although it should be useful for exploring other features related to aging, heterogeneity and stress resistance. For example, with minimal changes (i.e. Eq. 4), the present model could be used to predict expression of other proteins. The model can also serve as a stepping stone for further model development. A lot more is known about the various mechanisms involved in the problem and this knowledge is sufficient to support the development of a more detailed model. It would be interesting to bring in more mechanistically-detailed models of gene transcription and expression noise [7, 8, 12], more detailed and/or genome-scale metabolism [24, 26–28] and cell cycle control [29]. Sub-genome scale combined signaling, gene expression and metabolism models have been developed [51]. It seems that several pieces are in place to support the development of such a model, which would require a large community effort (as was done for the latest metabolic network reconstruction, [27]), but it would be worth it.
This study combined individual-based observations (IBO) and modeling (IBM) to understand mechanisms underlying population heterogeneity, and the effect on fitness [23]. Individual-based observation and experimental technologies are advancing rapidly and are generating large amount of novel data [15, 52]. These data are different from traditional population-level observations, which were amenable to analysis using traditional population-level models, and they require new methods and models. Our study illustrates the utility of combining IBM and IBO. The IBOs of Levy et al. [15] were used to constrain the individual-level processes in the IBM. The IBM, in turn, put the IBOs into ecological context.
This paper presents the use of a multi-scale modeling approach to investigate the role of an intracellular mechanism in the ecological fitness of an organism. Covering multiple levels of organization is a general problem in the biological sciences. Several systems approaches have been developed to address this challenge [53, 54]. The approach used here, "systems bioecology", combines systems biology and systems ecology [19–21]. The idea is conceptually quite simple. First, the intracellular states and mechanisms of microorganisms are explicitly simulated (systems biology). Then, whole populations of these individual microbes are simulated directly using agent-based modeling (ABM), including their interaction with the environment (systems ecology). This general approach may be applicable to other questions involving the role of intracellular mechanisms at the ecosystem scale.
Declarations
Acknowledgments
Thanks to Sasha Levy for help interpreting his data and Kieran Smallbone for helpful advice on yeast metabolism modeling. Two anonymous reviewers provided constructive criticism. Funding is provided by NSF IOS-1121233.
Authors' Affiliations
(1)
Department of Civil and Environmental Engineering, Northeastern University, Boston, USA
(2)
Department of Biological Sciences and School of Freshwater Science, University of Wisconsin-Milwaukee, Milwaukee, USA
Copyright
© Hellweger et al.; licensee BioMed Central Ltd. 2014
This article is published under license to BioMed Central Ltd. This is an Open Access article distributed under the terms of the Creative Commons Attribution License (http://creativecommons.org/licenses/by/2.0), which permits unrestricted use, distribution, and reproduction in any medium, provided the original work is properly cited. The Creative Commons Public Domain Dedication waiver (http://creativecommons.org/publicdomain/zero/1.0/) applies to the data made available in this article, unless otherwise stated.