Bioinformatic analysis of proteomics data
BMC Systems Biology
2014
8(Suppl 2):S3
Abstract
Most biochemical reactions in a cell are regulated by highly specialized proteins, which are the prime mediators of the cellular phenotype. Therefore the identification, quantitation and characterization of all proteins in a cell are of utmost importance to understand the molecular processes that mediate cellular physiology. With the advent of robust and reliable mass spectrometers that are able to analyze complex protein mixtures within a reasonable timeframe, the systematic analysis of all proteins in a cell becomes feasible. Besides the ongoing improvements of analytical hardware, standardized methods to analyze and study all proteins have to be developed that allow the generation of testable new hypothesis based on the enormous pre-existing amount of biological information. Here we discuss current strategies on how to gather, filter and analyze proteomic data sates using available software packages.
Keywords
Selected Reaction MonitoringTerm EnrichmentLiterature MiningShotgun ApproachSingular Enrichment Analysis
Background
Proteins are involved in almost all physiological aspects of cellular life from the catalysis of biochemical reactions within the intermediary metabolismn to the processing and integration of internal and external signals. The misregulation of protein expression results in pathological states such as cancer, neurodegenerative diseases and metabolic imbalances. Proteins are synthesized by translating the information encoded in a RNA molecule to a polypeptide chain, which adopts a specific three dimensional structure. Proteins are subjected to a constant turnover making protein homeostasis a very important feature of their regulation. Many proteins function within large multimeric complexes that are highly dosage dependent. The recent developments in gathering large scale genomic, transcriptomic and proteomic data pose substantial challenges to the bioinformatic processing of these data, which have yet not been completely solved. In case of the proteomic investigation, the challenges occur at all levels ranging from sample preparation and data gathering over the raw data integration and database searching to the functional interpretation of large datasets. Based on a iterative strategy of proteomic analysis, data interpretation and sytstematic challenges, hypothesis can be developed and modified, which will eventually lead to the generation of new knowledge (Figure
1
).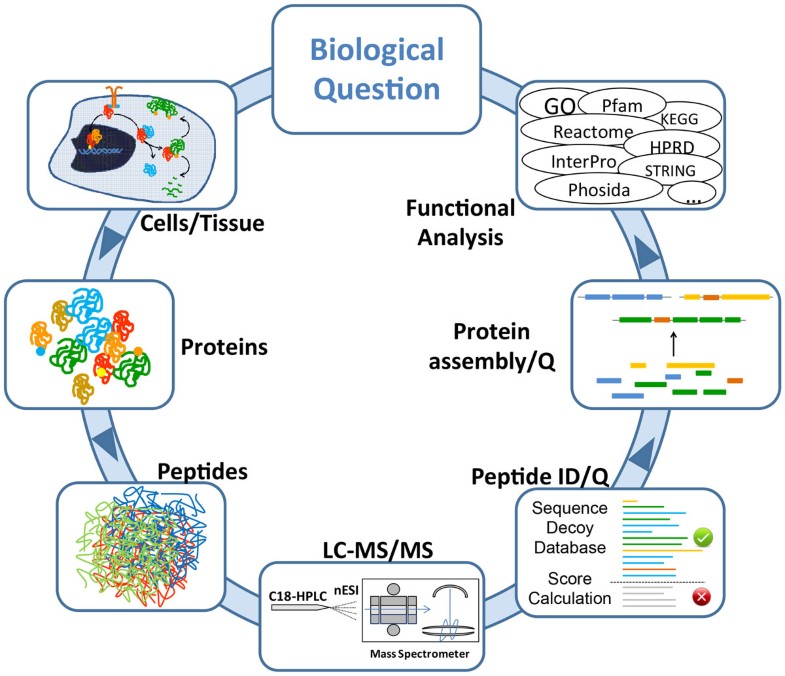 Conclusions
The development of methods to systematically study all proteins in a cell and their subsequent functional annotation opens up new pathways of research. In the future it is very likely that such studies will uncover new principles of how biological systems operate hopefully leading to an improved treatment of human pathologies.
Over the last ten years the analytical harware has reached a level of sophistication of a more mature scientifc field. However, the bioinformatic interpretation and the processing of the data are still in its infancy. Besides reliable and robust algorithms, international standards for data processing and deposition as well as their interpretation have to be developed and agreed upon in order to unleash the full potential of proteomic research.
Declarations
Declarations
The publication costs for this article were partly funded by a grant from the European Union (STATEGRA, 257082) and partly supported by COST-BMBS, Action BM1006 "next Generation Sequencing Data Analysis Network", SeqAhead.
This article has been published as part of BMC Systems Biology Volume 8 Supplement 2, 2014: Selected articles from the High-Throughput Omics and Data Integration Workshop. The full contents of the supplement are available online at http://www.biomedcentral.com/bmcsystbiol/supplements/8/S2.
Authors' Affiliations
(1)
Munich Center of Integrated Protein Science and Adolf-Butenandt Institute, Ludwig Maximilians University of Munich, Munich, Germany
Copyright
© Schmidt et al; licensee BioMed Central Ltd. 2014
This article is published under license to BioMed Central Ltd. This is an Open Access article distributed under the terms of the Creative Commons Attribution License (http://creativecommons.org/licenses/by/2.0), which permits unrestricted use, distribution, and reproduction in any medium, provided the original work is properly cited. The Creative Commons Public Domain Dedication waiver (http://creativecommons.org/publicdomain/zero/1.0/) applies to the data made available in this article, unless otherwise stated.