Computational cell fate modelling for discovery of rewiring in apoptotic network for enhanced cancer drug sensitivity
BMC Systems Biology
2015
9(Suppl 1):S4
Published: 21 January 2015
Abstract
The ongoing cancer research has shown that malignant tumour cells have highly disrupted signalling transduction pathways. In cancer cells, signalling pathways are altered to satisfy the demands of continuous proliferation and survival. The changes in signalling pathways supporting uncontrolled cell growth, termed as rewiring, can lead to dysregulation of cell fates e.g. apoptosis. Hence comparative analysis of normal and oncogenic signal transduction pathways may provide insights into mechanisms of cancer drug-resistance and facilitate the discovery of novel and effective anti-cancer therapies. Here we propose a hybrid modelling approach based on ordinary differential equation (ODE) and machine learning to map network rewiring in the apoptotic pathways that may be responsible for the increase of drug sensitivity of tumour cells in triple-negative breast cancer. Our method employs Genetic Algorithm to search for the most likely network topologies by iteratively generating simulated protein phosphorylation data using ODEs and the rewired network and then fitting the simulated data with real data of cancer signalling and cell fate. Most of our predictions are consistent with experimental evidence from literature. Combining the strengths of knowledge-driven and data-driven approaches, our hybrid model can help uncover molecular mechanisms of cancer cell fate at systems level.
Keywords
Genetic AlgorithmEpidermal Growth Factor ReceptorCell FatePartial Little Square RegressionDynamic Time Warping
Introduction
The objective of anti-cancer therapeutics is to kill cancer cells with minimum damage to the healthy cells. To this end, a solid understanding of the cell fate decisions (e.g. apoptosis, proliferation) of different cells under various conditions would be required. It is well known that signalling pathways play crucial roles in the regulation of cancer cell fate [1]. However, it is challenging to understand the dynamics of signal transduction at systems level, due to non-linearity of the network dynamics, e.g. feedback and crosstalk. In cancer cells, this becomes even more complicated due to various types of alterations (e.g. DNA mutations, genome rearrangement, epigenetic changes, and pathway alterations). These alterations allow cancer cells to adapt to new conditions and evolve drug resistance. Therefore, to find effective anti-cancer therapies, cancer-specific alterations in the signalling pathways must be taken into account. Moreover, it is desirable to understand how cancer cells respond to different combinations of drugs, and how drug sensitivity can be enhanced. Genomic and proteomic data of cellular responses to drugs, synchronized with cell fate observations, would shed light on cancer drug effects at systems level. However, even if sufficient data are available, it is challenging to construct a model of cell signalling to explain the data and make accurate predictions. As more "omics" data about cancer are available recently, computational methods for modelling and discovery of cancer cell fate are becoming more important.
Cancer cell fate in response to drugs has been studied with both discrete and continuous models using knowledge driven approaches. For example, the study in [2] focused on discrete modelling of the apoptosis network, by constructing a model for cell fate with 25 key regulatory genes (e.g. Casp3, BCL2, XIAP, etc.). Cell survival pathways with cell death (necrosis and apoptosis) pathway were combined to model three cell fates, namely apoptosis, proliferation and survival. GINsim [3] software was used to perform simulation to assess the importance of Cytokines (e.g. TNF, FASL) in deciding the cell fate. In another study, Hong et al. [4] analysed the continuous model of apoptosis triggered by the drug Cisplatin. They initially constructed apoptosis pathways using existing literature. This model was configured to respond to the external stimulus, i.e. the drug Cisplatin. To analyse the functions of various signalling pathways and their crosstalk, Hong et al. integrated three apoptosis pathways, namely death receptors (e.g. FasL) induced pathway, mitochondrial pathway and ER stress pathway. Using their differential equation based model they found that the apoptosis caused by Cisplatin was dependent on doses and time. The level of apoptosis was almost stagnant at higher concentration of drug. They also observed that mitochondrial pathway has strongest effect on apoptosis (among the three pathways) [4].
On the other hand, data driven modelling of signalling pathways is a promising approach to uncover regulatory mechanism for cancer cell fate. The study in [5] investigated three lines of breast tumour, namely BT-20, MDA-MB-453 and MCF7, for their responses to various combinations of exposure to several genotoxic drugs and signalling inhibitors. The authors found that it was the pre-treatment, rather than co-treatment or post-treatment, of a subset of TNBCs with Epidermal Growth Factor Receptor (EGFR) inhibitors that can enhance the sensitivity of tumour cells in their apoptosis response to DNA-damaging chemotherapy. The study suggested that such a treatment may lead to the rewiring of oncogenic signalling pathways which has the potential to make cancer cells more susceptible to death. It was further reported that the inhibition of EGFR in a time-staggered way may be responsible for sensitising tumour cells to genotoxic drugs. However, simultaneous co-administration of inhibitors and genotoxic drug could not make the tumour cells less tumorigenic. To test these hypotheses, the study systematically investigated a series of drug combinations for their effects on breast cancer cells. The study suggests that rewiring inside the tumour cells is responsible for the increase of drug sensitivity, but it is not clear where and how the rewiring happens. The rewiring involves alterations of signalling pathways such as addition or deletion of edges in the network, change in reactions rates, and change in the concentration of molecules. Since it is more challenging to directly observe rewiring signalling pathways by wet lab experiments, computational methods for predicting rewiring from data would be useful for study of cancer drug effect and cell fate decisions.
In this paper, we propose a hybrid modelling approach that combines the advantages of knowledge-driven and data-driven approaches for modelling cancer signalling pathways and cell fate decisions. From a generic apoptotic network, we simulate the time series data of signalling proteins using ODEs based on a network candidate modified from the generic network by in silico rewiring; then the simulated data are compared with the real data. This in in silico rewiring, simulation and data fitting is repeated iteratively to improve the goodness of fit using Genetic Algorithm. Through such an optimisation we can detect the topology alterations of the network that allows close fitting of model to the real data. As such, network rewiring can be inferred from real data. Most of rewiring events predicted by our model are supported by existing literature.
Methods
Our work is broadly organised in three interrelated parts. We initially constructed a basic apoptosis network (say N1) which is free of abnormal mutation and represents signalling pathways inside a healthy cell. We used the biological data for our studies based on the phosphorylation levels of signalling proteins and phenotypic responses taken from the biological experiments conducted in [5]. Hereafter, we call this data set as "Yaffe's data". We compared the simulation data from this network with the Yaffe's data using Genetic Algorithm and Dynamic Time Warping for DMSO treatment and derived a tumorigenic network (say N2). Then we modified N2 to fit with Yaffe's data to derive a drug sensitive network (say N3). N1 was constructed directly from literature; N2 consisted of edges added and deleted from N1 by Genetic Algorithm; N3 consisted of edges added and deleted from N2 by Genetic Algorithm.
Results
PLSR for simulation data from N1
We first used Partial Least Squares Regression (PLSR) to test if the simulation data generated using our basic network
N
1
were reliable for performing the prediction of network rewiring. PLSR is used for mapping independent variable with dependent variables (e.g. mapping signalling molecules to phenotypic responses) [
30
]. In a PLSR plot, if a predictor variable is closely associated with the predicted variable, then such a predictor variable influences the predicted variable relatively more strongly than the predictor variable who is far away in the PLSR plot. For reaction parameters, we ensured that the selected parameter values enabled us to associate the important predictor variables like Caspases, XIAP, SMAC etc. closely with the apoptosis. The Partial least Square Regression (PLSR) plot for the simulation data from the basic network from
N
1
, is given in Figure
2
, which PLSR plot shows the close association between apoptosis and several apoptotic proteins. This result is consistent with the results reported by Lee
et al
. [
5
].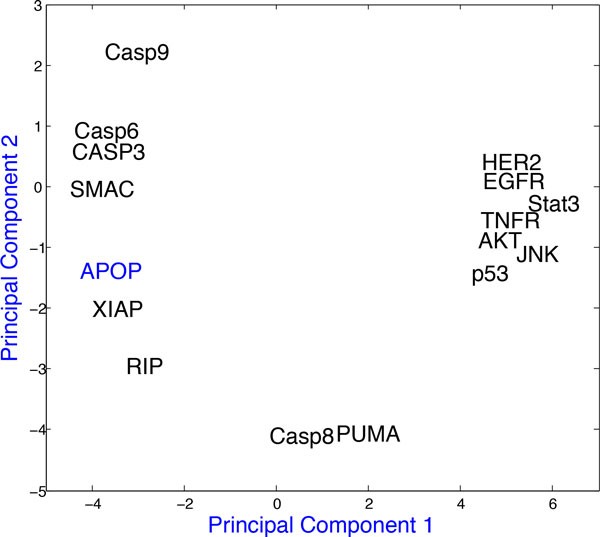 Inferring the tumorigenic network N2
From network
N
1
, we will infer the rewired network
N
2
corresponding to cancer cell lines by fitting simulated data to the cancer specific dataset. To this end, we adopt Genetic Algorithm for multiple generations to search for the most likely network rewiring events and collected 50 rewired networks in each generations along with corresponding scores. The Genetic Algorithm performed rewiring on the basic apoptotic network of Figure
1
. The comparison for simulated data from network
N
1
and Yaffe's data for control treatments using Genetic Algorithm, before and after rewiring event in network
N
1
, is shown in Figure
3
and
4
.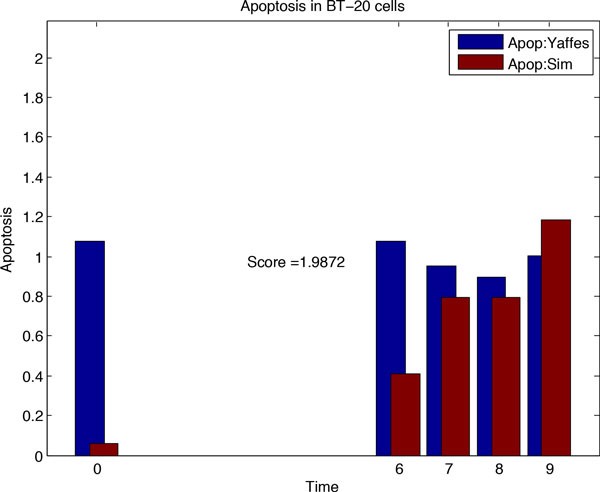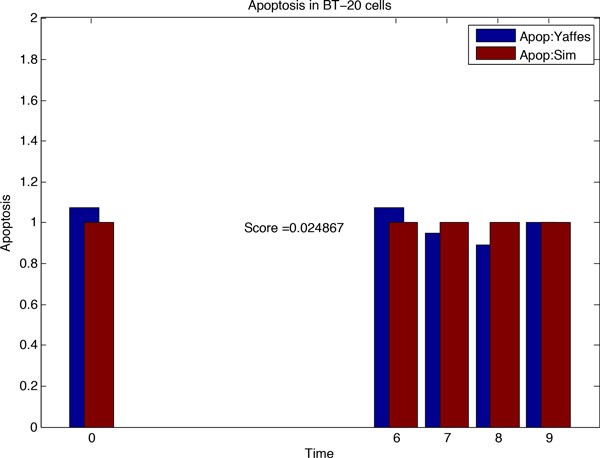 Due to inherent randomness in Genetic Algorithm, the edges added and deleted in N1 (while inferring N2) were different among different run of simulations. Some of the changes in the network were found to be more frequent compared to other. So, just few runs of simulation couldn't be relied upon to find the changes in the N1 network causing cancer. Therefore, to find consistent (or conserved re-wirings) changes to the network, we performed the simulation for 150 times for inferring N2 from N1 and another 150 rounds of simulation for inferring N3 from N2. The changes which occurred in the network with the highest frequency were selected to construct N2 (and subsequently N3). The most frequently removed edges in the N1 network while inferring N2 were SMAC-XIAP, Casp8-Casp3 and p53-PUMA. For 150 rounds of simulations, each of these deletions occurred with a frequency of 146, 143 and 141 respectively. The network edges found to be inserted in the N1 by the Genetic Algorithm with the highest frequencies were XIAP-Casp8 and TNFR-Stat3, with frequencies of 149 and 146.
We verified the various rewiring events using the existing literature and confirmed the validity for the above mentioned network changes. p53 is a tumour suppressor and controls the regulation of PUMA. PUMA induces apoptotic signals inside the cells. Less activity of PUMA leads to apoptosis deficiency which in turn leads to the increased risk of cancer [31]. We also realised that SMAC down-regulates XIAP and XIAP down-regulates Casp3, a pro-apoptotic protein. So if SMAC is working properly, there will be more cell death leading to less tumorigenic behaviour by cells. But if SMAC is not able to down-regulates XIAP, there will be less apoptosis and so more chances of cancer [2]. We also came across literature evidence highlighting the critical role of Casp8 for affecting breast cancer directly [5, 32]. STAT3 interacts with various molecules involved in programmed cell death, regulating their functions including MOMP formation, which leads to the release of the cytochrome c [33]. XIAP inhibits the processing of Casp8. In fact, proteolytic processing of several caspases, including Casp9, is not allowed in the presences of XIAP. The lack of processing of Casp8 and Casp9 allows them to interact with Casp3 and promote apoptosis [34]. TNFR activates the Stat3 signalling. The stimulation of TNFR leads the phosphorylation of the Stat3 and Stat5b and the phosphorylated molecules are trans-located into the nucleus [35].
Inferring the drug sensitive network N3
After inferring
N
2
from
N
1
, our aim was to infer the drug sensitive network (
N
3
), by fitting modified topology of
N
2
to the real data of drug treatment. Before predicting rewiring of
N
2
, we plotted the
N
2
based simulation data with the real dataset of signalling and cell fate of cancer cells after treatment with drugs. The plot is shown in Figure
5
. We again used Genetic Algorithm to search for the network rewirings that allow better fitting of simulation to the real data. For each run of simulation, we compared the simulation data with the drug sensitive experimental apoptosis data for ERL-DOX treatments. The best network plot, uncovered using Genetic Algorithm, is shown in Figure
6
. The edges of
N
2
that were most frequently removed were BIM-Casp9 and EGFR-Casp8, deleted 141 and 137 times respectively. The network edges inserted with highest frequencies by the Genetic Algorithm were Casp8-RIP and Casp8-MOMP, inserted 144 and 135 times respectively. These rewiring events have been mentioned in related literature [
2
,
5
,
17
,
36
].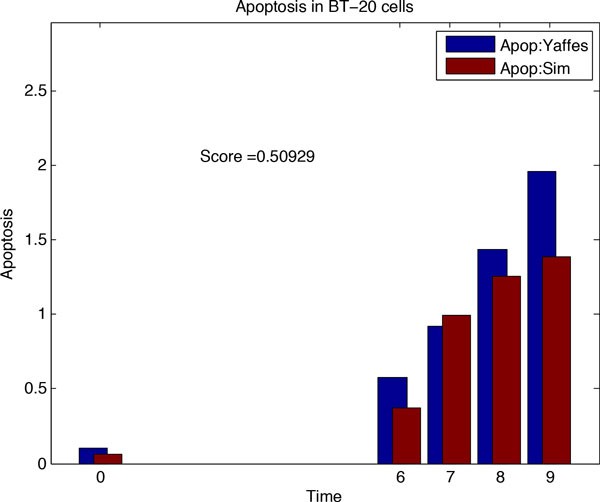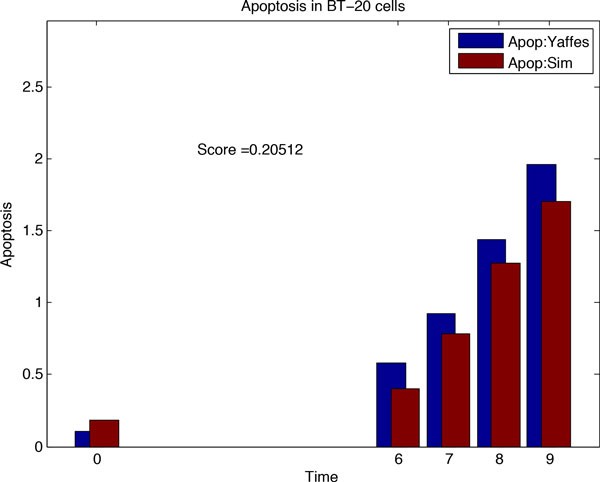 Sensitivity analysis of the model
To analyse the behaviour of our model with respect to the fluctuations in model parameters, we verified our model by performing sensitivity analysis for the rate constants. We initially tested apoptosis level for each of the molecules by reducing the parameter by 30%. Then we increased the parameter by 30%. Among all the parameters, "Casp3-Casp8" and "Casp3-Apop", were found to be very sensitive, affecting the apoptosis level to the maximum. We found that the level of apoptosis for most of the parameters changed only slightly, within +/-5%, except for the most sensitive parameters, "Casp3-Casp8" and "Casp3-Apop", which affected the level of apoptosis by +/-20%.
To test the robustness of our model, we also performed the perturbation test. We changed the initial concentration of each of the molecules and identified the most sensitive parameters of the model. The apoptosis level was predicted for each of the molecule whose initial concentration was reduced by 30%. Then, for each molecule we increased the initial concentration by 30%. We found that the level of apoptosis for most of the initial concentrations was stable, except for the concentration of the molecules with parameters of "Casp3-Casp8" and "Casp3-Apop". This suggests an overall robustness of our model.
Discussion and conclusion
In our proposed study, we used Genetic Algorithm to infer rewiring of the apoptotic network. The most frequent rewiring events are selected, and most of them were found to be consistent with existing literature. However, using Genetic Algorithm we may not find a globally optimal solution, as some of the network rewiring events might have been missed by the Genetic Algorithm based searching. So far we have included only 18 out of 32 proteins in the Yaffe's data. A network with more signalling data may help us understand the pathway changes in more comprehensive ways. In future, with expanded apoptosis network and more proteins, we would be able to detect more network alterations through comparisons between simulation data and experimental data. Also, beside Genetic Algorithm we plan to use other computational techniques (e.g. Simulated Annealing). In this paper Yaffes data set has been used. Our next goal is to construct a larger network model for cancer cell phenotypic responses which can simulate observations for some other datasets taken from multiple sources.
Declarations
Acknowledgements
This work is supported by MOE AcRF Tier 2 grant (ARC39/13, MOE2013-T2-1-079), Ministry of Education, Singapore.
This article has been published as part of BMC Systems Biology Volume 9 Supplement 1, 2015: Selected articles from the Thirteenth Asia Pacific Bioinformatics Conference (APBC 2015): Systems Biology. The full contents of the supplement are available online at http://www.biomedcentral.com/bmcsystbiol/supplements/9/S1
Authors' Affiliations
(1)
School of Computer Engineering, Nanyang Technological University, Singapore
(2)
Genome Institute of Singapore (GIS), Biopolis, Singapore
Copyright
© Mishra et al.; licensee BioMed Central Ltd. 2015
This article is published under license to BioMed Central Ltd. This is an Open Access article distributed under the terms of the Creative Commons Attribution License (http://creativecommons.org/licenses/by/4.0), which permits unrestricted use, distribution, and reproduction in any medium, provided the original work is properly cited. The Creative Commons Public Domain Dedication waiver (http://creativecommons.org/publicdomain/zero/1.0/) applies to the data made available in this article, unless otherwise stated.